10 Best Road Trip Stops
Kiama Blowhole
Jervis Bay
Sea Cliff Bridge
Narooma
Blue Pool
Croajingalong National Park
Lakes Entrance
Buchan Caves
Wilsons Promontory
Philip Island
With high-rise buildings, leafy parks and hip suburbs congregated around its iconic harbour and beautiful adjacent beaches, stunning Sydney is a city like no other. The city is surrounded by national parks brisling with biodiversity and many parts of the harbour still merge into bushland. Consequently, you'll see cockatoos and flying foxes amidst the urban sprawl. Neighbouring beaches like Bondi are world-famous and when you're ready to party the nightlife is diverse and you'll find everything from chic cocktail bars to old style pubs and exclusive night clubs to DIY-style dance events. As it's Australia's glam capital, you'll also encounter plenty of glitzy individuals – which makes people watching all the more interesting!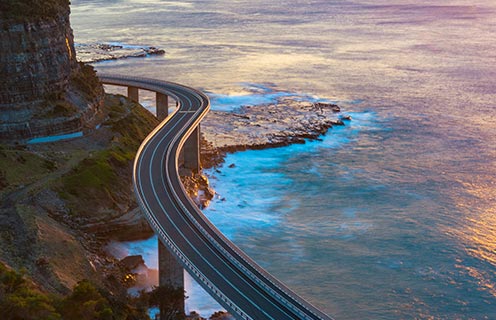 10 scenic road trip stops between Sydney and Melbourne
Sydney and Melbourne are Australia's two biggest cities, and each has its distinctive charms.
Melbourne is no slouch either. It has a magnificent cultural scene including street art, theatre, live music and iconic art in the National Museum of Victoria – there's more to this metropolis than its status as the home of TV's Neighbours! There's a mix of architecture here but colonial-style buildings feature more prominently than in Sydney, which gives certain parts of the city a more traditional European feel, and there's an awesome artisan coffee scene which is complemented by chic cafes and sumptuous restaurants. Further, if you're yearning for a multicultural experience, you can head to the western suburbs of Yarraville, Seddon or Footscray, where you'll find Ethiopian and Vietnamese restaurants, sublime scenery at Williamstown Beach and unique, locally-crafted bargains in cool boutiques.
Between these two behemoths sits the fantastic Sydney to Melbourne coastal route. It's 1540km long (via the scenic Princes Highway A1/A440 coastal route) and you can tackle it in around 5-10 days, depending on how many stops you make and for how long – but in general this should be a leisurely drive focusing on safety and relaxation. This road trip around Australia's south-eastern shores covers varied and vibrant terrain, showcasing some truly spellbinding sights that you'll never forget. Hire a car in Sydney with Enjoy Travel and you can save cash on your favourite makes and models, then pick up at your convenience and start your voyage of discovery without delay – with rugged, reliable and stylish vehicles from trusted car hire partners available in a couple of clicks, you'll soon be hitting the road!
Top tips on driving between Sydney and Melbourne
Your prime Sydney to Melbourne pitstops are prepped and ready – but let's take a brief pause to review some road trip tips that will stand you in good stead.
You'll (hopefully) know this if you're an Aussie, but you always drive on the left here and, given the distances covered, this is a trip where having a capable co-driver would be a blessing.
There might be some places along the route where mobile reception isn't reliable, so download your playlist before hand unless you fancy an acapella singalong and if possible, you should avoid night-time and sunrise-sunset driving since, especially in rural areas, accidents are more common at these times – hazards can include large wild animals like kangaroos crossing and a collision can cause serious damage.
Make sure your vehicle has a spare tyre (and that you know how to change it) and confirm the arrangements for roadside assistance with your rental company.
Now you're ready to roll on the road trip of a lifetime – start your engine for your step-by-step stops between Sydney and Melbourne!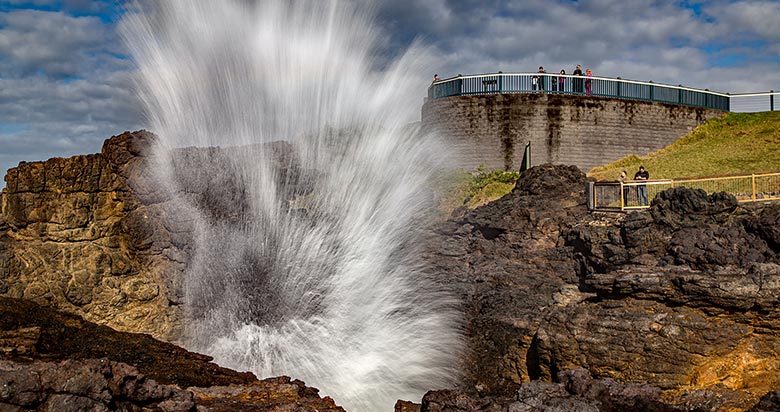 1. Kiama Blowhole
Kiama is a lovely seaside town along the New South Wales south coast, and the Kiama Blowhole in the northern section of the coastal walk is a minor (but mighty) wonder of the natural world. You'll feel the rumble of the ocean pushing into the sea cavern as water then suddenly shoots skyward in an eruption that'll make you gasp in wonder and then chuckle as you're doused in briny spray – wear waterproofs!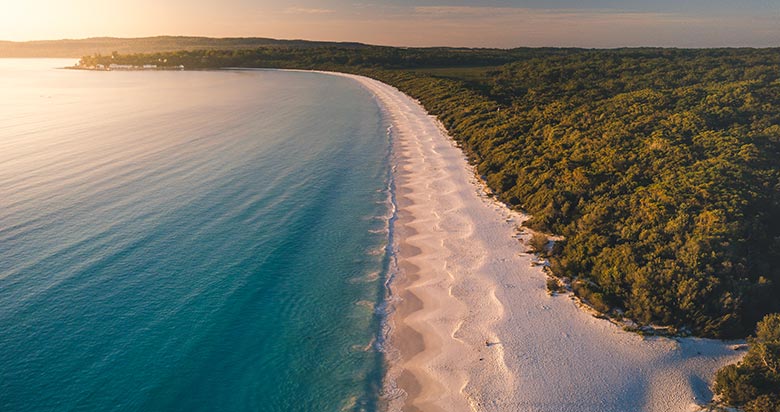 2. Jervis Bay
A sheltered beach that's protected from the elements by rocky headlands and a lush forest backdrop, Jervis Bay boasts beautiful white sand and it's a sublime spot to chill out for a couple of hours. It's one of the best spots in Australia for dolphin watching, you can see humpback whales between May and November, and you can even take an organised dive with rays. The only downside to Jervis Bay is you might not want to leave.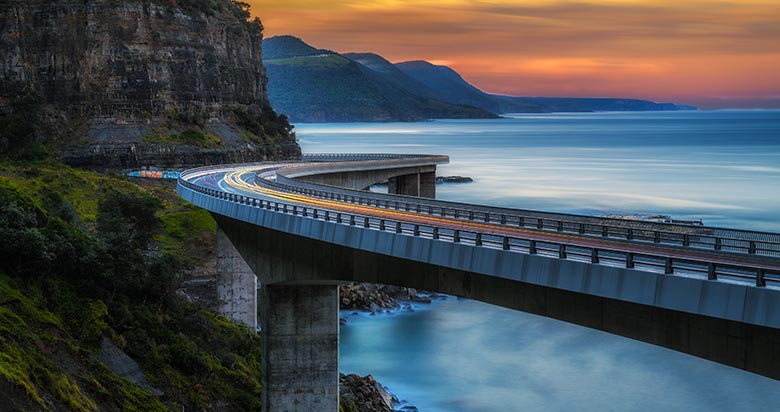 3. Sea Cliff Bridge
Located on New South Wales' Grand Pacific Drive, Sea Cliff Bridge is a 665m long marvel of engineering which has become iconic to the locals in nearby Wollongong and is familiar to TV viewers around the world thanks to a cinematic quality that lends itself well to car ads. It stands on stilts, so you'll feel like you're floating on air with the sea around you – park in a safe spot if you have time and walk along the adjoining pathway for a while to marvel at the waves crashing underneath!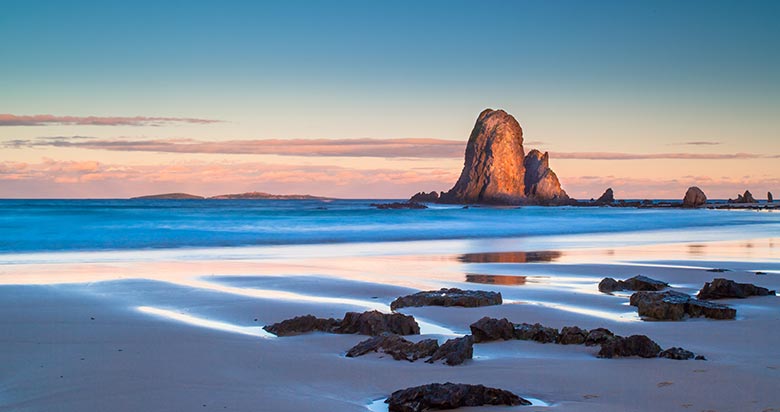 4. Narooma
A labyrinth of winding waterways, sandbars and sea, Narooma looks absolutely stunning, but you should build in ample time here to get out on a boat and soak up the natural ambience. If you're a wildlife fan, you can snorkel with seals, spot whales and watch seabirds of all stripes – plus you can even see penguins here from around September to the start of the Aussie summer.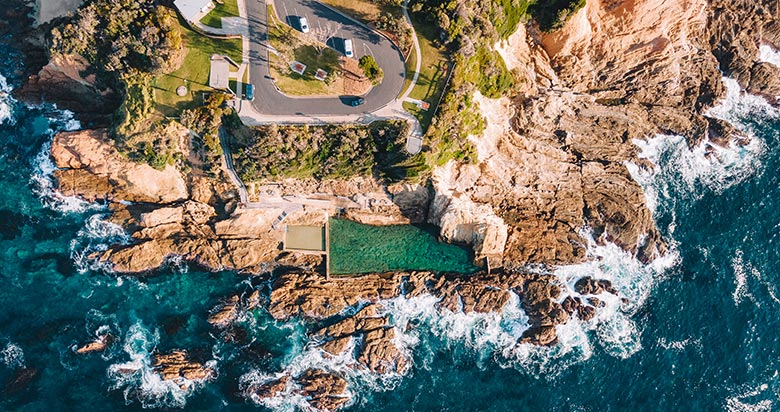 5. Blue Pool
Located in the Sapphire Coast's Bermagui, the Blue Pool is built into the rocky shoreline and benefits from clear, clean and temperate water – even during the winter. Taking a dip here under blue skies while white horses smash the rocks around you is one of life's special moments – and you'll be glad to know that this pristine pool is also shark-proof!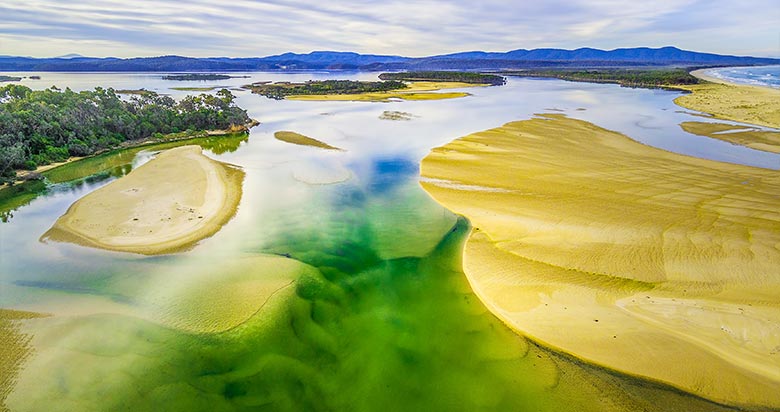 6. Croajingalong National Park
Nestled around Mallacoota, the Croajingalong National Park is a wonderful coastal wilderness that's an absolute joy to explore. Park your car for a while and treat yourself to a spot of forest bathing and bandicoot-spotting, with lots of romantic hidden coves along the way. You can canoe around Tamboon and visit Point Hicks – the first place on Australia's east coast seen by Captain Cook's Endeavour in 1770.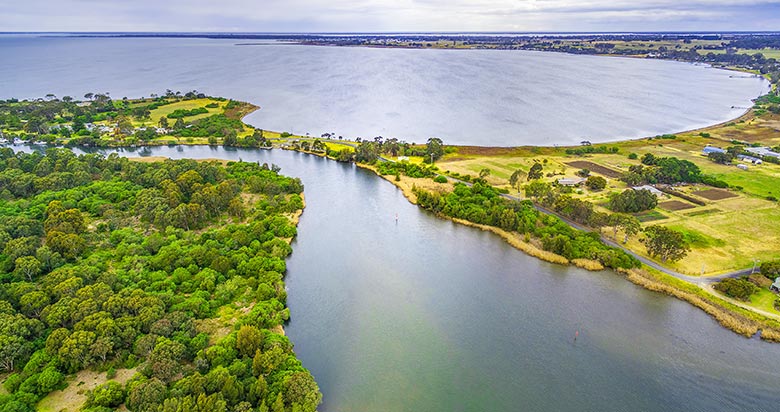 7. Lakes Entrance
Another site of jaw-dropping natural beauty, Lakes Entrance boasts the beautiful and dramatic 90-Mile Beach and a plethora of restaurants serving ocean-fresh seafood that tastes divine. To make the most of it, hire a boat to explore the Gippsland Lakes or let someone else don the captain's hat while you relax on a sightseeing cruise – it's a tough job, but someone's got to do it!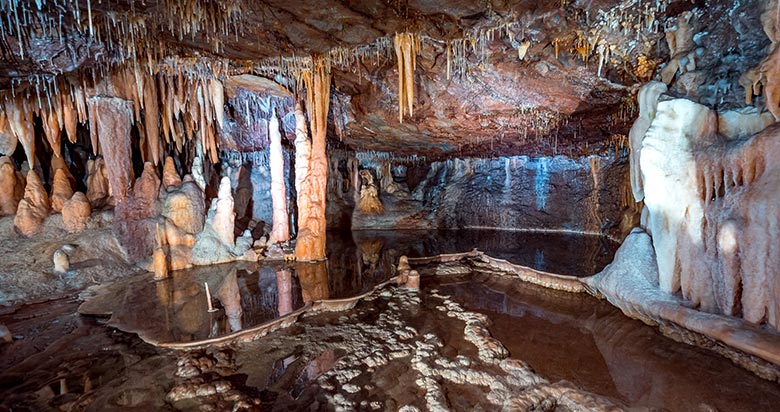 8. Buchan Caves
The brilliant Buchan caves are worth a brief trip inland during the Victoria section of your road trip – they never disappoint. Carved in limestone by subterranean rivers, this complex cavern system provided shelter and protection for Indigenous Australians for aeons and highlights like the Fairy Calves and Royal Caves feature impressive, otherworldly rock formations.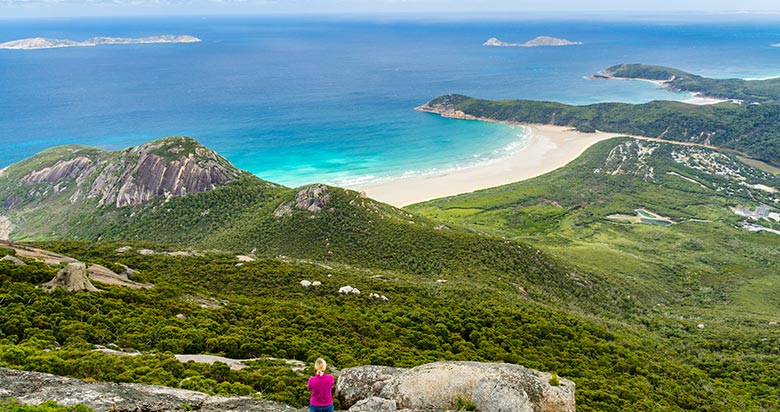 9. Wilsons Promontory
The most southerly point on the Aussie mainland, 'Wilsons Prom' (as it's affectionately known) is characterised by looming granite outcrops, charming wombats, wooded glades and idyllic, isolated beaches. Take a cruise out into the water and you'll see unusual prehistoric boulders like the iconic Skull Rock seeming to rise from the surf. Even if your time here is limited, it's a hotspot for sizzling Instagram selfies!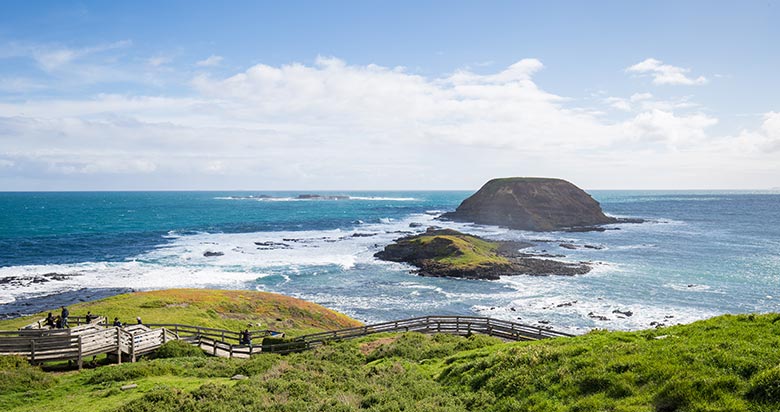 10. Philip Island
Located 125km southeast of Melbourne, Philip Island is a short ferry crossing from Stony Point in Mornington Peninsula and it's worth the effort to visit as you approach the finish line of your epic trip. Take a cruise around the island and you'll see seal colonies and amazing sea caves, while back on dry land there are koalas to meet at a superbly designed sanctuary and the nightly penguin parade on the Summerland Peninsula is the stuff of legend.
These 10 best road trip stops between Sydney and Melbourne are a timely reminder of how eye-poppingly perfect this land can be.
Hire a car in Australia from Enjoy Travel and one of the world's most outstanding nations is your oyster – remember to send us a postcard when you get there!