10 Epic Road Trips From Cairns
Atherton Tablelands
Port Douglas & The Daintree
Yungaburra
Kirrama Range Road
Kuranda
Palm Cove
Etty Bay
Barron Falls
Herbeton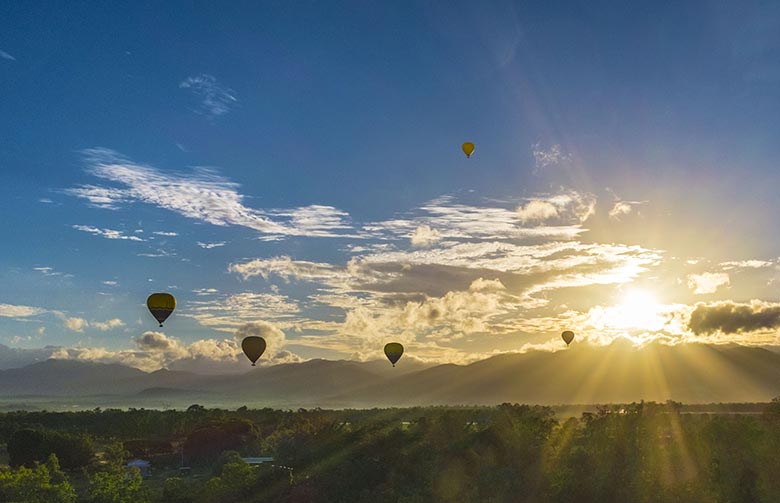 10 scenic road trips from Cairns
Heading to Cairns for your Aussie staycation? Or maybe you live in this gateway to the Great Barrier Reef all year round? Either way, you've got a brilliant base for some bonzer road trips. This cool city on the north east coast of Far North Queensland is a famous tourist town which swells with visitors who arrive all year round by air, land and sea.
The humid subtropical climate here means the pace of life is laid-back and when you want a break from the rainforest vibes you can sail across to the Great Barrier Reef from neighbouring towns like Port Douglas.
Hotspots for entertainment are the Esplanade lagoon and Pier marina, and thanks to burgeoning luxury hotel developments and an increasingly busy cruise ship port, Cairns is riding the crest of a wave. Alternative attractions here include the lush botanical gardens, outstanding aquarium and a cuisine scene that includes everything from ocean-fresh seafood to international street food. Also, (provided you're parking up your car for a good while) there are pubs galore where you can enjoy ice cols beer, tasty snacks and good conversation with locals and visitors alike.
This is also the traditional home of the indigenous Yidinji and Yirrganydji peoples and there are a number of cultural activities available where you can learn about their rich history and traditions.
Finally, when you want to roll out further afield, this sublime part of the country has golden sand beaches, tropical islands and everything in between, so it's ideal if you want to explore independently in your car.
Tips on driving in Cairns
We're almost ready to get cracking with your 10 epic Cairns road trips. But let's take stock of some useful driving tips first.
Cairns is a city that definitely caters for cyclists, so be cautious when driving alongside bikes and give them plenty of room to manoeuvre. The speed limit in built-up areas here is 50km/h and you should watch out for wildlife once you get our into rural areas – large animals like kangaroos sometimes roam onto roads and cause catastrophic damage in collisions.
Parking in the city is clearly signposted and you'll find cheap metered parking in the town centre if you need to stop off for a couple of hours.
Before you set off on any road trips, fill your tank at petrol stations in central Cairns like Trinity, Caltex and United – you'll find it a little trickier to refuel regularly once you're on more remote rural roads. Charging your electric vehicle is no problem in this city either – Cairns is one of the main EV charging hubs on the Queensland Electric Superhighway, which has stations all the way to the Gold Coast.
Now we've caught up with some practical driving tips, let's get rolling with your top 10 road trips!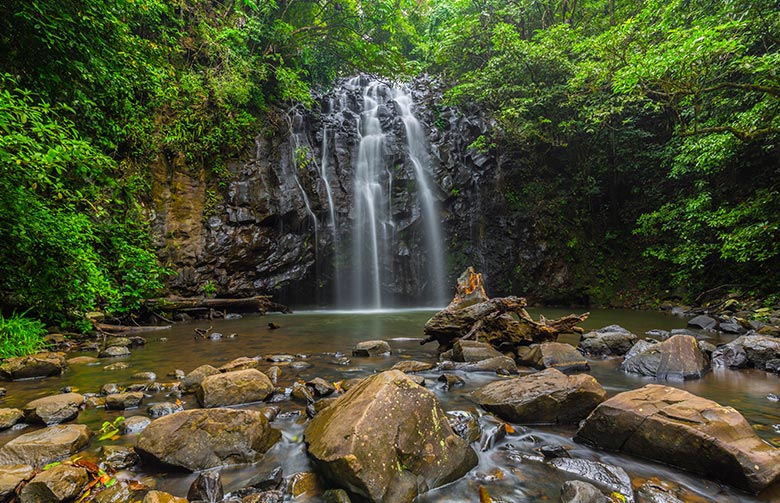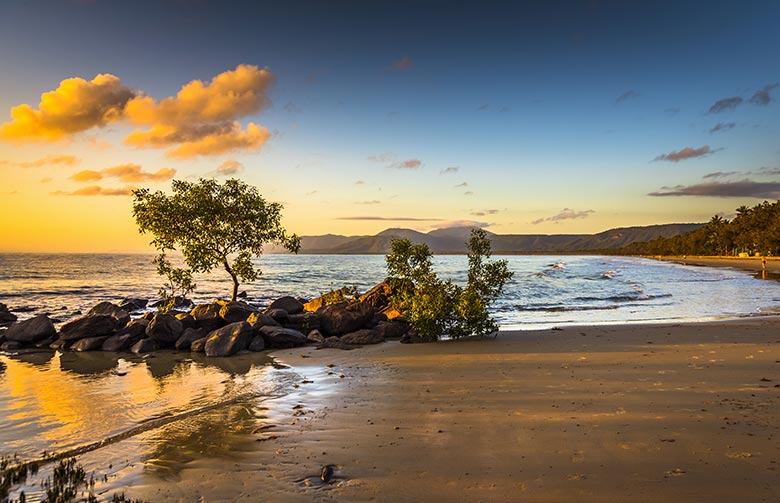 1. Atherton Tablelands
A gorgeous green area that's bristling with biodiversity, at the Atherton Tablelands you can discover everything from pounding vertiginous waterfalls to volcanic lakes, and dense rainforests to charming historic towns. Highlights include the Millaa Millaa falls and Crater Lakes National Park. This must-do Cairns road trip really is out of this world.
Getting there: Atherton Tablelands is one hour and 20 minutes from Cairns, via State Route 52.
2. Port Douglas & The Daintree
The Daintree is the world's most ancient rainforest – you can't leave tropical north Queensland without paying it a visit and also stopping off in the popular resort town Port Douglas. Port Douglas is pretty close to Cairns, but you might want to stay overnight to make the most of it. Highlights in this area include the palm-fringed Four Mile Beach and Daintree Discovery Centre with its terrific hiking trails. If you want to get away from it all for a while, look no further.
Getting there: Port Douglas is one hour from Cairns via Captain Cook Highway/State Route 44.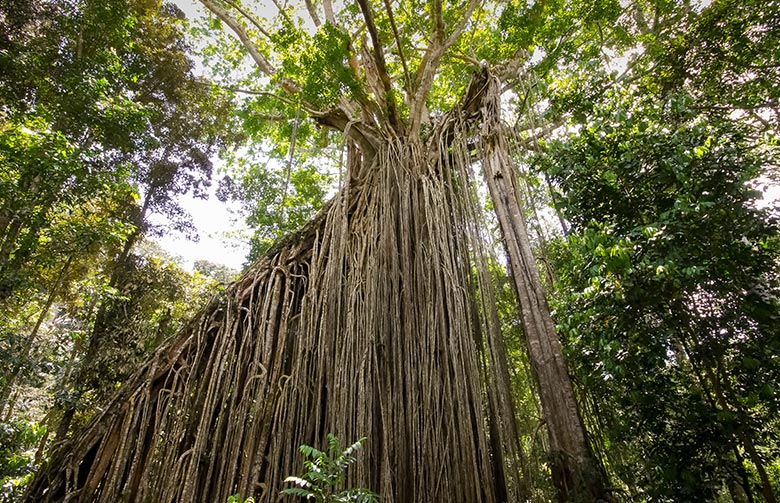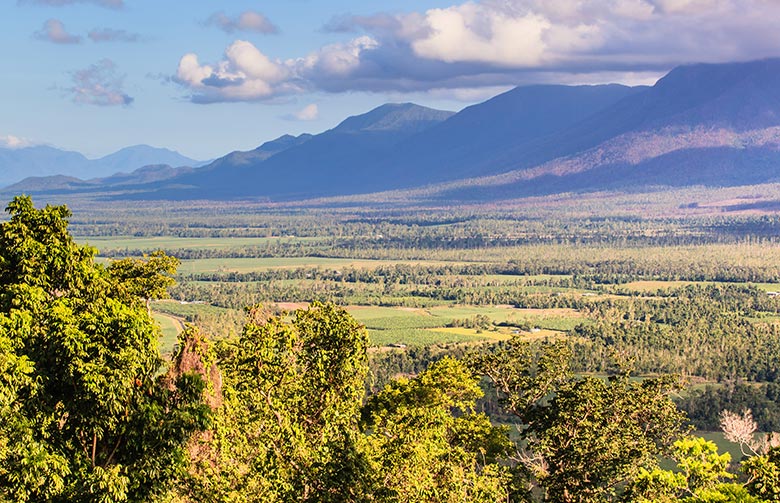 3. Yungaburra
This rollercoaster road trip takes you through the Gilles Range, so proceed with caution – the scenic road is famous for its seemingly endless series of bends and corners! Once you traverse the 19km to the traditional town of Yungaburra, you can visit awesome attractions like Curtain Fig Tree (a labyrinthine 500-year-old strangler fig), and the otherworldly crater lakes at Lake Eacham and Lake Barrine, formed over a mind-boggling 400 million years.
Getting there: Yungaburra is one hour and 10 minutes from Cairns via Bruce Highway/A1.
4. Kirrama Range Road
Originally constructed for the timber industry, this rugged road was closed for years before dedicated campaigners secured its reopening. If you love the great outdoors, this is a haven for fishing and camping that's well within striking distance of Cairns, but the serene atmosphere is a world away from tourist city vibes. Highlights include Blencoe Falls, Mount Garnet and Innot Hot Springs – this is a longer road trip so you should spread it out over at least 2 days.
Getting there: Kirrama Range Road is three hours away via Bruce Highway/A1.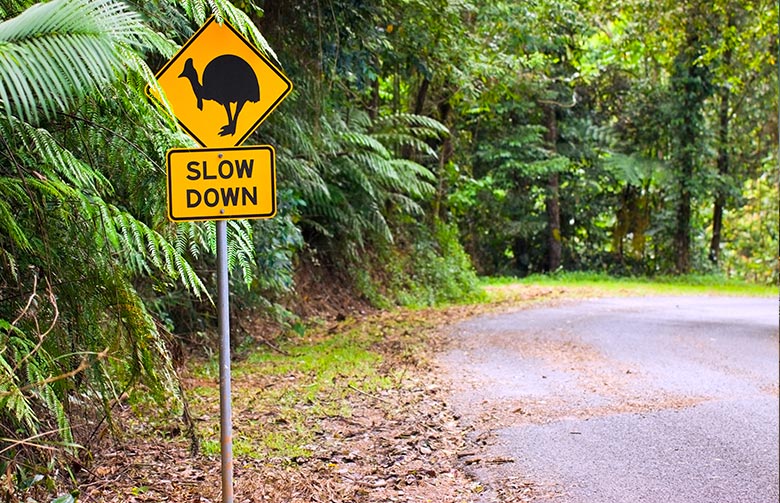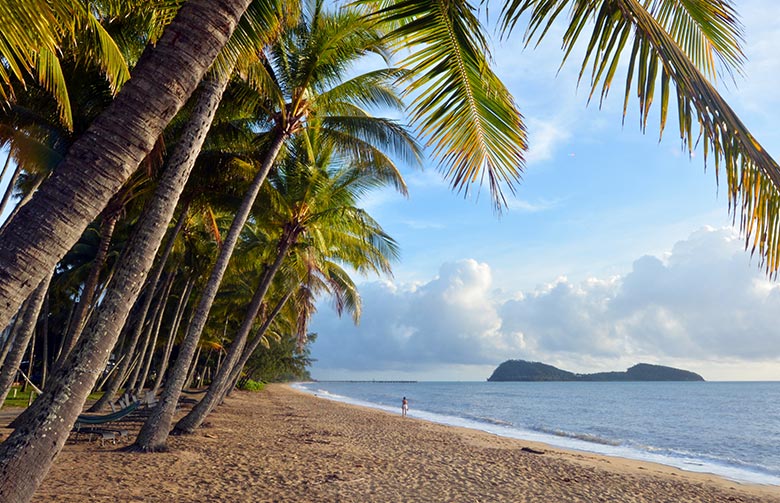 5. Kuranda
A small mountain town nestled in the emerald mountains just outside of Cairns, Kuranda is a great place to cool off from the tourist hustle and bustle. The drive to get here is short but sweet and you access the village via a panoramic cable car that takes you across the treetops. Koala Gardens, Birdworld, arts and craft galleries, cafes and walking trails await.
Getting there: Kuranda is just 30km from Cairns via National Route 1.
6. Palm Cove
Located just a quick drive north along the coast from Cairns, Palm Cover is as picture-postcard pretty as it sounds. The golden sands of its soft, sweeping beach are backed by swaying palms and the water looks as inviting as a spa bath. Heed local warnings though – swimming here can be dangerous at certain times of year!
Getting there: Palm Cove is 25 minutes from Cairns via Captain Cook Highway/Route 44.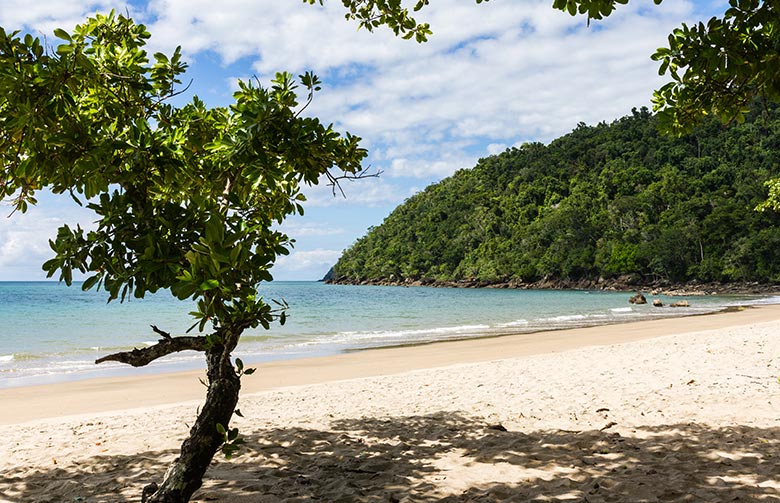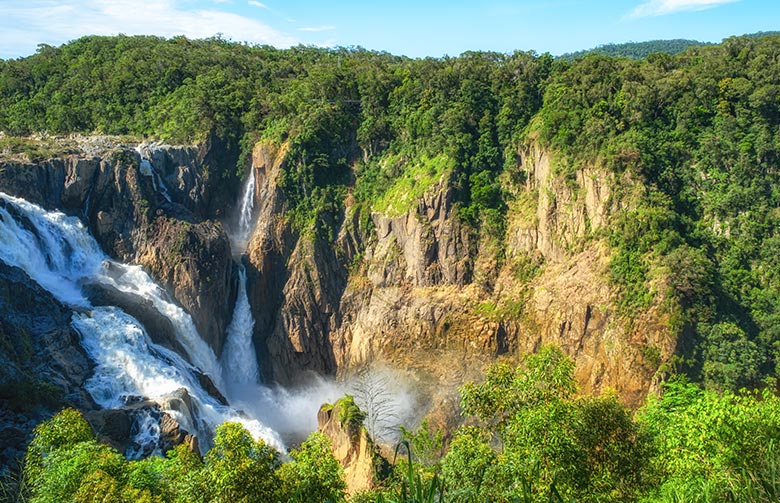 7. Etty Bay
A road trip to Etty Bay is a day packed with delights as you travel along the Cassowary Coast. Pack your bathing suit because there's thrilling swimming at Babinda Boulders, Josephine Falls and Behana Gorge, while your best chance of spotting the legendary Cassowary birds is at your final destination in Etty Bay – just don't get too close when you're snapping a selfie!
Getting there: Etty Bay is one hour 15 minutes from Cairns via Bruce Highway/A1.
8. Barron Falls
If waterfalls are your thing, Barron Falls are amongst Australia's most magnificent, and you'll find them just a short drive outside Cairns. Set in a romantic rainforest, these powerful falls cascade over several tiers of giant rocks before eventually crashing into the pool below. Walk up to the viewpoint in the wet season and you'll see one of natures most mesmerising sights.
Getting there: Barron Falls is 40 minutes from Cairns via National Route 1.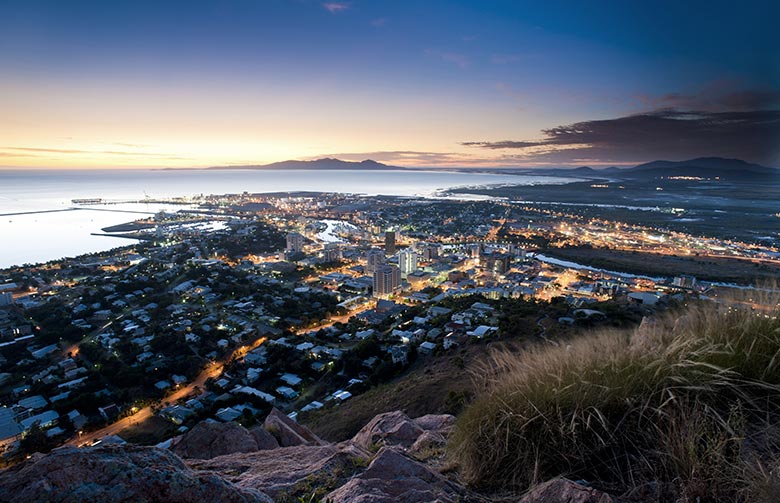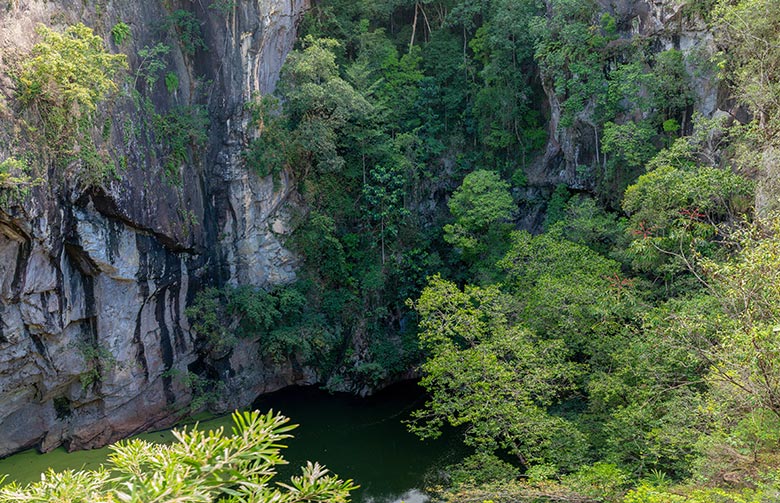 9. Townsville
Another large city in far north Queensland, the trip to Townsville takes a few hours, so an overnight stay is definitely advised. You pass lots of lovely spots on the way and the varied terrain includes everything from cane fields to imposing mountains. Pretty pitstops include Cardwell with its rocky beaches, panoramic Castle Hill Lookout, and the magical Magnetic Island.
Getting there: Townsville is 4 hours from Cairns via Bruce Highway/A1.
10. Herbeton
Another captivating hillside village, Herbeton is a historic settlement that's within easy reach of Cairns – ideal for an interesting day trip. There's a must-see mining museum here as well as an unusual spy and camera museum. On the way back, stop at Mount Hypipamee Crater (which was formed by a ginormous gas explosion back in the mists of time), then cool off in Dinner Falls. If you want to mix natural and historical attractions, Herbeton is a brilliant blend.
Getting there: Herbeton is one hour and 30 minutes from Cairns via State Route 52.
As you can see, from the world-beating wonder of the Great Barrier Reef to rivers, mountains and rushing waterfalls, Cairns is a legendary launchpad for rollicking road trips.
Hire a car in Queensland with Enjoy Travel and some of Australia's most awe-inspiring scenery awaits – whether you're a local rediscovering your own back yard or a visitor from further afield, adventure is guaranteed.