The 25 Best Burgers In New Zealand 2020
Craving a juicy, delicious burger? You certainly will be after reading this, that's for sure. From tiny burger bars to hugely popular burger restaurants with a cult following, our pick of the best burgers in New Zealand for 2020 make for plenty of must-eats.
We've been checking out suggestions from our audience on their favourite burgers year-round, as well as contributions from the Big 7 Travel editorial team. 2019's best burgers in New Zealand saw the No.1 spot go to a diner in Wellington which has since sadly closed down, so just like the ever-changing hospitality industry itself, this year's list features some new and creative burgers.
So, read on to see which droolworthy burger takes numero uno in 2020…
Best Burgers In New Zealand 2020, How do these rankings work?
25th. Burgers & Beers Inc – Christchurch
As they say themselves: "an extremely uncomplicated thought process brought us to the facts that a lot of people enjoy burgers, & a lot of people enjoy beer, so we just decided to make a lot of people happy by combining them." The result? A place with little fuss, a great product and some of the friendliest staff in the country.
---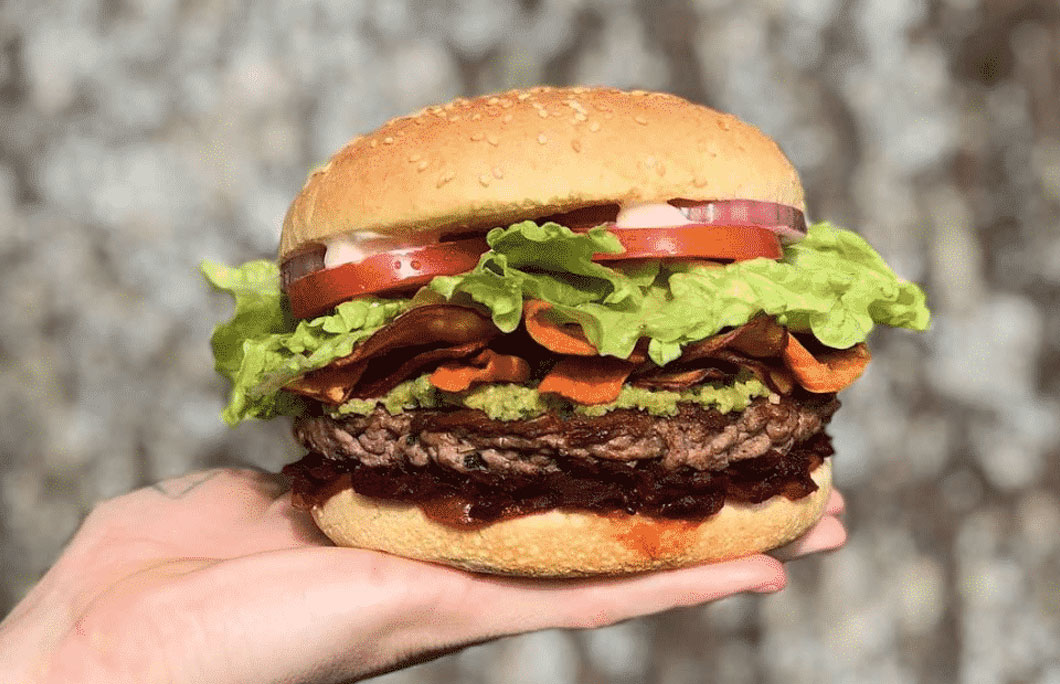 24th. BurgerFuel – Nationwide
BurgerFuel has been doing so much for the NZ burger scene for decades that they simply have to be on the list. Their branding, burgers and shakes are all on point and as well as seeing them at festivals when you're out and about, the big international expansion is on. A brand that Kiwis can be proud of. New Zealand Burgers at their absolute best.
---
23rd. Burger Wisconsin – Napier
This NZ owned and operated business has been serving burgers for over two decades, so that's a pretty good indicator of just how good they are. There's several locations around the islands and they excel with brilliantly efficient service.
---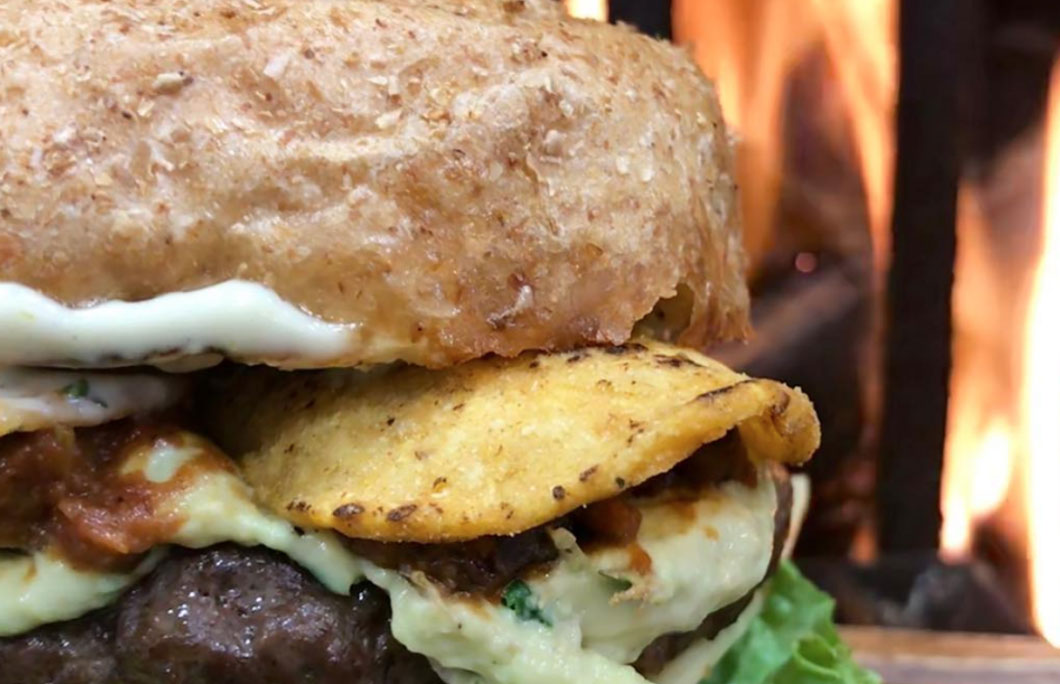 22nd. The Blind Finch – Ohakune
A newcomer for our 2020 list of the best burgers in New Zealand, The Blind Finch cooks all its burgers on a custom wood fire grill, which gives the meat a subtle smokiness. The menu is built around unique flavours that are representative of popular countries. Think: a Japanese burger with teriyaki beef (or chicken), Okonomiyaki sauce, kewpie mayo and Japanese slaw.
---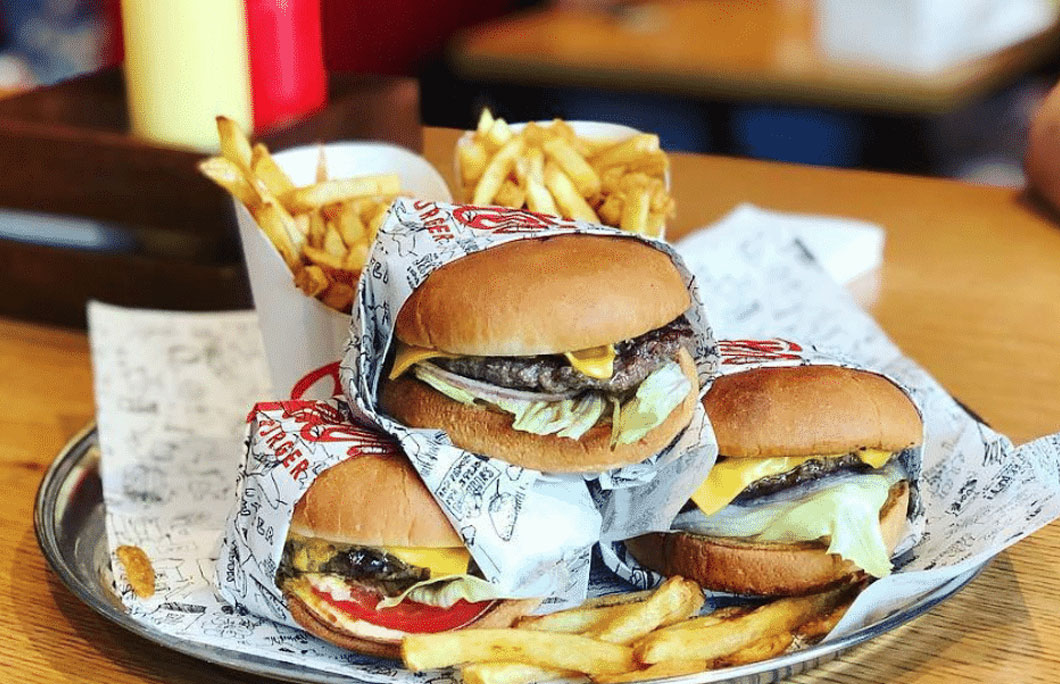 21st. Better Burger – Auckland
They use fresh, locally sourced and sustainable ingredients to make deliciously simple burgers, all wrapped up in 100% compostable packaging for a better fast food experience.
Perfect sized burgers for people who hate it when there's so many toppings that it ruins what the core product should be. Simple, but brilliant. New Zealand Burgers don't get much better than this.
---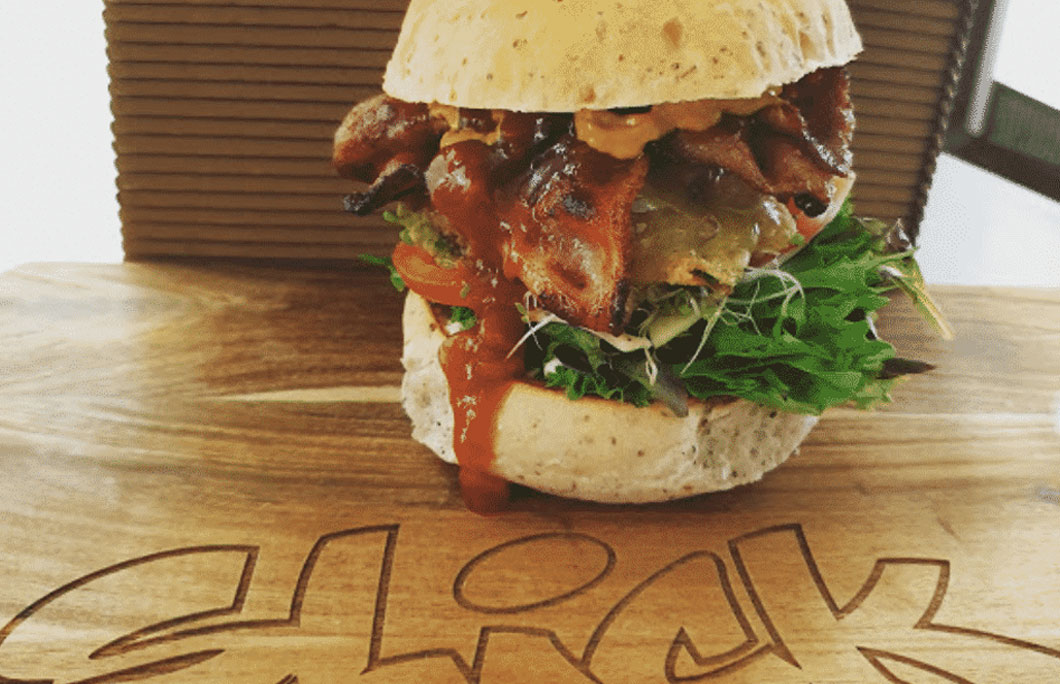 18th. Slick Burgers – Christchurch
Their burgers are both super inventive and melt-in-the-mouth-tasty. The buzz of the place alongside the passionate owners and staff make it feel like fun every time you visit. All eating experiences should be like this.
---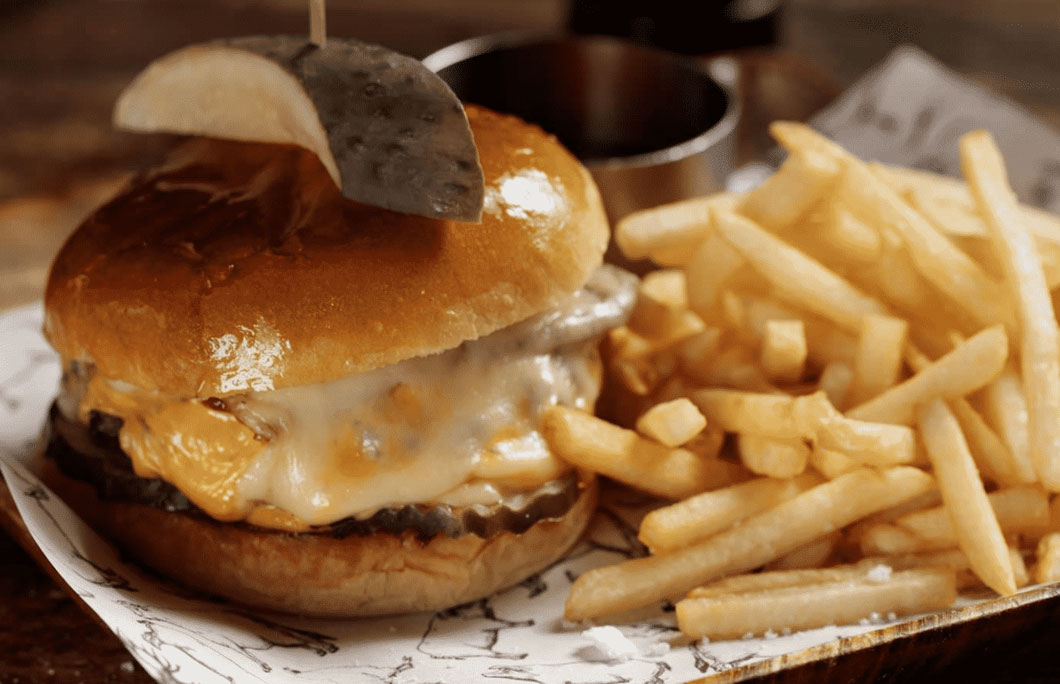 19th. The Portlander – Wellington
The Portlander is more up-market than some of the other spots on the list but who says that high end restaurants shouldn't be serving up amazing burgers? Not us, that's for sure. The burgers are absolutely top class and elegant in size with perfect French style "frites".
---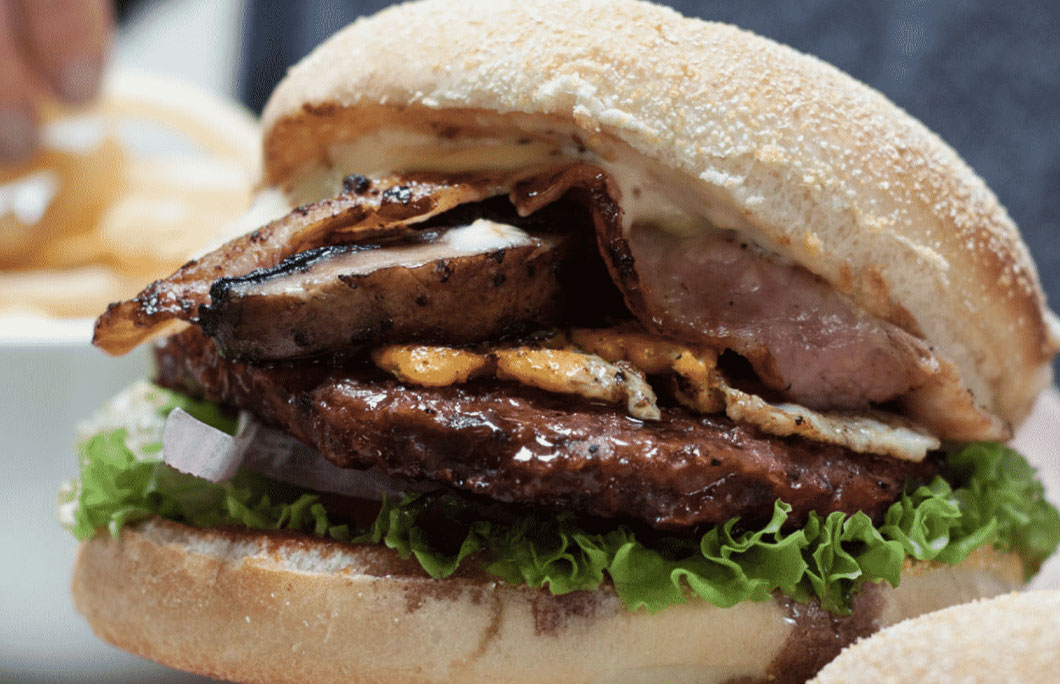 18th. Velvet Burger – Christchurch
A proper chilled out burger bar where people can really chill and feel at home. Velvet Burger place a big emphasis on only using the best ingredients possible, and with great selection of beers and even wine there is something for everybody. One bite and you'll see why Velvet Burger has made it onto the list for the second year in a row.
---
Image: @chaxuongsong
17th. The White Lady – Auckland
The White Lady might be a newbie on our list, but they've been serving up the same fantastic burgers for more than 50 years. This family-owned mobile food takeaway defines the very meaning of comfort food. Their burgers have no frills to them; just a good ol' burger that is made to juicy perfection.
---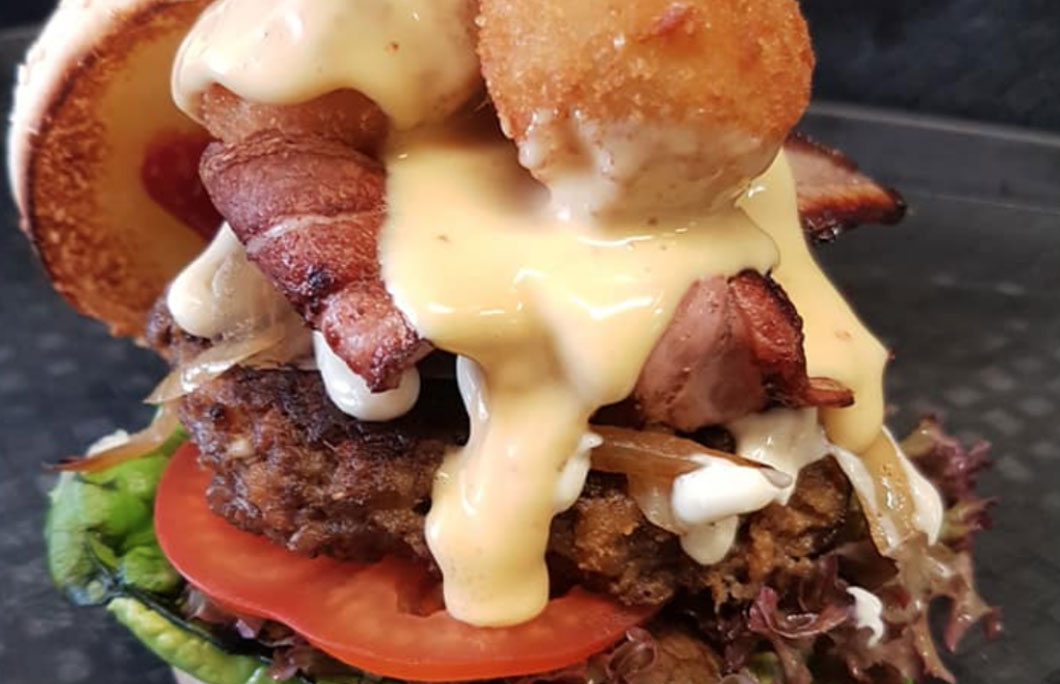 16th. Big J's – Auckland
They serve gourmet burgers with super exciting toppings here, with home made burger patties, sauces, fresh, quality ingredients and weekly changing specials. Creative toppings include cheesy jalapeno bites or creamy Camembert cheese with plum chutney and salted kettle crisps You'll never have a bad burger in here – fact.
---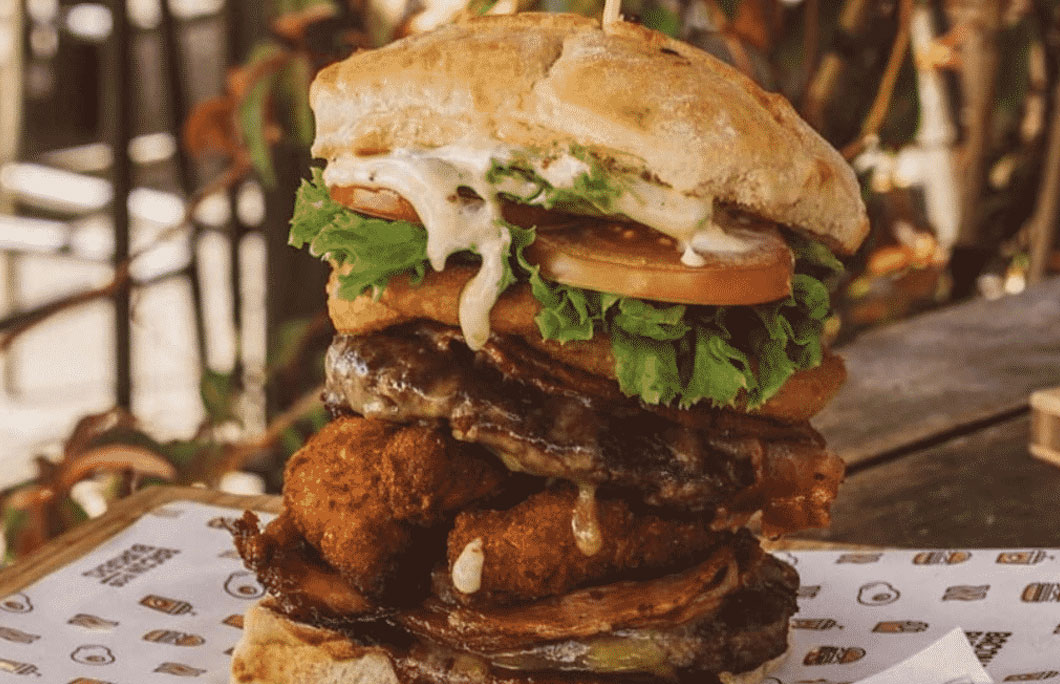 15th. Bacon Brothers – Christchurch
You'll find these beauties at either their burger bar, farmer's markets or from their food truck. They pack in just about as many fillings in one burger as is humanely possible. How could anyone resist this? Your biggest challenge here will be figuring out how to tackle the burger (without cutlery!) and finishing it all.
---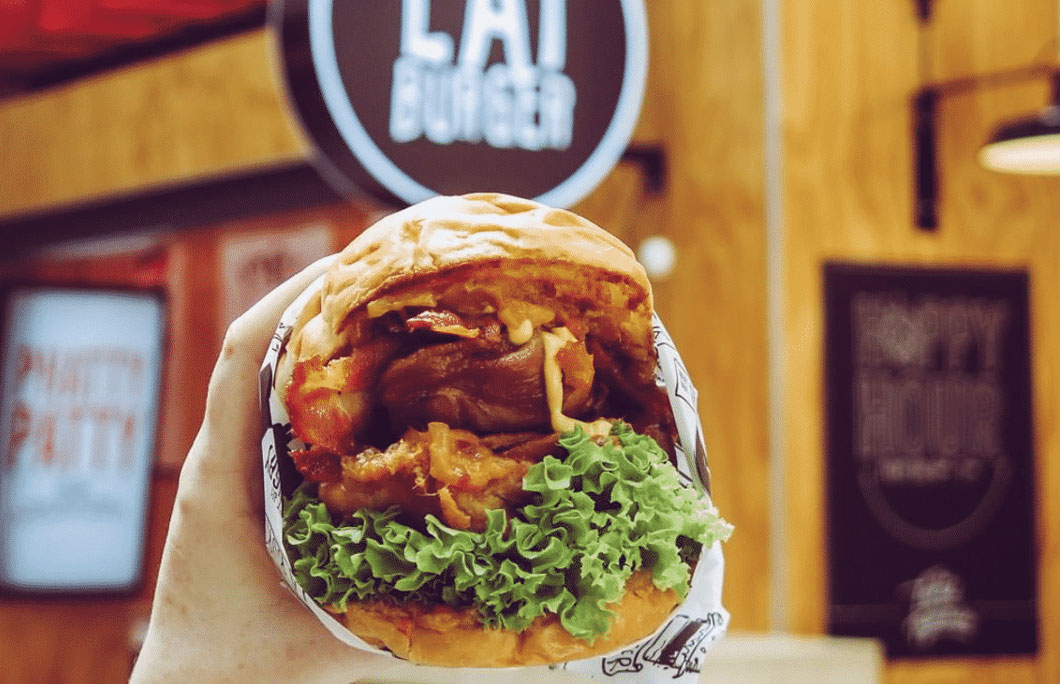 14th. Eat Burger – Hamilton
They offer mouth watering, good value burgers right in the heart of Hamilton's CBD and with super locally sourced ingredients you know it is always going to be fresh. Downright delicious, and jam-packed with flavour. Plus, with a huge band of loyal customers they never shirk on quality…
---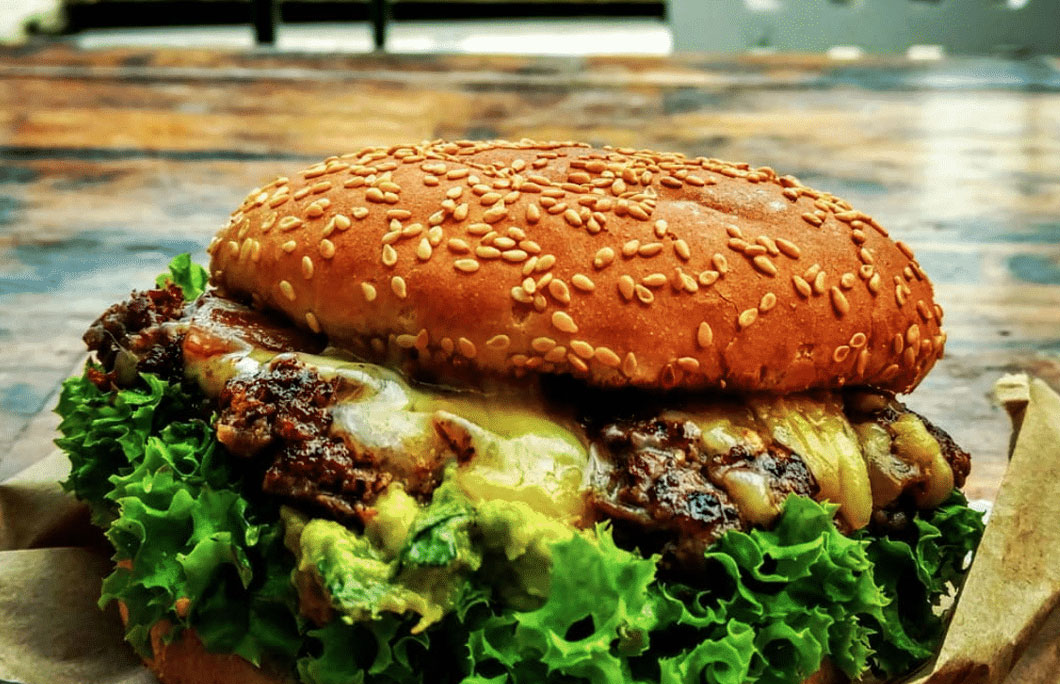 13th. Ekim Burgers – Wellington
Ekim Burgers has a super chilled out seating area for after you get your burger, with the chance you'll be right beside strangers. This actually really adds to the vibe of the place – plus, with burgers this good you'll be coming back on a regular basis.
---
12th. The Flaming Onion – Auckland
A proper old-school burger joint where the service comes close to topping the food. They focus on cooking the burgers fresh here with amazing ingredients (everybody talks about the toppings!) and the end result is an understated, elegant and delicious burger.
The classic double patty burger is a must and their sweet potato fries are the stuff of legend.
---
11th. Red Star Burger Bar – Queenstown
Red Star Burger Bar is a must-visit in Queenstown, serving up burgers made with local and organic produce for a tasty bite every single time. Beef burgers are dripping with flavour and jus, and have all the classic toppings any burger fan could ask for. Try the MoFo with Swiss cheese, bacon, free-range egg, mushrooms, gherkins, and beetroot relish.
---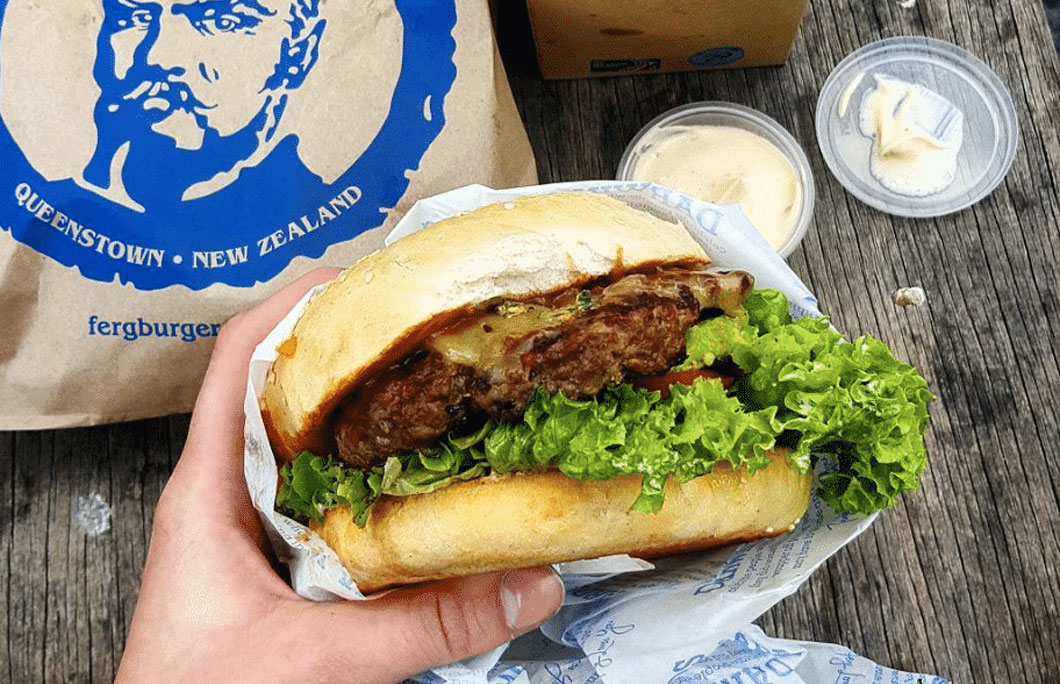 10th. Fergburger – Queenstown
Fergburger is iconic a burger joint as you are ever to walk into. Loved by locals and tourists alike, you'll be told to come here by Ferg-Fans time and time again, and you won't regret it. This is one to take with you on the go and find a nice vantage point by the water to savour it at.
---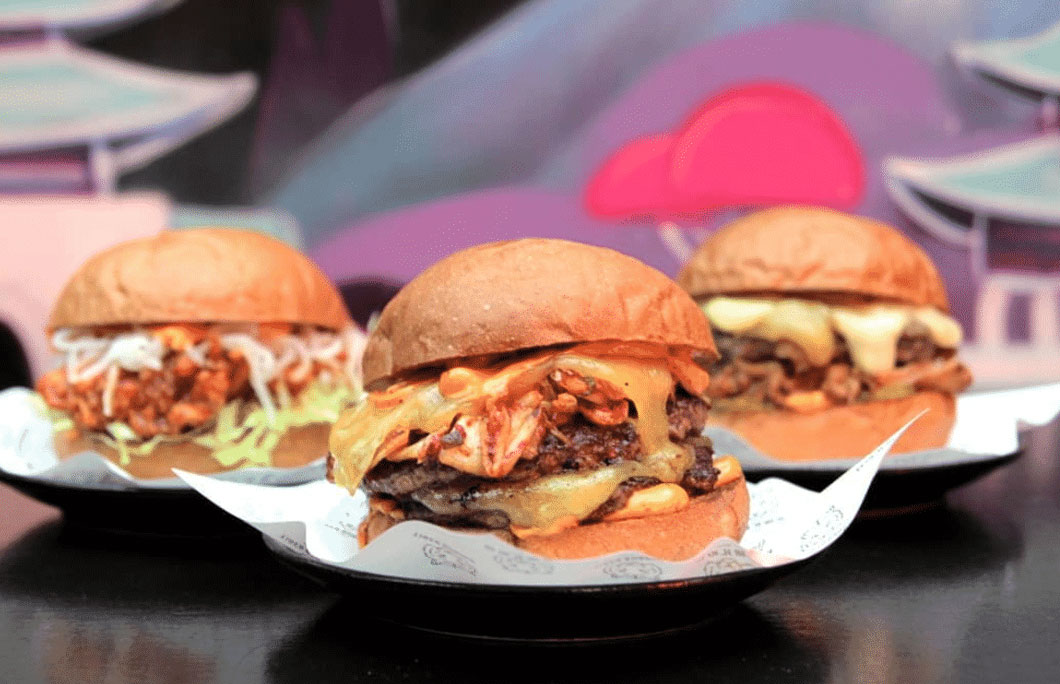 9th. Tiger Burger – Auckland
Tiger Burger started out as a food stall in 2014 to share the fun and delicious flavours of Korea. They grew into their full time home in 2016, where their legions of customers devour their burgers with an Asian twist. Tasty burgers include their signature-blend aged Taupō beef with sauteed kimchi, aged cheddar and gochujang mayo. Something different that's super delish.
---
8th. Reburger – Dunedin
You can double, triple or even quadruple up on the juicy meat patty at Reburger, as well as throwing in some satisfying sides. Feast on burgers stacked high with crispy onion rings, hashbrowns and oozing, melted cheese. The result is that you come here when you have a serious appetite and you leave feeling super fulfilled.
---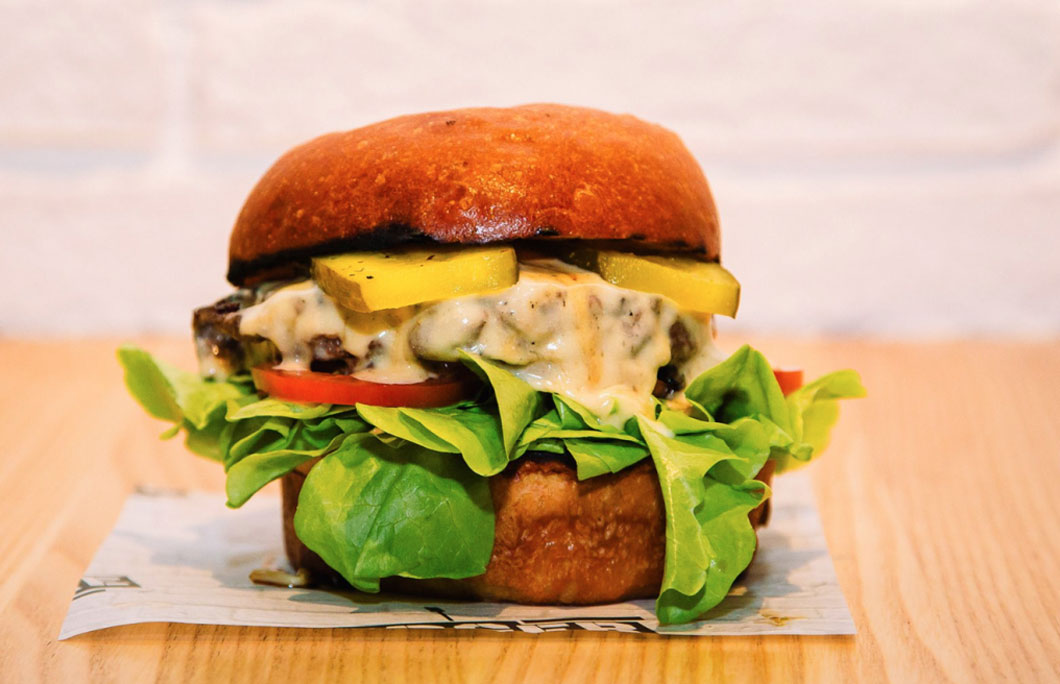 7th. Burger Culture – Nelson
Hightail it to Nelson for this superb burger bar that is home to some of the tastiest burgers in New Zealand. Burger Culture takes pride in doing things right, from baking their buns fresh every morning to mincing the prime beef in-house. Burgers this good are rare, so dig in. Finish off with one of their fried donuts…
---
6th. Burger Burger – Multiple
With four locations around the city, this wildly popular chain serve some of the tastiest food in the country. While there are lots of fantastic items on the menu, the foolproof burger is the way forward with some tasty sides. An absolute joy of an eating experience.
---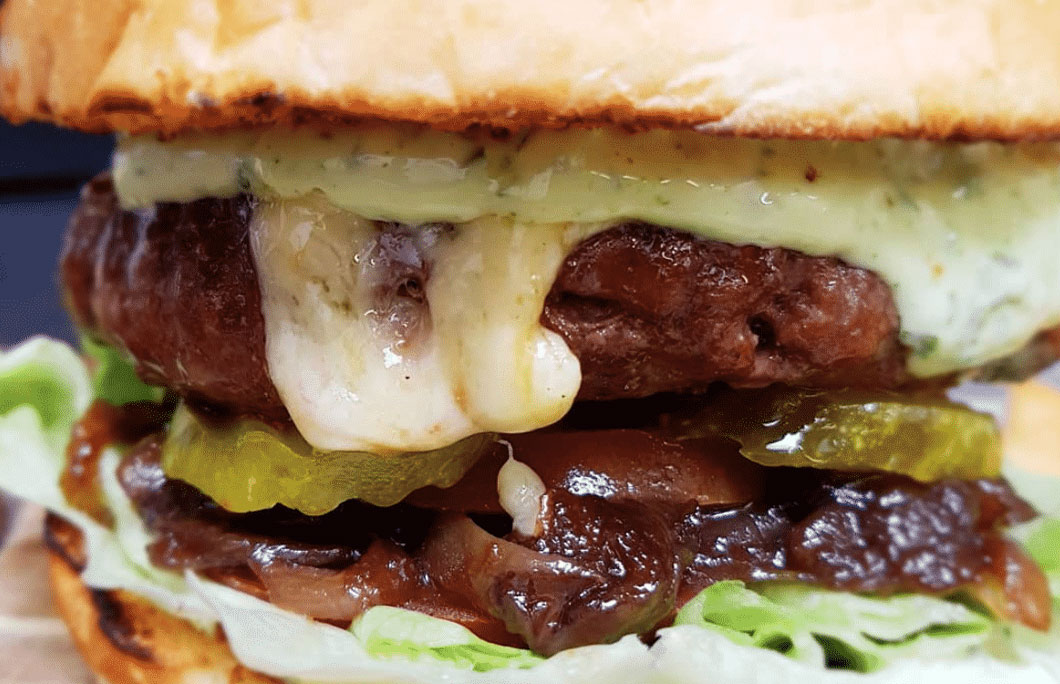 5th. The Barn Burger And Grill – Tauranga
This may be tucked away but once you do find this spot and sit down with a chilled beer and one of their burgers you'll realise that this is what life is all about. Add in their super friendly staff and this place will quickly become a firm favourite. The burgers here are generally thicker than normal beef patties so know that before ordering a double patty – it's a beast.
---
4th. Corner Burger Mt Eden – Auckland
Corner Burger serves craft burgers and beers to a super loyal customer base who all rave about the place. The burgers are picture perfect, so make sure to grab that Instagram shot before firing it into you. It will be worth it if you come with a big appetite as their burgers are some of the biggest in the city.
---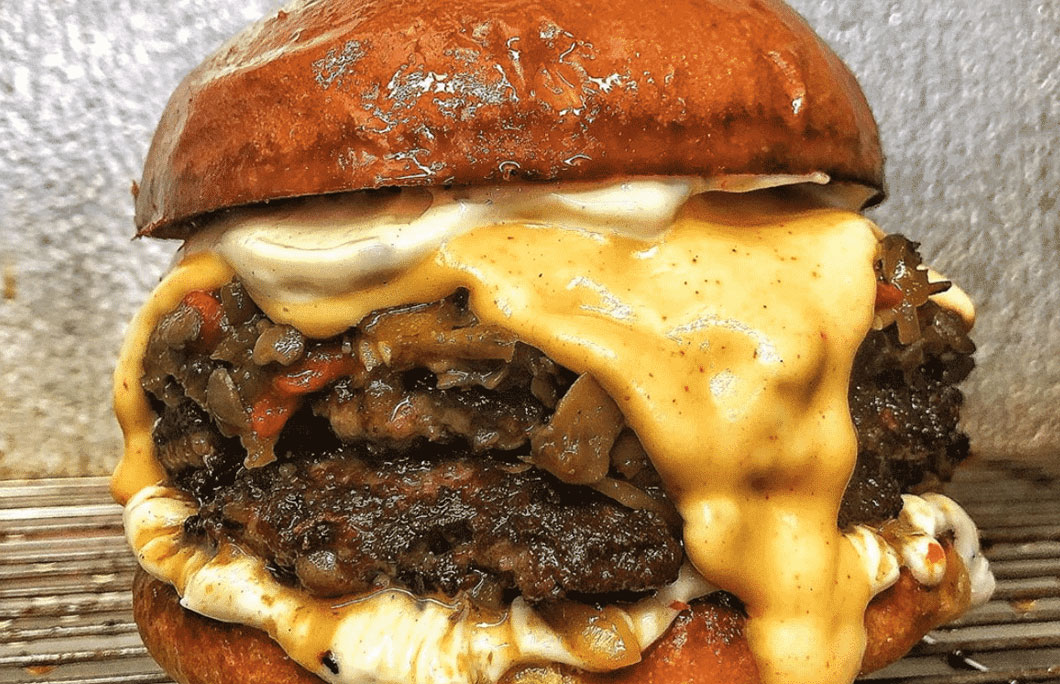 3rd. Pauly's Diner – Taupo
This 20202 newcomer gourmet burger joint has a tempting selection of mouth-watering burgers, southern fried chicken and loaded fries. Words can't even begin to describe how tasty these are, so we suggest you check it our for yourself.
Juicy patties (including beef and bacon blends) come topped with anything from truffle and pepper mayo to blue cheese sauce and house dill pickles.
---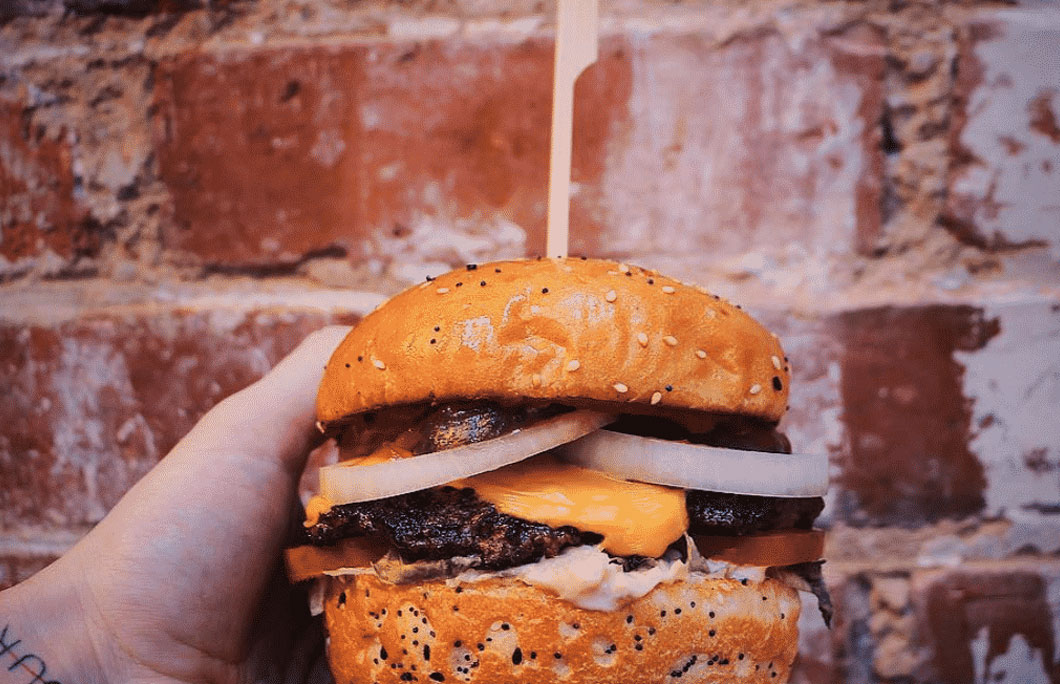 2nd. Good Good – Dunedin
Good Good come in at 2nd place this year (moving up from 3rd in 2019!), and have an impressive selection of burgers with the menu also featuring nice specials. Perfectly sized to be held in one hand and the venue has super chilled out vibes and a cool crowd. One to keep an eye on for when you want a proper feast.
---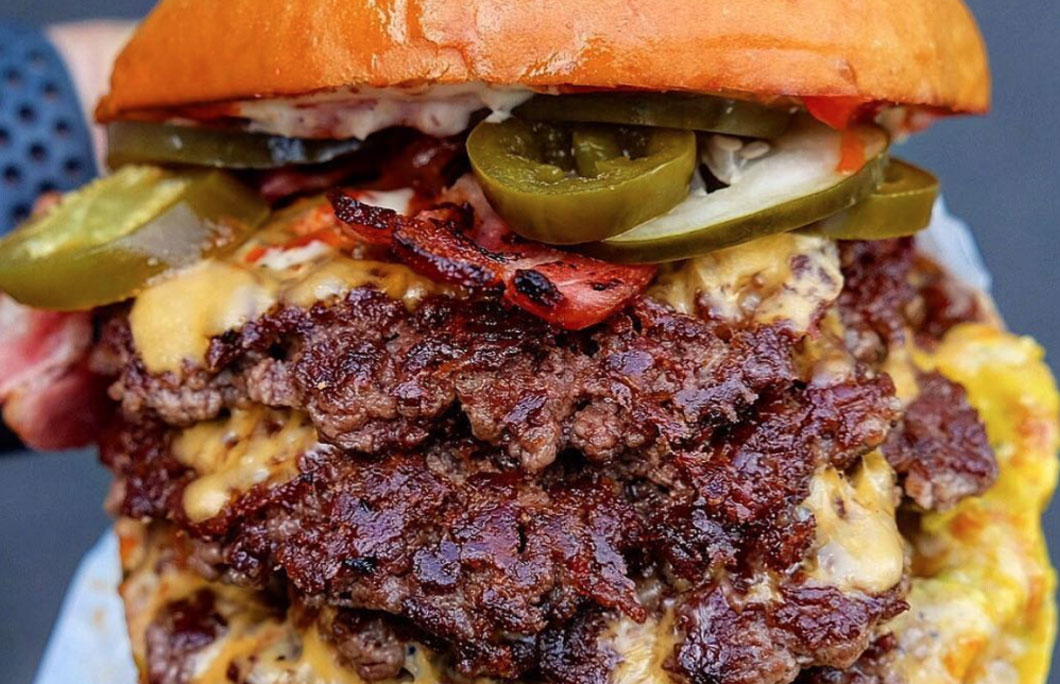 Image: @fitnesscheatmeals/Instagram
1st. Burger Geek – Auckland
These burgers are almost too beautiful to eat – tender, juicy beef with oozing cheese in a pillowy soft and buttery brioche bun. But hey, considering Burger Geek is the best burger in New Zealand for 2020, dig in! They use a special blend of Wagyu and Angus cuts, freshly ground on site, for a satisfying burger that's smashed on the grill to keep all that flavour in. You can't beat it.
---