The 50 Best Rooftop Bars In South East Asia
There's only one thing to do when the heat and humidity hits – find the nearest rooftop bar and cool down with a cocktail or two.
South East Asia is famous for its rooftop bars, with countless skyscrapers for a cool new cocktail lounge to perch on. Having a drink in one of region's best sky-high watering holes is a smart way to escape the heat and the crowds. Plus, you get a whole new viewpoint… and a tasty cocktail.
With that in mind, we've rounded up the essential rooftop bars in South East Asia – from Malaysia to Vietnam and pretty much everywhere in between.
The judging criteria:
Finalists were selected from the countries of South East Asia
Votes were cast in poll of Big 7 readers, across our 1.5million community on social media and by a panel of food experts
Online reviews, previous media coverage and notable blogs were also included in the overall rating
The final list is subjective – if we've missed out on any must-try rooftop bars across SEA, please do let us know
Best Rooftop Bars In South East Asia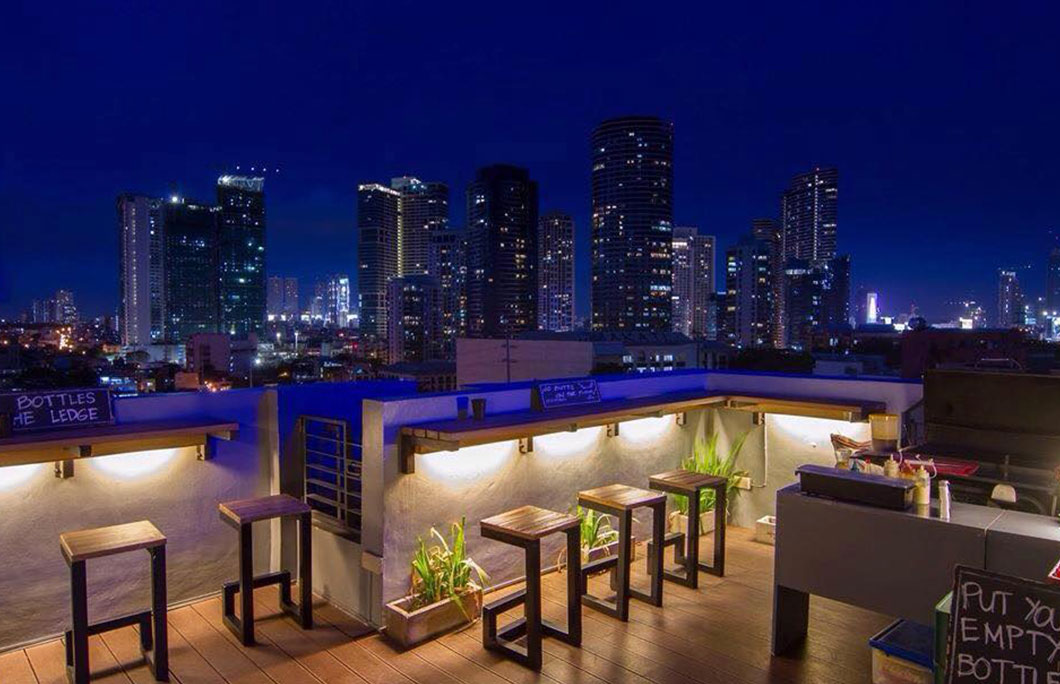 50th. Z Hostel – Manila, Philippines
Want a guaranteed great night out in Manila? The Z Roofdeck has a fantastic view of the Manila skyline from every angle. The rooftop bar serves up cold beers, fresh cocktails, and cracking munchies, and a DJ deck which has become home to local and international artists.
---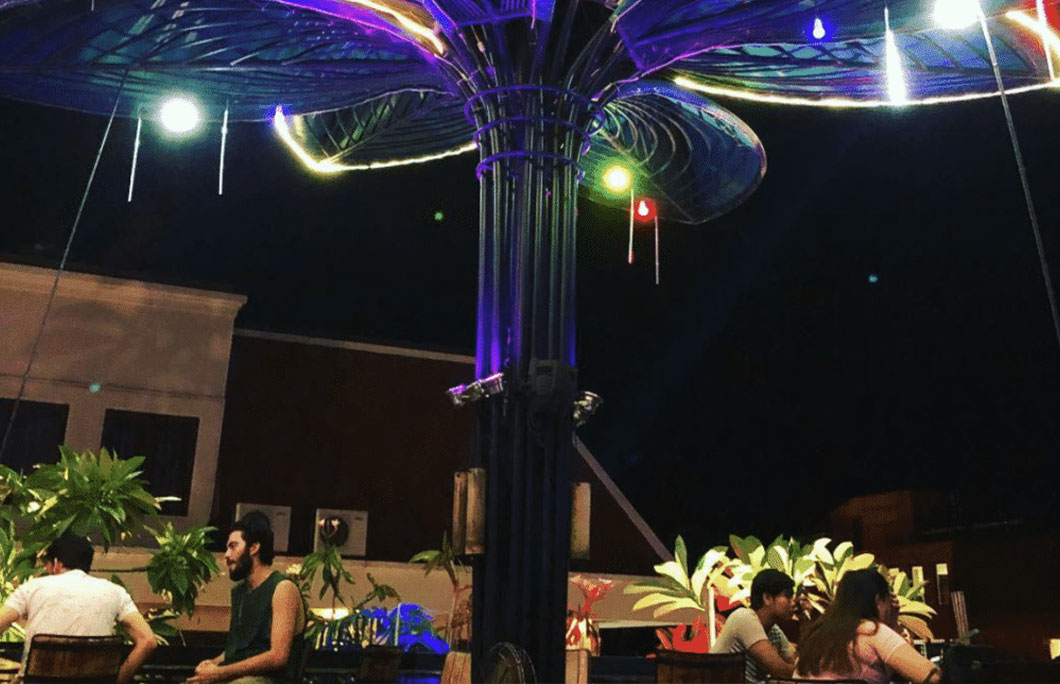 49th. Natural House Sky Bar and Restaurant – Siem Reap – Cambodia
Natural Sky Lounge is located on the rooftop of a hotel, with a pretty view of Siem Reap city and is ideal for catching a nice balmy, tropical breeze. Take the spiral stairs up the roof, where you'll be sitting underneath colourful lights that are inspired by Singapore's Gardens By The Bay.
---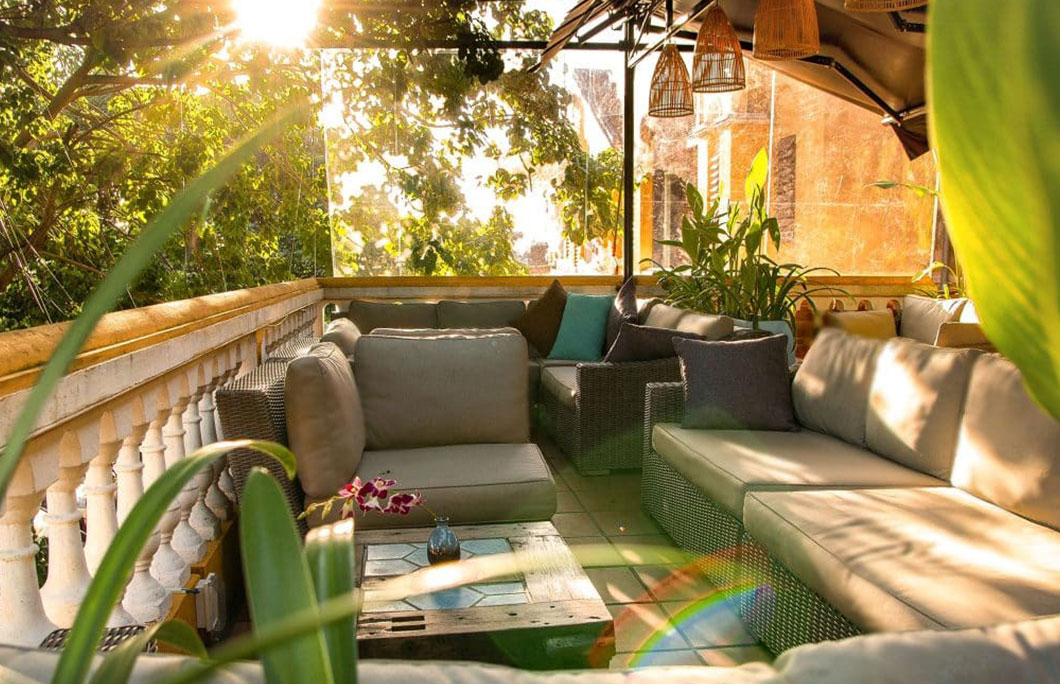 48th. Market Bar – Hoi An, Vietnam
Unlike bars in Saigon and Hanoi, this rooftop bar in Hoi An is low-key and rustic – you won't find any swanky details here (although you will find great craft beer) and that's what makes it so charming. Market Bar overlooks one of Hoi An's most colourful intersections by the bridge to Cam Nam Island.
---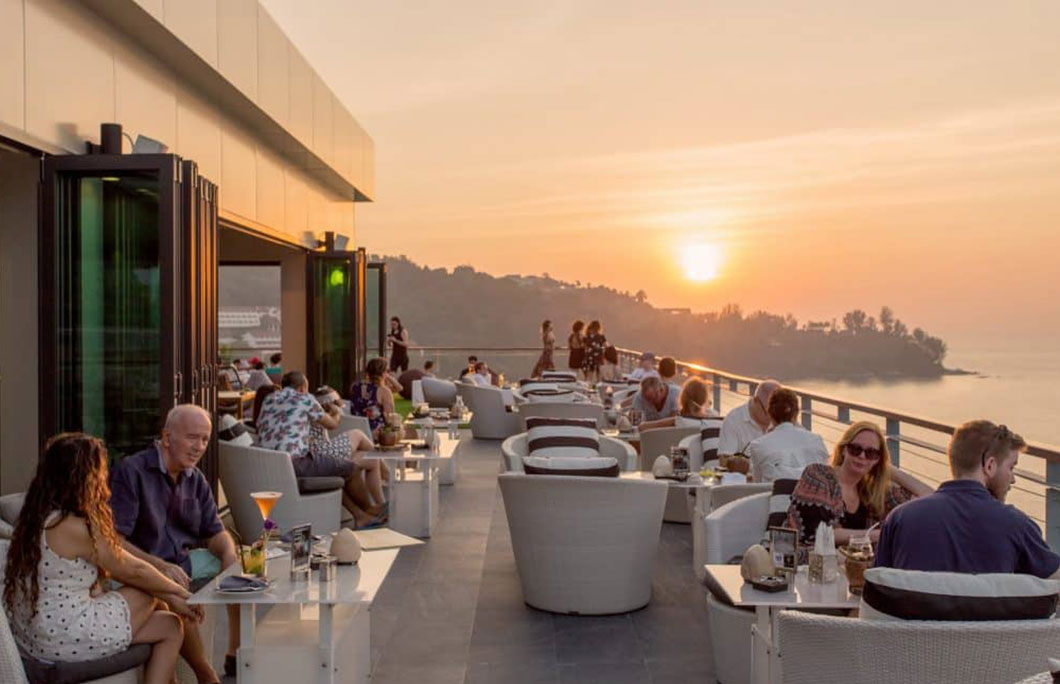 47th. Vanilla Sky – Phuket, Thailand
Make a beeline for Cape Sienna hotel for incredible views of Kamala Bay from this stylish bar. Stunning sea views, creative craft cocktails and tasty gastro pub dishes. Gaze out over an amazing sunset whilst sipping an "Elderflower Old Town" – life doesn't get much better than this.
---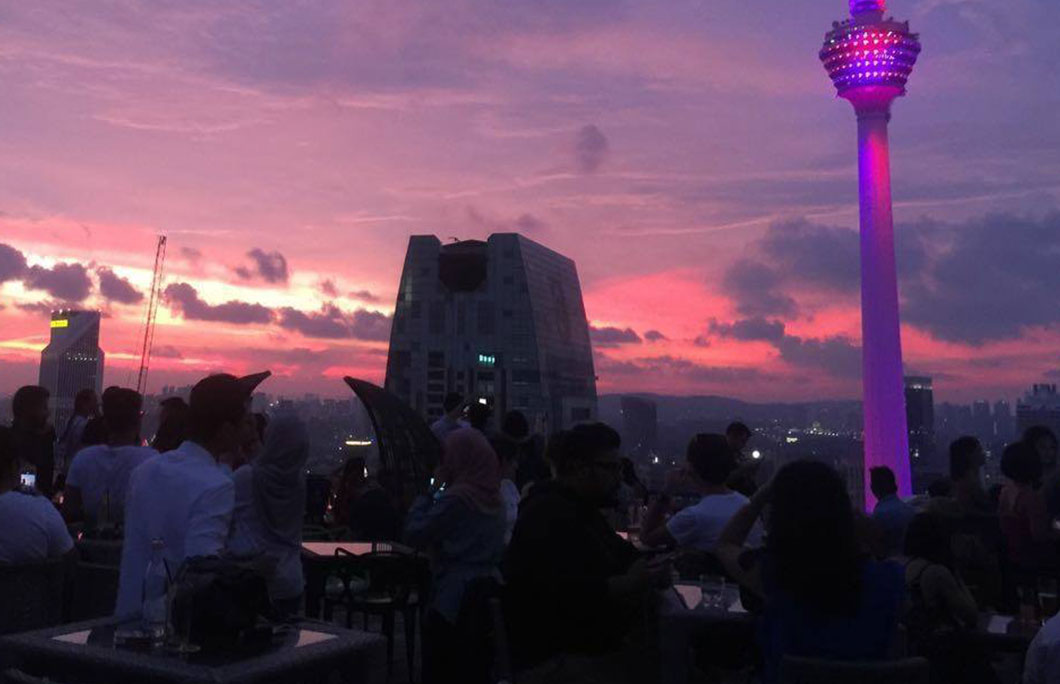 46th. Heli Lounge Bar – Kuala Lumpur, Malaysia
This helicopter pad turned nightclub has killer views and live DJs. What more could you ask for? Located on the 34th floor of Menara KH in the heart of the Golden Triangle, this is an ultra-cool club.
A section of a Boeing 737 side panel has been cleverly converted into a booth for seating and you'll be parting on an actual helicopter pad.
---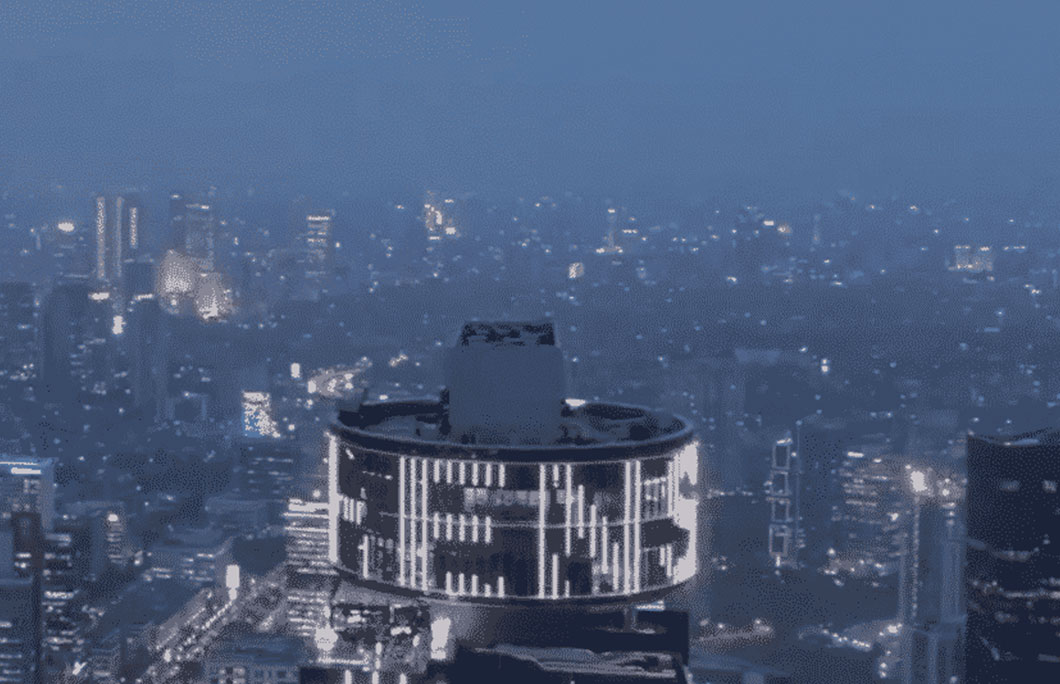 45th. Henshin – Jakarata, Indonesia
A 67th floor restaurant and bar that specialises in Peruvian food and high end cocktails. Come for dinner and to enjoy the view and then stay late into the night in one of the most luxurious settings in the city.
---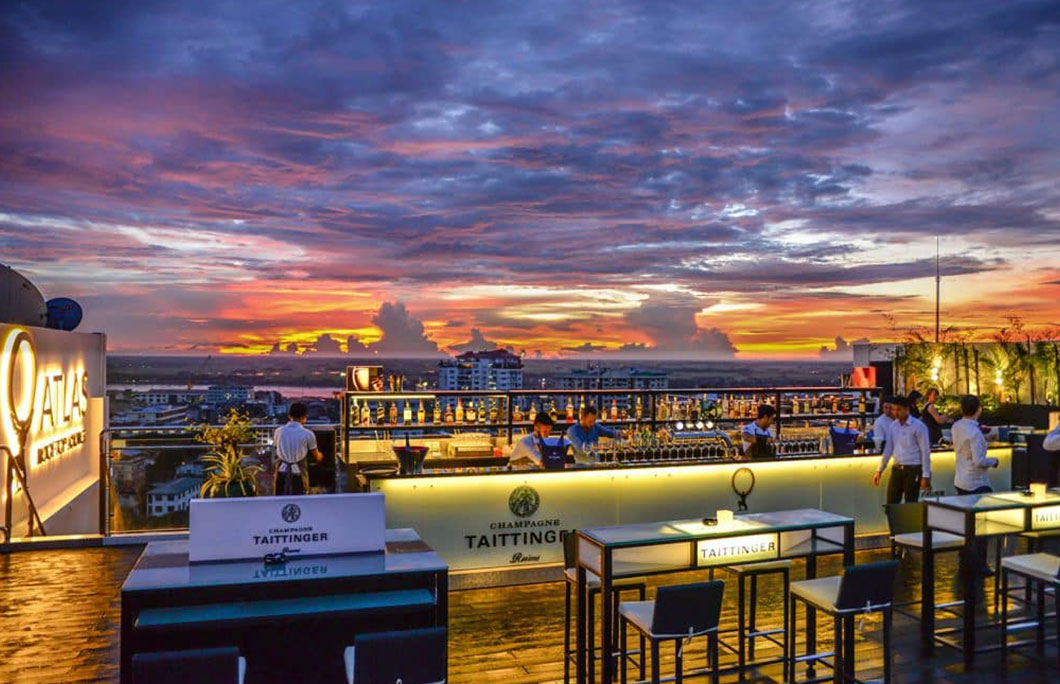 44th. Atlas Rooftop Bar & Lounge – Yangon, Myanmar
You'll find this fancy cocktail bar on the 12th floor of the Uniteam building in Sanchaung Township.
The perfect spot to enjoy an impressive 360° degree view of Yangon including the city's most famous landmark, the Shwedagon Pagoda, and spectacular sunsets over the Yangon River.
---
43rd. Le Moon – Phnom Penh, Cambodia
A local favourite, Le Moon is right in the middle of it all at Riverside. The lounge offers a 270 degree view of the two rivers (Mekong & Tonle Sap) plus a good chunk of the city. Their team of bartenders can make any generic and international cocktail, and they have created also a series of original cocktails that can only be ordered here.
---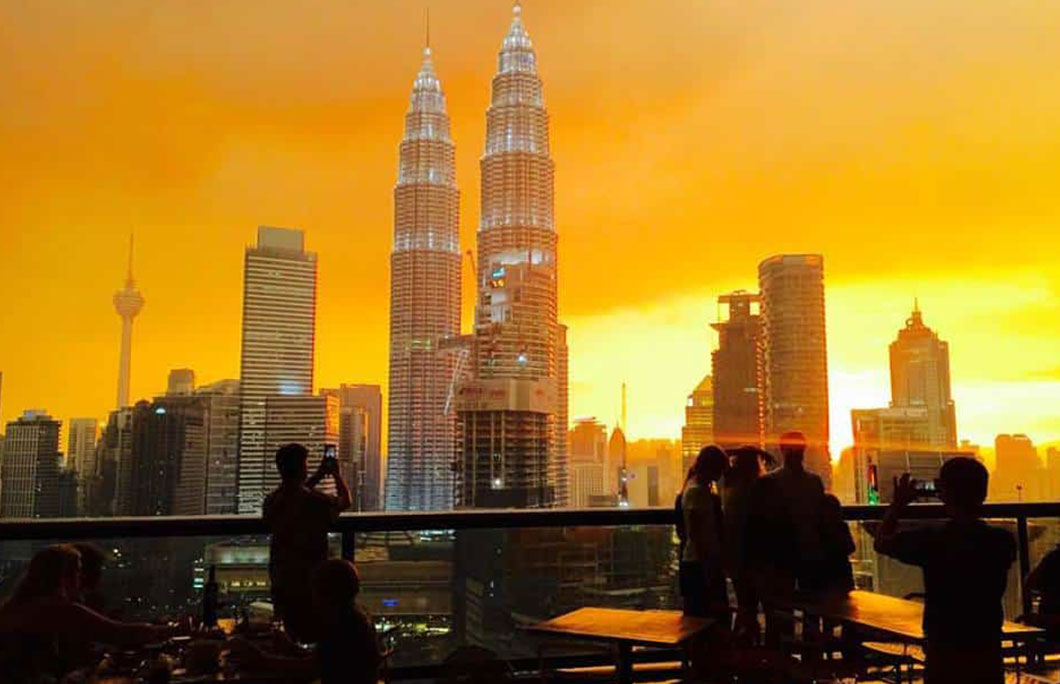 42nd. Fuego Troika Sky Dining – Kuala Lumpar, Malaysia
You'll find this beautiful tapas restaurant and bar on the 23rd floor of the The Troika KLCC building in central KL. Perfectly made cocktails include a Negroni that comes in a pocket flask, hidden inside a book.
Pro tip: be sure to book a table in advance for those spectacular sunset views.
---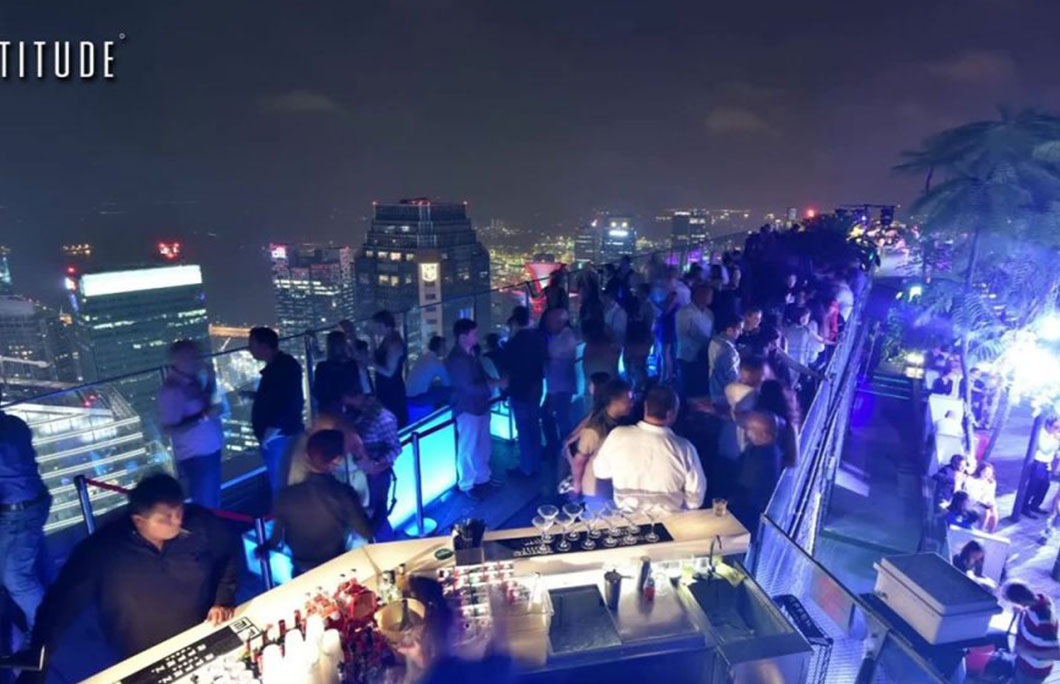 41st. 1-Altitude – Singapore, Singapore
This place has one of the best 360 views in Singapore and is a magnet for A-list parties, gastronomic dining experiences and nightlife entertainment. It's the ultimate tourist spot for the most stunning views of Singapore's cityscape, the best sunsets and premium cocktails.
---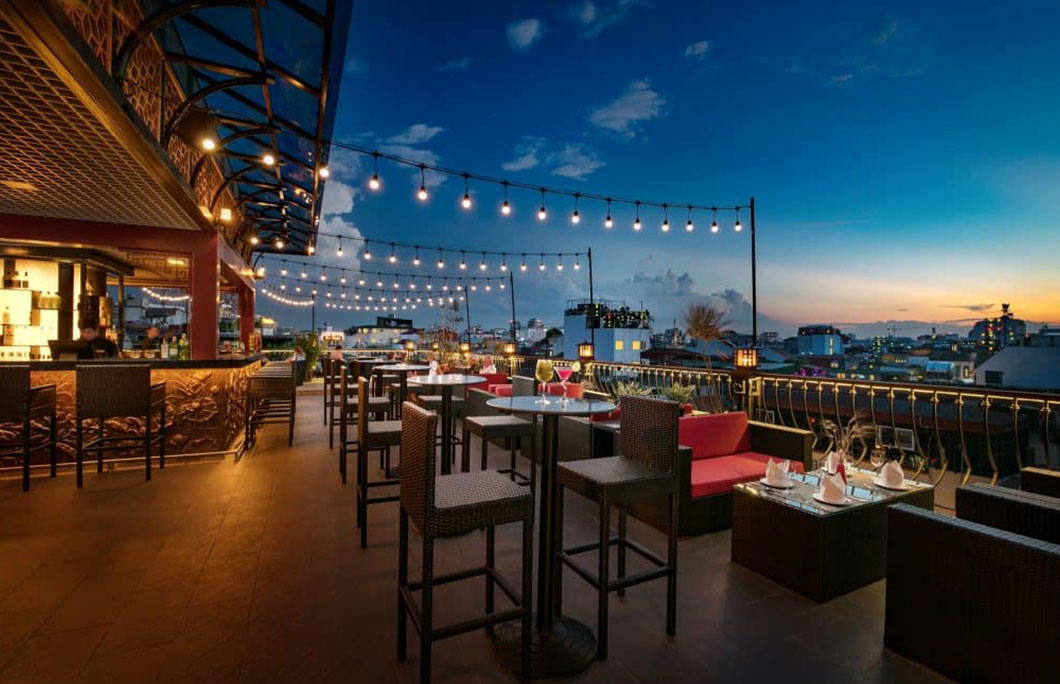 40th. MK Premier Hotel – Hanoi, Vietnam
When it comes to nightlife in Hanoi City, there's no better place to party in style than a sleek rooftop bar. Offering panoramic views of the old quarter, MK Rooftop Bar & Restaurant is a totally relaxed atmosphere with excellent cocktails.
---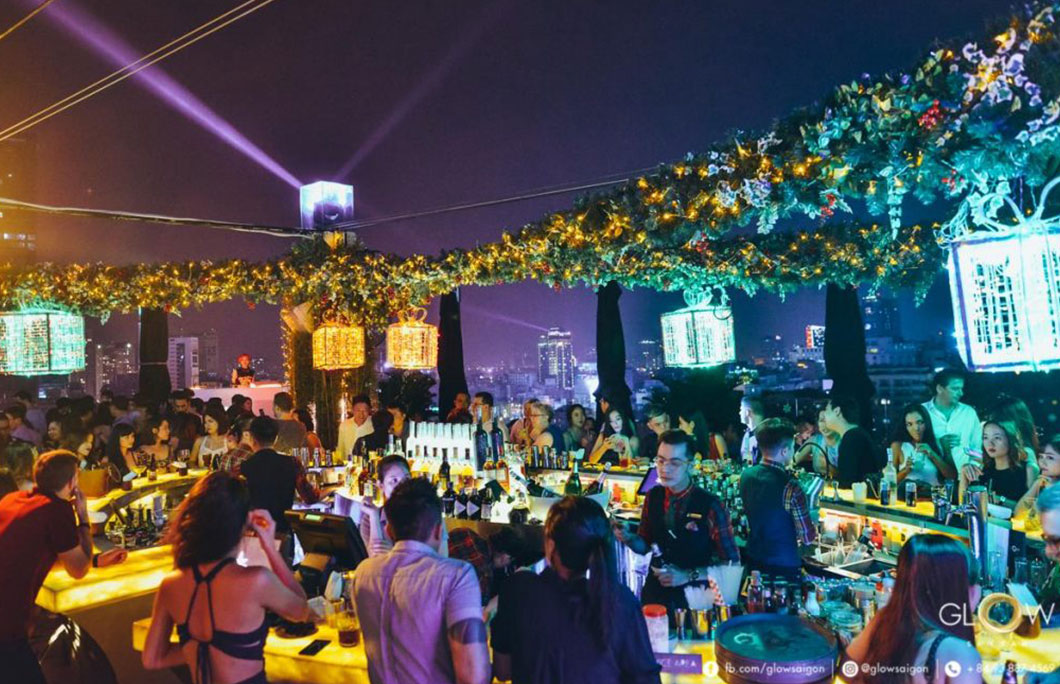 39th. Glow Sky Bar – Ho Chi Minh, Vietnam
Glow Skybar, located in the heart of Ho Chi Minh on the top of the President Place building, overlooking the leafy trees of Reunification Palace, is one of the cities most iconic rooftop bars. Located in District 1, the trendy rooftop venue has fast becoming of the coolest places to hang out.
Book in advance so you can be sure you'll get the best seats.
---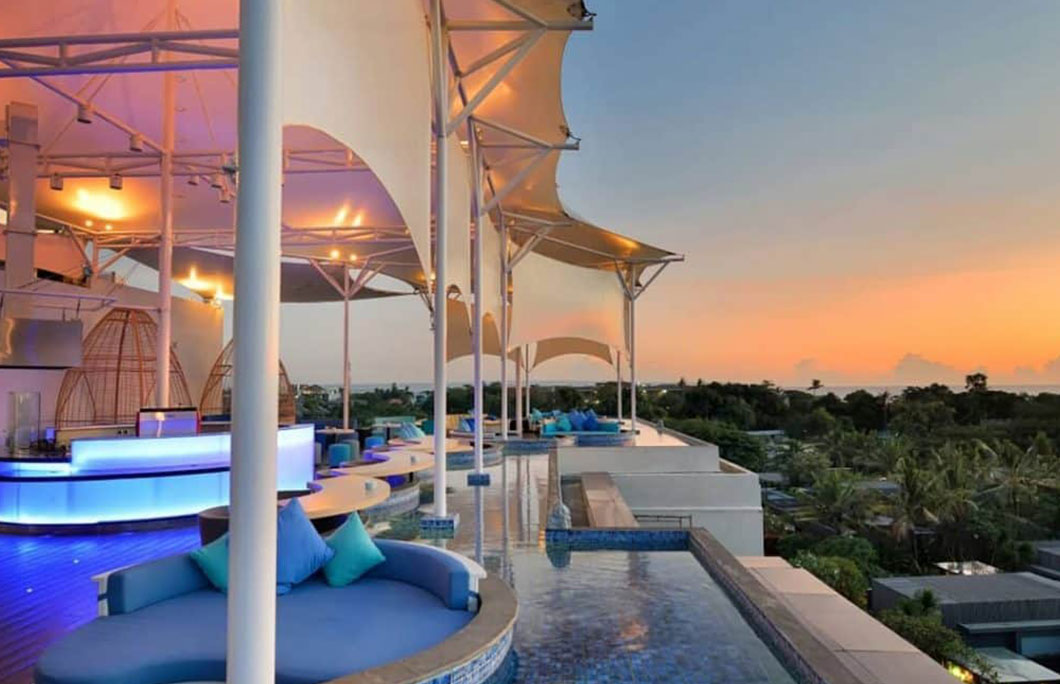 38th. BLU Restaurant–Bar–Lounge – Bali, Indonesia
The unique rooftop at BLU Sky Restaurant–Bar–Lounge has incredible sunset views, a swim-up sunken pool bar and cosy lounge seats that you won't ever want to leave. Located in a very private cul-de-sac of Jalan Petitenge, it's a stellar sunset venue for casual boozing and Bali views.
---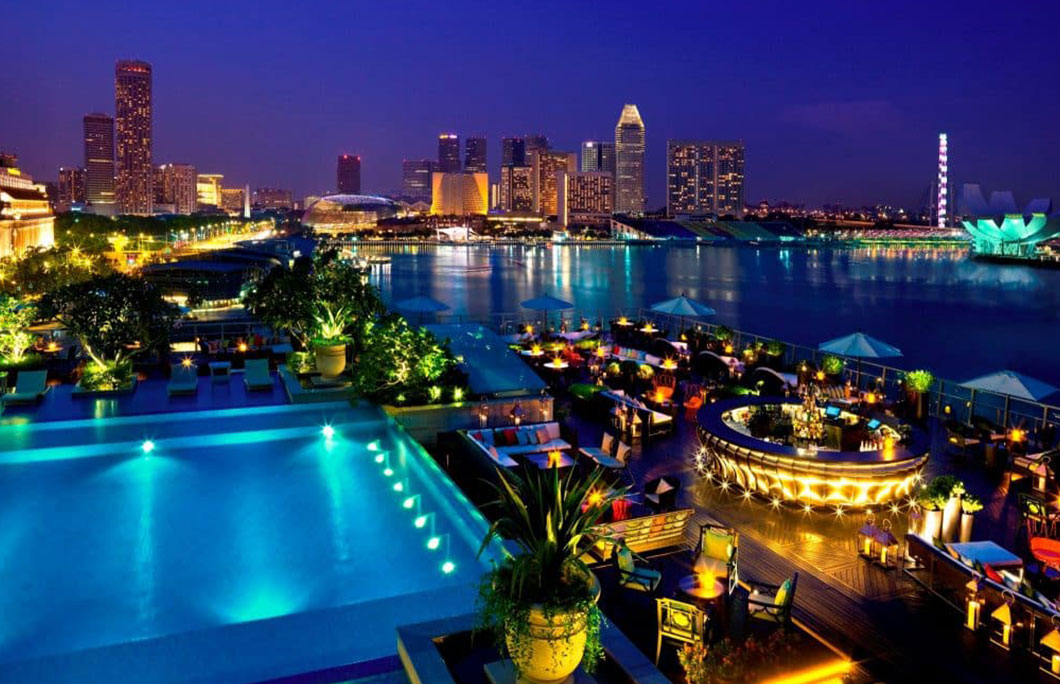 37th. Lantern – Singapore, Singapore
Framed by an infinity lap pool and lush greenery, this stylish rooftop bar offers dazzling panoramic views of Marina Bay waterfront and Singapore's skyscraper skyline.
The urban oasis has an in-house DJ spinning tunes, so you can chill to the beats of house music while sipping on fine champagnes and signature cocktails whipped up by the resident mixologist.
---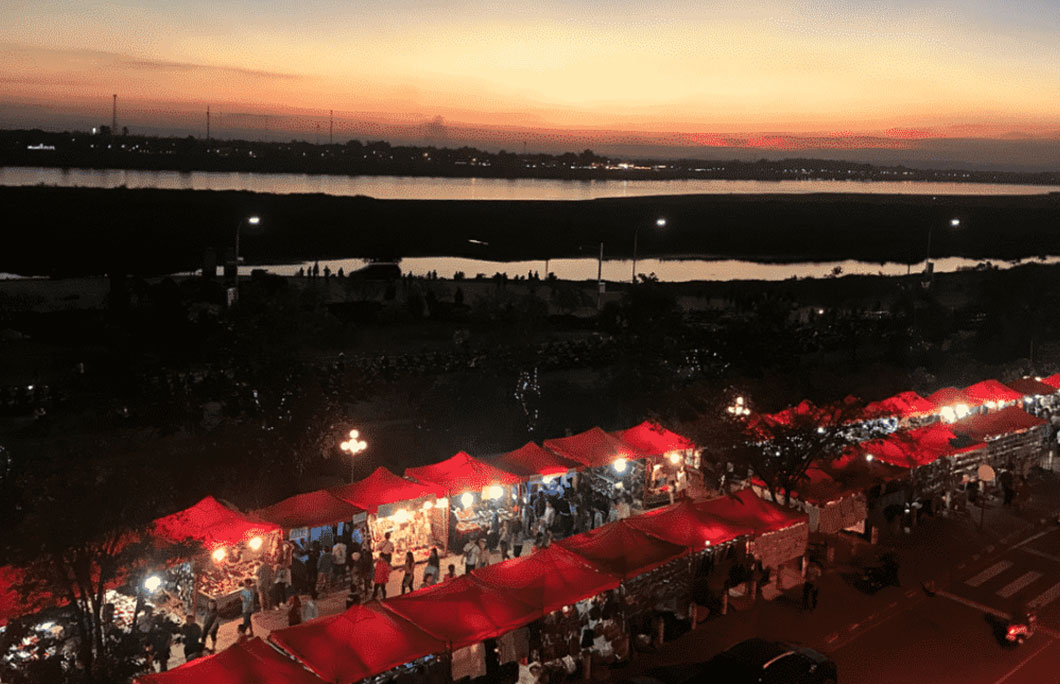 36th. Bor Pen Nyang – Vientiane, Laos
Hands down the best sunset spot in the city, this four-storey bar and restaurant overlooks the Mekong River and central Vientiane. It's good vibes only (the name translates to 'no worries'), with Western music, bargain booze and pool tables.
A great people watching spot at the busy market stalls directly below.
---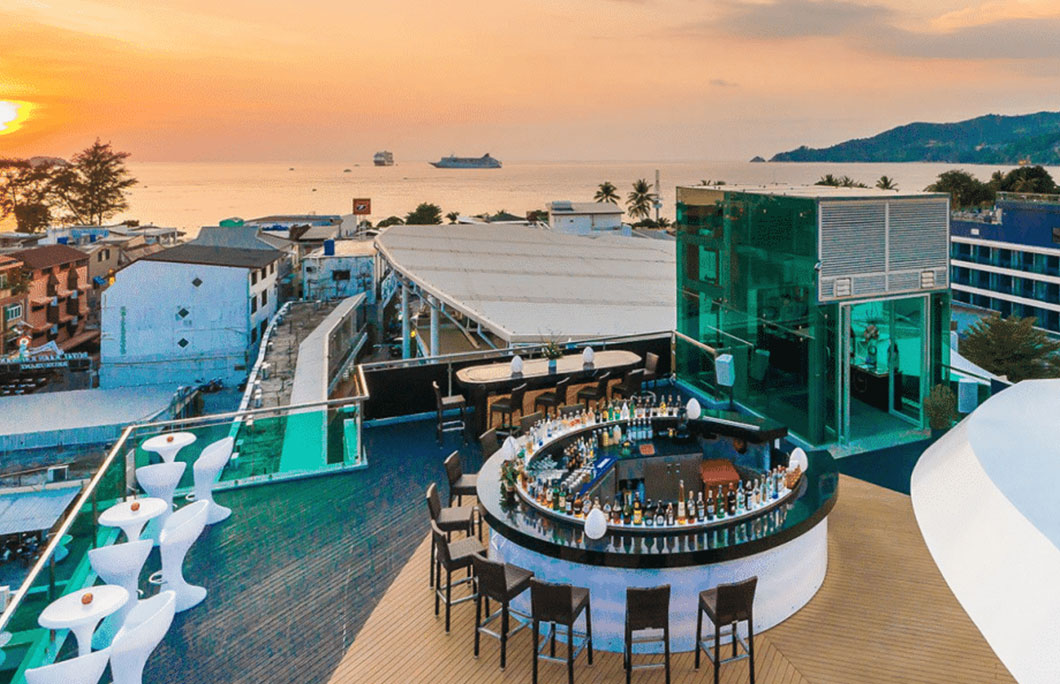 35th. KEE Sky Lounge – Phuket, Thailand
Spread over two levels, KEE Sky Lounge has with 360-degree views of Patong Beach and a nautical theme that makes you imagine you're cruising on a luxury yacht. The wooden decking, sun loungers, plush sofas and the circular bar, helps bring the theme to life.
Come just before sunset to chill out and sip exotic sundowners.
---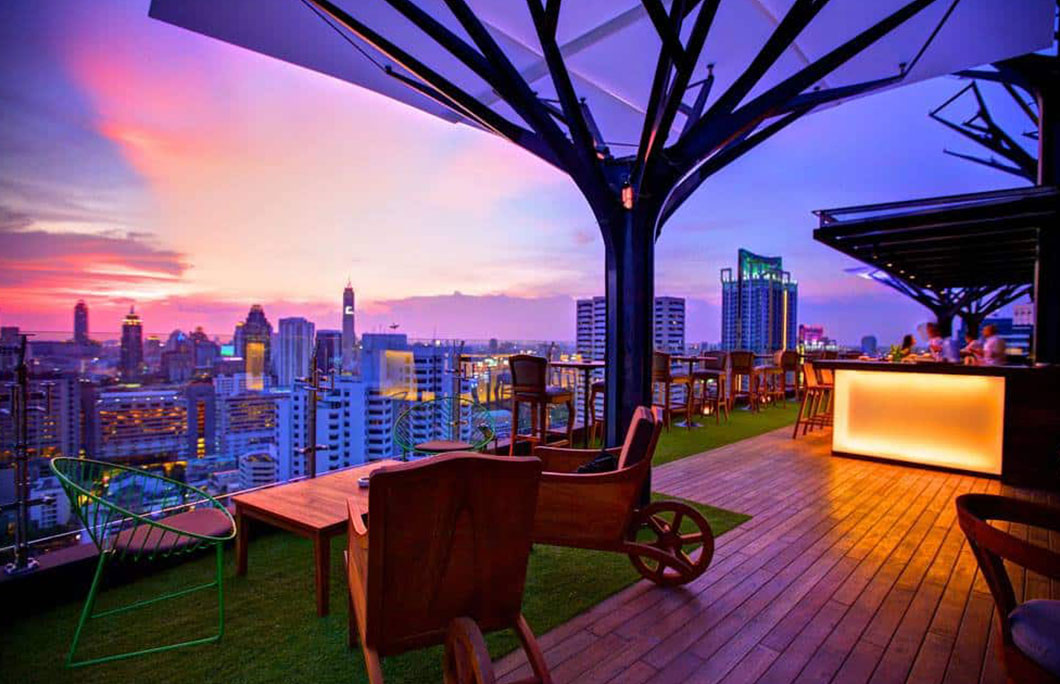 34th. Above Eleven – Bangkok, Thailand
This popular 32-storey bar is the place to be for a vibrant and swish night out in Bangkok. It's inspired by Central Park in New York, one of the greatest urban parks in the world, so you are surrounded by greenery.
Highlights include custom-designed structural trees, a maze in the entrance area and unique bathroom 'observatories' overlooking the city.
---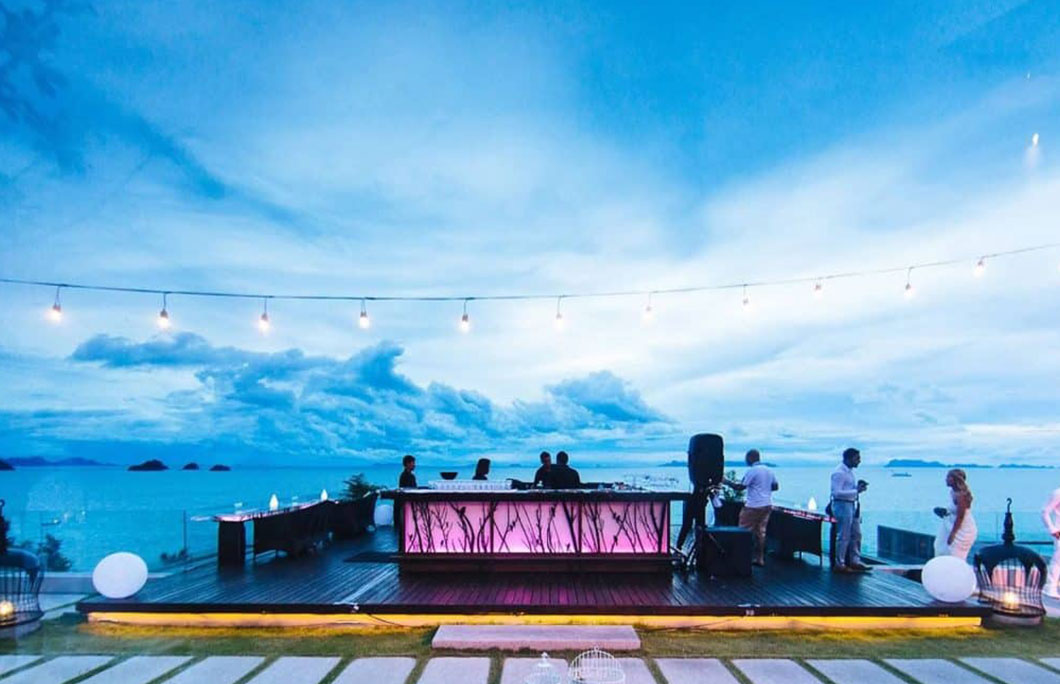 33rd. Air Bar – Koh Samui, Thailand
Perched high above the Gulf of Thailand on cliffs of Taling Ngam, Air Bar at the InterContinental Hotel is a one-of-a-kind destination cocktail lounge on Koh Samui. Ocean views, great cocktails and cosy lounger seats.
Live jazz and a daily Happy Hour of buy-one-get-one-free means you'll be back here again and again.
---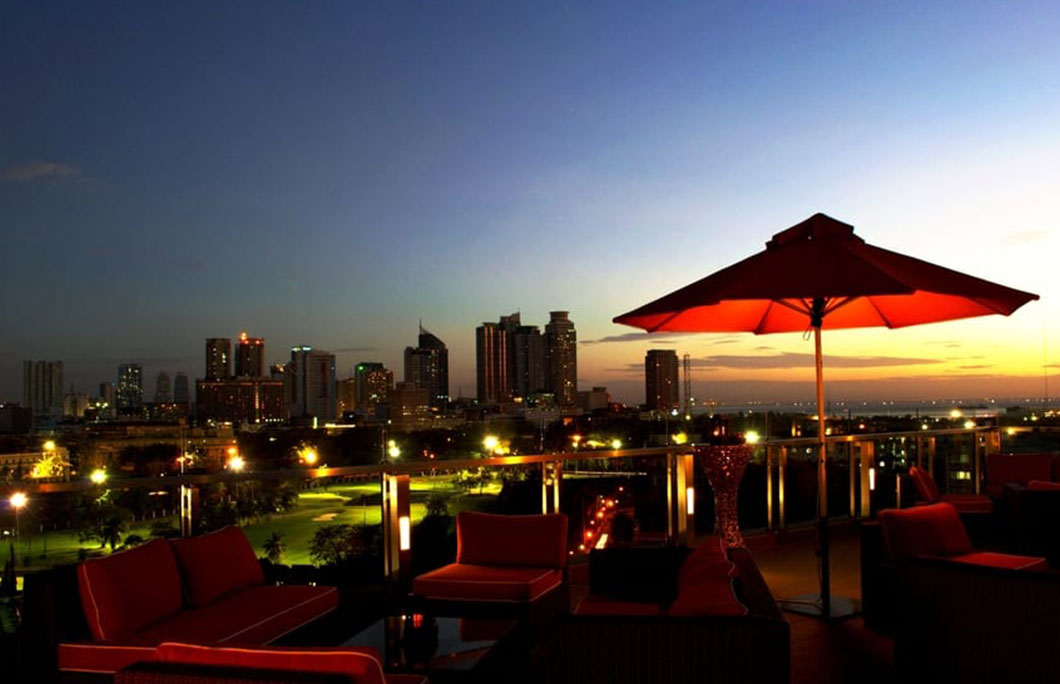 32nd. Sky Deck View Bar at The Bayleaf – Manila, Philippines
The sky bar at The Bayleaf Intramuros (a boutique hotel in Manila) is a must-visit when in town. The unobstructed, 360-degree view of the entire city, including the world famous Manila sunset, is simply stunning.
It's pretty much the perfect venue for a relaxing evening done in style.
---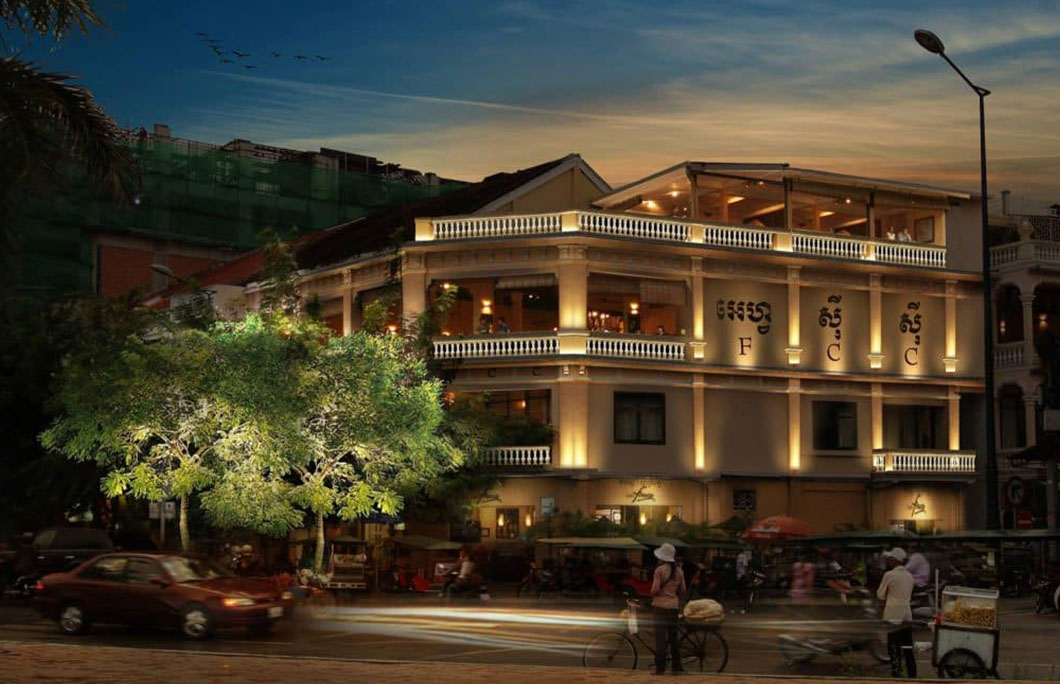 31st. Foreign Correspondents' Club – Phnom Penh, Cambodia
This French colonial "Mansion" and its upstairs terrace restaurant and bar, known as "the F," became the go-to drinking spot for foreign journalists, photographers and humanitarians following the end of the Cambodian-Vietnamese War.
Steeped in history, it's currently undergoing a full renovation and will reopen in December 2019 – better than ever.
---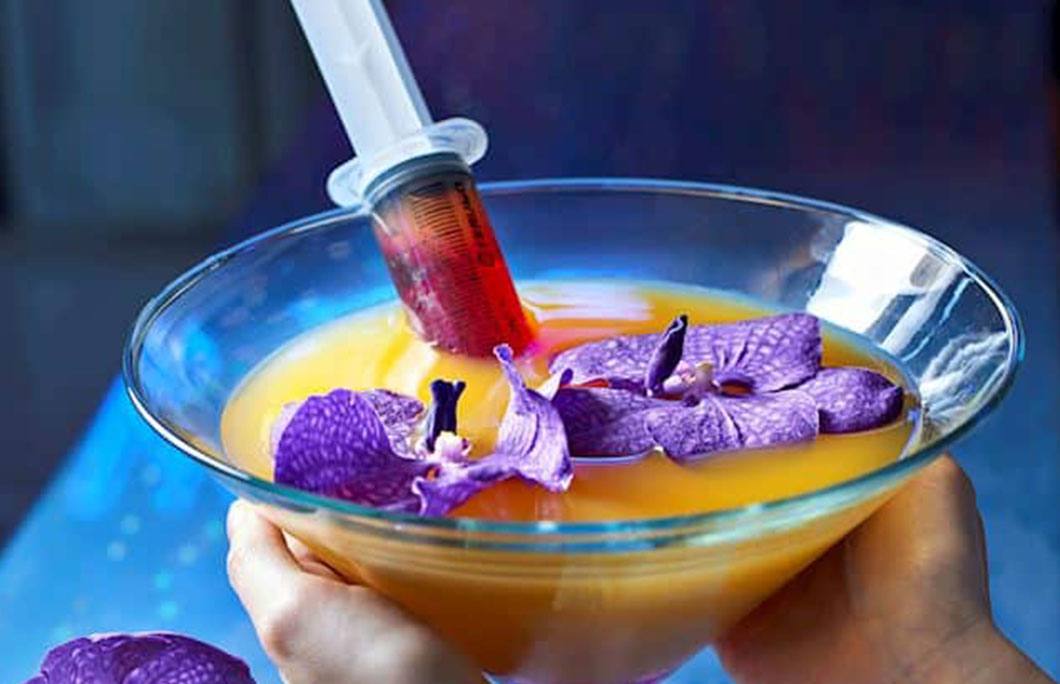 30th. Mai Bar – Kuala Lumpur, Malaysia
Want to booze at one of the slickest bars in the city? The Tiki-themed Mai Bar at Aloft Kuala Lumpur Sentral has potent drinks and intoxicating views. Sit on bright pink bean bags or at the bar for the best views of the city.
Don't leave without ordering the legendary supersized Mai Tai.
---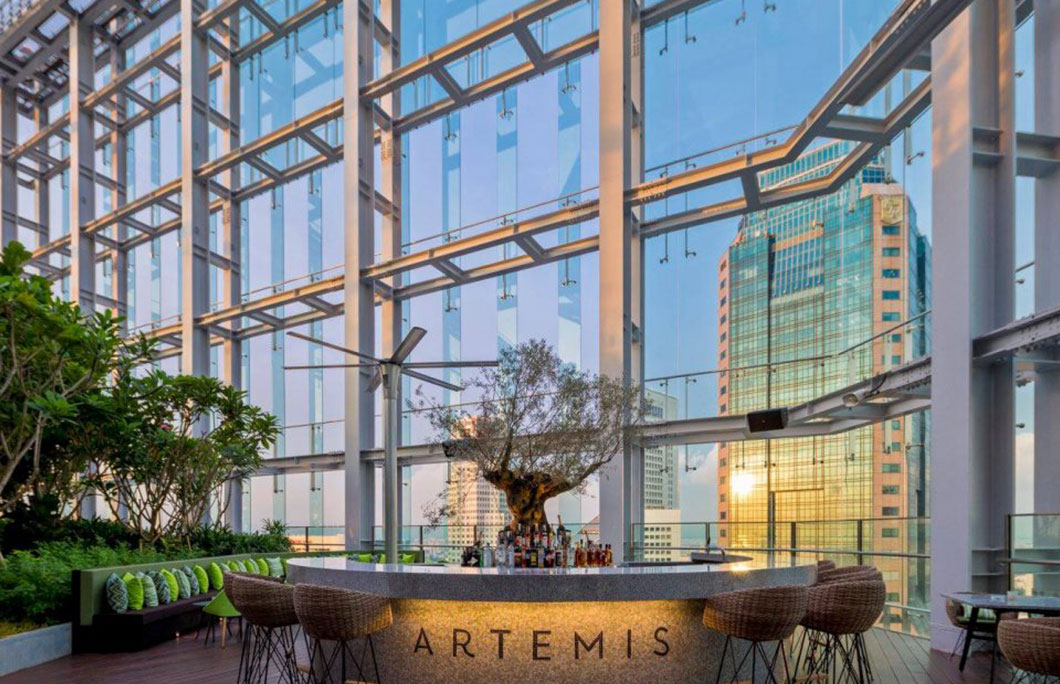 29th. Artemis Grill and Sky Lounge – Singapore, Singapore
A Mediterranean inspired venue, the Sky Bar serves up superb food and drinks menu, with beautiful panoramic views of Marina Bay.
The bar, circulating a 100 year old olive tree, has a daily Happy Hour list that includes beers, G&T's, classic cocktails and premium wines. Be sure to book a table in advance if you want to dine here as it's very popular.
---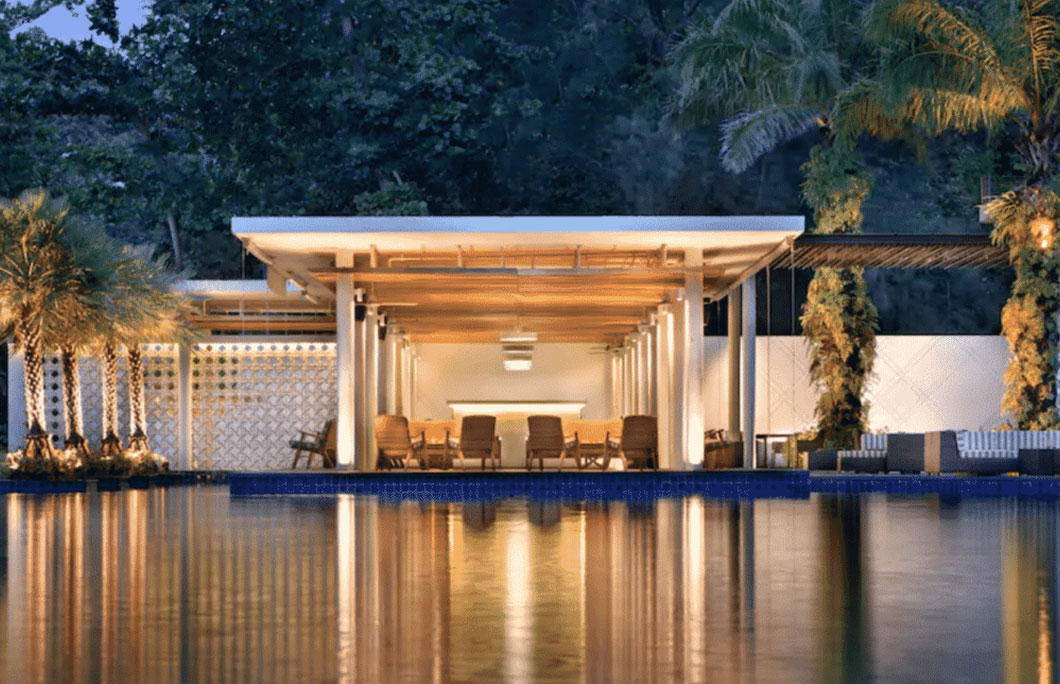 28th. Hyatt Regency Phuket – Phuket, Thailand
Lounge on comfy bean bags at the top deck bar and restaurant of the luxury Hyatt Regency Phuket, close to Patong with breathtaking views of the Andaman Sea. It's the perfect place to relax and admire the sun going down on the horizon.
---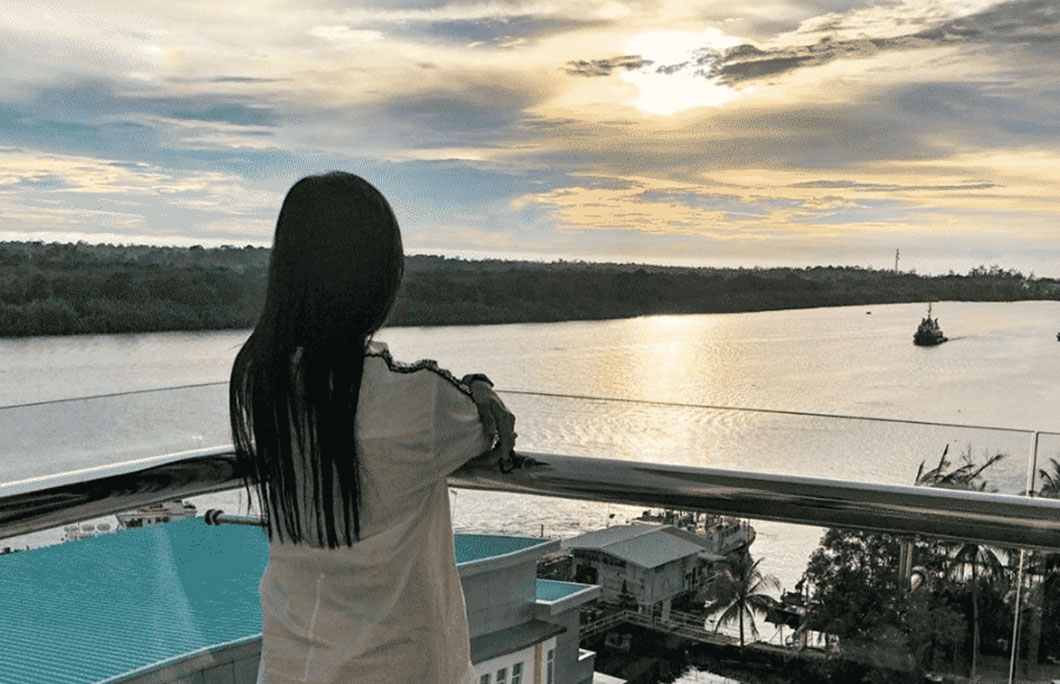 27th. V Plaza Hotel – Brunei
The top floor bar at this cosy and casual hotel is a fantastic place to relax and take in the sea breeze from the South China Sea at its Rooftop Cafe.
There's a panoramic view of Kuala Belait town, and you could easily spend an entire afternoon here just sipping on cocktails and watching the world go by below. Bonus points for the truly lovely staff.
---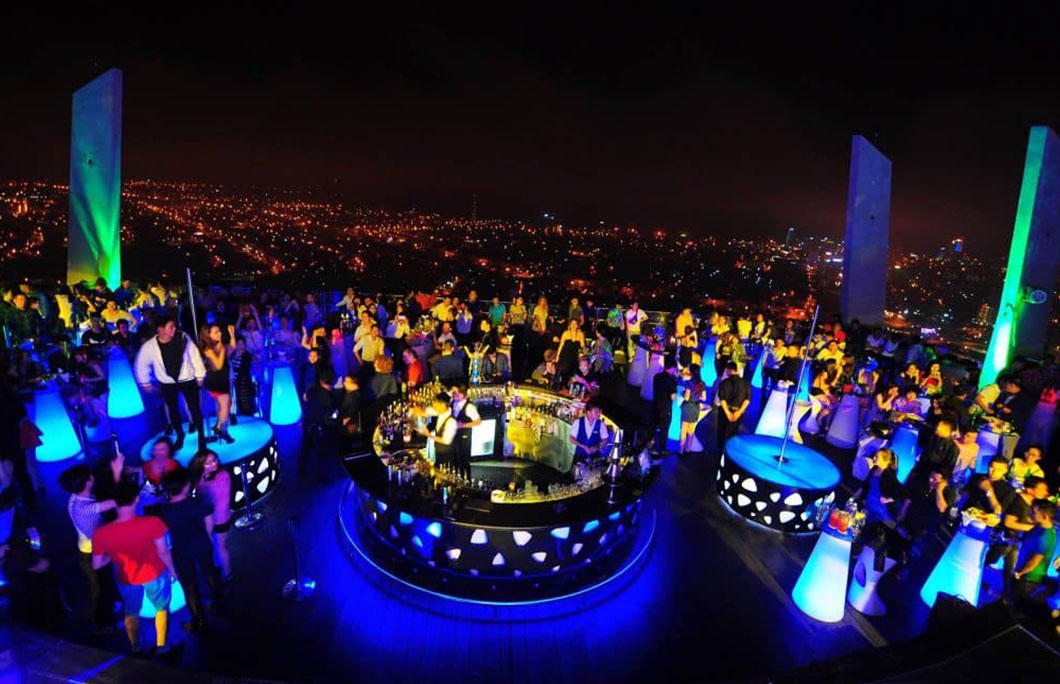 26th. Sky 36 – Danang, Vietnam
Located on the top of Novotel Premier Danang Han River, Sky36 is the highest Skybar in Danang so you just know it's worth a visit. The trendy bar and nightclub is on the 37th floor and has state-of-the-art audio visual systems, outdoor bar, elegant sofa beds, and private VIP lounges.
---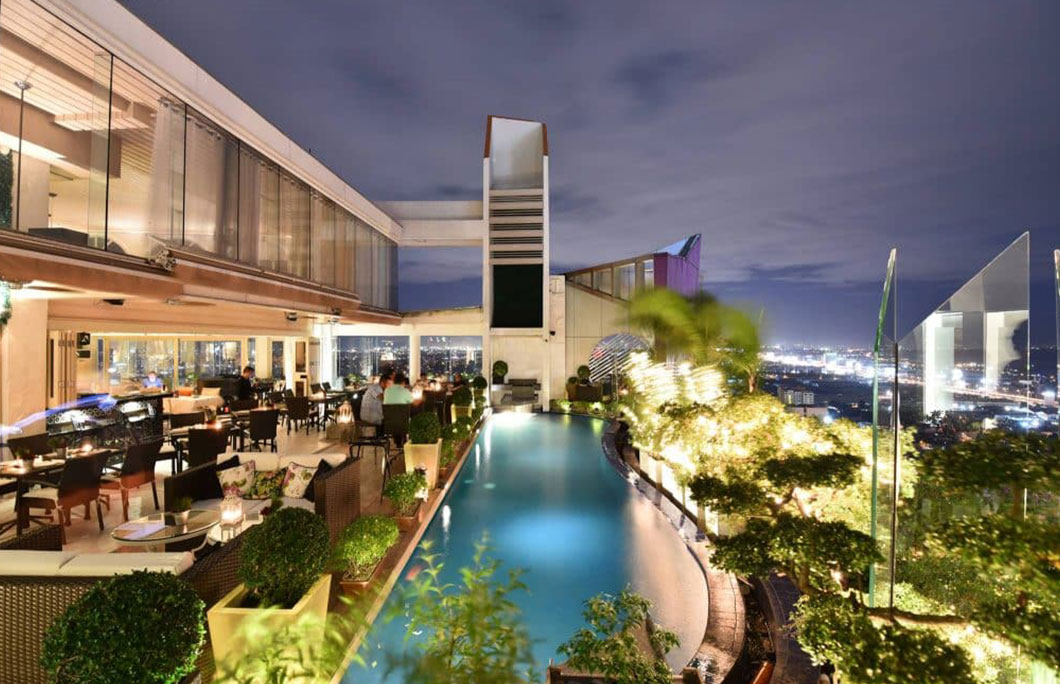 25th. The Nest Dining in the Sky – Manila, Philippines
Steal away for an evening to The Nest Dining in the Sky, Vivere Hotel's iconic rooftop bar and restaurant. Hovering 31-storeys above the Metro South, The Nest has a breathtaking view of the skyline.
Pair that with hand-crafted cocktails (who doesn't love a good sangria?) and it's an absolute gem.
---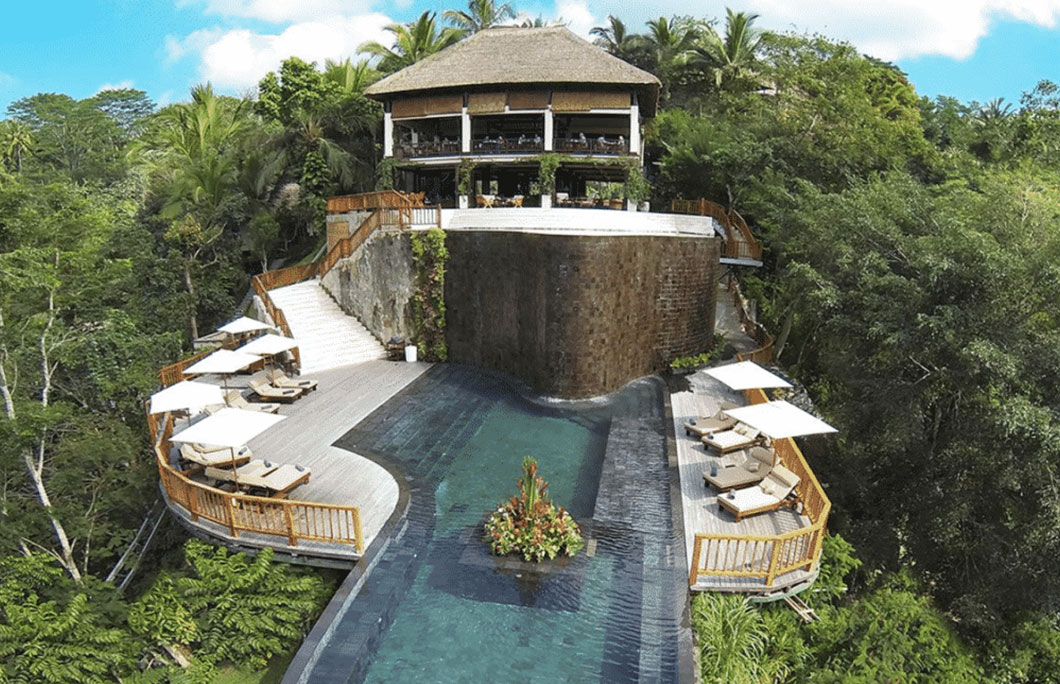 24th. Hanging Gardens of Bali – Bali, Indonesia
Hanging Gardens of Bali is the World's First Seven Stars Boutique Hotel, set in lush rainforest in the heart of the Balinese jungle.
Their open air bar and lounge is overlooking the world-celebrated swimming pool and the Ayung River valley. It's the perfect place to relax and unwind enjoying classic cocktails.
---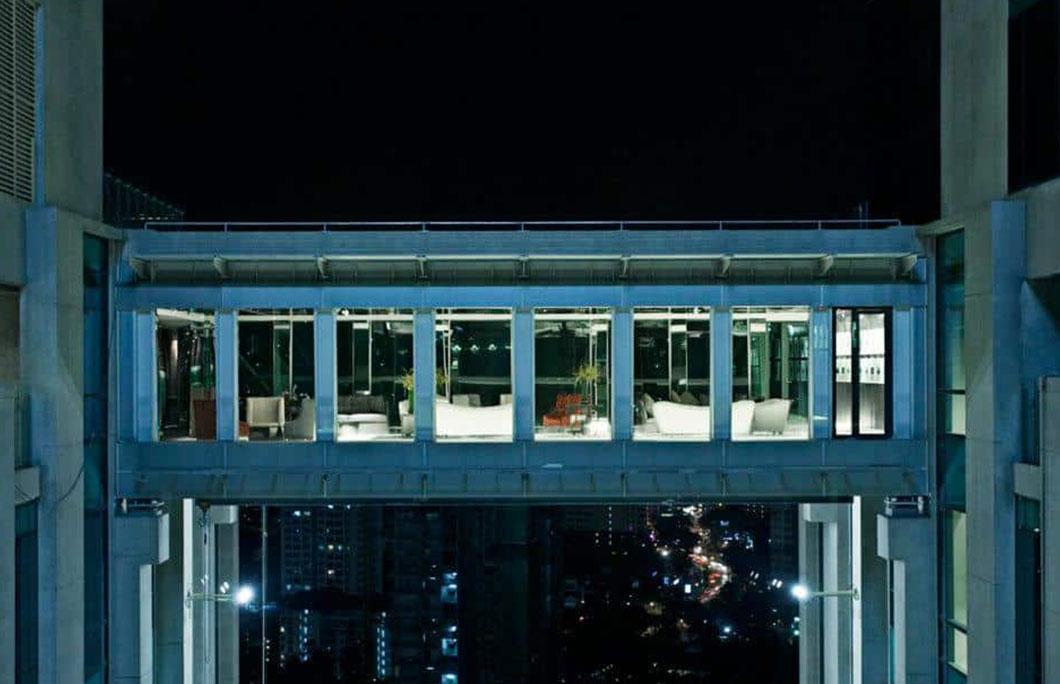 23rd. Bridge Bar – Kuala Lumpar, Malaysia
Want to celebrate somewhere really special in KL? The Bridge Bar is made for a special occasion. Floor-to-ceiling windows at 30 floors above ground give the illusion of being on top of the world.
One of the major highlights here is a glass platform that you can step on for a thrilling view way down below.
---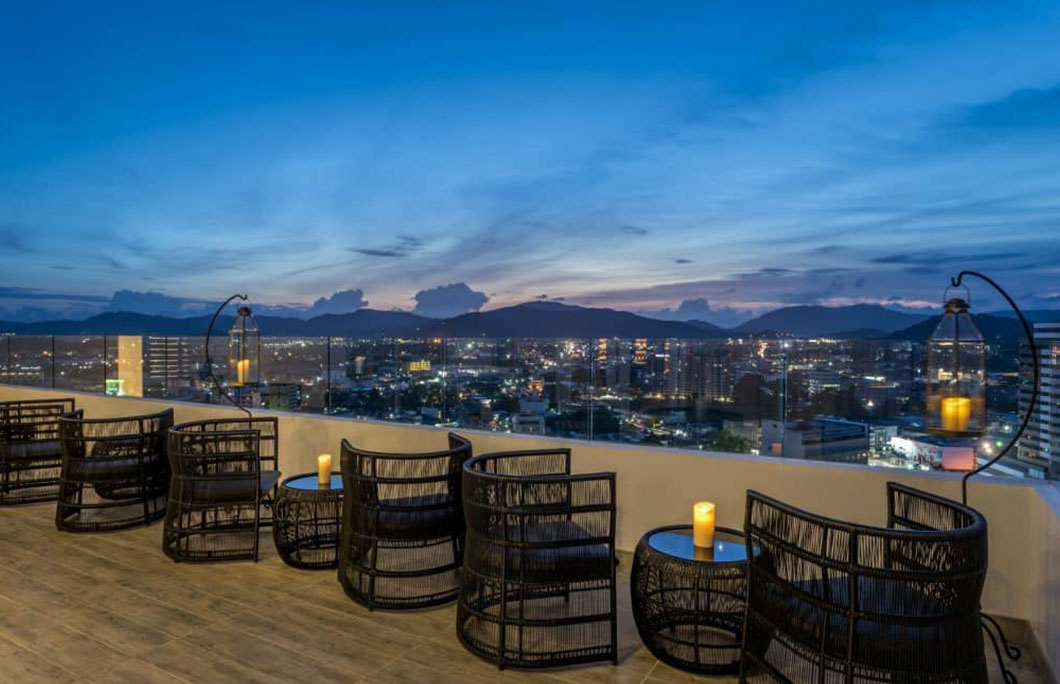 22nd. Estrela Rooftop Bar – Phuket, Thailand
This bar is one of the slickest you'll find in Phuket and serves up some of the very best cocktails going. It's in the Old Town with an amazing view of Phuket Town, the bay and the mountains.
Jazz music adds a buzzing vibe and the chairs are super comfy. Ideal.
---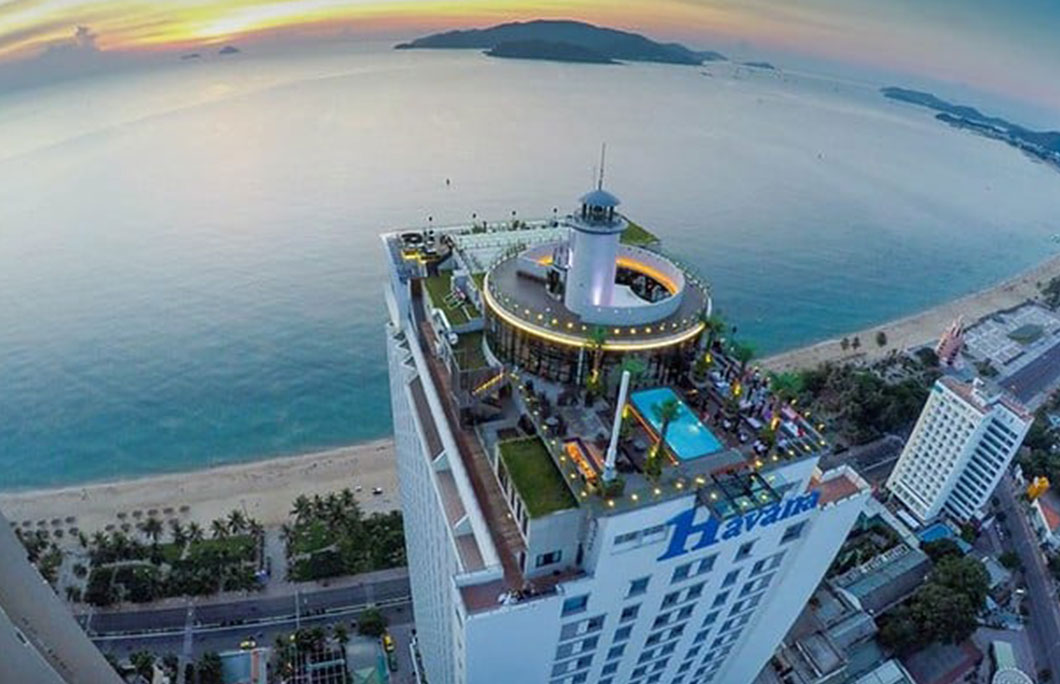 21st. Skylight Rooftop bar- Nha Trang, Vietnam
You'll have to pay an entrance fee (which includes a free drink) but once you get to the top you'll be rewarded with the best views in the town. There's even a see-through glass floor if you're brave enough to peer down to the ground below.
---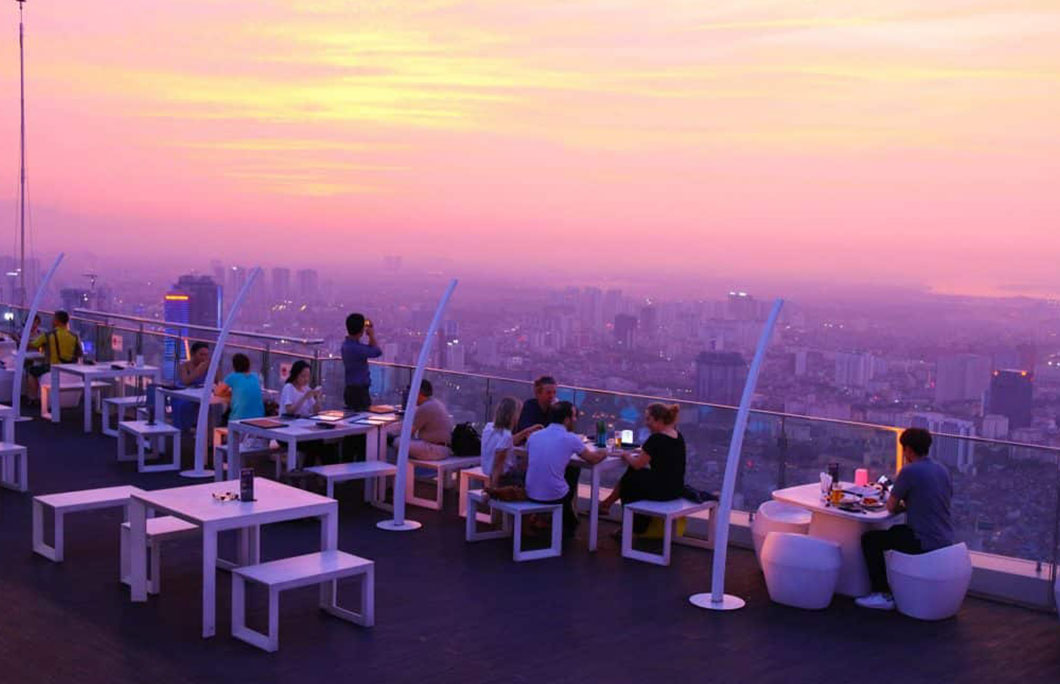 20th. Top of Hanoi – Hanoi, Vietnam
Perched at the rooftop of Lotte Hotel Hanoi on 65th floor, Top of Hanoi offers a spectacular panoramic view of the skyline with a modern vibe. There's trendy music to chill out to and prime sunset viewpoints.
Order one of the excellent signature cocktails and get ready for the skies to change.
---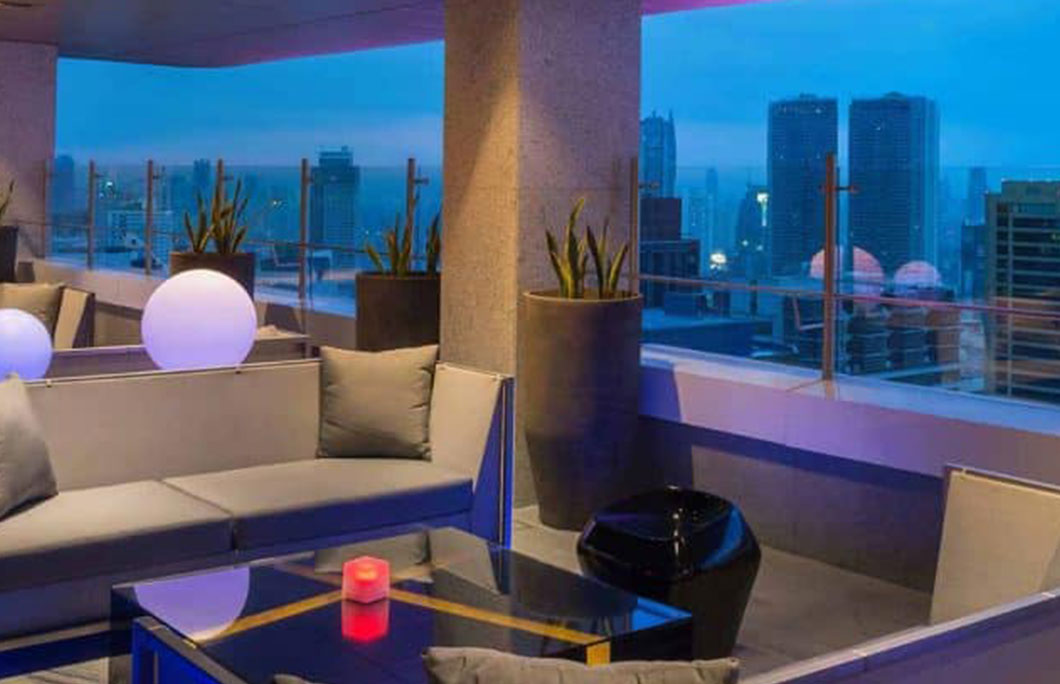 19th. Vu's Sky Bar – Manila, Philippines
Located on the 45th floor of Marco Polo in Ortigas Center, this is a fun place to come for happy hour and watch the sun set over the city. Relaxing Shisha, delicious cocktails and House music at weekends add to the laid-back vibes.
---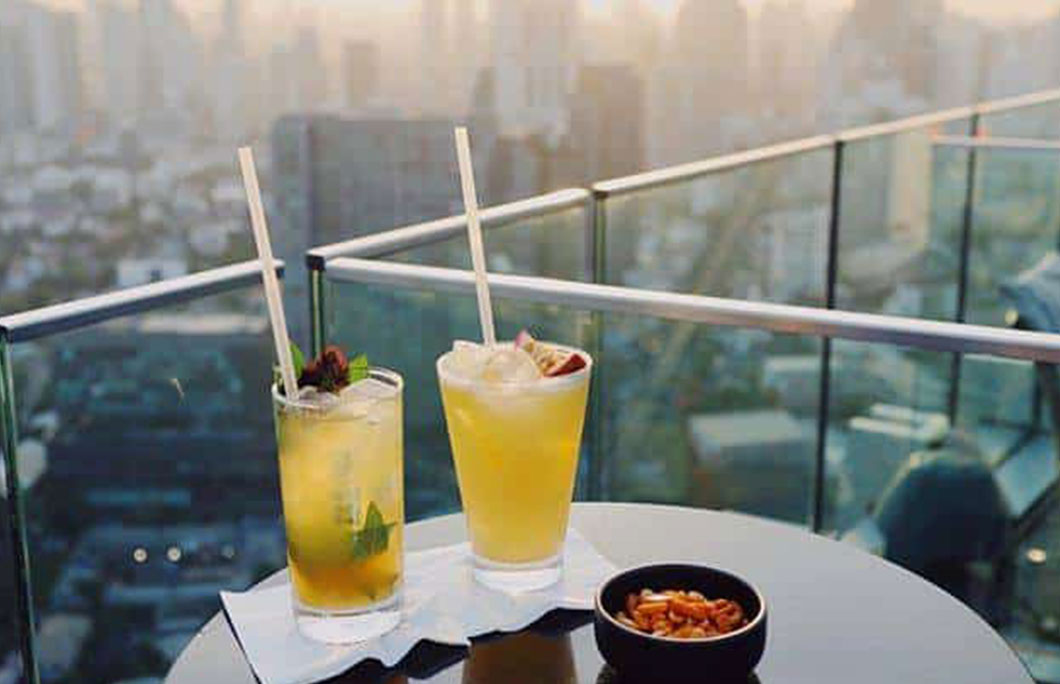 18th. Octave Rooftop Bar & Lounge – Bangkok, Thailand
With an unrivalled 360-degree panoramic view of the city and beyond, there is no better way than to dive into Bangkok's social scene at Octave Rooftop Lounge & Bar.
Starting on the 45th floor, the multi-lever bar heads higher and is home to live DJs and in-the-know crowds. It's pretty much an essential watering hole in the city.
---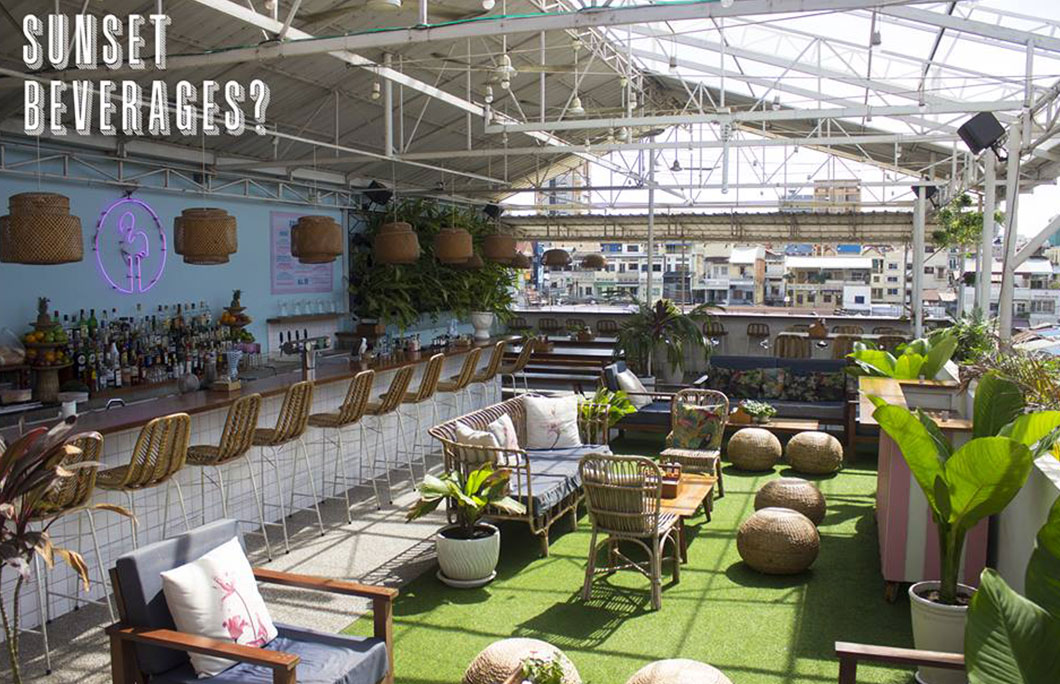 17th. Sundown Social Club – Phnom Penh, Cambodia
Russian Market's hottest rooftop bar, Sundown Social Club has a touch of Miami, with tropical cocktails – their piña colada recipe has been adapted from the 1954 Caribe Hilton original and is delicious.
Make your way here as soon as you can for a sweeping view of the market's tin rooftops and hectic streets below.
---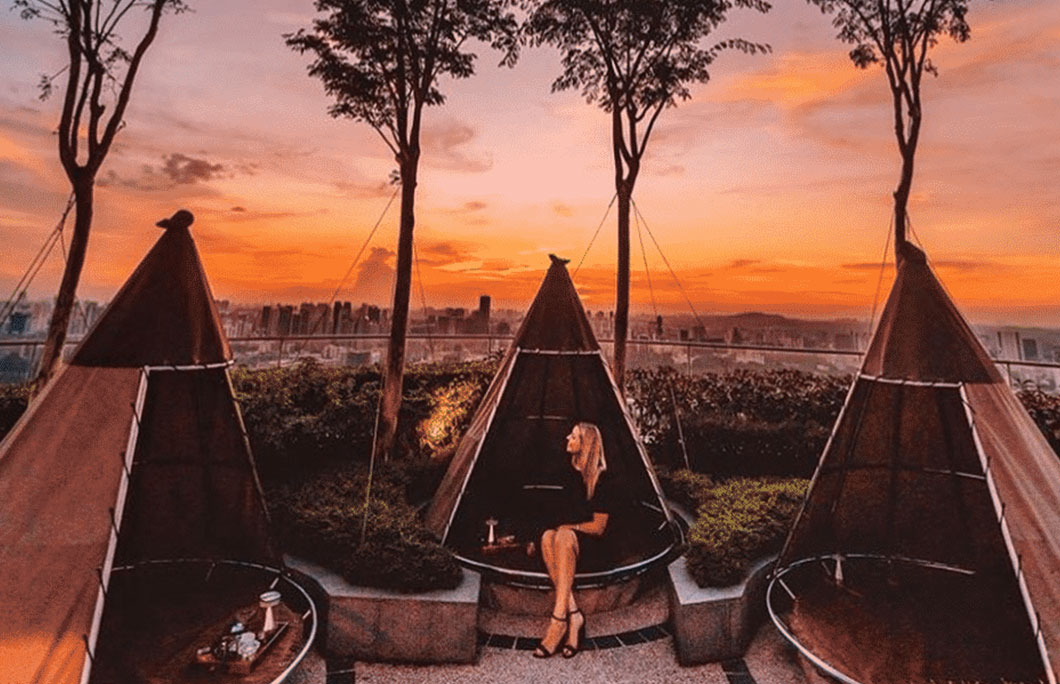 16th. Mr Stork – Singapore, Singapore
Named after the white and long-legged birds, which are often viewed as a good omen, Mr Stork is a cosy bar with 10 teepee huts to flop down onto. Be sure to order the Ruby cocktail, which is served in an incredibly Insta-worthy elephant mug.
It's more like a rooftop garden than a bar, with beautiful plants everywhere you look.
---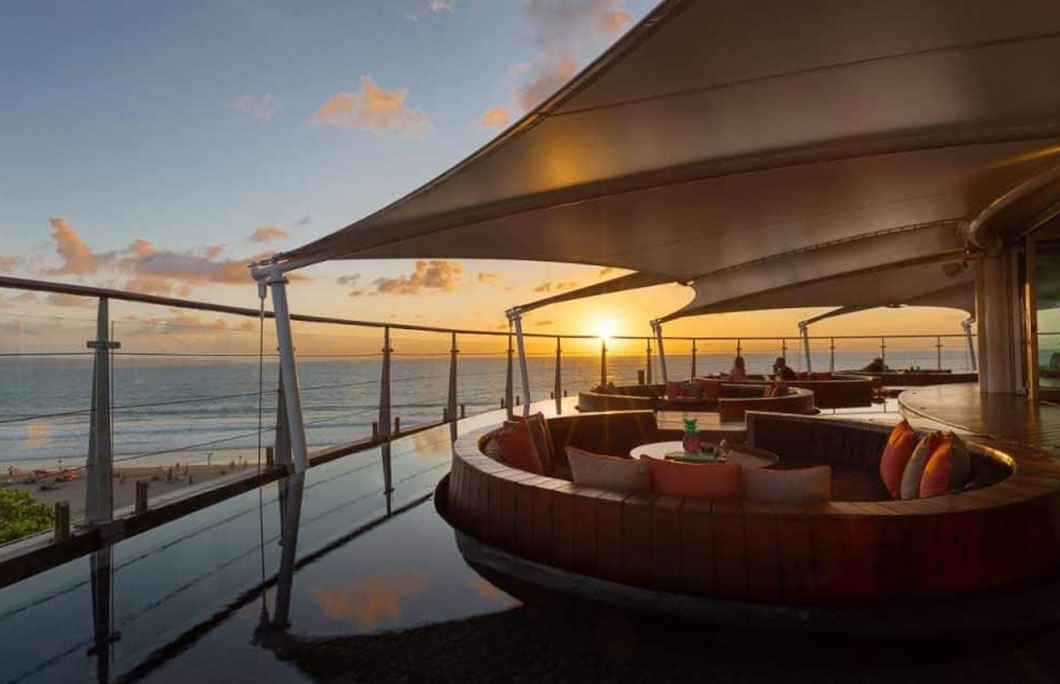 15th. Double Six Rooftop Sunset Bar – Bali, Indonesia
This stylish Rooftop Sunset Bar sits 15 meters above sea level, with stunning views over Seminyak's Double-Six Beach. It is one of Bali's largest rooftop venues for sunsets; once you take your first sip from your drink and look at the view you'll see why it's so popular.
---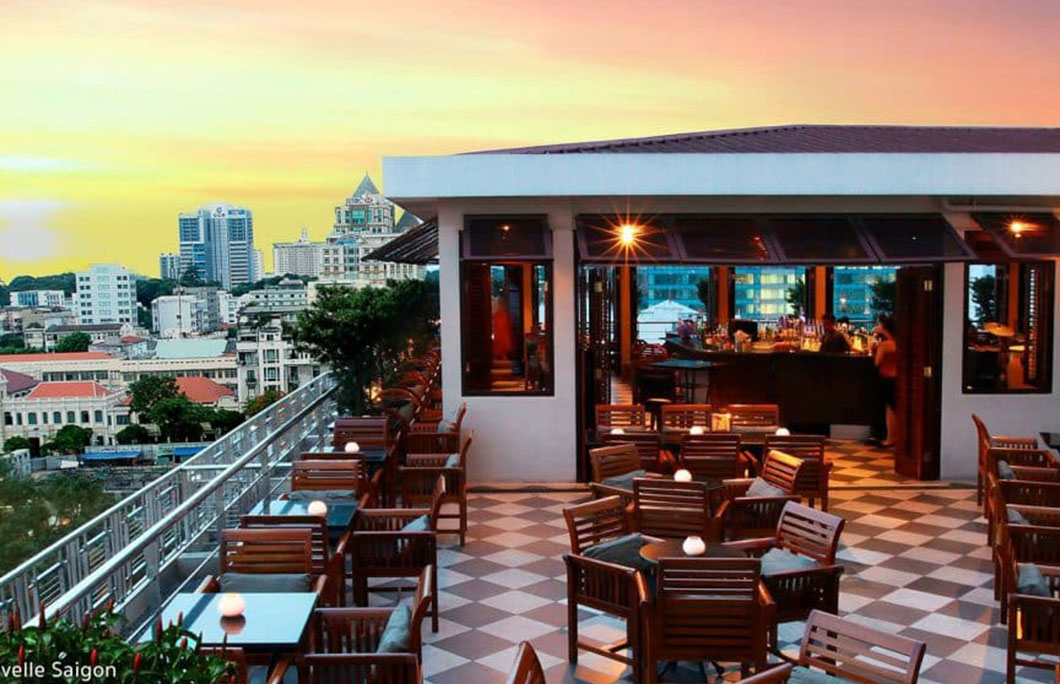 14th. Saigon Saigon – Ho Chi Minh, Vietnam
Saigon Saigon is arguably the city's most historic drinking hole. Way before sky bars, craft beer and social media became 'things', drinks flowed uninterrupted at Saigon Saigon Rooftop Bar from the very first moment the hotel opened way back in 1959.
If only these walls could talk.
---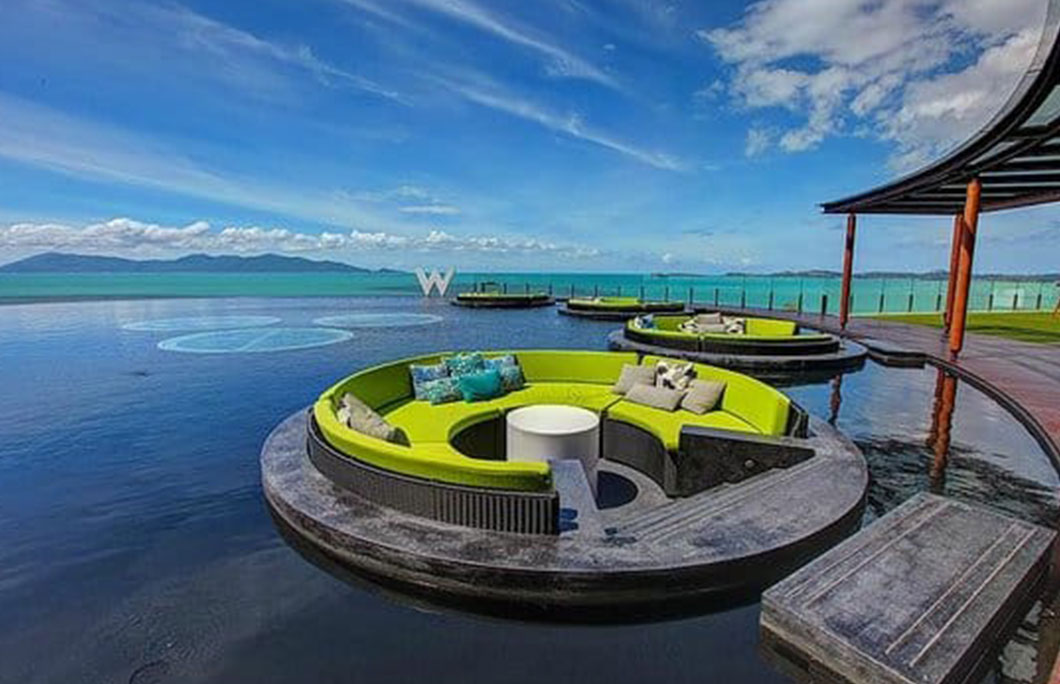 13th. WOOBAR at W Retreat – Koh Samui, Thailand
An iconic bar on the island, this modern cocktail bar at the W Hotel is a real showstopper.
Plush seating surrounds round tables, expert mixologists whip up tasty cocktails and a DJ is on hand to spin tunes. Plus, there's that incredible view. What's not to love?
---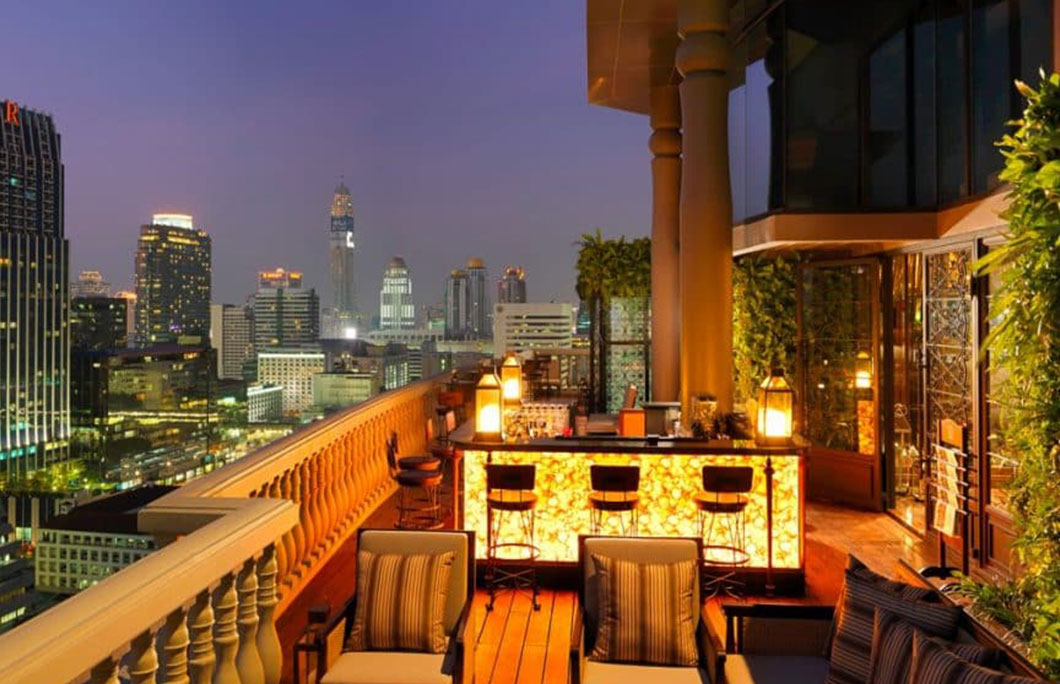 12th. The Speakeasy – Bangkok, Thailand
Located on the 24th and 25th Floor of the Hotel Muse Bangkok, this bar is inspired by the speakeasies from America's 1920-30's Prohibition Era. They even have monthly Gatsby parties where everyone turns up in 1920s dress.
This drinking hotspot is also a special place for the gin enthusiast: The Gin library contains up to 75 different types of premium gins and special gin cocktails.
---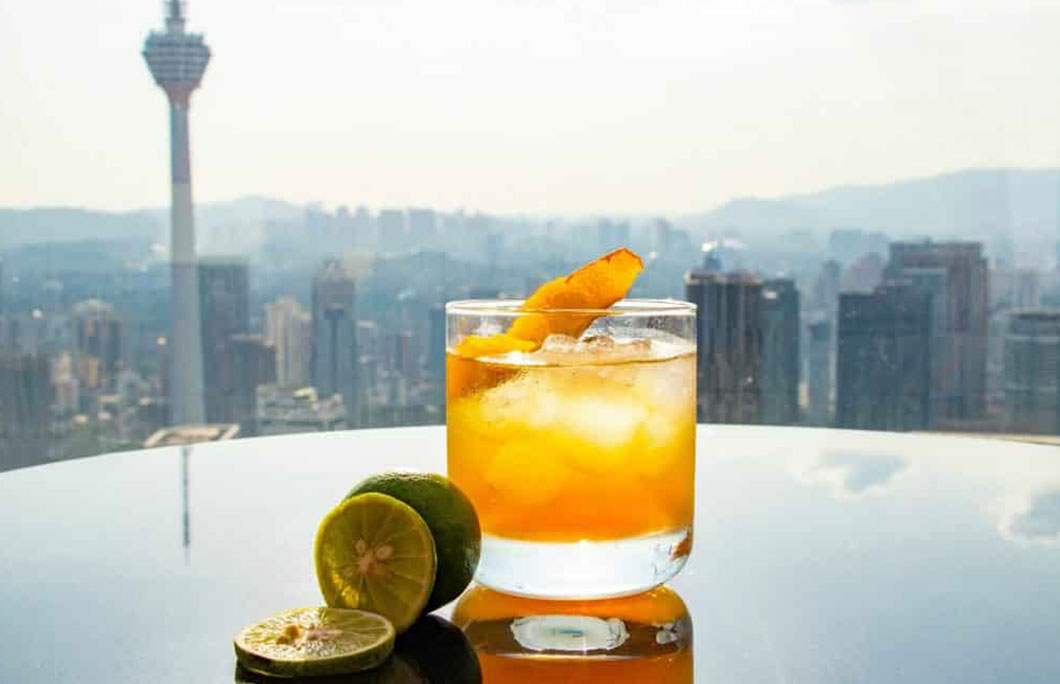 11th. Vertigo at Banyan Tree – Kuala Lumpur, Malaysia
Vertigo is a stylish bar experience on the Level 59 of the Banyan Tree Hotel Relax with . a drink or two while enjoying the stunning views of Kuala Lumpur from above.
Mixologists are on hand to create personalised drinks, while the South East Asian inspired tapas and DJ music helps create an unforgettable night out.
---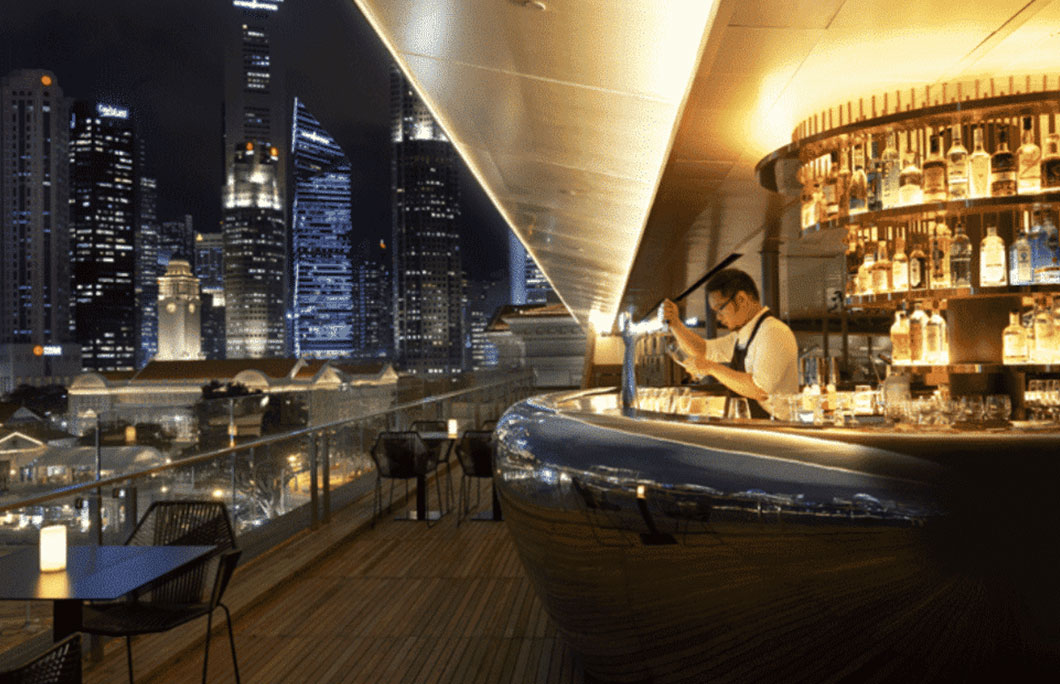 10th. Smoke & Mirrors – Singapore, Singapore
In skyscraper-dense Singapore, rooftop bars aren't exactly rare, but Smoke & Mirrors is a cut above the rest. It's perched on top of the National Gallery Singapore, with a sophisticated menu of premium whiskeys.
The panoramic view of the Padang and Marina Bay is reason enough to visit.
---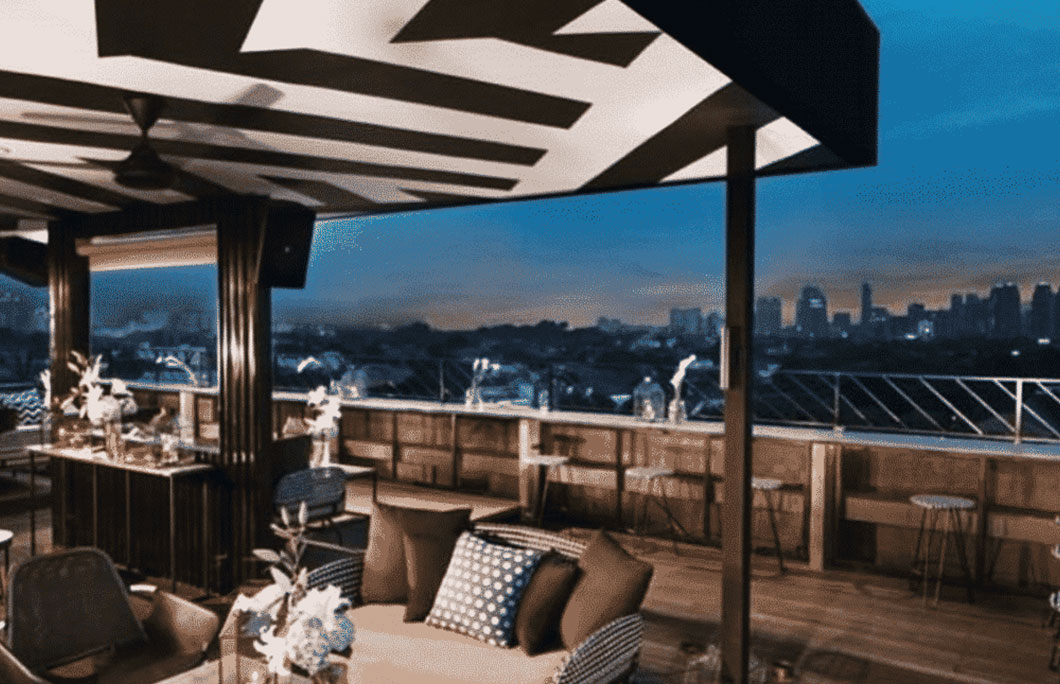 9th. Bart Rooftop Bar – Jakarta, Indonesia
Bart is a super stylish rooftop bar where you will get one of the best views of the city. Always have kicking guest DJs and their cocktails are superb. It's usually a late night spot but also a great place to enjoy a sundowner.
---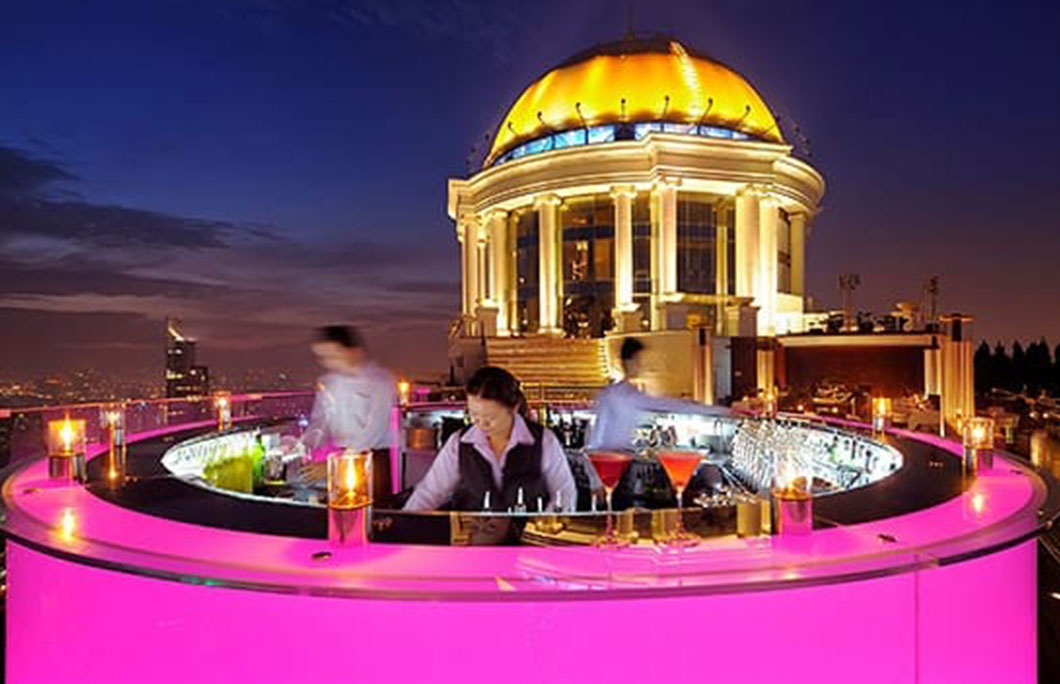 8th. Sky Bar at Lebua – Bangkok, Thailand
Suspended on over the city 820 feet in the air, Sky Bar is one of the highest rooftop bars in the world – you might recognise it from The Hangover II. 63 floors up, the vertigo-inducing Sky Bar's innovative cocktails and views make it the most famous bar in Bangkok.
---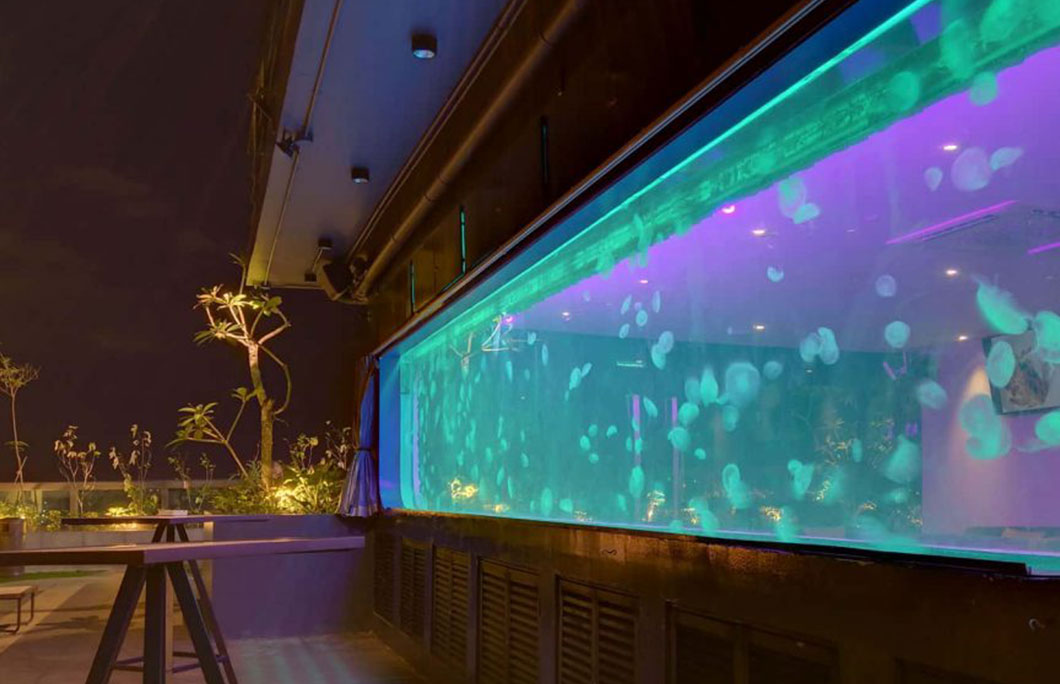 7th. Antidote – Manila, Philippines
Manila's highest rooftop bar, Antidote has a mind-boggingly cool jellyfish aquarium bar. Together with the giant "I'M" sign, Antidote makes for the perfect Instagram-worthy experience. Ideal for when you want a chill but cool night out.
---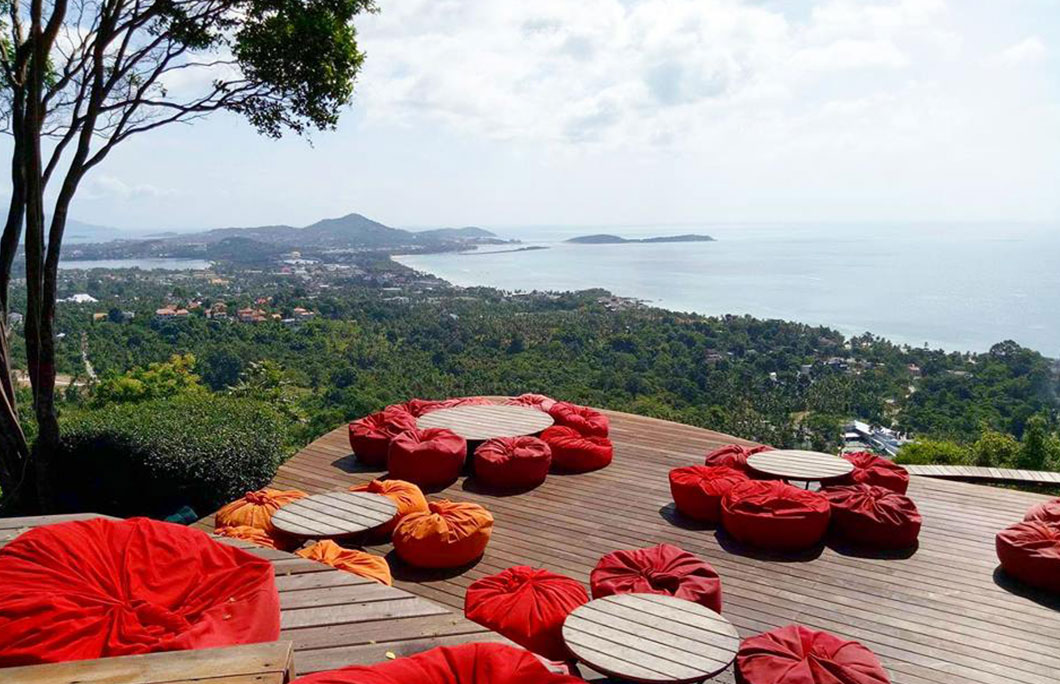 6th. The Jungle Club – Koh Samui, Thailand
Drive up the winding road to the Jungle Club hotel for a breathtaking panoramic view over the Gulf of Siam. The Jungle Club is a sleek bar with pretty lanterns.
Be sure to book a beanbag right on the edge for the best sunset views, and if you ring ahead they will even collect you from your hotel – essential, as the road to the bar is extremely steep.
---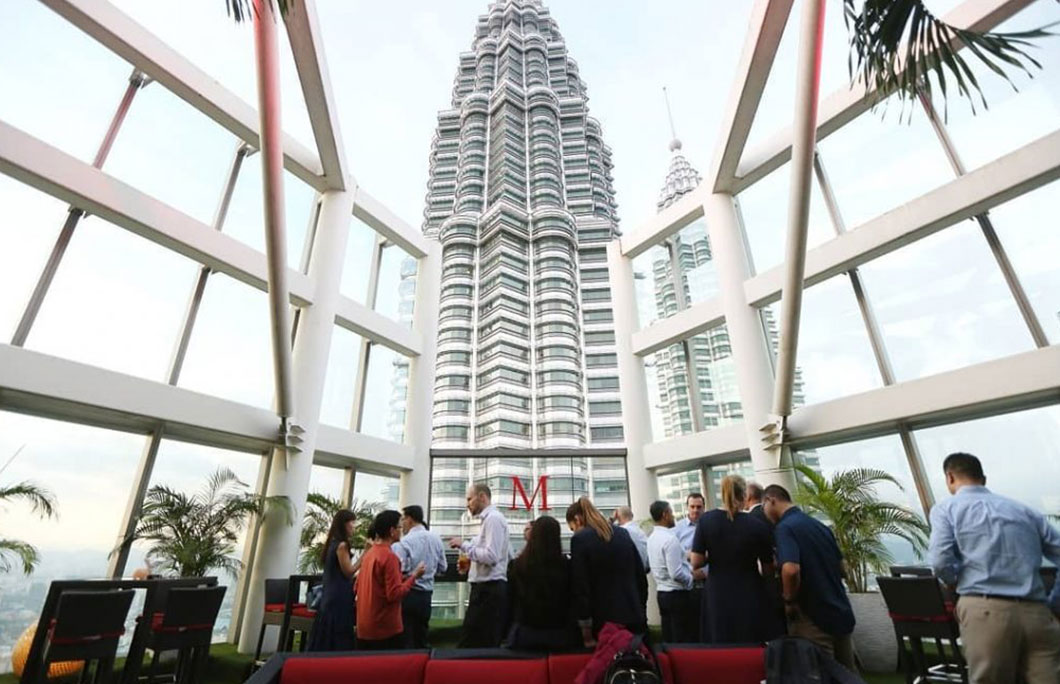 5th. Marini's on 57 – Kuala Lumpur, Malaysia
Marini's ultra-chic rooftop bar is the perfect place to spend a night out in KL. The bar's futuristic architectural design has floor-to-ceiling glass windows, with the best views of the city.
Ask their award-winning mixologists to make you up something utterly unique and just enjoy the view of the Petronas Twin Towers.
---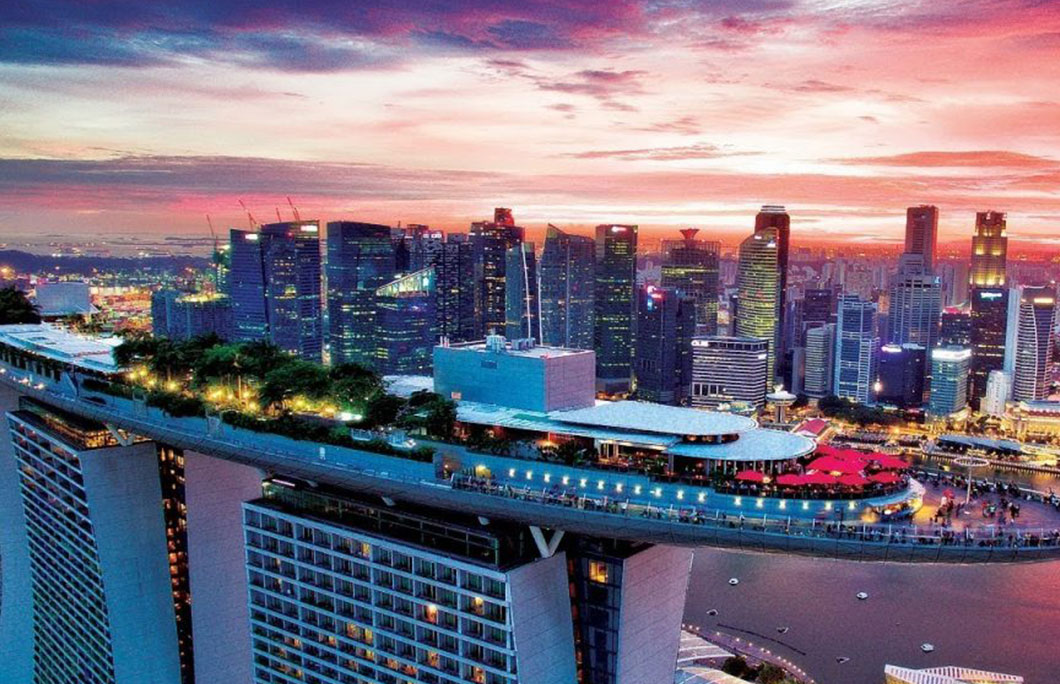 4th. CÉ LA VI – Singapore, Singapore
You could make a good argument for this being one of the most iconic hotel bars ever, perched 200 metres above sea level atop the iconic Marina Bay Sands SkyPark. Asian-fusion bites and classic cocktails will keep you fuelled for a night of partying.
Keep an eye out for the most stunning infinity pools you'll ever see, too.
---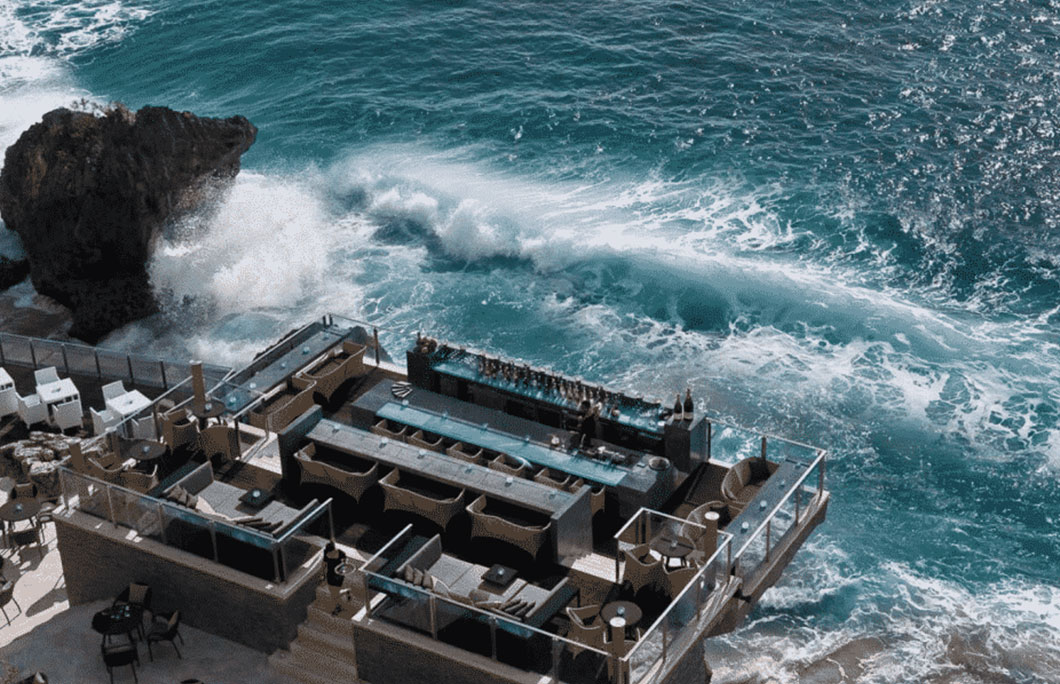 3rd. Rock Bar – Bali, Indonesia
Perched on top distinctive rock formations along Jimbaran's pristine sunset coast, Rock Bar Bali is one of the globe's most popular sunset, cocktail and entertainment venues. With unparalleled views from 14 meters above the Indian Ocean, you won't regret visiting this spot.
---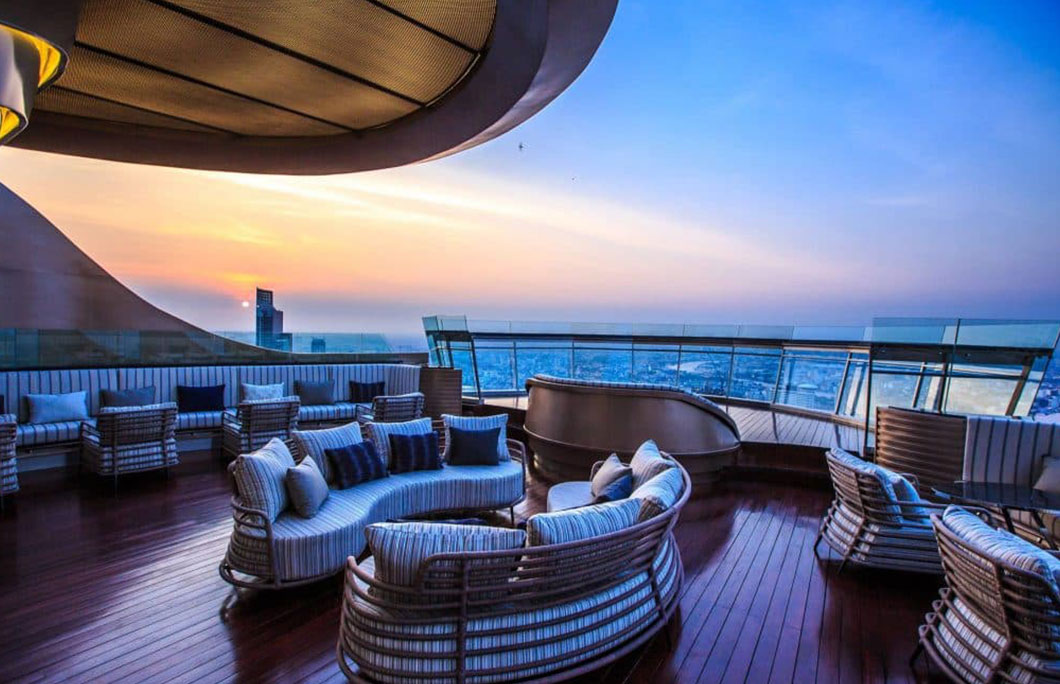 2nd. Alfresco 64 – A Chivas Bar – Bangkok, Thailand
Alfresco 64 (yep, it's on the 64th floor) claims to be the world's highest outdoor whisky bar. Basically, it's a partnership with Chivas Regal, makers of the most prestigious premium blended Scotch whisky in the world, so is ideal for whiskey lovers.
The front of the bar takes its design cues from a yacht's bridge and showcase Bangkok's best views.
---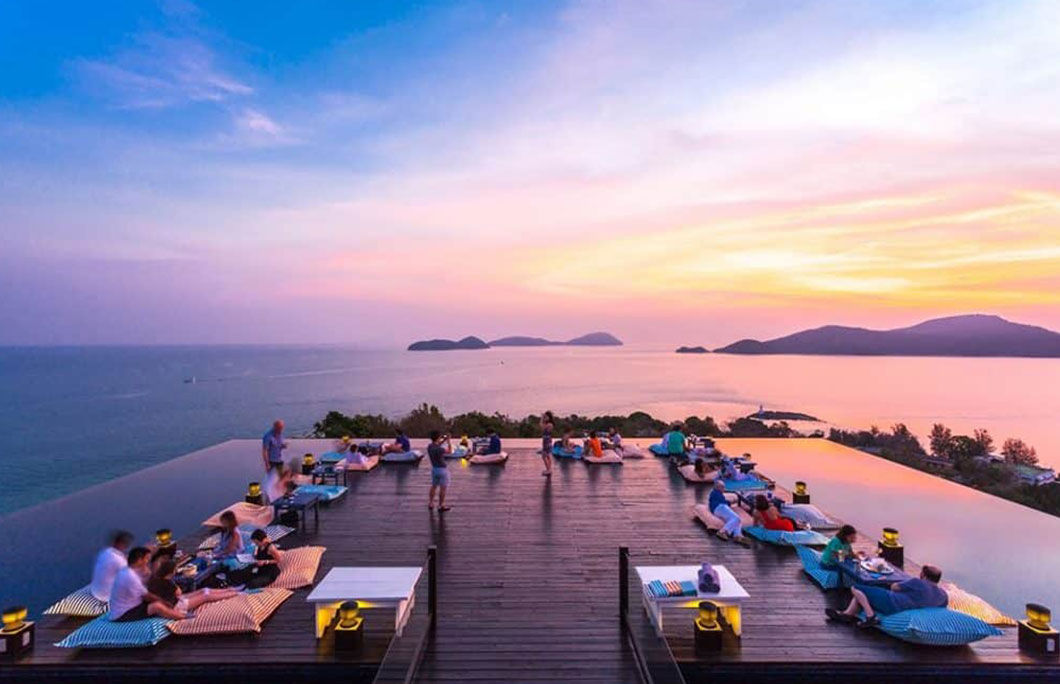 1st. Baba Nest – Phuket, Thailand
You only have to have a quick look at the pictures to see this is the place to come and see the sunset and enjoy a few drinks. Simply stunning and one of the best bars in Phuket. Baba Nest's wrap around infinity pool surrounds the rooftop deck for an unbeatable view.
In fact, it's officially the best rooftop bar in all of South East Asia.
---