7 Best Places to Visit in Thailand
From pristine beaches and dense rainforests of the south to glittering temples and bustling city life of the north, the diversity of Thailand is unmatched. The so-called Land of Smiles is hailed for its incredible people, mouth-watering food, and unbelievable landscapes. This leaves travellers with a predicament: with so many amazing places to visit and things to do, where to go? If time is on your side, it's worth maxing out the new 45-day visa and seeing as much of this beautiful country as you can. But if you only have a limited amount of time, choosing where to go gets trickier. Let's narrow it down – here are the 7 best places to visit in Thailand.
Best Places to Visit in Thailand, You Must Visit Before Dia.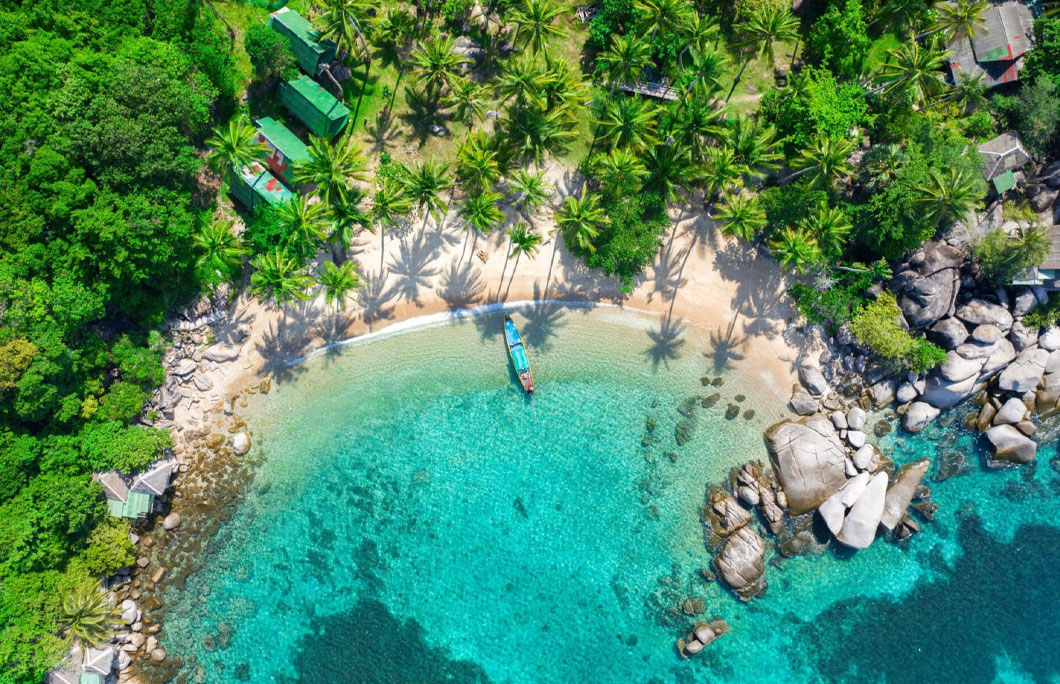 Koh Tao
Sitting on the west of the mainland, in the emerald seas of the Gulf of Thailand, Koh Tao has become a favourite amongst backpackers. The island is rich in dense greenery – head up to one of the many viewpoints for wildly beautiful views across rolling hills and wide-stretching sea. If you can get up for sunrise, the I Love Koh Tao viewpoint is a gorgeous spot. But what Koh Tao is most famous for is scuba diving.
It's one of the cheapest places in the world to get PADI certified, and the bountiful marine life makes diving even more tempting. Koh Tao translates to Turtle Island in Thai, so it's no surprise that there are sea turtles aplenty here. If you don't fancy diving, you can rent snorkels and take yourself around the island to spot turtles or go on a boat tour. After a day of swimming and viewpoint chasing, embrace Koh Tao's famously fun nightlife.
Top things to do in Koh Tao:
Learn to dive
John-Suwan Viewpoint
Take a snorkelling boat trip – ask for a boat with a slide!
Catch a cabaret show at Queen's Cabaret
Eat a Thai curry pizza at Chu Chu's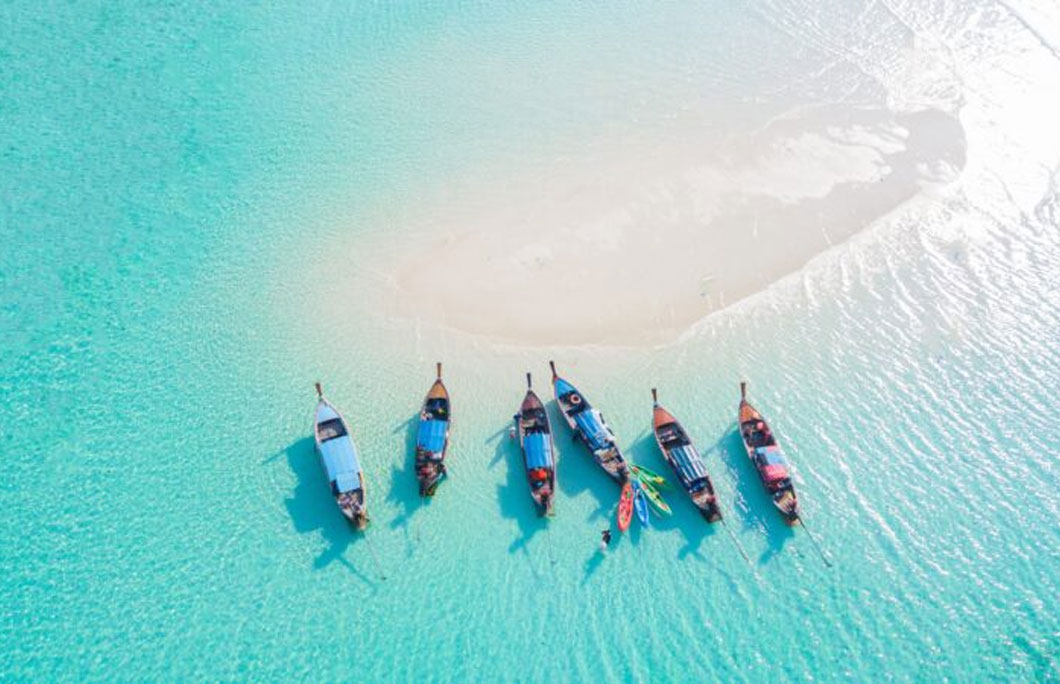 Koh Lipe
Thailand is so incredibly diverse. One day you're on a jungle-y island, and the next you feel like you're in the Maldives. Koh Lipe's pristine white sands and impossibly clear water will have you ready to quit your job and spend the rest of your days living an easy life on the beach. The island sits in the Andaman Sea, a small section of the Indian Ocean, which explains the bright turquoise water. There are so many beaches to explore here, but the sugary white sandbank at North Point is incredible. It's a very small island with no cars and little to no motorbikes, so you'll find getting around on foot a breeze here.
Top things to do in Koh Lipe:
Catch the sunset at Sunset Beach
Spend the day at North Point and marvel at the pristine white sand
Hop on a snorkelling boat trip
Kayak to Koh Adang
Watch the fire show at Monkey Bar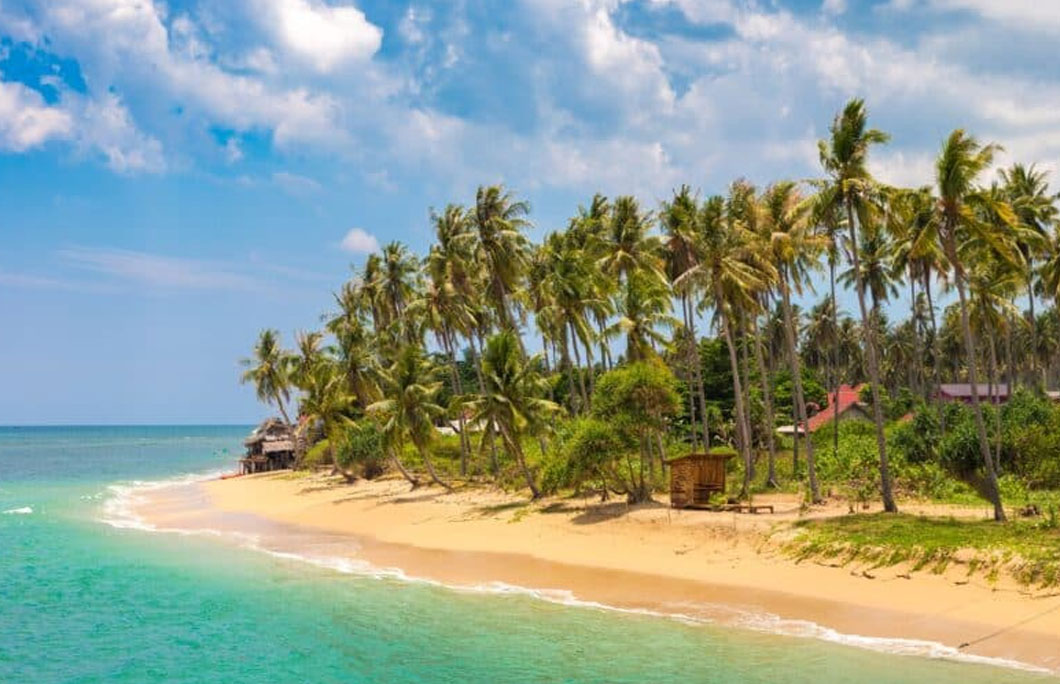 Koh Lanta
While every Thai island offers the opportunity to chill and/or party, Koh Lanta is the place you come to relax. It's one of the bigger islands with wide, quiet roads that are perfect for picking up scooter skills – there's a certain joy in riding a scooter on a nicely paved coastal road. Stop off at beaches along the way and admire the rustic, unspoilt beauty. In general, Koh Lanta is more rustic than many of the other Thai islands, so don't expect upscale resorts. It has its own special charm – think beach shacks, cheap local food, and a hippy atmosphere. Although, the party backpacker scene is growing – head to Pangea Bar on a Sunday for their DJ event.
Top things to do in Koh Lanta:
Rent scooters and hop around the beaches on the west of the island
Stroll around the Old Town
Watch the sunset on Klong Dao Beach
Visit Lanta Animal Welfare
Try out street food at the Lanta Food Market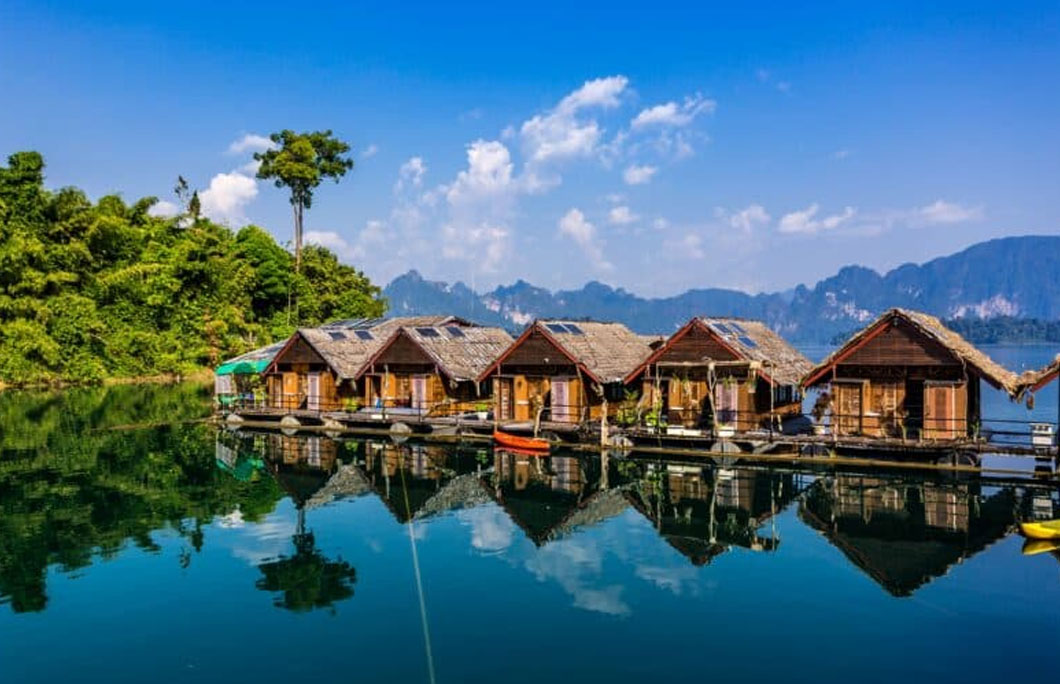 Khao Sok National Park
Khao Soak National Park is undeniably one of the best places to visit in Thailand. It's at the top of many travellers' lists, offering an experience like no other in the country. Famous for the floating bungalows on the lake, it's the picture of peace and quiet. Most people will book a 2-or-3 day tour, which can include a visit to Cheow San Lake, a stay in a bungalow, a trek through the rainforest, waterfall visits, and more. You might not think of rainforests when it comes to Thailand, but Khao Sok is actually older than the Amazon rainforest!
Top things to do in Khao Sok:
Spend the night or two in a floating bungalow on the lake
Kayak on the lake
Trek through the jungle rainforest
Spot wild elephants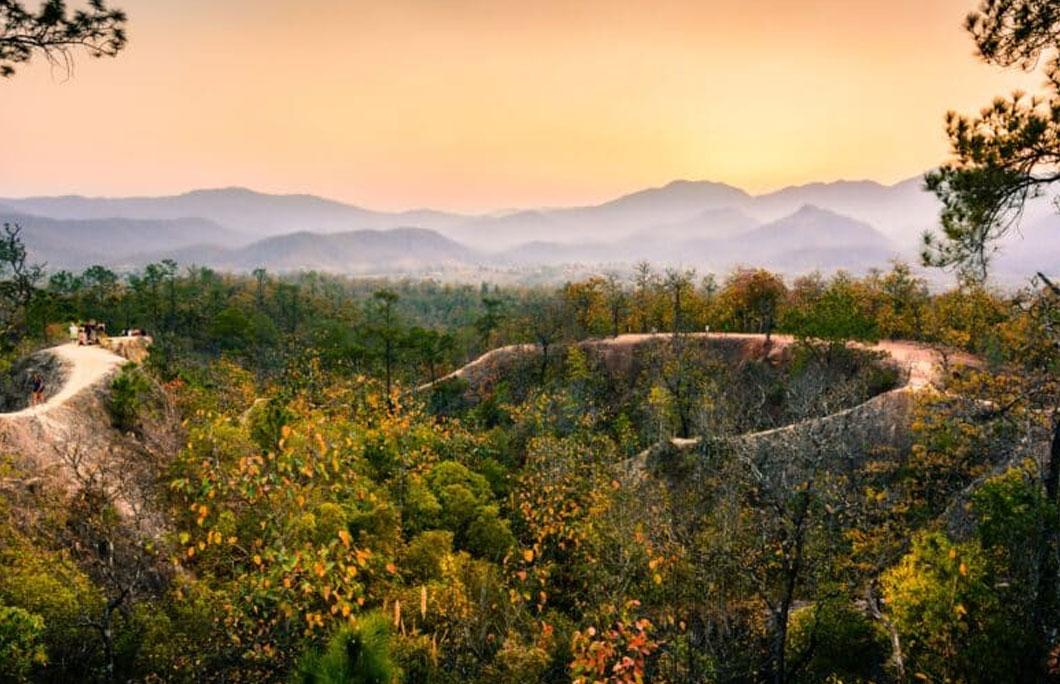 Pai
A backpacker's paradise, Pai was made for travellers. It might not be the epicentre of Thai culture, with Western cafes galore, but the hippy town is a must-see if you're in the north of Thailand. It's so north, in fact, that it's right by the Myanmar border. The two most popular ways to get to Pai are by bus and by scooter – the road is notoriously bendy with over 700 bends, great for thrill seekers who love winding around on a scooter but not ideal for those who suffer from motion sickness on the bus. However, a motion sickness tablet will curb any sicky feelings and once you're in Pai, you'll know that the journey was worth it. A lot of people end up extending their stay here, with so many boho hostels and homestays to explore.
Top things to do in Pai:
Tubing down the river
Visit the Pai Canyon
Walk across the Bamboo Bridge
Take in the views from Wat Phra That Mae Ye (White Buddha)
Explore the many cafes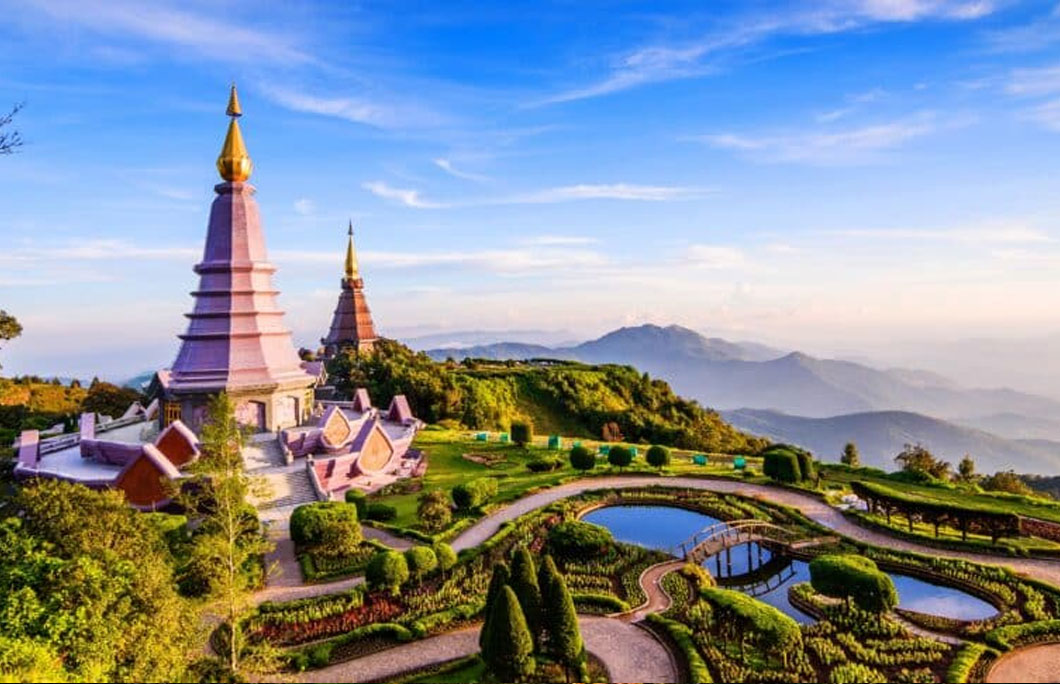 Chiang Mai
Chiang Mai is an underrated gem. With incredible food, markets, nature, and endless temples, it's undoubtedly one of the best places to visit in Thailand. It's the perfect introduction to the north of Thailand and an insight to local city life. It seems to have everything – spend your days embracing the excellent café culture or exploring Doi Suthep, the gorgeous mountain nearby. Nightlife might not the first thing that springs to mind, but the city has plenty of fun karaoke bars, backpacker clubs, and of course, wildly fun cabaret shows. And as we mentioned, the food in Chiang Mai is fantastic. Be sure to try out the famous northern Thai dish, Khao Soi – a coconutty, spicy noodle soup topped with crispy noodles.
Top things to do in Chiang Mai:
Catch a cabaret show at Ram Bar
Embark on a 2-day trek through the jungle and stay overnight in a bamboo treehouse
Climb the sticky waterfalls
Explore the many temples – Wat Phra That Doi Suthep is our favourite
Take a cooking class
Sample street food at the Sunday night market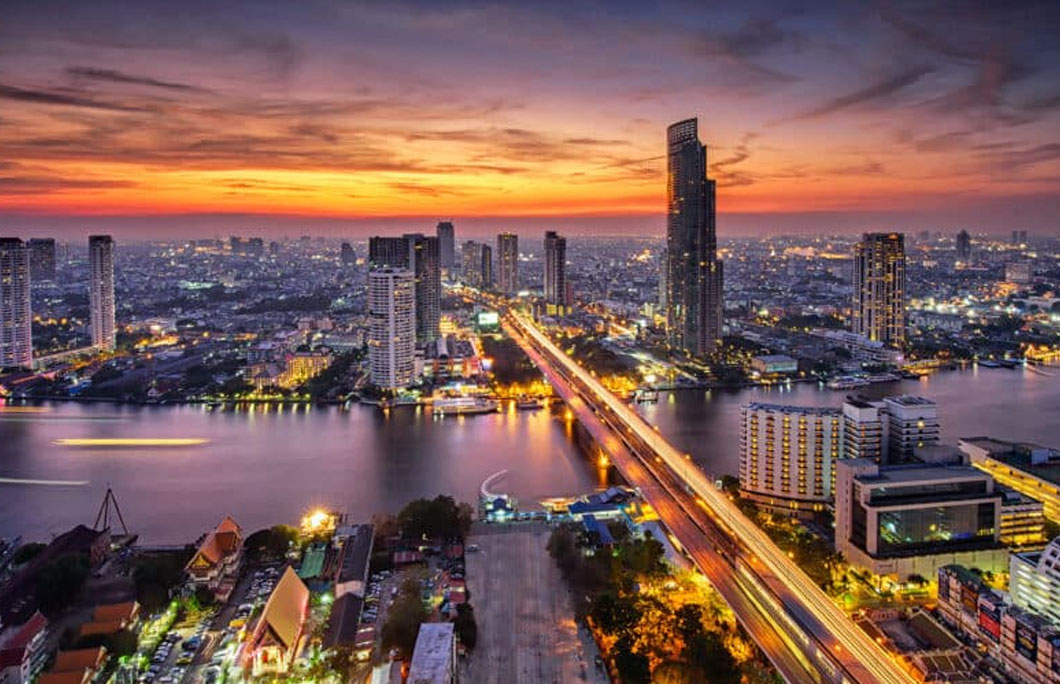 Bangkok
Yes, Bangkok is an attack on all the senses. But there's plenty of places to escape the never-ending traffic and crowds if you know where to go. It's in these peaceful nooks and crannies that we really love Bangkok, like Lumphini Park and the (free!) rooftop of the Icon Siam shopping centre. But hustle and bustle is part and parcel of the capital city – it's best to embrace it and get involved with the chaos. And when it comes to street food, getting stuck into the bedlam is more than worth it. Try tom yum soup, grilled meats, coconut ice cream with frozen egg yolk, and much more. Admittedly, it can be hard to know where to go (especially when everyone will be finding the same places on Google), so we recommend taking a guided food tour to ignite your tastebuds without the ridiculously long queues.
Top things to do in Bangkok
Catch the sunset from one of the rooftop bars – we're a big fan of Octave
Relax in Lumphini Park and watch the wild monitor lizards
Admire the intricate temples – Wat Pho is our favourite
Take a private food tour in China Town
Prepare for the sensory overload of Kho San Road
---