10 of our favourite Brisbane road trips
Moreton Island
Gold Coast
Scenic Rim & Lamington National Park
Stradbroke Island
Sunshine Coast
Springbrook National Park
Glass House Mountains
Toowoomba
Samford
Tambourine Mountain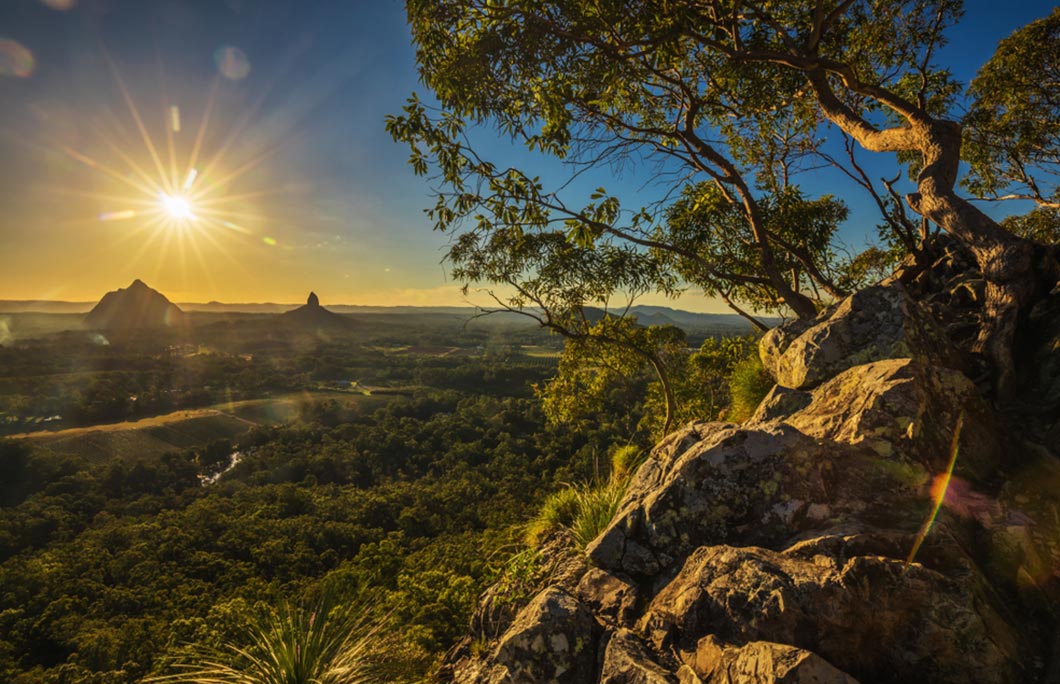 10 of the Best scenic drives from Brisbane
If you're a Brisbanite, you'll need no convincing that your home city is one of the world's most spellbinding urban centres. But if you're planning to visit Brisbane from elsewhere in Australia, you'll be aware of the Queensland capital's qualities but might not know every nook and cranny.
The ancestral home of the Jagera people, contemporary Brisbane has a blossoming social scene blessed by quality bars, restaurants and cultural attractions. Stroll around this laid-back city and you'll see sleek high-rise buildings, tree-lined boulevards and swish yachts bobbing on calm waters.
Beyond the sparkling, sky-scraping skyline, there's a whole world of sublime scenery to explore ̶ from Boho mountaintop towns full of cute coffee and craft shops to sun-kissed sandy islands surrounded by aquamarine waters where whales and dolphins frolic in the waves.
If you want to see cascading waterfalls, dramatic caves, cool swimming holes and traditional arts and culture, all these delights await too and wherever you pull up and park, a warm Aussie welcome is guaranteed. Hire a car in Brisbane from Enjoy Travel, strap on your seatbelts and take off for dynamic road trips that showcase the diverse beauty of Down Under!
Driving in Brisbane
Your blockbuster road trips are coming tight up, but if you've not taken to the road in the city for a while, or it's your first time, it's worth taking a minute for some top tips on driving in Brisbane.
If you can, avoid driving during the rush hours. Because so many workers commute between the Gold Coast, Sunshine Coast and the city, the main motorways around it can get congested.
If you're parking in Brisbane there are some areas with pay & display-style meters, but you'll also find car parks at Wintergarden, MacArthur Central, and King George Square.
Make sure that you've got plenty of fuel in the tank when you're setting off on a day trip from the city ̶ you'll find petrol stations in central Brisbane at Vulture St, Milton Rd and Barry Parade.
The speed limit in many built-up areas is 50 km/h but it has been reduced to 40 km/h in the West End and some Kelvin Grove suburbs, so please check the signage carefully. The limit is 100 km/h on rural roads.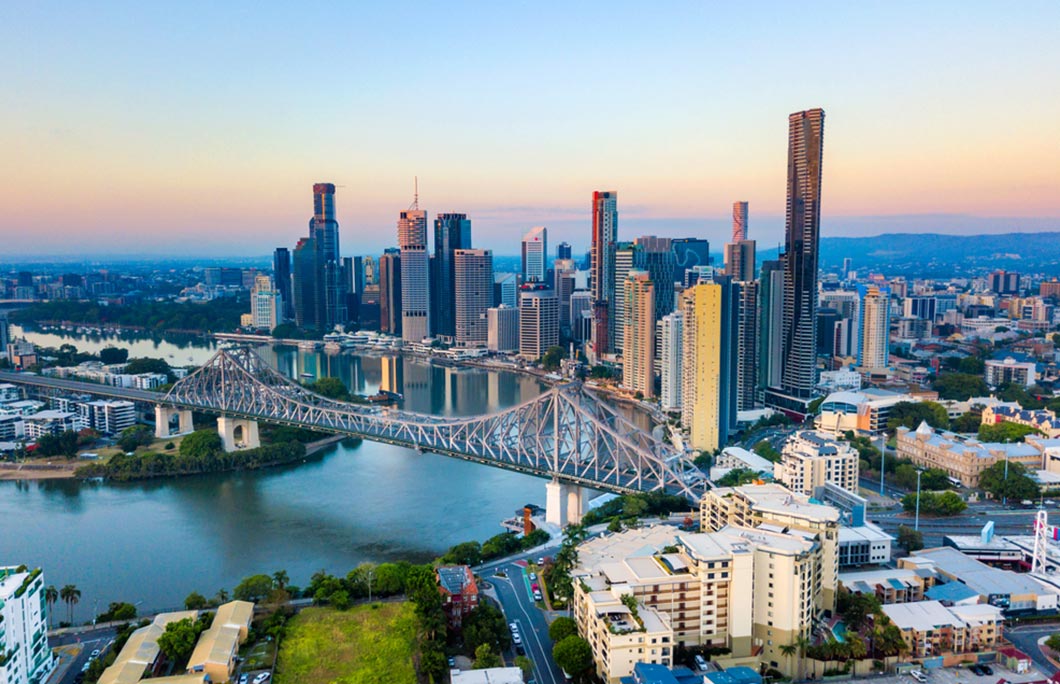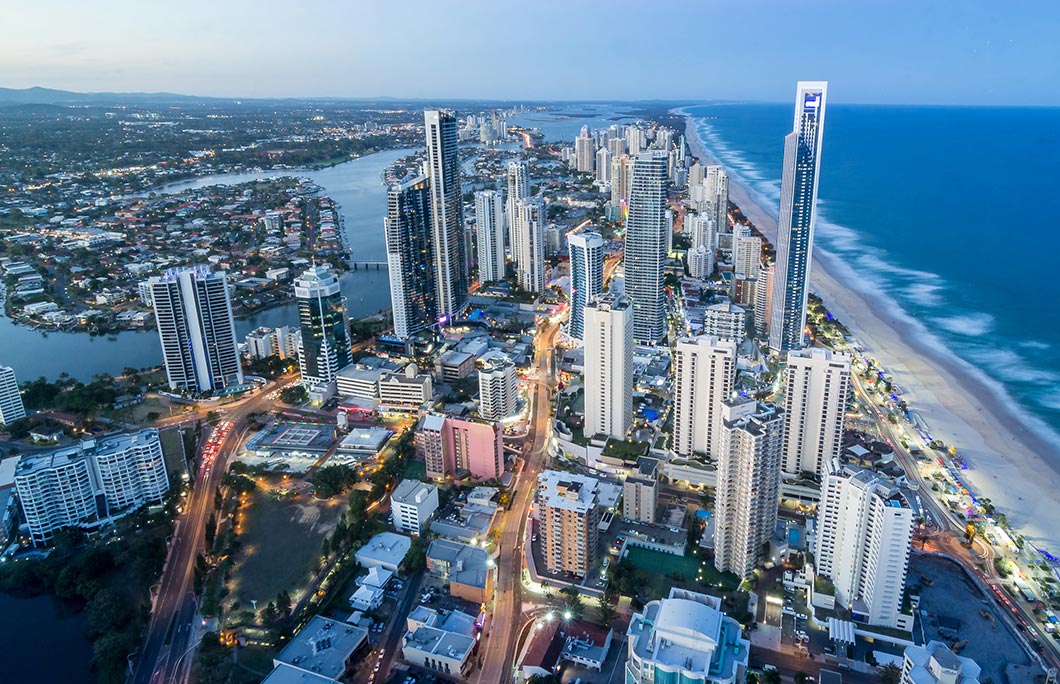 1. Moreton Island
The third-largest sand island in the world, Moreton Island is a magical road trip from Brisbane which is famous for its blissful beaches and massive dunes like Mount Tempest. At underwater sites like the Tangalooma Wrecks you'll see chameleonic fish weaving their way through sunken ships, Cape Moreton lighthouse is the perfect spot for seeing humpback whales and you can paddleboard, kayak or take Segway tours along the sea shore.
Getting there: take the Micat car ferry from Port of Brisbane to reach Moreton Island in 75 minutes.
2. Gold Coast
A reasonably short drive south of Brisbane, surfing capital Gold Coast is the ideal city day trip for sunbathing, surf lessons at Surfer's Paradise and terrific theme parks like Warner Bros. Movie World, Dream World and Sea World Gold Coast. Beyond the city limits you can bathe in the bucolic beauty of the Gold Coast hinterland hiking trails.
Getting there: drive south on the M1 from Brisbane to reach Gold Coast in one hour.
3. Scenic Rim & Lamington National Park
A popular road trip from Brisbane, the Lamington National Park is full of gorgeous greenery and striking geology (it's home to two dormant volcanos). It's part of the vast Scenic Rim, an amazingly diverse area that includes everything from waterfalls to charming villages and attractions like O'Reilly's Canugra Valley Vineyards, where you can make a tasty pitstop before heading home.
Getting there: take National Route 13 from Brisbane to reach Lamington National Park in one hour and 35 minutes.
4. Stradbroke Island
Affectionately known as 'straddie' to locals, Stradbroke Island is the biggest of the islands between Brisbane and the Gold Coast. A paradisiacal spot that's a short hop on the ferry from Brisbane, you'll feel like you're a world away when you're strolling along wonderful white sand beaches, hiking through dense bush and cooling off in crystalline swimming lakes.
Getting there: you can take your car over to Stradbroke Island on the Big Red Cat or Minjerribah ferry services which run regularly from Cleveland and Dunwich.
5. Sunshine Coast
Strike out for the Sunshine Coast north of Brisbane and you're in for a real treat and a road trip where you can pack in plenty of hotspots during a full-day tour. Noosa is a perpetually popular beach resort, you can find a bargain at the Eumundi Markets, and Cooloolah Recreation Area at the great Sandy National Park boasts brilliant multicoloured sands, striking coastal cliffs and camping under the stars.
Getting there: take the M1 north of Brisbane to reach the Sunshine Coast in around one hour and 25 minutes.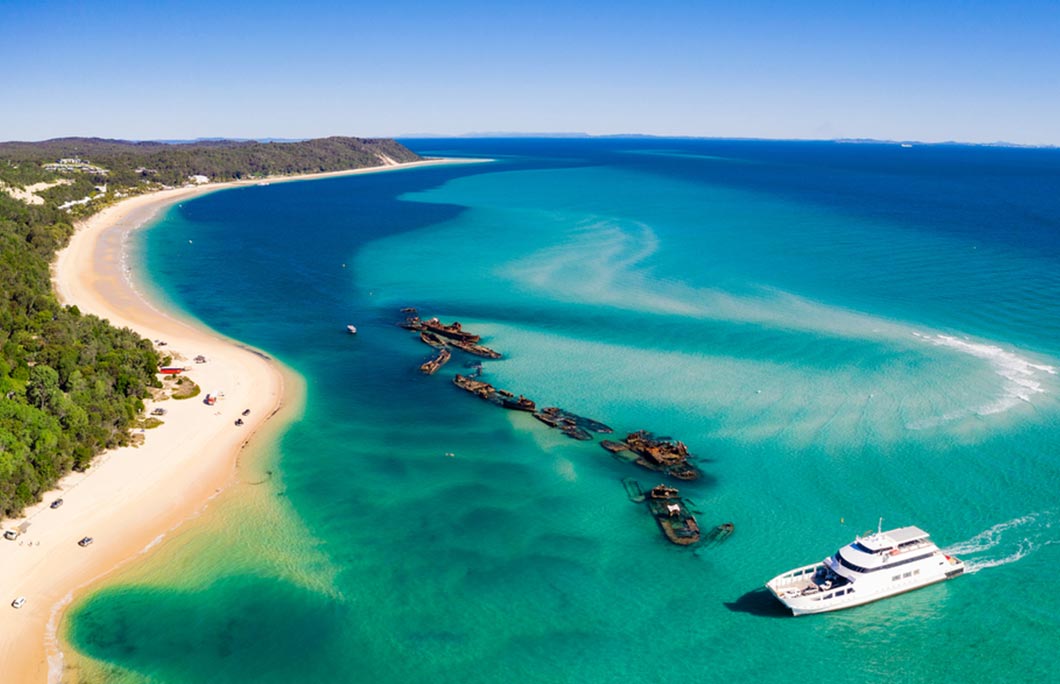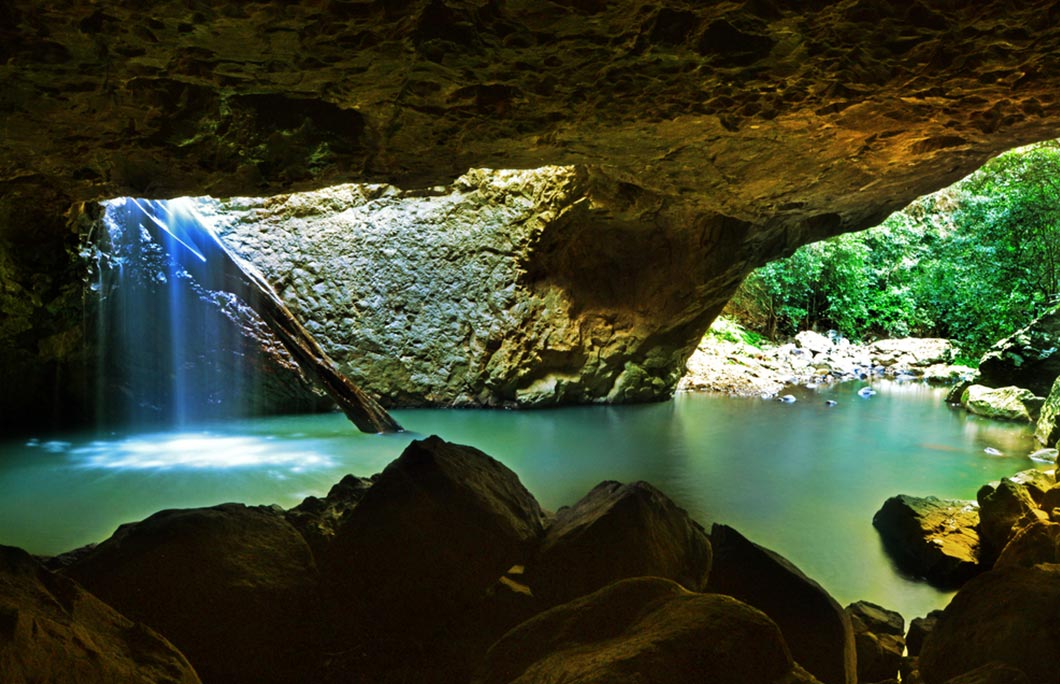 6. Springbrook National Park
A UNESCO World Heritage Site, Springbrook National Park is your gateway to the rugged and ravishing landscapes of the Gondwana Rainforest. This part of the backcountry is known as the 'green behind the gold' and as well as the lush greenery and vertiginous waterfalls, you can treat yourself to guided tours and horse-riding trails. For an all-action road trip not too far from Brisbane, this is a great choice.
Getting there: take the M1 and State Route 99 to reach Springbrook National Park in one and a half hours.
7. Glass House Mountains
Do you like hitting the road where the air is rarefied? In that case you'll love a trip through the Glass House Mountains, which offer panoramic views of the surroundings and some of Australia's best hiking terrain if you fancy stretching your legs. Peaks like Mt Beerwah, Mt Tibrogargen, and Mt Ngungun are popular, but some hikes are challenging so please be sure to check the gradients first.
Getting there: head north on that trusty M1 and you'll reach the Glass House Mountains in around one hour.
8. Toowoomba
If you're a foodie, head west from Brisbane through some lovely countryside to reach Toowoomba, where lots of delicious treats await. This modest town punches several divisions above its weight when it comes to its cuisine scene, there are plenty of chic craft shops to explore and it's nestled amidst awesome rolling farmland.
Getting there: drive west on the Warrego Highway/A2 to reach Toowoomba in one hour and 40 minutes.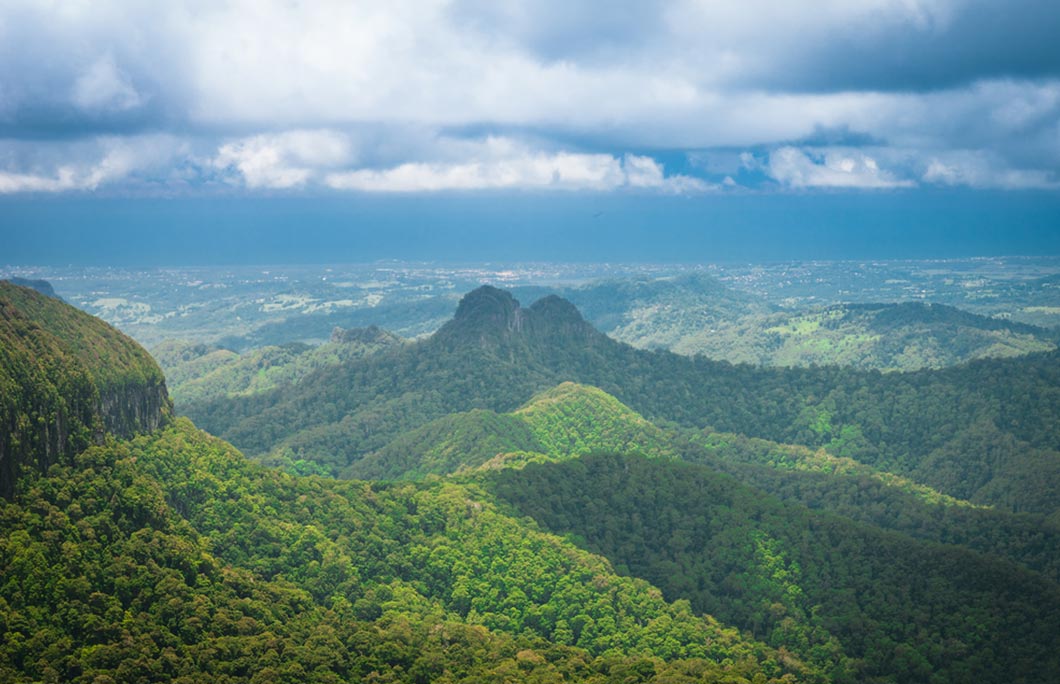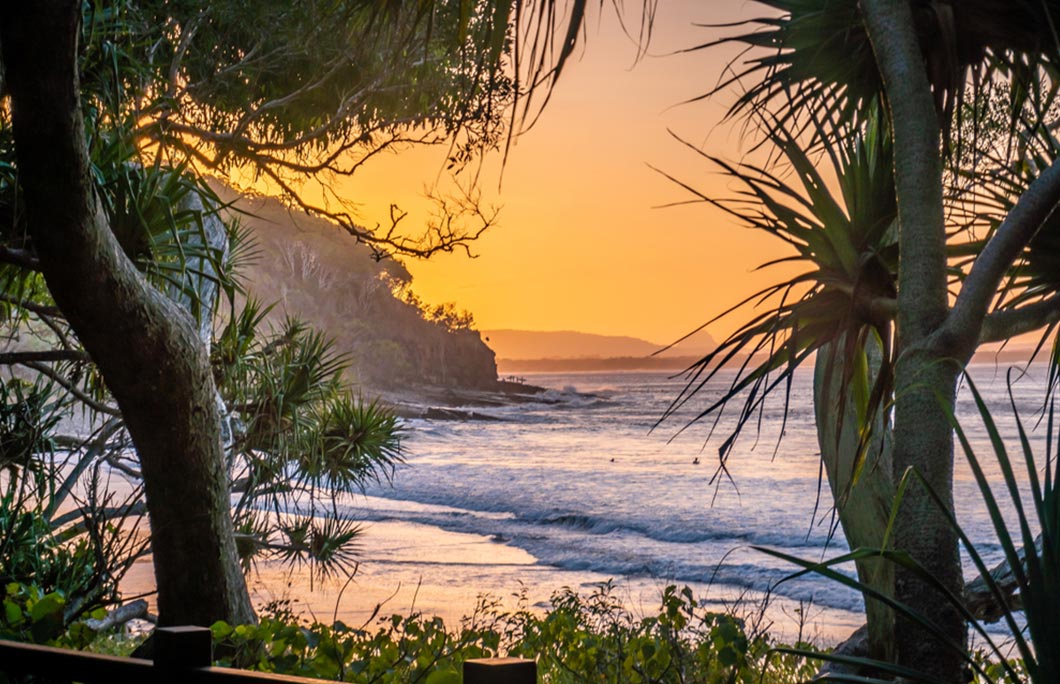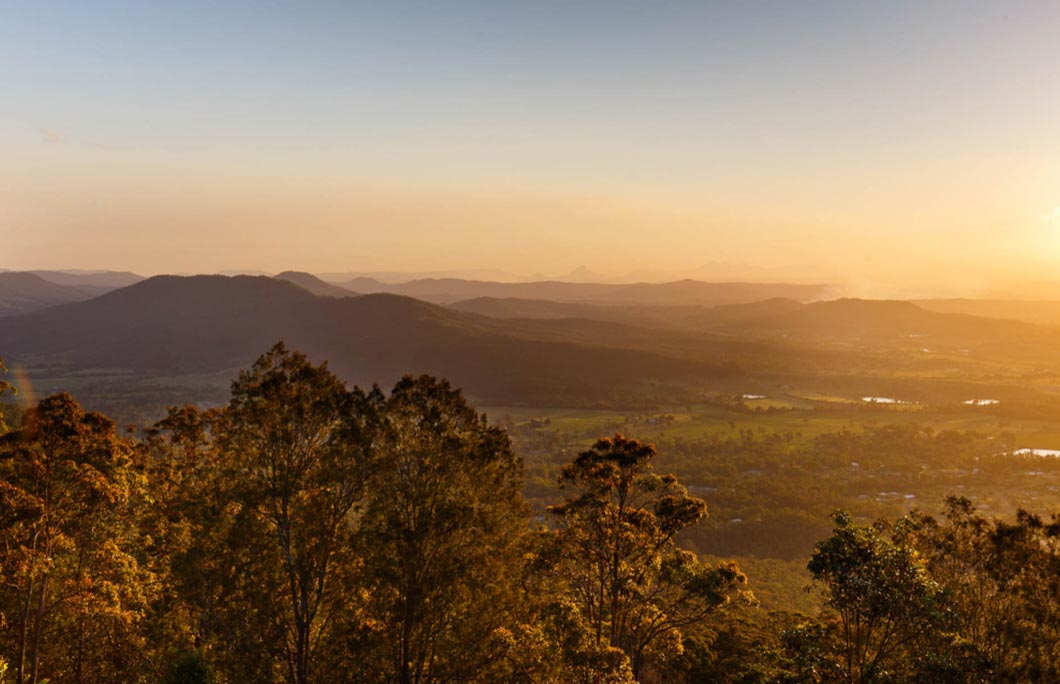 9. Samford
A scenic region to the northwest of Brisbane, hilly and scenic Samford is a haven for hobby farmers and it also has a hip coffee shop scene, infectious community vibe and focus on first-rate hospitality. The Flying Nun Café is a culinary highlight, with its reclaimed church setting and Aussie fusion menu, and the Samford Conservation Park is a great place for barbecues, mountain bike riding and interesting flora and fauna.
Getting there: take Samford Rd/State Route 22 northwest of Brisbane to reach Samford in just 25 minutes.
10. Tambourine Mountain
There's something special at every turn during the drive from Brisbane to Tambourine Mountain. With dense rainforest all the way, you'll pass Beechmont's dreamy meadows and a clutch of old towns before reaching the mountain top. Once you're there, enjoy browsing superb art galleries and visiting artisan vineyards and distilleries (don't sample the goods unless you have a designated driver). At the Tambourine National Park there's yet more hiking and if this floats your boat, the trails are truly eye-popping.
Getting there: take State Route 95 from Brisbane to reach Tambourine Mountain in around one hour.
It's evident that Brisbane is a super slingshot for launching yourself on a range of top-rated road trips that unlock the natural and cultural riches of the region.
Hire a car in Brisbane from Enjoy Travel and you can make the most of Queensland and see something new every single day.
With low-cost car hire from several trusted partners and no-hassle online car hire, you're ready to get behind the wheel and if you want to bag a bargain then book ahead ASAP.
Remember to send us a postcard from your bonzer Brisbane trip.