10 Epic Road Trips From Hobart
Port Arthur
Kettering
Mount Wellington
Heritage Highway
Hastings Caves
Steppes Conservation Reserve
Hamilton
Freycinet National Park
Derwent River Valley
Russell Falls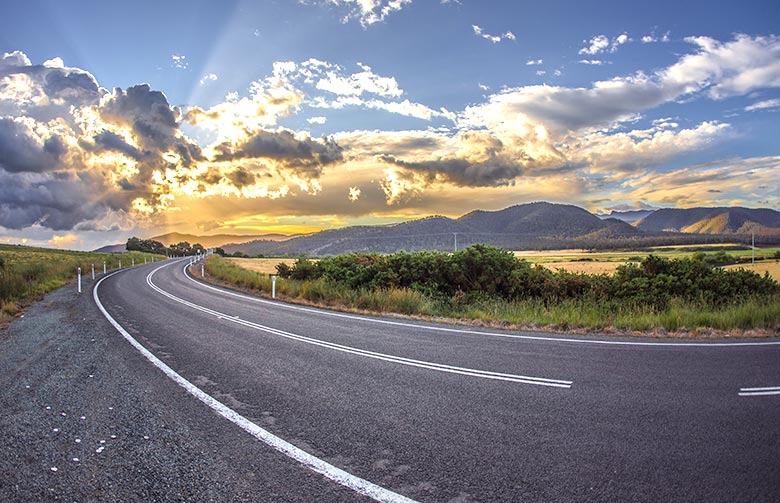 10 scenic road trips from Hobart
Heading to Hobart on your hols? Or maybe you're lucky enough to live there all year round? Either way, we're envious! Tasmania's capital (and most populous city) is abuzz with scenery, history and friendly locals – making it a location with a growing reputation as a hotspot for residents and visitors alike. A harbour town where old and new worlds mix, its waterfront precinct is increasingly cosmopolitan. Plus, there are plenty of picturesque natural and cultural attractions within easy reach once you hop behind the wheel and head out on the road.
If you're a foodie, Hobarts resurgent cuisine scene caters for a wide range of tastes, with everything from trendy café fare to haute cuisine on offer. And (provided you've got a designated driver) it also boasts a brilliant craft beer scene – be sure to sample some of the local brews while you're in town. There's a strong coffee culture here too, so you'll never struggle to find somewhere fashionable to top up those caffeine levels.
Hobart's cultural calendar is also packed with pleasures. For instance, if you're here around New Year, the city is packed with stylish yachting set types and salty sea dogs taking in the Sydney to Hobart Yacht Race vibes. Alternatively, the Taste of Tasmania festival showcases the island state's best locally sourced food and drink – pick up some mouth-watering treats to take home.
Last but not least, we can't forget that Hobart also has an amazing vertiginous backdrop – the dramatic crags of Mount Wellington sit above the city and host a range of outstanding outdoor activities as well as mind-blowing views.
As you can see, Hobart is dynamic in the city proper and dazzling in its environs. With its heady blend of the historic, modern and scenic, it's fast becoming one of the best places to live and visit Down Under.
Tips on driving in Hobart
We're almost ready to rev up for your top 10 road trips from Hobart. But let's take in some quick yet quality Tasmanian driving tips first.
Firstly, give yourself plenty of time to get to your destination of choice. Road conditions vary and many thoroughfares here can be steep and narrow, meaning that it's vital to proceed with caution. Please also make sure that you've got enough fuel before you leave – on some rural routes, petrol stations are few and far between.
As always anywhere in Australia or thereabouts, be wary of wildlife on the road – native species need to be protected, but collisions with large animals can also have very serious consequences for travellers. On highways in Tasmania, the speed limit varies between 100km/h and 110km/h and it's 50km/h in built-up areas. Stick to the limit at all times and keep yourself and everyone else on the road safe.
Now we've refreshed your memory of the Tasmanian road code, let's get moving with those tantalising trips!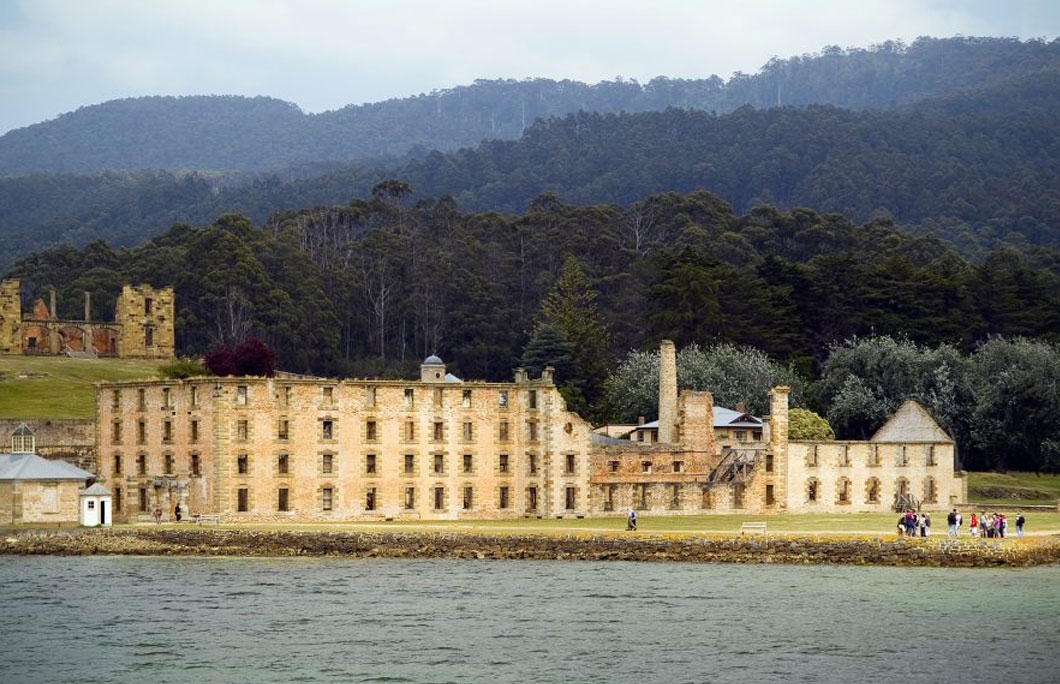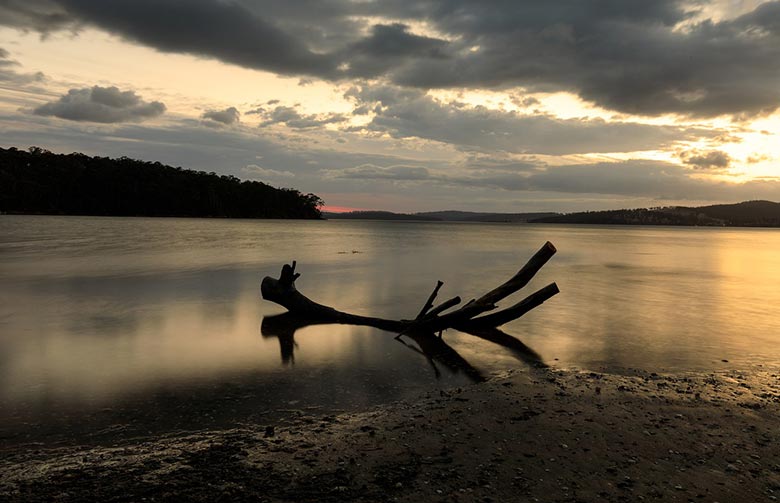 1. Port Arthur
Nestled on the Tasman Peninsula, Port Arthur Historic Site is Australia's most famous former penal colony. If you're a history buff, you'll love stepping back in time here amongst the ruins and gardens, with guides explaining exactly what it was like to land in this new world as a prisoner. Take a harbour cruise for stunning sea views and see the graves on the Isle of the Dead – fascinating.
Getting there: Port Arthur is one hour 20 minutes from Hobart via Arthur Highway/A9.
2. Kettering
With two magnificent marinas on the D'Entrecasteaux Channel, Kettering is a scenic town that makes a terrific day trip destination from Hobart. Just a short hop from the city's CBD, there's a lovely, laid-back boho vibe here and it's popular with creative types and anyone who likes messing about on the water. With striking seascape views of the channel and Bruny Island, it's truly beautiful.
Getting there: Kettering is just 30 minutes from Hobart via Channel Highway.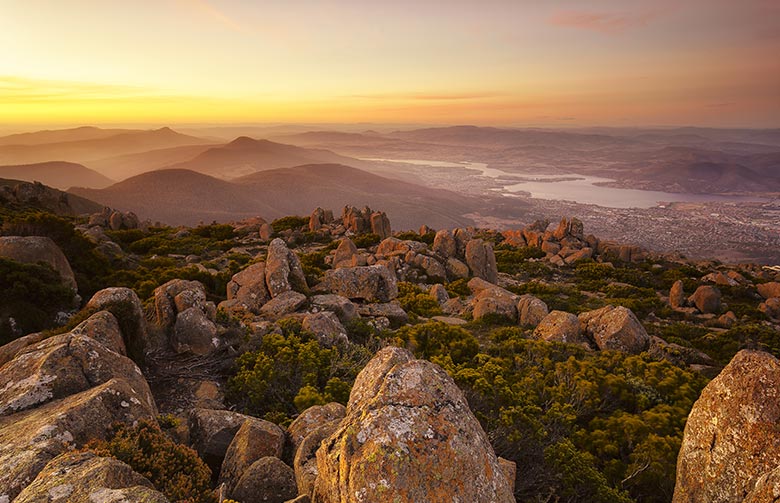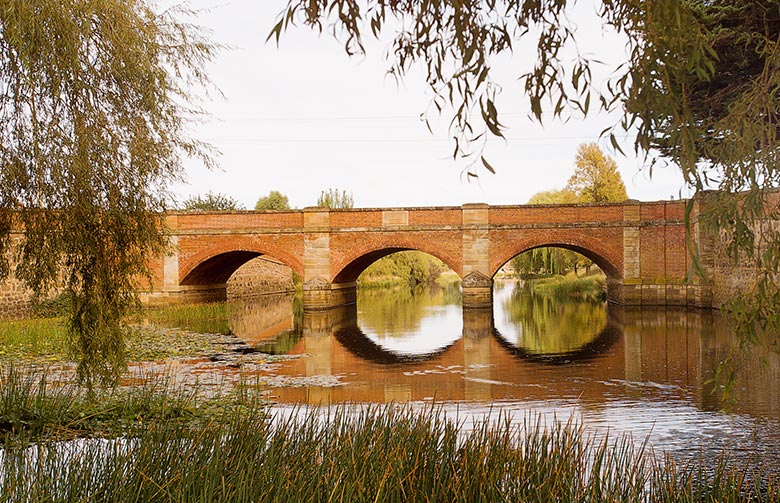 3. Mount Wellington
Known as Kunanyi in indigenous Tasmanian culture, Mount Wellington dominates Hobart's skyline and it's an easy, must-see spot when you're exploring the area. The pinnacle observation shelter at the top affords amazing views of the city's urban sprawl peppered with mountains and waterways and there are bushwalking trails that take you through environments that range from rainforests to snowfields.
Getting there: Mount Wellington is 25 minutes from Hobart via B64 and C616.
4. Heritage Highway
If you love history and driving, this road trip is pretty much made for you. Rolling along from Hobart to Launceston, you'll see remarkably well-preserved sandstone buildings and romantic cobbled streets in stop-offs at Campbell Town, Oatland, Ross and Richmond. Book a round at Bothwell if you're a golfer – it's the oldest course in the southern hemisphere!
Getting there: Launceston is two hours 15 minutes north of Hobart via the Midland Highway, but you'll want to stop off at hotspots on the way.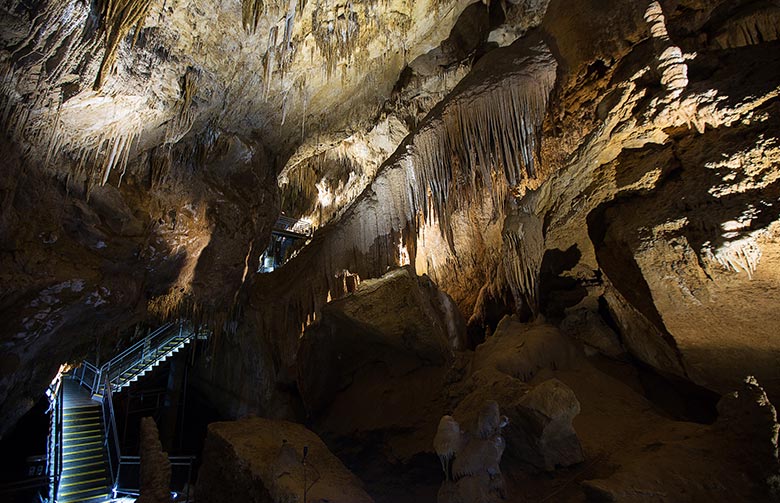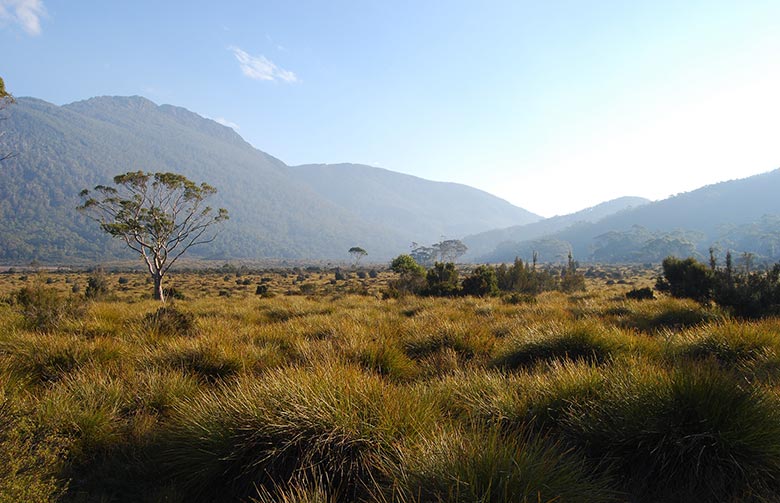 © image credit Natalie Tapson
5. Hastings Caves
Located a couple of hours from Hobart, this amazing cave complex has to be seen to be believed. The jewel in the crown is the Newdegate Cave, the country's largest dolomite cave, which features stalactites, stalagmites, helictites and flowstone. Back up on the surface, take time for a dip in the natural thermal springs and a picnic in the lush surrounding forest!
Getting there: Hastings Cave State Reserve is one hour 35 minutes from Hobart via Huon Highway/A6.
6. Steppes Conservation Reserve
Located in the Central Highlands, the Steppes Reserve protects Tasmania's high country sheep grazing heritage and your delightful drive here takes in some stunning scenery as well as offering unique insights to the island state's history. A haven for birds and native wildlife as well as livestock, a trip here lets you walk in the rugged footsteps of pioneers like the Wilson family, original owners of the homestead.
Getting there: Steppes is 2 hours from Hobart via the Lake Highway (A5)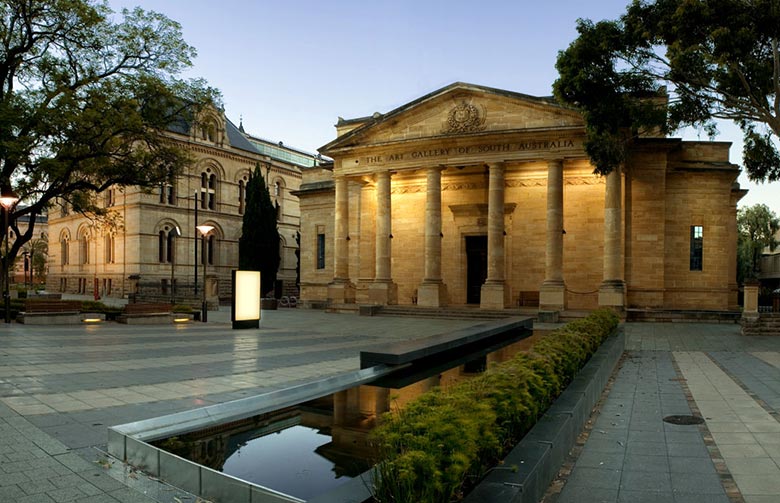 © image credit Bidgee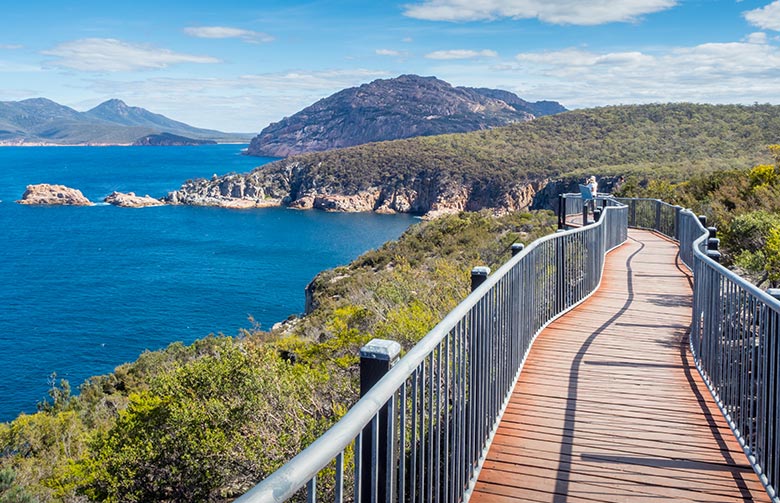 7. Hamilton
A bucolic road trip destination west of Hobart, Hamilton is ideal when you want a relaxed drive out to a scenic spot for lunch and a pleasant postprandial stroll. Fill your boots with home cooked deliciousness at Jackson's Emporium and drink in the splendour of the 19th Century St Peter's Church and Old Schoolhouse. A chill-out spot with cracking cuisine – pretty much perfect!
Getting there: Hamilton is one hour from Hobart via Lyell Highway/A10.
8. Freycinet National Park
Do you love sumptuous seafood and scenic beauty? If you're nodding your head, you're in for treats aplenty at Freycinet National Park and Wineglass Bay. Located on Tasmania's east coast, this picturesque peninsula features everything from hidden coves to soft sand beaches and the sublime pink peaks of the Hazard Mountains. Magic!
Getting there: Give yourself a good 2 and a half hours to get to Freycinet from Hobart, via the Tasman Highway/A3.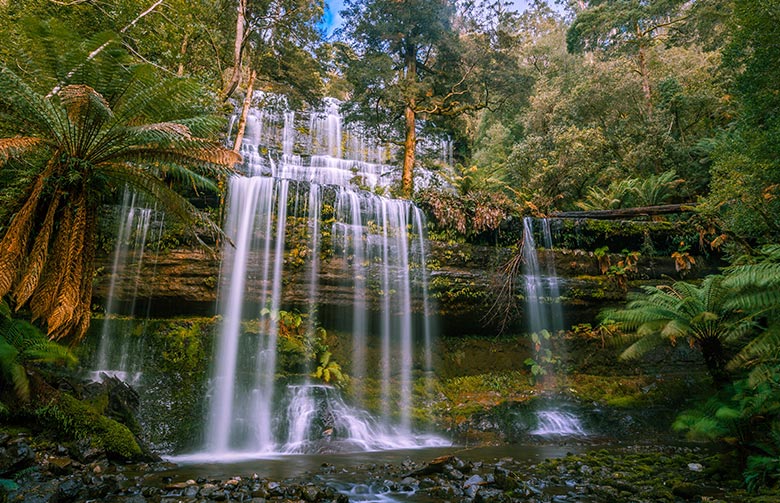 9. Derwent River Valley
The Derwent River Valley is just a short skip beyond the nearby Derwent River and the main attraction here is Bonorong Wildlife Sanctuary. Here you'll see Tasmanian Devils (yup – just like the one in the old-school cartoon), Kangaroos and much more. Drive on to Bridgewater to see the iconic iron bridge and pop into New Norfolk for lunch and a wander around the heritage precinct. It's a day trip with a difference.
Getting there: Follow National Highway 1 out of Hobart for 25 minutes to reach Boonarong. Other attractions are nearby.
10. Russell Falls
One of Tasmania's most beloved natural attractions, Russell Falls captivate every visitor. This is definitely the most photographed waterfall down here and it's really accessible thanks to a broad track. Located in Mount Field National Park, you can reach here in around an hour from Hobart, and it's surrounded by verdant rainforest – another world indeed.
Getting there: Russel Falls are one hour from Hobart via Gordon River Road/B61.
So there you have it – a road trip decathlon from Hobart that definitely escalates your excitement to epic levels!
Far from being a backwater of mainland Australia, this inspirational island is taking centre stage as a destination in its own right and a place locals are proud to call their own.
Hire a car in Tasmania from Enjoy Travel and you're spoiled for choice when it comes to dynamic day trips from your Hobart base that suit all tastes.