Crete Car Hire
Find the best deals in Crete
With a massive choice from the biggest brands, Enjoy the best way to find the best prices for car hire in Crete.
Huge choice of cars to suit every budget
Save up to 70% compared to buying on the day
10 years experience in car hire
Compare Car Hire in Crete
Crete is the biggest and most heavily populated of the Greek Islands and the fifth largest in the entire Mediterranean. Bordering the southern reaches of the Aegean sea, it's 160 km south of the Greek mainland, covers an area of 8,336 square kilometres and has a population of over 600,000 ‐ 140,000 of whom live in the capital Heraklion.
Formerly known as Megalónisos (the great island), Crete was the cradle of the Minoan civilization in the 2nd century BC. You'll find sun-kissed beaches, dramatic cliffs, snow-capped mountains, fine cuisine, welcoming locals, and more history than you can shake a stick at ‐ when you want a holiday destination with something to satisfy diverse tastes, this eclectic island is an excellent choice.
There are bargains aplenty in Crete and you find value for money with online car hire too. For example, an economy sized-car like a Fiat Panda costs just £37 for four days at present, an economy elite card like a Volkswagen Polo costs only £46 for four days, and even a 9 seater Fiat Talento ‐ ideal for touring the island with a large travel party ‐ costs just £186 for the same duration. Hire a car with Enjoy Travel and you can explore every nook and cranny of Crete, but before you start your engine, here's some further information on this this inspirational island.
About Crete: blessed by beautiful palm-lined beaches, ancient castles, unique archaeological sites and chic resorts, there's so much to do here that you'll struggle to pack it all into a regular holiday duration. As the birthplace of Zeus and the legend of the minotaur, this is a destination where ancient and modern civilizations blend seamlessly and whether you're a history buff, a beach bum or a culture vulture, it's the perfect place for a romantic break or a fun family holiday. Throw year-round sunshine, healthy Mediterranean cuisine and friendly locals into the mixture and you'll understand why many visitors don't want to leave.

Sometimes called the cradle of European civilisation, Crete was ruled by the Minoan civilisation between 2800 BC and 1400 BC, whose grand palaces at locations like Knossos, Malia and Phaistos are archaeological treasure troves of international significance. The ancient Andorians took over after a natural disaster ended Minoan rule, then Greek civilization dominated until 67 BC when Crete was conquered by the Romans and (in time) Christianity was introduced when it became the Roman state religion. By the time of the Byzantine era, Crete was an important centre in the Christian world, but from 824 AD to 960 AD the island fell under Saracen rule, then the Venetians dominated from 1204 until 1669 when the Ottomans took over. Crete regained its independence in 1897 and united with Greece in 1913, leading to a period of relative stability which has lasted to the present day.

Airports and access: Crete has three main airports ‐ Heraklion International Airport (HER), which serves the capital and surrounding areas, Chania International Airport (CHQ) which caters for the second-largest city, and the small domestic airport at Sitia in Lassithi, the easternmost part of the island, which only operates during the summer season.
Driving around Crete: this island is ideal for drivers who love the freedom of the open road, enjoying scenic landscapes and taking daytrips to delightful towns, villages and attractions. Here are a few road trips to factor into your itinerary:

If you're a fan of Greek mythology, visiting Elounda and the Cave of Zeus is a must and if you're based in Heraklion, it's just over an hour's drive east via the E75. You'll drive through the Lassithi Plateau to get there and there are some stunning views along the way. Officially called the Dikteon Cave, when you wander through its eerie walkways, through a stone forest of stalagmites and stalactites, you're transported back in the mists of time to the occasion when Zeus hid here to escape his fate as the next course for his cannibalistic father Cronus (who had already snacked on his sibilings!).

Dyskos Beach near Lentas is 76km southwest of Heraklion via the E75 and 97 and it takes around one hour and 40 minutes to get there. This beautiful remote beach is well worth the drive and if you happen to have a tent or sleeping bag with you, camping out under the stars is permitted. One word of warning though ‐ a section of this beach is reserved for naturists so don't be surprised if you pass fellow pleasure seekers strolling past nonchalantly in their birthday suits!

Matala caves are around an hour southwest of Heraklion via the EO Irakliou Faistou road, or just over 2 hours southeast of Chania vis VOAK/E75. These cliffside caves resemble real-life Flinstones dwellings where you wouldn't be surprised to see Fred and Wilma strolling out to say hello. Several of the caves were squatted by Hippies in the 1960s but they've remained empty since these hirsute inhabitants hung up their bellbottoms for good. There's a small entrance fee for this fascinating archaeological site and a cosy adjacent beach where you can sunbathe and splash around in the water while soaking up the unique ambience.

Famous Crete: this island has more than its fair share of ancient and modern celebrities. For starters, there's the god Zeus, King Minos and the Minotaur, author Maro Douka, Renaissance artist El Greco, mathematician and astronomer Francesco Barozzi, and actors Alexis Minotis, Sapfo Notara and John Aniston.
Guide to Crete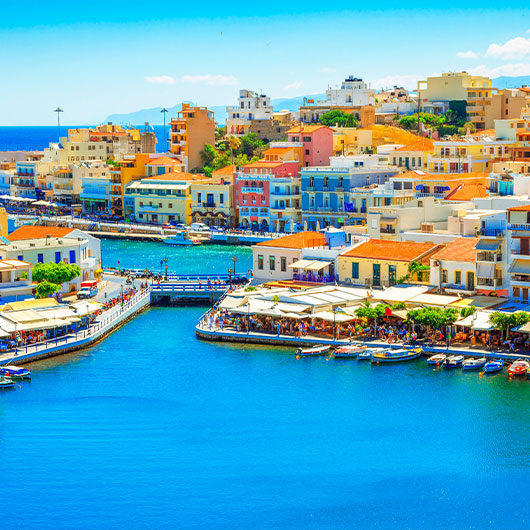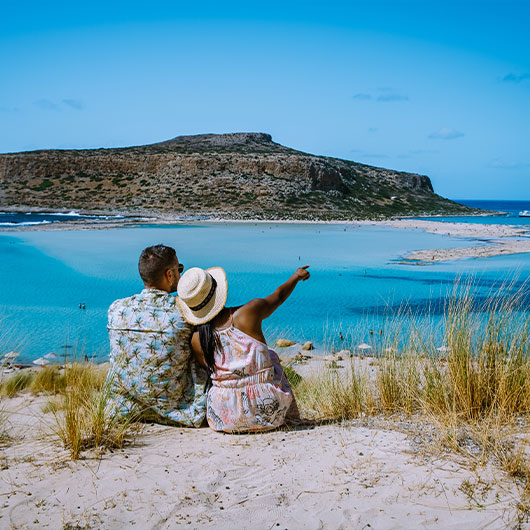 Stunning scenery
There's actually so much beautiful scenery packed into Crete that trying to decide what attractions to prioritise can be tricky. If you're a nature lover, Samaria Gorge is definitely worth a visit ‐ an ideal summer hike if you're reasonably fit, it covers 18km of wonderful wild terrain, you might see an elusive Cretan badger on the way and the prize for completion is a jaw-dropping view over the Libyan Sea. Alternatively, Balos Lagoon in western Crete is another much-photographed spot with wonderful white sand and tempting aquamarine waters ‐ if you get bored sunbathing and swimming you can visit the uninhabited Gramvoussa Island, which has an iconic Venetian castle. Meanwhile, Heraklion's Cretarium is the perfect place to get up close and personal with seahorses, jellyfish and even sharks. One of Europe's largest aquariums, this is a popular excursion for kids of all ages.
Best Beaches
You might expect an island like Crete to have an abundance of beaches, but you may be surprised at the sheer variety that's on offer. Elafonisi Beach is many people's favourite because of its distinctive pink sand and the colour actually gets brighter the closer you get to the crystalline water. Although it's popular, because of its size it hardly ever feels busy and it's reasonably unspoiled too, with a bar a
nd restaurant on the approach road but the rest of the terrain left largely as nature intended. Elafonisi is only an hour's drive from Chania but it's easily accessible from other hubs too.
Meanwhile, Marithi Beach in western Crete is perched on the Akrotiri peninsula just 16km from Chania. There are two terrific restaurants and plenty of watersports activities on offer, and nearby Loutraki Cove is a superb spot for scuba diving. Last but not least, Plakias Beach in the island's south coast is a little off the beaten track and its gorgeous golden sands are surrounded by rugged mountains. Accessible from both Chania and Heraklion, there are several chic cafes and welcoming waterfront tavernas, plus a youth hostel which will be right up your street if you're a thrifty traveller looking to stay overnight.
Lively Nightlife
Whether you want a quiet beer watching the sunset at a sublime beach or cut-price cocktails and pulsating clubs, nightlife in Crete caters for all tastes. In Heraklion, Wets & Drys speakeasy bar recreates the spirit of an illicit prohibition shebeen right down to the retro décor, classic cocktail mixes and jazz and blues soundtrack. Alternatively, the Red Lion in Malia is modelled on a traditional British boozer and as well as a wide choice of drinks, there's excellent pub grub. Furthermore, if you want to throw some shapes until the wee small hours in Malia, Warehouse Club has an awesome ambience curated by the resident DJs. Finally, if you're based in Chania you'll be glad to know that it's no slouch in regard to after dark action either, with cool cocktail bars like Synagogi and bouncing nightspots like Villa Club and Mylos.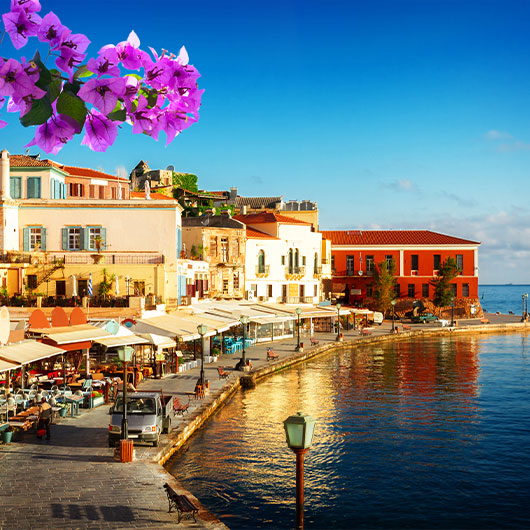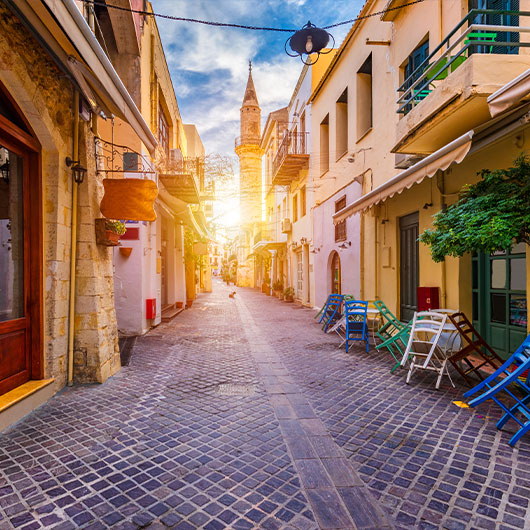 What to do in Crete?
Explore Knossos
You're really missing out if you leave Crete without seeing Knossos, the ancient capital of its Minoan civilisation. Situated a stone's throw from modern capital Heraklion, this city built around an imposing palace was established 3,000 years ago and, according to Greek mythology, was the seat of King Minos and the site of the labyrinth constructed to contain his son, the Minotaur. Rediscovered in 1900 by British archaeologist Arthur Evans, you can now see the reception courtyard where the royals would entertain VIPs, the Throne Room, the Royal Apartments and more.
Ravishing Rethymno
Rethymno is the third-largest city in Crete and its Old Town is remarkably well preserved. Its cosy cobblestone come courtesy of its 14th Century occupation by the Republic of Venice, as do its Renaissance mansions and catholic churches. The Neratze Mosque is particularly interesting ‐ originally a Venetian church, it operated as a mosque for 300 years until 1925 and it's now a beloved live music venue.
Fantastic fishing
If fishing floats your boat, you'll love pitting your wits against barracuda, dorado, swordfish and tuna off the south coast of Crete in the Libyan sea. A big game fishing expedition with an experienced skipper in these beautiful deep blue waters is a bucket-list bonus for anyone who handles a rod regularly.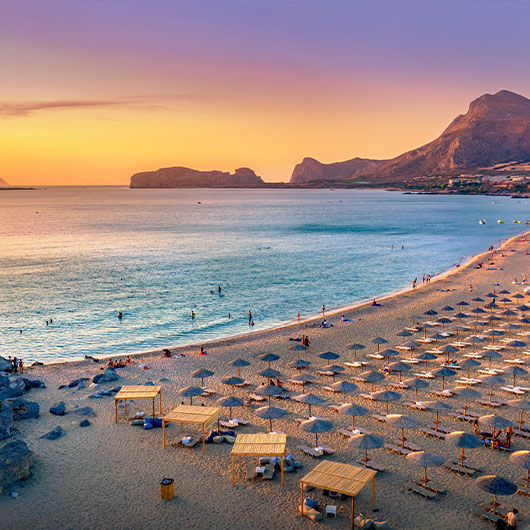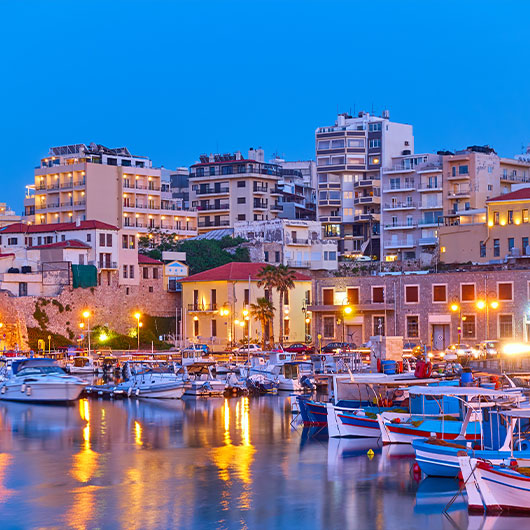 Eating out in Crete
Cretan cuisine has something sweet and savoury to satisfy every palate. From lip-smacking loukoumades (crispy deep-fried donuts dipped in honey syrup and garnished with cinnamon and chopped walnuts) to the famous local olive oil that graces every table, and sumptuous sarikopitakia (cheese pie) to chochlioi boubouristi (fried snails), food here stimulates all five senses. Here are a few tips for gourmets:
Super seafood
If you love fresh seafood, make a beeline for Salis, a renowned restaurant on the seafront at Chania. Try the seabass in Ladokolla served with ginger sauce, feta, nut milk and grilled vegetables ‐ it tastes amazing and at €17 is reasonably priced for haute cusine. Fish isn't the only item on the menu here either ̶ an excellent alternative is the carbonara with mini pennes, a wholesome dish that features fresh village eggs, bacon and wild boar sausage.
Authentic Cretan Cuisine
Want a taste of Crete that's the genuine article? Look no further than Ntounias Taverna, a totally authentic eatery cloistered in the verdant hillside village of Drakona in the Lefka Ori mountains, just 18km from Chania. Here, head chef Stelios Trylirakis lovingly prepares local delicacies over a log fire, using only the finest local ingredients. Be sure to sample the tender stewed lamb, tasty potatoes fried in olive oil and signature chocolate cake ‐ divine!
Deli Delights
Kastellos Deli and Eatery in Kritsa is yet another fab place for foodies. This deli and café combo has been run as a family business for four generations and as well as artisan coffees and sweet treats, you can enjoy refreshing cocktails and browse the shop for unusual gifts like natural cosmetics and locally crafted souvenirs and trinkets.
Crete Transport
Airports
The international airports in Crete are Heraklion International Airport (HER) and Chania International Airport (CHQ). Enjoy partners with several reliable car hire partners at these air hubs, including Carwiz Rent A Car, SurPrice Car Rentals, Alamo, Enterprise and Green Motion Car and Van Rental.
Buses
Buses are the only mode of public transport in Crete but they're fairly reliable and the network covers most of the main areas of interest, although having a hire car allows you to explore those hard to reach spots under your own steam. An hourly bus service operates along the main north coastal road and there are more infrequent services to the south coast villages, while you can also catch a coach to major tourist attractions like Knossos, Gortys and Phaestos, but be prepared for a packed ride during peak season.
Driving tips
You drive on the right side of the road in Crete, as is the case across Greece.
The speed limit is 90 km/h (56 mph) on the highway and 50 km/h (30mph) in built-up areas.
Please be aware that the road signage can be unclear as signs can either be in a state of disrepair or covered by vegetation, so plan your trip beforehand, use a GPS if your vehicle has one and always drive with caution.
There are plenty of petrol stations throughout the road network and most have pump attendants. You should always carry cash though as most don't accept credit cards.
Look out for moped riders, pedestrians and animals crossing in rural areas. Finally, Crete's winding mountain roads are apectacular but dangerous, so take your time, focus on your driving and wear your seatbelt always.
Top Tips when hiring a car in Crete
● When you visit Crete there are a lot of incredible places you must see that are not easily accessible without a car hire. With a hire car you can comfortably drive along the North Coast, visit Chania town with its amazing archaeological museum, see the surrounding white mountains and even go all the way to the western side and dive in its amazing beaches.
● A big number of users encountered the best car hire deals in Crete for less than £20 per day.
● Booking your Crete car hire in advance by at least one day before you travel, ensures that you'll get below average car rental deals.
● Generally renting from car hire companies that are not near any Airports costs more.
● Car rental companies in Chania Airport and Heraklion Airport are much cheaper, compared to other locations in Crete and popular cities, and their offers are considered some of the best Crete car hire deals.
● A mini rental car in Crete is much cheaper than different other vehicle types and is preferable for exploring the island if you're traveling alone or in as a couple.
● Car hire companies near the airport offer several benefits besides cheaper rates, making them the best deal to go for. Some of these can be free cancellation, one way car hire, wide variety of vehicles and more for your rental car.
Got a Question? Chat with our UK support team
Online chat help is open 08:30am to 17:00 weekdays. Email: [email protected]
FAQs about car hire in Crete
Most frequently asked questions about hiring a car in Crete
You can presently hire a small car like a Fiat Panda in Crete for only £9.63 a day at present and compact Ford Fiesta costs just £16 a day.
At the time of writing you can hire a Suzuki Celerio in Crete for only £9.44 a day.
No ̶ excess-free packages are standard for most large car hire companies and usually include road-side assistance, collision damage waiver and theft protection.
It's a short 4km hop from the airport to the city but with traffic expect it to take between 20-30 minutes.
Can I have additional drivers on the car rental agreement?
A rugged and roomy Fiat 500X SUV seats five comfortably and is perfect for days trips across the island.
Always inform your rental company if you have an accident, but in the event that you're in a serious accident in Crete, call emergency services immediately on 112.
Crete is not very expensive for what it offers. On average you'll spend £65 per day during your holiday in Crete.
Crete is the largest island in Greece. If you're planning to move around the island, exploring town after town then renting a car is a must.
Moving around Crete is relatively easy but you'll need to change between different buses to go everywhere on the island and it will take many days.
Short-term visitors and holiday-goers can indeed drive with a UK driving license in Crete, Greece. This will continue to apply for at least until 31 December 2020.
For small cars the budget friendly options begin at £32.50 for a week, which means more or less £4.60 a day.
The cheapest offers allow you to rent a car for a whole month for £139, or £4.60 per day. As mentioned earlier, this depends on the season you book and the car type.
The average price of a litre of fuel in Crete can vary between EUR 1.44 and EUR 1.18.
Explore popular places in Greece