Heraklion Car Hire
Find the best deals in Heraklion
With a massive choice from the biggest brands, Enjoy the best way to find the best prices for car hire in Heraklion.
Huge choice of cars to suit every budget
Save up to 70% compared to buying on the day
10 years experience in car hire
Compare Car Hire in Heraklion
Heraklion (called 'Iraklio' in Greek) is the fifth-largest city in Greece and the capital of the island of Crete. With a population of just over 140,000 but with visits by 3.4 million people annually, historic Heraklion is a haven for tourists, although Crete still feels blissfully uncrowded, especially inland and on the south coast.
Steeped in history stretching all the way back to the Minoan era, the landscape even today is dotted throughout by breath-taking monuments such as the palace of Knossos, also called The Palace of Minos, while Greek mythology holds that The Diktean Cave at Mount Dikti is the birthplace of the god Zeus. In more modern times, as the second-most visited spot in Greece, Heraklion is also a brilliant base for exploring Greece's largest island from the comfort of your car.
The cost of living in Greece is cheaper than that of the UK and you can economise further with the amazing deals on car hire available. At time of writing, a Suzuki Celerio or similar (mini) costs just £10.27 a day and the compact Nissan Micra is only £10.95 a day, while even a spacious people carrier such as the Fiat Scudo ‐ ideal for day trips to historical sites ‐ is just £59 a day. Hire your vehicle with Enjoy to explore Heraklion, Crete, and the wonders of Ancient Greece ‐ but first, here's a bit more about this fascinating city.
About Heraklion: Heraklion is the capital of Crete, Greece's largest island located in the beautiful Mediterranean Sea. A popular holiday destination, it's still well-connected for drivers ̶‐ European route E75 (which includes National Roads such as Route 90, a.k.a. 'VOAK') bisects the city, connecting Heraklion with the three other major cities of Crete, Agios Nikolaos, Chania, and Rethymno.

Knossos (5 km south of Heraklion) has evidence of settlement going back at least to the height of Minoan civilization over 5,000 years ago but was possibly inhabited as long as 120,000 years ago. This ancient port is Crete's largest Bronze Age archaeological site, which was levelled by a volcanic eruption on nearby Santorini sometime between 1600 and 1525 BC. After the Mycenaean period it remained undeveloped until the Romans did some construction on the island. The present-day city of Heraklion was actually founded by Arabs in 824, and it then became part of the Byzantine, Venetian, and Ottoman Empires thereafter. Crete eventually became part of Greece proper in 1913 after winning independence from Ottoman rule in 1896.

Airports and Access: Heraklion International Airport (HER) or Nikos Kazantzakis Airport (named after Heraklion native Nikos Kazantzakis, a writer and a philosopher) is located about 3 miles (5 km) east of the city. It's the second busiest airport in Greece after Athens and the 65th busiest in Europe ‐ Crete is a major holiday destination, welcoming 8 million travellers annually.
Driving Around Heraklion: Heraklion is nestled in the Bay of Heraklion on the north coast of central Crete. The Greek National Road 90 (A90 on road signs) is often known as VOAK—meaning 'Northern Crete Highway'—and it intersects the city from east to west. It also becomes Route 97 heading south, and near the south coast the road splits, to either northwest or east. Major roads like A90, A97 are part of the E75 European road network, confusingly. Take a good map!

Crete and Heraklion offer pleasurable driving and road connectivity ‐ the finest beaches, towering gorges, postcard-pretty villages and prehistoric monuments are all within easy distance, but before we dive into our favourite road trips from Heraklion, it's important to remember that driving in Greece in general, and on Crete in particular, can be hazardous. Greece was previously known for its terrible traffic, road accidents and bad driving. However, things are constantly improving and if you're aware and prepared ‐ and well equipped with a reliable rental from Enjoy ‐ here are some top drives with which to relax and get into the 'siga siga' (nice and easy) mood!

Crete's northern coast is the most developed ‐ 90% of the islanders live here and it's the beating heart of the tourism industry. However, the undeveloped, often pristine inland and coastal areas are all within a day's driving, wherever your base is. The south coast has the best beaches, sometimes just one hour away! Take Route 97/EO Irakliou Faistou southbound to Matala. Alternatively, go via Mires and visit the Festos/Phaistos Minoan archaeological site on the way. Matala Beach is a lively former hippie village which is full of enigmatic caves, rocky cliffs, water sports and bars. Joni Mitchell and Cat Stevens apparently wrote songs in the caves here!

The Holy Monastery of Arkadi, or simply Moni Arkadi, is a Baroque church and monastery that has long been associated with Crete's protracted battle for independence from Ottoman rule. It's still a working monastery, with colourful gardens. From Heraklion, take Route 90/VOAK (E75) west along the stunning coastal road, continuing (in a strange 'S' shape) along the VOAK road until turning onto Palea EO Rethimnou Irakliou/PEO90. Signposted as 'Moni Arkadiou'.

The Samaria Gorge is a National Park and World Biosphere Reserve in Southwest Crete. The start of the actual gorge is in Omalos, or via Agia Irini Gorge. It's a three-hour drive from Heraklion, mostly along the gorgeous north coast on the VOAK/E75.

Spathi on the Lathisi Plateau is accessible from Heraklion by a choice of three routes ‐ travel via Knossos and the Palace of Minos, via Episkopi for a more hair-raising, mountainous route, or cruise along the coast to Malia before heading south through wild terrain.

Famous Heraklion: Crete's history goes back millennia and it has accompanying mythology and characters to match. Touted as the birthplace of Zeus, in later years it's known as the birthplace of Domenikos Theotokopoulos, or as he's more commonly known, El Greco ̶‐ the architect of the Spanish Renaissance and famous painter was born here in 1541.
Guide to Heraklion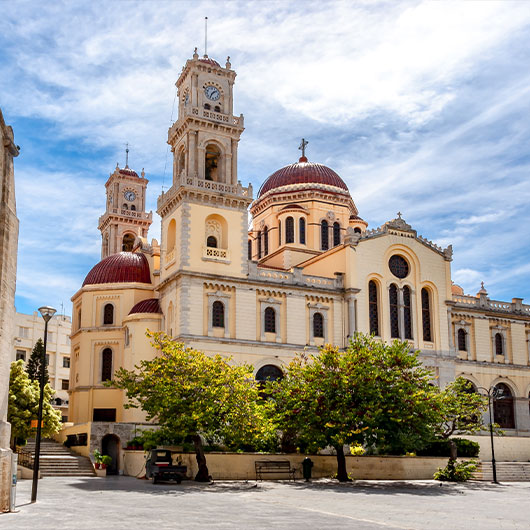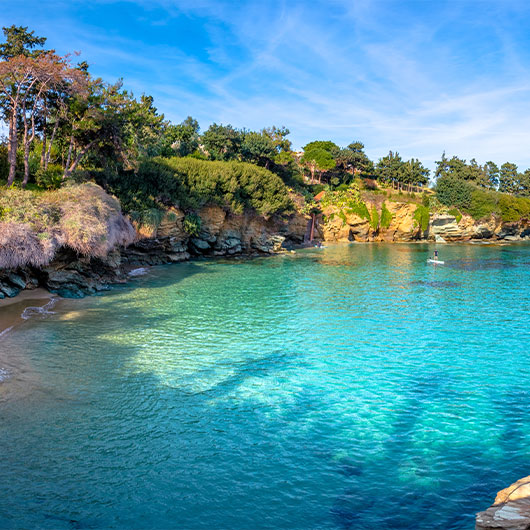 Beaches
You're never far from a beach in Heraklion or indeed from anywhere in Crete ‐ at its longest, the island is still just 6–7 hours' drive across. The best beaches are generally on the southern coast: Elafonisi, Sougia, Plakias, Paleochora, Matala, Chrissi Island, and Xerocampos are among the most beautiful and popular, although there are many more spread throughout Crete. The island has three mountain ranges that you need to cross to get south, so rest assured these will involve winding, steep roads for exhilarating driving! The shortest road is from Pachia Ammos to Lerapetra in the Eastern Crete region of Lasithi.
City and Culture
Heraklion remains a port city, although it's perhaps more famous for Knossos, the Bronze Age site three miles (5 km) south of the city in the Poros-Katsamba neighbourhood, often called Europe's first city. It's guarded by the Venetian fortress of Koules/Castello a Mare in the inner harbour. After the Minoan period ended it was largely an unguarded wilderness of bandits and pirates until the Byzantine control from AD 961. It then became part of the Emirate of Crete, then of the Byzantium Empire, the Venetian Empire, and finally the Ottoman Empire until independence from the latter and joining the Greek nation in 1913. The whole island is a real-life historical exhibition spanning thousands of years and several civilisations!
The city boasts two open-air theatres, a converted warehouse theatre at the port, halls for every kind of concert, and cultural spaces that host everything from youth orchestras to conferences. There are even performances at the Venetian-era St. George's Gate ‐ a beautiful backdrop for any type of entertainment.
Sports and Pastimes
Heraklion was an official venue for the 2004 Athens Summer Olympics, and it gave the city's sport a huge boost. The new Pancretan Stadium and Indoor Sports Centre provides a range of sports and activities, and Heraklion Municipality has recently started a free bicycle borrowing scheme for visitors. Naturally, water sports are popular on Crete, including scuba diving, surfing and windsurfing, while horse riding, beach volleyball, and tennis are also on offer.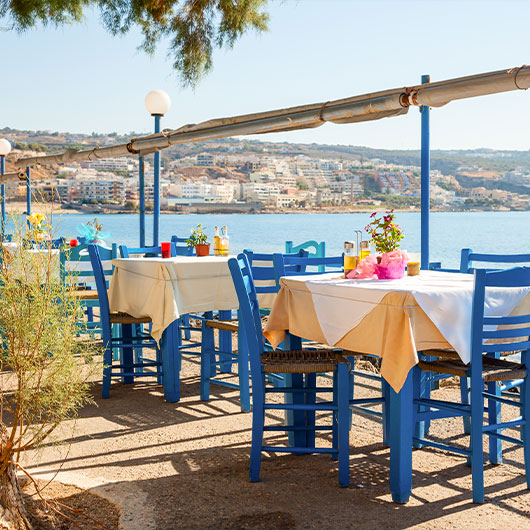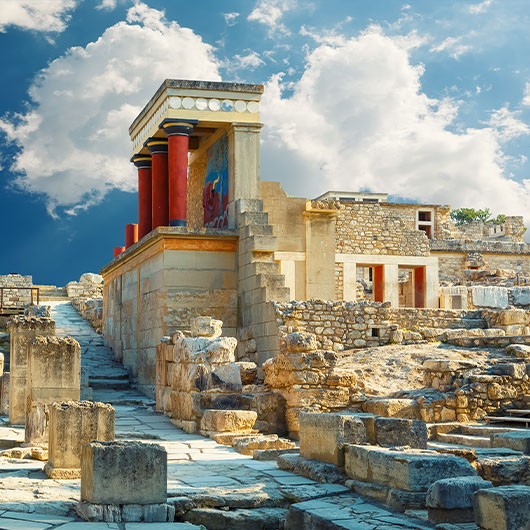 What to do in Heraklion?
Heraklion is a popular tourist destination probably because, like Crete, there's something to suit travellers of all tastes, it's never that far to your destination and all excursions feel manageable.
Historical attractions
Top of the list of must-see sites is Knossos. The largest archaeological site on Crete that dates back 5,000 years, it showcases 2,000 years of the Minoan civilization before it was flattened by an eruption on nearby Santorini. In Heraklion itself there is an Archaeological Museum, a Historical Museum, and a Museum of Natural History. If you want to simply admire the city's architecture in comfort there's also a convenient hop-on, hop-off bus which tours the city.
Watersports
Heraklion is close to a number of beaches, and watersports are booming. From gently cruising around the coast to paddle boarding or snorkelling, the clear Greek water is always inviting. If you're having a day in the shade, consider the Creta Aquarium. It's part of the Thalassocosmos complex, the largest research, technology, and entertainment centre in the Mediterranean.
Party time and family fun
Heraklion is one of the liveliest cities in Greece. You can find something for everyone ‐ nightclubs, bars, traditional coffee shops, tavernas, and modern cafeterias are located all over the city centre. The area around Lions Square, Freedom Square (Plateia Eleftherias)and the surrounding neighbourhood is full of bars, cafeterias, tavernas and restaurants. The coastal area of the city also has bars and tavernas near the sea.
During the summer, numerous art festivals and cultural events are held, with traditional Cretan music, modern music, dance and theatre performances.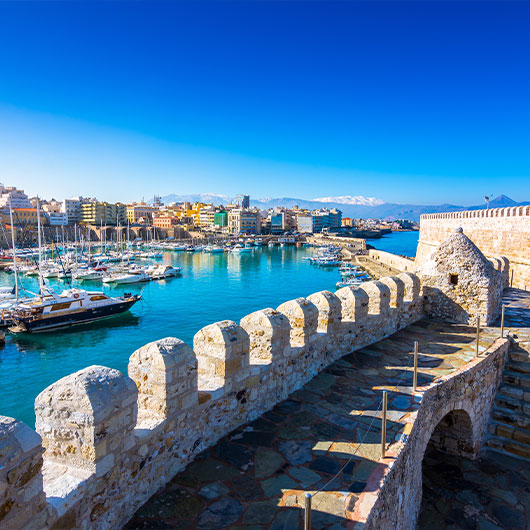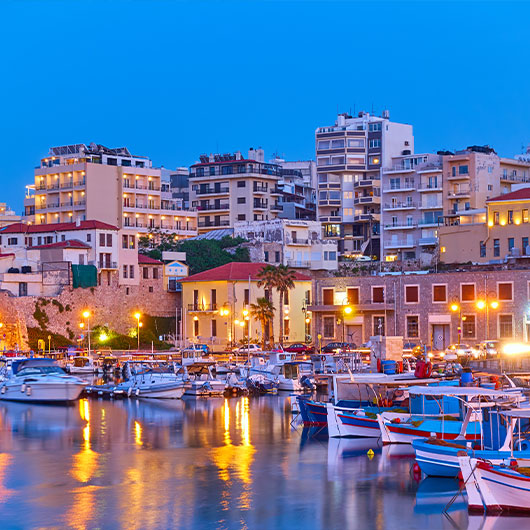 Eating out in Heraklion
Heraklion has marvellous choices whatever your budget. Cretan cuisine is definitely related to Greek food, but with its own unique flair. Let's sample a few of Heraklion's best eateries:
Cretan Cuisine
First up is Peskesi, a restaurant which only serves traditional Cretan food. They focus on traditional recipes, local produce and Authentic Cretan Cuisine, which, according to their website, dates back to Prehistoric times! It's usually busy so book ahead.
Located on the harbour, Ligo Krasi Ligo Thalassa is one of those places popular with locals but in a touristy area. They serve Cretan specialities like snails, but also Greek dishes and the portions are huge. And it comes with one or two (or more) shots of raki, a sweetened spirit which often tastes like aniseed.
Sublime Seafood and Local Snacks
Another harbour-side eatery, The Fish Tavern doesn't always look busy, but the calamari, tzatziki and fava beans are excellent, among others. As it's located right opposite the Koules/Castelo a Mare fortress, if you can get a window seat when it's quiet the view is sublime.
Gyros are a kind of kebab-type snack, usually of pork or chicken, served with sides of whatever you like. A popular snack with locals and visitors alike, there are plenty of places to buy them. Politia is at the Lion's Fountain and is one of the best in the city ‐ it has interesting dips and massive portions (and yes, you can have a doggy bag).
Meat Feasts
The Kalamaki Meat Bar is a carnival for carnivores. Meat isn't only an ingredient in the beloved gyros here ‐ they serve all kinds of meats on sticks, sliced as you please and in endless varieties.
Heraklion Transport
Airports
Heraklion International Airport (HER) or Nikos Kazantzakis Airport, is situated just 3 miles (5 km) east of the city and Enjoy partners with trusted car hire operators like Alamo, Hertz, Europcar and a range of reliable local firms here.
Buses and Trains
There are no trains on Crete, but the buses are cheap, clean and generally on time. They operate on- and off-season timetables which differ (quite considerably), and as many of the smaller routes are in place for inhabitants of small villages to get around rather than tourists, although everyone is welcome to use them. You'll need to be on time if you definitely want to board, however—they can get busy at certain peak times.
You can buy tickets on the bus, at kiosks, or at larger bus stations. It's also a good idea to check the route, connections and timetables before you leave.
Driving Tips
You drive on the right-hand side of the road in Heraklion. The speed limits are 90 km/h (56 mph) on the highway and 50 km/h (30mph) in built-up areas. Here are some other safety points:
Drivers must carry an international driving licence, passport (police often stop foreign cars to check ID), insurance documents, MOT certificate if the car is more than three years old, and car hire documents.
Speed limits are slow compared to those in other European countries but don't be tempted to speed even though the locals will! Speed limit signs are often hidden behind vegetation too, so beware.
Just because it hasn't rained in weeks and the roads are dry does not mean they're not slippery ‐ they often get worn down to a smooth surface, so leave ample room to brake.
Be aware of the possibility of rock falls, and sheep/goats on the road.
Top Tips when hiring a car in Heraklion
• Research Heraklion Car Hire: Start by researching Heraklion car hire options online. Look for reputable car hire companies that offer a variety of rental cars.
• Compare Car Hire Deals: Compare car hire deals from different rental companies to find the most competitive rates. Pay attention to any special offers or discounts available.
• Heraklion Airport Car Hire: Heraklion Airport is a convenient location to pick up your rental car upon arrival. Look for car hire companies with counters at the airport for added convenience.
• Other Car Hire Locations: Explore other car hire locations in Heraklion, not just the airport. Some rental companies have offices conveniently located in the city center or near major hotels.
• Cheap Car Hire: If you're looking for cheap car hire, consider booking in advance and looking for promotions or off-peak deals.
• Free Cancellation: Check the cancellation policy of the car hire company. It's helpful to have the flexibility of free cancellation in case your plans change.
• Conveniently Located: Choose a car rental agency that is conveniently located, either at the airport or in the city, to save time and hassle.
• Car Hire Options: Consider your car hire options. Depending on your needs, you may want a small, fuel-efficient car for city driving or a larger vehicle for exploring the island.
• Rental Cars: Review the selection of rental cars available. Make sure the vehicle you choose suits your group size and luggage requirements.
• Best Car Hire Deals: Look for the best car hire deals that offer good value for money. This includes considering the rental rate, insurance coverage, and any additional fees.
• Explore Crete Heraklion: Once you have your hire car, take the opportunity to explore Crete beyond Heraklion. Visit nearby attractions, beaches, and historical sites at your own pace.
• Car Rental Insurance: Understand the insurance options offered by the rental company. It's essential to have adequate coverage for your rental vehicle.
Got a Question? Chat with our UK support team
Online chat help is open 08:30am to 17:00 weekdays. Email: [email protected]
FAQs about car hire in Heraklion
Most frequently asked questions about hiring a car in Heraklion
Hiring a mini-size car like a Suzuki Celerio at Heraklion Airport is only £10.27 a day at time of writing, and a compact car such as a Nissan Micra is £10.95 a day.
You can presently hire a mini-size car for as little as £10.27 a day in Heraklion.
The minimum age to hire a car in Greece is 21, although for some vehicle types it can be 25, in which case it may incur a surcharge.
No ̶ excess-free packages are standard with most big car hire companies and most packages have road-side assistance included, as well as theft protection and collision damage waiver.
Yes – it's common to add extra drivers as long as they have a valid license, and an additional daily fee is applied.
Do as the Cretans do and hire a smaller car – making it much easier to navigate those narrow, mountain roads and tiny cobbled urban streets.
You should always confirm with your Heraklion rental company what to do if you have an accident. In the unlikely event you have a serious accident in Heraklion, call 112 immediately for emergency services.
Heraklion is the capital of Crete and the biggest city on the island, but not the most touristic. You'll spend about €53 per day.
If you're planning to go all over the city or are visiting with family, then renting will be more economic than public transport.
The best way to explore Heraklion is to visit the most popular spots such as Archaeological Museum of Heraklion, Rocca a Mare Fortress, Knossos and Ammoudara Beach.
The holiday season in the city essentially lasts all year round, but the main influx of tourists occurs in the summer months, between July and September.
It's €34 for a week, which means €5 per day.
For a whole month it's €150, or €5 per day.
The average price of a litre of fuel in Heraklion can vary between EUR 1.44 and EUR 1.18.
Explore popular places in Greece