Corfu Car Hire
Find the best deals in Corfu
With a massive choice from the biggest brands, Enjoy the best way to find the best prices for car hire in Corfu.
Huge choice of cars to suit every budget
Save up to 70% compared to buying on the day
10 years experience in car hire
Compare Car Hire in Corfu
Located in the Ionian Sea, off the coast of north west of Greece, Corfu is an historic island and has played a significant role in the development of Greece and the wider Mediterranean.
This beautiful island attracts around 3 million tourists each year. Corfu Town is the main city on the island and also serves as capital to the Ionian Island region of Greece.
It is a very good idea to hire a car when visiting Corfu to make sure you have access to every corner of this fantastic island. Much of the island is easily accessible by car within 60 minutes of Corfu Town and airport.
It's possible to hire a vehicle from under €10 per day and when you book in advance with Enjoy you will save time, money and have the best selection of vehicles available from several companies.
Guide to Corfu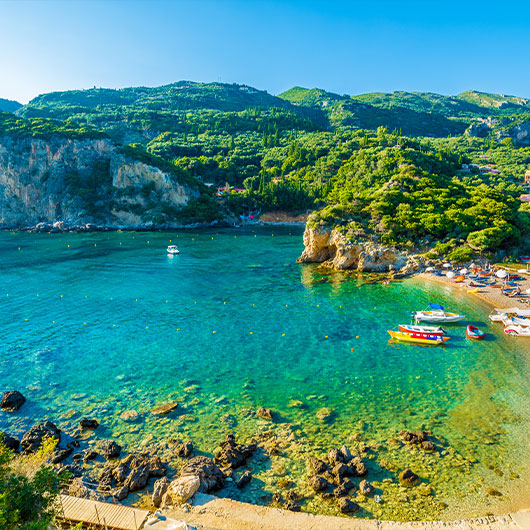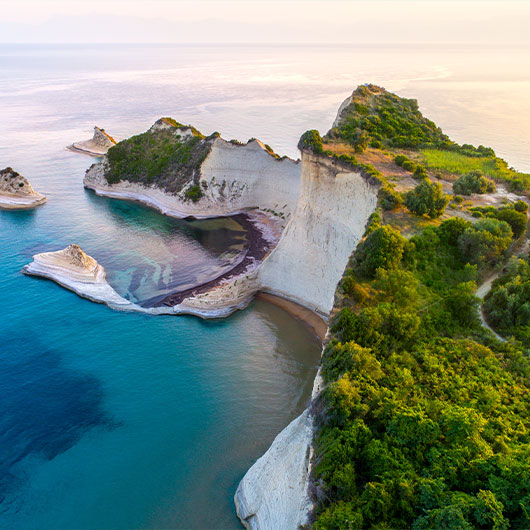 A Brief History of Corfu
Some experts believe Corfu to be Scheria, an island which features in Homer's Odyssey, though no firm evidence for this exists. There are other arguments to identify Corfu as various islands from across Greek literature and mythology. What we do know is that Corfu was mentioned in a text dating from around 1300 BC and has played host to various peoples including the Corinthians and the Spartans. Corfu was a base for the first Roman Emperor, Octavian in his campaign against Mark Anthony and Cleopatra.
Since the Medieval period Corfu has been under the control of many different empires, including the Venetians, the French and the British. In 1864, in an agreement signed by the United Kingdom, France, Russia and Greece, the Ionian islands, including Corfu became part of unified Greece.
Carnival and Cobbles
With a picturesque skyline dominated by a 15th Century fortress, Corfu Town is filled with charm. Its architectural delights demonstrate the wide cultural influence of the island's history. With cobbled streets at your feet and the soft colours of the Venetian style architecture you could spend hours just wandering, taking photographs and stopping for a coffee or food at one of the many cosmopolitan eateries.
Art and culture are a major feature of this city which has its own philharmonic society. The Venetian heritage of the island is on full display during the annual Carnival of Corfu. This vibrant event usually takes place at the end of February or the beginning of March and features strange costumes and street theatre. One of the most exciting moments of the carnival is The Great Parade which features traditional music and dance.
Nature and Nightlife
Whatever type of holiday you're looking for Corfu should have an answer. With dozens upon dozens of beautiful beaches, and stunning countryside, nature-lovers will have an absolute blast exploring all the island has to offer, peace and tranquillity abounds here.
If you're looking for something livelier you won't be disappointed. Corfu has a massive selection of bars and clubs, offering a party atmosphere for tourists and locals alike. Kavos in southern Corfu is especially popular for its nightlife scene.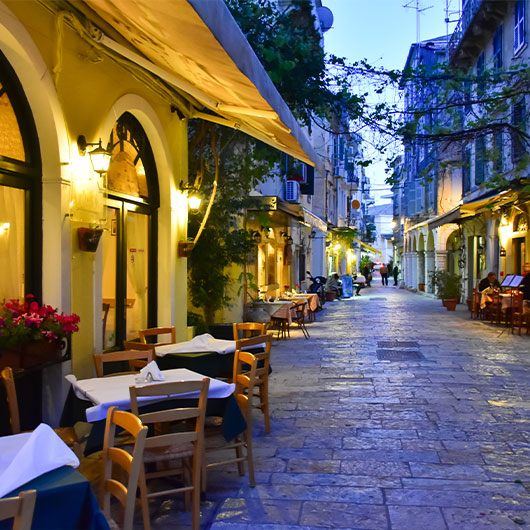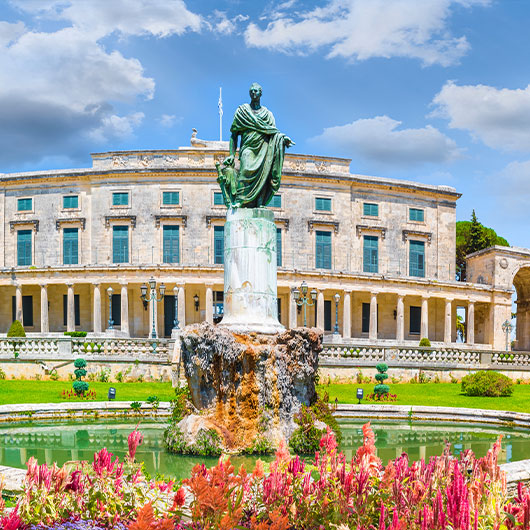 What to do in Corfu?
Hit the Beach
Corfu is a beach lover's paradise with over 50 to choose from, spread right around the island's coast. For dramatic scenery head over to Porto Timoni, which boasts two beaches laying side by side against a backdrop of stunning rocky hillside, covered with lush greenery. Porto Timoni is less than an hour drive from Corfu Town/Airport.
For a more adventurous time on the water check out the Surf Centre at Chalikounas. Both kite and windsurfing are available here for beginners and the more advanced enthusiasts. Tuition is available along with equipment hire and a small kiosk offering basic snacks and drinks. The beautiful, remote location means you can get away from it all and truly be at one with the sea. This beach is about a 40 minute drive from Corfu Airport/Town.
Donkey Sanctuary
A visit to the Corfu Donkey Sanctuary offers a day trip with a difference. Adults and children alike will fall for the charm of these beautiful rescued animals and a visit here could easily become an unexpected highlight of your trip. Located among olive trees and surrounded by mountains the sanctuary offers a home for abandoned and retired donkeys. Open to visitors seven days a week from 10am – 5pm and at certain times of year, when it's not too hot, you can even take a donkey for a walk. The centre is located less than a half-hour drive from Corfu Airport/Town.
Municipal Gallery of Corfu
Art lovers will not be disappointed with Corfu's fabulous municipal gallery. Although fairly small, its period rooms feature a wealth of paintings dating from the 15th to the 20th Century, From Byzantine Icons to Italian-inspired masterpieces, inspiration and admiration will take hold of you as you wander the rooms. The gallery has a wonderful permanent collection as well as offering a good temporary programme. Located at the Palace of St Michael and St George in Corfu Town, the gallery is open Tuesday – Sunday 10am - 4pm, it costs around €3 to enter.
Castle/Fort
There are several remarkable castles/forts on the island of Corfu as a result of its strategic position. One of the most spectacular is Angelokastro (Castle of Angels). It stands on top of a high peak on the northwest coast of Corfu, overlooking the sea meaning there are some spectacular views and photo opportunities. The history of the fort is long and varied, and you could spend a few hours taking it all in. The castle has a small car park, though you will have to climb a little once you've parked, it is approximately a 40 minute drive from Corfu Airport/Town.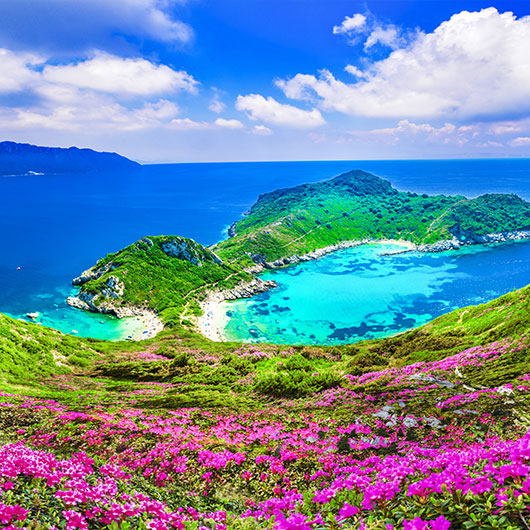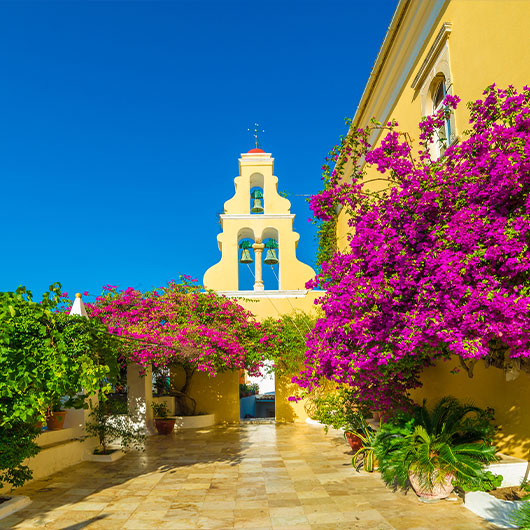 Where to eat in Corfu?
George and Elena's Taverna
If you're looking for a warm welcome and quality food, you won't go far wrong with this traditional family-run taverna. Serving up some fantastic (and generously portioned) Greek dishes alongside British favourites, there's bound to be something for most dietary requirements on their menu, at a reasonable price.
Address: Messonghi, Corfu 490 80
Tel: +30 2661 076 401
Divino Ristrobistro
Located in a lovely part of Corfu's Old Town, Divino serves deliciously authentic Italian food. From crowd-pleasing pizzas to risottos and pasta dishes, there is something for everyone on this varied menu. With an excellent wine list, Divino is a great place to enjoy an evening meal.
Address: Gkilford 9, Corfu 491 00
Tel: +30 2661 044 763
The Venetian Well
For a genuine fine-dining experience look no further than The Venetian Well. Offering a carefully curated menu and using the best local produce this romantic setting will likely find itself in your treasured Corfu memories.
Address: Sofokleous Dousmani 46, Corfu 491 00
Tel: +30 2661 550 955
Hiring a car in Corfu airport
Corfu Airport (CFU)
Located less than 3km from Corfu Town, this international airport serves the entire island. Direct flights are available from most European countries. Dozens of airlines have scheduled flights to the island including Aegean Airlines, Aer Lingus, British Airways and Iberia. In 2018 the airport handled 3.3 million domestic and international passengers.
Several of our partner companies operate in and around the airport, including Alamo, Abbycar and Enterprise. While it may be possible to arrange car hire on arrival it makes far more sense to book in advance with Enjoy. Our fantastic search tool enables you to use your travel dates to find the very best prices from all of our local partners. You'll also have the best choice of vehicle, making sure you get the right car for your needs, plus when you book with us you're covered by our Fair Fuel Policy.
Top Tips when hiring a car in Corfu
● Corfu Airport car hire companies are on average cheaper compared to other locations, such as the town centre or port.
● The Corfu car rentals in the Corfu International Airport are easy to find and access.
● The Corfu car rental agency desks are located in the arrivals terminal and as soon as you land you can pick up your Corfu car hire. Corfu is a wonderful island to explore by driving, and begin your trip as soon as you arrive via reliable car hire can be amazing.
● In addition to being convenient, the Corfu car hire companies in the Airport are cheap car rentals, cheaper than in any off-Airport location.
● When you reach the car rental desks make sure you have your international driving permit with you, and to go over the car rental details very carefully, such as the collision damage waiver, personal accident insurance, pick up and drop off dates and times and of course familiarise yourself with local speed limits.
● A great number of users encountered rental cars in Corfu for less than £19 per day.
● Booking your rental car in Corfu in advance even if it's by at least 1 day before your trip ensures you'll get cheap car hire deals.
● Supplier choice hire car vehicles in Corfu are cheaper and more popular than other car types for car hire in Corfu. Economy car hire are also incredibly popular.
Got a Question? Chat with our UK support team
Online chat help is open 08:30am to 17:00 weekdays. Email: [email protected]
FAQs about car hire in Corfu
Most frequently asked questions about hiring a car in Corfu
Travelling anywhere on Corfu, from the airport or Corfu Town (located at the centre of the islands east side) takes less than an hour by car. If you were to drive from the very south of the island to the very north it would take around 1 hour and 45 minutes.
Corfu Town is very close to Corfu International Airport, less than 3kn in fact. You can reach the main old town in around a ten-minute drive from the airport, and drive to most other areas of the island in under an hour.
It's always worth booking in advance for several reasons, firstly you will get the best choice of vehicle, meaning you will have the size and type of car to really meet your requirements. Secondly, booking in advance usually saves you time and money. Booking in advance with Enjoy also means you are covered by our Fair Fuel Policy.
Corfu's Venetian inspired carnival usually takes place at the end of February or the beginning of March.
This really depends what you're looking for. If you want to have the best access to the whole island, you're probably best to base yourself in Corfu Town, from where you can drive almost anywhere on the island in under an hour. If you're looking for a party, you might be best to head to Kavos where The Strip will keep you entertained with its dozens of nightclubs and bars.
Corfu is a great place for a family holiday, with wonderful beaches and lots of fantastic places to visit with children. The Corfu Donkey Sanctuary is a particular favourite with family visitors and is less than a half-hour drive from Corfu Airport/Town.
Like much of the Mediterranean, Corfu sees its busiest period in the summer months of June-August. If you're looking for a quieter time to visit April or September are really good options as the temperature is likely to be pleasant but there won't be as many crowds.
Enjoy is partnered with several local and international hire companies operating in Corfu. Use our search function to find the best deals for your travel dates and compare our various partner companies.
Corfu in high season can be quite expensive as it's a popular beach destination among travellers. But being in Greece, it's still quite affordable compared to other destinations in Europe.
It is considered a great idea to rent a car during your trip in Corfu to ensure every corner of this fantastic island is within reach.
Driving in Corfu is much like most Greek islands, certain roads can be narrow, but otherwise they're in good condition and the experience itself is pleasant.
Because of how compact the island and its towns are, it's very easy to move around and see the best the island has to offer without covering vast distances.
Car hire in Crete on average costs £14.40 per day. During peak season these prices and availability can fluctuate.
Short-term visitors and holiday-goers can indeed drive with a UK driving license in Greece. This will continue to apply for at least until 31 December 2020.
For small cars the budget friendly options begin at £35.50 for a week, which means more or less £5 a day.
The cheapest offers allow you to rent a car for a whole month for £263, or £8.70 per day. As mentioned earlier, this depends on the season you book and the car type.
The average price of a litre of fuel in Corfu can vary between EUR 1.44 and EUR 1.18.
Explore popular places in Greece