Rhodes Car Hire
Find the best deals in Rhodes
With a massive choice from the biggest brands, Enjoy the best way to find the best prices for car hire in Rhodes.
Huge choice of cars to suit every budget
Save up to 70% compared to buying on the day
10 years experience in car hire


Compare Car Hire in Rhodes
The island of Rhodes exists entirely independently from mainland Greece and differs from other Greek islands because of the lush green interior, contrasting greatly with the surrounding rich blue Aegean Sea and beach fronts. Rhodes very much caters for all tourists, with such attractions including a rather beautiful coastline, plenty of culture and a very lively nightlife.
However, it is the endless beaches of Rhodes that make this an ideal holiday destination. Even during high season it is possible to find secluded beaches away from the main road. Other attractions include a visit to Rhodes Town to explore the Aquarium or a glass-bottom boat trip on the shore. Many historical sites can be found in the Old Town area of Rhodes, in particular, the medieval structures within Knights' Quarter. This gives an insight into the island's history including temples and castles which date back as far as 7th Century BC.
To make the most of your holiday, the best way to explore Rhodes is to hire a cheap car. The truly memorable views on offer from this historic city can be toured with your own vehicle, you can enjoy the entire island and not miss a thing.
Car Hire in Rhodes can work out cheaper than public transport, plus cheap car hire in Rhodes makes your life easier so you can enjoy your trip even more. The average price of a car like a Toyota Cololla in summer is around £12 to £20 per day, but the cheapest sold on Enjoy Travel was £2.91/day for a Suzuki Celerio frpom Rhodes Airport. You can normally pick up a VW Up or similar from around £5-£9 per day depending on the time of year.
Guide to Rhodes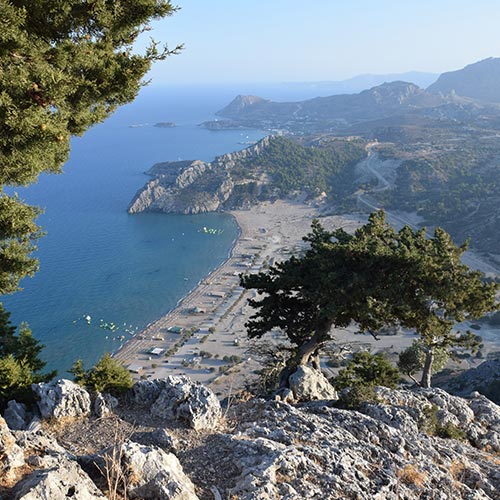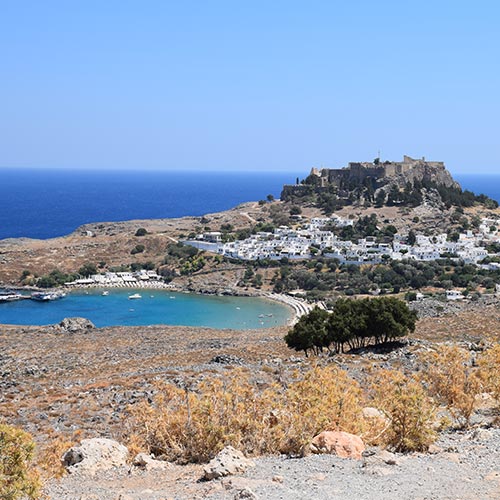 The northern part of the island is the most touristy and is where most hotels are located, including the all-inclusive options.For the more adventurous amongst you, head inland for hiking and mountain biking in luscious green environments and to the southern part of the island, Prasonisi for kite and windsurfing. If you are looking for a wild time, I would recommend Faliraki where the nightlife will keep you entertained by night with a variety of big clubs and relaxed beach bars, as well as a host of activities to keep you busy in the day: from a giant water park, bungee jump and great beaches.
History
Mythologically, Rhodes was said to have emerged from the sea as a gift from Zeus to Helios, god of the sun. Helios' wife, Rhodos, daughter of Poseidon, bore him seven sons. Three of Helios' grandsons, Ialysos, Kamiros and Lindos, were the eponymous heroes of the island's main cities. The island has been occupied by the crusade Knights of St John for almost 200 years, the Ottomans, the fascist-era Italians, as well as the Germans before it was returned to Greece in 1947. The rich history of the island makes its cultural identity all the more unique.
Things to do in Rhodes
The island really does have a wide variety of activities to offer, which should appeal to anyone and everyone.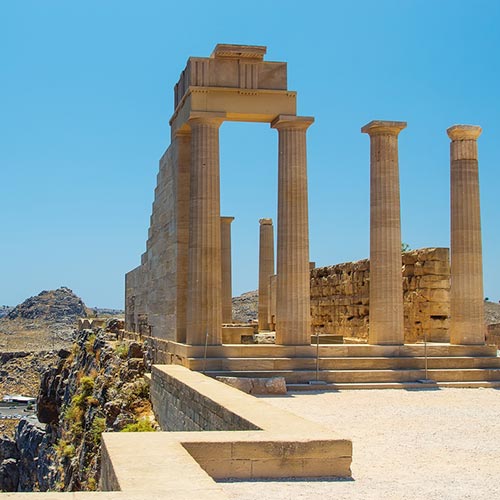 Beaches
Rhodes is renowned for its stunning beaches and sandy coves with crystal blue waters and hence is a top holiday destination. Here are a few of the island's top beaches, which we would reccomend visiting:
Ladiko (also known as Anthony Quinn Bay): Named after the actor, who stared in the film 'The Guns of Navarone', which was filmed here, this bay is made complete by its enerald waters and rugged rocks.
Tsambika: A long sandy beach which is overlooked by the monastery after which it is named.
Saint Paul's bay:This beach is not only beautiful and sandy, but also bordered a picturesque chapel and cool beach bar.
Prasonisi: right at the southern tip of the island, this is the beach frequented by the windsurfers, due to its high winds.
Glystra: it is one of the hiddem jems of the east coast, nestled amongst the trees.
Rhodes Town
Rhodes town has a long list of impressive sights worth visiting and most certainly deserves its title of UNESCO world heritage site, being one of the largest and best preserved medieval cities in Europe. Its structure of a medieval port has remained the same and takes you back in time just by wandering the cobbled streets of the Old Town, dotted with minarets, reminiscent of Turkey, its neighbor. The palace of the Grand Master is the city's main attraction, where you can spend hours wandering the halls of the palace which was built as a hospital for pilgrims and was then transformed into a palace when the crusaders retreated after the Holy Wars.
Lindos
Lindos is an immaculately maintained whitewashed picturesque town, which is famous for its ancient acropolis. The acropolis is built on a huge rock 116 metres above the sea and surrounded by fortified walls. It is likely that it was a temple dedicated to the greek goddess, Athena. However, the town has lots more to offer including a maze of streets formed from the idyllic flat-roofed houses with interior courtyards, divine restaurants and beautiful beaches.
For the culture-vultures...
If the above has not satisfied your need for culture, the Panagia Tsambika monastery is worth a visit, which is supposedly a pilgrimage for women wishing to bear children. It is a 300 step trek to reach the top but well worth it for the incredible views over the Aegan sea onto Tsambika beach. Furthermore, Monolithos Castle was built in 1480 for the Knights of Saint John and what remains today is mostly ruins but it is still well worth a visit.
Valley of Butterflies
Valley of Butterflies is amongst the best things to do in Rhodes and is something that will appeal to all. You will see hundreds of native butterflies covering all of the Oriental Sweetgum trees filled with native butterflies as you stroll along the paths all the way to the monastery at the top of the hill.
Kalithea Thermal Springs
Follow the mosaic pathways through the public baths built by the Italians in 1929, which lead you to the crystal clear waters which are slightly more refreshing than the warm sea.
Eating out & Nightlife in Rhodes
Restaurants
Greece is renowned for its amazing cuisine and Rhodes is not dissimilar. However, Rhodes is a classic stop for cruise ships and therefore there is an abundance of sub-average restaurants to cater the mass of tourists that come in off the ships. This not only means that food in the Old Town tends to be overpriced but also that good food is slightly harder to find.
Mavrikos in Lindos is one of the best restaurants on the island. It is owned by the Mavrikos siblings who welcome you into their homely, traditional restaurant which they inherited from their grandfather. The restaurant's quality has been recognized by many celebrity guests including Jackie Onassis, nelson Rockefeller and Barbara Streisand.
Marco Polo Mansion in Rhodes is an Ottoman restored residence which has a lovely Mediterranean restaurant surrounded by lemon trees, jasmine and honeysuckle. A true foodie experience, as you put your faith in the hands of the owner and chef Edi Dede with his slow cooked octopus, sea bream risotto and skewered lamb with rosemary and pistachio.
For a more authentic experience, Mezzaluna offers a traditional menu, including the most delicious and a lovely patio. To Megiston specializes in the most delicious, fresh seafood as well as a warm environment and is particularly popular amongst the locals.
Nightlife
L'Eternel French bar is a rooftop terrace bar in Rhodes, where you will be served fine wines in abundance, accompanied by jazz music and stunning views of the old town. Reflection is another bar in Rhodes which offers cocktails and more of a cozy feel.
If you are looking for an after dinner treat in Lindos in the form of cocktails, champagne and rooftop views, head to Cozze & Champagne. The Lindos Ice Bar is also with a visit, being Greece's first ice bar and designed by artists from Canada, it remains at a constant temperature of -6 degrees.
If you are in the mood for dancing, head to Faliraki where most of the club/ dance bars tend to be. Amphitheatre Club is the most famous outdoor club on the island and has a capacity of 2,000 people. Similarly Colorado Club in Rhodes has two dance floors and varying music on each floor. Bed Rock Bar is a famous karaoke and cabaret bar which remains open till the early hours of the morning or Bondi Bar is a R&B/ house music bar with a large drinks menu.
Rhodes Transport
Rhodes Airport (RHO)
Rhodes Diagoras Airport is among the four busiest airports in Greece and is served by both domestic and international airlines and is located 15 km from Rhodes town. Many people opt for airport car hire in Rhodes. With Rhodes Airport car hire, you'll have transport straight away from your arrival at Rhodes Airport.
Ferries
Rhodes is one of the main ferry hubs of the Dodecanese. The main ferry port is a 20-minute walk from town. Local ferry connections are to Kastellorizo, Chalki, Symi, Tilos, Nisyros, Kos, Karpathos and Kalymnos. Longer connections include Athens which takes about 18 hours, Crete, the Cyclades and Patmos. There are also international ferries to Turkey.
Driving Tips
A hire car is recommended to explore this large island, as many of the small villages, slightly less touristy beaches and historic monuments worth visiting are slightly off the main road. Driving in Rhodes is much more relaxed than in mainland Greece and the drivers are courteous and laid back. The old Town of Rhodes is pedestrianized and parking can be a bit of a nightmare, so we recommend that you make a plan before getting there.
Got a Question? Chat with our UK support team
Online chat help is open 08:30am to 17:00 weekdays. Email: customersupport@enjoycarhire.com
COVID CLEAN & SAFE PLEDGE
FAQs about car hire in Rhodes
Most frequently asked questions about hiring a car in Rhodes
The distance from Rhodes to Athens is 434 km (269 miles).
The cheapest car sold on Enjoy Travel was £2.91 per day, but you could expect to pay around £7 per day for a VW Up (or similar) on average.
The airport is about 15 km from Rhodes town and the journey takes about 25 minutes by car.
In Rhodes, the top speed limit is 80km/hour (50 mph) on the two major highways, Rhodes/Lindos and Rhodes/Kalithea.In built-up areas, you drive at 50km/hour (30 mph), while on provincial roads, all vehicles must not exceed the 80km/hour (50 mph) speed limit.
Unleaded petrol and diesel prices in Rhodes, average price per litter: Unleaded 1.48 euro - Diesel 1.15 euro.
In Rhodes Greece you drive on the right and overtake on the left, and yield right of way to vehicles approaching from the right, except where otherwise indicated.
No there are currently no toll roads.
Rhodes is quite cheap compared to other Greek islands and cities. On average you'll spend €108 per day in high season.
Rhodes is one of the bigger islands in Greece. Public transport is available but not as reliable as having your own vehicle to move around.
The best way is to explore the island by starting at the medieval city of Rhodes. Then head for Mandraki, Lindos and the castle. You won't be disappointed.
The best months for good weather in Lindos are April, May, June, July, August, September, October, November and December. On average, the warmest months are July, August and September.
You can expect to pay on average £55 for a week, but prices vary depending on the time of year.
Explore popular places in Greece