Zakynthos Car Hire
Find the best deals in Zakynthos
With a massive choice from the biggest brands, Enjoy the best way to find the best prices for car hire in Zakynthos.
Huge choice of cars to suit every budget
Save up to 70% compared to buying on the day
10 years experience in car hire


Compare Car Hire in Zakynthos
Zakynthos, also sometimes called by its italian name Zante, is located in the southern part of the main Ionian island chain and is around 250 km from Athens. The island was named 'Flower of the Orient' by the Venetians, due to its rich and luscious countryside, which consists of olive groves, lemon trees, rolling hills and mountain forests. As well as its impressive interior, the island boasts an incredible coastline with plenty of sandy golden and white beaches, all with the most crystal clear water.
It is recommended to hire a car to see as much of this stunning island as possible and hiring a car is the best way to discover the stunning island beyond the all-inclusive resorts. You'll find fantastic deals for your car hire in Zante with Enjoy Travel, plus pre-booking online is completely convenient and hassle-free. For example, a Fiat Panda or other economy-size car starts at about £5.50 per day in off-peak season, a mini-size Hyundai i10 starts from £4.49 a day, while a spacious, standard-size Ford Focus Wagon (which is an estate-style vehicle with plenty of room for throwing day trip gear in the back) starts from just £27.47 a day off peak! Pre-book your hire car online with Enjoy, so you can enjoy Santorini by air-conditioned, independent transport coupled with affordability and peace of mind.
Guide to Zakynthos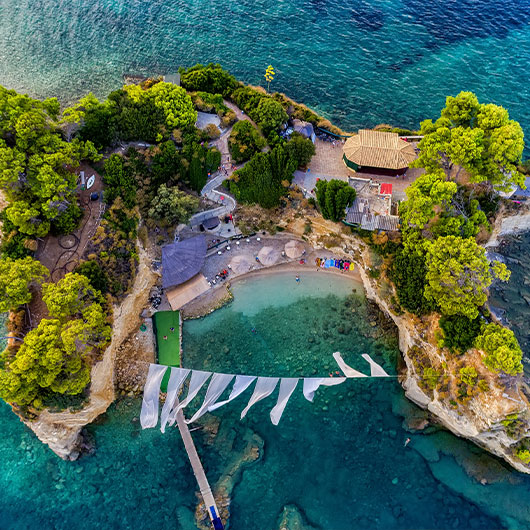 It is an island strongly divided into two halves: the south and the east are dominated by all inclusive tourism packages and the western and central regions being composed of rich and luscious countryside, which consists of olive groves, lemon trees, rolling hills, mountain forests, as well as stunning beaches and ancient buildings.
History
The island can be dated all the way back to Neolithic times, when Homer mentioned the island in the Iliad and the Odyssey, the island first being inhabited by the son of King Dardanos of Troy whose name was Zakynthonos around 1500 BC. The island was then under the rule of Kefalonia and the King Arkeisios. Zakynthos then lost its independence to Lacedaemoniona rule which was followed by a period of roman domination, before gradually gaining more and more autonomy. The Venetian domination followed and the island remained so, even when the rest of Greece was under the control of the Ottoman empire.The Venetians promoted the island's cultural heritage, hence the island being the birthplace of many famous greek writers and poets. The island was then taken over by the french followed by the english from 1814 to 1864. During the Nazi occupation of Greece in World War II, the mayor and bishop of Zakynthonos refused to turn in a list of the community's jews as per the Nazi orders and it is believed that all the jews on the island survived the war. Contrastingly, 80% of Greece's jews were deported to concentration camps and were killed during the Holocaust.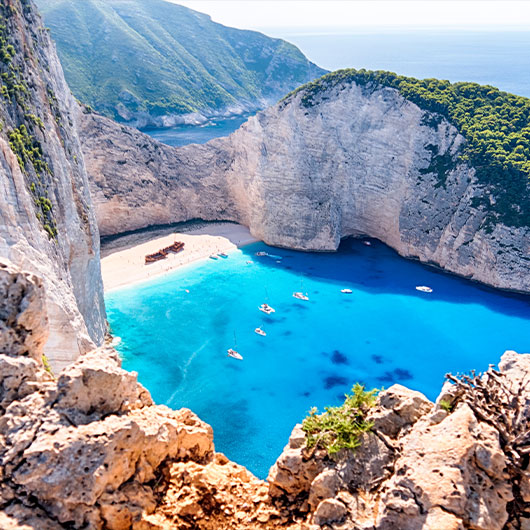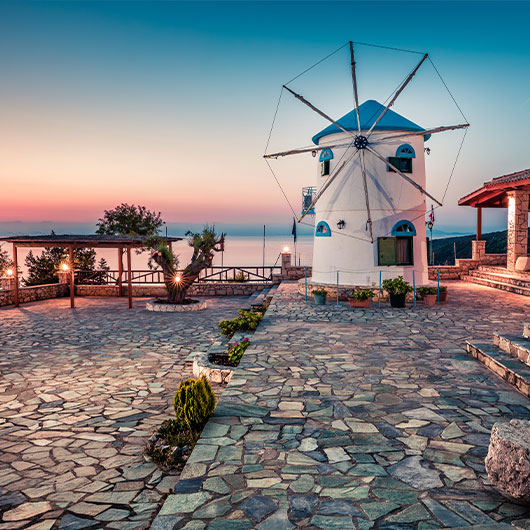 Things to do in Zakynthos
Zakynthos town is perched on a stunning bay with crystal clear water and is a working port. The town is full of lively restaurants and has a great atmosphere. A venetian fortress at the top of the hill watches over the town and its large squares, arcaded streets and neoclassical buildings.
Beaches
After all the island is renowned for its stunning beaches, here is a compilation of the best beaches and why:
Banana Beach is a 2km long, thin strip of golden sand, which is very popular, watersports and umbrellas.
For another long sandy beach with slightly less people, head to Gerakas Beach.
Limnionas is a stunning cove, where the lack of sand makes up for clearer waters and the collection of rocks that surround the cove make for the ultimate diving board. There is a taverna on site that offers sunbeds and it is definitely one of the more peaceful places to spend the day, as its secluded location makes its a less popular destination.
Shipwreck beach, also known as Navagio Beach, is only accessible by boat but is easily one of the most stunning beaches in Greece and the breathtaking view is definitely worth the journey. You can view the iconic cove from the cliffs above if you do not want to take the boat trip but definitely go to admire the white sand and electric blue water, surrounded by jurassic 200 meter high cliffs.
It is also highly recommended to take a boat trip to visit Turtle island, where you will increase your chances of seeing these marvelous creatures in their natural habitat. The Loggerhead Sea Turtle feeds off the healthy reef that surrounds the island. Boat trips will often also stop at the Blue caves, where the wave erosions have created natural arches in the cliffs. The turtles can also be viewed at the Zakynthinos Marine Park where they often come on to the beach to lay their eggs between dusk and dawn.
The island is also a hugely popular place for a deep dive: there are 12 dive sites and a spectacular selection of sea creatures, including turtles and monk seals. Marzelou and Elephant reef are home to a whole range of big fish.
The scenic village of Bochalli holds the island's Venetian castle as well as a pine forest and Strani Hill, where Sionysios Solomos was supposedly inspired to write the Greek national anthem when he heard the cannonades coming from Mesologgi during Greece's fight for independence.
The island is also famous for its fine wines and if you drive on the road to Machairado you will see a selection of vineyards that may be worth visiting, including Oenolpi winery or Augostoustiatis Liastos wine.
Culture:
The island's rich and diverse history means there is plenty of sites to visit:
The Byzantine Museum in the main plaza in Zakynthos town is an eclectic collection of art mostly rescued from churches after the earthquake. All of this is homed in a beautiful 16th century St Andreas Monastery.
The Church of Dionysios was built for the patron saint of the island and is home to some amazing frescoes and giltwork .
If you are interested in the history of the saint, head to the Museum of Solomos which houses the memorabilia and archives of Dionysios, who was born on the island and is considered the father of modern Greek poetry.
The Monastery of Panagia Skopiotissa is a stunning old monastery which was built on the slopes above Argassi. There are plenty of other monasteries scattered throughout the island including Ypergathou, Anafonitria, Spiliotissa, Eleftherotria and many more.



Eating out & Nightlife

Eating Out

If you are looking for local specialities, look no further than Malanos, which is an authentic, family-run taverna in the middle of the countryside where you will feast on local game. Mesathes is incredibly near the Byzantine Museum and you will eat the most delicious mediteranen food accompanied by the owner playing guitar. Lithies Tavern also offers an incredibly authentic experience in a courtyard surrounded by olive groves and banana palms on the family farm.The restaurant was created by a family of farmers who use their local, high quality produce to create the most delicious greek and zakynthonian recipes.

Alitzerinoi is a restaurant particularly popular amongst the locals and is hidden away in the mountain hamlet of Kiliomeno, which focuses on the use of local produce and where you will eat inside the 18th century stone house or on the terrace which overhangs the hillside, all accompanied by live music. Similarly, the mountain village of Agios Leon is home to Taverna Porto Limnionas, where the charming owner grills his freshly caught fish over a charcoal grill.

Prosilio is a gourmet style restaurant with a refined interior decor and idyllic courtyard, which takes an inventive twist on Greek food. For another rather upmarket option, feast on the delicious seafood at Komis. The restaurant used to be a hangout for the local fishermen and has now been transformed into an incredible seafront culinary experience.

If you are spending the day at Gerakas beach, make sure you visit Gerakas tavern which serves all the classic dishes at low prices in an ideal location.

Nightlife:

If you are looking for a wild party scene, Laganas is the place to go. Bars such as Rescue Club, Zeros Club, Waikiki and Pure host late night parties on a regular basis. They all play top hits and serve delicious cocktails and hoste events with DJs from around the world.

Zakynthos Transport

Airport:

Zakynthos airport is located 6 km to the southwest of the main town.It hosts both domestic flights (from Athens, Kefalonia, Preveza and Kythira) as well as international flights to a few destinations across Europe.

Ferries and buses

Ionian ferries operate between four and eight ferries per day to Kyllini in the Peloponnese, as well as the occasional international ferry to Italy. Chionis Tours also run ferries to Kefalonia. The journey from mainland Greece is about an hour and fifteen minutes.

KTEL operates regular buses from the harbour to the bus station, as well as long haul buses to Athens, Corinth, Patra and Thessaloniki.

Driving Tips

It is worth hiring a car in Zakynthos to discover the more remote spectacular locations around the world. It is a mountainous region, where a short drive normally equates to an incredible view. The main cities are all connected by major highways but all the other roads are rather narrow.
Got a Question? Chat with our UK support team
Online chat help is open 08:30am to 17:00 weekdays. Email: customersupport@enjoycarhire.com
COVID CLEAN & SAFE PLEDGE
FAQs about car hire in Zakynthos
Most frequently asked questions about hiring a car in Zakynthos
For example, a Fiat Panda or other economy-size car starts at about £5.50 per day in off-peak season, a mini-size Hyundai i10 starts from £4.49 a day, while a spacious, standard-size Ford Focus Wagon (which is an estate-style vehicle with plenty of room for throwing day trip gear in the back) starts from just £27.47 a day off peak
The cheapest car in Zakynthos is about £4.50 / day in off peak season when you pre-book online with Enjoy.
The minimum age to hire a car in Greece is 21. However drivers under the age of 25 may be liable to a young driver fee. If you enter your age in the search tool then the fee will be included.
As you probably won't need to drive much in town, consider something a bit rugged (but not too big, since roads are narrow) so you have the option of going off the beaten track.
Yes you can pay extra to add an additional driver, as long as they also have a valid driver's license.
Contact your rental provider. Also, in the unlikely event you have a serious accident in Santorini, call 112 immediately for emergency services. You can call this number from anywhere in Europe and an operator will redirect to the emergency services of that country.
The journey from Zakynthos Town to the airport is only 5km and shoult take about 10 minutes.
Short-term visitors and holiday-goers can indeed drive with a UK driving license in Greece. This will continue to apply for at least until 31 December 2020.
Zakynthos falls under the category of the very popular Greek islands that are relatively inexpensive. You'll spend about €62 per day on average in Zakynthos.
If you want to explore the island and reach its beautiful remote parts, then renting a car is essential.
Zakynthos is home to one of the most famous beaches in the world, Navagio beach, we'd recommend beginning your journey on the island from there.
The most popular months are the months of June to August. If you want to avoid commotion, it's best to visit in September or May.
It's €38 for a week, which is more or less €5 per day.
The cheapest offers start at €305, or €10 per day.
The average price of a litre of fuel in Zakynthos can vary between EUR 1.44 and EUR 1.18.
Explore popular places in Greece