Glasgow Airport Parking
Find the best parking deals at Glasgow Airport
With a massive choice from the biggest brands, Enjoy the best way to find the best prices for car hire in Glasgow Airport.
Huge choice car parks to suit every budget
Save up to 70% compared to buying on the day
Working with the best partners in Airport Parking
Parking at Glasgow Airport
You've got your eye on Glasgow Airport parking then?
The great news is you've landed on exactly the right page – we'll soon sort you out with tips on the best spaces for your specific needs.
Got to say though, if you're based in Glasgow (or anywhere in the vicinity), we're well jel. Scotland's biggest city is packed with culture, fiercely proud, and famously friendly. And its 'gallus' (cocky) locals top it off with their wit, warmth and cheeky sense of humour. Home of famous football clubs Rangers and Celtic (whose 'Old Firm' derby is global football's most passionate), world-class architect Charles Rennie Mackintosh, feminist icon Isabella Elder, political firebrand Margo MacDonald and national treasure Sir Billy Connolly, it's a hotbed of spirited creativity.
So what's good to do in this cool city? You can escape the cold and take in some inspirational plants in Glasgow Botanic Gardens – a truly gorgeous green space. Snap a selfie by the River Clyde with the backdrop of the famous Finnieston Crane. Learn all about beer making (and beer drinking) at Drygate Brewery. See masterpieces from French Impressionists and Scottish Colourists at Kelvingrove Art Gallery and Museum and have a big night out taking in hotspots like The Garage and Nice n Sleazy. Whew!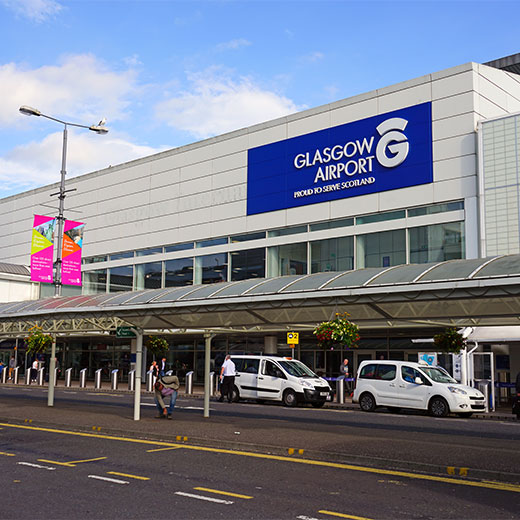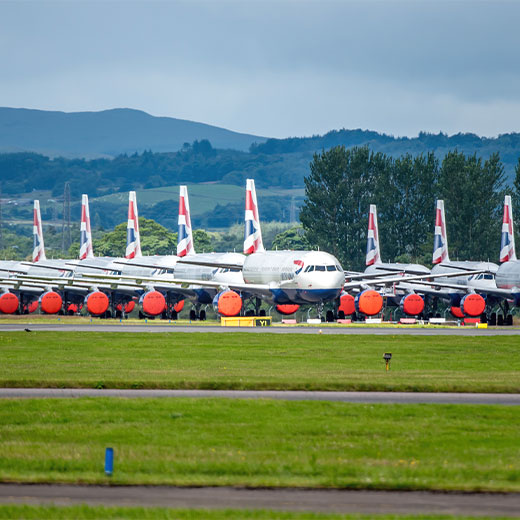 Find the best deals at Glasgow Airport
Processing more than 9 million passengers a year, Glasgow Airport is at the heart of the nation's transport infrastructure – it's connected to more Scottish destinations than any other air hub. First opened in 1966, it boasts one 2658m long runway, two terminals, serves over 100 destinations via 30 carriers and is considered Scotland's main long-haul airport.
A hub for the likes of easyJet, Loganair, TUI Airways, Loganair and more, it's your launchpad for holidays and business trips to a plethora of different destinations. And whether you need quick and easy parking or a service that's a little more luxurious, we've got all the info you need to find the best deals.
Compare Glasgow Airport parking
Perhaps you're jetting off from Glasgow for a romantic trip to Agadir, a stag or hen weekend in Amsterdam, a family holiday to Antalya, or a school trip to Barcelona?
Where you're going and who you're going with will definitely influence which type of Glasgow Airport Parking is best for you. The convenience of fast track might provide the hassle-free convenience you need, short stay might suffice, or a secure, long stay option might be best.
What kind of parking is there at Glasgow Airport?
Glasgow Airport has ample car parking spaces for travellers, so you won't struggle to find a secure spot. And if you pre-book official GLA parking, you're always guaranteed a space – that's the type of reassurance you need when you're busy organising all the other details of a trip away.
As well as official parking, established providers like looking for Parking and APH can also be a good option for finding competitive deals across on- and offsite GLA parking provisions.
Looking 4 Parking offers Glasgow Airport Parking options at Glasgow Flying Scot Park and Ride, Glasgow SkyPort Park and Ride, Glasgow Parksafe Park and Ride – Electric charging and My Easy Park & Ride – Glasgow Airport.
Meanwhile, APH is a longstanding parking provider for UK airports, with over 40 years' experience serving the travelling public. APH GLA parking options include Glasgow Airport Long Stay Weekend Parking, Glasgow Airport Long Stay Parking and Short Stay Weekend Special Car Park 2. APH car parks are also Park Mark Safer Parking Award accredited, which provides further peace of mind.
Next, let's take a more detailed look at Glasgow Airport official parking.
Long stay
Glasgow Airport Long Stay parking now offers free cancellations on new bookings and if you haven't pre-booked, a 3-day minimum stay charge of £50 is available. If you're going to be away for a week or two, GLA long stay parking offers great value for money and security and it's super-simple to use – just park your motor and hop on the frequent electric shuttle bus for the short trip to the terminal. If you prefer walking, it's only an 8 minute stroll and bookings can be amended, cancelled or refunded 24-hours before you get there. These car parks are covered by CCTV and patrolled by security 24 hours a day, so your vehicle will be safe as houses.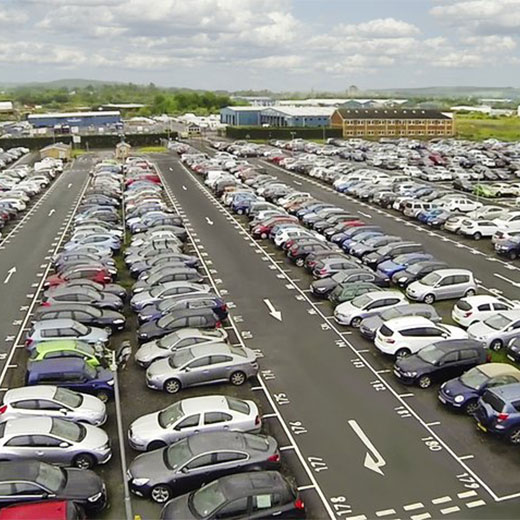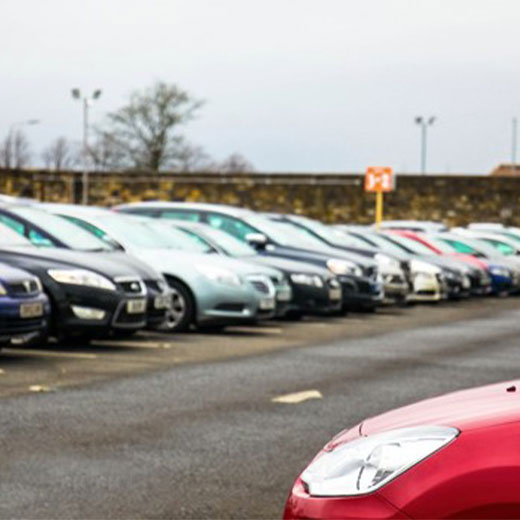 Short stay
If you want to start your holiday by sauntering to the terminal in just a few minutes, Glasgow Airport Short Stay parking is the perfect pick. Located right opposite the main terminal building, you park your car undercover and walk straight inside – no need to hand in your keys either. This safe, all-weather car park is the closest facility to the terminal and it's child's play to use – just roll up to the barrier, your registration will be scanned, and you'll grab your ticket and enter. On the way home, walk back to your car, strap on your seatbelts and hit the road. Simple.
Fast Track
The most exclusive parking available at Glasgow Airport, Fast track Parking offers the ultimate convenience if you're taking a quick break or business trip. When you need to park, get into the terminal and through security as swiftly as possible, this is made for you – park your car on a discrete floor with covered terminal access and you'll arrive at security in just a couple of minutes. Head to the main security gates, then for priority security access, keep left and follow the signs – you'll soon skip right to the front of the queue.
Pick-up & drop-off
If you're dropping off or picking up at GLA, it's no problem for durations of 10 minutes or less – you'll find options for free or for a fee. Express pick-up and drop-off areas are situated in car park 2 outside the main terminal building and electric vehicle users who pre-register can access the area right opposite the main terminal completely free for the first 10 minutes.
Blue badge parking
GLA suggests that the Short Stay car park is best for dropping off passengers who need extra help. And furthermore, motorists with a blue badge shouldn't use the pick-up and drop-off facility but opt for car park 2 instead. All Blue Badge Holders get 30 minutes free pick-up and drop-off in this area.
EV Charging points
You'll find free electric charging points protected from the elements in the multi storey car park and 6 electric charging points in car park 1.
Support
If you get back from your travels to find you've got a flat tire or battery, don't panic. Since you've parked in an official GLA car park, they'll make sure it's fixed so you can get home safely.
Getting to and from Glasgow Airport
Located on the west coast in Scotland's Central Belt, Glasgow Airport is easy to get to by car. If you're driving in from the east, all you need to do is exit the M8 at Junction 28 and if you're travelling in from the west, exit at Junction 29. From anywhere else, use the postcode PA3 2SW on your SatNav.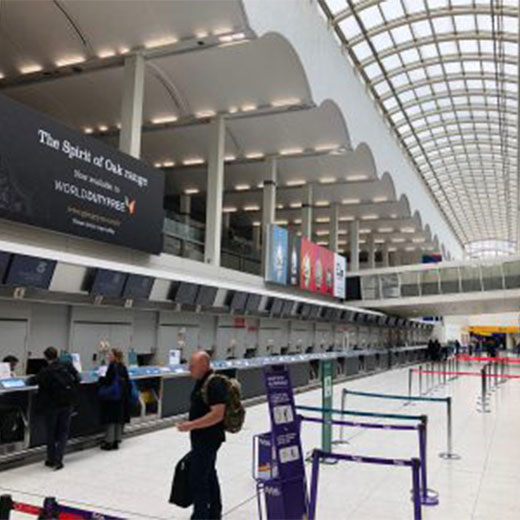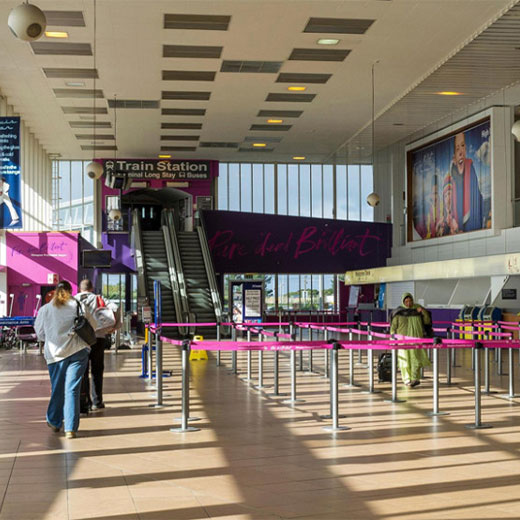 Facilities at Glasgow Airport
If you're travelling from GLA with kids in tow, you'll find the well-appointed Kids Zone soft play area just after gate 27. And you'll also find baby changing facilities on the first floor Terminal 2 check-in hall to the rear of the food court, at the main check in hall opposite the lift and after security close to Starbucks on the first floor, at the Beardmore Bar and in several other convenient locations.
There's also a Prayer Room on the first floor of the departures concourse if you want some quiet, contemplative time before take-off – with an airport chaplain on hand for support.
Fancy pampering yourself before you fly? The Aerospa Airport Beauty Lounge has all your favourite treatments. You can pick up pharmacy essentials at Boots, tech at Inmotion, trendy footwear at JD Sports and replica Old Firm strips at the Celtic and Rangers stores – perfect presents for relatives abroad. If you want great deals on fragrances, spirits and more, don't miss World Duty Free.
And finally, one way to keep the peace while you're waiting for your flight is making sure everyone is fed and watered. Eating options at Glasgow Airport include Bird & Signet, Burger King, Caledonia Bar & Restaurant, Frankie & Benny's, The Spinning Jenny and Tennent's Pier Bar.
Got a Question? Chat with our UK support team
Online chat help is open 08:30am to 17:00 weekdays. Email: [email protected]
FAQs about car hire at Glasgow Airport
Most frequently asked questions about hiring a car at Glasgow Airport
You can have up to 48 hours before you depart cancel or make changes without extra charge. After that cancellation or change comes with a £5 fee.
Booking online is the first reliable way to get the best price with Enjoy Travel for Glasgow Airport as will net you a below average price for parking. Booking online on Enjoy Travel also gives you access to our easy cancellation policy and safe payment system.
The main parking options in Glasgow Airport are Parksafe, Skyport, Fast Track and direct parking.Each option has its own advantages and disadvantages depending on your budget, convenience and security preferences.
Follow the signs at Glasgow Airport, there are different parks depending on your choice of parking option. The closest is 5 minutes away from the Airport.
All car parks at at Glasgow Airport include CCTV cameras, security fencing that encloses the park and the entry and exit are monitored.
The Fast Track park is 5 minutes away from the Glasgow Airport. Same for the Skyport park. The others are 1 or 2 km away but can be reached by bus shuttle.
Most Glasgow Airport parking packages include a full electric charge for your electric vehicle. You can park your car at Secure Airparks Electric Charge in Glasgow Airport, which has Type 2 chargers 3.5kw (bring your own cable) and free transfers directly to the terminal door.
Yes, you can park overnight at any car park near the Glasgow Airport. Just keep an eye out on the additional charges.
Yes, in fact it's recommended to do so as it will ensure you get below average prices and your spot is guaranteed, especially during busy times or seasons.
In Glasgow Airport you can arrive earlier but there may be an overcharge fee depending on how much earlier you arrive. You can pay the fee at the exit barrier using a credit or debit card.
The cheapest parking at Glasgow Airport is Parksafe and Skyport, that are around £11 per day. These options are ideal for budget travellers who don't mind taking a shuttle bus to the terminal. They are located off-site and offer a complimentary shuttle bus transfer to the terminal.
The parking cost at Glasgow Airport depends on the service and booking method - on Enjoy Travel they can start from £11.50 per day. You can compare different parking options and prices on our website and book online in advance to save up to 60%.
Airport parking at Glasgow Airport with Enjoy Travel can start from £61.88/week. You can book your parking online and choose from different options such as long stay, mid stay or fast park. Plus, when you book online with us, you can enjoy our special deals and promotions that are only available on our website.
Popular Glasgow places, London airports, train and underground stations