Amsterdam Car Hire
Find the best deals in Amsterdam
With a massive choice from the biggest brands, Enjoy the best way to find the best prices for car hire in Amsterdam.
Huge choice of cars to suit every budget
Save up to 70% compared to buying on the day
10 years experience in car hire
Compare Car Hire in Amsterdam
Located in the province of North Holland in the western Netherlands, Amsterdam is the capital of the nation and has a city population of over 870,000 and an urban population of over 1.5 million. An iconic tourist destination full of distinctive gabled houses, cute bridges and busy canals, it's known as 'the Venice of the North'. One of the world's most popular short break destinations, the city is famous for its bohemian ambience which blossomed in the 1960s, world-class museums, and cutting-edge designers and architects. You can't possibly feel bored here because there's something for everyone from hedonistic pleasure seekers to reserved intellectuals, while nature reserves, fishing villages, windmills and flower fields in the environs are ripe for four-wheeled exploration.
Prices for hiring a small car in Amsterdam like a Kia Picanto start at just €24.04 when you book off-season, it's €28.23 for a slightly larger Seat Leon and a rugged Suzuki Vitara ‐ ideal if you like an elevated driving position ‐ is €32.47 per day. Enter your dates and details in our search engine and choose from a range of great deals. Amsterdam car hire from Enjoy Travel is legendarily laid-back ‐ just like the chilled out city itself!
Guide to Amsterdam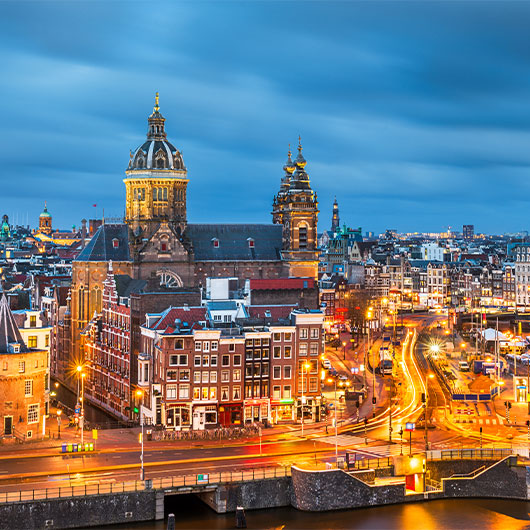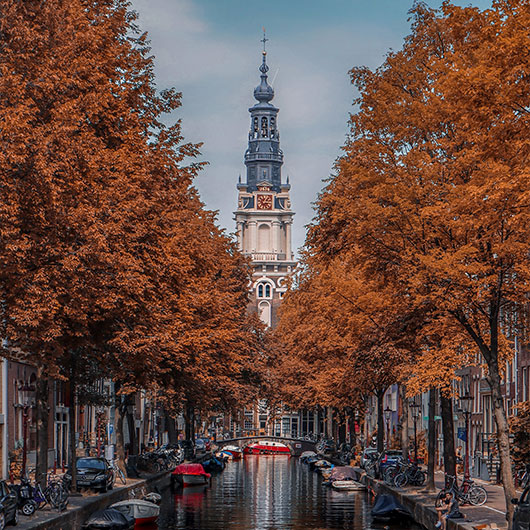 The 'Dam stimulates all of your senses, from the revitalising smell of fresh flowers and the lip-smacking flavours of chips with mayonnaise, to bijou bridges decked in fairy lights, arresting museum masterpieces and bass-heavy vibes in bars and clubs. There are endless distractions for all tastes here, but it's also just a brilliant place to simply sit in a comfy kerbside café and while away a few hours watching the world go by.
The Dutch capital Amsterdam is one of Europe's most popular tourist destinations and offers a diverse selection of attractions. One way to explore them is by car rental in Amsterdam. It gives you a freedom of choice and mobility.
Amsterdam is home to some of the world famous museums, like Amstelkring museum, Van Gogh museum, or Rembrandt house. If you like war history Resistance museum is another great place to visit, not to mention Anne Frank house.
Amsterdam is known for its canals. Take Prinsengracht, for example. They are prevalent throughout the centre and are lined with picturesque, narrow streets. Along this street, you will find a blend of traditional food stores along with top designer fashion stores. There are nice parks as well, like Wondelpark or Amsterdamse Bos. Children will love Artis zoo.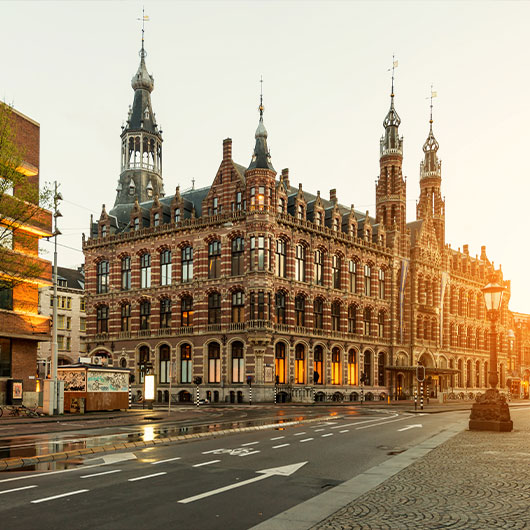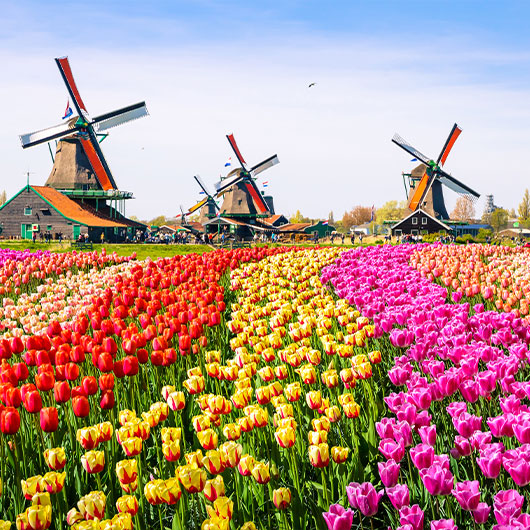 Things to do in Amsterdam
Many visitors to Rotterdam are magnetised by its architecture and design ‐ if brilliant buildings are your bag, you can visit the Rem Koolhaas-designed De Rotterdam tower at the South Bank, the ravishing redeveloped Centraal Station or the striking Erasmus Bridge. There's also a slew of artisan coffee roasteries, various world-class art collections and museums in the Museumpark sector, the antique harbour at Delfshaven, relaxing riverside cruises and bouncing bars and clubs.
Amsterdam is just as famous for its Coffe shops and Red Light District. At night, the city comes alive with an eclectic mix of lively bars and nightclubs and more chilled-out riverside spots. The city of Amsterdam really does have everything to offer everyone. One thing is for sure when visiting Amsterdam, to make the most of your trip and to be sure not to miss an ounce of culture this city has to offer you will need to be able to get around by car.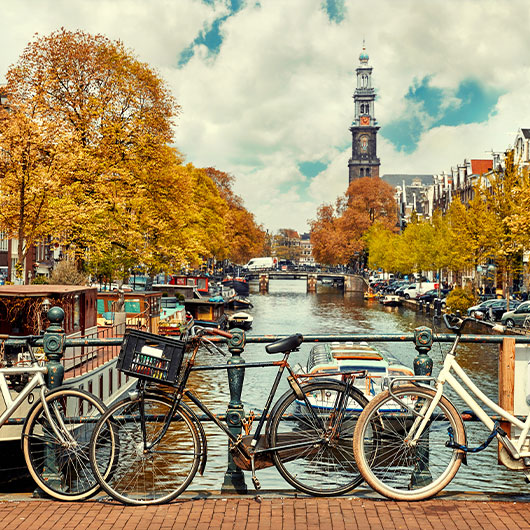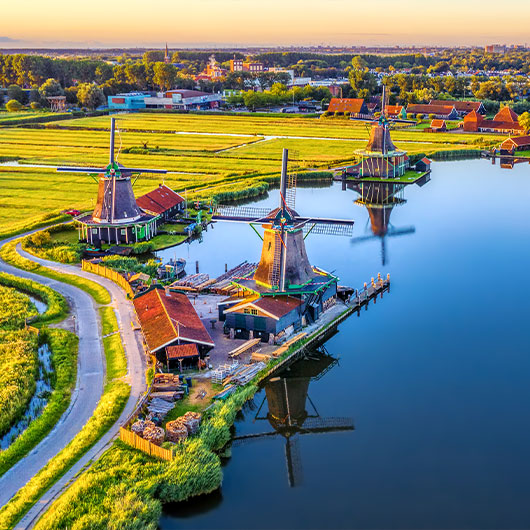 Eating out in Amsterdam
From tasty streetfood to haute cuisine, Amsterdam's food scene is varied and vibrant. At plush Janz you can enjoy classics brought bang up to date like lobster risotto and dover sole, Sotto Pizza serves the best disc-shaped delicacies in the city and Moeders specialises in stamppot, a Dutch classic made from sausage, bacon, cabbage and mashed potato. This is merely a soupçon of what Amsterdam has to offer ‐ you'll discover much more when you get there!
Transport in Amsterdam
Rotterdam Airport (RTM) IS 8.2km from the city centre, Amsterdam Schiphol (AMS) is 51km away and Eindhoven in 78.2km.
The RET public transport system is extensive and includes buses, trains and a metro ‐ various passes are available for the city centre and beyond, including a tourist day ticket that includes unlimited travel across all of South Holland by any means of transport.
You drive on the right in Amsterdam.Beware of pedestrians and cyclists and apply caution at intersections where there may be no signage.
Top Tips when hiring a car in Amsterdam
● A big number of users encountered rental cars in Amsterdam for less than £42 per day.
● Booking your rental car in Amsterdam in advance even if it's by 1 day before your trip ensures you'll get cheap car hire deals.
● Economy hire car models in Amsterdam are cheaper and more popular than other vehicle types.
● Research Car Hire Companies: Start by researching different car hire companies in Amsterdam to find the one that offers the best deals and suits your needs. Look for reputable and well-established companies that have positive customer reviews.
● Amsterdam Car Rental: Look specifically for car hire companies that offer services in Amsterdam. This ensures that they are familiar with the city's roads, regulations, and specific requirements.
● Best Car Hire Deals: Compare prices and promotions from different car hire companies to find the best deals. Consider factors such as rental rates, included mileage, fuel policy, and any additional charges or discounts.
● Reserve Your Rental Car: Once you've found the right car hire company and deal, make sure to reserve your rental car in advance. This helps secure the vehicle you want and increases the chances of getting a better rate.
● Popular Car Hire Location: Choose a car hire location that is convenient for you. For example, if you're arriving at Schiphol Airport (officially known as Amsterdam Airport Schiphol), consider renting a car from one of the car hire companies located at the airport. This saves time and allows for easy access to your vehicle upon arrival.
● International Driving Permit: If you're traveling from a country that requires an International Driving Permit (IDP), make sure to obtain one before your trip. Some car hire companies may ask for it, even if your regular driver's license is in English or uses the Latin alphabet.
● Basic Insurance Coverage: Familiarize yourself with the expected basic insurance coverage provided by the car hire company. Ensure that it includes liability insurance and collision damage waiver (CDW) to protect you in case of accidents or damage to the rental car. Consider additional insurance options if necessary.
● Rental Desk Procedures: When you arrive at the rental desk, be prepared to provide your reservation details, identification (including a valid driver's license and passport), and credit card for any security deposit or additional charges. The staff will guide you through the rental process and provide any necessary information about the vehicle.
● Compact Car for City Driving: Consider renting a compact car for driving in central Amsterdam. The city has narrow streets and limited parking spaces, making smaller vehicles more practical and easier to maneuver.
● Return the Car on Time: Make sure to return the rental car on time to avoid any late fees or penalties. Plan your trip accordingly and allow for ample time to drop off the vehicle before your departure.
● When it comes to Amsterdam car hire, the Amsterdam Schiphol Airport is the best place to pick up a vehicle and the service and how many cars are available make it very convenient.
● With your rental car reserved in advance, just head to the arrivals terminal and its car park via the airport shuttle and start exploring.
Got a Question? Chat with our UK support team
Online chat help is open 08:30am to 17:00 weekdays. Email: [email protected]
FAQs about car hire in the Amsterdam
Most frequently asked questions about hiring a car in the Amsterdam
Distance from Breda to Amsterdam is 55 miles (88 km).
Amsterdam is without a doubt the most popular and one of the most expensive cities in Netherlands. Per day you'll spend about €127.
Amsterdam is a city best explored via bike so renting a car is not really necessary, but if you'd like to take a roadtrip around the city, it could be worth it.
As mentioned above, riding a bike around the city, along its canals and its picturesque city streets, is the best way to see Amsterdam
The best time to visit Amsterdam is from May to September.
It's €241 for a week, or €34 per day.
It's €748 for a month, or €24 per day.
Price of fuel in Amsterdam is between €1.32 and €1.29 per litre.
Some popular places in the Netherlands