Inverness Airport Parking
Find the best parking deals at Inverness Airport
With a massive choice from the biggest brands, Enjoy the best way to find the best prices for car hire in Inverness Airport.
Huge choice car parks to suit every budget
Save up to 70% compared to buying on the day
Working with the best partners in Airport Parking
Parking at Inverness Airport
Jetting off from Inverness Airport (INV) soon? Whether you're heading to London for big city vibes, soaking up some culture in Manchester's Northern Quarter or picking some tulips in Amsterdam, you'll find top tips on finding the best parking spots right here. Then you can park with peace of mind – and fly feeling free.
Inverness Airport might not exactly be Britain's biggest, but it's surprisingly well-connected. And perhaps that shouldn't be a surprise, considering this city is stunning and sophisticated. The Capital of the Scottish Highlands, Inverness is a welcoming base for exploring one of the world's most beautiful natural scenery – but there's plenty to see and do in the city and its environs too. For instance, Ness Islands are super-close to the city (connected by bridge) and offer a lush space to explore, unwind, and watch the world go by. If you want to see sublime city views meanwhile, head to Inverness Castle and (if you're feeling fit), climb the 94 steps to the top of the tower. You're rewarded with panoramic views across the metropolis and beyond. History buffs also love exploring the site of the Battle of Culloden – the site of the famous battle in 1746 which was the last fought in mainland Britain. If you really want to immerse yourself in Highland culture, scoot across to Highland House of Fraser in Bridge Street, where savvy staff will measure you up for a kilt you can hire for the evening or even a little longer – once you try it, you might not want to part with it! But that's not all, because this is an awesome area for nature lovers too – take an organised Moray Firth cruise and you can spot dolphins, otters, seals and other aquatic wildlife. And if you're partial to a (moderate) tipple, head along to The Malt Room of an evening and sample a dram or three of Scotland's finest whiskies, while bibliophiles shouldn't miss the iconic Leakey's Bookshop. Last but not least, someone has to be first to get definitive proof that the Loch Ness monster is real. Take a half hour drive up to the loch to see if your luck's in – make sure your phone's charged and you snap a crystal-clear, eye-popping picture of Nessie now!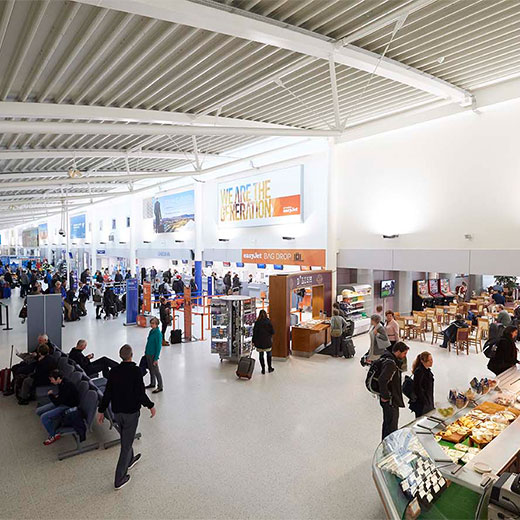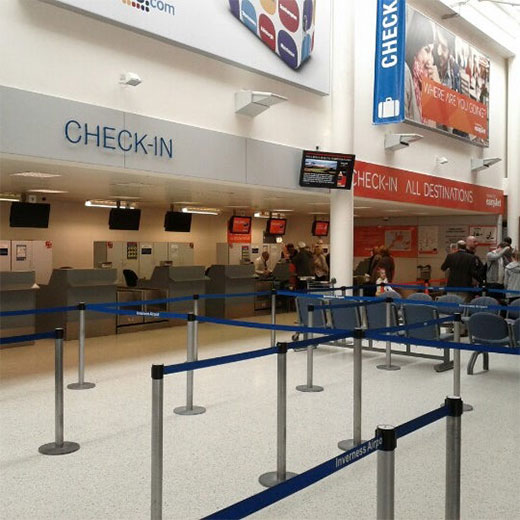 Find the best deals at Inverness Airport
What's the most efficient way to find the best parking deals at Inverness Airport? Most people will head to a certain search engine, type in their question and then sift through several of the top answers. It's not a bad approach (might even have brought you to this page) but it can take a while.
To get results that are more useful, you need to search for something specific. For instance, rule out spaces that are fundamentally unsuitable (because they're too far from the terminal, don't offer the personal touch, whatever the criteria may be). And then when you're sifting the remainder, balance price with fit to establish your perfect deal.
Compare parking at Inverness Airport
INV has plenty of airport parking and that's just part of what makes it such a fabulous airport.
This small but mighty air hub had processed 1.4 million passengers by 2020 and (according to AirportWatch) is projected to hit 1.7 million by 2030. Carriers include Ryanair, Highland Airways, EasyJet, Loganair, and Aer Arran. As well as connecting with lots of lovely locations, it also connects the local region with travellers from the US, Germany, Netherlands, France, Canada and more.
Located on the A96 at Dalcross, Inverness Airport has a history that reaches back to 1933, when the town council established and airstrip at Longman, with Captain Ted Fresson establishing Highland Airways soon afterwards. The site was controlled by the Royal Air Force during WWII and closed in 1947. However, it opened again in the same year, British European Airways heralding its arrival as a commercial airport. It has grown ever since, and its future looks solid
What parking is there at Inverness Airport?
As well as official options, you can sometimes bag a bargain for on and/or offsite parking through comparison sites like Looking 4 Parking.
But you can always be confident you'll get a good deal when you book directly through the official website and there's something to suit every traveller – whether you're whisking someone away for the weekend or spending a month abroad. Let's take a look at what's on offer.
Short stay parking
Ideal if you want to leave your car at INV for less than 72 hours, short stay parking is convenient, easy to use and close to the terminal building. When you want a safe, simple parking option, this is it.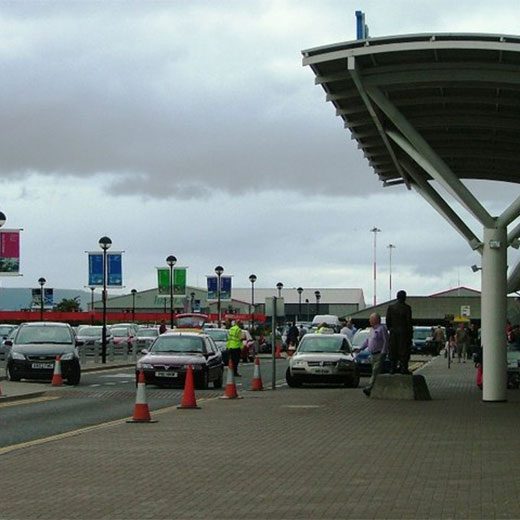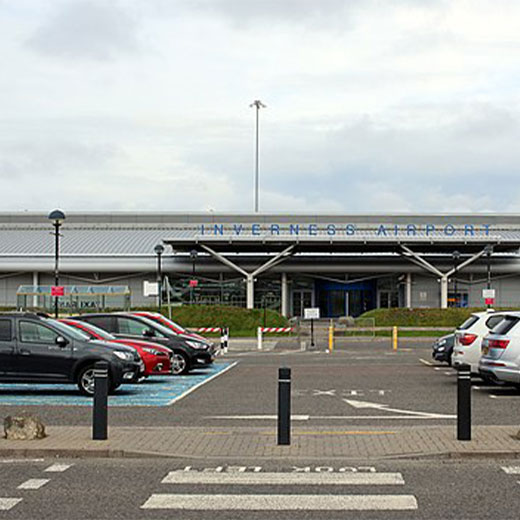 Long stay parking
Located behind the short stay area long-stay parking is perfect when you're away for more than 72 hours and it's best to pre-book - you can actually do this up to a year in advance.
Premium parking
Available for short stay, long stay and disabled passengers, you'll find premium parking right in front of the terminal building – so access couldn't be easier. A particularly convenient choice for Blue Badge holders, you can have your ticket validated at the information desk and it's best to pre-book for long stays in this area.
Payment options
INV accepts online payment from Mastercard and Visa – no fees are levied, and payments are safe and secure. If you haven't pre-booked, you can drive up and pay at the machines. You can amend or cancel an online booking up to 24 hours in advance.
Drop-off and pick-up zones
There are handy drop-off and pick-up areas at the front of the terminal and it's free to be here for 10 minutes, after which regular rates apply.
Coaches and motorcycles
Motorbikes can park in all the onsite car parks and are charged at the published rates for each. If you're in a coach, access dedicated parking by following the restricted access lane at the front of the terminal. You can pre-pay or settle on the day.
How it works
Inverness Airport parking is super-simple. Just drive up to the parking barrier, automatic number plate registration will record your plate, and you'll drive through the barrier. Facilities are patrolled regularly by security guards and there are no vehicle height restrictions.
Getting to Inverness Airport
Nine miles northeast of Inverness, INV is easy to reach via the A96/Inverness Airport Way. For GPS, the address is: Inverness Airport, Dalcross, Inverness IV2 7JB.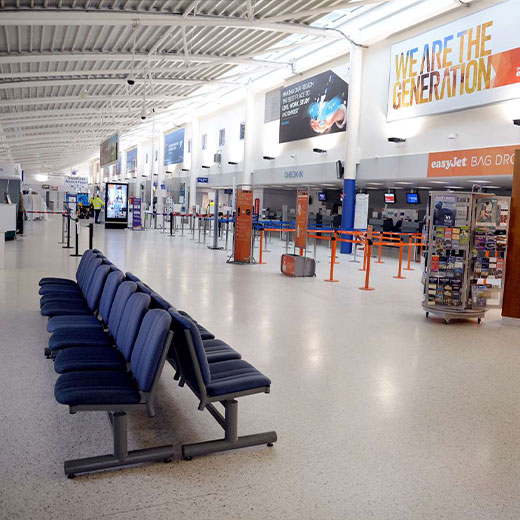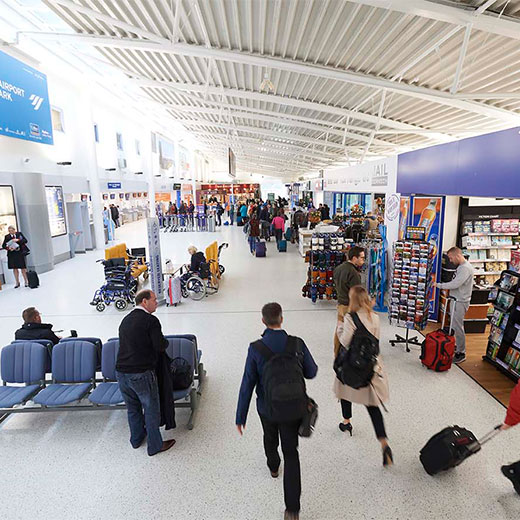 Facilities at Inverness Airport
Inverness Airport has all the essentials you expect from a modern airport – with a dash of Highland charm that gives it a little je ne sais quoi.
Inside the airport, there are car hire providers, customer service and information points, as well as hospitality and leisure outlets and shops that make your pre-flight experience all the more pleasant. Outside the terminal, you'll find the car parks (which you know a whole lot about by now) and public transport connections to the city centre and lovely locations like Elgin and Nairn.
If you need to stay overnight near the airport, Courtyard by Marriot is a great choice. A four-star hotel with a well-appointed Kitchen and Bar, it serves top-notch food from breakfast right through until evening – a great place to relax and unwind before your flight.
And when it comes to customer service, INV is a high achiever. It was first awarded Hospitality Assured status in 2002 and has had its accreditation renewed every year since, plus it's also a winner of the Which? Holiday magazine 'best airport in Scotland' award.
Welcoming facilities here include a coffee shop, restaurant and café bar. There's also a chapel for quiet contemplation, a conference area, and plenty of toilets and baby changing facilities. If you fancy relaxing in a plush space that feels a world away from airport hustle and bustle, book in to the Aspire Lounge. With views overlooking the main runway, there's also free and unlimited Wi-Fi, charging stations for your electronic devices, complementary snacks and alcoholic beverages. You'll find the Aspire Lounge through passport control, next to gate 3.
So there you have it – everything you always wanted to know about Inverness Airport parking (and a lot more besides). Drive safe, park smoothly and enjoy your flight – whatever your destination, Inverness is a great place to start it from.
Got a Question? Chat with our UK support team
Online chat help is open 08:30am to 17:00 weekdays. Email: [email protected]
FAQs about car hire at Inverness Airport
Most frequently asked questions about hiring a car at Inverness Airport
You have the flexibility to modify or cancel your complimentary parking reservation at Inverness International Airport without incurring any fees as long as it is done at least 48 hours before your scheduled trip. However, if you choose to make changes or cancel your reservation after this 48-hour window, a £5 fee will be applied.
To maximize the benefits of Enjoy Travel's attractive parking discounts at Inverness Airport, it is advisable to make your parking reservation online well ahead of time.
Inverness Airport offers various parking options including short stay, long stay, priority, meet and greet, and off-site parking, catering to different needs and preferences of travelers.
Upon your arrival at the airport, simply navigate towards the designated parking area by following the well-marked signs, as most car parks at Inverness Airport are clearly signposted with the name of the car park clearly displayed at the entrance.
Inverness Airport maintains a range of security measures for parking, including CCTV surveillance, security patrols, well-lit facilities, fencing and barriers, controlled entry/exit points, 24/7 monitoring, and additional safety measures, ensuring the safety and security of parked vehicles.
The distance between the terminal and each car park at Inverness Airport may vary, but typically the car parks are located within a reasonable walking distance from the terminal building.
Inverness Airport offers dedicated electric vehicle charging stations in select parking areas, allowing EV owners to conveniently recharge their vehicles during their time at the airport, subject to availability.
Yes, you can park overnight at Inverness Airport. The airport provides parking options that cater to both short-term and long-term parking needs, allowing travelers to leave their vehicles parked overnight during their trip.
To secure a parking spot and take advantage of lower rates, it is recommended to make a reservation in advance, especially when the airport experiences high demand or during peak seasons.
In the event of arriving at Inverness Airport for parking prior to your scheduled time, the parking fee may be subject to an increase, the magnitude of which will vary based on how early you arrive, and payment for the parking fees can be made using a debit or credit card at the exit barrier.
The cheapest parking option at Inverness Airport are long-stay parking options as they tend to offer more affordable rates compared to short-stay or priority parking. Off-site parking facilities operated by independent providers might also provide competitive prices.
The cost for parking at Inverness Airport for a day ranges from £6 to £12, depending on the parking option chosen.
With Enjoy Travel the cost for a week of parking at Inverness Airport ranges from £35 to £70, depending on the parking option chosen.
Popular Inverness places, UK airports, train and underground stations