Edinburgh Airport Parking
Find the best parking deals at Edinburgh Airport
With a massive choice from the biggest brands, Enjoy the best way to find the best prices for car hire in Edinburgh Airport.
Huge choice car parks to suit every budget
Save up to 70% compared to buying on the day
Working with the best partners in Airport Parking
Edinburgh Airport Parking
Jetting off from Edinburgh Airport (EDI) soon and want to pick the best parking option?
We've got you covered (or uncovered if you don't mind braving the elements).
But are you sure you can bear to be separated from Scotland's stunning capital? Bustling London might make it look like a miniature metropolis, but for many locals and visitors alike, it simply doesn't match up to Edinburgh's mix of dramatic natural scenery, architectural elegance and world-class culture. A castle perched atop a volcanic rock on its main thoroughfare. A New Town that's a vision of symmetry and style. And a cultural calendar that boasts the world's largest arts festival as well as a host of year-round attractions. Yup, this really is one of Europe's most desirable cities.
Top things to do here include passionate football at Easter Road or Tynecastle, international rugby at Murrayfield, browsing chic boutiques and watering holes in George Street, exploring the creative scene in Leith and visiting the ultra-modern Scottish Parliament. It's also a UNESCO City of Literature which has inspired everyone from Irvine Welsh and J.K. Rowling to Jenni Fagan and Robert Louis Stevenson to pen timeless books that are read the world over.
Still determined to head off to foreign climes? No worries – your top-notch parking info is coming right up!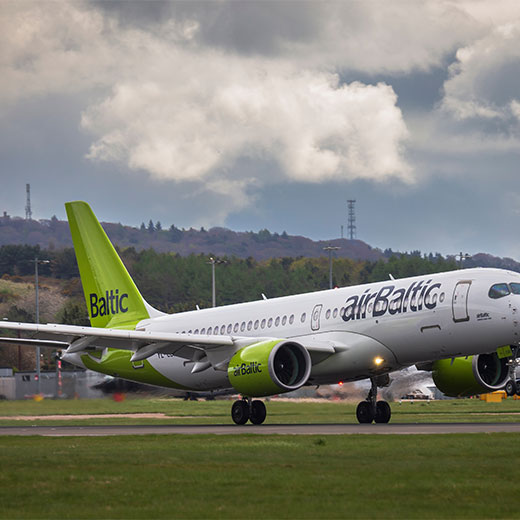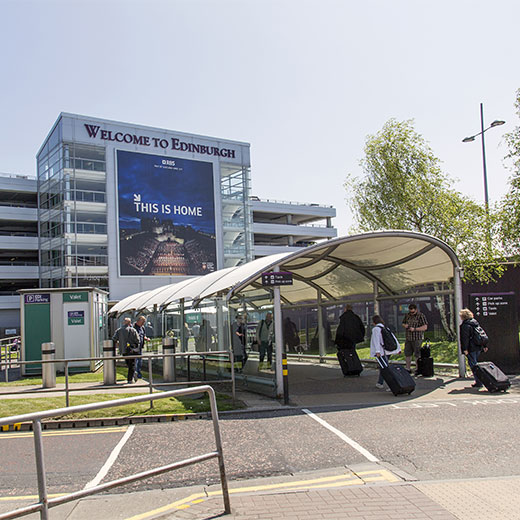 Find the best deals at Edinburgh Airport
Glasgow is Scotland's biggest city, but Edinburgh is its busiest airport – connecting the city to popular destinations in Britain, Europe and beyond.
It's a compact and manageable airport by international standards. But (especially if you haven't travelled for a while), picking the right parking option from long stay, short stay, park and ride, valet, onsite and offsite can be a little overwhelming. However, that's exactly why we wrote this guide – read on for all the essential info on finding the best parking deals at Edinburgh Airport.
Compare Edinburgh Airport Parking
Working out the most suitable EDI parking very much depends on your needs and preferences (your own and those of any travelling companions). For instance, favouring meet & greet rather over park & ride might be swayed by the fact that you're taking off with kids in tow, have an extended group that includes elderly relatives, or are a jet-set businessperson yearning for hassle-free travel.
Whatever type of traveller you are, we've put together all the info you need on finding a fantastic parking space, as well as top tips on the facilities available at Edinburgh Airport.
What kind of parking is there at Edinburgh Airport?
There are oodles of parking spaces at Edinburgh Airport, so you'll never be stuck. And the overall provision is a great mix of on- and offsite, official and high-quality alternative options.
Partner parking providers like Looking 4 Parking also offer great deals on Official Edinburgh Airport Plane Parking, Long Stay Car Parking and Mid-Stay parking. All car parks are pre-checked so you're confident they're safe and secure. And you can save up to 60% by booking in advance – get in there early to grab a bargain.
Meanwhile, APH has over 40 years' experience providing UK airport parking nationwide and won Best Airport Parking Company for 12 years running at the British Travel Awards. They offer Edinburg Airport parking with NCP Scotpark, Secure Airparks and their own APH Car Park. All car parks offered by APH are Park Mark accredited, so you can fly with peace of mind. And APH can also save you cash if you book your airport hotel at the same time as your parking.
FastPark
Edinburgh Airport FastPark parking does exactly what it says on the sign. It's a terminal location (you can even see check-in) with super-smooth and easy self-check-in kiosks. Once you drop off your keys, staff take care of everything else, and for an extra layer of reassurance, staff take 360 degree photos of your vehicle. If you're looking for speed and convenience when it comes to EDI parking, FastPark fits the bill.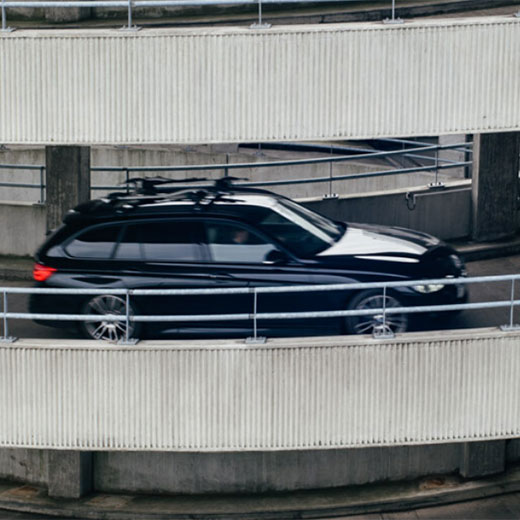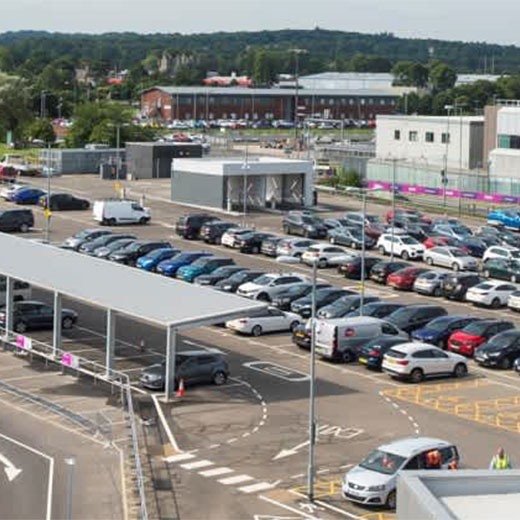 Terminal Parking
Edinburgh Airport terminal parking is also conveniently located – just a few minutes' walk from the departures gates. The walking route is partially covered (a bonus if the Scottish temperatures aren't exactly Mediterranean) and it's a great choice if you're flying off for a short break of a few days.
Mid Stay Parking
If you want a reasonably priced option that's really convenient, mid-stay parking is definitely worth a look. It's more economical than Terminal parking but just as close to departures (a 10 minute walk) and there's a walkway that isn't covered but is well illuminated. An excellent choice for the discerning, thrifty traveller.
Long Stay Parking
Long-stay parking at Edinburgh Airport is perfect if you like the sound of a self-parking option in one of the most popular car parks. It's a 6-8 minute walk to the terminal and at the moment, the bus shuttle isn't operational – worth bearing in mind if you've got any health issues or kids or elderly relatives with you.
Multi-storey parking
A super choice for executive travellers, Multi-storey parking at Edinburgh Airport offers direct access to Security via the level two link bridge (hand luggage only), fastTRACK security for up to 5 people is included and you can still use fastTRACK if you have check-in luggage.
Blue Badge Parking
Pre-booking for Blue Badge parking isn't available at EDI unfortunately, but the good news is there are over 130 Blue Badge spaces across 5 car parks. Call points are located in easy reach of spaces and one hour's free parking is on offer for drop off and pick up.
Drive up and park
If you haven't pre-booked, Drive up and park at EDI is your new best friend. Spaces aren't guaranteed, but the team at Edinburgh reserve a few spaces in every car park to provide for last minute travellers. Daily rates vary according to which car park you choose, but they're clearly displayed on entry.
Getting to and from Edinburgh Airport
Located on the east coast of Scotland's Central Belt, Edinburgh Airport is easy to reach from pretty much anywhere in Scotland (and the north of England too). It's just 5 minutes away from the main M9 motorway and 20 minutes from the city centre – if you get stuck, the postcode for Satnav is EH12 9DN. There are drop-off zones on the multi-storey car park ground floor, with a maximum stay of 2 hours and up to 1 hour free for Blue Badge holders. If you drive an electric vehicle, there's a 50% discount for the initial 20 minutes. Cars, motorbikes and minibuses are permitted but please not that there's a maximum height of 2.2m.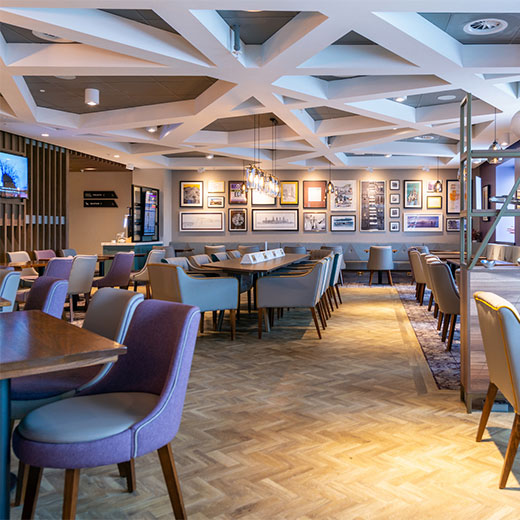 Facilities at Edinburgh Airport
As you'd expect, Edinburgh Airport is very well appointed in terms of facilities.
If you want a serene space the chill out before take-off, there's a sumptuous selection of three airport lounges – Aspire, the Plaza Premium and British Airways. The BA lounge at Gate 4 offers free food, unlimited Wi-Fi and lush surroundings, while Aspire Lounges at Gates 4 and 16 boast freshly prepared food and drinks, Wi-Fi, runway views and personal TVs. Meanwhile, the Plaza Premium Lounge by Gate 16 is the newest in EDI's offering and offers fresh food and highly-rated drinks at the Edinburgh Gin signature bar.
Alternatively, if you want a quiet place with a slightly more spiritual vibe, make a beeline for the Prayer Room at the ground floor of the terminal at International Arrivals 1.
Edinburgh Airport is also a family-friendly facility. You can make arrangements beforehand to take your pram or buggy through security to leave with airline staff at the boarding gate and there's a dedicated family lane if you've got kids under 12.
There's also a great range of shops, bars and restaurants at Edinburgh Airport. Food choices before security include All Bar One, Brewdog, Caffe Nero, Fever-Tree, Krispy Cream, and the Sir Walter Scott
Got a Question? Chat with our UK support team
Online chat help is open 08:30am to 17:00 weekdays. Email: [email protected]
FAQs about car hire at Edinburgh Airport
Most frequently asked questions about hiring a car at Edinburgh Airport
You can make changes or cancel up to 48 hours before departure without extra charge. If your cancellation or change comes after that then you will incur a £5 fee.
If you book online with Enjoy Travel for Edinburgh Airport you'll get a below average price for parking and enjoy the convenience and security of their parking options
Depending on your preferences and budget at Edinburgh Airport the main options are Long Stay parking, Mid Stay parking and FastPark.
Follow the signs at Edinburgh Airport, there are several parks depending on your type of parking option. Each parking option has different features, prices and distances from the terminal.
All car parks at at Edinburgh Airport include infrared security sensors and security staff always present 24 hours a day.
At Edinburgh Airport the FastPark car park is 5 minutes away from the Edinburgh Airport tower. The Mid Stay parking is a bit of a walk, you'll need to follow the road and turn left at the roundabout at Gogar Bridge Road.
Most Edinburgh Airport parking packages include a full electric charge for your electric vehicle. You can park your car at Secure Airparks Electric Charge, which has Type 2 chargers 3.5kw (bring your own cable) and free transfers directly to the terminal door.
Yes, you can park overnight at any car park. You'll be interested in the terminal parking option.
Yes, in fact it's the best way to make sure your parking costs close to nothing. By pre-booking online on Enjoy Travel, you can take advantage of the lowest prices and discounts available for your chosen car park
Yes but there may be an overcharge fee depending on how much earlier you arrive. You can pay the fee at the exit barrier using a credit or debit card.
For the most affordable parking at Edinburgh Airport, choose the Long Stay car park. The Long Stay car park is located at Eastfield Ave, Edinburgh and has a new walking route to the terminal that takes 10-12 minutes
Parking cost at Edinburgh Airport varies by service and booking method - on Enjoy Travel they can start from £9.75 per day. You can compare different parking options and prices on our website and book online in advance to save up to 60%.
Airport parking at Edinburgh Airport with Enjoy Travel can start from £55.88/week. You can book your parking online and choose from different options such as long stay, mid stay or fast park.
Popular London places, London airports, train and underground stations