Birmingham Airport Parking
Find the best parking deals at Birmingham Airport
With a massive choice from the biggest brands, Enjoy the best way to find the best prices for car hire in Birmingham Airport.
Huge choice car parks to suit every budget
Save up to 70% compared to buying on the day
Working with the best partners in Airport Parking
Parking at Birmingham Airport
Swapping four wheels for a set of wings to jet off from Birmingham Airport?
And you're looking for the latest and greatest information on parking at BHX?
You've landed on exactly the right blog – good old Google. But as well as being a brilliant launchpad, Brum (as locals call it) is a bombastic base in itself. Britain's second-largest city (with a population of 1.149 million in the metro area and 2.6 million in its urban agglomeration), Birmingham's proud industrial history and multicultural identity are what really makes it special, but in recent decades it has also been boosted by mass urban regeneration. This Big City Plan has furnished Brum with a cutting-edge library, sparkling shopping centre (perched on top of New Street station) the expansive Bullring and Mailbox shopping centres and the striking bubble façade of the Selfridges building. And if you prefer retro architecture, you're covered too – many of the city's most elegant Victorian buildings also got a glow up as part of the masterplan.
Great things to do and see in this bustling city include exploring the canals and waterways, discovering the museums and galleries and treating yourself to top notch cuisine in a range of restaurants serving flavours from all four corners of the Earth. You can also pop into the Jewellery District to find out more about this ancient industry (and perhaps pick up something sparkly for someone special) and book a tour of Cadbury World to find out all about the scrumdiddlyumptious history of chocolate. Nom nom. And as you'll know if you watched the recent Commonwealth Games, Birmingham is also a renowned sports city – you can watch football teams Aston Villa and Birmingham City play the beautiful game, county and international cricket at Edgbaston and greyhound racing at Perry Bar.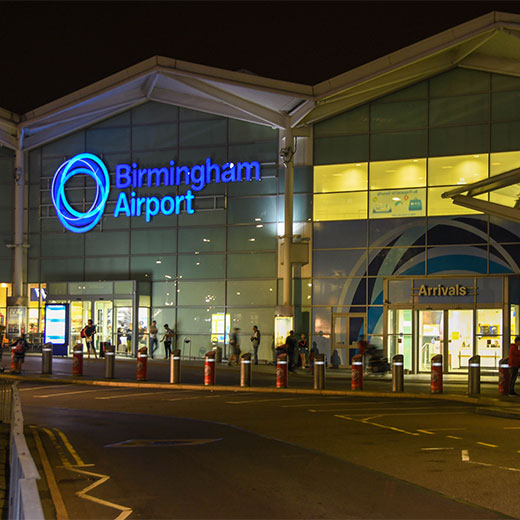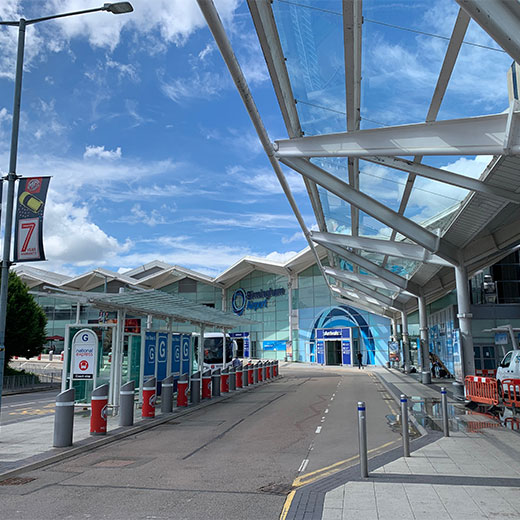 Find the best deals at Birmingham Airport
Located in Solihull, 7 nautical miles from Birmingham city centre and 9.5 nautical miles from Coventry, Birmingham Airport is a one terminal facility with 47 aircraft stands (20 of them air bridge served), 27 self-service kiosks and 115 check-in desks. First opened in 1939 as Elmdon Airport, it was almost instantly recruited for the war effort and became a training school for the RAF and Fleet Air Arm. This (understandably) delayed it entering the commercial air travel scene until the post-war years, but it expanded steadily from the 1950s to the present and now processes 12.6 million passengers annually.
Whatever your reason for jetting off from BHX, we've got all the info you need to choose between different types of parking – from official to partner, convenient and affordable to luxury and personalised.
Compare Birmingham Airport Parking
Where you're flying to, who you're going with and what type of trip you're taking will probably influence which type of Birmingham Airport parking is best for you.
For instance, valet parking might be your best bet if you're taking a business trip to Belfast, whereas a cheaper park and ride option might be absolutely fine if you're taking off on a stag or hen weekend in Barcelona.
What kind of parking is there at Birmingham Airport?
BHX offers you lots of parking options, so you'll find something to suit for sure. If you pre-book official parking, you can save up to 70%, get a guaranteed space and access to all secure car parks onsite.
And there are other BHX parking options through experienced providers like APH and Looking for Parking too. The APH Self Park facility at Birmingham is located 15 minutes from the terminal building and transfer buses run 24 hours a day. 24-hour staff, CCTV, barrier-controlled entry and Park Mark approval are all standard.
Meanwhile, Looking 4 Parking offer savings of up to 60%, with free cancellation on all bookings. Their provision includes Birmingham Airparks Park and Ride, Birmingham Blue Circle Meet and Greet, Birmingham Maple Parking Meet and Greet, Birmingham ACE Meet and Greet and Birmingham Stress Free Parking Meet and Greet.
Valet Parking
With Birmingham Airport Meet & Greet Valet Parking, you get a luxury, hassle-free service that sets you up for a relaxing start to your travels. After you park up at the facility, an experienced chauffeur will drive it to a high-security car park where it'll stay till you return home. This is a super choice if you've got unwieldy luggage, are in a large group, or want to get the check-in as quickly as possible. Located a short walk from the main terminal and next to Car Park 3, BHX Valet Parking is barrier-controlled and there are three bays for disabled drivers right next to the customer service cabin.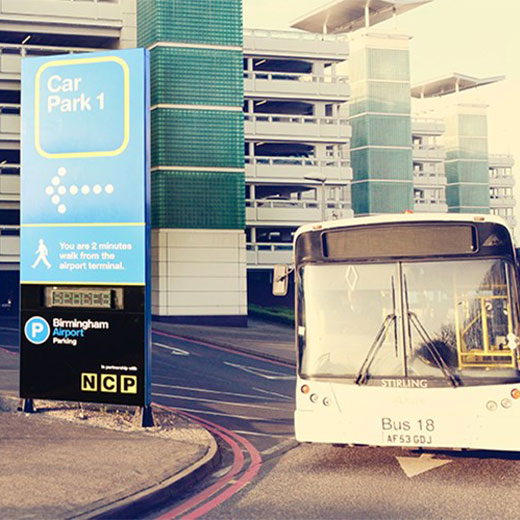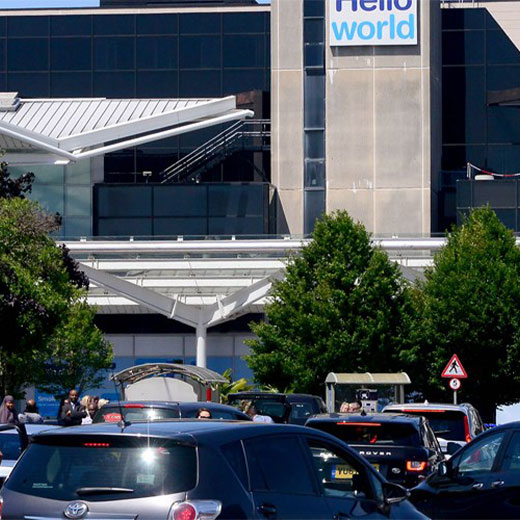 Car Park 1
Another convenient option for travellers, BHX Car Park 1 is an onsite, multi-storey facility next to the main terminal building. 24 hour CCTV and regular foot patrols provide peace of mind, and this is also a Park Mark Safer accredited option. No shuttle bus is necessary because it's so close to the terminal and it couldn't be easier to use – just press for a ticket to gain entry then park your car in any bay that's not occupied. When you return, pay your balance at one of the accessible pay stations and hit the road home.
Car Park 2&3
Birmingham Airport Car Parks 2 and 3 are open 24/7 and located in the convenient multi-storey building. These areas offer undercover parking for any duration of stay and 24-hour lift access to all levels of the airport. They're perfect if you need to park for a few hours to pick someone up or if you're leaving your car for longer to jet off on holiday. If you've no cash when you return, just use your credit or debit card to pay prior to the exit barrier but if you've settled your bill beforehand at one of the pay stations, the barrier will pop up automatically when you approach. There are 9 bays reserved for disabled drivers in Car Park 2 and 5 in Car Park 3.
Car Park 4
This onsite surface carpark provides a free shuttle bus every quarter of an hour, no credit or debit cards are charged, and it's Park Mark Safer Parking accredited. There's perpetual CCTV, regular security patrols and it's a popular choice for holidaymakers taking their beloved annual 2 week holiday. There are over 700 spaces in Car Park 4 and the smoothest way to start your holiday is by pre-booking online. That way your registration will be recognised when you arrive and open sesame - you'll roll right in.
Car Park 5
Another outstanding onsite BHX parking option, Car Park 5 is open all day, cost-effective and available for all lengths of stay. With 3,969 spaces, there's plenty of room to park safely. And you can take a 5-1o minute stroll to the terminal if you're feeling fit or alternatively, hop on one of the regular shuttle buses leaving from bus stops 2, 6 and 7.
Birmingham Airport Premium drop off
The Set Down area at BHX is just 1 minutes' walk to the terminal and designed exclusively for dropping off passengers. You'll also find electric car charging points.
Getting to and from Birmingham Airport
Located bang in the middle of Britain's sprawling motorway network, Birmingham Airport is easy to get to from practically anywhere in the UK. If you're using your Satnav, the postcode is B26 3QJ or alternatively, use the online AA Route Planner to find the most efficient route.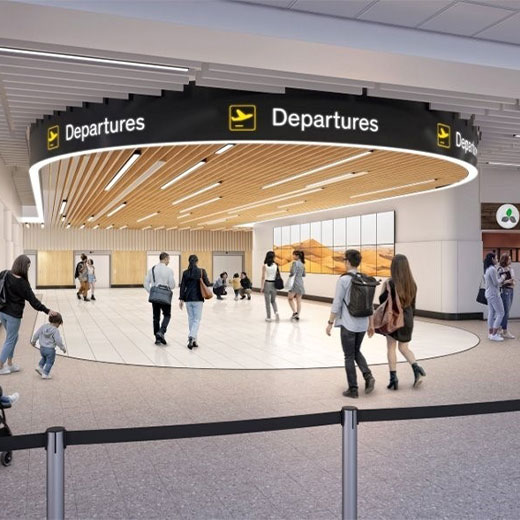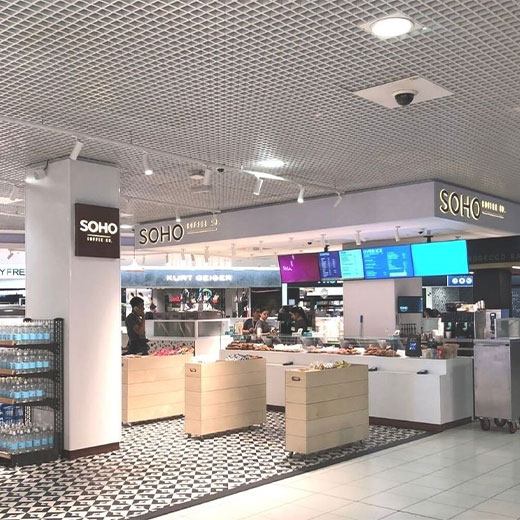 Facilities at Birmingham Airport
As you'd expect, facilities at Birmingham Airport are fab. You can splash out on some earrings or a necklace at Accessorize, pamper yourself with a massage or beauty treatment at AeroSpa, or treat yourself to a new tracksuit at JD Sports.
You can also grab a tasty sandwich from Greggs, a calming tipple from All Bar One, a Whopper from Burger King or some bubbly from Bottega Prosecco Bar.
There are also several different lounges where you can enjoy a little privacy, tasty snacks and drinks on tap. Choose from Aspire Lounge, Emirates Lounge, No 1 Lounge, Clubrooms and Aspire Lounge (South).
Other terminal facilities include Express Lane Security, Premium Arrivals Fast Track and Assisted Travel. And if you're travelling with babies, it's possible to pre-order your milk from Boots and pick it up in the departure lounge once you've cleared security. You'll also find baby changing facilities throughout the terminal.
Got a Question? Chat with our UK support team
Online chat help is open 08:30am to 17:00 weekdays. Email: [email protected]
FAQs about car hire at Birmingham Airport
Most frequently asked questions about hiring a car at Birmingham Airport
Up to 48 hours before your flight, you can modify or cancel your reservation for free parking at Birmingham International Airport. There is a £5 fee after that. To make any changes, please visit our website and enter your booking reference number. If you have any questions or concerns, please contact our customer service team.
The easiest approach to take advantage of Enjoy Travel's best discounts on Birmingham Airport parking is to make an online reservation well in advance. You can choose from a range of secure and convenient parking options, including long stay, short stay and valet parking. Plus, you can cancel or amend your booking for free up to 24 hours before your departure.
The main parking options in Birmingham Airport are the long say and short stay parking and Valet Parking. Depending on your budget and convenience, you can book any of these options online and enjoy a hassle-free journey.
Simply follow the signage at Birmingham Airport; they are all a short walk from the terminal.
The security measures at Birmingham Airport Parking include a high security fence, comprehensive CCTV monitoring, and regular security patrols.
The Birmingham Airport terminal is about a 5-minute walk from both the Long Stay park and the Short Stay site.
The Premium Set Down parking lot has GRIDSERVE electric vehicle charging stations with the following connectors: 3 x CCS, 1 x CHAdeMO, and 1 x Type 2.
The Long Stay Parking facility adjacent to Birmingham Airport does really allow overnight parking. Please be mindful of the additional fees.
In fact, it is suggested to do so, especially during busy periods or seasons when you would pay less and have a guaranteed seat. Booking in advance also gives you more options to choose from, such as long stay, short stay, valet and priority park. You can compare different parking deals and prices on our website and find the best one for your needs
You can arrive at Birmingham Airport sooner, but there can be a cost depending on how much earlier. You can pay the fee with a credit or debit card at the exit barrier.
Depending on how long you intend to stay, Birmingham Airport's Long Stay Parking is £13 per day. This option is ideal for travellers who are going away for a week or more and want to leave their car in a secure and convenient location.
Daily prices at Birmingham Airport start at £13.50 depending on the service and booking type, according to Enjoy Travel. You can research different parking deals and prices on our website. When you book in advance, you can save up to 60%. We offer a variety of parking options to suit your needs, including long stay, short stay, valet and priority park.
At Birmingham Airport, Enjoy Travel offers airport parking beginning at £56.80 per week. You can choose from a range of options when making parking reservations online, including long stay, mid stay, and priority park. All parking facilities are secure and convenient, with shuttle buses to the terminal.
Popular Birmingham places, London airports, train and underground stations