Tenerife Car Hire
Find the best deals in Tenerife
With a massive choice from the biggest brands, Enjoy the best way to find the best prices for car hire in Tenerife.
Huge choice of cars to suit every budget
Save up to 70% compared to buying on the day
10 years experience in car hire


Compare Car Hire in Tenerife
Tenerife is the jewel in the crown of the Canary Islands ̶ it's the largest (at 2034 square miles), the most populous (with 918,000 inhabitants), and the most visited (attracting six million visitors annually). Its capital, Santa Cruz de Tenerife, is also the joint capital of the autonomous archipelago (along with Las Palmas de Gran Canaria) and it hosts the second-largest carnival in the world next to Rio de Janeiro.
Known as the Island of Eternal Spring, Tenerife's beautiful beaches and warm climate attract visitors from all over the world, but Britons are particularly drawn to bustling hotspots like Playa de las Americas, Costa Adeje, Los Christianos and Los Gigantes. It's also home to areas of outstanding natural beauty, including imposing mountains, volcanic valleys, hillsides peppered with picture postcard villages, charming ports and captivating ancient towns. Whether you're a solo traveller, couple or family, and prefer hikes in tough terrain, sun-kissed beach days or wild nights on the town, you'll feel completely at home in Tenerife.
Prices for hiring a car in Tenerife range from just €14.84 a day for an economy car like a Nissan Micra when you book off-season, while a compact car like a Vauxhall Astra costs €16.54 a day, and even a Dacia Duster SUV ̶ ideal for adventurous road trips ̶ costs only €27.07 a day. Hire a car from Enjoy and the the open road awaits, but first take a look at some terrific facts and tips about Tenerife.
Airports and access: Tenerife has two main airports, Tenerife North (TFN), also known as Los Rodeos Airport, which is located in the town of San Cristobal, 11km from Santa Cruz, and Tenerife South (TFS), also known as Reina Sofia Airport, which is found 60km from Santa Cruz but just a 10 minute drive from Los Cristianos and Playa de las Americas. La Gomera Airport (GMZ) is near Playa Santiago and 34km from La Gomera's capital San Sebastián.
Driving around Tenerife: with so much exciting terrain around the region, there's some delightful driving to be found in Tenerife and La Gomera ̶ here are a few of our favourite trips:

If you're after a short, sharp thrill (and you're a cautious, experienced driver!) the Santiago del Teide route to Masca along the TF436 takes only 15 minutes but it's an exciting natural rollercoaster ride. With hairpin bends, twists and turns past vertical cliff drops to the side, this isn't a road for rookies, but confident drivers will wind past eye-popping peaks and picturesque valleys before emerging at the charming whitewashed village of Masca.

Alternatively, take the TF-24 from El Portillo to San Cristóbal de La Laguna and you'll traverse Tenerife's inland backbone, driving alongside the majestic Teide mountains, verdant pine forests and otherworldly volcanic rock formations along the way. La Laguna rewards you with a UNESCO world heritage-rated historical centre, complete with cobbled streets, elegant colonial buildings and iconic sites like the Church of La Conception.

In La Gomera, take the GM2 road from San Sebastian from the rocky lowlands northwards, passing palm tree groves until you reach a scenic stop at the Mirador Degollada De Peraza where the island's luscious green interior and the Garajonay National Park unfurl before you. Continuing along the GM2 you'll reach Roque Agando, a magnificent 180-metre-high rock which materialises from the mist like a mirage ̶ truly magical!

Famous Tenerife: famous sons and daughters of Tenerife include the aforementioned Bencomo, King of Taoro, who courageously defended the island against Spanish invasion, poet and author Jose de Anchieta, who was born in La Laguna but became one of Brazil's literary luminaries, and engineer Augustin de Betancourt, who was born in Puerto de la Cruz and became a leading figure in Imperial Russian engineering, designing and building everything from factories to ships and bridges for Tsar Alexander I.
Guide to Tenerife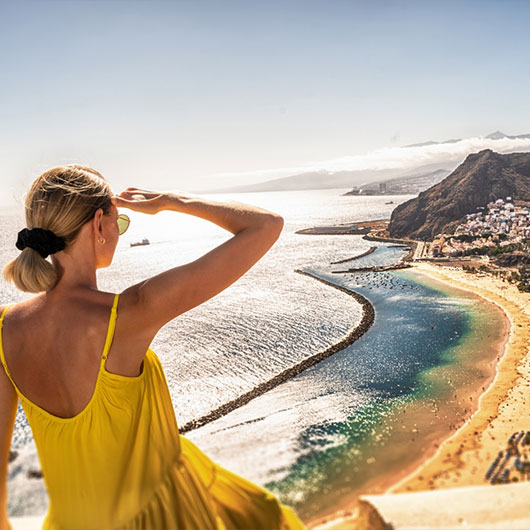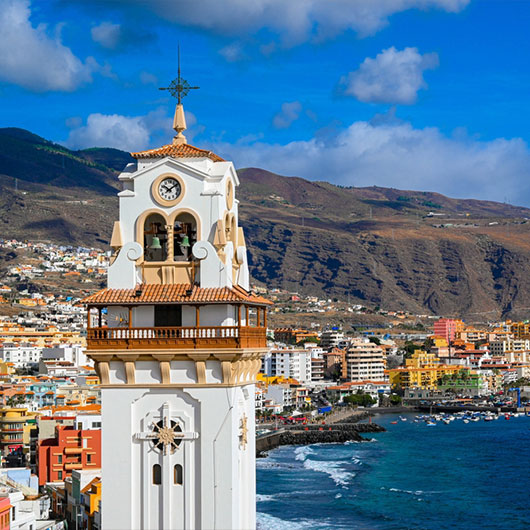 This subtropical island offers something to stimulate all of your senses ̶ from the sultry, sensuous rhythms of the annual Carnival to lip-smacking seafood, and laid-back beach resorts to pulsating nightlife. Then there's the sublime Tenerife scenery, which ranges from stunning white sand beaches to lush forests and the elegant architecture of Santa Cruz de Tenerife to the snow-capped splendour of Pico del Teide, Spain's highest mountain. But don't forget La Gomera ̶ Tenerife's neighbouring island is blessed by dramatic cliffsides, verdant valleys, volcanic rock formations and a Boho vibe imported by Hippie incomers in the 1960s.
The first inhabitants of Tenerife were the Guanche and there's evidence that this civilisation was settled here from as early as 200BC. Little is known about them but there's speculation they originated from North Africa and had some cultural similarities to the Ancient Egyptians. The Guanches divided the island into nine kingdoms and at that time Tenerife was known to the Romans as Nivaria (from the Latin nix, nivis, meaning 'snow') due to the distinctive white peak of Pico del Teide. By the late 15th Century, Tenerife was the last of the Canary Islands to be conquered by the Spanish and forces commanded by Alonso Fernández de Lugo were defeated by a Guanche force led by Bencomo and Tinguaro at the First Battle of Acentejo on 31 May 1494. However, the Guanches were eventually overwhelmed by late 1495, succumbing to Spanish firepower and the diseases the invaders brought in their wake.
Volcanic activity has shaped much of Tenerife's topography and Christopher Columbus witnessed an eruption here in 1492 which probably originated at Mount Teide. However, the 17th Century was the most active in terms of recorded volcanic activity, with eruptions at Arafo, Fasnia and Siete Fuentes in 1704, a huge eruption in 1706 when the Trevejo volcano completely destroyed the city and trading port of Garachico, and an eruption at the Chacarro volcano in Las Cañadas in 1798 which lasted nine months. The last eruption in Tenerife occurred in 1909 and stemmed from Chinyero in Santiago del Teide, but thankfully no lives were lost on that occasion.
In July 1797 the British, under Horatio Nelson, attacked Santa Cruz de Tenerife but were defeated after a bloody battle in which Nelson lost his arm. A second British attempt to land in Puerto Santiago in September of the same year was also repelled when local inhabitants rained rocks on them from the Los Gigantes cliffs. By the late 19th Century, Tenerife's unique fauna, flora and topographical features were famous amongst botanists, geologists and explorers. Tourists soon followed, attracted by the restorative qualities of the climate, waters and Atlantic air, and the Orotava Grand Hotel health centre in the island's north became the island's first wellbeing resort. Tenerife's fortunes fluctuated when the Nationalists under General Franco took control at the start of the Civil War in 1936 and many Tinerfeños fled the new regime by emigrating to Latin America and Cuba. But by the 1960s tourism was again in the ascendance and by the 1980s the industry was in full force, with Teide National Park becoming the second most visited national park on Earth and tourism having spread to areas like Costa Adeje, Los Christianos and Playa de las Americas. Despite a history that's as tumultuous as the volcanic activity that surges under its surface, Tenerife is today at the vanguard of Spanish tourism and welcomes millions of visitors from around the world.
From beautiful beaches to magnificent mountains and ancient historical sites to cutting-edge clubs, there's something to satisfy everyone in Tenerife.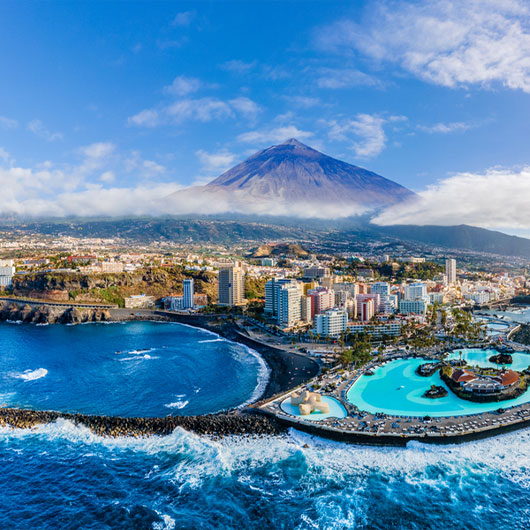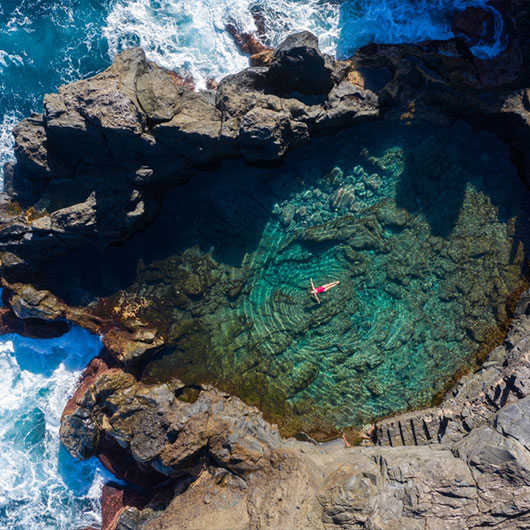 Amazing history
History buffs are spoiled for choice in Tenerife. For starters, the historical quarter of Santa Cruz de Tenerife features La Concepción church, built in 1638AD but destroyed in a fire in 1653AD and rebuilt in the 17th and 18th Centuries with its five knaves in the shape of a Latin cross and a fine bell tower. Meanwhile, the southern municipality of San Miguel has the pristine white San Miguel Arcángel church, 200-year-old Municipal Library and the Brazilian-style Casa Azul (Blue House) which hosts the town hall.
Stunning nature
Mount Teide might be Tenerife's the most iconic attraction and you can spot it from practically everywhere on the island. This 7500 metres high snow-capped peak is still classed as an active volcano and it's the highest outside Hawaii. Meanwhile, the Los Gigantes mountains rise to 800m before dropping dramatically to the sea on Tenerife's west coast and there's a resort town of the same name nestled around them, but it's also worth visiting the aforementioned Masca Valley, a hidden gem of a settlement in the middle of the mountains.
Cool culture
The high point of Tenerife's cultural calendar is the annual Santa Cruz Carnival, which is held at the end of January, lasts for a full two weeks and is the largest event of its kind outside Brazil. Expect exotic costumes, addictive music, and 'murgas' ̶ tuneful theatrical skits wherein performers satirise the important political events of the preceding year. Meanwhile, the iconic wave shaped Auditorio de Tenerife in Santa Cruz is an important cultural symbol and the the Tenerife Espacio de las Artes (TEA) is another fine contemporary building dedicated to showcasing contemporary Spanish artists who consistently push the envelope of creativity.
What to do in Tenerife?
When you holiday in Tenerife, you can easily do something completely different every day. Whether you want to laze by the pool, party like a rock star, or scale a mountain, you'll have the time of your life.
Life's a beach
If stunning beaches float your boat, they're ten a penny in Tenerife. Playa de la Tejita is located near the El Médano resort on the island's south coast and is one of its biggest natural beaches. The soft sands, clear blue waters and views ̶of Montaña Roja (the Red Mountain) are sublime, but this is a rugged, windswept beach more suited to windsurfing than leisurely swimming and the currents are too strong for young children. For a family-friendly alternative, try Playa La Pinta in Costa Adeje ̶ this sandy beach slopes gradually into the sea, there are no wild waves since it's sheltered, the entrance prevents jet skis and speedboats straying unsafely and it's a popular departure point for dolphin and whale watching tours.
Mountain magic
You can catch a cable car to the top of Mount Teide but where's the fun in that? If you're a reasonably experienced hiker, strap on your boots, grab your water bottle and get stuck into a five-hour climb that's challenging yet manageable and rewards you with some spectacular views. The path to the top is called La Rambleta and commences at a layby on the TR-21 road that passes through Teide National Park. On the way up you'll pass the Huevos del Teide (eggs of Teide), a field of huge black spheres of obsidian lava, and once you reach the Altavista station at 3270m you'll need a permit (obtainable from the national park office in Santa Cruz) to trek the last 200m to the summit proper. Once there, you'll see scalding hot white and yellow rocks around the crater, sulphurous steam issuing freely from fumaroles and, if it's reasonably clear, all of the other Canary Islands dotted like dazzling diamonds in the sea below.
Party paradise
When you want to let your hair down and throw some shapes, the bars and clubs of Tenerife await. Tramps nightclub in Playa de las Americas has been dubbed 'the King of Clubs' in the Canaries and plays pumping house and R&B to packed dancefloors every night, Blanco Bar in Puerto de la Cruz has cocktails, cabaret and comedy, and Los Reunidos in Santa Cruz is a chic yet comfy bar offering exquisite local wines at reasonable prices.
Eating out in Tenerife
Tenerife's cuisine reflects its indigenous culture, geographical blessings and inclusive, outward-looking sensibility, so you'll find lip-smacking local and international cuisine here.
Cloistered cuisine
Fancy fine dining in a unique setting? Mesón El Monasterio in Los Realejos, North Tenerife serves haute cuisine in a former monastery which was repurposed in the 1990s. The excellent entrecôte with avocado sauce and sautéed dice potatoes is an entrée that's hard to beat, and the flambe with bananas grown in El Monasterio's own plantation is simply divine. Main courses range from €11-€23.
Plant-based passion
If you're an eco-conscious vegan or vegetarian gourmet, look no further than Tasca La Tata in Santa Cruz de Tenerife, which specialises in a fusion of Canarian, Mediterranean and Asian cuisine, all enhanced with the freshest local ingredients. The hummus, pitta and salad is simple yet sublime ̶ a three course meal is only around €20 here.
Harbourside haven
For seafood fans, enjoying ocean-fresh fare in a stunning, sun-kissed harbourside setting is just about it as good as it gets, and that's exactly what's on offer at Los Roques opposite the harbour in in Los Abrigos, south Tenerife. This restaurant specialises in delicate seasonal recipes incorporating local fish, complemented by a superb wine selection. Try the sesame-crusted tuna steak with dried tomatoes and green salad ̶ gorgeous. Main courses range from €18-€35.
Transport in Tenerife
Airports
Tenerife is served by Tenerife North (TFN) and Tenerife South (TFS) Airports, which connect with a wide range of destinations in Europe and beyond. Enjoy partners with trusted car hire partners at these air hubs like Keddy, Europcar and Orlando.
Buses and Trams
Buses in Tenerife are called 'autobuses' or 'guaguas' and the main service in Tenerife is called TITSA. There's also a reasonably reliable and affordable tram service in Santa Cruz.
Driving tips
You should always drive in the right in Tenerife. Speed limits are 120 km/h (74 mph) for motorways and dual carriageways, 90 km/h (55 mph) for non-motorway main roads and 50 km/h (31 mph) in most towns and cities. You and your passengers should always wear seatbelts and drink-driving is strictly prohibited.
Got a Question? Chat with our UK support team
Online chat help is open 08:30am to 17:00 weekdays. Email: customersupport@enjoycarhire.com
COVID CLEAN & SAFE PLEDGE
FAQs about car hire in Tenerife
Most frequently asked questions about hiring a car in Tenerife
An economy car like a Nissan Micra costs €12.84 per day to hire in Tenerife if you book far in advance and an economy car like a Seat Ibiza costs €15.64 a day.
The minimum age for hiring a car in Tenerife is 21 but this is higher for certain rental companies so please confirm.
The minimum age for hiring a car in Tenerife is 21 but this is higher for certain rental companies so please confirm.
Usually not. Excess-free packages are standard for most car hire operators and usually include road-side assistance and 24-hour theft protection.
Yes – extra drivers can usually be added provided they hold a valid license and an additional daily fee is paid.
A Vauxhall Cascada convertible is a great choice if you want to cruise around Tenerife's coastal roads with the wind in your hair.
Inform your rental company if you have an accident. In the unlikely event you have a serious accident in the Canaries, call 112 immediately for emergency services.
Tenerife is one of the most expensive islands in Spain. On average you'll spend €116 per day.
Yes, because it is commonly said that the best way to see the island is by driving along its coastline.
As mentioned in the previous question one of the most highly recommended ways to experience this island is to drive along its gorgeous coastline and take in the views.
The weather in Tenerife is characterized by a subtropical climate that presents few climatic variations throughout the year. We can say that the best time to travel to Tenerife is any time of the year due to its mild and stable temperatures.
It's €124 for a week, which is €18 per day.
It's €551, or €18 per day.
In Tenerife the price per litre of gas is EUR 1.34 and EUR 1.02 on average.
Explore popular places in Spain