Paris Car Hire
Find the best deals in Paris
With a massive choice from the biggest brands, Enjoy the best way to find the best prices for car hire in Paris.
Huge choice of cars to suit every budget
Save up to 70% compared to buying on the day
10 years experience in car hire
Need to know when hiring a car in Paris
There are thirteen main car hire companies operating out of Charles De Gaul airport.
To rent a car in France you must be at least 21 years old (some agencies require you to be 25) and have a credit card in your name. You'll also need both parts of your license (paper and photocard).
Paris in traffic is notoriously bad and most locals don't have a car, parking is also hard to find so make sure you plan ahead and avoid rush hour if you aren't a confident driver.
Be careful of cheap upgrade deals to bigger cars, the streets and parking are tight and petrol is expensive, there's a reason the locals all drive compact cars.
The normal speed limit on French motorways is 130 km/hr (just over 80 mph). - or 110 km/hr in rain, on dual carriageways its 110 km/hr. The normal speed limit on main roads is 80 km/hr (outside built-up areas) and in built-up areas is 50 km/hr – unless otherwise indicated.
Driving with headphones in is illegal throughout the whole of France and will land you with a hefty on-the-spot fine if you are caught.
By law you must carry a breathalyser with you if driving in France, the drink drive limit in France is also half of what it is in the france.
France has several peages or tolled motorways which can become costly if you are using them a lot. If you're not in a hurry use the 'N' roads which are free and make for a much more attractive journey.
You'll most likely be flying into Charles De Gaul Airport, it provides a great hub for both the road and public transport networks so don't be afraid to check out the car hire deals available in the city itself.
Guide to Paris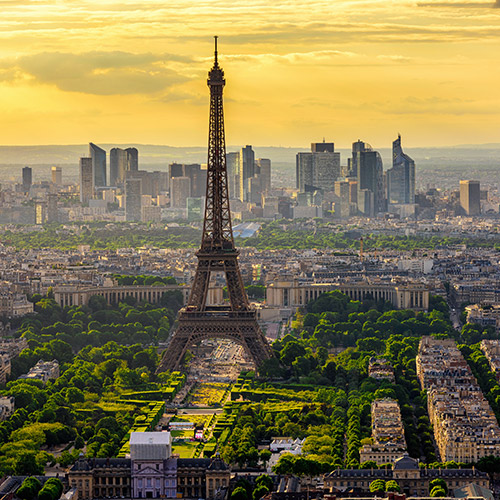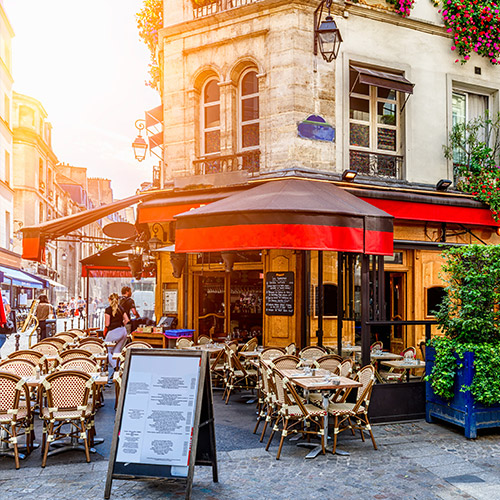 Paris has a certain 'je ne se quoi' that calls to most of us at some point in our lives. People from all over the world are drawn in by the cutting-edge fashion, exceptional art galleries and some of the best restaurants in the world. It's impossible to not be captivated while strolling down monument lined boulevards or watching the sunset on the banks of the River Seine. Only the hardest of hearts will leave Paris without falling in love with its charms.
Whether your visit is to soak in the architecture and museums or immerse yourself in one of the world's most prominent fashion hubs there is something for everyone here.
The Eiffel Tower is one of the most iconic landmarks in the world, originally intended to be a temporary exhibit for the world trade fair in 1889 its popularity at the time ensured that it became a permanent attraction. It's best to book tickets in advance as queues can be lengthy. There are two restaurants in the tower to eat in as well as a champagne bar and a macaron bar.
The Louvre is the world's largest art museum, holding tens of thousands of works of art – from Mesopotamian, Egyptian and Greek antiquities to artistic masterpieces such as the Mona Lisa. Anyone that has been to Paris will say that the Louvre was a highlight for them. Its glittering glass pyramid will take your breath away as you walk underneath it and enter one of the most popular tourist attractions in the world.
Iconic Parisien landmarks
If anything could rival the Eiffel Tower as Paris' iconic landmark it would be the Arc De Triomphe. This spectacular monument was built to celebrate Napoleon's victory at Austerlitz in 1805. Climb up to the viewing platform for spectacular views over Paris and see the Tomb of the Unknown Solider underneath. With its intricate designs and engravings that make up the pillars of the arch you can see why it is one of the most photographed landmarks in Paris.
If you're planning on seeing a lot of the attractions then take a look into the Paris Pass, it gives you free entry into a lot of the attractions meaning that you can skip queues and really make the most of your time in Paris.
L'Atelier de Lumieres is Paris' innovate digital art museum, an immersive exhibition that uses video, sound and installation to tell the story of Van Gogh's life and work as you've never seen it before. There is no box office on site here so make sure you book your tickets in advance.
Boat trips on the rivier Sein
For a unique view of the city and all of its attractions take a trip on the Bateaux Parisiens River Cruise. Starting at the base of the Eiffel Tower, winding its way under the Love Lock Bridge and gliding your way past the Notre Dame Cathedral it's the perfect way to relax and see some of the beauty that Paris has to offer.
If it's a nice day try a Segway tour with Go Go Tours, you can zoom around the streets effortlessly and take in the sights or venture a little further with one of their wine tours. Prices start at around €29 for a 45-minute guided tour.
If you fancy a light-hearted break from all the culture how about a trip to the Grevin Wax Museum. With over 300 waxworks from historic figures to modern day sports stars, prepare to be amazed by the dramatic and lifelike scenes of historical and modern Paris.
It might be the last one on the list but it's probably one of the main things that anyone with a family will associate with Paris, Disneyland Paris of course! With five incredible lands to choose from you can be dancing with princesses one moment and the marauding with swashbuckling pirates the next. It's a truly magical experience with something for the whole family to enjoy. The fireworks displays in the evening are spectacular so be sure not to miss them.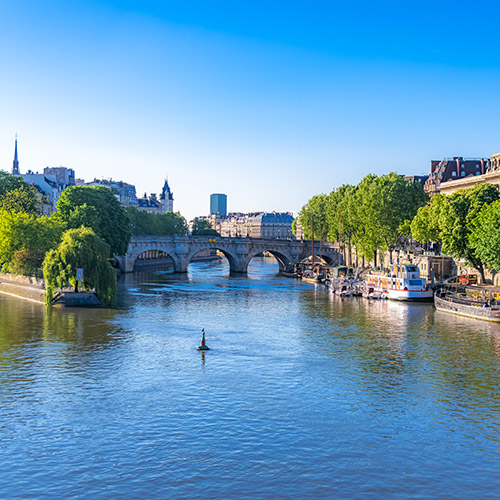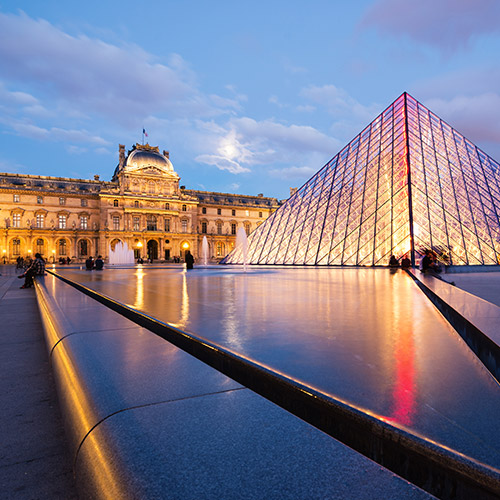 Where to eat in Paris?
With over 44,000 restaurants in Paris the decision on where to eat might seem an impossible one to make. Paris has always been famous for its fine dining options but in recent years there has been a huge surge in the amount of affordable eateries which is great if you're travelling on a budget. Top tip though, if you're looking to visit some of the Michelin starred restaurants then book well in advance, some of them are booked solid up to three months in advance.
Chez Janou is always positively buzzing with good vibes and even better food. Its bistro styling is stripped of all pretence that you might find in some of the other top restaurants. Instead they serve small plates of deliciousness that speak for themselves. If you're lucky you might be able to get a seat in their covered outdoor seating area so you can watch the bustle of Paris as you enjoy their amazing scallop risotto.
Comice is a relative newcomer to the scene having only been open a couple of years. It's one of the new wave of high end restaurants at a more bank balance friendly price point. It's light but inventive French-inspired menu is beautifully complimented by a wine list of lesser known wines from around the world. It's elegant but relaxed decor is set off perfectly with gorgeous floral displays from a renowned local florist.
If you're looking for a truly special experience and money is no object then L'Astrance is the place to be. Head Chef, Chef Pascal Barbot has one of the most brilliantly creative imagination of all the Chefs currently working in Paris. If his buttermilk and burnt toast crumb soup isn't on the menu then hope that his white mushroom mille-feuille is because both are an absolute delight.
Beefbar Paris might seem like an unusual one to have on the list as we don't usually include chains but the stunning setting for this restaurant means it's definitely worth a visit. Its Art Nouveau glass ceiling is spectacular to sit underneath (make sure you book if you want to be guaranteed a table here), and if you're a meat fan, then it won't let you down.
For great food with even better views then head to Girafe, it's got one of the most enviable views of the Eiffel Tower in Paris and you can eat al fresco all year round to truly enjoy what makes this restaurant so special. As beautiful as the views are this restaurant wouldn't be on the list if the food didn't match up, famed for its seafood (the oysters in specific) but just are sure to delight meat lovers this restaurant is a great destination for a dinner with friends or romantic meal for two alike.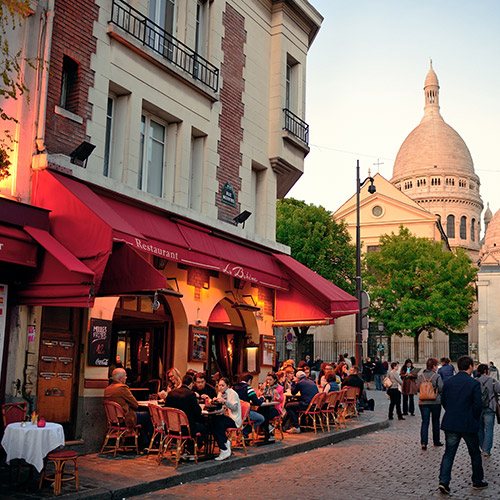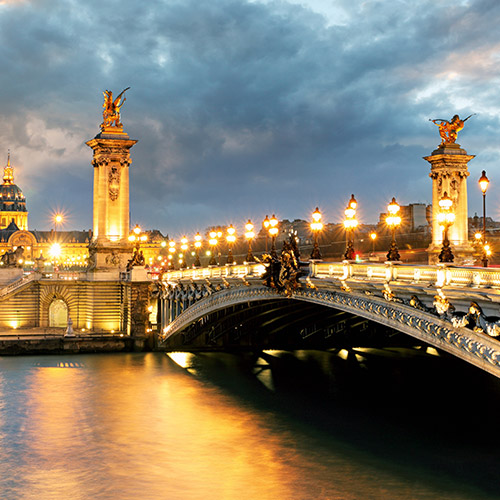 Paris nightlife
From opera to cabaret Paris after dark does not disappoint. Nightlife is concentrated in Pigalle, around Canal Saint-Martin and Strasbourg Saint-Denis, and along the banks of the Seine. Paris is home to world renowned opera and ballet houses as well as some hilarious comedy clubs and an eclectic mix of bars and nightclubs. Whatever you're looking for can be found in Paris.
What is more Parisian than a burlesque club? Le Lido delivers glamorous cabaret dancers and racy burlesque shows in style. Founded in 1946, Le Lido Cabaret Paris offers a traditional burlesque show composed of beautiful dancers dressed up in fantastic costumes. Typically enjoyed with dinner and a glass (or two) of champagne Le Lido is a fantastic tribute to the City Of Lights heritage.
Wanderlust is an open-air club on the banks of the Seine, world famous DJ's can be found here pumping out a mix of electro, house, nouveau disco. Whilst drinks here aren't cheap it's perhaps got the biggest terrace in Paris which makes it the ideal spot to watch the sunset with a cocktail in hand.
If you find yourself a little "Frenched" out then Barrio Latino might just be the place for you. As the name might suggest this huge four floor bar is Latin inspired and the party really gets going here around 11pm at night. The décor is stunning with beautiful stairs, old furniture, warm colours, wooden floors and iron detailing. There is no better place in Paris to don your dancing shoes and Salsa the night away.
Le Perchoir is a big hit with the locals, it's a little further away from the tourist hotspots around the Eiffel Tower but it's an incredible little bar with beautiful views all the same. Opened back in 2013 this bar was a hit from its first night, with only a handful of rooftop bars left in Paris this one also serves a mean cocktail so is worth the visit.
Top Tips when hiring a car in Paris
● A big number of users encountered rental cars in Paris for less than £40 per day.
● Booking your rental car in Paris in advance even if it's by at least 1 day before your trip ensures you'll get cheap car hire prices.
● Mini hire car models in Paris car hire are cheaper and more popular than other vehicle types.
● Choose a reliable car hire company: Look for reputable car rental agencies that operate in Paris, such as Enterprise Rent-A-Car. Enterprise Rent-A-Car is known for providing excellent service and a wide selection of vehicles.
● Search for the best car hire deals: Before making a reservation, compare prices and offers from different car rental companies. This will help you find the best rates and discounts available.
● Check car hire locations: Ensure that the car hire company has convenient pick-up and drop-off locations throughout Paris. Having multiple locations can make it easier for you to collect and return the vehicle.
● Consider van hire if needed: If you require extra space or are traveling with a larger group, inquire about van rental options. Many car hire companies, including Enterprise Rent-A-Car, offer vans for Paris rent.
● Opt for an electric car or economy car: For environmentally conscious travelers or those on a budget, consider choosing an electric or economy car. These options can save you money on fuel and help reduce your carbon footprint.
● Familiarize yourself with speed limits: Make sure you understand and adhere to the speed limits in Paris. The general speed limit within the city centre is usually 50 kilometers per hour (31 miles per hour), unless otherwise specified.
● Visit the rental counter at Charles de Gaulle Airport: If you're flying into Paris, Charles de Gaulle Airport (CDG) has car hire counters where you can conveniently rent a vehicle upon arrival. Enterprise Rent-A-Car operates at CDG, providing easy access to their services.
● Be aware of the two-hour lunch break: Keep in mind that many businesses, including car rental agencies, in Paris may close for a two-hour lunch break during the afternoon. Plan your car rental pick-up or drop-off accordingly to avoid any inconvenience.
● Consider Avis Preferred service: Avis, another well-known car rental company, offers a Preferred service that provides benefits such as priority service and faster vehicle pick-up. Check if this service is available in Paris and if it aligns with your preferences.
● Watch out for car fast drips: Be cautious when parking your rental car in Paris, as "car fast drips" or small scratches caused by other vehicles can occur in busy areas. Take pictures of the vehicle before and after your rental to document its condition.
Got a Question? Chat with our UK support team
Online chat help is open 08:30am to 17:00 weekdays. Email: [email protected]
FAQs about car hire in Paris
Most frequently asked questions about hiring a car in Paris
Car hire prices average at about €23 a day, if you are planning on exploring the city first and then venturing further afield book your car hire to start when you're ready to head out of town rather than when you arrive.
If you travel in winter and book 6 months in advance you may find a mini or economy car for as low as €12 per day, however €15-20 is more of an average low price for a small car.
You can choose from, Avis, Enterprise, Budget, Europcar, Firefly, Hertz, Sixt, Interrent, Alamo, Advantage, Dollar, National and Thrifty. Some are online reservations only so make sure you double check before your arrival.
The traffic in Paris is almost as famous as the Eiffel Tower so make sure you're confident driving the size of car you hire. Streets are narrow and parking is tight so we (and the locals) recommend a smaller car.
It's approximately 40km from Charles De Gaulle into Paris city centre and most commonly the fastest route to take is the A3. Expect the journey to take at least 1hr 15minutes.
The price depends on when you book and how far in advance. You could pick up a BMW 1 series from about € 25 per day, and an X5 4x4 family car from about € 50 a day if you book well in advance and out of season.
Paris is the capital of the country and known as one of the most expensive cities in Europe, so the prices are comparable to those of London.
The streets are in perfect condition so driving in Paris is quite simple. Traffic could be an issue at times but otherwise, it's like most developed cities in Europe.
The best time to travel to Paris is from June to August, when the weather is milder. It is summer and the average temperature in those months is around 25 degrees Celsius and most of the days are sunny.
For small cars the budget friendly options begin at £106 for a week, which means more or less £15 a day.
The cheapest offers allow you to rent a car for a whole month for £407 or £13.50 per day. As mentioned earlier, this depends on the season you book and the car type.
The average price of a litre of fuel in Paris can vary between EUR 1.25 and EUR 1.14.
Other popular places in France