Southampton Airport Parking
Find the best parking deals at Southampton Airport
With a massive choice from the biggest brands, Enjoy the best way to find the best prices for car hire in Southampton Airport.
Huge choice car parks to suit every budget
Save up to 70% compared to buying on the day
Working with the best partners in Airport Parking
Southampton Airport Parking
So you're searching for parking at Southampton Airport (SOU)? In terms of drama, your mission isn't quite up there with a quest to find the Holy Grail, but it can sometimes feel as mysterious and frustrating. Take a couple of minutes to join us in this guide and we'll clarify some of the best types of official and unofficial parking options for different types of travellers – and include some helpful info on airport amenities too. Deal? Good stuff.
SOU is a great gateway to lots of cool destinations – like Amsterdam, Belfast, and Bergerac (the town in France – not the TV detective). And you can also fly from here to Faro in the gorgeous Algarve, Geneva, Majorca, and Manchester. Furthermore, Southampton is a pretty cool place itself, so if you're driving in from out of town, might be worth extending your trip by a day to take in some of its delights. A charming coastal town with a proud maritime heritage (it's still a major cruise ship hub), there's plenty to keep you entertained here. The SeaCity Museum showcases Southampton's relationship with the ocean waves (and RMS Titanic in particular), while the Solent Sky Museum focuses on aviation – you can even sit in the cockpit of a Harrier Jump Jet! Meanwhile, God's House Tower (now there's a grand name) is an awesome arts and heritage hub in the city's Old Town, and you can marvel at one of Britain's best collections of contemporary art at the University of Southampton's John Hansard Gallery. If you want to shop 'til your credit card pops, Westquay has over 100 eclectic shops and you can also spend a few hours in the city's IKEA, experiencing the 'wonderful everyday'. Last but not least, if your timing's right, you can also cheer on Southampton FC at St Mary's – remember to wear red and white though.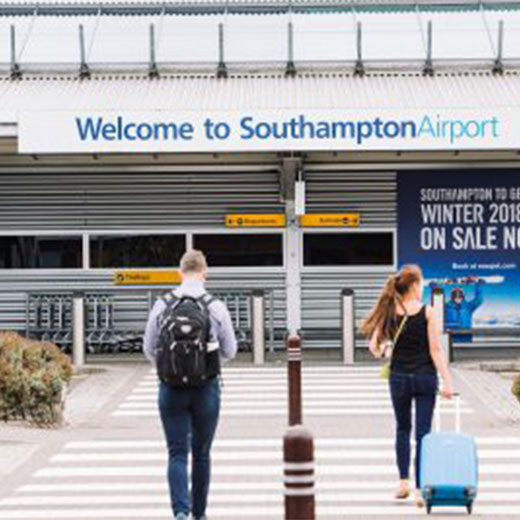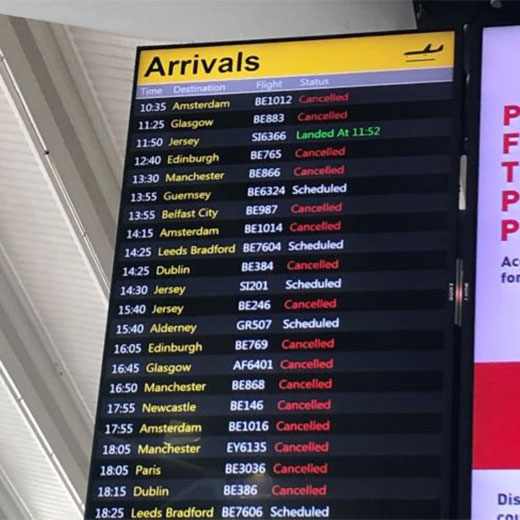 Find the best deals at Southampton Airport
What kind of criteria combine to create a great deal on parking at Southampton Airport? Price is probably up there - but it's irrelevant if the space doesn't meet your requirements. So the best place to start is by thinking about your mandatory requirements – like close proximity to the terminal, contactless entry and payment, generous spaces, for instance – then disregarding any options that don't fit the bill. When you've narrowed down your results, you can then choose based on price.
If you don't have a little bit of a plan, you're in danger of getting snowed under by an avalanche of search results. So sift out unsuitable results and find your best deal much faster.
Compare parking at Southampton Airport
Once you've weighed up the best parking space and booked ahead, it's a weight off your mind – there are plenty of on and offsite options, so get organized in plenty of time and chances are your pre-flight experience will be much more pleasant.
And a top-notch parking experience is exactly what you'd expect at a busy airport with pre-pandemic passenger numbers of 1.99 million annual passengers travelling to 30 destinations. SOU is served by carriers like Aurigny, easyJet, Ski Total and TUI, with aircraft types including the Jetstream 41, Airbus A320, Boeing 717 and Saab 2000. The history of the airport stretches way back to 1910, when the first aircraft, a monoplane named Moonbeam II, took off from somewhere in the North Stoneham Farm Meadows site. It was built by local man Edwin Moon, and little is known about exactly where it took off or landed – for all we know, Edwin could still be up there somewhere. The first Spitfire prototype took off from here in 1936 and these iconic planes were manufactured in nearby Woolston, with assembly and testing taking place at SOU. The airport was requisitioned by the Royal Navy during WWII but by 1945, passenger services resumed with regular flights to the Channel Islands. Many improvements, rebuilds and refurbishments followed in subsequent decades and the airport is a major contributor to the local economy today.
What parking is there at Southampton Airport?
Southampton's official parking suits most types of travellers. But it's worth having a look at unofficial options too because you'll sometimes find a bargain. Comparison site Looking 4 Parking is one good example – it offers good deals on parking deals at the likes of Southampton Airport – Airlynx – Park and Ride – Wren's Farm.
Let's check out the official SOU airport parking options.
Short stay
With some of the closest parking spaces to the airport, SOU Short Stay parking is just a 1-3 minute walk from the terminal. This onsite, multi-storey facility is safe, secure and weatherproof – most of the spaces are undercover so you won't get soaked while you're getting your bags out.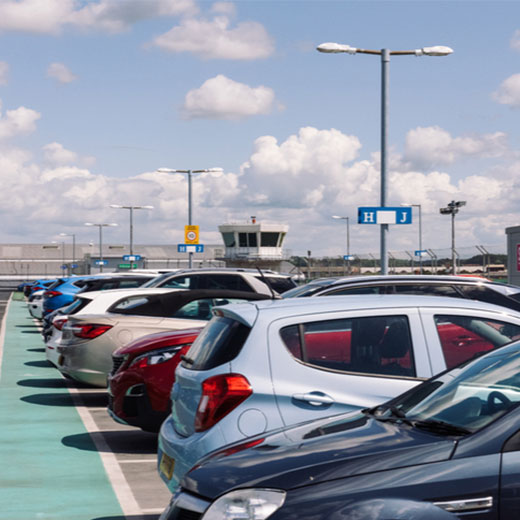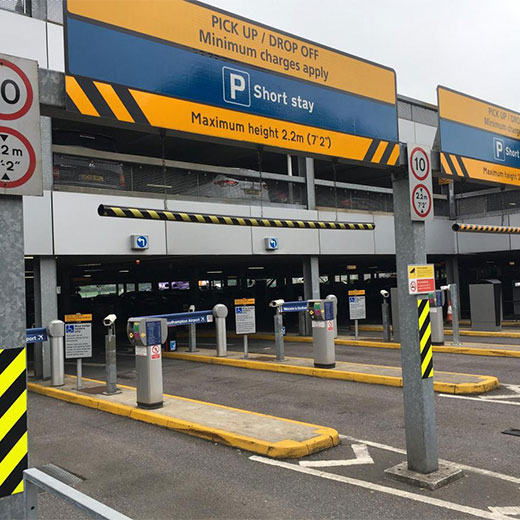 Priority
Just one minute from the terminal, official Priority parking at SOU offers s fantastic, frictionless experience. Book ahead or drive up and buy – it's safe, secure and the bays are extra-wide, which is wonderful when you need a little more space to get kids, elderly relatives, and suitcases out of your vehicle without worrying you're going to scratch the car next to you.
Long stay
Please check the official SOU website for the current status of the Long Stay car park (it may be closed). In any event, this is usually the cheapest parking option, it's best when you're taking a longer trip and don't mind hopping on a shuttle bus to reach the terminal.
Meet & Greet
The only official SOU valet parking, you'll find the meet and greet area in the Priority Parking area at Short Stay. Simply grab a Priority Parking ticket and pull up into one of the Meet and Greet bays – then a trained member of staff will park your car for you.
Electric car charging
If you drive an EV, you'll be happy to know there are free electric charging points (undercover) in the multi-storey car park.
Blue Badge Parking
You'll find Blue Badge parking next to bus stops A and B in the long stay car park and on the ground floor close to the terminal in the short stay car park.
Short stay season tickets
If you're a regular Southampton Airport traveller, you can save money with a short stay season ticket – they're available for a month, quarter or year when you pre-book online on the official airport site.
Amendments and cancellations
Parking bookings can be amended or cancelled up to two hours before your booking slot.
Getting to Southampton Airport
Southampton Airport is north of the city, just off junction 5 on the M27, near the M3 – it's easy to get to from all main travel routes.
If you're driving in from Southampton, just take the A335 and follow the signs to the airport and if you need to fill up your tank, there's a fuel station on the A335 only a mile from SOU.
For SatNav, the address is: Southampton Airport, Wide Lane, Southampton SO18 2NL.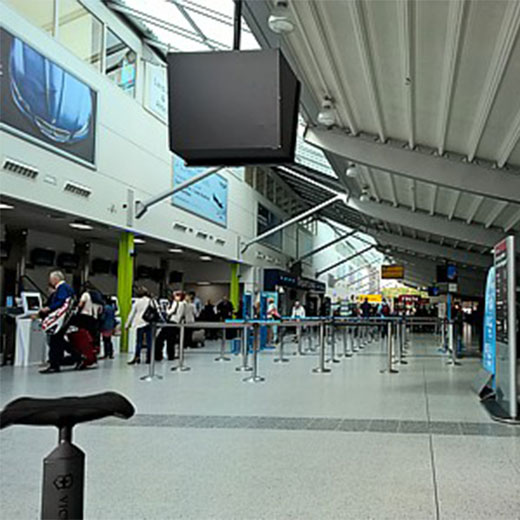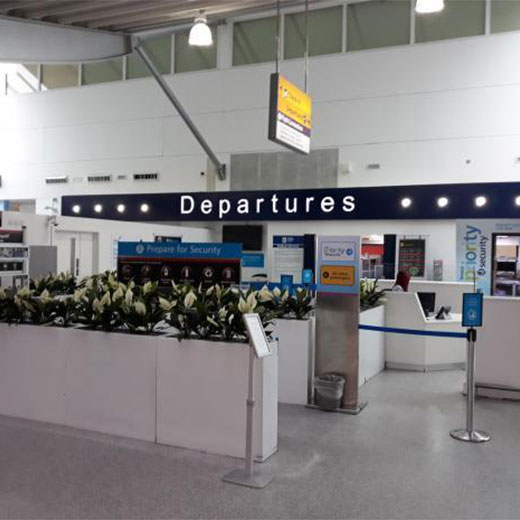 Facilities at Southampton Airport
There's free Wi-Fi access at SOU for up to four hours, so you can check your emails and social media accounts before take-off.
If you need a comfy space to relax before you board, try the Spitfire Lounge, where you can expect plush seating and tasty refreshments.
There are plenty of cash machines here – find them before security on the main concourse next to the Travelex bureau, and after security next to the duty free on the departure lounge lower level.
In terms of shopping, WH Smith has food, snacks, magazines and books – grab that bestseller you've been meaning to bag for a while and immerse yourself in it on the beach. And at World Duty Free, you'll find super deals on beauty products, male and female fragrances, jewellery, spirits and high-end gifts. With the shop & collect service, you can also buy duty free goods before you fly and collect them when you get back – how's that for convenience!
If your mobile's not working (or credit is low), you'll find payphones peppered throughout the airport and most accept major credit cards or coins. There are lots of free trolleys around the airport too – just help yourself to as many as you need.
Southampton Airport isn't Britain's biggest or busiest, but it has all the essential facilities and amenities. From ample parking for all types of travellers to support services, shopping and eating, it ticks all the most important boxes.
Got a Question? Chat with our UK support team
Online chat help is open 08:30am to 17:00 weekdays. Email: [email protected]
FAQs about car hire at Southampton Airport
Most frequently asked questions about hiring a car at Southampton Airport
To cancel or make any changes to your parking booking at Southampton Airport you have up to 48 hours before you depart, without extra charge. After that there's a fee of £5.
Booking online and in advance is the best way to get below average parking prices for Southampton Airport with Enjoy Travel. This policy is designed to give you flexibility and peace of mind when you book with Enjoy Travel.
The main parking options in Southampton Airport are Short Stay Parking, Priority Parking and Meet and Greet Parking. Short Stay Parking is ideal for trips of up to a few days, as it is located just a few minutes' walk from the terminal. Priority Parking offers the same convenience but with wider spaces and closer access to the check-in area.
Follow the signs at Southampton Airport, The Meet and Greet and Priority Parking are 1 minute away from the terminal, while the short stay one is 3 minutes away. All parking areas are well-lit and secure, with CCTV and regular patrols. You can pre-book online on Enjoy Travel or pay at the exit.
CCTV surveillance and routine security patrols are used in all car parks at at Southampton Airport to assure the safety and security of your vehicle.
The Meet and Greet and Priority Parking are 1 minute away from the terminal, while the short stay one is 3 minutes away.
Most Southampton Airport parking packages include a full electric charge for your electric vehicle. Complimentary electric charging stations are available for use in our multi-story parking lot under cover.
Yes, you can park overnight at the Long Stay Parking near the Southampton Airport. Just keep an eye out on the additional charges.
Indeed, in fact doing so is advised, especially during peak times or seasons, as you will receive below average pricing and your seat will be guaranteed.
You can arrive earlier at Southampton Airport, however depending on how much early, there can be an overcharge price. At the exit barrier, you can pay the cost with a credit or debit card.
It depends on how long you'll stay but the cheapest parking at Southampton Airport is Long Stay Parking at £15 per day. If you book online in advance, you can save up to 60% on the standard rate.
The parking cost at Southampton Airport depends on the service and booking method - on Enjoy Travel they can start from £13.50 per day. You can compare different parking options and prices on our website and book online in advance to save up to 60%.
Enjoy Travel offers airport parking at Southampton Airport starting at £65.80 per week. You may reserve parking online and select a variety of alternatives, including long stay, mid stay, or rapid park. They also provide free shuttle buses to and from the terminal.
Popular Southampton places, UK airports, train and underground stations