UK Airport Parking
Find the best airport parking deals in the UK
With a massive choice from the biggest brands, Enjoy the best way to find the best prices for airport parking in the United Kingdom.
Huge choice of vans to suit every budget
Save up to 70% compared to buying on the day
10 years experience in airport parking
Compare airport parking in the United Kingdom
Heathrow Airport (LHR)
London Heathrow Airport is the busiest air transport hub in the UK and at one point was even the busiest airport in the entire world. In fact, Heathrow handles more passengers than any other airport in Europe, having served 19.4 million passengers in 2021, and the busiest year ever recorded being 2019 with 80.9 million passengers. Heathrow offers you flights to 214 destinations across 84 countries, with 89 airlines to choose from.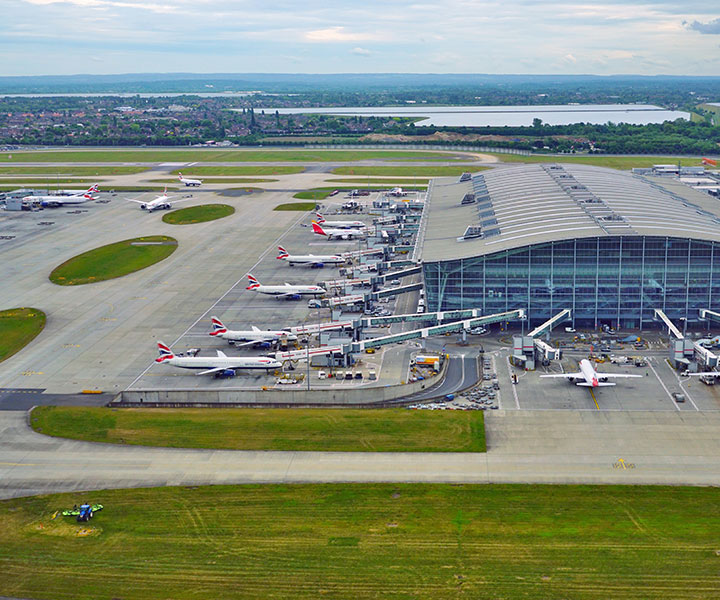 Heathrow has four large terminals - Terminal 2, Terminal 3, Terminal 4 and Terminal 5. The car parks available are - Short Stay, Long Stay, Business, Meet and Greet, POD and Valet Parking.
All car parks at or around Heathrow Airport are a short walk or shuttle bus ride to the terminals. You can stroll between terminals 2 and 3 within 10 minutes.
The Heathrow Good to Go Meet and Greet option provides convenient access to Terminals 2 & 3.
Terminals 4 and 5 are connected by complimentary train and bus transfers that take around 20 minutes. The Long Stay car park at Terminal 5 offers you 2 hours of free parking.
Purple Parking is usually the cheapest car park.
All 4 terminals have on-airport parking located just a 2-minute walk away from the terminal buildings. You're able to book parking in advance for durations over one hour up to two hours prior to your arrival, subject to availability. Be aware that Heathrow doesn't currently provide EV charging facilities in the Short Stay car parks. With this in mind, it is recommended that all customers driving electric vehicles to the airport charge them adequately before arrival.
---
Gatwick Airport (LGW)
Gatwick airport officially opened by the Queen in 1958, is the UK's second largest airport after Heathrow, having served 32.8 million passengers in 2022. In 2019 Gatwick served more destinations than any other UK airport, and was the world's first airport to have a direct mainline train link with a dedicated railway station. With over 120 direct rail connections, Gatwick is directly connected to more stations than any other European airport station.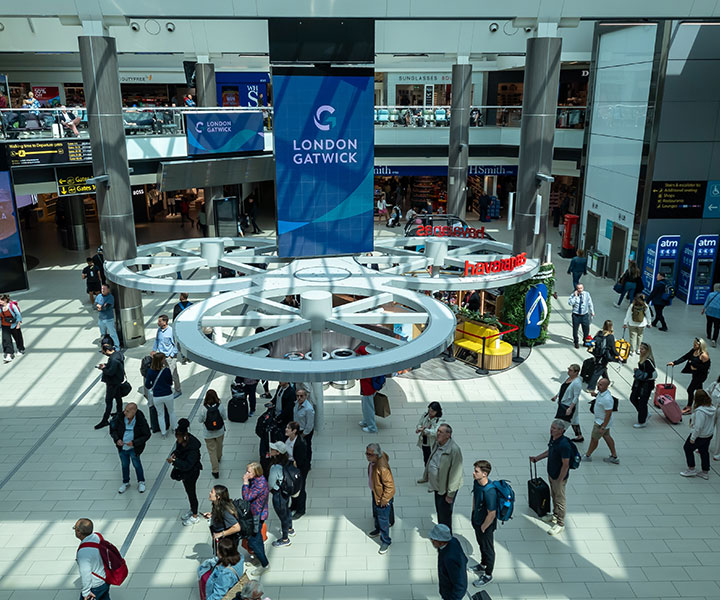 There are two terminals - North Terminal and South Terminal with a complimentary inter-terminal monorail service that whizzes you from one terminal to the other in just 2-3 minutes.
The long stay car parks at Gatwick are efficient and simple with a complimentary shuttle bus that runs throughout the day and night- only a 10-15 minute ride to the North Terminal, and 7-12 minutes to the South Terminal.
Premium short stay gives you access to a dedicated, private security lane, which gives you an extra layer of convenience. Premium Security can help simplify your trip through Gatwick Airport, from the check-in desk to your gate, and by booking online, you'll be able to save £2 per person from the on the day price.
Valet parking is only a 5-minute walk away from the terminal, and a great option for those looking to travel in comfort with a chauffeur that will have your car ready for you upon your return. Gatwick guarantees that your car will be ready and waiting for you in the Valet Parking area based on your booking time, and if it isn't then your next booking will be free. You may want to indulge in the 'Premium Car Care' add-on, where shortly before your return, your car will be hand-washed, hand-dried, vacuumed and fragranced with an air freshener.
Both terminals are only a short 5-minute walk away from the short stay car park. Booking online can give you access to exclusive savings as well as guarantee you a space. Blue badge spaces are also available with 18 spaces in the North Terminal short stay across Car Parks 5 and 6, and 55 Blue Badge bays across South Terminal Short Stay.
---
Stansted Airport (STN)
London Stansted Airport is London's third largest airport, serving on average over 27 million passengers each year. It is the only major London airport with significant runway capacity and offers a European route network which is unrivalled in the UK, providing London with more visitors from Europe than any other British airport. It is the third busiest airport in London, and fourth in the UK with flights to over 200 destinations covering 45 countries across the world.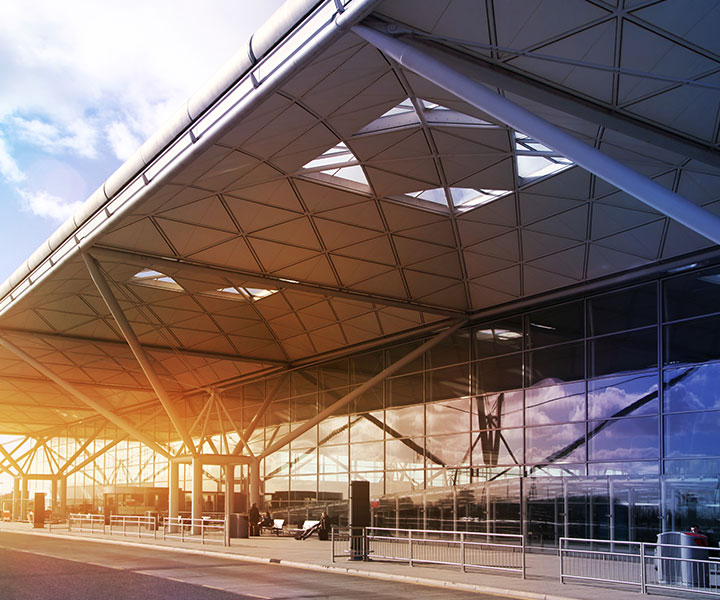 The airport has just one terminal and hosts 25,726 car parking spaces - Short Stay, Meet and Greet, Mid Stay, Long Stay, and Jet Parks.
The airport offers free cancellation of up to one hour before booking, with no questions asked, as well as a free amendment and cash refunds.
Meet and Greet is the most popular airport parking option. This service is available with pre-booking only and is only a 2-3 minute walk away from the terminal.
The mid stay and long stay car parks are available both on the day and through online booking. A frequent complimentary 7 minute bus service will take you from mid stay parking to the terminal. Bear in mind that Long Stay Parking is the lowest in price and is a little further away from the terminal with a 15 minute bus ride.
Jet Parks are for those who are flying out for a week or more, with a 15-20 minute bus ride to the terminal - available with pre-booking only.
There are five zones to choose from when you book Stansted Short Stay parking, so the walk to the terminal will take between one and ten minutes, depending on where you are parked.
---
Manchester Airport (MAN)
Manchester airport is the third largest airport in the UK after Heathrow and Gatwick. It's a multi-award-winning airport, having gained prestigious industry recognition for customer service. Manchester served over 22 million passengers in 2022 and currently holds the title of 'Best UK Airport'.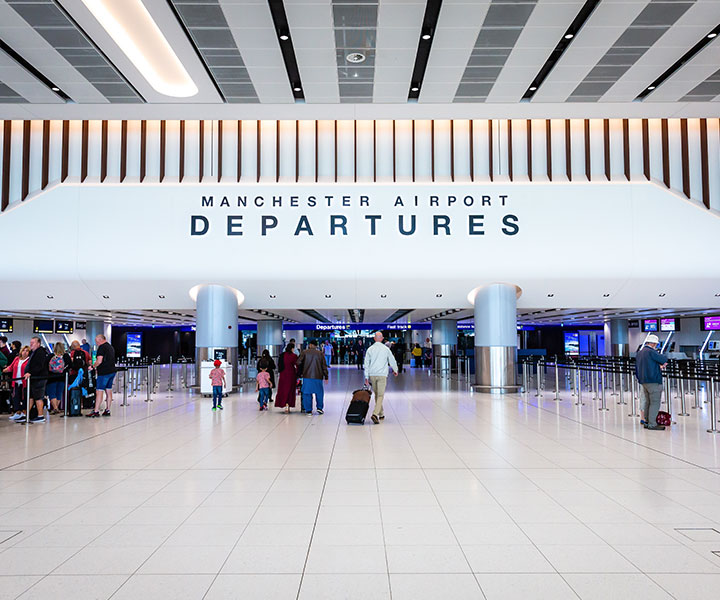 Manchester Airport has three terminals, known as Terminal 1, Terminal 2 and Terminal 3. Terminal 1 and Terminal 3 are next to each other, and Terminal 1 and Terminal 2 are connected by 'Skylink moving walkways' railway station. The walking distance between T1 and T3 is a maximum of 5 minutes, and the walking distance between T1/T3 and Terminal 2 is 10 to 15 minutes.
Meet and Greet Parking is only a 2 minute walk away from all three terminals, and is only available through pre-booking.
Mid stay car parking is a 10 minute walk away from terminal 1, 3 minutes walking to terminal 3, and only available through pre-booking.
JetParks is a 10-minute shuttle ride away from the terminals and only available through pre-booking.
Short stay is in the multi storey car parks which are 1-8 minutes walking distance from the terminals. This is available through both pre-booking and on the day.
Drop and Go is for those travelling for longer trips of 1 week or more. It's a 5 minute bus journey to terminals 1 & 2, and a 5 minute walk to terminal 3. Available through pre-booking only.
---
Luton Airport (LTN)
Luton airport is certified as a 3-Star Airport for facilities, comfort, cleanliness, shopping, food & beverages, staff service and security/immigration.
The airport primarily serves low-cost airlines flying to Europe, and with one terminal and over 17 million passengers a year, it is London's fifth largest airport.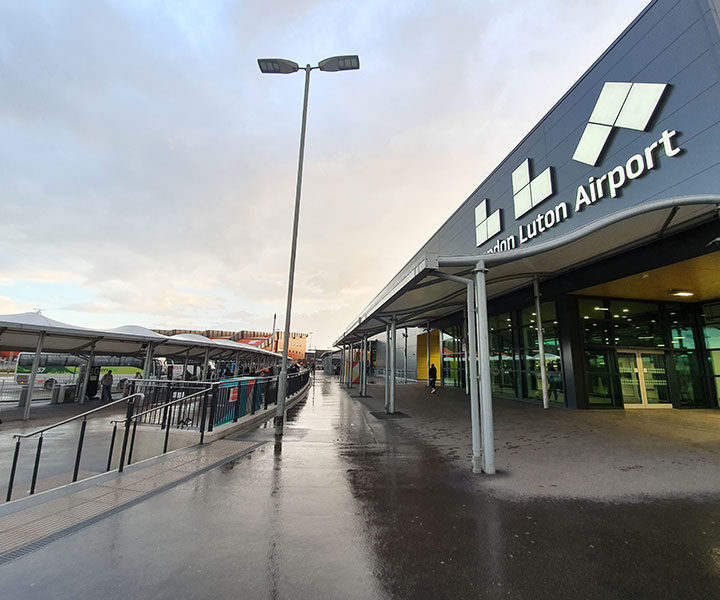 The car parks at Luton airport are Park Mark certified and have 24/7 security patrols.
The priority parking Meet and Greet car park is three-minute walk away from the terminal. Disinfection of your car takes place before and after use along with a range of other safety measures
Terminal Car Park 1 is one of four official car parks at Luton Airport. It is just a 4-minute walk to the terminal
Terminal Car Park 2 is a 5-minute walk from the terminal
Mid Stay Car Park is a 10-minute walk to the terminal
Long Stay Car Park is a 10-minute free shuttle bus ride to the terminal
You can arrive at the car park and book parking last minute. For stays over 24 hrs, it is recommended that you pre-book to save up to 70% on on-the-day prices.
Luton airport has been awarded the Disabled Parking Accreditation, an initiative set out by the charity Disabled Motoring UK (DMUK) and managed by the British Parking Association (BPA). The initiative aims to improve parking facilities for disabled people in the UK.
---
Bristol Airport (BRS)
Bristol Airport is South West England's gateway to the world, with flights to over 110 destinations. Serving over 8 million passengers a year, this airport is the fastest recovering airport in the UK since the pandemic, and currently holds the title of UK's 9th busiest airport.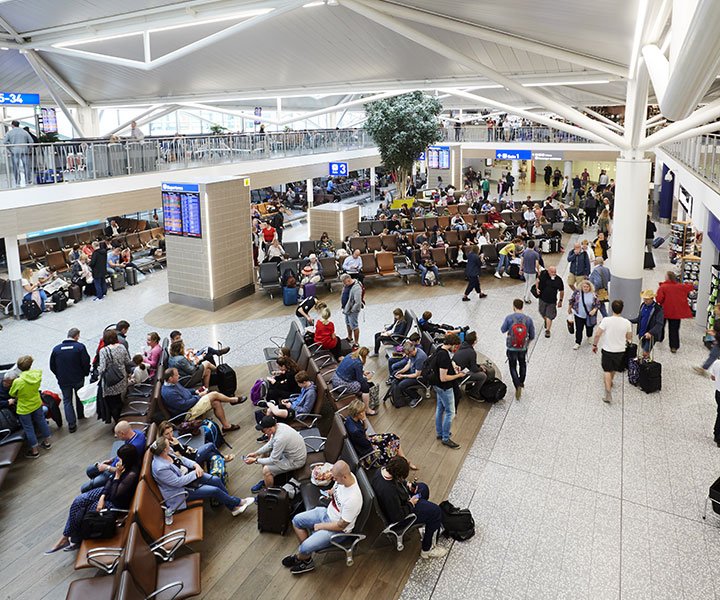 The airport has one terminal and 6 different parking services that are Park Mark award certified.
Silver Zone parking offers great value and is particularly suited to longer stay lengths of 3 days or over. Park your car, check in at one of the Self-Service Kiosks. Then drop your keys before catching the shuttle bus service to the terminal. A staff member will then park your car in a secure, on-site car park and have it ready for you on your return.
Long stay car park offers self-parking and is a few minutes walk away from the terminal, but also offers a shuttle if you have heavy luggage.
The Multi-Storey Car Park is a short 3 or 4-minute stroll from the terminal
Meet and Greet parking can only be booked in advance and is right next to the terminal building.
Short stay car park is a short walk to Arrivals and Departures - ideal for passenger pick up and stays over 24 hours. Prices start from £5 for 20 minutes.
Cancellations and amendments are free of charge up to 48 hours before your stated arrival time. If you can cancel or amend after this date you will be charged a £5 amendment fee.
---
Liverpool Airport (LPL)
Liverpool John Lennon Airport is one of the UK's longest established operational Airports. It was the UK's first airport to be named after an individual when it was rebranded in 2001 as a lasting tribute to the Liverpool born, former Beatle, John Lennon, with the new terminal opened by Her Majesty the Queen in 2002. 2022 was a fantastic year for Liverpool Airport, with well over 3.4 million passengers, new airlines arriving and others expanding, and new global connections opening up lots more destinations around the world.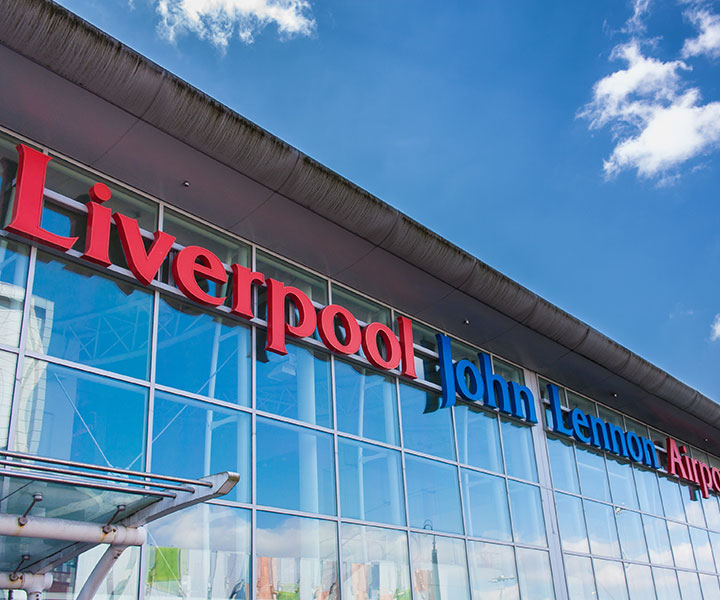 There is one passenger terminal with two levels.
All car park bookings at Liverpool Airport can be fully amended up to 24 hours before you travel, and there are no booking fees.
For added comfort and convenience, the car park spaces are wide and offer you plenty of room to unload your vehicle and organise your luggage.
Car Parks have covered walkways to and from the airport terminal to help you stay protected, whatever the weather.
Short stay is a multi-storey building right next to the terminal only a 1-minute walk away
The Long Stay car park is spacious and located 5 minutes walk away from the terminal
Meet and Greet parking requires you to leave your keys at a drop-off point, and then head to check-in.
Fast Track Family Parking is a short walk from the terminal, and includes exclusive use of the airport's dedicated entrance and exit routes, bringing you away from the main airport traffic. You'll be given a wider parking space, allowing you to unload your luggage comfortably. As part of your booking, you will receive complimentary Fast Track Security tickets for you and your family, including up to two adults and two children, allowing you to spend less time in queues and more time relaxing in the Departure Lounge before your flight.
---
East Midlands Airport (EMA)
Officially opened in April 1965 by the Duke of Edinburgh, East Midlands Airport connects over 4.2 million passengers worldwide, serving more than 90 destinations. This airport is a winner of many prestigious awards including the World's Leading Eco-Friendly Airport and was voted Best Regional Airport at the British Travel Award in 2010.
One terminal, one check-in hall, and 5 different parking services
Free parking cancellation/amendment up to an hour before your booking - no questions asked
Cash refund - no vouchers or credit notes
Meet and Greet is available through pre-booking only and is a 1-2 minute walk away from the terminal.
Short stay car park is right next to the terminal building - 1-5 minutes walk
Mid- stay car park is a 6-7 minute walk away to the terminal
Long-stay car park is available through pre-booking only - 5 minutes shuttle ride to the terminal
Jet Parks is the cheapest airport parking available through pre-booking only - 12-15 minutes shuttle ride to the terminal
---
Edinburgh Airport (EDI)
Edinburgh Airport is Scotland's busiest airport and the 6th busiest airport in the UK. With flights to more than 150 destinations through 40 different airlines, this airport is helping over 14.7 million passengers per year travel to different parts of the world.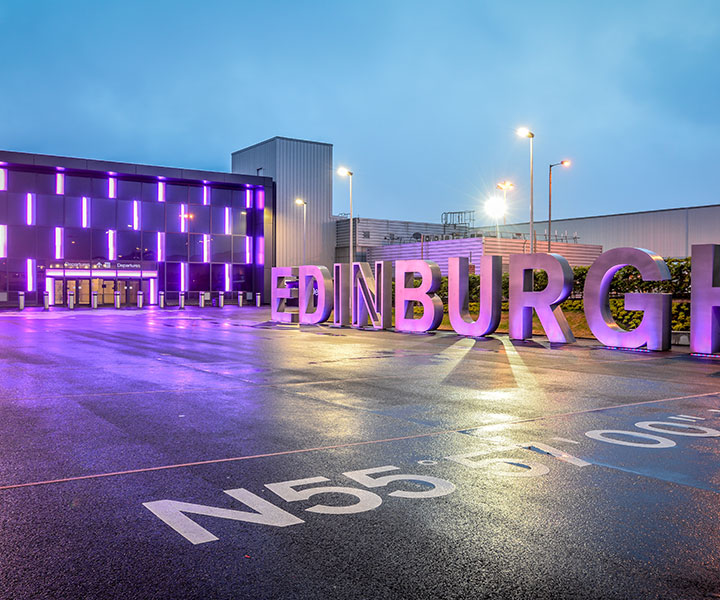 Edinburgh is a single passenger terminal airport
Multi-storey car park is a 1-minute walk away from the terminal connected by a bridge. All multi-storey bookings come with Security fast track access for up to 5 people as standard. The fast track bridge is located on level 2 and takes you directly into the Security hall. To use the bridge all you will need is your parking confirmation, boarding pass, (e-ticket or paper copy), and hand luggage only. Hold baggage travellers need to head to check-in and after you have dropped your bags off you'll see the entry door to fast track next to the Security e-gates.
Fast Track Parking is pre-booking only, and less than a one-minute walk from the check-in desks. This is the airport's version of Meet and Greet Parking.
Long stay parking is a 10-12 minute walk to the terminal on a designated walking route. No shuttle bus is available.
Terminal parking within sight of the iconic Edinburgh Airport Control Tower, is only a 2-minute walk to departures.
Mid Stay car park is well-positioned - just as close to Departures as some spaces in Terminal Parking, without the premium price. Only a 5-minute walk to the terminal.
Plane Parking is the cheapest option. A free shuttle operates every 12 minutes, taking you to the terminal.
---
Glasgow Airport (GLA)
Carrying over nine million passengers per year, Glasgow Airport serves more Scottish destinations than any other airport and is a key component of Scotland's transport infrastructure.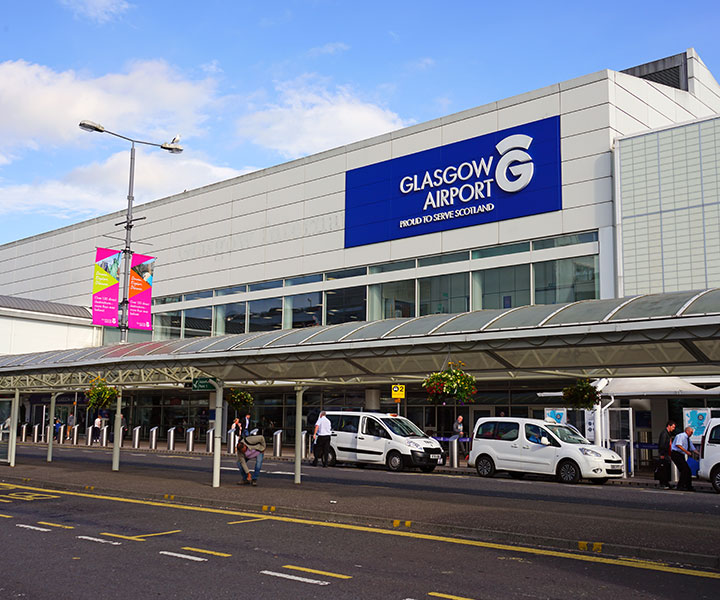 Two terminals – main terminal plus T2 facility
Short stay parking is a multi-storey building 1-3 minutes walk to the terminal.
Short stay premium plus includes access to Priority Security for all members in the vehicle.
Fast track parking is 1-3 minutes walking to the terminal and gives you premium access to the terminal from a dedicated floor as well as access to priority security.
Long stay is a 10-minute electric bus ride to the terminal
---
Leeds Bradford Airport (LBA)
Leeds Airport is alternatively known as Yeadon Airportby locals due to its location as for being the largest airport within Yorkshire. It holds the title of England's highest airport with an elevation of 681 feet. Over 4 million passengers a year fly to more than 75 destinations.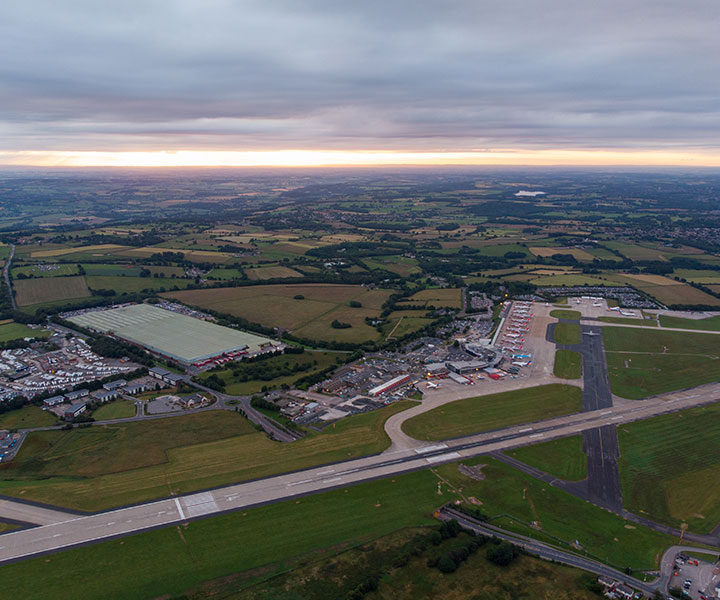 Leeds is a single passenger terminal airport
Meet and Greet and Short stay parking is a 2-minute walk to the terminal
Mid stay parking is 2-3 mins walk to the terminal
Long stay parking is a 2-minute shuttle ride to the terminal
---
Newcastle (NCL)
Newcastle International is the region's largest airport, handling nearly four and a half million passengers a year and providing the North East with the choice of over 80 destinations worldwide. It is the 11th busiest airport in UK and the busiest airport in Northern England after Manchester Airport.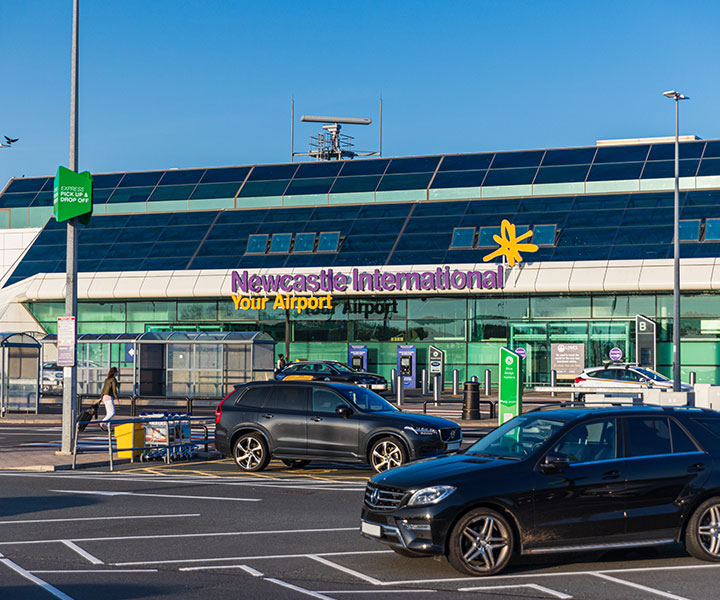 Newcastle is a single passenger terminal airport
Car parks are Park Mark certified
Free parking cancellations and amendments
Premium Meet and Greet parking is in front of the terminal building, with a covered walk way taking you directly into departures.
Premium fast track parking is a 1 minute's walk away (the closest to check-in) with extra wide parking spaces.
Short stay car park 1 is a 1-2 minute walk to the terminal
Short stay car park 2 is a 2-4 minute walk to the terminal
Long stay parking is a 5-10 minute walk to the terminal
---
Got a Question? Chat with our UK support team
Online chat help is open 08:30am to 17:00 weekdays. Email: [email protected]
FAQs about airport parking in the United Kingdom
Most frequently asked questions about hiring a van in the United Kingdom
You can hire an economy van from around £7 (around €6) per day in certain cities and airports if you book a long way in advance.
You will drive on the left hand side of the road.
The biggest and busiest airport is Heathrow, following by Gatwick then Manchester, Stansted, Luton, Edinburgh and Birmingham. Heathrow is amongst the busiest airports in the world.
On the motorways it is 70 MPH, however watch out for the Smart motorways which have variable speed limits. In built up areas it is 30 MPH unless otherwise indicated.
Aside from London the next biggest cities are Birmingham, Manchester, Leeds and Glasgow.
The population of the UK is around 66.65 million people.
Great Britian is made up of England, Scotland and Wales, whereas the United Kingdom is England, Scotland, Wales and Northern Ireland.
Great Britain is made up of England, Scotland and Wales.
Public parking is offered in the UK on both on-street and off-street locations. However, the availability and cost of parking can differ based on the place, time, and day. In cities, finding free or cheap parking can be challenging, and regulations are enforced to avoid traffic and ensure safety. It's essential to verify local parking rules and rates before leaving your car in the UK.
The amount of time needed to see the UK depends on the desired destinations and activities. A week or few days may suffice for visiting one or two major cities, like spending 3-4 days in London and Edinburgh. But if one wants to see more of the countryside, smaller towns, and multiple cities, two to three weeks would be ideal.
The UK has various scenic routes for road trips, including the Scottish Highlands, Cornwall, and the Lake District. The North Coast 500 is a popular 500-mile circular route in the Scottish Highlands, offering stunning views of mountains, lochs, and beaches. Cornwall in southwest England features the South West Coast Path, a 630-mile trail offering breathtaking views of the coastline. The Lake District in northwest England has winding roads with stunning views of lakes, mountains, and valleys, with the A591 from Kendal to Keswick being a particularly scenic route. There are many other beautiful road trip routes in the UK, so research to find the best fit for your preferences.
The UK is implementing initiatives to encourage the use of electric vehicles (EVs), such as financial incentives and increasing numbers of charging points. However, charging infrastructure availability can vary by location. Overall, owning and driving an EV in the UK is becoming easier, but it's recommended to research charging options before long journeys.
The UK has a variety of airports that cater to commercial flights, with over 40 options ranging from major international airports like Heathrow and Gatwick to smaller regional airports like Newquay and Inverness. Additionally, there are some military airports in the UK that are sometimes used for civilian flights.
Disneyland is not present in the UK, as the Disneyland theme parks are owned and managed by Disney, and are situated in California, Florida, Paris, Tokyo, Hong Kong, and Shanghai. Despite this, the UK has various amusement parks and attractions, including but not limited to Alton Towers, Thorpe Park, and Legoland Windsor.
Explore popular airports in the UK