Lanzarote Car Hire
Find the best deals in Lanzarote
With a massive choice from the biggest brands, Enjoy the best way to find the best prices for car hire in Lanzarote.
Huge choice of cars to suit every budget
Save up to 70% compared to buying on the day
10 years experience in car hire
Compare Car Hire in Lanzarote
Lanzarote is the fourth-largest, third-most populous, easternmost and northernmost island in the Canaries archipelago in the Atlantic, and its volcanic scenery is amongst the most spectacular.
Situated 1000km from the Iberian Peninsula and 125km off the coast of Africa, its capital is Arrecife, its population numbers 153,000 inhabitants and it's named after Genoese navigator Lancelotto Manocello, who arrived here from Lisbon in 1336 and used the alias 'Lanzarote de Framqua'.
The Timanfaya National Park in Lanzarote's central western region is its main natural attraction, but its fauna, flora and topography are sufficiently unique that UNESCO declared the whole island a biosphere reserve in 1993. Thanks to visionary Lanzaroteño architect, sculptor, artist and environmentalist César Manrique, for the most part the island's settlements and major buildings blend respectfully with its amazing natural surroundings, which veer from volcanic cones to black lava fields and beaches of all stripes to lush Palm-lined valleys. You can dive, hike, swim and surf here, party all night long at popular resorts like Puerto del Carmen, Costa Teguise and Playa Blanca, enjoy historical attractions in Haría and hop across to the gorgeous island of La Graciosa, which is only 2km north across the Strait of El Rio. Lanzarote is an island where ancient and contemporary cultures chime symphonically in one of the world's most awesome natural amphitheatres.
You can hire a small car like a Volkswagen Up in Lanzarote for just €13.41 a day when you book off-season, an economy car like a Seat Ibiza is €15.64 a day and a rugged Hyundai Santa Fe ̶ perfect for venturing off the beaten track ̶ is €39.01 per day. Hire a car in Lanzarote with Enjoy and you can explore it under your own steam, but first take a look at some fascinating facts about this fantastic island:
About Lanzarote: this volcanic island combines family seaside attractions, wild nights out at lively nightspots and jaw-dropping natural terrain, so there's much to explore whether you're on foot wandering through shops, cafes, bars and historical sites or behind the wheel cruising through its arid interior. Highlights include the uncanny terrain of the aforementioned Timanfaya National Park, which has unique features like the 7km long Atlantida Tunnel, the longest volcanic tunnel on Earth, and La Lago Verde (the green lagoon), which is surrounded by black rocks and looks like it's from another planet. There are also hidden caves at Los Hervideros, wonderful white sand beaches at Caleton Blanco, Playa Blanca and Papayago, cultural attractions like the César Manrique's House Museum at Haría, and markets in towns like Teguise where you can pick up local pottery and other curios. Activities range from wild windsurfing to gentle sunset seafront strolls, there's wonderful food and wine and you'll always receive a welcome as warm as the climate.
Airports and access: Lanzarote is served by César Manrique-Lanzarote Airport (ACE), also known as Lanzarote Airport and Arrecife Airport. It's situated 5km southwest of Arrecife in San Bartolomé, Las Palmas, and connects to most major European airports.
Driving around Lanzarote: as you might expect, Lanzarote's thrilling terrain means there are many mind-blowing road trips available. Here are just a few favourites:

Following the LZ-1 highway northwards from Arrecife, you can visit the César Manrique Foundation, Jameos del Agua, a unique natural entertainment complex (complete with bar and restaurant) chiselled from volcanic lava by Manrique, Cuevo de los Verdes (another amazing volcanic attraction) and the nearby Mirador del Rio, which affords eye-popping views of the island of Gracioso.

Alternatively, for a delightful weekend drive, roll out to the Sunday Market in Teguise via the LZ-3 and LZ-1 directly north and you can spend hours bagging bargains. While you're there, take some time to explore the gorgeous golden sands and majestic cliffs of Famara Beach ̶ it's popular with surfers but a joy to stroll along too, and there are plenty of nearby bars and restaurants where you can enjoy a delicious meal before heading home.

Famous Lanzarote: as well as César Manrique, Lanzarote's famous local heroes include film producer, writer and director Juan Carlos Fresnadillo, physicist Blas Cabrera Felipe, singer Rosana Arbelo, model and actress Goya Toledo, and triathlete Patricia Díaz Perea.
Guide to Lanzarote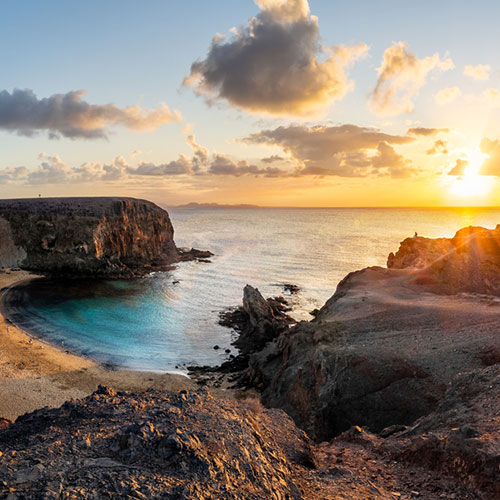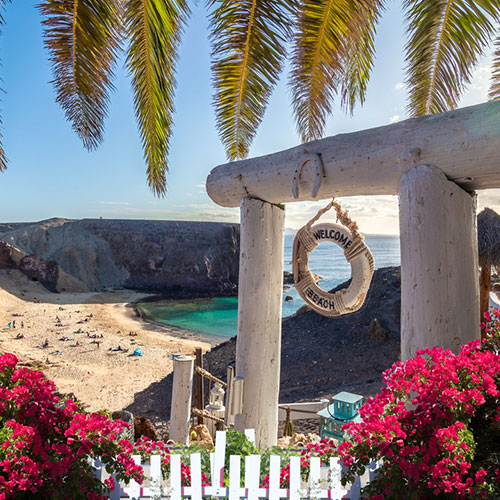 From lazing on the beach to adrenaline-fuelled watersports and high-energy hikes to historical strolls, Lanzarote caters for every type of visitor.
Lanzarote is the second-oldest island in the Canaries after Fuerteventura and first rose from the sea 15 million years ago after a fierce volcanic eruption. By 1000BC it was inhabited by a tribe known as the Majos, but the harsh, dry environment meant their civilisation struggled to progress beyond basic livestock herding and cave dwelling. After it was charted by navigator Lancelotto Manocello in 1336, Lanzarote was claimed for Spain by Juan de Béthencourt in 1402 and over the next 300 years the Spanish conquerors, along with British, French and Moroccan pirates who regularly raided the island, sadly destroyed the indigenous culture and sold the natives into slavery.
Blissful beaches
If beaches are your bag, Lanzarote might be the best Canary Island to choose as it has a higher proportion of golden sands and fewer of the black sand stretches typical of the other islands.
Perched on the warm southern tip of the island, Playa de Papayago is a series of beaches punctuated by rugged volcanic rocks where fine golden sands are complemented by crystalline water perfect for snorkelling. Alternatively, if you're staying in or near the Playa Blanco resort, Playa Flamingo is a pretty, palm-shaded, family-friendly beach with a gentle gradient and man-made breakwaters creating calm waters for young swimmers. Finally, if you're taking the ferry across to La Graciosa, Playa de las Conchas is a unique, unspoiled beach with fine golden sand and beautiful turquoise waters, but there are no lifeguards here and strong currents make it unsuitable for children as well as anyone else who wants to do much more than paddle by the shore to cool off.
Volcanic terrain
It would be remiss to visit Lanzarote without spending some time learning about its otherworldly volcanic terrain, and Timanfaya National Park, covering 51 square km of the island's south, is must-see. Accessible by car, you can hike across the landscape or choose to travel by 4x4 or even on a camel! The Montañas del Fuego (Fire Mountains) visitor centre is located at Isolte del Fuego and temperatures of 277 degrees have been recorded just 10cm below the surface here, so you'll witness straw burning to a crisp as soon as it's dropped into pits and cold water turning to steam when it's poured out onto the ground. Ingeniously, the onsite El Diablo restaurant harnesses the same geothermal heat to grill food. There are many more amazing sites to see throughout the park and you'll pass them all during an organised coach trip through the 'Ruta de los Volcanoes', a serpentine road through the park's most amazing areas that's closed to regular vehicles.
Historical attractions
There's a smattering of historical sites to explore in Lanzarote. Castillo De Las Colorados is a stone's throw from the beach at Playa Blanca and comprises a small watchtower built for defence against piratical attacks in the 18th Century. You're rewarded with panoramic views across the strait of Fuerteventura and visibility is usually excellent. Alternatively, if you're a fan of Portuguese Nobel Prize for Literature Laureate José Saramago, visit his former home in Tias, close to Arrecife, where an English-speaking guide will highlight interesting artefacts and explore the universal, existential themes that characterised his work.
In 1730, Lanzarote suffered one of the world's longest volcanic eruptions ever, when Timanfaya spouted forth ash and lava continuously for six years, but although the immediate effect was devastating, the huge eruption left behind an unforeseen long-term benefit in terms of the luxuriant carpet of fertile soil which local farmers soon realised readily grew crops like cereals, tobacco and sugar cane in abundance. Agriculture dominated for the next couple of hundred years but had declined by the 1970s, when commercial air travel and affordable package holidays bolstered its tourism industry and saved the day for its economy. Today, over 3 million tourists visit Lanzarote each year and a further 500,000 arrive for day trips from the cruise ships which dock at Arrecife. An island whose development was fast-tracked by natural disaster, Lanzarote has emerged from a challenging history as a high-flying phoenix from the flames.
What to do in Lanzarote?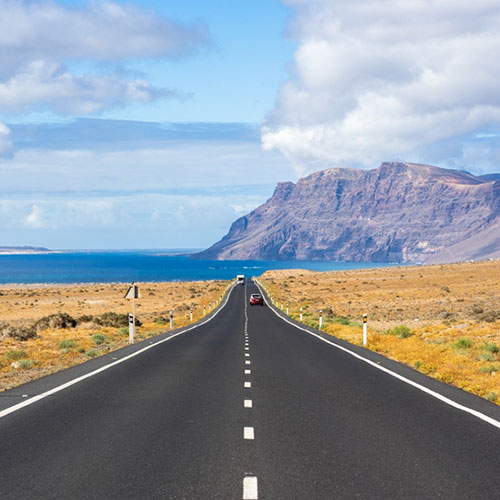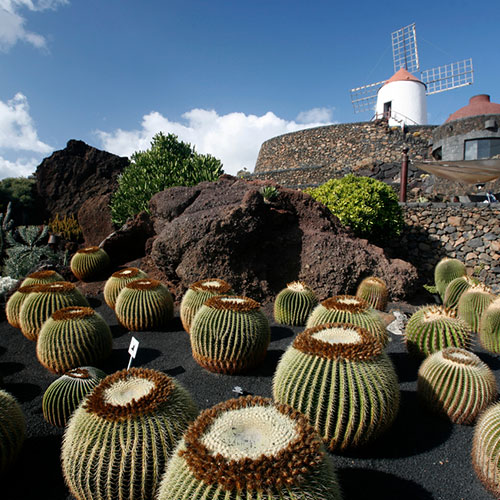 Whether you love messing about in the water, pampering yourself in a well-appointed spa or partying all night long, you'll never be bored in Lanzarote ̶ the list of eclectic attractions is endless.
Watersports
Lanzarote is a wonderland for watersports fans. If you fancy windsurfing, head for Playa Las Cucharas at Costa Teguise, where the European Freestyle Pro Tour event is held annually and Windsurfing Club Las Cucharas will help you find your feet. Meanwhile, the main kitesurfing beach is Playa de Famara, and you can take your pick from jet ski hire operators at Playa Blanca and Puerto del Carmen. Alternatively, kayaking at La Graciosa and Arrieta unlocks the outstanding opportunity of seeing Lanzarote's dramatic cliffs and volcanic rocks and caves from a unique, seaborne, perspective.
Apart from Famara, famous spots for regular surfing in Lanzarote include Orzola, El Quemao and La Santa, and you can explore the island's underwater biodiversity by snorkelling at Playa Chica in Puerto del Carmen or scuba diving at Charco del Palo or (provided you have a PADI certificate) the vast 2.500 square metres Museo Atlántico complex in the Bahía de Las Colorados near the south coast.
Spas
If you want to relax and unwind all the way in Lanzarote, the island boasts some beautiful spas where you can enjoy a range of cathartic activities and treatments.
At Costa Teguise, try the Hotel Beatriz Spa which has a hydrothermal circuit based on 23 different jet treatments spread across its two main seawater pools, and luxury treatments like caviar facials, Tibetan massage and mud wraps. Alternatively, the Jameos Playa spa at Puerto Del Carmen offers unusual treatments like honey skin-peeling and lemon lavender treatments, as well as a fantastic Finnish biosauna.
Nightlife
Lanzarote nightlife is dynamic and diverse, so whatever your personal taste, you'll always have a great night out here. For one of a kind cocktails in a scenic location with ocean and port views, try the Santai Marina Lounge in Arrecife, a sophisticated spot which regularly hosts art exhibitions and DJs spinning a range of genres. Alternatively, The Irish Anvil Bar at Playa Blanca does what it says on the tin, but its traditional Irish music, live TV sports and silky-smooth pints of the black stuff mean it might be the best of the island's many Hibernian-themed emporiums. Last but not least, the Star Bar in Costa Teguise enables your entire family to relax together, with a bouncy castle to keep kids occupied, live big-screen TV sports, a pool table and karaoke evenings.
Eating out in Lanzarote
In Lanzarote you can slake your thirst and treat your taste buds with authentic local fare or international cuisine, but whatever you choose, the quality is of a consistently high standard. Let's tuck in to a few of its greatest gastronomical offerings!
Some like it hot
El Diablo restaurant in Timanfaya Park is worthy of an extra mention in its own right. Built by Lanzarote's famous son César Manrique, you'll enjoy your volcano-cooked food complemented by stunning views of the surrounding lunar landscape, but the cuisine would taste terrific in any setting. The tender beef steak served on a bed of potatoes and wild mushrooms is divine and perfectly complemented by a glass of volcanic Malvasia wine. Main dishes cost €24 on average.
Family favourite
Looking for a family-friendly restaurant focused on succulent steaks and mixed grills? Lomo Alta in Puerto del Carmen should definitely satisfy and it's also a scenic spot to watch the sun set over the ocean as you sip an ice-cold beer. Try the special high loin steak ̶ 400g of flavourful juicy tenderness that melts on the tongue. Main courses are €25 and upwards.
Veggie vibes
Vegetarians and vegans can sometimes struggle to find satisfying food in certain holiday destinations ̶ not so at Blooming Cactus, a colourful and laid-back Puerto del Carmen eatery with a laid-back, airy ambience. Serving veggie, vegan and gluten free dishes packed with taste in tapas style, this is a rare treat. The veggie Indian curry is sensational, and the falafels are fantastic too. Prices for main courses are a reasonable €7-€20.
Transport in Lanzarote
Airports
Lanzarote's international air hub is César Manrique-Lanzarote Airport (ACE), located just 5km from capital Arrecife. Enjoy partners with reliable car hire providers at Lanzarote airport like Europcar, Keddy, Orlando and Ace Rent A Car.
Buses
The public transport network in Tenerife consists of a bus system operated by Intercity Bus. The buses are comfortable single-decker coaches and services between major resorts are reliable, although it's hard to reach some rural areas. Buying discounted 'bono' tickets can save you money when you do choose to use the bus.
Driving tips
You should always drive on the right in Lanzarote. Speed limits are 120 km/h (74 mph) on motorways and dual carriageways, 90 km/h (55 mph) for non-motorway main roads and 50 km/h (31 mph) for roads in most towns and cities.
You and your passengers should always wear seatbelts and drink-driving rules are stringently enforced. The blood alcohol limit is 50mg per 100ml of blood for most drivers, but 20mg per 100ml of blood if you have less than two years driving experience. As always, the best advice is not to drink any alcohol whatsoever if you plan to drive and to also avoid getting behind the wheel the morning after a heavy night out.
Top Tips when hiring a car in Lanzarote
● A great number of users encountered rental cars in Lanzarote for less than £25 per day.
● Booking your rental car in Lanzarote in advance even if it's by at least 1 day before your trip ensures you'll get cheap car hire deals.
● Lanzarote car hire companies found in the airport are known to offer the best car hire deals. They're also convenient as you can begin to explore Lanzarote and the canary islands as soon as you land. You must not miss the Cueva de los Verdes and the Marina Lanzarote.
● When you reach the car hire desks make sure to be well prepared and informed about what's included in your booking such as baby seats, unlimited mileage, excess insurance, free cancellation and more. Also make sure yo have your driving licence with you.
● Compact hire car models in Lanzarote are cheaper and more popular than other vehicle types.
Got a Question? Chat with our UK support team
Online chat help is open 08:30am to 17:00 weekdays. Email: [email protected]
FAQs about car hire in Lanzarote
Most frequently asked questions about hiring a car in Lanzarote
An economy car like a Nissan Micra costs €14.84 a day in Lanzarote when you book off-season and a Citroen C3 is €16.04 a day.
The minimum age for hiring a car in Lanzarote is 21 but this might be higher for certain rental companies so please confirm.
The minimum age for hiring a car in Tenerife is 21 but this is higher for certain rental companies so please confirm.
Yes, this is fine – extra drivers can usually be added to the rental agreement, provided they hold a valid license and an additional daily fee is paid.
This depends on your plans, but a roomy Volkswagen Touran seats five comfortably and is ideal for family road trips.
Let your Lanzarote rental company know if you have an accident. In the event you have a serious accident in the Canaries, call 112 immediately for emergency services.
Lanzarote in generally is not expensive and especially in the south you can eat all kinds of food for a few euros.
Renting a car in Lanzarote is recommended for at least for 3-4 days. They are not expensive and the fuel is cheap. So you can tour the island, at your own pace and comfortably.
The minimum age for hiring a car in Tenerife is 21 but this is higher for certain rental companies so please confirm.
Lanzarote follows the same traffic regulations as the rest of Spain. First of all, you drive on the right and in the roundabouts you give way to vehicles coming from the left.
Lanzarote is a volcanic island par excellence. The deepest blacks and reds blend with the Atlantic Ocean to offer us the best of gifts. Take in the landscape of contrasts and drive around the island to truly fall in love with it.
The best time to travel to the Canaries is from April to October, although the two eastern islands, Lanzarote and Fuerteventura, boast warm temperatures practically all year round.
For small cars the budget friendly options begin at £35 for a week, which means more or less £5 a day.
The cheapest offers allow you to rent a car for a whole month for £270, or £9 per day. As mentioned earlier, this depends on the season you book and the car type.
The average price of a litre of fuel can vary between EUR 1.15 and EUR 1.01.
Explore popular places in Spain