London City Airport parking
Find the best parking deals at London City Airport parking
With a massive choice from the biggest brands, Enjoy the best way to find the best prices for car hire in London City Airport parking.
Huge choice car parks to suit every budget
Save up to 70% compared to buying on the day
Working with the best partners in Airport Parking
Parking at London City Airport
Perusing parking options at London City Airport (LCY)? We've got you covered in this comprehensive guide – with clear information on different types of parking to suit diverse travellers and a few tips on airport facilities and amenities too.
LCY is a spectacular launchpad for destinations like Amsterdam, Edinburgh, Frankfurt, Dublin, Glasgow, Rotterdam, Berlin, and Barcelona. It's the only airport actually in London, just six miles from the City of London and three miles from Canary Wharf – land on its iconic runway in Newham's Royal Docks and you're instantly plugged in to one of the world's foremost financial districts. If you've got time for a pre-holiday holiday, there are lots of iconic capital attractions within reach of LCY and a day in London reveals a whole world of culture, history and entertainment.
For instance, you can stroll up the Mall and take a look at Buckingham Palace – arguably the most famous royal pad on the planet. The Palace of Westminster and Big Ben make a magnificent backdrop for any selfie, and the National Gallery showcases masterpieces by Da Vinci, Cezanne, Gainsborough and more. At the British Museum meanwhile, you can see treasures such as the Rosetta Stone, artefacts from famous British archaeological sites and ancient Egyptian mummies. Kids also love ZSL London Zoo (think lions, penguins and even a walkthrough spider's lair), SEA LIFE London (sharks and more) and the Science Museum, which has lots of interesting, educational and fun installations for kids of any age interested in STEM topics.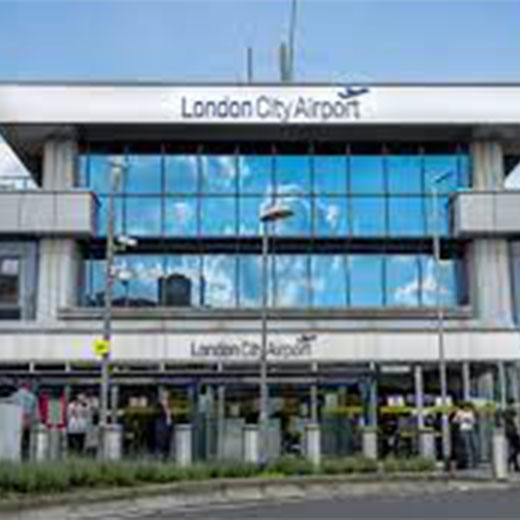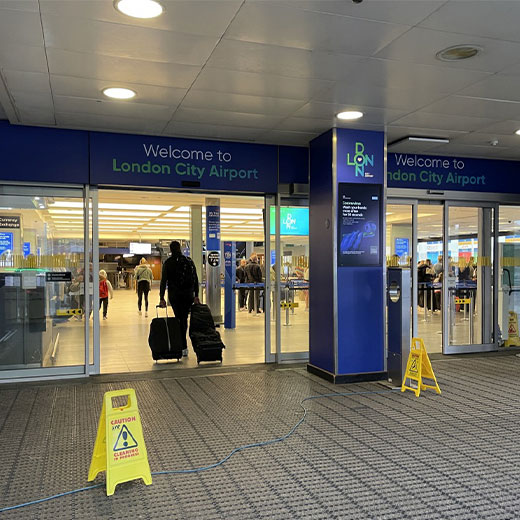 Find the best deals at London City Airport
You don't need to wear a power suit and trade in stocks and shares to be a whizz at finding great deals. But by the time you've read this guide, you'll have pinpointed a few promising parking options for your portfolio and perhaps even plumped for your ultimate pick.
Whether you're an entrepreneur jetting off to source supplies or a couple seeking a sojourn on sunny shores, there are plenty of car park spaces at LCY to suit. And once you're really nailed down your needs, making an informed decision is so much easier.
Compare parking at London City Airport
There are lots of LCY parking options available, with the official website offering flexible deals and packages, as well as price reductions when you book ahead. It's easy to book and efficient to use – like most things at this well-run air hub.
Processing around 5 million passengers at pre-pandemic levels, LCY is in a strong position to recover its previous performance in time and it's the first choice for anyone who wants to step off a plane and step into the heart of the capital. The airport was officially opened by the late Queen Elizabeth II in 1987 and in the early years, its short runway and surrounding city infrastructure meant it was famous for requiring a steep approach from pilots. A 1992 runway extension means LCY can now cope with larger aircraft, and this was a crucial development in its continued growth. Recent improvements include a new taxiway and stands, and it also became the first major international airport in the world with fully remote air traffic control – LCY airport movements are now handled remotely by air traffic controllers in Stanwick, Hampshire, at the National Air Traffic Service – some 70 miles away.
What parking is there at London City Airport?
There are several official LCY parking options but it's also worth investigating offsite and unofficial options. For example, APH provides bundle deals with airport hotels and parking at the likes of Greet & Go by Cohen Meet & Greet and Butterfly Business Meet & Greet Parking. Meanwhile, comparison site Looking 4 Parking also offers deals on offsite parking with Butterfly and Greet & Go.
Now let's get into your official LCY parking.
Onsite
A great choice when you're taking a holiday or any kind of longer trip, onsite parking is conveniently close to the terminal and great value for money. Once you park up your car, grab your cases and lock up, you can stroll to the terminal in 5-10 minutes. You can also use it if you're staying less than an hour and want to collect friends or family members – the new Orange Zone is designed for exactly this purpose and it's super-close to Arrivals and Check-In.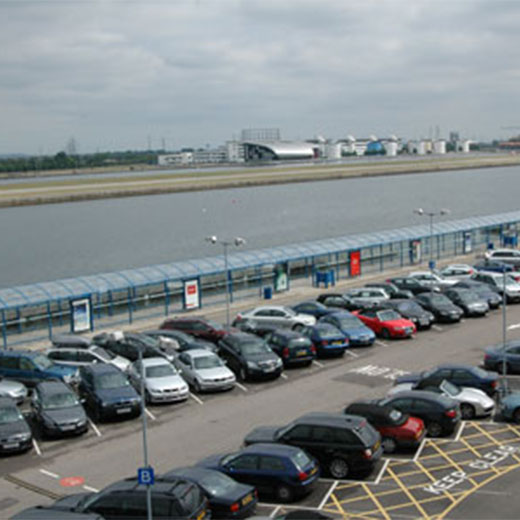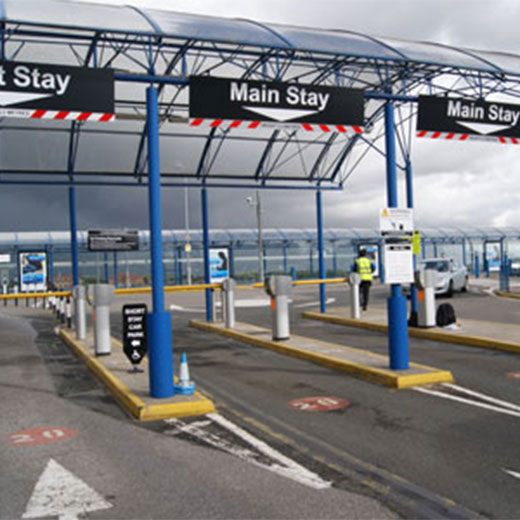 Valet
Need a super-quick, convenient and premium service? LCY Valet is your new best friend. Ideal for business travellers, all you do is meet their friendly, trained staff in the Main Carpark, then they park your vehicle securely for the duration while you take a relaxed stroll to departures. When you want to skip through security quickly and fly with peace of mind, this is a great choice.
London Weekender
If you're treating yourself to a weekend in London to meet mates, see the sights, hit the shops or anything else, LCY London Weekender parking is a great value option. Entry/exit is available from 00:01 Saturday to 23:59 Sunday (pre-booking only) and it's half an hour from the city centre – close to lots of the main attractions. This is a great way to avoid traffic congestion and tricky parking restrictions.
Pick-up zone
You can stay in this zone for 20 minutes maximum to pick up airline travellers. If you need longer than this, move to the main car park and swap tickets at the Terminal info desk – that way, you'll avoid any penalties.
Motorbike and bicycle parking
Pushbikes and motorbikes park at LCY for free. You'll see signage as soon as you arrive at the airport and the spaces are underneath the DLR viaduct opposite the turning at the front of the Terminal.
Special assistance / Blue Badge holders
At LCY, Blue Badge holders get 30 minutes free parking in the main car park area. Just take your Blue Badge to the Terminal info desk to get your ticket validated.
Parking restrictions
If your vehicle is taller than 3.3 metres, it won't fit in the LCY car park – fair warning!
Getting to London City Airport
If you're using your SatNav to get to LCY, the terminal building postcode is E16 2PX. The Terminal car park post code is E16 2PB. And the GPS coordinates are: 51.502982 and 0.053069.
You can reach the London City Airport Drop off, Pick up and Long Stay parking areas from the west via Connaught Bridge and from Redgrave Bridge/Albert Road if you're driving in from the east.
The full address for LCY is: London City Airport, Hartmann Road, London, E16 2PX.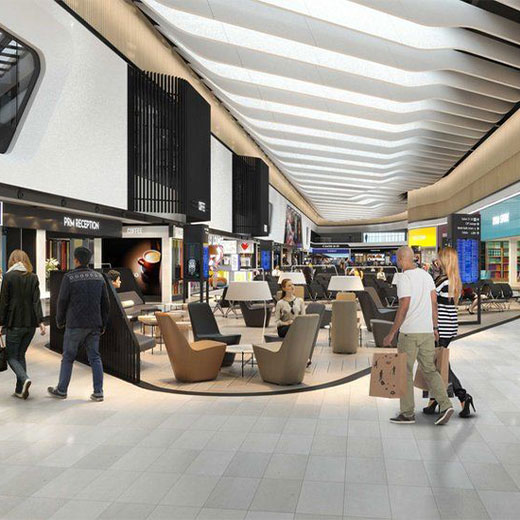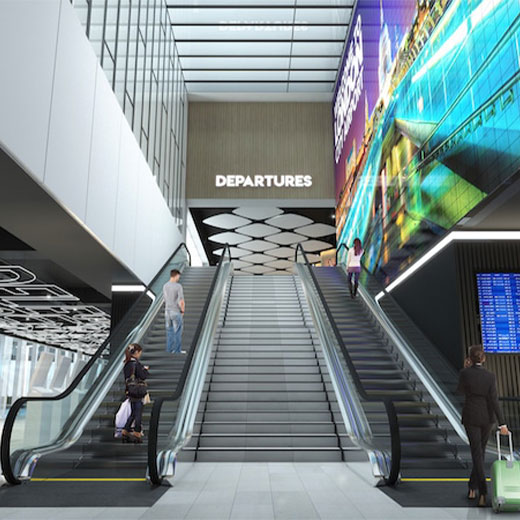 Facilities at London City Airport
The setup at London City Airport is fairly easy to get your head around. When you get into the terminal, take the escalator, stairs or lift to enter the departures preparation area. You can take the appropriate time here to sort out all of your liquids and get your hand luggage prepped for scanning. Queues can be long at peak times, so bear this in mind.
There's self-service check-in for flights with Lufthansa, British Airways, Alitalia, Luxair and Swiss at the terminal kiosks and on the walkway between the airport and Docklands Light Railway. You'll also find a small (but well-stocked selection of shops). Pick up books by your favourite authors and newspapers, snacks and drinks at WH Smith, or fine wines, spirits, champagne, cosmetics and more at Aelia Duty Free.
There's also a decent selection of food options too and it's always good to grab something substantial if you're not too sure about the airline food (albeit many carriers have vastly improved in recent years). Try Caffe Nero for strong, tasty Italian coffee, light bites and pastries. Pret A Manger on the ground floor of the terminal specialises in hand-made food free from the additives and preservatives you find in certain other outlets. And if you fancy a lively atmosphere to get you in the mood for your holiday or business trip, The City Bar stocks top-flight international lagers and highly-rated craft beers from Meantime Brewery.
The LCY information desk is located in the main concourse – as you enter the main doors, it's on the left. Staffed by friendly faces, it's the best place to ask about flight information and any general airport enquiries. If you're looking for specific information about accessibility at LCY, the airport has partnered with Accessible to produce a series of guides – they're available on the official website.
Got a Question? Chat with our UK support team
Online chat help is open 08:30am to 17:00 weekdays. Email: [email protected]
FAQs about car hire at London City Airport
Most frequently asked questions about hiring a car at London City Airport
It is possible for you to alter or annul your free parking booking at London City International Airport within 48 hours before your scheduled journey without any cost. However, if you do it after that period, you will have to pay a fee of £5.
To benefit from Enjoy Travel's most attractive discounts on parking at London City Airport, it is advisable to book online well ahead of time.
Various parking options are available at London City Airport, including Short Stay parking, Long Stay parking, Business parking, and Meet and Greet parking.
When you reach London City Airport, you can either look for the signs leading to your reserved car park or refer to your booking confirmation for detailed instructions on how to locate your designated parking area.
To guarantee the safety of parked cars, London City Airport employs diverse safety measures, including surveillance by CCTV cameras, routine patrols by security staff, and high-grade fencing surrounding the parking areas. Moreover, the airport has obtained the Park Mark® Safer Parking Award, which signifies that the parking facilities conform to the rigorous security standards established by the British Parking Association.
The proximity of the car parks to the terminal at London City Airport is not the same for all. The Short Stay parking area is situated at a walking distance from the terminal, whereas the Long Stay and Business parking areas are a little further away and require the use of a shuttle bus service to get to the terminal. The Meet and Greet parking area is the closest, and you can reach the check-in area after a brief walk.
Designated charging spots for electric cars are available at the Short Stay, Business, and Long Stay car parks at London City Airport. To use the charging point, you can park your electric vehicle in the allocated spot and connect it to the charging point using your own cable. The charging facility is provided at no additional cost, although you will still need to pay the parking fee for the duration of your stay.
London City Airport permits overnight parking, with options for both Short Stay and Long Stay parking available to accommodate your travel plans for several days or even weeks. Keep in mind that the cost of parking may fluctuate based on the length of your stay, so it is advisable to check the fee structure beforehand.
It is recommended to make your parking reservation in advance, especially during busy periods or seasons, as you can benefit from lower rates and secure your parking spot.
The parking fee at London City Airport may be higher if you arrive early, and the amount of the increase will depend on how much earlier you arrive. You can settle the parking charge using a credit or debit card at the exit barrier.
Usually, the Long Stay parking option is the most economical choice at London City Airport and comes to around £15 per day.
Depending on the service and booking type, daily rates at London City Airport range from £7.20 per day for Long Stay parking to £15.00 per day for Short Stay parking.
Enjoy Travel offers airport parking at London City Airport starting at £63.00 per week for Long Stay parking to £105.00 per week for Short Stay parking.
Popular London places, UK airports, train and underground stations