Newcastle International Airport Parking
Find the best parking deals at Newcastle International Airport
With a massive choice from the biggest brands, Enjoy the best way to find the best prices for car hire in Newcastle International Airport.
Huge choice car parks to suit every budget
Save up to 70% compared to buying on the day
Working with the best partners in Airport Parking
Parking at Newcastle International Airport
Looking forward to your flight from Newcastle International Airport (NCL)? Maybe you're going down to London to show those southerners a thing or two about business? Dublin-bound for a legendary stag or hen weekend? Taking the family to Tenerife for sun, sea and sangria? Or treating your better half to a romantic weekend in Paris?
The choice is (almost) endless. But one brilliant decision you've already made is driving to NCL and parking your car for the duration. Because getting there under your own steam, in the company of people you (usually) like, is often much more relaxing than public transport. Then, your next best decision is reading this article to work out which kind of NCL parking is best for your needs and budget. We've got you covered, with info on everything from economy to valet deals.
And canny parking offers are just the cherry on the cake of Newcastle's many charms – if you're travelling from outside The Toon, you should definitely bookend your break with a couple of days to explore this North East cultural powerhouse. With elegant Victorian buildings and bridges, chic hotels and cool contemporary structures, the cityscape looks stunning 24/7. By day, you can browse designer shops and independent stores, lunch at tasty restaurants and enjoy the lovely lilt of the Geordie accent as you banter with inhabitants. By night, lights sparkle on the Tyne as bars and nightclubs buzz with a cosmopolitan crowd of students, visitors and locals.
Great things to do in The Toon include catching legendary live music acts at Sage Gateshead (the stunning silver spaceship building on the banks of the Tyne) and meandering around the boho bars and cafes of trendy Ouseburn. You can also explore the Baltic Centre for Contemporary Art and seek inspiration from the mind-blowing exhibitions, then (if you're feeling flush) treat yourself to a show-stopping painting from The Biscuit Factory. And arty sojourns aside, you can cheer on the Magpies (Newcastle United) at St James Park and (if your timing's right) grab unusual bargains at Quayside Sunday Market.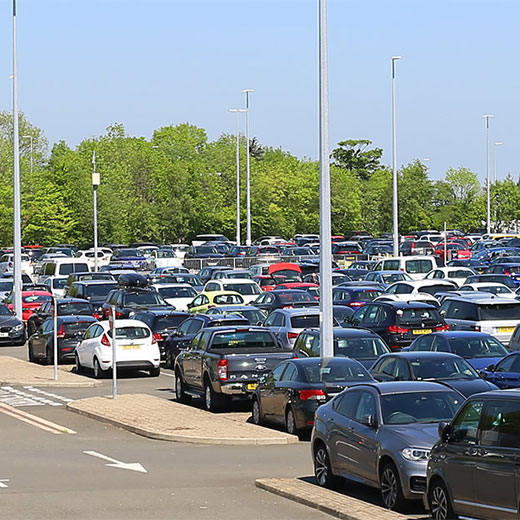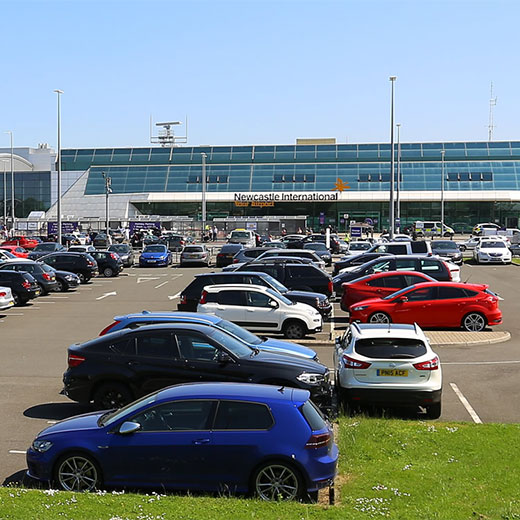 Find the best deals at Newcastle International Airport

What does it take to find a fantastic deal on parking at Newcastle Airport? The short answer is: lots of time that you probably don't have! As usual, there's tons of information online, but you know as well as we do that there's often no such thing as 'a quick Google'. Type in a (seemingly) simple question and you're flooded with information of wildly varying quality from lots of sources – with no clear way to get a definitive answer.

Well, relax. Because we do that bit so that all there's left for you to do is sit back, pop on the kettle, calmly compare carefully collated onsite and offsite NCL parking options and choose the one that matches your budget and ticks every box for your requirements.
Compare parking at Newcastle International Airport
There's a load of canny parking spaces to compare at Newcastle Airport and we'll present them clearly so choosing is child's play.
Parking's just part of the masterplan at NCL. As the UK's 11th-busiest airport, passenger numbers have grown 102% in the past two decades and in 2018 the airport was a gateway for 5.5 million visitors to the local region. By 2035, NCL plans to employ 4,775 people onsite and 27,800 regionally, with a £430 million onsite economic impact and £2.03 billion across the region.
NCL has come a long way since it was opened by Secretary of State for Air, Sir Phillip Cunliffe-Lister, in 1935. But now we know that the £35,000 investment in building the airport back in the day laid the foundation of its success today.
Read on and get into the nitty gritty of parking at Newcastle International Airport.
What parking is there at Newcastle International Airport?
If you want to consider all options to save cash and increase convenience, consider unofficial NCL parking options and comparison sites.
For instance, APH can deliver great value bundles that include a night in a hotel nearby NCL and parking at the airport's long-stay, short-stay and meet & greet lots. And comparison site Looking4Parking also offers deals for onsite long stay (with express drop-off), on-airport meet & greet and onsite short stay options.
Now let's find out more about your official onsite parking options.
Long Stay
Need secure and simple parking, just a short stroll from the terminal? Look no further than Long Stay parking at NCL, which offers parking for all durations. Park Mark secure, with free cancellation and amendments available, it's only 5-10 minutes from the terminal (depending how easy you want to take it as you sashay inside). To get there from the A1, join the A696 and follow the airport signs for 3 miles. Once you get to the airport, follow the signs to the Long Stay Car Park. It's a breeze to use too. Just grab an ticket at the barrier, cameras record your registration number, park, grab your bags, lock up and leave. This car park has 24/7 CCTV, security fencing and floodlighting, so peace of mind comes with your ticket too.
Premium Fast Track
This NCL parking option is just as good as it sounds. For starters, it's the closest car park to check-in – just a 1 minute walk from the terminal (under a covered walkway). It's Park Mark secure, the spaces are extra-wide, and parking is available for as long as you like. To get there from the A1, take the A696 to Newcastle Airport, and when you get to the airport roundabout, take the 2nd exit. When you reach the next roundabout, take the first exit and look out for the signs for Premium Fast Track. Automated number plate recognition and barrier entry make the whole process hassle-free.
Premium Meet & Greet
Fancy even more of a VIP experience at NCL? Try the Premium Meet & Greet package. This allows you to park securely, right outside the terminal, step out of your vehicle, lock up and let experienced staff take care of everything else. Covid-19 safety measures are in place and the whole process is calm and courteous. To find Premium Meet & Greet from the A1, follow the exact same directions as Premium Fast Track (except look for the signs for Premium Meet & Greet as your final move).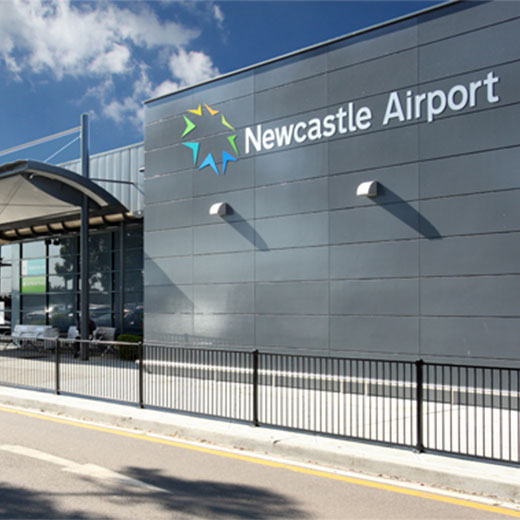 Short Stay 1
This is the best-selling official parking product at Newcastle International Airport. Why? Probably because Short Stay 1 is located right opposite the terminal and offers you a simple, safe and secure place to park. There's also free cancellation and booking amendments and it's Park Mark secure. Take a ticket at the entry barrier when you arrive, and the number plate recognition system will record your details. Then park up, unload your luggage, lock up and walk a couple of minutes to the terminal. Keep your ticket – you'll need to pop it back in the slot at the ticket machine when you leave.
Short Stay 2
Just a 2-4 minute walk from the NCL terminal, Short Stay 2 has pretty much the same benefits as Short Stay 1. To get there from the A1, drive for about 3 miles along the A696 to Newcastle Airport and when you get close to the roundabout, choose the second exit. Take the first exit at the next roundabout and follow the Short Stay 2 facility signage.
Passengers with disabilities
All car parks at NCL have disabled parking bays, with assistance points nearby that are linked to the airport's passenger service desk. If you need extra help on your flight, please let your airline know at least 36 hours before takeoff. If you're struggling to make arrangements, call 0871 882 1121 in advance and customer services can help.
Getting to Newcastle International Airport
If you're using your SatNav to find NCL, the full address is: Newcastle International Airport, Woolsington, Newcastle Upon Tyne, NE13 8BZ.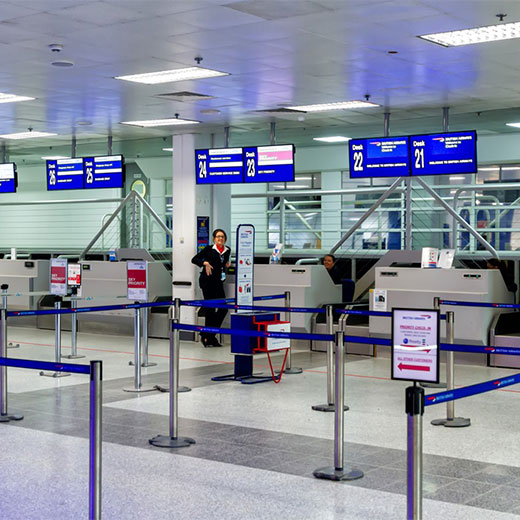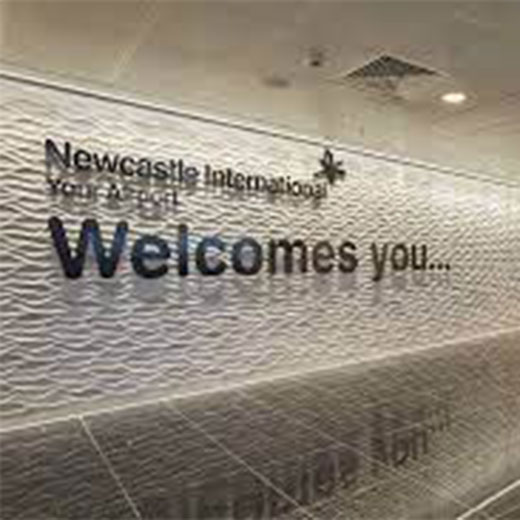 Facilities at Newcastle International Airport
The facilities at NCL are top-notch. For example, there's a comfortable Changing Places Toilet before security in the check-in area which is specifically designed for customers with disabilities. There's also a prayer room for quiet contemplation where everyone is welcome and the airport's chaplaincy team is on hand for support.
Wi-Fi is available throughout NCL and shops include the likes of JD Sports and Accessorize, while food options available span everything from Greggs to champagne at the Cabin bar.
Got a Question? Chat with our UK support team
Online chat help is open 08:30am to 17:00 weekdays. Email: [email protected]
FAQs about car hire at Newcastle Airport
Most frequently asked questions about hiring a car at Newcastle Airport
If you need to modify or cancel your free parking reservation at Newcastle Airport, you can do so without any cost until 48 hours before your flight. Beyond that point, you will have to pay a £5 fee.
Making an online reservation well in advance is the simplest way to get Enjoy Travel's best deals on Newcastle Airport parking. By booking online with Enjoy Travel, you can also benefit from our free cancellation policy up to 48 hours before your departure, as well as our secure payment system and customer support.
The main parking options in Newcastle Airport are on-airport and off-airport parking. On-Airport include long say and short stay parking. Then there is also meet and greet parking. On-airport parking is convenient and close to the terminal, but it can be more expensive than off-airport parking. Off-airport parking is cheaper and offers free shuttle buses to the airport, but it can take longer to reach the terminal.
At Newcastle Airport, just follow the signage; they are all just a short drive or walk from the terminal.
Full CCTV coverage, high security fence and automatic barriers, floodlighting, and routine security patrols are all part of Newcastle Airtport Parking's security measures.
The Long Stay park and Short Stay park are within 5 minutes walking distance from the terminal of Newcastle Airport.
For use in the covered parking lot at Newcastle Airport, complimentary EV charging stations are available. There are several charging outlets in the Parking lots of Short stay and Long stay parking.
The Long Stay Parking facility adjacent to Newcastle Airport does really allow overnight parking. Please be aware of the extra costs.
In fact, doing so is advised, particularly during peak times or seasons when you will pay less and have a seat assured.
You can arrive at Newcastle Airport sooner, but there can be a fee depending on how much earlier. At the exit barrier, you can pay the cost with a credit or debit card.
Depending on how long you intend to stay, Newcastle Airport's Long Stay Parking is £14 per day.Newcastle Airport's Long Stay Parking is located within walking distance of the terminal and offers a free shuttle bus service. It is ideal for travellers who are going away for a week or more and want convenience and security.
According to the service and method of reservation, daily rates at Newcastle Airport start at £12.50 on Enjoy Travel. On our website, you may analyze various parking packages and costs. You can save up to 60% when you make reservations in advance. Enjoy Travel also offers flexible payment options and customer support for your online booking. You can pay with credit or debit card. You can also contact us by phone, email or live chat if you have any questions or issues with your reservation.
Enjoy Travel offers airport parking at Newcastle Airport starting at £59.80 per week. Online reservations for parking allow you to select from a variety of alternatives, including long stay, mid stay, and priority park. Long stay parking is ideal for travellers who are going away for a week or more, as it offers the best value for money. Mid stay parking is suitable for shorter trips of up to four days, as it is closer to the terminal and has a faster entry and exit process.
Popular Newcastle places, UK major airports, train and underground stations