George Best Belfast City Airport Parking
Find the best parking deals at George Best Belfast City Airport
With a massive choice from the biggest brands, Enjoy the best way to find the best prices for car hire in George Best Belfast City Airport.
Huge choice car parks to suit every budget
Save up to 70% compared to buying on the day
Working with the best partners in Airport Parking
Parking at George Best Belfast City Airport
Jetting off soon from George Best Belfast City Airport (BHD)? Maybe you're off to Liverpool to take a Beatles tour or catch a game at Anfield or Goodison Park, visiting your granny in Glasgow, or Bristol-bound to take in some Banksy artwork. Whatever your destination, credit for deciding to drive to BHD – it's often calmer travelling in your own social bubble, to your own timetable. Spend a short while with us and we'll arm you with the best information on parking at George Best Belfast City Airport – as well as some useful tips on amenities and getting there too.
One of Belfast's two airports, BHD is the world's gateway to one of Europe's truly great cities. With unique tourist attractions, a distinctive culture and fabulous cuisine scene, this really is a rewarding place to spend some time. The main tourist draw these days is Titanic Belfast – a cutting-edge, immersive museum that tells the story of the ill-fated Titanic (built in the city by Harland & Wolff). In terms of food, you can sample everything from ocean-fresh fish (and chips) to high-end fusion restaurants and craft beer and artisan gin bars. And the lively Belfast arts scene features first-class theatres, legendary live music venues, and vibrant visual arts (check out the Cathedral Quarter for eye-popping street art and the MAC and Black Box arts centres). Then there's the nightlife. When you're looking for craic (good company), you'll find buzzing traditional pubs, chic cocktail bars, busy nightclubs and welcoming locals.
Other outstanding things to see and do include taking in Belfast City Hall's superb stained glass windows and unique monuments, walking in Belvoir Park Forest, grabbing breakfast at St Georges Market and soaking in the atmosphere at the fairy tale Belfast Castle.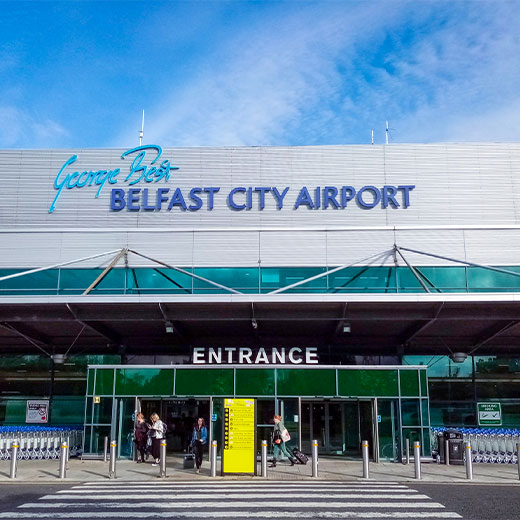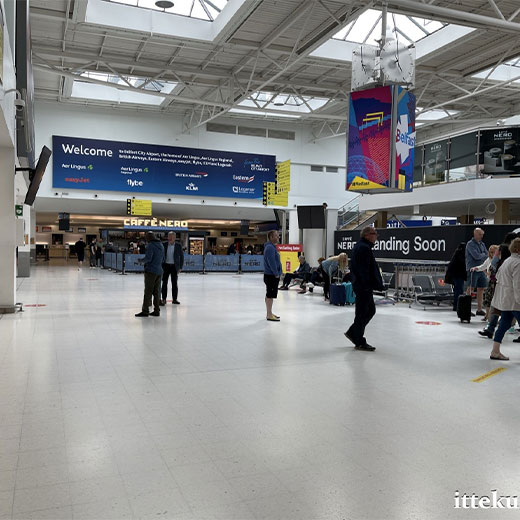 Find the best deals at George Best Belfast City Airport
Finding the best parking deals at George Best Belfast City Airport should be simple. But it doesn't always work out that way – it's not that the information isn't out there, but rather there's too much of it.
Relax, because we're here to turn an overwhelming task into a walk in the park. Once you've narrowed down the type of parking that's most suitable (based on your needs and those of your travel companions), we'll lay out all your best official and unofficial options for clear comparison.
Compare parking at George Best Belfast City Airport
There are lots of great parking spaces across three car parks at George Best Belfast City Airport (and you'll soon know all about them).
A regional base for Aer Lingus and British Airways, BHD handled 1.6 million passengers in the most recent recording year, but peaked at 2.7 million in the pre-pandemic era. First opened for commercial flights in 1983, it has a 6000ft runway, and a decent 6 minutes security processing time. With core vales of people, environment, community and education, it strives 'to deliver an airport experience that exceeds customers' expectations'.
And of course, it's named after George Best, who none other than Pele said was the greatest player he ever saw. Interestingly, these two greats came close to playing on the same team – first with Manchester United and later with New York Cosmos. With 470 Manchester United appearances and 179 goals, George is regarded by most experts as one of the best footballers to have ever strapped on a pair of boots.
What parking is there at George Best Belfast City Airport?
Official parking at BHD is grand, but it's worth having a look at comparison sites too – for instance, Looking4Parking has some good offers on Belfast City Long Stay and Short Stay parking.
Now let's take a look at the official BHD options:
Short Stay Parking
Only a five minute walk to the terminal by covered walkway, BHD Short Stay airport is the easy choice for holidaymakers and business travellers. You'll also find the airport's Blue Badge parking spaces here and on the official website, there's an AccessAble guide to getting around the airport. The Blue Badge parking has extra-wide parking bays, and you can talk to a dedicated support team via assistance phone. The parking is ParkMark assured, contactless (with automatic number plate recognition) and has CCTV all day, every day as standard. This area is self-park, so just find your favourite spot, grab your luggage, lock up and keep your keys.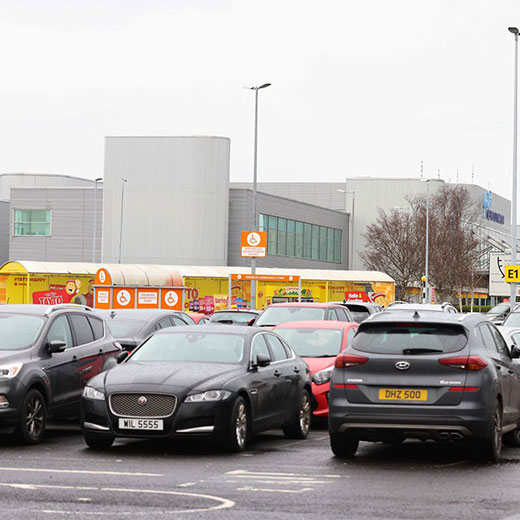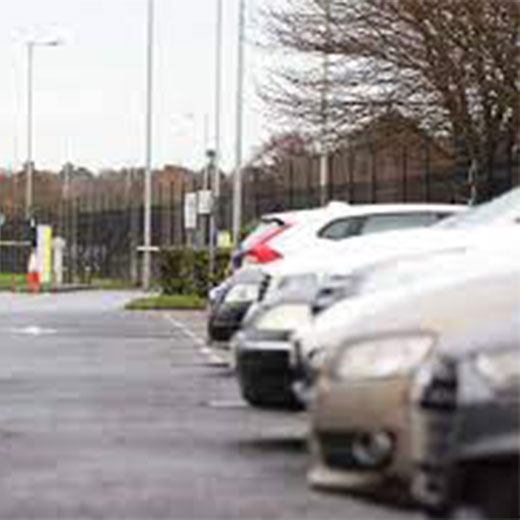 Long Stay Car Park
The Long Stay Car Park at BHD is the airport's most popular parking option and it's the best value for money long stays (trips of 1-2 weeks, for instance). The largest of the airport's car parks, it's a 10 minute walk from the terminal.
Premier Car Park
For top-flight speed and convenience, Premier Car Parking at George Best City Airport ticks every box. The closest parking area to the terminal, it's a super-quick walk to the terminal and you get a complimentary pass to the Fast Track Security lane – meaning you not only park quickly but you also get airside rapidly too.
Annual Parking Pass
When you're a regular Belfast City Airport traveller, grabbing an annual pass makes parking cheap and simple. Every time you use the airport, you'll ease in and out of the automatic barriers and the annual cost breaks down into a really reasonable weekly rate.
Getting to George Best Belfast City Airport
BHD is under 10 minutes' drive from Belfast city centre via the A2. From the city centre, drive east along the A2 (Sydenham Bypass) and follow the airport signs (it has its own exclusive exit). For GPS, the address is: Belfast City Airport, Belfast BT3 9JH.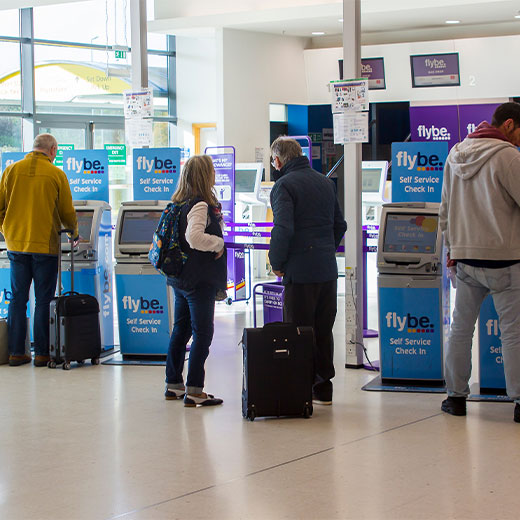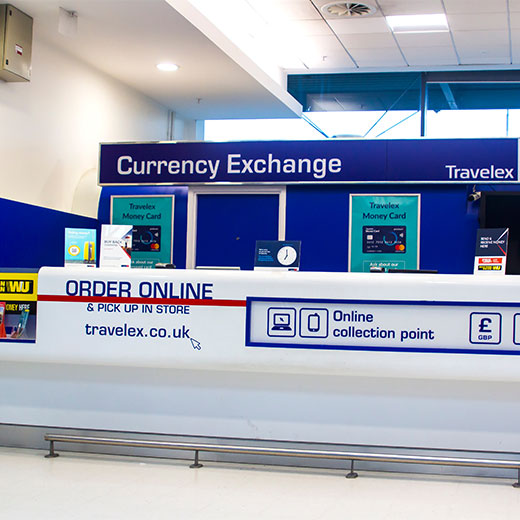 Facilities at George Best Belfast City Airport
From security to shopping and food, facilities at BHD are brilliant. For starters, security is smooth, swift and – at just under six minutes – has one the fastest processing times in Britain. Which means you can dispense with the hassle you've come to expect at certain areas, get airside and enjoy the rest of the amenities before boarding.
When you want an even more relaxed atmosphere away from the main concourse, the Aspire Lounge at Belfast City serves sumptuous snacks and drinks, there are scenic views of the runway, and you can reserve a privacy booth if you like too.
If you're feeling peckish pre-boarding, you can grab everything from coffee to champagne and sandwiches to slap-up meals at BHD. The Artisan serves tapas, light bites, beers and cocktails in a cool, modern setting, while La Piazza has pizza, pasta and all manner of Italian favourites. Alternatively, you can grab cappuccinos, iced teas and more at Starbucks, and there's another classy coffee choice courtesy of Caffe Nero.
Fancy grabbing a gift for someone special – or just simply treating yourself? There are several places to flex your credit card at George Best Belfast City Airport. There are WH Smith outlets before security and airside for example, and here you can purchase a diverse range of essential items, like headphones, souvenirs, camera film, greeting cards, magazines and books. Then you have World Duty Free. Sashay round this shopper's paradise and you can snap up a bargain on fine wine, superb spirits, sunglasses, fashion accessories, cosmetics and children's toys.
BHD also provides help to any passenger who needs special assistance – you can call +44 (0) 2890 935247 to arrange or, if you're already at the airport and need help, staff at the Special Assistance desk in the main concourse are happy to assist. The helpful BHD team can help passengers through security, as well as with boarding and getting off the plane.
The airport also has a parenting room for families with young kids and baby changing facilities in toilets.
You'll find cash machines before and after security and Travelex offers currency exchange on the concourse, luggage trolleys are available and there's also a lost property office. BHD has a conference suite with two conference rooms capable of hosting up to 40 people and meeting rooms suitable for eight people. There's free Wi-Fi throughout the airport and there are internet kiosks in the departures lounge. Airside, there's a post box post-security and card and coin payphones in various areas. There's also car rental at BHD from various well-known providers – which you can book right here at Enjoy Travel.
And voila – your comprehensive Belfast City Airport parking guide, with no stone left unturned!
Got a Question? Chat with our UK support team
Online chat help is open 08:30am to 17:00 weekdays. Email: [email protected]
FAQs about car hire at George Best Belfast City Airport
Most frequently asked questions about hiring a car at George Best Belfast City Airport
You have the option to modify or cancel your complimentary parking reservation at Belfast City Airport without incurring any costs, as long as you do so at least 48 hours before your intended trip. However, if you choose to make alterations or cancel your reservation within the 48-hour period, a fee of £5 will be applied.
To fully benefit from the attractive parking discounts offered by Enjoy Travel at Belfast City Airport, it is advisable to make a prior reservation for parking through their online platform.
Belfast City Airport offers a range of parking options including short-term, long-term, express red, express green, holiday blue, and premium parking, catering to different needs and preferences.
To find your car park at Belfast City Airport, follow the airport's signage, use navigation or airport maps, refer to your booking confirmation for instructions, follow the parking guidance system, or seek assistance from airport staff if needed.
Belfast City Airport implements security measures such as CCTV surveillance, security patrols, secure fencing, well-lit parking areas, emergency call points, and regular security reviews to ensure the safety of vehicles parked on its premises.
The distance between the car parks and the terminals at Belfast City Airport varies, with short-term parking being closest to the terminals, followed by express parking, long-term parking, holiday parking, and premium parking options, each offering varying walking distances or shuttle bus services.
Belfast City Airport provides dedicated EV charging stations within its car parks, allowing electric vehicle owners to conveniently charge their vehicles, with compatibility for various charging connectors and costs depending on the charging provider, while regular parking fees may still apply.
Yes, overnight parking is allowed at Belfast City Airport. The airport provides parking options that cater to longer stays, including long-term parking and holiday parking. These parking options are suitable for passengers who need to leave their vehicles parked at the airport for extended periods, such as overnight or multiple days.
To secure a parking space and take advantage of reduced rates, it is recommended to make a reservation for parking ahead of time, especially during high-demand periods or peak seasons when Belfast City Airport encounters higher volumes of traffic.
In the event that you arrive at Belfast City Airport for parking prior to your scheduled time, there could be an extra fee for the early arrival, the specific amount of which will be determined by the extent of your early arrival. However, you have the convenience of paying the parking charges using a debit or credit card at the exit barrier.
The cheapest parking option at Belfast City Airport is typically the long-term or holiday parking. These parking options are designed for longer stays and tend to offer more budget-friendly rates compared to short-term or premium parking.
The estimated cost for parking for a day at Belfast City Airport ranges from around £9 to £40 for short-term parking and approximately £9 to £25 for long-term or holiday parking, but it's essential to verify the current rates with the airport for accuracy.
With Enjoy Travel, the cost of a week of parking at Belfast City Airport can range from £50 to £150 for long-term or holiday parking.
Popular Belfast places, UK airports, train and underground stations