Gatwick Airport Parking
Find the best parking deals at Gatwick Airport
With a massive choice from the biggest brands, Enjoy the best way to find the best prices for car hire in Gatwick Airport.
Huge choice car parks to suit every budget
Save up to 70% compared to buying on the day
Working with the best partners in Airport Parking
Parking at Gatwick Airport
So you're driving to London Gatwick Airport (LGW) before you hit the skies?
Whether you're off on your hols or jetting off to seal the deal at a high-powered business meeting, the UK's third-busiest airport is always an exciting place to hang around while you wait to hop on board.
LGW had humble beginnings – it started life as an aerodrome in the 1920s and has been used for commercial flights since 1933, but has existed in its current incarnation since 1958, with its North and South Terminals serving over 46 million passengers annually. Gatwick Airport is a hub for British Airways and also serves carriers like easyJet, Ryanair, TUI Airways and Norwegian Air Shuttle. Grab a flight from Gatwick to get you to destinations like Dublin, Madrid, Dubrovnik, New York, Nice, Geneva and more.
Next, let's get into your Gatwick Airport parking advice.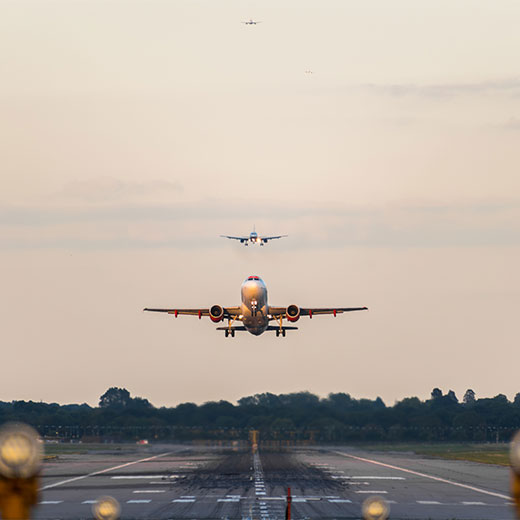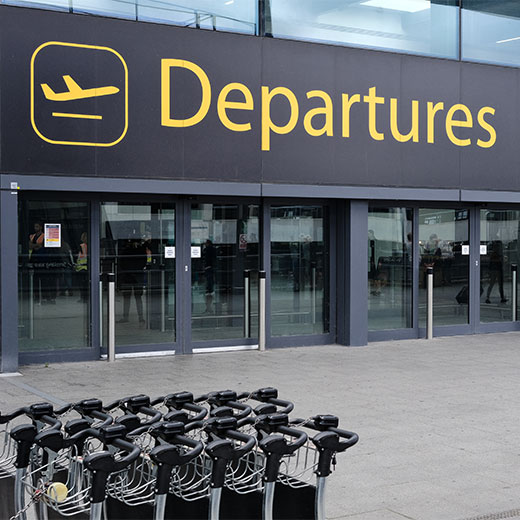 Find the best deals in Gatwick Airport
Driving to Gatwick is a breeze – especially if you're based in areas like Crawley or Redhill.
But with short stay, long stay, premium and valet parking to choose from, and on- and offsite options from official Gatwick Airport parking and experienced independent providers, there's lots to choose from. Don't stress though – we'll help you decide which deal's best for you and provide up to the minute information on secure spots at LGW.
Compare Gatwick Airport Parking
The great thing about Gatwick Airport Parking is that there are lots of options available, so you'll definitely find something suitable for you and your travel companions.
We'll help you choose between the independence of park and ride options and the personalised, high-end attractions of valet parking, all considering your needs and budget.
What kind of parking is there at Gatwick?
Gatwick Airport has 40,000 spaces, so you're sure to find a spot that's right for you. And as well as official LGW parking, Park Mark accredited parking from providers like Looking 4 and APH is also worth considering. Looking 4 Parking options include the Cambridge Hotel Park & Ride, Cophall Parking Gatwick Park & Ride, Gatwick Tudor Rose Park and Chauffeur and Gatwick – Looking 4 Meet & Greet. Meanwhile, APH has a state-of-the-art car park located close to LGW's two terminals and the M23 motorway – it boasts shuttle buses at all hours of the day and night, toilets, Wi-Fi, CCTV, security fencing, barrier controls and staff on duty 24/7.
Meanwhile, safe and secure official Gatwick Airport parking is the closest to the airport that's available, offers free cancellation and there are lots of options for different requirements and budgets. Let's unpack the various packages available.
Long stay
Long stay parking at Gatwick Airport offers great value for money and excellent convenience – just park your car, hop on the shuttle bus and hop off at the terminal 10 minutes later, ready to catch your flight. Blue Badge spaces are also available.
It's easy to use long stay parking at Gatwick. Just drive to the barrier, wait while your registration is scanned, collect your ticket and follow the signage to your space. Once you're parked up, stroll to the nearby bus stop and hop on the free shuttle bus – whether you're heading to north or south, it never takes longer than 15 minutes to get there. On the way back, hop on one of the shuttles to collect your car – shuttles run right through the night. Long stay car parks are security fenced, well-lit and patrolled by security staff. If you need accessible parking, there are 32 Blue Badge spaces in the long stay North Terminal and 27 in the Long Stay South.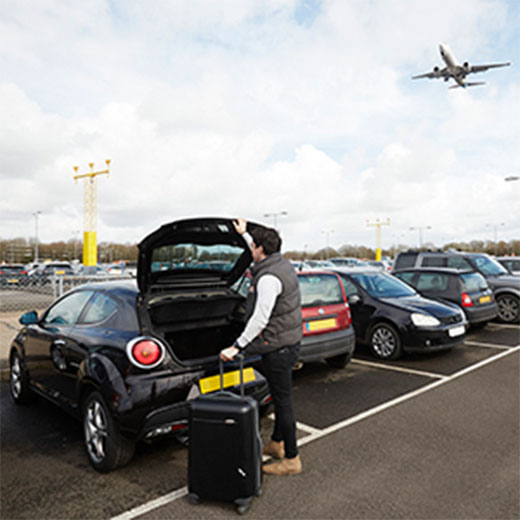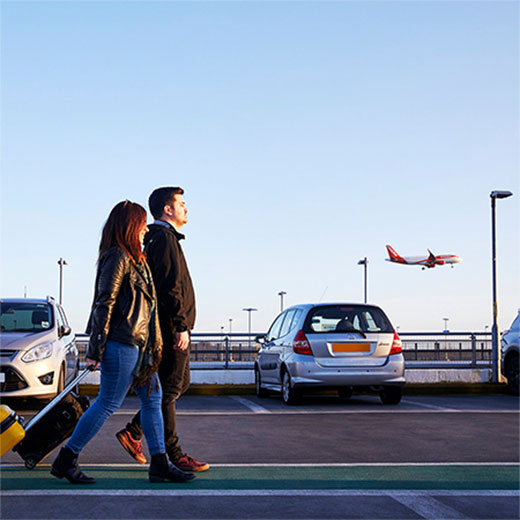 Short stay
Gatwick Airport short stay car parks are closest to the airport, with the shortest transfer time – they're ideal when you're jetting off for a short break, taking a business trip or even picking someone up who's been on their holidays. You park up in the safe and secure bays, keep your keys and then take a five minute stroll to the terminal.
Short stay car parking is easy to use too – just draw up to the barrier and your vehicle registration will be scanned, then take your ticket and proceed to the parking space of your choice. Short stay car parking at South Terminal is found at car parks 1, 2 and 3, while North Terminal short stay facilities are at car parks 5 and 6.
Once you're parked, follow the signs to the terminal. All levels are accessible, but if you want same level terminal access, it's best to use premium short stay areas of Car Park 5, level 3. When you're collecting your car after your trip, drive it to the exit barrier, pop in your ticket and hit the road. All official short stay car parks are on-site, Park Mark approved, and barrier controlled. There are 18 Blue Badge spaces in car parks 5 and 6 and 55 in short stay car parks in South Terminal.
Premium
Another excellent option if you're taking a business trip or short break, Premium Parking lets you get into and out of the terminal quick sharp, you keep your keys, and the bays are extra wide.
Safe and secure, Gatwick official Premium parking car parks are manned 24/7/365, entrances and exits are barrier controlled and cars are kept in a storage area that's undercover. There are also 3 Blue Badge parking bays in the South Terminal Premium area and 18 in the North.
Valet
When you really want a high-end parking experience, only Gatwick Airport Valet parking will do. You drop your car off with trained professionals, sashay through to departures in a couple of minutes and collect it just as smoothly on the way back.
This is the only onsite valet parking option, and you leave your keys to be locked away securely after your car is safely stowed. To get there, follow the signs to short stay parking to either the north or south terminal, then follow the signs for Valet parking.
On the way back, pickup for North Terminal is on the ground floor of car park 6 and car park 2 level 2. Premium car care is also available as an optional extra – your car will be hand washed, hand dried and vacuumed, so it'll feel like new when you slip into your seat and cruise home.
Getting to and from Gatwick Airport
Gatwick Airport is 28 miles south of the capital and it's linked to the M23 at Junction 9 and the A23 London-Brighton route. It's also just 10 minutes from the M25, which connects onwards to Britain's motorway network. The satnav postcode for South Terminal are RH6 ONP and for North Terminal it's RH6 OPJ.
If you're travelling by train meanwhile, LGW is the best-connected airport in the UK, linked to 120 stations directly and over 700 with one change.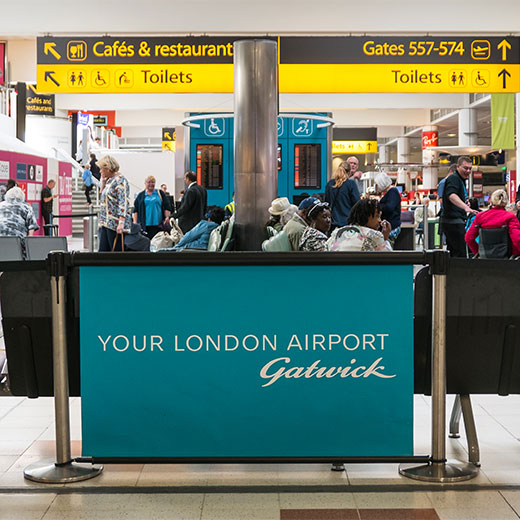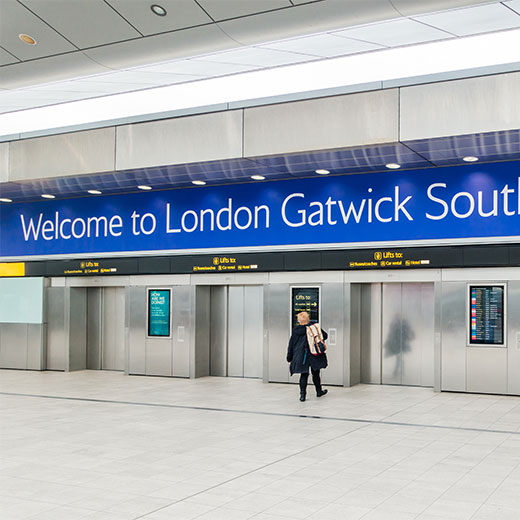 Facilities at Gatwick Airport
LGW is the first Family Friendly accredited airport, so you can be sure that it's a stress-free experience if you've got kids in tow. There are dedicated assistance and family security lanes, kids zones with fun and educational activities, family-friendly restaurants like Jamie's Italian and Pret a Manger, and lots of baby changing and feeding facilities.
Gatwick is also an accessible airport before and after security, disabled transport is available and there's a sensory room, changing places, eagle hoists, dedicated seating and toilets. There are also several airport lounges to choose from if you'd like a little luxury and privacy. The No 1 Lounges in North and South Terminals have fully-tended bars, cosy libraries and hot and cold food, while the stylish Plaza Premium Lounge has a sleek ambience and international menu.
There's also a multi-faith chapel and prayer room, ATMs and Wi-Fi throughout. And if you need to stay overnight, great hotel options include Bloc, Hampton, Hilton, Premier Inn, Sofitel and Yotelair.
If you want to shop til you drop meanwhile, retail therapy options include Accessorize, Aerospar, Boots, Boss, Dune, Fatface, Hamleys, Harrods, Lego, M&S and more.
And you won't go hungry either, with food options including Caffe Nero, Giraffe World Kitchen, Nandos and Wagamama.
As you can see, once you've parked your car at Gatwick Airport, a whole world of leisure and entertainment awaits. And whether you're getting ready to go on holiday or returning home, you can be sure that everything will go as smoothly as possible.
Got a Question? Chat with our UK support team
Online chat help is open 08:30am to 17:00 weekdays. Email: [email protected]
FAQs about car hire at Gatwick Airport
Most frequently asked questions about hiring a car at Gatwick Airport
If you have made a free parking reservation at Gatwick Airport, you can alter or cancel it without incurring any costs up until 48 hours prior to your scheduled trip. Nevertheless, if you choose to modify or cancel your reservation after that period, a fee of £5 will be imposed.
To benefit from the most attractive parking discounts provided by Enjoy Travel at Gatwick Airport, it is advised that you make an online parking reservation well ahead of time.
To accommodate various requirements and budgets, Gatwick Airport provides different parking choices. These options comprise on-airport parking, off-airport parking, and meet and greet parking.
When you arrive at Gatwick Airport, you should look for the signs indicating the location of the car park that you have reserved. Some car parks provide shuttle buses that will take you straight to the terminal, while others are situated within walking distance.
Gatwick Airport has implemented several security measures to ensure the safety of parked vehicles. The car parks are monitored 24/7 by CCTV cameras and security personnel. Additionally, the car parks have high fences, barriers, and gates to prevent unauthorized access.
The on-airport long-stay car parks are within a 10-15 minute shuttle bus ride from the terminals. The on-airport short-stay car parks are within walking distance of the terminals, and the off-airport car parks may be a 5-15 minute shuttle bus ride away. Meet and greet parking involves dropping off your vehicle near the terminal, so there is no distance to travel.
If you have an electric vehicle, there are a variety of charging options available at Gatwick Airport. Some car parks have dedicated EV charging points, while others offer general charging facilities that can be used by EVs.
Yes, you can park overnight at Gatwick Airport. The airport offers various parking options that allow for short-term and long-term parking, depending on your needs.
It is recommended to book a parking space in advance, especially during busy times or high seasons at the airport, to secure availability and obtain discounted rates.
Arriving early for parking at Gatwick Airport may result in an increased parking fee, the amount of which will vary based on how early you arrive. Parking fees can be paid using a debit or credit card at the exit barrier.
TThe cheapest parking at Gatwick Airport is the long-stay parking option and comes to around £14 per day.
The cost of parking for a day at Gatwick Airport varies depending on the type of parking and the car park chosen, with prices starting from £8 per day.
With Enjoy Travel generally, off-airport parking tends to be cheaper, with prices starting at around £40 per week, while on-airport parking can cost upwards of £100 per week. Meet and greet parking can cost even more, with prices ranging from £80 to £150 per week.
Popular London places, London airports, train and underground stations