Geneva Car Hire
Find the best deals in Geneva
With a massive choice from the biggest brands, Enjoy the best way to find the best prices for car hire in Geneva.
Huge choice of cars to suit every budget
Save up to 70% compared to buying on the day
10 years experience in car hire


Compare car hire in Geneva
Geneva is a city in Switzerland. The city sits at the tip of Lac Leman (Lake Geneva) and is enclosed by the Alps and the Jura mountains.
The population of the City of Geneva is around 200,00. The population of the Canton of Geneva is just under 460,000.
The official language of this region is French which is spoken by the vast majority of its inhabitants. English is also widely spoken, Italian and German.
There are numerous free Wifi spots in the public spaces in the town. Geneva's lakefront, La Perle du Lac, Conservatory and Botanical gardens to name just a few.
It is one of the 26 confederation cantons that make up Switzerland, these were established before 1450 and each had their own army, currency and rulers.
It sits 373m above sea level and the average temperatures for winter:10 celcius and summer: 23 celcius. These can drop down to -1 for winter.
Geneva is financial hub and worldwide centre for diplomacy with its countless international organisations and agencies of the UN
CERN (The European Organisation for Nuclear Research) has its headquarters in Geneva.
The city provides free public transport for tourists that stay in a hotel, hostel or campsite in the Canton. This gives you access to the public transport network UNIRESO: bus (TPG), train (CFF) and boat(Mouettes) for the whole time you are visiting.
Birthplace of Jean-Jacques Rousseau, the philosopher, writer and composer who said 'What wisdom can you find that is greater than kindness?'
Home to the largest wooden bench in the world. Built in 1767 from 180 wooden boards the bench is 413 feet long.
Road signs across the country can change in language from Italian to German, to French. All cars must drive with headlights on during the day or you will be fined.
Inner city speed limits are generally 50km/h then 80km/h outside of cities, speed limit goes all the way up to 120km/h on the motorways.
Birthplace of the explorer and author Isabelle Eberhardt, famous for amongst other things moving to North Africa, presenting as a man and joining the Islamic faith. She had this to say of life, 'One must never look for happiness: one meets it by the way'.
Geneva is a border town that shares it's enclosure and main body of water with France more specifically the delightful towns of Valleiry, Neydens and Thoiry.
Guide to Geneva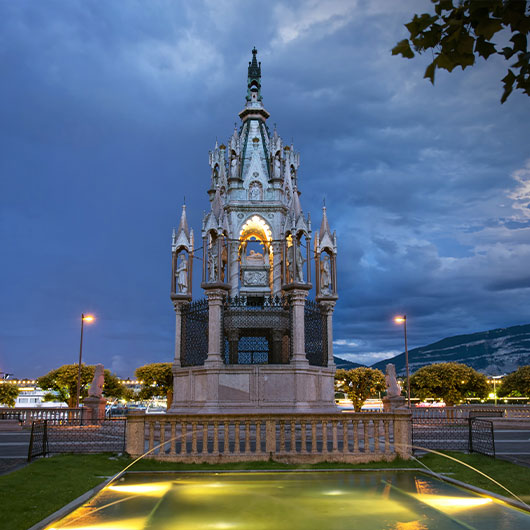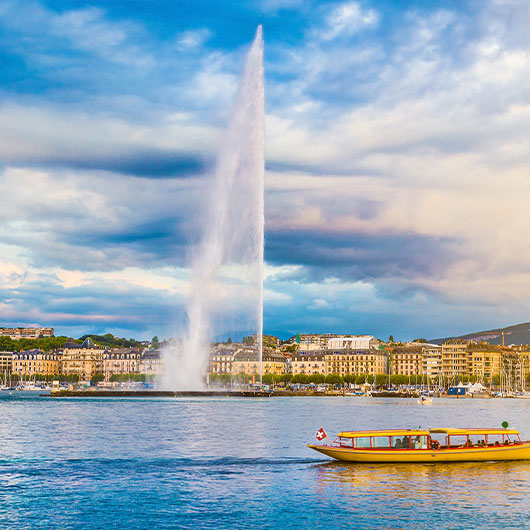 With all its financial industry and tourism being one of its main sources for income, it is a city that welcomes tourists with open arms, it's not a large city but is used as a gateway into the rest of Europe and also a home base for ski trips into the mountains. There are so many different ways to access this multicultural city especially with its influences from Italy, France and Germany.
Carouge & Italian influence
Take a tram trip into the south of the city and you can find yourself in the unique neighbourhood of Carouge, here you will be surprised by the Italian influence, it was built up by Italians from Turin in the 18th Century, covered in Italian style, red roofs, stone archways, painted shutters the list goes on. It is a great destination for shoppers who are after second hand treasure troves with bookshops, markets, antique restorers, watchmakers, indie clothes designers, they all reside here. Feeling peckish whilst here then make sure you stop off at Le Flacon it is one of the hottest food stops in the area, if not the city, they prepare a seasonal menu to delight the taste buds with the classic French beef entrecote with ravioli and roots or maybe a slightly more adventurous palette would enjoy the scallops with clementine, radish and apple. Put your trust in them as they are masters at the gastronomic taste spinners.
Amonst the greenest cities in Europe
You can't be on holiday and always be seeing things, you need to take time out and breathe in the wonderfully fresh air of a city, this particular city having some of the freshest with 20 parks in the city centre it is one of the greenest cities in the whole of Europe. Whilst winding your way through the parks you could make your final destination the Jet D'eau Fountain, one of the icons of the city and generally what people think of when they think of Geneva, it's a spurt of water that shoots up 140 metres into the air, great spot for an obligatory selfie. No reason to go too much further to find another culinary gem as just near the fountain is the famed Tuscan inspired restaurant Tosca, here the artists of the kitchen have stirred, whipped and foamed a menu to transport you to the Italian countryside, with dishes like White Truffle Taglilini pasta or Venison fillet with orange marinated endives you will be indulging in the grandiosity of Tuscany whilst sitting in Switzerland.
Not everywhere is filled with expensive restaurants and fountains that shoot up into the air to awe inspiring heights, some places like CERN (European Organisation for Nuclear Research) run free tours and exhibitions daily, here you can attempt to learn what makes up the universe, listen to the physicists discuss the very nature of our existence. The building itself is 27 metres high and 40 metres in diameter, around the size of the dome of St Peter's in Rome, it is also home to the Large Hadron Collider, the world's biggest machine, the place where every day they attempt to re-create the big bang. Tours usually fill up months in advance as it's so popular so make sure you book ahead.
Home to humanitarian work
It's no secret that Geneva is a financial paradise for companies but it is also a capital for NGO's and home to humanitarian work, head over to the Musée International de la Croix-Rouge et du Croissant-Rouge to fill your mind with the history of humanitarian work of The Red Cross and Red Crescent since it's its inception in 1863. Now you've seen the multiculturalism and read all about the history of humanitarian work, you have experienced what it takes to re-create our very existence and now you need to take a well-earned break, go do something that will allow all that information to make it into the deepest recesses of your brain, make your way over to a popular destination in this lake side city The Bains Des Paquis a spot where sites and relaxation come together, it was first built in 1872 for the Genevan's to splash about in the refreshing lake, it has a wellness centre and is now a place that houses 2 mixed saunas, 1 mixed Turkish bath, 1 mixed hammam and 1 hammam reserved just for women. It's open all year round and depending on when you go you can access either the wonderfully invigorating lake or the massage and sauna for all your respite needs.
Whilst in Geneva one of the most celebrated times of the year is the sunrise festival in August, the city plays host to musicians and dancers who arrive to perform in honour of the sunrise, a homemade breakfast is on offer after the performances.
The last thing for now that you could do is drive over to the old town and sit on the longest wooden bench in the world, it is a community spot and also has a great view of the city and the surrounding mountains.
This is a small slice of what's on offer in a city filled with museums, parks, restaurants and bars. Genevan's also love themselves some nightlife too so you can get out there all day and night.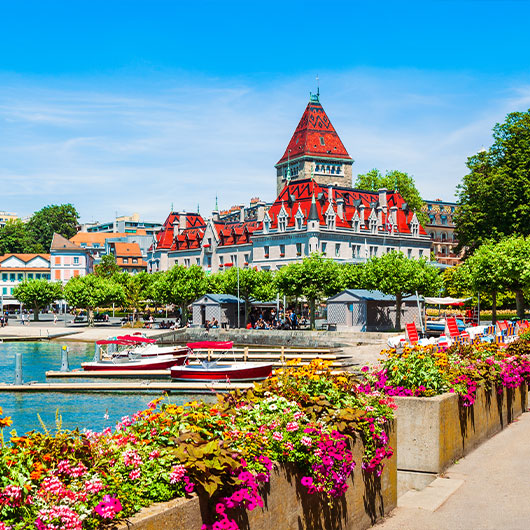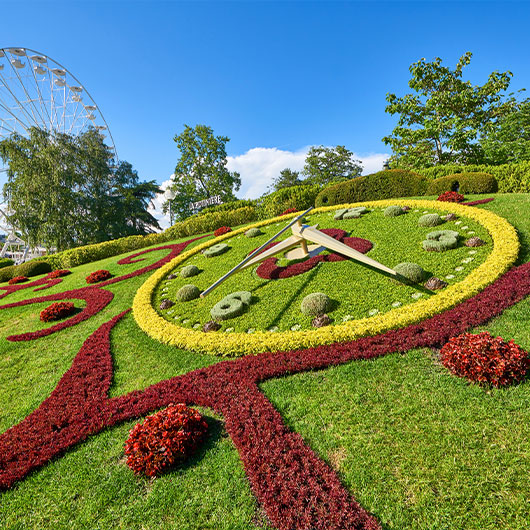 History of Geneva
Known to some across the world as a centre for diplomacy, a home of watchmaking and a hub of banking due to its political neutrality and that it is a gateway into Europe. Geneva wasn't always this way, Geneva in its early stages of being a nation was ruled over by the Helveti tribe who were a Celtic tribe and occupied the majority of the Swiss plateau. This rule came to an end with the meeting of the romans and the Helveti, the Romans took control of the the city in 121 BC.
After this take over Geneva with its borders on the key parts of trading land in Europe became a central trading spot during the middle ages. Owing to its geographic location the city was the subject of many conquests, it changed hands many times before eventually establishing itself as an independent republic in 1535, final independence was gained in 1602 when the people of Geneva repelled an invasion by the Duke of Savoy. A celebration of this achievement takes place today as l'Escalade.
Geneva from then on became a home for refugee's, they were attracted not just by its independent heart but also by the Calvinism reformation which was a protestant form of religion and came over with refugees from France. There was a mass expulsion of all Catholic priests at the time due to their pro-Savoy rhetoric.
"200 councillors & highly controversial council"
Prior to this religious rule the Grand Council of Geneva was established in which 200 councillors would preside over the city making the decisions for its people, this was a highly controversial council as the majority of decisions usually placed great importance on ensuring that the rich would be held to account however it had a greater effect on the poor leading to widespread rioting in 1734-1737. The wants of the people led by watchmaker Jacques François Deluc, was to re-establish a more fairer system of government that would enforce the General Council (The Grand Council) to represent the people and assert its power over the Council of Twenty-five (The Executive Council) which was mostly made up of Oligarchs. This was a failed coup and only when a French diplomatic intervention took place was order somewhat restored.
1782 Revolution
However it wasn't until the revolution of 1782 that the working class activists and revolutionary ideologues were able to be elected to the Grand Council giving many voices to the people of the lower classes.
Geneva owing mostly to space limitations, was never a headquarters for manufacturing, instead it became known for watchmaking and also its growing chemical industry, where they make luxury items like bases for perfumes and fragrances. It is widely known to be a centre for private banking and holds more than half the amount of foreign capital from the whole of the country. The main industries are banking and tourism.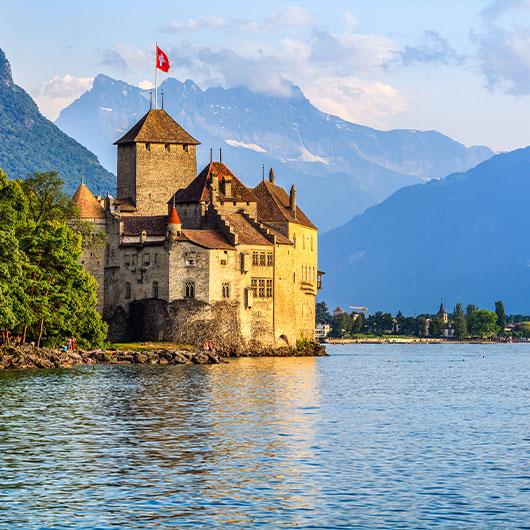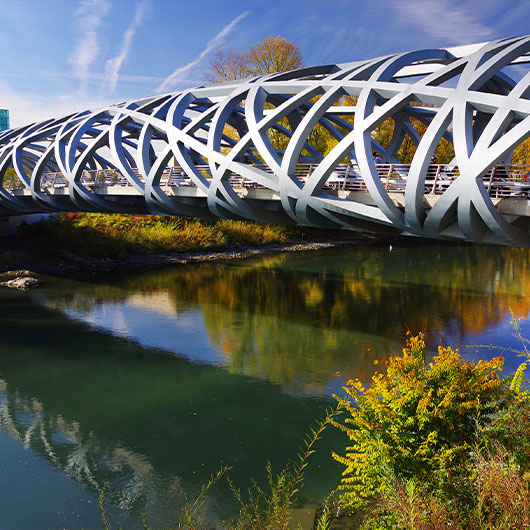 Getting around Geneva
Swiss Cities
Swiss cities have a relatively small population in comparison to other major European metropolises such as London or Berlin, but there is a serious amount on offer in each of them.
Geneva has only one airport Genève Aéroport, it was built in 1920, making it one of the oldest airports in the whole of European continent. Through the consistent innovation of the surrounding minds, the airport boasts in the region of 12,000 Sqm of thermal solar and photovoltaic panels, this is part of the commitment to a sustainable future which is run by EMS (Environmental Management System) that has assisted the airport in reaching the goal and title of best airports in term of carbon offsetting.
Genève Aéroport with its dual terminals and multiple runways in 2018 provided customer care for over 17 million passengers arriving from 148 destinations all over the globe. The Airport generates revenue at such a level that it has been an autonomous public entity since 1994, in 2018 its net profit reached the heights of 85.1 million CHF which generated an added value economically to the country of over 4 billion, this was directly associated with the 33,000 jobs that continue there. The airport operates without any subsidies from public authorities and half of its profits are paid to the state.
Car Hire in GVA Airport
The car hire options from the airport are all the major brands Avis, Budget, Europcar, Hertz, Sixt, and National.
Got a Question? Chat with our UK support team
Online chat help is open 08:30am to 17:00 weekdays. Email: [email protected]
COVID CLEAN & SAFE PLEDGE
FAQs about car hire in Geneva
Most frequently asked questions about hiring a car in Geneva
SThe cost of hiring a car in Geneva is not cheap, this goes along with the rest of the city as well, the cost of a Hyundai i10 or similar in February with a mid-week rental and a pickup and drop-off at the airport is € 38.32/day. The price increases when you hire from in the city with the most fairly priced SEAT Ibiza or similar coming in at € 59.09/day.
Economy car hire in Geneva for a Volkswagen Polo or similar is € 39.51/day
21 is the minimum age you can rent a car in Geneva and the rest of Switzerland. Age does incur a slight surcharge as the risk is higher. 25 is where the surcharge is generally lifted.
Depending on the time of year that you are going to Geneva, for instance in summer there is no need to have winter tyres however some of the winter season they are a necessity. If you are taking kids with you and have left your toddler seat at home then this can be quite expensive, however most airlines allow you to bring at least one to two pieces of added luggage for children free of charge. Save yourself unwanted fees by packing as much as you can.
It is a government requirement to keep your headlights on during the day and also keep all passengers seatbelts fastened. Any violations of these laws can cost you up to CHF 40 in fine.
Provided they meet the same requirements as the primary driver, yes.
For comfort and price the best would be a Hyundai i10 or similar. Although for a little extra you could get yourself a more comfortable ride with the Volkswagen polo.
Contact the local authorities first then the car company that you hired the rental from.
The right hand side as they do in all of Switzerland.
Geneva is considered quite expensive, ranked in the top 15 of the most expensive cities to live in. A simple coffee costs around £3.40
Geneva has splendid public transport services making it one of the destinations where renting a car is not a necessity but can improve your trip immensely if you plan to explore.
Geneva is known for its modern and effective road system, making it a pleasant city to drive in.
As mentioned earlier the public transport system of Geneva is one of the best, making travel around the city very easy and smooth.
You can find economical options for car hire in Geneva starting at £66 per day.
For now any UK license holder can drive in Switzerland with it. This will remain the same at least until 31 December, 2020.
The Jet D'Eau, or The Water Jet, is a great place to begin exploring Geneva. It reaches 140 meters in height using up to 500 liters of water per second at a speed of 200 km/h. From there you can explore the nearby gardens and city.
The average price of a litre of fuel can vary between CHF 1.29 and CHF 1.50.
Some popular places in Switzerland