Copenhagen Car Hire
Find the best deals in Copenhagen
With a massive choice from the biggest brands, Enjoy the best way to find the best prices for car hire in Copenhagen.
Huge choice of cars to suit every budget
Save up to 70% compared to buying on the day
10 years experience in car hire
Compare Car Hire in Copenhagen
Copenhagen isn't just the capital of Denmark – it's the global epicentre of Scandi cool and regularly ranked the happiest city in the world.
If you're gearing up to visit soon, you've already got impeccable taste, but the chances are that you could still benefit from some insider tips on getting the best out of this brilliant city.
So read on for our comprehensive Copenhagen guide. It's packed with fascinating facts on history and customs, advice on the most awesome attractions and guidance on how to get around with minimum hassle.
You'll find indispensable info on everything from cosying up with Hygge culture to hiring cars – enjoy!
Guide to Copenhagen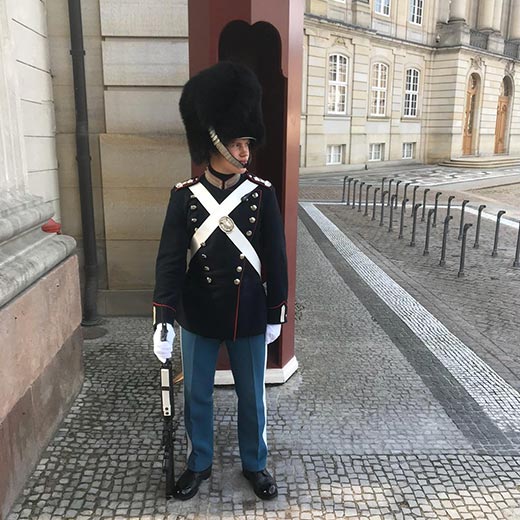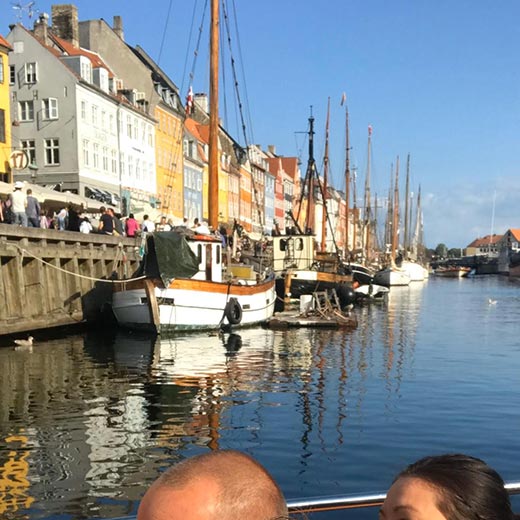 The most internationally recognised Copenhagen landmark is probably The Little Mermaid statue at Langelinje Pier.
First unveiled in 1913 and inspired by the Hans Christian Andersen story of the same name, this subtle, understated statue of a mermaid transmogrifying to human form has since become an icon.
But as beautiful and enigmatic as she is, there's much more to Copenhagen than The Little Mermaid.
The city's shopping scene is focused around Stroget, one of Europe's longest thoroughfares, which runs from City Hall Square to Kongens Nytorv. The street is pedestrianised, so you can stroll along shooting the breeze with your companions, completely unimpeded by traffic. And in terms of big brands, if your platinum credit card is burning a hole in your pocket, you can spend big at the likes of Louis Vuitton and Boss, while if bargains are your bag, there are retailers like H&M and Zara aplenty.
Alternatively, if you're captivated by regal pomp and splendour, head to Amalienborg Palace, where the Danish Royal Family still resides and you can witness the changing of the guards at midday most days. The Palace's elegant exterior is matched by a fabulous interior featuring tours and exhibits that further enlighten you on the Danish royal family and explain all about the famous figures featured in amazing portraits that adorn the walls.
Fascinated by all things subaquatic? Then you'll have a whale of a time at Den Bla Planet, the national aquatic museum. The unusual undulating exterior resembles something that's landed from outer space, and once inside, you'll see everything from graceful manta rays to otherworldly hammerhead sharks, as well as playful Alaskan otters and awe-inspiring Giant Pacific octopi.
Meanwhile, if you're an animal lover more at home on terra firma, Copenhagen Zoo has over 4000 species that can't wait to meet you –including Giant Pandas, Polar Bears and Giraffes. And if you're in need of refreshment, feeding time for humans takes the form of of delicious Asian dishes at the Pan Pan restaurant, classic Danish fare at FOLK or plant-based delights at Botanika.
History buffs will feel at home in the National Museum, which is nestled in former royal residence the Prince's Palace. Exhibits cover Danish history from the Stone Age through to the Viking era and range right through the Renaissance to modern times. Highlights include the 3000 year-old Sun Chariot, the Bronze Age Egtved Girl and the well-preserved remains of Huldremose Woman which date from the 1st Century AD. If you're visiting with youngsters, don't forget that The Children's Museum has plenty of interactive exhibits that being Danish history to life, including an impressive Viking ship.
And there's more – art lovers in Copenhagen can satisfy their hunger for all things aesthetically pleasing at SMK The National Gallery of Denmark, where seven centuries of inspiration art is on display, including major works by Matisse, Munch and Rubens.
For discounted entry to 80 attractions like these in the city, be sure to grab a Copenhagen Card as soon as possible. But should you prefer your city breaks a little less formal and structured, Copenhagen is also a great place to wander around and see what you can find serendipitously.
Or better yet, hire a bike and sample what's on offer in cool Copenhagen neighbourhoods while covering more ground than you would on foot. Vesterbro has chic cafes, terrific tattoo studios, hip underground bars and buzzing music venues, while the Meatpacking District's trendy bars make it the place to be seen and the Latin Quarter perfectly encapsulates Copenhagen's multicultural ethos. There's much more to see by bike, with delightful surprises around every corner and their magic is only enhanced when you discover them for yourself.
Last but not least, gourmets visiting Denmark wont leave with rumbling bellies thanks to local delicacies like Krabinetter pork patties, delicious rye bread and outstanding open sandwiches, all washed down with ice cold tankards of indigenous Carlsberg lager – probably the best cuisine in the world!
Hiring a car in Copenhagen
Car hire in Copenhagen is easy and convenient, with plenty of choices from trusted providers like Alamo, Keddy, Enterprise and Europcar. If you're wondering which of these companies can best serve your needs, here's a little more information to help.
Alamo was founded in Florida in the US in 1974. It's the largest provider of car hire in North America, is now a global operation and has always been a trailblazer in embracing emerging technologies in order to continually excel in customer service.
Europcar was founded in Paris in 1949 and soon scaled to cover North America, Africa and Western Asia. It's built a solid reputation for excellent customer experiences and a choice of vehicles that's tough to compete with.
Keddy was launched by parent company Europcar in 2015 and is aimed specifically at price-focused customers. You'll find it in 145 different countries and customers can choose from the same broad and deep vehicle database that Europcar offers.
Enterprise has 6000 offices globally and in the US has an outlet within 15 miles of 90 percent of the population. It has 600,000 rental cars and 150,000 fleet management vehicles in operation worldwide.
Use a tried and tested comparison site like Enjoy Car Hire to compare prices for your vehicle of choice and book as soon as possible for early bird bargains from any of the above big players.
Danes drive on the right and your ideal vehicle type will depend on your individual requirements. However, these companies offer reliable models like the Volkswagen Up, Polo, Golf or Jetta, the Ford Focus, Mitsubishi Lancer, and Toyota Avensis, to name but a few.
Manual and automatic vehicles are available, but not necessarily in all vehicle models. However, you can rest assured that you'll find a car you feel comfortable and confident driving.
Copenhagen Transport
Copenhagen Airport (CPH)
It's situated in the island of Amager, 5km from Copenhagen city centre and 25km from Malmo. Further, it's also the main operating hub of Scandinavian Airlines and the major airport connecting the Nordic countries to the rest of the world.
Originally christened Kalstrup Airport, it opened on April 20th, 1925 as the world's first facility exclusively designed with civil rather than military aircraft in mind.
Development faltered during the 1940s due to German occupation but cranked back into gear in the 50s with the airport catering for cargo as well as passengers.
Copenhagen became a two terminal airport in 1969 and it has expanded steadily to cope with increasing demand.
According to official statistics, it now processes over 30 million passengers annually and an average of over 83,000 daily. Meanwhile, 67% of passengers are travelling for pleasure with the remainder for business, while 5% of routes are domestic and 95% international.
The top 5 destinations are London, Oslo, Stockholm, Amsterdam and Helsinki, while the top 5 airlines are Scandinavian, Norwegian, Ryanair, easyJet and Lufthansa.
Copenhagen airport is a major employer, with a workforce of 22,800, and with 76 speciality stores and 48 food outlets, you'll never be short of retail therapy or places to tantalise your taste buds and slake your thirst.
Finally, there are 8 well-appointed lounges throughout the airport, 58 self-service bag-drop areas, 31 e-gates and 9 automatic border controls – so pre-flight passenger experience is swift, smooth and hassle-free.
History of Copenhagen
Copenhagen is located on the east coast of Zealand, one of the biggest Danish islands.
It was originally fishing village which prospered from the plentiful supply of herring, but suffered perpetual pirate attacks until it was fortified in the 12th Century by Bishop Absolom, an astute adviser to King Valdemar the Great. The town subsequently flourished as a trading port thanks to its new, robust defences, natural resources, savvy merchants and strategic location.
Fast forward to 1588 and the charismatic Christian IV took the throne. His long reign was compromised by excessive drinking and the persecution of so-called witches. But his architectural legacy has lasted to this day and includes iconic Copenhagen edifices like Rosenborg Castle, the Church of Holmen and the Stock Exchange Borsen – so he had an eye for excellent design as well as a somewhat fiery temperament.
And eat your heart out Orlando, because the city is also home to the world's oldest amusement park. Known locally as Bakken, it was founded in 1583 when pleasure seekers, hawkers and wandering minstrels began to congregate at a woodland spring with supposed health-giving properties.
Meanwhile, a relatively modern alternative to Bakken in the amusement stakes, Tivoli Gardens, was founded in 1843 and sowed the seeds of inspiration for Disneyland when Walt Disney visited in 1951.
Copenhagen has also survived the most devastating challenges, including losing a third of its population to the bubonic plague in the early 18th Century, and apocalyptic fires in 1728 and 1793 which destroyed many of it's most beautiful buildings and priceless artefacts.
Most recently, the Nazi occupation of the 1940s had a profound effect on the collective psyche but the nation emerged unbowed to rebuild itself socially and economically in the post-war era.
The University of Copenhagen was founded in 1479 and until 1771 operated as a type of semi-autonomous entity, with it's own unique laws and even a prison for those convicted of the most serious offences.
And partly due to a lack of funding for urban infrastructure following the second world war, but also thanks to the foresight of the planners charged with caretaking the city's physical environment, Copenhagen never fell foul of the brutalist concrete architecture that sprang up across Europe in the 1960s and 70s. Consequently, retaining its heritage housing stock, preserving green spaces, and pushing pedestrianised areas and cycle paths has made it one of the world's best places to live and work.
Fascinating Facts on The City Of Spires
Copenhagen's skyline is made memorable thanks to a series of stiletto spires which thrust skywards, hence its catchy nickname 'The City Of Spires'. The most famous of these landmarks include the Church of our Saviour, Copenhagen Stock Exchange and the Church of St Nicholas.
Copenhagen Airport has been named as the world's most efficient.
Its current population is 1.3 million – making it a significant, yet sustainable, metropolis.
It's a renowned seat of learning, with no less than 11 universities – so you're spoiled for choice if you study here and students contribute considerably to the economy and culture.
Copenhagen is regarded as a world leader in Green growth by OECD and it was European Green Capital in 2014. Few global cities are as eco-friendly as the Danish capital and each citizen is proud to play their part in preserving its hard-won reputation.
Famous inhabitants of Copenhagen include model May Andersen, director and producer Susanne Bier and comedian Victor Borge.
Major Danish exports include oil, medicines, bacon and cheese.
Well-known Danish writers and thinkers include Soren Kierkegaard, Elsa Gress and Salomon Soldin, while beloved children's author Hans Christian Andersen spent most of his life here.
With over 250 miles of cycle paths, it's a great place to get on your bike.
In 1416, Copenhagen became the capital of Norway and Sweden as well as Denmark – the three nations once formed the Kalmar Union, which lasted for 150 years.
Speed limits are in km/h and Denmark has 3 to take note of - 50km/h in towns, 80km/h outside towns and 130 km/h on motorways.
Most road signs in Denmark are international.
Visitors who have drivers licenses issued by EU or EEA countries which gave been valid for 1-2 years are permitted to drive, as are those with an International Driver's Permit.
The currency of Denmark is the Krone.
Got a Question? Chat with our UK support team
Online chat help is open 08:30am to 17:00 weekdays. Email: [email protected]
FAQs about car hire in Copenhagen
Most frequently asked questions about hiring a car in Copenhagen
Car costs vary depending on the make, model and duration of hire. But to provide an example based on a one day rental, a Honda Jazz can cost as little as €4.63 when you book online with Enjoy Car Hire, while a large Renault traffic is still only €15.07.
At the time of writing, a Volkswagen Polo was available from Keddy at a mere €3.64 per day.
Most car hire providers have economical deals – you can rent a model like the Volkswagen Up from Alamo for 7 days for only €92 and a Volkswagen Polo from Keddy for €102, based on current Enjoy Var Hire Copenhagen prices.
The minimum age to rent a car for Copenhagen city centre is 19 years old.
Yes – there's a small surcharge applied to drivers aged between 19-25.
Many car hire companies will allow additional drivers, provided that they approve them first and a daily fee is applied.
It depends – a small hatchback like a Volkswagen up is suited to a solo traveller, couple or small family, but larger groups may prefer a sedan or a larger people wagon with several seats. Crucially, you should also ensure that you're comfortable driving whichever model you choose.
Some rental agreements cover third party liability insurance and collision damage protection, but please check with your provider to confirm which additional cost would he applied in the event of actual damage caused to your vehicle or a third party. And in the event of a serious accident, please remember that 112 is the emergency services number in Copenhagen and throughout Denmark
The Danish drive on the right side of the road – so it's important that you do too when you visit!
Some popular places in the Denmark