Leeds Bradford Airport Parking
Find the best parking deals at Leeds Bradford Airport
With a massive choice from the biggest brands, Enjoy the best way to find the best prices for car hire in Leeds Bradford Airport.
Huge choice car parks to suit every budget
Save up to 70% compared to buying on the day
Working with the best partners in Airport Parking
Leeds Bradford Airport Parking
Leeds Bradford Airport (LBA) is a launchpad for carriers like Aer Lingus, Aurigny, Balkan Holidays, Jet2.com, KLM, Ryanair and easyJet – serving destinations like Dublin, Amsterdam, Tenerife, Malaga, Faro, Barcelona, Prague and many more.
Whether you're flying from LBA for business and pleasure, driving to the airport is a great ideal if you like the freedom of independent travel and we've gathered together all the facts you need to organize parking. From economy to premium, onsite to offsite, we'll help you find your ideal space.
This bustling Yorkshire airport serves two brilliant cities, and each has their distinct charms. Leeds boasts a legendary football team and a buzzing cultural scene which includes gorgeous galleries and exhibition spaces, lush parks and green spaces, busy bars and pubs, all on the edge of the delightful Dales. And this is also one of Britain's best cities for shopping – from designer hotspots like Harvey Nichols to inspirational independent shops in Leeds Corn Exchange. There's plenty for families to do too. Take Harewood House, for instance, with its swings, slides, climbing towers and frames, or the outstanding kids play areas in parks like Pudsey, Golden Acre and Roundhay. And if you really want them to burn off that excess energy (so you get some peace and quiet at last), Go Ape at Temple Newsam is a thrilling treetop adventure zone for children of all ages, with zip lines, rope bridges, Tarzan swings and more. Alternatively, animal attractions in Leeds include Tropical World, with its iguanas, lizards, snakes and meerkats, and Lotherton Wildlife World, which has amazing Humboldt penguins.
Bradford's no slouch for distractions either. The fascinating Bradford Industrial Museum showcases the city's proud wool and textiles heritage and the National Science and Media Museum is a treasure trove of pop culture. The scenery in Lister Park is also lovely and literature lovers always appreciate the Bronte Parsonage Museum. And St George's Hall is one of Britain's most iconic venues. The oldest concert hall in the nation, it has showcased everyone from Charles Darwin to David Bowie. But it's not the only stunning traditional venue in the city – the delightful domes of the Bradford Alhambra have been beacons for brilliant theatre and dining since way back in 1913 and the venue continues to host a diverse mix of touring shows, including drama, dance and musicals. And kids don't feel left out in Bradford either. When the sun's out (which is more often than you might think), there's the totem and play trail around Peel Park and a cracking playground and boating lake at Lister Park, while Ilkley Lido is a legendary place to enjoy a swim in the great outdoors – get the hot chocolate ready for afterwards! Another activity kids and adults alike love is taking a trip on the Keighley and Worth Valley Railway. The experience of travelling in a steam train through Bronte country is something truly special that no passenger forgets in a hurry. Finally, don't leave town without visiting the Ilkley Toy Museum – it's one of the foremost private toy collections in the UK and you'll see dolls, puzzles, teddy bears and various childhood artefacts dating from 350BC (really!) to the present day.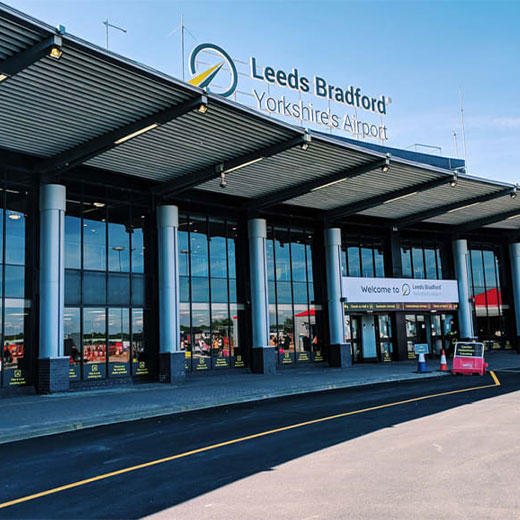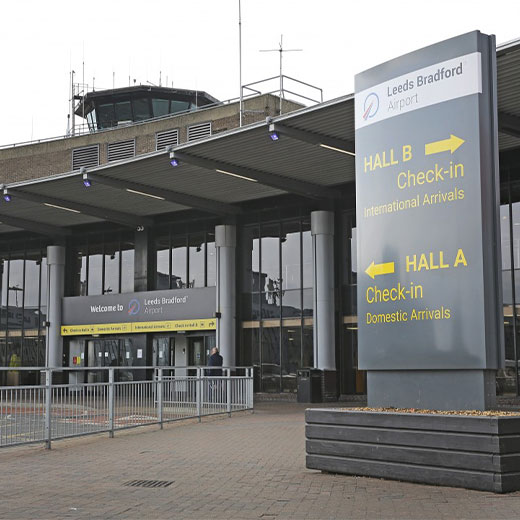 Find the best deals at Leeds Bradford Airport
Sometimes, finding the best deals on airport parking is one of those jobs you know you should do, but tend to put off. A bit like that dripping bathroom tap. Or the kitchen door with the squeaky hinge.
Urgh. We get it. But with us doing the hard work for you, it's going to be a lot easier than you might think. Channelling Sherlock Holmes, we'll use our powers of deduction to eliminate all the parking types that simply aren't suitable, then collate what's left into clear categories you can choose between based on their distinctive features, your preferences and budget. Finding the best deals on LBA parking used to be a bit of a drag. But with us on your side, it's easy as A,B,C.
Compare parking at Leeds Bradford Airport
Leeds Bradford has nearly as many parking spaces as Elland Road has blades of grass, so book ahead of time and you won't struggle. There's something for everyone too – from parents with young kids to seasoned business travellers.
With (pre-pandemic) passenger numbers of 3.92 million, LBA is a busy place and its dedication to customer service, great design and first-class connectivity means it's well-placed to make a strong comeback in the 'new normal'.
First opened in 1931 as Leeds and Bradford Municipal Aerodrome, LBA was launching scheduled flights from a 35-acre site by 1935. Commandeered for the war effort in 1939, its aerodrome was disguised so it could deliver Allied planes undetected. Civilian flights resumed on 1947, with routes to longstanding destinations like Dusseldorf and Dublin added in the next two decades. In the 1980s, the runway was extended to allow the A658 to dip underneath, and transatlantic flights commenced. By the 1990s, LBA was operating 24/7 and it looks like it'll be here to stay for future generations too.
What parking is there at Leeds Bradford Airport?
As well as official parking options, you can often find bargains on unofficial and comparison sites. For instance, APH can create a customised bundle that includes a hotel stay and parking – perfect of you want to chill out pre-flight. And at Looking4Parking, you'll find good deals on Leeds Bradford – Park2Travel – Outdoor and Leeds Bradford – Sentinel Parking – Park and Ride.
Let's take a gander at your official parking options.
Meet and Greet
Fancy a little VIP parking convenience? Meet and Greet parking at LBA is located two minutes' walk from the terminal and allows you to pull up, grab your bags and scoot into the terminal while experienced staff park your vehicle safely and securely. There's vehicle scanning for reassurance, booking is flexible, and your car will be ready and waiting when you return. To get to this car park, follow the Meet & Greet signs from Whitehouse Lane, as you get on the approach road, stay in the right lane and continue to follow the signs. The take the 2nd right to enter through the barrier on the right and take a tight left into the Meet & Greet area.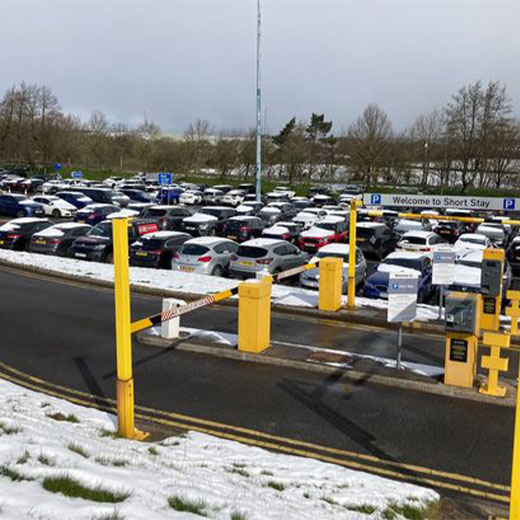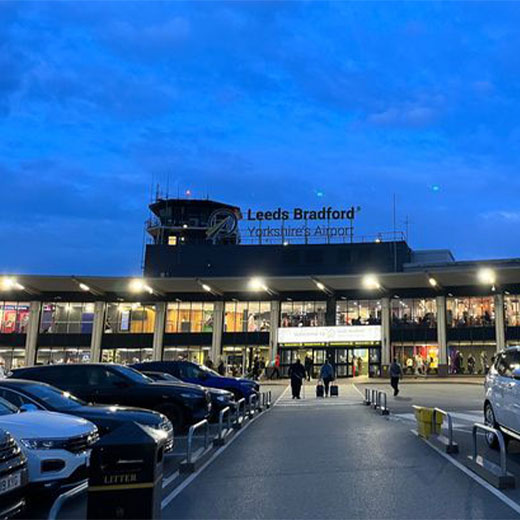 Short Stay
Ideal for flying visits and business trips, the LBA Short Stay car park is secure, has convenient wide parking bays and automatic number plate recognition. Once you've locked up and grabbed your keys, check-in is only a quick walk away.
Mid Stay
A couple of minutes' walk from the terminal, Mid Stay parking is quick and simple, you keep your keys and there's a flexible booking policy. To find the Mid Stay car park, follow the Mid Stay signs from Whitehouse Lane and you'll come to the entrance on the main airport road.
Long Stay
This super-affordable LBA parking option is a two minute ride from the airport via shuttle bus. You keep your keys and automatic number plate recognition tech makes the whole process frictionless. To find Long Stay, follow the signs from Whitehouse Lane and take the approach road to the mini roundabout. You can access the Long Stay car park via the third exit on the right.
Premium Short Stay
For top tier convenience and quick terminal access, Premium Short Stay is the very dab. The parking bays are extra-wide, you get free access to the Fast Track security lane and you'll be sitting sipping a pre-flight cappuccino in the blink of an eye.
Mid Stay 2
Similar to Mid Stay 1, Mid Stay 2 is 10 minutes' walk from the terminal and a popular choice for trips of any length.
Getting to Leeds Bradford Airport
For GPS, the address is: Leeds Bradford Airport, Whitehouse Lane, Yeadon, Leeds LS18 7TU.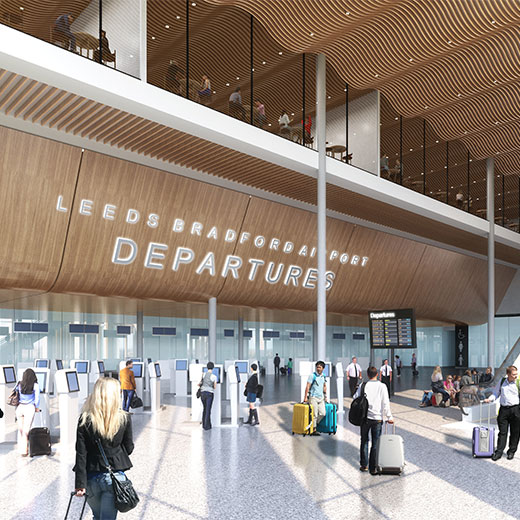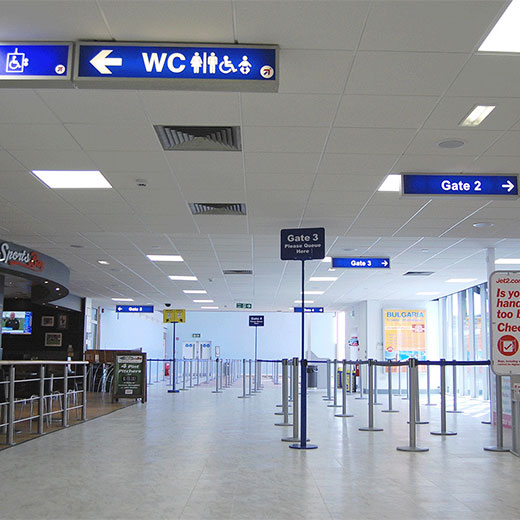 Facilities at Leeds Bradford Airport
Leeds Bradford Airport is always a pleasant place to spend some pre-flight time. When you want to relax in a warm, comfy area, the Yorkshire Lounge has spacious seating, runway views, tasty food and drink, attentive hosts and free Wi-Fi.
Cuisine options at LBA include Burger King, Cabin Bar, Caffe Ritazza, Starbucks and The Saltaire Bar.
And if you're after some retail therapy, there's Boots, the Leeds United Club Shop, WH Smith, Accessorize and InMotion. Don't forget World Duty Free though – treat yourself or someone special to high-class cosmetics, alcohol and fragrances at excellent pieces.
Got a Question? Chat with our UK support team
Online chat help is open 08:30am to 17:00 weekdays. Email: [email protected]
Popular Leeds places, UK airports, train and underground stations