Manchester Airport Parking
Find the best parking deals at Manchester Airport
Search and compare all of the car parking options at Manchester Airport. Book online in 3 simple steps and guarantee your parking space.
Low price guarantee - we check prices so you don't have to.
Massive savings of up to 70% when booking in advance
Compare secure and cheap airport parking at Manchester Airport
Parking at Manchester Airport
So you're looking for parking at Manchester Airport (MAN)?
Maybe you're hitting the blue horizon for a much-needed holiday, long-awaited family reunion or keenly-anticipated business trip?
Whatever your plans, MAN is a great place to fly from. This dynamic modern air hub actually has a history that stretches back to the 1930's – building work first started back in 1935 in Ringway Parish just north of Wilmslow and it opened completely in 1938. First named Manchester (Ringway) Airport, it was the home of RAF Ringway in World War II and expansion continued after the end of the war, with Terminal 1 completed in 1962, the World Freight Terminal opening in 1986 and Terminal 2 opening in 1993. You can fly direct from Manchester to Aberdeen, Atlanta, Barbados, Belfast, Boston, Cork, Dublin, Edinburgh, Ibiza, Marseille, New York, Sofia, Stockholm, Vancouver, Zurich and more.
There are lots of carriers at MAN to choose from too. You can catch flights from the likes of Aegean Airways, Aer Lingus, Air Canada, Air France, American Airlines, British Airways, easyJet, Emirates, KLM and Lufthansa.
Now it's time to grab your savvy Manchester Airport Parking advice.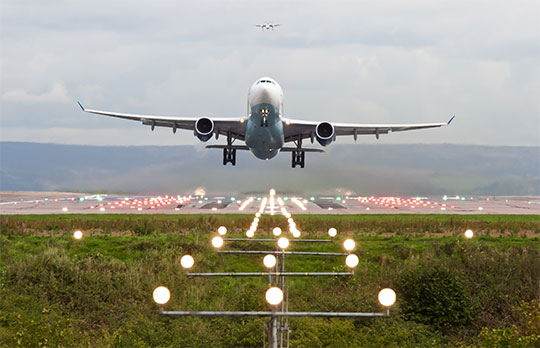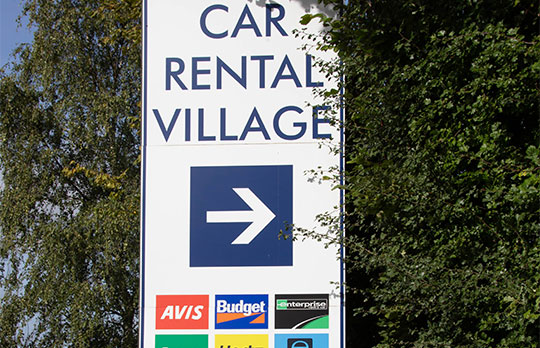 Find the best deals at Manchester Airport
Manchester Airport is obviously the best option if you live in Manchester, but its north England location means that it's often a viable holiday launchpad for travellers who stay elsewhere in Scotland and England.
But choosing the best parking option can be difficult because there's just too much to choose from. Don't stress though. Read on and we'll explain your best options between meet & greet, long stay parking and short stay parking. As well as options available from official airport parking and offsite providers.
Compare Manchester Airport Parking
One thing's for sure, you won't run out of parking options at Manchester Airport. Whether you want the quick convenience of park and ride, a luxury valet option, or require an assisted space because of mobility or other issues, you're covered.
There are also multi-storey, indoor and outdoor options. Read on and we'll help you suss out which option best serves your needs.
What kind of parking is there at Manchester Airport?
The parking space provision at Manchester airport is a whopping 22,000 spaces across 16 car parks.
As well as official MAN parking, there are quality options from the likes of Looking 4 Parking and APH.
Looking 4 Parking offers great daily rates on Manchester Stress Free Park and Ride (5 minute transfer), Manchester Toad Park and Ride (3 minutes transfer), Manchester VIP Meet & Greet (covered), Hunters Airport Parking (Park & Ride) and Manchester Skypark Ltd Park & Ride (outdoor).
Meanwhile, APH Park and Ride at Manchester Airport has been operating for over 40 years and their service includes uniformed staff, transfers every 15 minutes with a 10 minute journey time, 24-hour operation, disabled facilities and valet parking. This Park Mark (Police Approved) parking is also barrier controlled, covered by CCTV, security fenced and patrolled 24 hours.
Long stay
MAN offers long stay parking at each one of its official car parks, so it's easy to choose one that's most convenient for your departure terminal. There are several long stay options, including undercover multi-storey parking at the spanking new T2 west facility, affordable parking at JetParks, or the ease of Meet & Greet.
Since all official long stay car parks at MAN are Park Mark accredited, you'll have peace of mind that your vehicle will be safe and secure. There are also reasonable plans on offer for various durations – whether you're way for a week or two or a few months. Transparency and flexibility are standard too: you can amend or cancel up to an hour before your booking.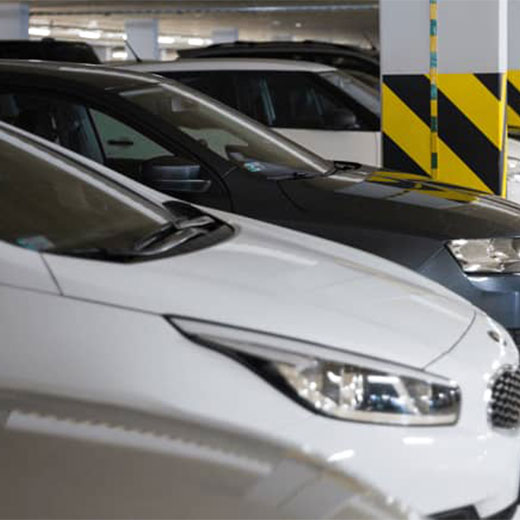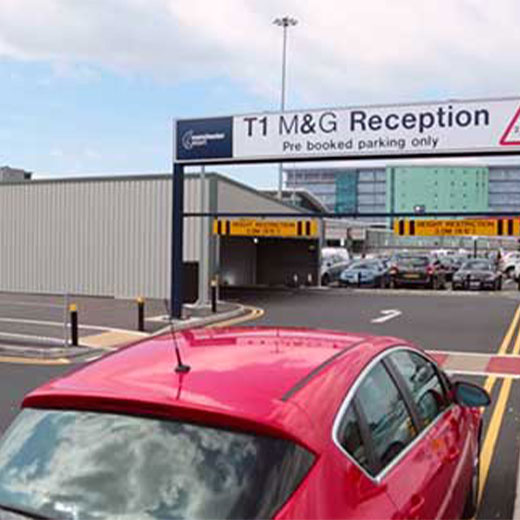 Short stay
Perfect when you're just jetting off for a few days, Manchester Airport short stay parking is based in Multi-Storey facilities and popular with business travellers and those taking weekend trips.
All official MAN short stay car parks use numberplate recognition technology (except the barrierless T1), which makes for smooth arrivals and departures, and it's all Park Mark accredited so you'll feel confident your vehicle's safe for the duration. All short stay car parking at MAN is in walking distance of the terminal, it's covered by CCTV and great value deals are available for anything from a few hours to a few days.
Premium
If you're a frequent or corporate traveller looking for the ultimate convenience when it comes to parking, you might be interested in the Airport Advantage Premium service at MAN. This service allocates you a dedicated account manager to handle volume car park, lounge and FastTrack booking requests – taking all of your future bookings in one go, with a call-back and courtesy service thrown in to boot. You save lots of time making several bookings for one date, with no need for the laborious process of entering lots of details online, like multiple car registrations. One straightforward payment also means your credit card is less likely to be declined and the service gets you rapid access to Manchester Airport's official car parks, Escape Lounges and FastTrack lanes.
Meet & Greet
Manchester Airport's official Meet & Greet parking service is another great way to get your travels off to a smooth start. The way this easy service works is that you arrive, draw into a parking bay and the friendly Meet & Greet drivers do everything else – they're fully insured, experienced professionals who'll treat your car with kid gloves. From there, it's just a three minute walk to check-in, which is ideal if you're travelling with kids or elderly relatives in tow. It's also a good option if you have mobility problems. Staff will park your vehicle at an official MAN car park which is fenced, floodlit and protected by CCTV, and all car parks are Buy with Confidence and Park Mark accredited, so you can be confident you've made an excellent choice.
Disabled
Manchester Airport multi-storey car parks are located next to all three terminals, and they all provide Blue Badge parking. It's a short distance to the check-in desk but staff are also available for assistance, with help points signposted in each terminal. All of the MAN JetParks car parks also provide Blue Badge parking, and these facilities are a quick bus ride from the three terminals at the airport. Buses are completely wheelchair accessible and free, plus drivers can assist wheelchair users to board, secure themselves in the wheelchair points and get off the bus too. You'll also find Blue Badge parking spaces at the Arrivals short stay car park (although you can't pre-book for here) and Blue Badge holders enjoy free access to the forecourt area for drop-offs.
Getting to and from Manchester Airport
MAN is south of Manchester city centre and transport links are excellent, so wherever you're arriving from, it's easy to find.
For instance, if you're setting off from Nottingham, the easiest route is via the A50, but you can also take the M1 and A610 if there's congestion around Stoke-on-Trent.
Driving from Edinburgh meanwhile, takes around 4 hours and the most common route is via the M6, A74 (M) and A702. However, if you've got plenty of time and a penchant for stunning scenery, the A7 route gets you there via the Scottish borders.
Travelling to MAN from Huddersfield? The airport is just a quick scoot along the M60 and M62 and usually takes under an hour.
Wherever you're travelling from, if you're able to set off early and book an airport hotel room, you can ensure the most hassle-free start to your travels possible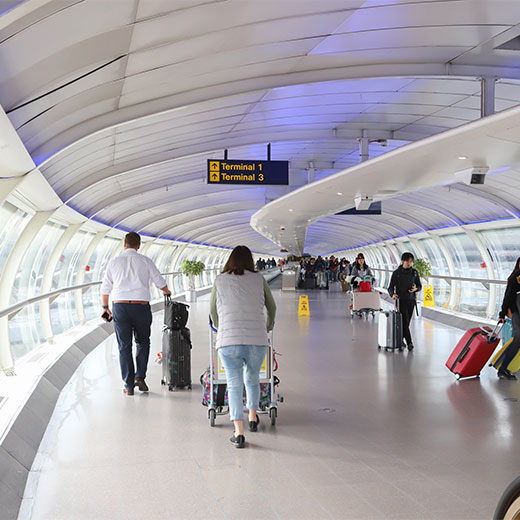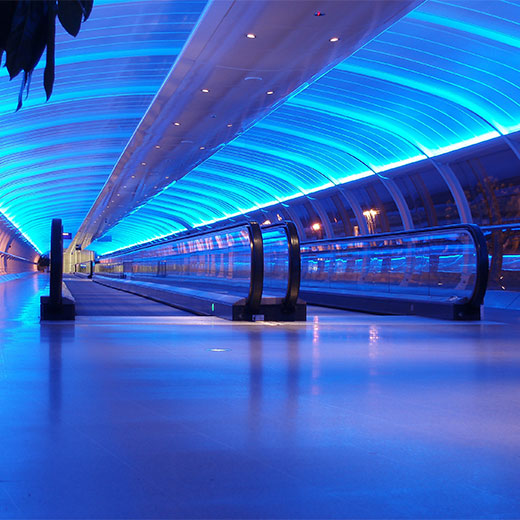 Facilities at Manchester Airport
Facilities at Manchester Airport are fab. There's a faith and worship area if you like some quiet time prior to take off, free Wi-Fi throughout the airport and even a runway visitor park where you can watch planes taking to the skies and tour MAN's Concorde plane.
You'll also find the new PremiAir terminal, which is open to everyone and offers a smooth departure service with luxury lounges, sumptuous cuisine and swift private transfers to your terminal.
Alternatively, the airport's Escape Lounge offers a serene space away from the hustle and bustle where you can unwind all the way before your flight. As well as comfy seating and social spaces, there's a selection of quality hot and cold food, and bubbly, beer and cocktails on tap – perfect for a pre-flight celebration.
Got a Question? Chat with our UK support team
Online chat help is open 08:30am to 17:00 weekdays. Email: [email protected]
FAQs about car hire at Manchester Airport
Most frequently asked questions about hiring a car at Manchester Airport
You have the ability to modify or cancel your complimentary parking booking at Manchester International Airport without any cost until 48 hours before your planned travel. If you choose to make changes or cancel after this point, a £5 charge will be incurred.
To make the most of Enjoy Travel's most attractive parking discounts at Manchester Airport, it is advised that you book online well ahead of time.
Manchester Airport offers different types of parking options for its customers, including short-stay parking, long-stay parking, mid-stay parking and meet and greet parking.
Manchester Airport has clear signposting to help you find your car park. The signs are designed to guide you to the right car park based on your airline or terminal.
Manchester Airport ensures the safety of its parking facilities through various security measures. These include 24/7 CCTV surveillance, where all parking areas are monitored by CCTV cameras, and the footage is regularly reviewed. Additionally, security personnel regularly patrol the parking areas to deter criminal activity and assist customers. The parking areas are surrounded by high-quality fencing and barriers to prevent unauthorized access. These measures provide a multi-layered approach to security, ensuring that customers can park their vehicles with peace of mind.
For Long-stay parking, the parking lot is situated about a 10-15 minute bus ride away from the terminals, with a free shuttle bus service available every 10 minutes, 24/7. Mid-stay parking is located within a 5-10 minute walk or a short shuttle bus ride away, with shuttle buses running every 10 minutes, 24/7. Short-stay parking is within walking distance to the terminals, taking no more than 5-10 minutes, for Meet and Greet parking, the parking lot is at the terminal.
There are several charging options available for electric vehicle owners at Manchester Airport. Both the long-stay and mid-stay car parks feature designated parking bays specifically for electric vehicles, equipped with Type 2 charging sockets that offer a fast charging option for your vehicle. These charging points are provided at no extra cost, but you will need to bring your own charging cable.
Manchester Airport offers various parking options suitable for different parking durations, including overnight parking. The long-stay car parks are especially suitable for those who need to park for several days or more, and they provide a cost-effective option for long-term parking.
It is recommended to make a parking reservation in advance to ensure availability and to take advantage of discounted rates, especially during peak seasons or when the airport is busy.
In case you arrive earlier than your scheduled parking time at Manchester Airport, the parking fee may increase, and the amount of the increase will vary depending on how much earlier you arrive. The payment of parking fees can be made at the exit barrier using a debit or credit card.
Long-stay parking at Manchester Airport is the cheapest option for extended stays, despite requiring a shuttle ride and comes to around £15 per day.
The short-stay parking is the most expensive option, with rates starting from around £5 for 30 minutes and going up to around £50 for 24 hours. Mid-stay parking starts at around £25 for 24 hours, while long-stay parking starts at around £35 for one week and £50 for two weeks.
With Enjoy Travel the long-stay car park is the most economical option for parking at Manchester Airport, with rates beginning at approximately £35 for a week and £50 for two weeks. On the other hand, mid-stay parking is a little more expensive, starting at roughly £50 for a week.
Popular Manchester places, UK airports, train and underground stations