7 of the best rooftop bars in Rome
Rome is a good-looking city, but for the best views of the eternal city, you'll want to head up high. From a sky-high speakeasy to an ultra-contemporary Japanese restaurant, here are the best rooftop bars in Rome.
Where are the best rooftop bars in Rome?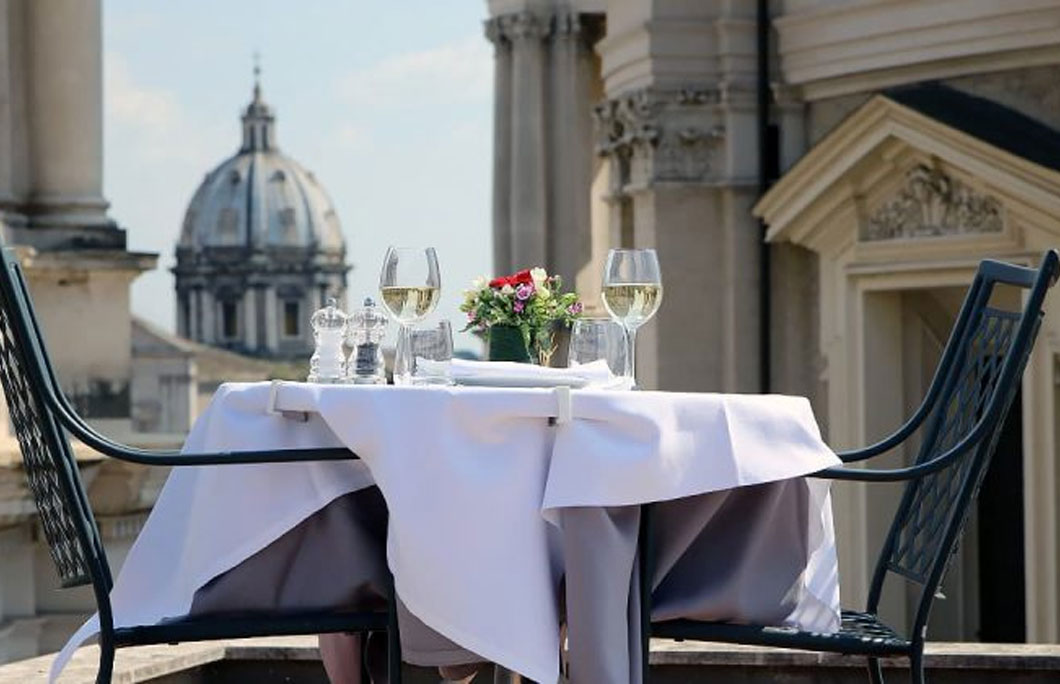 1. Terrazza Borromini – Rome, Italy
At four storeys high, this slick hotel bar might not get any points for points, but it does for sparkling views. Set in an elegant 17th-century palazzo in the heart of Piazza Navona, you can enjoy views over the city's rooftops and out as far as St. Peter's Basilica and the Pantheon while you sip on bubbles and signature cocktails. It serves up some of the best sunset views in town, so pop in for an aperitivo while the sun goes down. Reservations are pretty much essential, so plan ahead.
---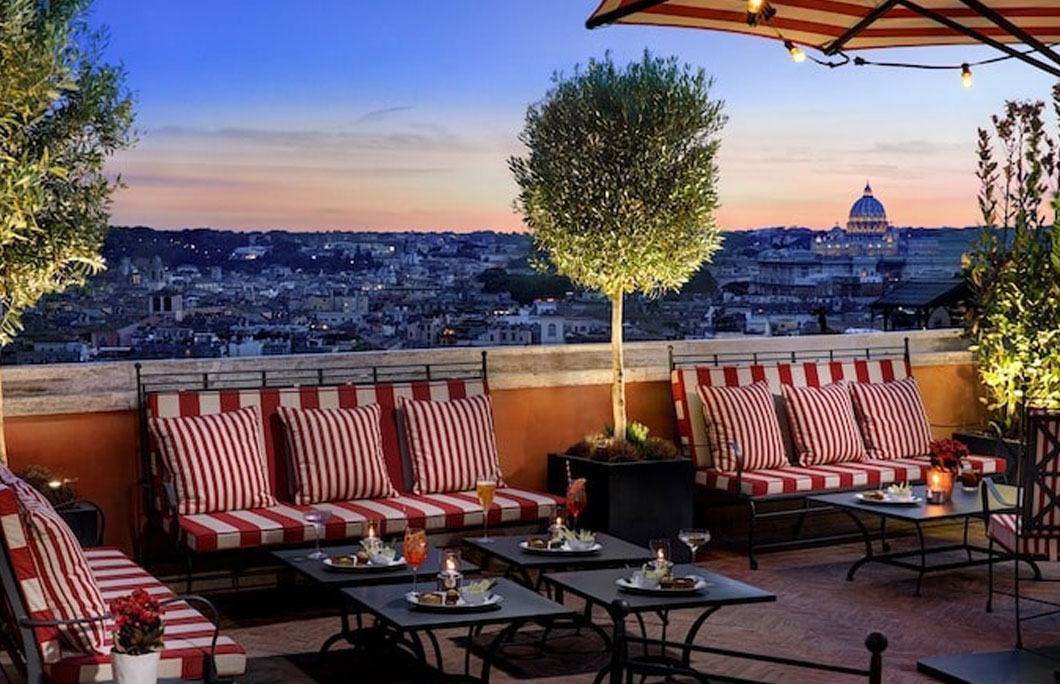 2. Terrazza Cielo at Hotel de la Ville
Perched atop the Hotel de la Ville, Cielo boasts one of the most coveted addresses in the city. The space comprises two sections: a stylish lounge bar and a restaurant open for breakfast, lunch and dinner. The stylish bar is lined with red and white striped umbrellas, sprawling sofas and deckchairs, with sweeping 360-degree views over Rome's most showstopping sights. At the restaurant, Fulvio Pierangelini heads up a creative kitchen with dishes featuring flavours of the Mediterranean, including crudi, oysters and lobster. There's live music most nights from 7 pm until 10p too.
---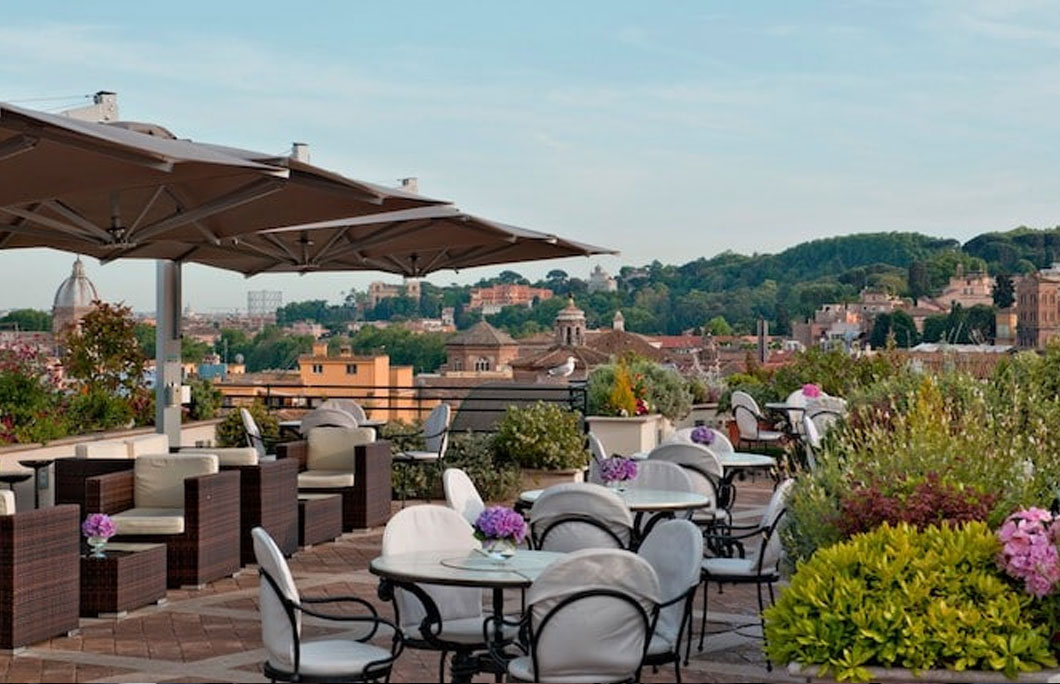 3. Terraza and Roof Garden Les Etoiles at Hotel Atlante Star
Terraza Les Etoiles is, quite rightly, billed as one of the most romantic rooftops in the Eternal City. There are three floors to choose from, each boasting brilliant views but all a little different. Out on the seventh floor, guests can enjoy panoramic views of some of the city's most showstopping sights, surrounded by tropical plants and fragrant flowers. The rooftop is decked out with plenty of plush sofas and umbrellas for al fresco afternoon visits. The best time to visit is at sunset when the eternal city quite literally glows. Get here for an aperitivo between 6 and 9 pm and you can enjoy complimentary finger food with your bellinis too.
---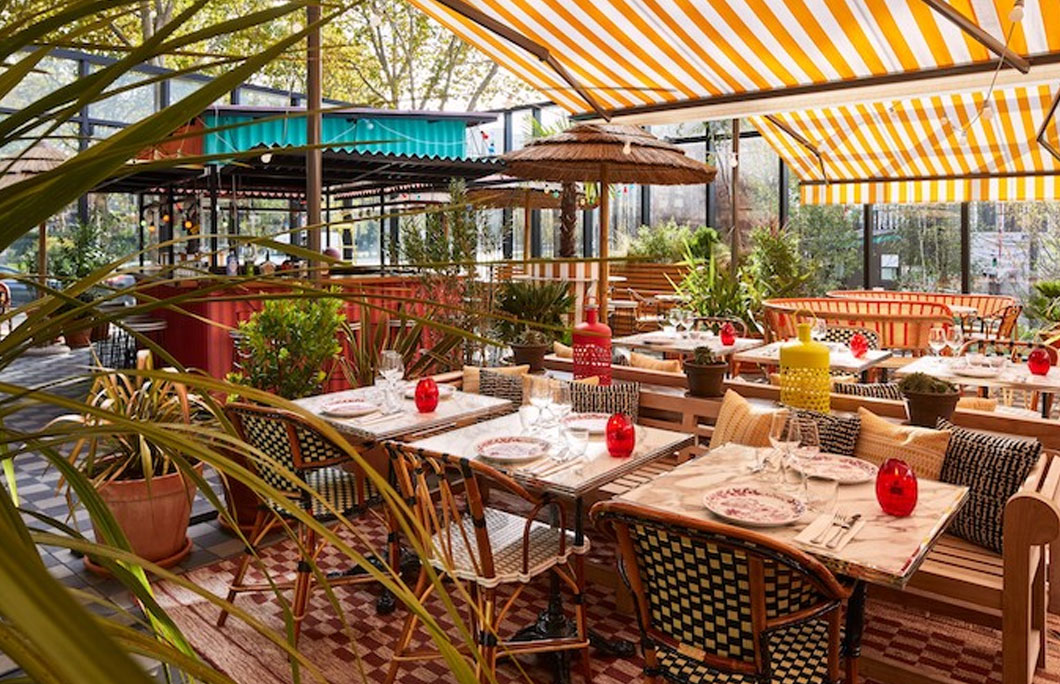 4. Mama Shelter Rooftop Bar
Mama Shelter has made a name for itself across the globe thanks to its irreverent and hip style and its Rome outpost is no exception. The rooftop restaurant and bar add to this a dose of real Roman flair, with chic umbrellas, sun loungers and twinkling lights. There's an eclectic menu of Italian-crowdpleasers (antipasti, gourmet focaccia and indulgent pasta), as well as creative and 'organic' cocktails. There's always something going on here too, be it table football and ping-pong, lively Saturday brunches or live music sessions.
---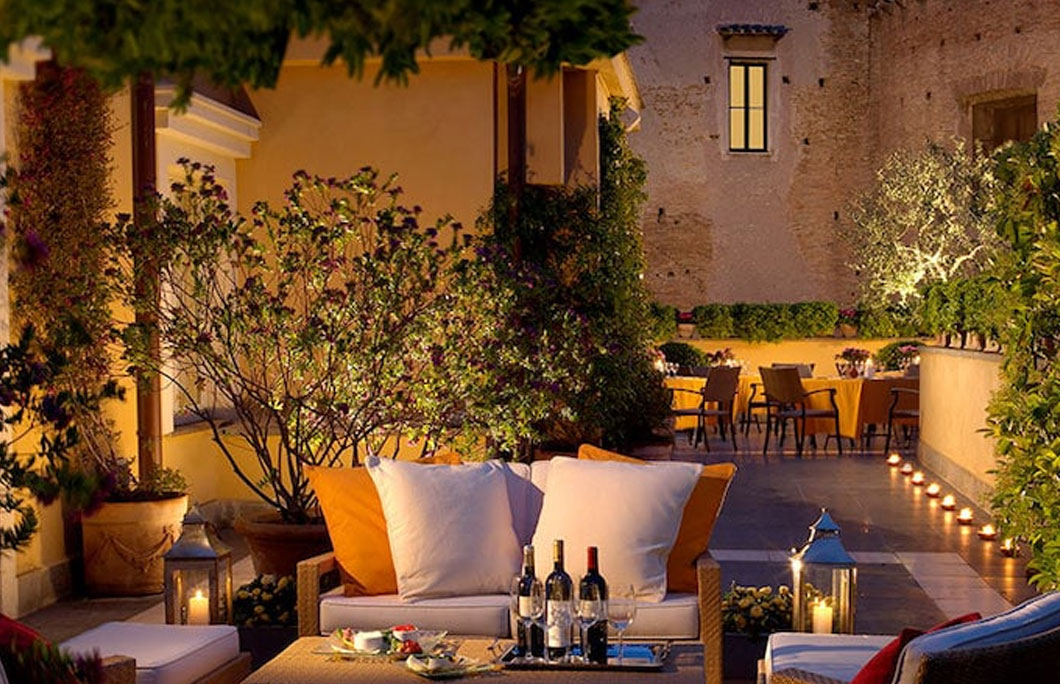 5. The Terrace at Hotel Capo Africa
This birdseye perch offers picturesque views several floors above the chaos below. It's the best place to catch a glimpse of Rome's most famous monument – the Colleseum – as well as the Abside dei SS. Quattro Coronati. For a rooftop bar, it's an intimate space but it's fallen under the radar of most guidebooks, which means you can almost always guarantee a seat. Open all day, head here for a top-quality cappuccino in the morning, then return for an aperitivo or glass of local wine as the sun goes down.
---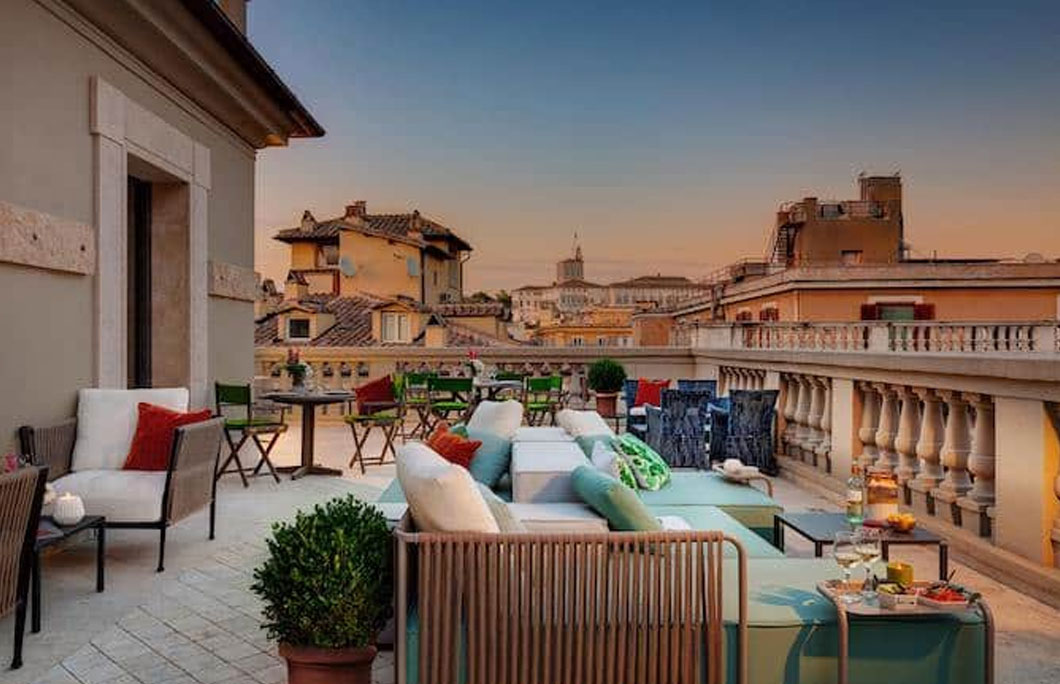 6. Jim's Bar at the Singer Palace Hotel
This show-stopping hotel is set right in the heart of the city. Before you get to googly-eyed about the suave design and impeccable decor, take the Art Deco grand staircase up to the wrap-around terrace. It's huge: big enough to house a speakeasy-inspired cocktail bar, stylish restaurant and terrace seating. The drinks list is inspired by cocktails of the 1920s, though you'll find beers, bubbles and wines on there too. The bar is open from 4 pm until 12 am, with a Happy Hour from 5 pm until 7.30 pm.
---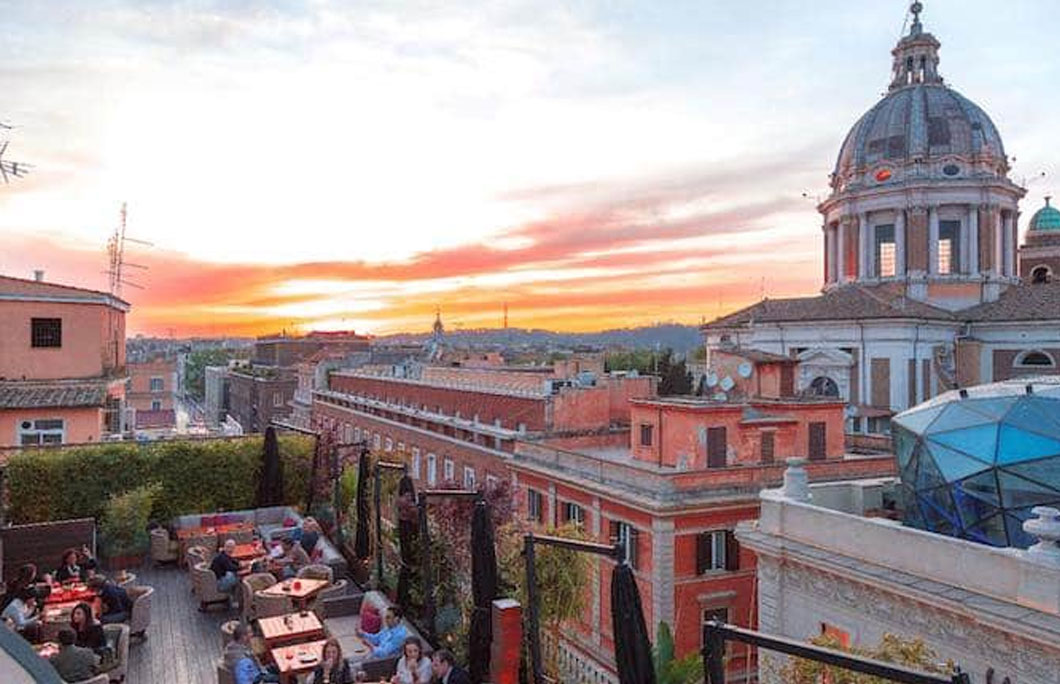 7. Zuma Restaurant Rome
Culinary artist Rainer Becker dreamed up this high-end, ultra-contemporary Japanese restaurant, set on top of the iconic Fendi Palace in 2016. Seven years later, it's still a favourite haunt with the in-crowd, who pop in here for izakaya-style sharing plates after an afternoon of retail therapy. Sip on craft cocktails as you soak in the views stretching out over Trinità dei Monti. We recommend arriving hungry though, the food is every bit as good as the booze and views.
---