France Car Hire
Find the best deals in France
With a massive choice from the biggest brands, Enjoy the best way to find the best prices for car hire in France.
Huge choice of cars to suit every budget
Save up to 70% compared to buying on the day
10 years experience in car hire
Compare car hire in France
France is a rich and vibrant European country that is bordered by Belgium, Germany, Luxembourg, Italy, Switzerland, Spain and Andorra. It also has a coastline that meets the Mediterranean Sea, English Channel, the North Sea and the Atlantic Ocean. Paris is the capital city, serving as its primary commercial and cultural centre, and the country is served by a President and Prime Minister.
There are plenty of stunning road trips across France that you can enjoy with the use of your hire car. Although it is a country populated with many wonderful and bustling cities, hiring a car means that you can take advantage of the beautiful countryside and get the best of both worlds in your time away. Head to the south-east to witness the majesty of Montgenevre or the French Alps. Travel across the coastline of Normandy for gorgeous white-cliffs and famous beaches, and you can also enjoy the spectacular sights of Mont Saint-Michel, a church and village that looks as if it belongs in a fairytale or Disney film.
To make the most of driving through France and seeing all that this splendid country has to offer, be sure to add a Sat-Nav to your booking so you can relax and enjoy the sights without worrying about getting lost on the way.
Guide to France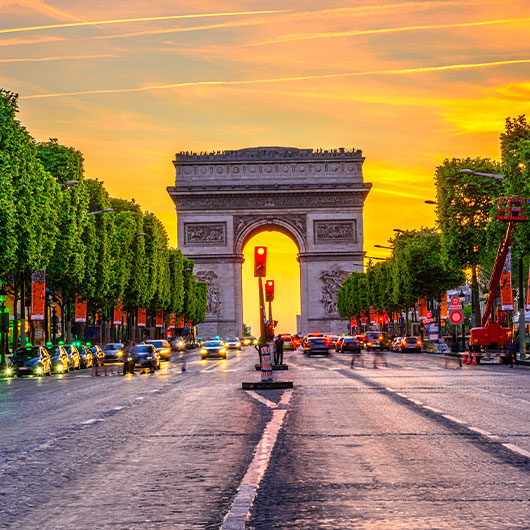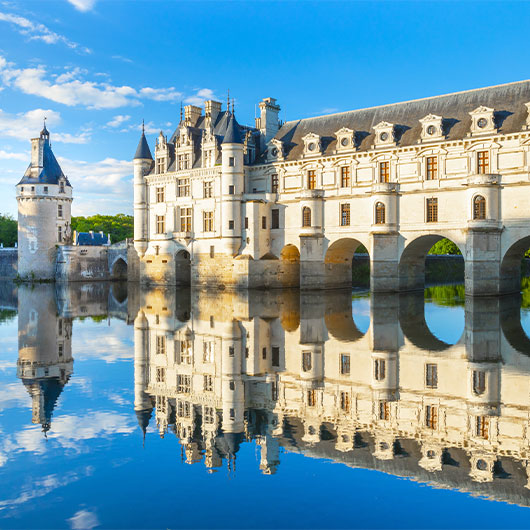 On the French mainland, the time zone in operation is Central European Time, and when Daylight Savings are enforced it switches to Central European Summer Time. When you take the French dependencies into consideration, France holds the world record for the country with the most time zones, overtaking the eleven used by Russia and the United States of America.
French cuisine is one of the most famous parts about this country, with a number of key dishes becoming some of the first things people think about France. Escargot is a classic example, a dish of French snails that is not as locally popular as legend would have it, but nevertheless something you can find throughout the country. Frogs' legs, Cuisses de Grenouille, are even less popular, but make for an exciting – if somewhat unsettling ‐ thing to try if you can find it. French bread, wine and cheese feels like a staple, one that is popular in many other countries, and is delicious all year round. One of the best things about staying in France is the chance to pop to the closest boulangerie (bakery) to get a warm, freshly baked baguette to have at any part of the day, with cheese, butter, pâté or foie gras.
Metropolitan France, named so as to distinguish between the European mainland and its numerous overseas regions, has the largest square kilometre coverage of all member states within the European Union. This expanse includes an array of landscapes, from the mountain ranges of the Alps to the coastal plains of the north and west, giving any guests an opportunity to visit a variety of vastly different locations. The south of France is immensely popular for its sunny skies and warm temperatures across the summer months, whereas bustling cities like Paris, Marseille and Lyon are frequently visited year-round, with almost 18 million international travellers flocking to Paris in 2018.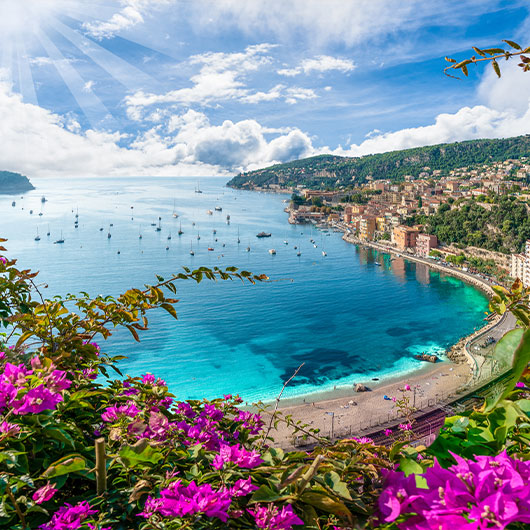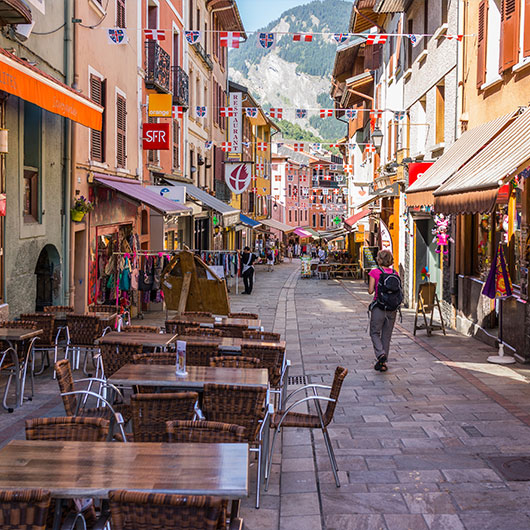 Places to visit France
It is no wonder that Paris is one of the most popular tourist destinations in the world. Named the city of love, it is often a top choice for a romantic getaway, with plenty of intimate restaurants and opportunities for dates by sights like the Eiffel Tower or the Champs-Élysées. It is also steeped in a rich cultural history, with the Musée d'Orsay and the Louvre attracting both art and architecture lovers from all over the world.
However, there are also plenty of other cities that are just as exciting to visit, and perhaps not as frantic at peak times of the year. One charming location that doesn't garner nearly as much tourist traffic as it deserves is Le Puy-en-Velay, a cathedral town with beautifully preserved medieval buildings and a Cathedral Notre-Dame. Visiting in September will also mean that you get to see the brilliant historic celebrations of the Renaissance Festival of the Bird, full of period clothing and parades. A similarly gorgeous small city is Albi, found in the Midi-Pyrenees region and full of glorious late gothic buildings. With plenty of quaint accommodation options and a wealth of history, Albi is also home to the Toulouse Lautrec museum, which has an impressive collection of Henri de Toulous-Lautrec's work. Monet who? Lyon is certainly not an unknown French city, but many people merely pass through and use it as an airport city, but it stands as a fabulous destination in and of itself. The historic quarter is a particular treat, with secret passageways full of hidden gems. The best time to visit may just be in December, when you will be treated to the delightful display of the Festival of Lights.
If it is the French coastline that you are looking to visit, there is no shortage of gorgeous seaside resorts ready for you to lounge on the beach with an ice cream and a book. Saint-Suliac can be found right where La Rance river meets the Channel, and it is a wonderful fishing village with winding streets, perfect for a relaxing trip. Down in the southwest of France, Saint-Jean-de-Luz has a lovely sandy beach lined with very attractive white houses, all adorned with red roofs. Bask in the sun on the sand with the locally produced seafood and ice cream ‐ a haven for any foodie. Situated near La Rochelle, Rochefort has a swashbuckling history that gives it a wonderful appeal, with L'Hermione (a replica ship) a brilliant attraction.
The French countryside is dotted with delightful villages that further show how much there is to offer in France, no matter what you are looking for, and that it is a country of more than its main cities. Domme in Dordogne is fortunately placed above the Dordogne River, giving it amazing views and making it an entirely picturesque place to visit. For a hidden gem, visit the cave system that lurks underneath the main village square. Its origins are back in World War Two, as this system used to be used by locals as a form of shelter, and it is now open for tourists to appreciate how beautiful it is. France has many medieval towns, and Chartres in Loire Valley is one of the best. Chartres Cathedral is its main attraction, impressively large and characteristically intricate.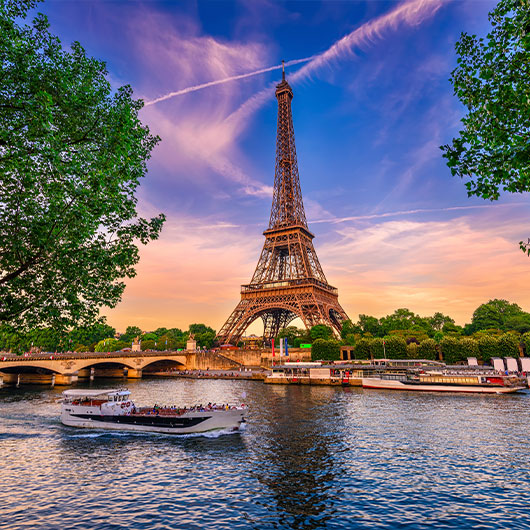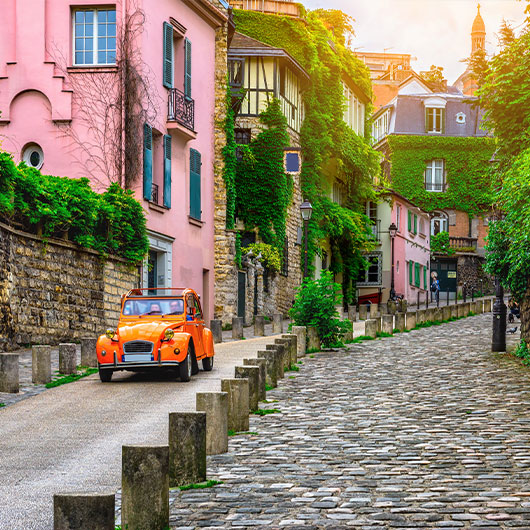 Driving in France
Car hire in French airports
Charles de Gaulle Airport is the largest of France's airports, and is the second busiest in all of Europe. It can be found 23 kilometres (14 miles) to the north-east of Paris, the French capital city. Booking a hire car in advance allows you to get your holiday started straight away, and also allows you to save money. Depending on your destination, requirements, and the time of your booking, car hire in France can be as little as €3 euros a day. Many of the airports host some of the most popular car hire operators there are, such as Alamo, Hertz, Europcar, Keddy, and Enterprise.
Some rules of the road
Drivers must have a valid licence and be over the age of 18. Drivers with a licence from the UK or the EU are sufficient, but non-EU countries must also get either a notarized translation of their licence or an International Driving Permit (IDP). It might not necessarily be checked, but it is better safe than sorry, especially as some car hire companies require this.
Do not use your phone while driving, including the use of hands-free headsets/Bluetooth.
There is a legal requirement for drivers to have a breathalyzer in the car, but you can get one cheaply from supermarkets and garages across France. It is also illegal to drink and drive, and it is not advised to use your own breathalyzer to check if you are okay to drive.
Children under ten are not allowed in the front passenger seat.
For French motorways, the speed limit is 130 km per hour (80 miles per hour), dual carriageways have a limit of 110 km per hour (68 miles per hour), and unless there is a sign saying otherwise, built-up areas typically have a speed limit of 50 km per hour (31 miles per hour).
For most roundabouts, there are signs indicating which point of entry has priority, with cars that are already on the roundabout having the priority over those that are trying to enter.
This information is a good starting point, but it is important to also undertake your own research. There will likely be specific rules of the road that are applicable to your visit, as speed limits and toll or congestion charges can differ depending on your destination.
Getting around France and the French transport network
There are numerous airports serving France, allowing you to access the far reaches of the country with relative ease. Alternatively, the geography of Europe can allow you to visit France from one of its many bordering countries, or you can travel on the Eurostar from England, filling out your holiday to truly make it one to remember. With plenty to see and do, make a visit to France the very best it can be by hiring a car with Enjoy Travel, and make everyone back home green with envy.
Getting to and from France by plane
There are many airlines, British, French, European and international carriers travelling into the main French airports.
Top Tips when hiring a car in France
● If you are traveling with children on board to France, you need to keep in mind that there are strict child car seat rules. Little children, 10 or below have to ride in a special car seat or restraint.
● If the child weighs less than 13 kg, they must be seated in a rear-facing child seat.
● The greatest thing about renting a car in France is that it will improve your experience during the trip, as it will make moving around efficiently and in an affordable way as it's easy to find the best car hire deal.
● Having a hire car will give you the opportunity to go on a road trip across the country and even try taking the historic Route Napoléon in the Alpes-Maritimes.
● Remember if you're going for a car hire, to bring with you to the car hire company a valid UK driving licence or a valid driver's licence from your country. You should also remember to obey the speed limits and comply with all other traffic laws.
● Many users encountered rental cars in France for less than £32 per day.
● By booking your car hire in France in advance, even by 1 day, before your trip begins, you are guaranteed to get better car hire deals. The best car hire deals are a combination of anticipating the trip and going for hire cars in the Airport.
● Any car hire company in the Airport offers better car rental deals on average compared to car hire locations within the popular cities. Rental car locations in France that are within cities and even in remote locations give cheap car hire deals but major Airports make for better pick up location, as you can pick up the car as soon as you land. They also offer a wider variety of vehicles and car types.
● Mini rental cars in France are greatly cheaper than most other car types.
Got a Question? Chat with our UK support team
Online chat help is open 08:30am to 17:00 weekdays. Email: [email protected]
FAQs about car hire in France
Most frequently asked questions about hiring a car in France
The cost of hiring a car in France can be as little as €3 per day, depending on your requirements, destination, and the time of your booking. Expect higher fees when booking for a Christmas trip to Paris, for example.
Most of the popular companies are available for you to book in many of France's airports, such as Avis, Budget, Europcar, Hertz, National and Sixt.
You can get from the UK to France by ferry or the Euro Tunnel.
You will drive on the right hand side of the road in France.
You'll find Alamo, Europcar, Enterprise, Sixt, Hertz and Avis. Others are available too.
On the motorways it is mostly 120 KM/H (75 MPH).
It is 293 miles fom London to Paris by car using the euro Tunnel.
The biggest airport is Paris Charles De Gaulle (CDG), it is the biggest in continental Europe, only London Heathrow is bigger in total Europe. The next biggest is Paris Orly (ORY). Then its Nice on the south coast (NCE).
Depending on which part, France can be very expensive. In the big cities on average you'll be spending £164 per day including accommodation.
If you're planning to visit Disneyland then renting a car is highly recommendation. In the city you'll also have a better time exploring via car.
The main roads are in great condition so driving in France is generally very smooth. Smaller roads could be slightly challenging but nothing to worry about.
The best time to visit France is in the spring (April to June) or fall (September to November) when there are fewer tourists, lower prices and moderate temperatures. The summer months can be hot, crowded, and expensive.
For small cars the budget friendly options begin at £116 for a week, which means more or less £16.60 a day.
The cheapest offers allow you to rent a car for a whole month for £406, or £13.50 per day. As mentioned earlier, this depends on the season you book and the car type.
The average price of a litre of fuel in France can vary between EUR 1.25 and EUR 1.14.
Other popular places in France