Benidorm Car Hire
Find the best deals in Benidorm
With a massive choice from the biggest brands, Enjoy the best way to find the best prices for car hire in Benidorm.
Huge choice of cars to suit every budget
Save up to 70% compared to buying on the day
10 years experience in car hire
Compare Car Hire in Benidorm
Ah, Benidorm ‐ three syllables that conjure up countless happy images for millions of British tourists over the years. If you're looking for a home from home in the Spanish sun, this legendary Costa Blanca resort delivers and then some. Fish and chips. Bingo. Karaoke. Happy hours where the drinks flow freely. You'll find all these Great British comforts here, which makes it ideal for everything from a family holiday to a stag or hen weekend.
Want to be a beach bum? The golden sands of Levante and Poniente are gorgeous and great restaurants skirt the seafront where you can try delicious local fare like paella and tapas. The high-rises aren't to everyone's taste, but the Old Town sits on a hill between the two main beaches and creates a charming counterpoint to the hustle and bustle. Take a romantic stroll as the sun goes down and you might even hear lilting mandolin notes in the cool evening air. Lovely.
Hire a car in Benidorm and its easy to scoot around the city in comfort and explore the rest of the Costa Blanca if you're feeling adventurous. There's a great choice of cars available in a click from trusted providers ‐ with everything from sporty numbers to people carriers priced keenly. For instance, a mini-sized car like a Fiat 500 is around £12 a day if you book ahead of time, an economy-sized Ford Fiesta is £14 a day and even a rugged Opel Mokka SUV is only £19 a day. With Benidorm car hire from Enjoy Travel, you can let the good times roll!
Guide to Benidorm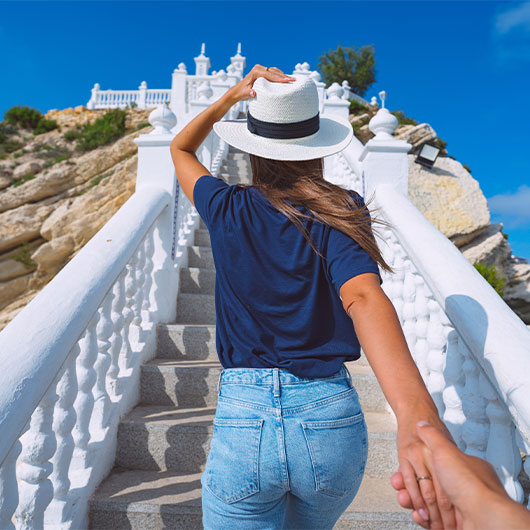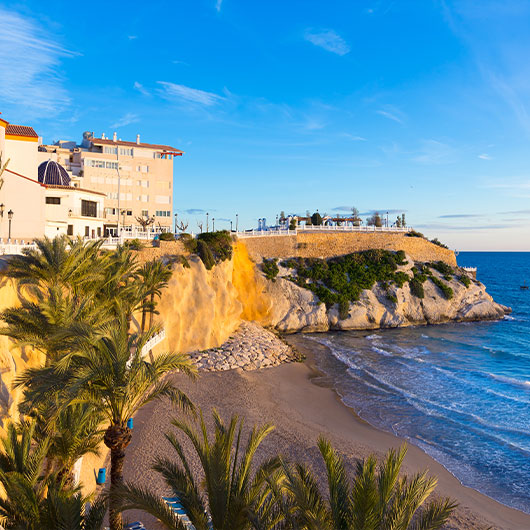 History
Roman and Punic archaeological evidence proves humans have been hanging around the Benidorm area since around 3000 BC, but it didn't start to flourish as a settlement until the Moors arrived in Medieval times. In 1245 the region was reconquered by the Christian James I of Aragon and it was awarded its town charter in the 14th century. Over the next few centuries there were raids by Barbary and Ottoman pirates, but Benidorm continued to grow and became famous for tuna fishing, agriculture and shipbuilding. When the fishing industry declined in the 1950s, tourism emerged as a replacement industry and construction began at pace ‐ it was first marketed as a getaway destination for Spanish tourists, but the emergence of cheap flights opened it up to international visitors, particularly those from nearby Britain.
Culture
Fry-up breakfasts and big screen sports bars are still a draw for lots of British visitors and if this vibe floats your boat, you'll be more than satisfied. But there's lots more to Benidorm's culture and this varied heritage is exemplified in contemporary buildings like the distinctive town hall and the promenade designed in its cliffs and waves shape, as well as ancient architecture in the St James church and Escaleta Watchtower. The beaches and coves are also beautiful, and L'Aiguera Park is a gorgeous green space to chill out in. The cultural calendar is also packed with colourful fiestas ‐ major festivals include San Jose, The Fallas, Moors and Christians, San Juan, and the huge celebrations in honour of the patron saint la Virgen del Sufragio. As you can see, a Benidorm holiday can have lots of different dimensions.
Alternative Benidorm
Want to experience the more authentic side of Benidorm? It's easier than you might think. For starters, if you don't want to fight for space to lay your towel on the beach, Playa de Poniente is the locals' beach choice ‐ it's a little further west but much more serene. There's also a national park nearby and you can swap your car for an e-bike for a day and explore it on two wheels. Alternatively, Benidorm Island (also known as Peacock Island) is a boat trip away and a lovely place to try snorkelling. If you want to find out more about local history, The Maritime Culture Centre Museum and the House Museum are in the Old Town and always worth a look, and the rooftop bar at Hotel Madeira Centro is a swish place to sip cocktails as the sun goes down.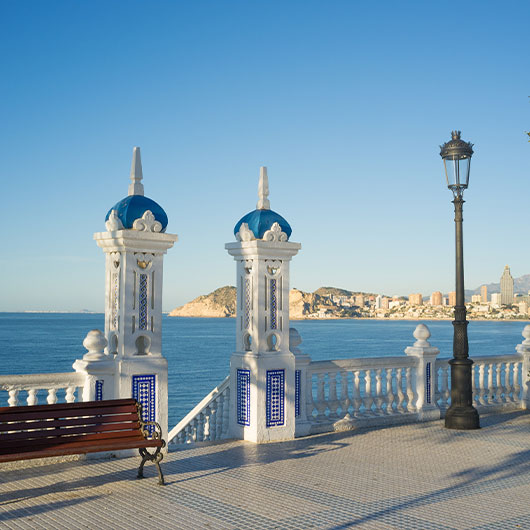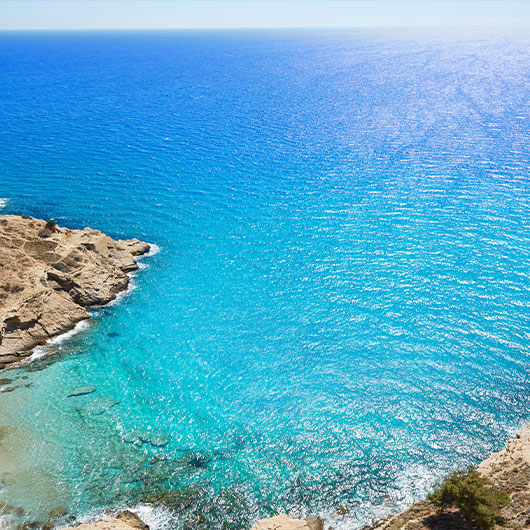 Things To Do in Benidorm
Theme parks
Want to tire out your kids and have a great time while you're at it? Benidorm's theme parks are where it's at. Terra Mitica is probably the pick of the bunch and it's one of Spain's biggest family attractions. Inspired by ancient civilisations, the three entertainment zones are based on Rome, Egypt and Greece and each is jammed with live floor shows, rollercoasters and much more besides. If you're game, Magnus Colossus is the main ride ‐ a white-knuckle wooden rollercoaster that whizzes up, down and around a track that's more than 1km long. If you buy a combo ticket you also gain entry to Iberia Park next door, which has wild water slides and lots of other amusements, but Aqualandia is still the favourite water park for many visitors ‐ open since 1985, it features Big Bang, Europe's tallest water slide, and Vertigo, which whooshes riders into the splash pool at an explosive 100 km/h.
Golf
Is golf your guilty pleasure? You're spoiled for choice in Benidorm as the Costa Blanca region has no less than 15 top-notch courses. Melia Villaitana Golf Club is located along the Levante coast and has two courses designed by the great Jack Nicklaus ‐ the setting is lovely and it's suitable for all levels of players. Meanwhile, Altea Club de Golfe is another great choice. Nestled on the lower slopes of the Sierra Bernia mountain, it's only 15 minutes' drive from Benidorm and one of the most scenic courses in the whole Costa Blanca ‐ with wonderful sea and mountain views. It can be played as a par-72 18-hole course or a 9-hole, depending on how much time you've got to spare. Alternatively, if you're after a pitch & putt in the city proper, try Las Rejas Benidorm. Located close to Vicente Perez Devesa Avenue, this course has 9 par-3 holes and it's god for beginner and intermediate players. Small but deceptively tricky ‐ the Las Rejas holes have narrow fairways and technical tee positions and greens to help you polish your short game.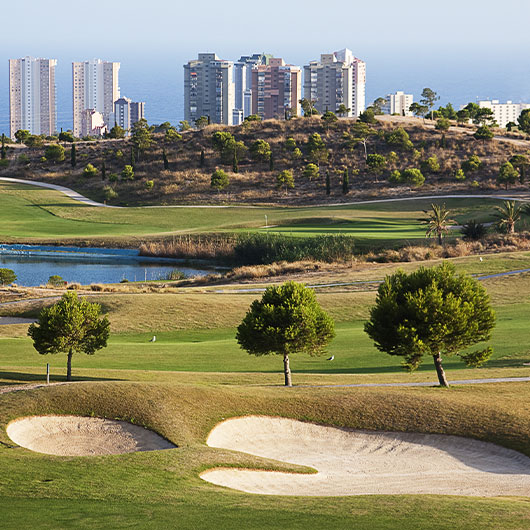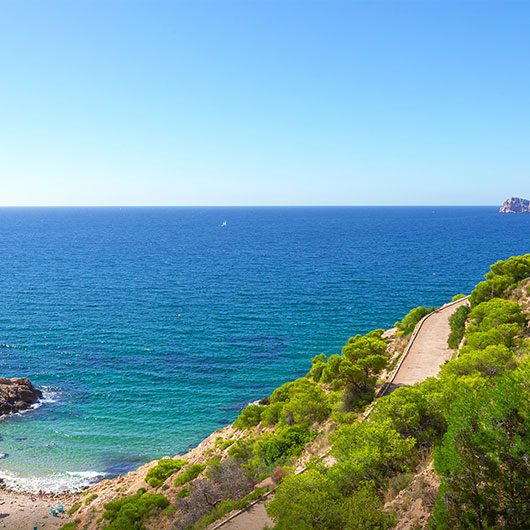 Eating Out in Benidorm
Traditional
Want to delight your taste buds with traditional Alicantino dishes? Head straight for Kataria Gastronomica in Benidorm Town's Levante area. A stylish restaurant with swish décor, the food here is absolutely divine. Everything from seafood to desserts is beautifully presented and tastes exquisite. Another top traditional choice is La Favorita Taberna Selecta, which serves farm-fresh meat dishes, artisan cheese and a super selection of drinks.
Asian
If you love curries and other spicy Asian dishes, you're in for a treat in Benidorm. Sherpa Restaurante Asiatico is an Old Town favourite, Curry Leaf is highly-rated for its customer service as well as dishes like chicken korma, and Nepali Tandoori Restaurant has rave reviews for its Tandoori mixed grill. And if you fancy some freshly-prepped sushi, Restaurante Japones Umai fits the bill and the ambience is very pleasant.
Italian
When you want a hearty meal that's prepared with love, Italian is the go-to cuisine. And Duetto has earned an enviable reputation as Benidorm's foremost Italian eatery. It specialises in huge (and tasty) oven-baked pizzas and iconic pasta dishes like spaghetti carbonara, but the diverse menu also features delicious steak and grilled fish. Up for something a little different? Try the ravioli with truffle oil. Nom nom.
Transport in Benidorm
Airports
The closest airport to Benidorm is Alicante Airport (ALC). It's 29 miles from the resort so transfer times are reasonable and you can easily pick up your hire car here if that's your preference. ALC connects Benidorm with the rest of Spain and various international destinations, via carriers including Aer Lingus, Air France, British Airways, Delta and easyJet.
Public transport
The main mode of public transport in Benidorm is the bus service. There's a new bus station located on the way into the resort and lots of stops around town. If you fancy parking up your car for a day or so, you won't struggle to get around the immediate vicinity.
Driving
Driving in Benidorm is reasonably hassle-free. Just remember to drive on the right, take your time and read the signage carefully. Please note that the drink driving rules here are very strict (especially for drivers with less than 3 years' experience), so best not to touch a drop if you're getting behind the wheel the same day or the next morning.
Top Tips when hiring a car in Benidorm
● Benidorm car hire will allow you to more easily access the most beautiful parts of the Spanish seaside resort, in addition to the the Costa Blanca coastal region.
● If you're interested in visiting the greatest beaches, you must see Levante Beach and Poniente Beach. Benidorm car hire is crucial for reaching these remote beaches.
● If you're traveling with kids, there's a waterpark that is must visit called Aqualandia. It will be a paradise for the children. You can get there by public transport but Benidorm car hire will be your best bet in getting there efficiently.
● If you wish to spend some time alone and relax then you should head to the La Cruz de Benidorm, a place of historic and religious significance. Be aware that a lot of these popular locations are around 45 minutes walk from the closest parking spot.
● Finally we have the amazing Sierra Helada natural park which is an incredible place to see but you'll need your own car hire to reach it efficiently. In fact you'll need a Benidorm car hire to comfortably reach most of them.
● As mentioned earlier, Benidorm itself doesn't have an airport but there is one relatively close, the Alicante-Elche Airport, around 58 km away from the town. the Alicante Airport is your best friend if you want to make the best of your trip, and go for a cheap car hire as soon as you arrive.
● One interesting option is to reserve your Benidorm car hire in advance from a variety of major car hire companies, including Hertz, Europcar, Budget, Enterprise and Sixt, and pick up your vehicle at the Airport. The car hire companies found in the Airport offer a lot of cheap car hire options.
● The offices of the car rental companies found at the Airport are very close, walking distance, from the terminal building.
● If you decide to go for a hire car from a car hire company outside of the Airport, from a location such as the Benidorn city centre, you'll be opting out of the fastest service, vehicles variety and other services, aside from the general cheap car hire offers.
● A big number of users were able to find rental cars in Benidorm for less than £17 per day.
● Booking your rental car in Benidorm in advance even if it's only by 1 day before you head out for your trip, ensures that you'll get the best car hire deals.
● The best economy rental cars in Benidorm on average cost way less than other car types. A van hire would be more expensive but more convenient if you're traveling with family.
Got a Question? Chat with our UK support team
Online chat help is open 08:30am to 17:00 weekdays. Email: [email protected]
FAQs about car hire in Benidorm
Most frequently asked questions about hiring a car in Benidorm
Car hiring prices in Benidorm start at €13.80 per day for a Ford Ka.
The minimum age to hire a car in Benidorm is 21.
The distance betweem Alicante airport and the city centre of Benidorm is around 59.7 km/37.09 miles.
The distance betweem Benidorm and Alicante is around 46.1 km (around 28.64 miles) - 38 minutes drive.
Explore popular places in Spain