Gran Canaria Car Hire
Find the best deals in Gran Canaria
With a massive choice from the biggest brands, Enjoy the best way to find the best prices for car hire in Gran Canaria.
Huge choice of cars to suit every budget
Save up to 70% compared to buying on the day
10 years experience in car hire
Compare Car Hire in Gran Canaria
Gran Canaria is the third largest and second most populous of the Canary Islands ̶ thanks to diverse scenery that ranges from rugged mountains to lush subtropical rainforests and beautiful beaches to bustling tourist towns, it has been dubbed 'the continent in miniature'.
Located in the Atlantic 1350km from Europe and 150km off the north west coast of Africa, it covers 1560 square km and has a population of almost 852,000, which accounts for 40% of the population of the entire archipelago and makes Gran Canaria the third most populous island in Spain after Tenerife and Mallorca.
Crowned by capital Las Palmas, which blends buzzing nightlife with sophisticated elegance, Gran Canaria boasts a heady mix of scenic delights, including the awesome, arid sands of Maspalomas in the south, the luscious leafy north, and the mountainous majesty of Artenara, the highest village in the island at an impressive 1270m. This is a hiker's heaven, with a huge network of trails offering stunning views around every bend and an annual walking festival, its beaches are caressed by crystal-clear waters, its cuisine is colourful and fresh, and its culture is inclusive and welcoming. Whether you want a chilled-out couple's break, a contemplative solo trip or a fun-packed family holiday, you'll find all of the essential ingredients in this inspirational island.
You can hire a small car like a Volkswagen Up in Gran Canaria for just €14.89 if you book off season, an economy car like a Renault Clio is €15.86 and a comfy Nissan Qashqai (seats five) is only €35.66 a day. Hire a car in Gran Canaria with Enjoy and the romance of the open road awaits, but first, take a look at a few useful facts about this dynamic destination:
About Gran Canaria: this is a reasonably small island that does everything on a grand scale. For instance, there are 1,100 archaeological sites documented here, each of which bears witness to Gran Canaria's geological past or carries eternal echoes of its ancient civilisations. Indeed, at the UNESCO World Heritage Site of Gran Canario Risco Caído and Sacred Mountains Cultural Landscape, ancient fertility symbols abound, carefully carved in stone by ancient inhabitants. Gran Canaria is also designated an official Starlight Destination by UNESCO for the clarity its skies provide to stargazers, joining a select group of nations with this title including Hawaii, New Zealand and Chile. But this is also a down to earth destination where you can enjoy rollercoaster rides at theme parks like Holiday World, sunbathing and water sports island-wide and wild nights out at eclectic venues like Eiffel Bar in Maspalomas and Chester Melaneros Bar & Lounge in San Bartolome de Tirajana.
The precise origins of Gran Canaria are lost in the mists of time. Like its neighbours, its geological origins are found in tumultuous volcanic activity millions of years ago, while in terms of human history the convention seems to be that it was first settled around 500BC by people from North Africa of Berber cultural extraction.
The Island's conquest by the Crown of Castile (a medieval polity which occupied much of the Iberian Peninsula) was started by Juan Rejón and completed by Pedro de Vera in 1483. The invasion was ferociously resisted by the island natives, who fought bravely against overwhelming odds until the bitter end. Following this period, the Crown of Castile established all of the administrative, governmental and religious infrastructure necessary to make Gran Canaria the heart of its newly claimed Canaries archipelago, although the island's fortunes dipped in the 17th Century with the decline of agricultural exports to the European mainland and the New World. Prosperity returned in the 19th Century thanks to the free port system established across the Canary Islands, a new free trade system which nurtured lucrative new trading relationships with British shipping companies in particular. Word of the island's natural attractions reached the wider world through this maritime trade and by the second half of the 19th Century the first tourist hotels, like the Santa Catalina in Las Palmas, were built to cater for travellers seeking rest, recuperation and the restorative powers of the weather, Atlantic air and water. The further development of the tourism market was arrested by the two World Wars and the Spanish Civil War, but restarted in the late 1950s when the first charter flights and package holidays started a surge which has lasted ever since, with Gran Canaria now attracting 3.6 million visitors annually.
Airports and access: the international airport is Gran Canaria Airport (LPA), also known as Gando Airport. It's found at the Bay of Gando, 12km south of capital Las Palmas and processes 12 million passengers a year.
Driving around Gran Canaria: with such widely varied terrain, you won't be surprised that there's some amazing driving available around Gran Canaria. Here are a few favourite road trips for your itinerary:
If you're an experienced driver yearning for a spectacular road full of dramatic twists and turns, don't miss the GC-200 which snakes its way from Agaete to Puerto de Mogán, with the 36km run to Aldea de San Nicolás being the most jaw-dropping section. At Mirador del Balcón, some 360m above sea level, stop to gaze at the mountains dropping almost vertically into the sea via sheer cliff faces lapped by wild waves at the bottom, while other scenic spots en route include the charming hamlet of El Risco and the serene beach at Guayedra.
Alternatively, take a trip via the GC-60 from Maspalomas through the lush palm groves of Fataga, the charming village of San Bartolomé de Tiranja, and continue via the GC-130 in the direction of Pico del las Nieves to the car park at Goleta, where you'll need to trek the rest of the way to the iconic volcanic standing stone of Roque Nublo on foot. It's worth the effort though ̶ you'll traverse red Martian-esque landscapes and verdant pine forests and enjoy superb views of the Pico del Teide mountain on neighbouring Tenerife.
Famous Gran Canaria: celebrated sons and daughters of this island include Oscar-winning actor Javier Bardem, novelist Carmen Laforet, international footballer David Silva. Meanwhile, celebrities connected to Gran Canaria include English crime writer Agatha Christie, and former British Prime Minister Winston Churchill, who visited in 1959 after arriving in grand style on board the yacht of Aristotle Onassis.
Guide to Gran Canaria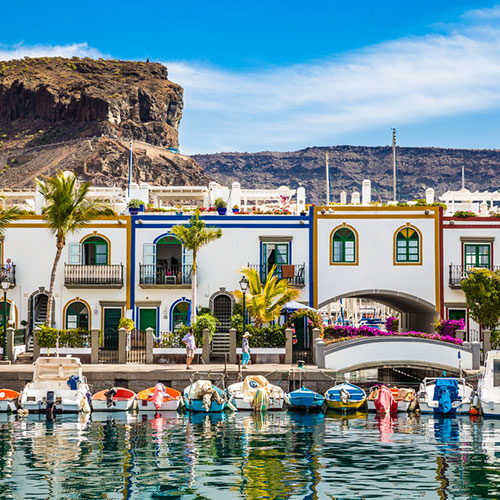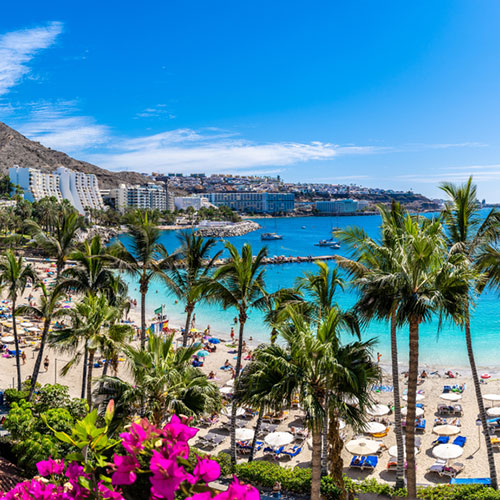 This miniature continent maximises enjoyment for anyone who visits, whether you prefer sun, sea and sand, rare fauna and flora, swish socialising in suave cocktail bars or mind-blowing adventures in the great beyond.
Legendary Las Palmas
In some ways, Las Palmas de Gran Canaria feels like a mainland Spanish capital, but its enhanced by a spicy infusion of Indian, Chinese and African culture. A busy port city, the lively bars and bustling shopping areas charge this city with an electric ambience that you instantly absorb. Vegueta is the oldest quarter of Las Palmas and it's full of bijou boutiques, while if you want to chill out while your credit card cools down you can take a dip in the sea at Playa des Canteras. Meanwhile, tucked behind the beach you'll find a labyrinthine network of streets and alleyways which host some of the most authentic Canarian restaurants in Las Palmas.
Biosphere beauty
The UNESCO Gran Canaria Biosphere covers 43% of the southwestern and central territory of the island as well as an expansive marine sector. This protected area is of global significance due to the island's geological age of over 14.5 million years, the role volcanic activity has had in carving its topography and the high biodiversity of the native ecosystems ̶ there are several endemic invertebrates as well as rare birds, reptiles and plants. The variety of terrain is also significant as it includes beaches, marine areas agricultural areas, rugged ravines and unique geological features. Many Canarians live and work in the biosphere, engaged in traditional pursuits like farming and fishing, as well as contemporary tourism of every type. This is the beating heart of Gran Canaria and showcases an ocean island that's truly one of a kind.
Excellent entertainment
Whether you want a wild night out or a cosy chat over a couple of beers, Gran Canaria's nightlife has something to suit all tastes.
If you want to dance the night away in the south coast, don't miss Pacha Gran Canaria at Playa del Ingles, the local outlet of the world-famous super-club chain, which has four bars and a massive dancefloor that's always packed and pumping to House, R&B and electro tunes. Meanwhile, if you're a partygoer in Las Palmas, head to Fortuni at Calle Los Martinez de Escobar close to Santa Catalina park to sashay your way through three floors of music including techno, EDM and live Rock. Alternatively, for something slightly more chilled in Las Palmas, head to The Kitchen at Calle Ruiz de Alda for delicious cocktails on the comfy terrace ̶ the mojitos are magnificent!
What to do in Gran Canaria
Whether you want to relax by the seashore, get those muscles pumping or immerse yourself in Canarian culture, you'll have a great time in Gran Canaria.
Take a hike
Simply put, Gran Canaria is one of the world's best places to hike. It's hard to single out one route but the dramatic Montaña del Viso trail from Degollada de La Aldea to Aldea de San Nicolás in the island's south west is superb. 10km long, it takes around four and a half hours of powering up into the mountains through rugged, stark terrain. At the Viso summit you're afforded an amazing view of the mountains running through the centre of the island and Aldea de San Nicolás below. On the way back down you'll pass through a lava field of chameleonic colours ̶ a vivid reminder of the island's volcanic history.
Amazing Aqualand
If you've got a family of water babies, you'll be in your element at Aqualand in Maspalomas. For thrills, try the rapid Kamikaze slide, Racer Twin Turbolance (one of Europe's biggest water slides) or the Anaconda, a serpentine 200m slide which you tackle on a four-person float. Discovery Beach is a gentler leisure pool suitable for kids of all ages and for an additional fee you can even swim with the park's resident sea lions!
Festival fun
Gran Canaria's cultural calendar is packed with lively events, so the chances are you'll catch something special while you're visiting ̶ highlights include the colourful Gran Canaria Carnival in March, Canary Islands Day on May 30th where you'll experience folk music and Canarian-style wrestling, and Fiesta del Charco on September 11th, when people dive fully clothed into the San Nicolás de Tolentino lagoon and try to catch fish with their bare hands!
Eating out in Gran Canaria
From authentic local fare to fab international food, you'll always find something to tantalise your taste buds in Gran Canaria.
Sizzling steaks and burgers
At La Brasa Steak y Tapas Steakhouse in Santa Brigida (around 14km from Las Palmas) you can try succulent hand-made hamburgers which have been described as the best on the island and delectable steaks of all varieties cooked perfectly to your taste, complemented by a fine selection of beers and wines. Prices range from €5.50 for snacks to €50 for the most filling main courses.
Italian inspiration
For sumptuous Italian dishes with a Canarian twist, head to La Cucina Italiana en Gran Canaria in Maspalomas. The gambas a la plancha (grilled shrimp) in hollandaise and brandy sauce tastes beautiful, and the grilled octopus in crema de papa is also recommended. Main courses range from €10-€20.
Spanish selection
Based in Playa del Ingles and yearning for authentic Spanish fare? Calma Chica has you covered. This relaxed restaurant has an airy ambience and specialises in dishes like carpaccio of monkfish marinated in lime and ginger with iced mango ̶ magnificent. Main courses are a reasonable €12-€15.
Transport in Gran Canaria
Airports
Gran Canaria Airport (LPA) is the main air hub here and it's 12km south of Las Palmas. Enjoy partners with reliable car hire operators at LPA like Europcar, Orlando and Ace Rent A Car.
Buses
Global and Guaguas Municipales operate the main bus routes in Gran Canaria and the service is reasonably efficient. Global buses run across the island and you'll recognise them by their distinctive blue colour, while the Guaguas Municipales buses are yellow and operate primarily in Las Palmas.
Driving tips
You always drive on the right in Gran Canaria. Speed limits are 120 km/h (74 mph) for motorways and dual carriageways, 90 km/h (55 mph) for non-motorway main roads and 50 km/h (31 mph) in most towns and cities.
The driver and all passengers should always wear seatbelts and drink-driving is not tolerated. The blood alcohol limit is 50mg per 100ml of blood but 20mg per 100ml of blood if you have less than two years driving experience ̶ your safest option is not to drink at all if you plan to drive and you should also avoid driving the morning after a big night out.
Got a Question? Chat with our UK support team
Online chat help is open 08:30am to 17:00 weekdays. Email: [email protected]
FAQs about car hire in Gran Canaria
Most frequently asked questions about hiring a car in Gran Canaria
An economy car like a Nissan Micra costs €12.84 per day to hire in Tenerife if you book far in advance and an economy car like a Seat Ibiza costs €15.64 a day.
You can hire a car like a Renault Twingo for just €13.92 per day in Gran Canaria if you book far enough in advance.
The minimum age for hiring a car in Gran Canaria is 21 but this might be higher for some rental companies so please check.
Not usually. Excess-free packages are fairly standard and usually include road-side assistance and 24-hour theft protection.
Yes, usually this can be arranged – extra drivers can usually be added to the rental agreement, as long as they have a valid license and an additional daily fee is paid.
This depends on your itinerary, but a spacious Renault Captur seats five and is well suited to longer road trips.
Let your rental company know immediately if you have an accident. In the event you have a serious accident in Gran Canaria, call 112 immediately for emergency services.
The average expenses you'll have in Gran Canaria range around €100 per day.
It is highly recommended since it will make a lot of your experiences in the island incredibly memorable.
Gran Canaria is the so-called round island with long beaches of golden sand, subtropical forests, an interior polished by extinct volcanoes and unique dunes for Europe.
The best time to visit Gran Canaria is between April and October.
It's €140 for a week, which is €20 per day.
It's €953, or €31 per day.
It's more or less EUR 1.54 and EUR 1.27 per litre of gas.
Explore popular places in Spain