Murcia Car Hire
Find the best deals in Murcia
With a massive choice from the biggest brands, Enjoy the best way to find the best prices for car hire in Alicante.
Huge choice of cars to suit every budget
Save up to 70% compared to buying on the day
10 years experience in car hire
Compare car hire in Murcia
Murcia is an ideal city break location for those who aren't normally fond of cities. Small-town charm abounds in the city's historic core, with its quiet streets and stunning buildings. To top it all off, the area's shore and countryside offer fantastic day outings. Aside from its Huerta and its well-known exports (fruits and vegetables), Murcia is well-known for its folklore, festivals, and several baroque cathedrals.
For the best rates on a Murcia car hire, reserve ahead of time with Enjoy Travel. You'll find prices for car hire in Murcia starting from just €45 per day for a mini car such as a Toyota Aygo or similar. An economy car like a Seat Ibiza or similar costs an average of €47 per day.
Guide of Murcia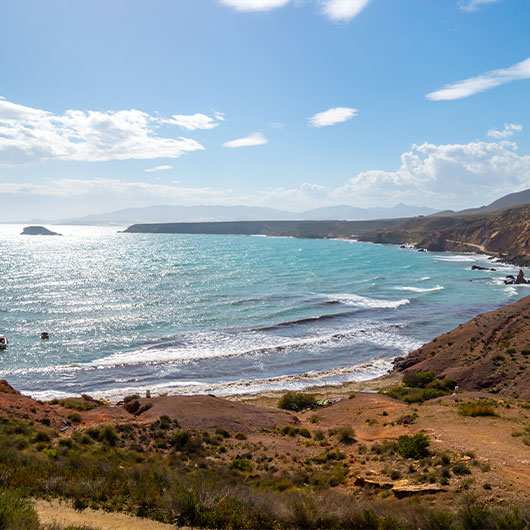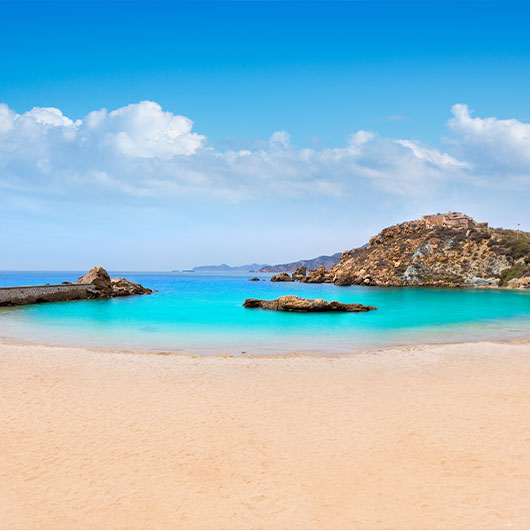 Geography
Murcia is the capital and most populous city of the autonomous community of the Region of Murcia, and the seventh-largest city in Spain. It is situated on the Segura River in the Iberian Peninsula's southeast corner.
Climate in Murcia
Murcia has a semi-arid climate which is characterised by scorching summers, moderate winters, and generally minimal rainfall. Spring and Fall are the best times to visit Murcia since the temperatures are still mild enough to comfortably walk about the city.
Culture
In 825, Abd ar-Rahman II, the emir of Cordoba, established Mursiyah (Arabic: مرسية) as the capital of the province of Murcia. Cultural highlights for tourists include the Cathedral of Murcia, several baroque structures, renowned local cuisine, Holy Week procession, works of art by the famous Murcian artist Francisco Salzillo, and the Fiestas de Primavera (Spring Festival).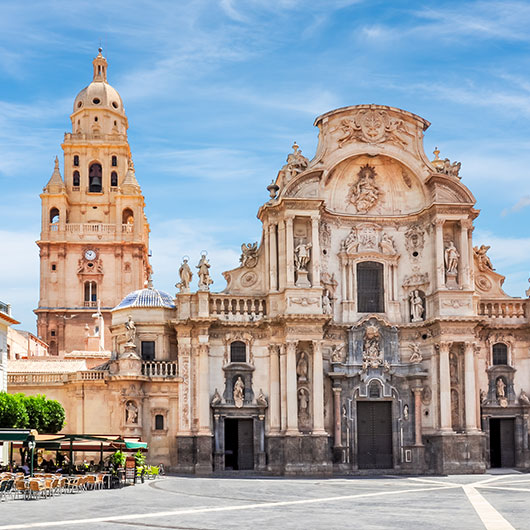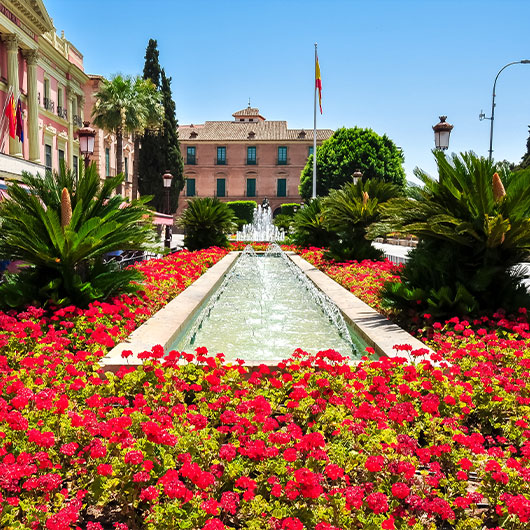 Things To Do in Murcia
Explore the Cathedral of St. Mary in Murcia
The majestic Cathedral of St. Mary in Murcia is the only cathedral still in use in the Roman Catholic Diocese of Cartagena in Spain, and it is well worth a visit. It was constructed between 1394 and 1465 and is visited by throngs of visitors every year. It is a fusion of several architectural styles. Your Instagram photos will look amazing against this stunning Baroque façade overlooking the Cardenal Belluga Plaza, which has massive columns as well as a magnificent sculpture of the Virgin Mary with the Archangel. While walking through the various hallways and chapels, keep an eye out for the tomb of King Alfonso X of Castile, which is located at the entrance. The bell tower, which was built over a period of 250 years, is, nevertheless, the cathedral's most notable feature and is worth a visit. It is the second-highest bell tower in Spain after Seville's Giralda, and it stands at 93 metres tall and has more than 25 bells.
Visit the Real Casino De Murcia
Originally built as a gentleman's club in the mid-19th century, the landmark structure is a must-see site that you should not miss. Despite the fact that it bears the name "El Real Casino de Murcia," El Real Casino de Murcia has nothing to do with gambling. The huge ballroom, complete with shimmering chandeliers and an exclusive collection of paintings, portraits, and music, is the club's most notable feature, which is still in operation as a private club. Francisco Salzillo, a famous Spanish sculptor, created the frescoes that decorate the ceiling. Additionally, the billiard area, with its geometric ceiling, merits special attention for its lavish interior design. Do also take note of the cultural events that are held on the grounds every year during the months of March and April, as well as the restaurant that serves delectable cuisine.
Visit the Terra Natura Animal Park
Terra Natura Animal Park is a popular family-friendly animal park located on 165,000 square metres of land that includes a zoo, a safari, and a waterpark. Terra Natura Animal Park is open from April to October. Black jaguars, rhinoceros, and sea lions are among the unique species that call this sanctuary home. Visitors like the excitement of night safaris, which often last a couple of hours and offer a thrilling adventure experience for visitors. An invisible barrier keeps you from coming into close touch with the park's animals, and a knowledgeable guide ensures that you have a pleasant experience.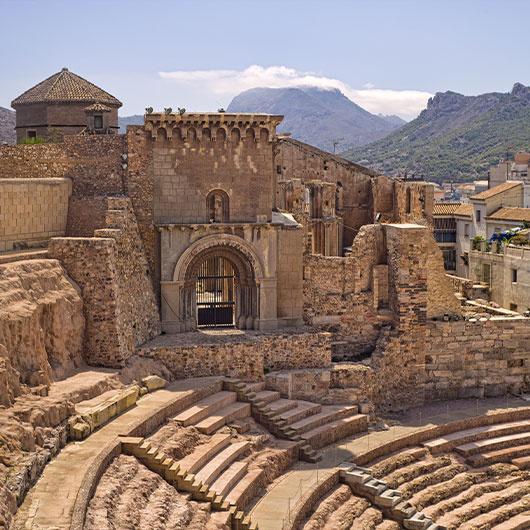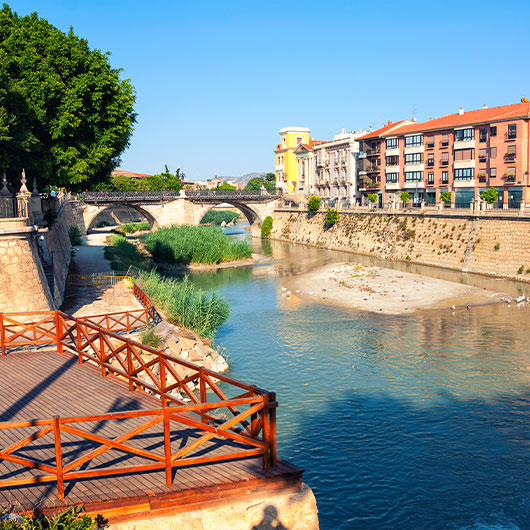 Eating Out in Murcia
Murcia is home to a wide range of delightful culinary options. Here are a few of our favourites to share with you. The exquisite flavours of La Pequena Taberna's main courses, as well as the desserts, make it an ideal option for a delicious family dinner. You may savour the fish carpaccio, as well as codillo or pig knuckle, at this establishment. El Pasaje de Zabalburu's inventive and delicious tapas are a must-try for every foodie. Seafood dishes such as grilled calamari and their speciality pelochos or ham croquettes are just mouth wateringly delicious. Mano a Mano, a restaurant in the centre of Murcia, serves fusion cuisine inspired by Argentina and Italy. Delicious pizzas and melt-in-your-mouth Argentine dumplings are just a few of the meals that you may enjoy at this establishment.
Transport
Airport
Murcia is served by Region de Murcia International Airport. It is located 25 km from Murcia and 35 km from Cartagena.
Getting Around Murcia
Murcia has a well-developed public transportation system. A fleet of municipal buses will transport you safely and pleasantly across the city. The northern half of the city is connected to the metropolitan centre by a long tram line that runs for 18 kilometres. Many visitors also opt to explore Murcia at their own leisure and have access to the most remote parts of a place by hiring a car. Many car hire suppliers may be found in the city centre. Taxis are also widely available.
Top Tips when hiring a car in Murcia
● A big number of users encountered rental cars in Murcia for less than £22 per day.
● Booking your rental car in Murcia in advance by at least 1 day before your trip ensures you'll get cheap car hire deals!
● It's incredible how much more expensive Murcia car hire in the city centre and other locations is compared to the car hire companies in the Murcia Corvera Airport!
● You'll find any car hire company in the arrivals terminal of Murcia Airport, regardless of if it's Murcia San Javier airport or Murcia Corvera airport.
● The car rental companies in the Airport are not only easy to find but also easily accessible! Their car hire desks are consolidated at the main terminal building where you will land. So besides being able to have the place you land the pick up location for your car hire, Murcia airport also offers the best car hire deals within the region.
● Compact hire car models in Murcia are much cheaper than other vehicle types and they are also more popular.
● Car hire at Murcia is recommended. As soon you leave the Airport you can begin exploring southern Spain and all its beautiful places.
● Before picking up your hire car make sure you are well informed about on street parking in Murcia, speed limit related info and go over the details of your Murcia car hire carefully.
● Keep in mind you can't use your mobile phone to navigate while driving as it's illegal, so ask at the car hire company if they can provide a sat nav. If you're traveling with family you should also ask for child seats.
Got a Question? Chat with our UK support team
Online chat help is open 08:30am to 17:00 weekdays. Email: [email protected]
FAQs about car hire in Murcia
Most frequently asked questions about hiring a car in Murcia
The average cost per day of hiring a car in Murcia is just €45.
Prices for Murcia car hire start from just €43 when booking in advance with Enjoy Travel.
To hire a car in Murcia you must be at least 21 years old.
Additional drivers can be added to your Murcia car hire agreement upon request.
What's the best car for getting around Murcia?
The distance between Elche and Murcia is 57.4 km km (35 miles)
Not as expensive as other parts of Spain, so we'd say it's overall an affordable destination. On average you'll spend €79 per day.
If you'd like to see some well known but remote parts of Murcia, it's important to have your own vehicle, so renting would be a great alternative.
The zone surrounding Murcia is very beautiful, so going hiking and taking in the views is a great way to see Murcia.
The best months for good weather in Murcia are July, August and September.
It's €108 for a week, which is €15 per day.
It's €782, or €25 per day.
It's EUR 1.34 and EUR 1.02 per litre of gas on average.
Explore popular places in Spain