Perth Airport Parking
Find the best parking deals at Perth Airport Parking
With a massive choice from the biggest brands, Enjoy the best way to find the best prices for car hire in Perth Airport Parking.
Huge choice car parks to suit every budget
Save up to 70% compared to buying on the day
Working with the best partners in Airport Parking
Parking at Perth Airport
You're looking for advice on Perth Airport (PER) parking, right? Well, you're definitely in the right place. And as well as making the official and unofficial parking options (for different types of travellers) crystal-clear, you'll also get some bonzer tips on PER facilities and amenities too. Can't say fairer than that, right?
Whether you're hopping on Qantas, Virgin Australia or Philippine Airways, and heading to Melbourne, Sydney or Manila, you'll have peace of mind about your ideal Perth Airport parking space by the end of this article.
And if you're an out of towner with some time to spare exploring Perth, lucky you! It might be one of the most isolated places on the planet, but boy is it beautiful. Perpetual blue skies, gentle Indian ocean breezes and powder-sand beaches make it easy on the eye, while global street food, boho bars and cool street art fill your belly and warm your heart. Thanks to its wonderful airport, it's well connected to Sri Lanka, Singapore and Bali, as well as having a direct flight to London. And there are tons of terrific things to see and do here. For instance, culture vultures have rich pickings at the Western Australian Museum and Art Gallery of Western Australia, lush Kings Park offers scenic cityscape views and Swan River scenes, and an Indigenous Heritage Tour enlightens you on the customs of the local Noongar and Wadjuk cultures.
If you're yearning for sun, sea and sand, check out Cottesloe Beach, Mullaloo Beach and Scarborough Beach, and the Fremantle Markets offer everything from fresh local fare to clothing and artisan souvenirs. And you can also take a boat out to Rottnest Island to see the Quokkas (miniature macropods that are a bit like small, chubby kangaroos), snorkel and stretch out on the beach. And if you like horrible histories and things that go bump in the night, catch a scary Fremantle Prison Torchlight Tour – if you dare, that is.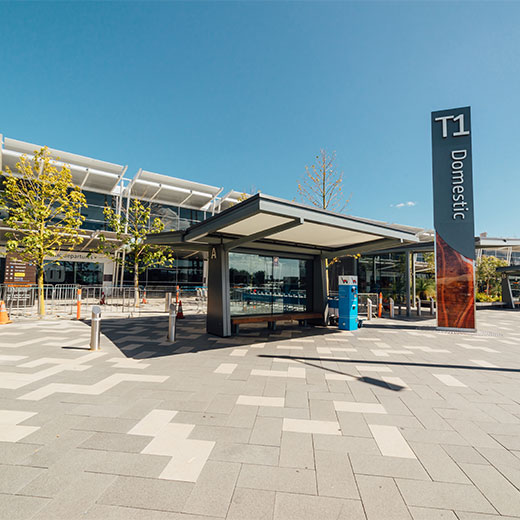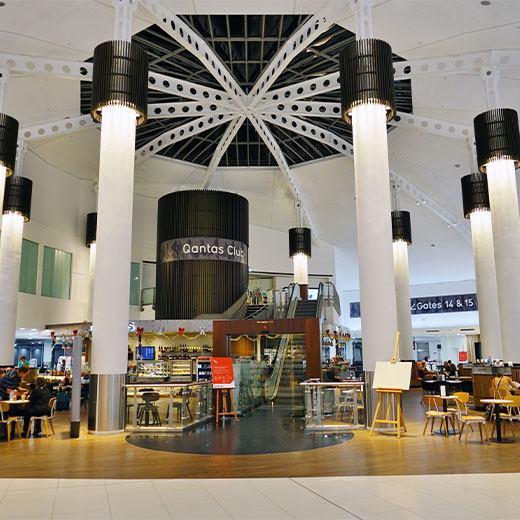 Find the best deals at Perth Airport
It's getting harder to remember how we looked for information in the days before internet search engines. But even as algorithms get more sophisticated, they aren't infallible and sometimes serve up results that aren't as helpful as they should be – or there's just so much information that it's hard to separate the good from the bad.
However, as travel experts, we're here to help. In fact, you don't need to bother looking for Perth Airport parking deals at all. We've done that it for you so you can sit back and relax, compare and contrast, then make an informed choice. One that matches your requirements and budget perfectly – whether you're flying to meet family or taking a business trip.
Compare parking at Perth Airport
The total number of parking bays at Perth Airport is over 18,000 and it's expected to top 35,000 in a few years' time as part of an expansion project.
Perth Airport's history stretches back to 1938, when a parcel of land was purchased for its construction at Guildford, an area granted by Governor James Stirling to Scottish immigrant John Scott. However, before civilian flights could begin, WWI started, and the airport was commandeered by the Royal Australian Air Force and United States Navy. Civilian services from PER actually did start before the end of the war, with Australian National Airways and Qantas Empire Airways services commencing in 1944. The airport expanded during the jet age of the 1960s and 1970s, a new international terminal was built in the 1980s and today it processes 3.9 million passengers a year.
What parking is there at Perth Airport?
The short answer is – lots of different types. But you deserve a more detailed answer and that's exactly what you're about to get.
If you're open-minded, it can be worth having a quick look on comparison sites as they're sometimes able to offer deals you'll struggle to find elsewhere. For instance, Looking4Parking offers deals at The Car Port and Spa – Valet – Park & Ride – Outdoor – Perth, Hamer Airport Parking – Park and Ride – Outdoor – Perth (T3 & T4 only), and Bay Airport Parking – Park and Ride – Undercover.
Short-term parking
The short-term parking lots at PER are located at Terminal 1, Terminal 2, Terminal 3 and Terminal 4. Just 2-3 minutes' walk from check-in, these car parks are a great choice for anyone who's taking a long weekend break or business trip and wants minimum hassle. You can park here from any period from 10 minutes to 12 days at standard rates, but an increased rate is applied for anything beyond this duration. All of the short-term car parks have pick-up and drop-off areas at the front.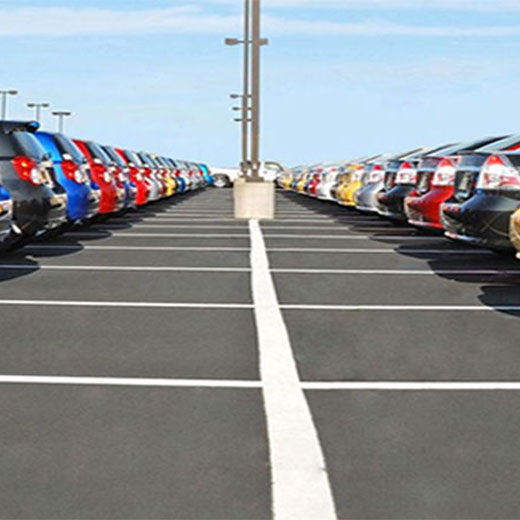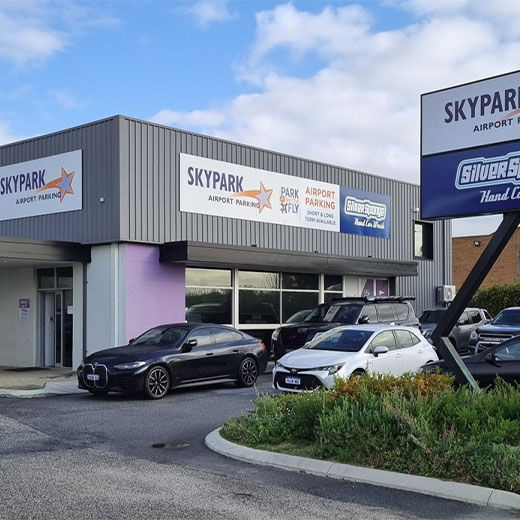 Long-term parking
Staying away for an extended trip? Long-term parking is your best option. Located in all terminals, this parking is charged at a standard rate for stays of between one hour and nine days. The charge for any stay longer is far cheaper than that applied in short-term parking, so this is the most economical option for longer trips. Long-term parking isn't right next to the terminals and you'll need to hop on a shuttle bus to get there – it runs 24/7, every 10 minutes.
Fast-track parking
Busy businessperson off to strike a career-defining deal or meet a first-class contact to discuss a collaboration? Fast-track parking is designer for PER business travellers and it's available in Terminals 3 and 4. With 230 extra-wide, covered parking bays, it's available for between two hours and 12 days. Literally one minutes' walk from the terminal, this is the best choice if you're a go-getter in a hurry to get places.
Regional Terminals parking
Taking a private flight to a regional airport? Regional Terminals parking has your name on it. Leave your car there for 10 minutes or 8 days at standard rate – it's just 2 minutes' walk from the terminals.
Getting to Perth Airport
Driving from Perth city centre to Perth Airport takes just 20 minutes via State Route 18. Meanwhile, if you're arriving from Fremantle, take State Route 7 northeast.
For SatNav, the airport address is: Perth Airport, Horrie Miller Drive, Perth, Australia.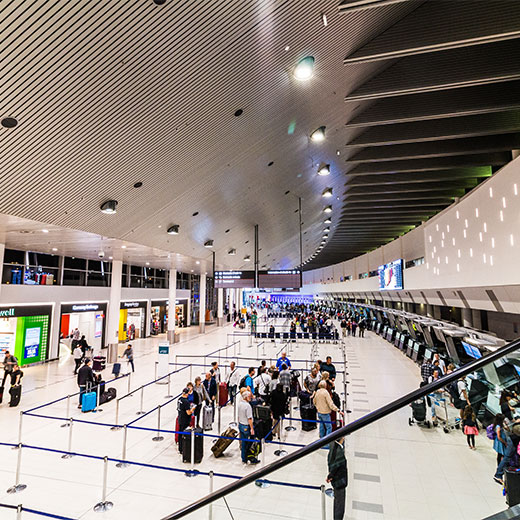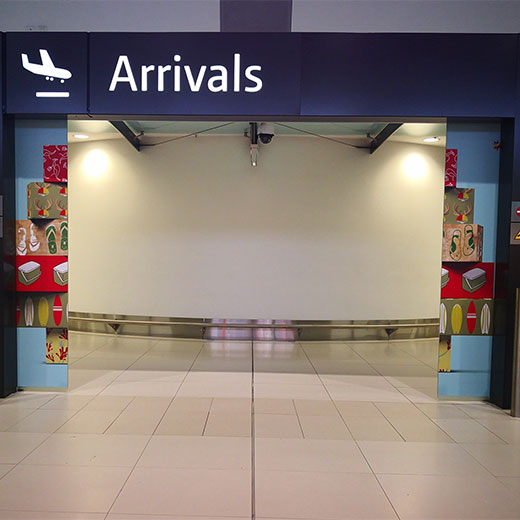 Facilities at Perth Airport
So how do facilities at Perth Airport stack up compared to competitors?
Pretty well indeed, as it happens. There's an awesome kids' play area at the level 2 departures area of T1 international, and it's got videogames for older kids and soft play areas for younger ones. If you're a premium-class passenger you might be eligible to use one of Perth Airport's posh lounges – from Air New Zealand to Virgin Australia and Emirates to Qantas.
Luggage trolleys are available gratis in most airport areas but there's a small fee if you're arriving from abroad or using the Short Term Car Park.
Meanwhile, you should dial 000 if you have a medical emergency and there are first aid facilities where specialist airport staff and St John's Ambulance and Airservices Australia's Aviation Rescue Fire Service are also available. If you need special assistance you should contact your airline beforehand to arrange and airport staff are more than happy to assist in any way they can.
There are service animal relief areas before security at Terminal 4 and Terminal 1, every Perth terminal has wheelchair accessible toilets available and there's an accredited Changing Places facility in Terminal 1 International, with an adult-sized change table, ceiling hoist, privacy screen and shower.
All of Perth Airport's terminals also have First Aid rooms – they're primarily for use in an emergency but they can be used by carers if necessary (for example for administering medication).
And if you need fast, free Wi-Fi, it's on tap in Terminals 1,2,3, and 4.
Hungry? Dining options at Perth Airport include coffee and treats at BARista, fresh ales at Blackwood Beer & Wine, Chicken Treat for tasty fried burgers and Common Bar and Kitchen for a contemporary twist on good old Aussie pub favourites.
In terms of shopping, the Duty Free has great deals on high-end cosmetics and liquor, Amcal Express has all your pharmacy needs and Australian Way is the ideal place to pick up Australian souvenirs for rellies abroad, although you should also take a look at FISH, which showcases (and sells) products designed and made by talented First Nations artists. Last but not least, Link is the place to pick up your regular newspaper or a page-turner novel to flick through on the beach at your destination.
Got a Question? Chat with our support team
Our online chat is available 8:30am to 5:00pm weekdays. Email: [email protected]
FAQs about car hire at Perth Airport
Most frequently asked questions about hiring a car at Perth Airport
There are four on-site parking options: the short-term car park, the long-term car park, the domestic terminal covered car park, and the international terminal covered car park.
It is recommended to make a reservation in advance to guarantee a parking space at Perth Airport and avail the possibility of reduced rates. Reservations can be made via the airport's official website or through third-party websites like Enjoy Travel.
If you modify or cancel your Perth Airport Parking booking online, ensure that you do it at least 24 hours before your scheduled entry time. It's crucial to keep in mind that the cancellation policies may vary depending on the parking option you choose. Thus, it's advisable to carefully read the terms and conditions while making the reservation.
The short-term car park charges $5 for up to 30 minutes, $12 for up to 60 minutes, and $39 for 24 hours. The long-term car park costs $29 for 24 hours, with discounted rates available for longer stays. The domestic terminal covered car park and the international terminal covered car park cost $28 for up to 30 minutes, $37 for up to 60 minutes, and $62 for 24 hours.
The on-site parking options offer 24/7 security surveillance, fencing, and lighting, and are patrolled by security personnel. The covered car parks have CCTV cameras and regular security checks.
It is recommended to make an early reservation for your Perth Airport Parking to guarantee availability and potentially avail discounts. Booking in advance also provides you with a wider range of parking options to choose from.
Yes, you can park at Perth Airport overnight. The airport provides several on-site parking options, including the long-term car park, the domestic terminal covered car park, and the international terminal covered car park.
Yes, there is a shuttle bus service available for transportation between Perth Airport Parking and the terminals. The long-term car park and the off-site parking providers offer a complimentary shuttle bus service to and from the terminals.
Yes, there are disabled parking options available at Perth Airport. All parking areas have designated parking bays for disabled passengers. These bays are located close to the terminal entrances and are accessible via wheelchair ramps.
While it's feasible to park at Perth Airport without prior booking, it's essential to keep in mind that parking spaces might be limited, and the rates may be higher. To ensure availability and potentially save money, it's recommended to make an advanced parking reservation through Enjoy Travel or other similar booking platforms.
Explore popular airports across Australia