Adelaide Airport Parking
Find the best parking deals at Adelaide Airport Parking
With a massive choice from the biggest brands, Enjoy the best way to find the best prices for car hire in Adelaide Airport Parking.
Huge choice car parks to suit every budget
Save up to 70% compared to buying on the day
Working with the best partners in Airport Parking
Parking at Adelaide Airport
Looking for parking at Adelaide Airport (ADL)? You've hit the jackpot.
Because not only will you find excellent information on different types of ADL parking for diverse travellers right here, you'll also find some top advice on the airport facilities, amenities, shopping and eating that make your pre-flight experience at this superb South Australia air hub a breeze. Whether you're flying to Melbourne to meet your granny, heading to Canberra on government business or Perth-bound to catch up with your cousin, pop on the kettle and you'll be sorted by the end of this guide.
With a population of 1.3 million, Adelaide is a pretty, park-fringed city that spills out on both sides of the Torrens River. Powered by the mighty Murray River and backed by the undulating Mount Lofty Ranges, this is a place where the Great Outdoors blends beautifully with urban attractions.
And if you're driving to ADL from a little further out, you might want to spend a day there either side of your break. Stroll around the city and soak up its elegant sandstone and bluestone Victorian private and municipal buildings, while Gouger Street and Chinatown are ideal for tasty cuisine and good company. This is an arty city too and if you're here in February March in an even-numbered years, you can catch the world-renowned Adelaide Festival of Arts and its funkier cousin, the Fringe Festival. Whether you love live music, experimental theatre, comedy or street dance, you're sure to find something to float your boat.
Other great things to do include dipping your toes in the sand and sea at one of the scenic metropolitan beaches, getting close to Giant Pandas, kangaroos and wallabies at Adelaide Zoo. If you fancy a spending spree meanwhile, Adelaide is a bit of a shopper's paradise. Rundle Mall has 700 shops and boutiques on one handy strip, Adelaide Central Market has fresh local produce, and Better World Arts showcases unique cross-cultural creative work from local and international artists.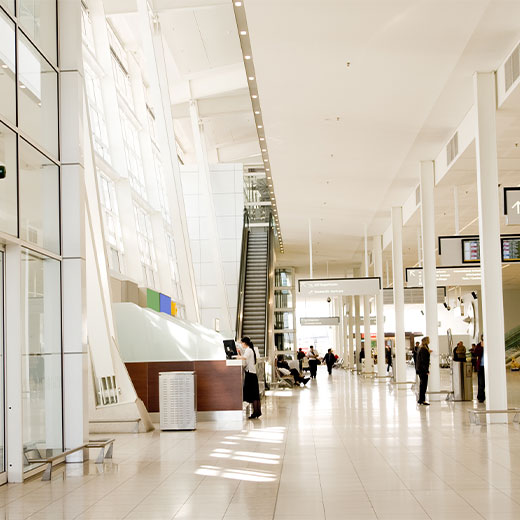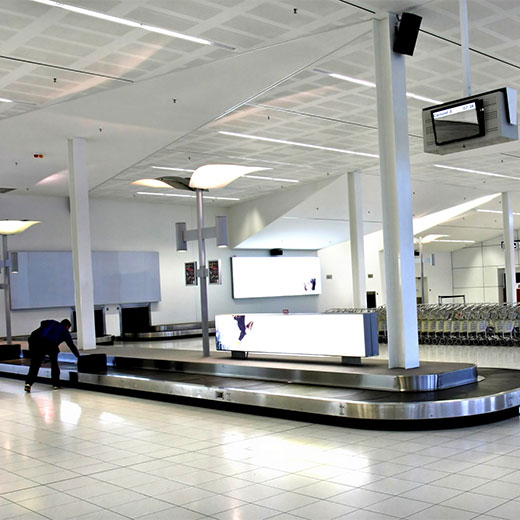 Find the best deals at Adelaide Airport
Seems like 'Google it' is the solution to most questions these days – whether you're wondering which colour of socks to buy or debating the fine points of Stoic philosophy. And the world's biggest search engine is pretty good at its job – it maybe even brought you here. But when you're looking for a good deal on something specific like ADL airport parking, search engines sometimes serve up a smorgasbord of information to snack on – rather than a main meal that gives you everything you need in one sitting.
Most 'ultimate guides' are anything but. However, after reading this one-stop-shop for Adelaide Airport Parking, we reckon you'll be more than satisfied.
Compare parking at Adelaide Airport
Part of the Adelaide Airport parking conundrum is solved by what you bring to the table. That doesn't mean you need to do any real work, but just work out your needs (and those of your travel companions) so you can instantly sift out parking options that are inappropriate. For example, you might not want to hop on a shuttle bus if you're taking a vacation with toddlers and grandparents in tow.
Luckily, there are lots of great parking options at ADL and its just one of many things that makes the airport such a superb launchpad for different types of travellers. They must be doing something right, because 3.06 million passengers used the airport in the most recent reporting year, with monthly passenger numbers of 653,600. Some other cool facts about Adelaide Airport? First off, it's got a sausage dog terminal – at almost 1km long and just 850m wide, it's very long and slimline. The whole airport has a footprint of 8 million square metres and sits on land that's leased from the Commonwealth until the year 2097. The first commercial flight landed at Adelaide in 1955 from Perth and it actually took over six hours' flight time. Aviation history fans should also make time to see the Vickers Vimy aircraft on display at ADL – in 1919, this same plane flew from Adelaide to England and took a whopping 28 days. Hope they packed some snacks.
What parking is there at Adelaide Airport
There's lots of official parking to choose from at Adelaide. For instance, the long-term parking has 2000 bays and the multi-storey undercover area has an impressive 1650 bays across four levels.
But it's sometimes worth having a peek at comparison sites to see if you can bag an exclusive bargain for on- or offsite ADL parking – for instance, Looking4Parking often offers long and short-stay deals.
Now let's find out a bit more about the ADL official airport parking options.
Terminal Car Park – Undercover
Adelaide's cutting-edge multi-storey car park is the closest to the terminal (they named it well) and even has an undercover walkway to keep you cosy as you stroll in. Perfect for business travellers and picking up/dropping off mates, this offers convenient, secure premium parking that's only a few minutes' walk to the terminal. Rates at this car park start at 0-30 minutes and increase incrementally up to 34-48 hours. If you plan to park up beyond 48 hours, there's a set charge each day. The Terminal car park also has 24 bays for vehicles with disability parking permits – they're signposted with blue parking lights and located close to lifts, for convenience.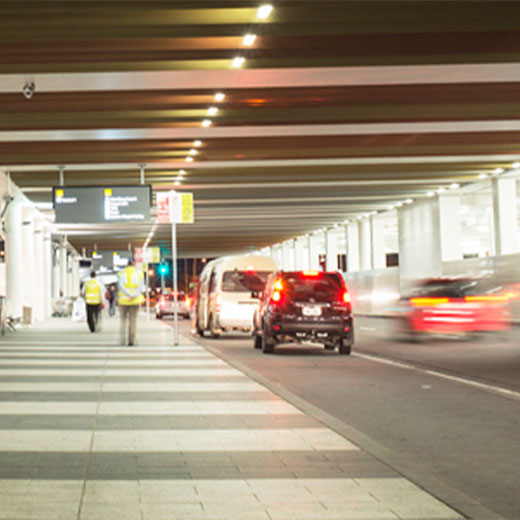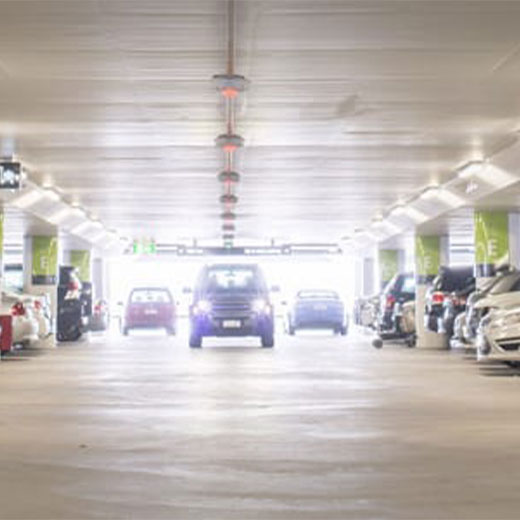 Long-Term Car Park – Outdoor
When you're away for a little longer, the Long-Term car park at ADL is your natural choice. Offering excellent value for bigger trips, it's secure, economical and just a short sashay to the terminal (10 minutes). You can also catch a shuttle bus though – they run every 20 minutes ad the service runs from 4:30am to 11:20pm. Rates in this car park are for durations of one to seven days – if you stay longer, a set daily charge is applied but this is less than that applied if you stay over 48 hours in the Terminal car park. You'll also find long-stay premium parking next to the entry/exit area.
Pick-up and drop-off
There's also a dedicated ADL zone for picking up and dropping off friends and family. You'll find it at Sir Richard Williams Avenue, close to the airport entrance. Friendly staff will help you park up in the best space but please note that if you're only stopping quickly to meet someone, stay in the left lane and be sure to get your timing right so you're not causing any congestion.
You can book Adelaide Airport parking online (on the official website) and save a significant amount of cash. All parking is within walking distance to the terminal, there's ticketless entry and free cancellation up to two hours before you arrive. You can also forego this and pay on the day – but there's no guarantee you'll get your preferred space.
Getting to Adelaide Airport
You can drive from the centre of Adelaide to Adelaide Airport in around 15 minutes, vis Sir Donald Bradman Drive.
The address for your GPS is: 1 Schofield Drive, Adelaide Airport SA 5950.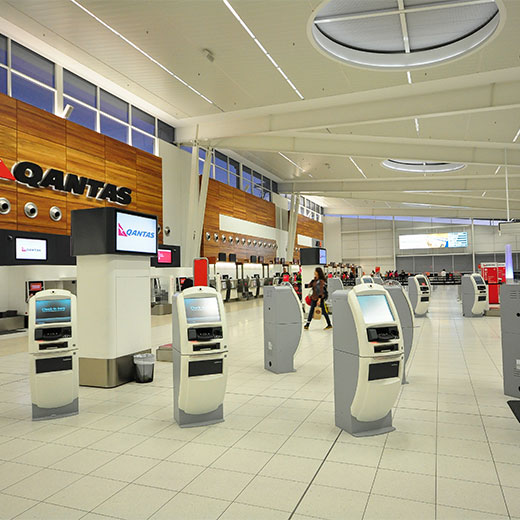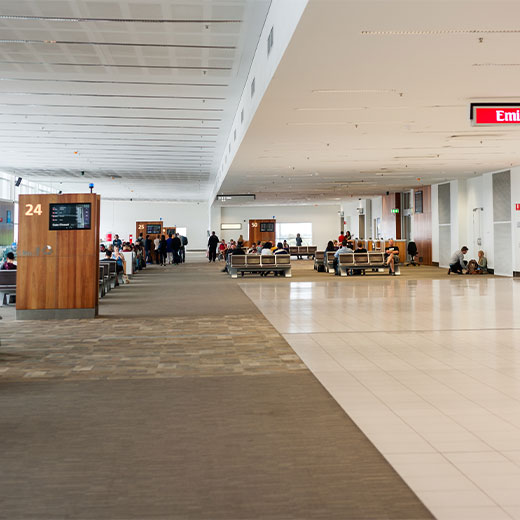 Facilities at Adelaide Airport
ADL is one of the most modern airports in Australia, so you can expect top-notch services and amenities. There are baggage storage lockers on the ground floor od the multi-storey car park, near the car rental offices, Travelex currency exchange stores on level 2 airside and at International Arrivals on the ground floor.
Want to freshen up before you fly? Find showers on the ground floor, on level 2 behind Gate 16 and on level 2 behind Gate 18. There's free Wi-Fi throughout the terminal and in the unlikely event you get sick or injured at Adelaide Airport, there are trained staff and first aid stations available, as well as a well-stocked pharmacy.
Need some quiet time pre-flight? There are two prayer rooms in the airport – the domestic prayer room is between Rip Curl and NewsLink on Level 2 and the International prayer room is after immigration, near the stairs/escalator.
If you're feeling peckish, grab a healthy juice at Boost, a beer at Cooper's Alehouse, and coffee and pastries at Muffin Break. At the Duty Free, stock up on big labels like Giorgio Armani, Johnny Walker and Lancôme.
And there you go – all the essential info on Adelaide Airport parking – with a lot more besides.
Got a Question? Chat with our support team
Our online chat is available 8:30am to 5:00pm weekdays. Email: [email protected]
FAQs about car hire at Adelaide Airport
Most frequently asked questions about hiring a car at Adelaide Airport
The Terminal Car Park is closest to the terminal, suitable for short stays, and charged at a premium rate. The Long-Term Car Park is further away, has a free shuttle service, suitable for longer stays, and charged at a lower rate. The Premium Valet Parking is a premium service with a valet driver to park your car. The Express Parking is short-term parking for picking up or dropping off passengers, while Oversized Vehicle Parking is for larger vehicles.
You can reserve a parking spot at Adelaide Airport either through their official website or third-party websites. To secure a space and possibly get a discounted price, it is recommended to make an advanced booking using Enjoy Travel.
You can cancel or modify your Adelaide Airport Parking reservation online, provided you do so at least 24 hours before your scheduled entry time. However, different parking options may have varying cancellation policies, so it's best to check the details when you make your booking.
The Terminal Car Park charges $6 for the first 30 minutes, $12 for up to one hour, and $44 per day for the first three days, then drops to $29 per day. The Long-Term Car Park costs $29 per day for the first two days and $18 per day for additional days. The Premium Valet Parking costs $90 for the first day and $45 for each extra day. The Express Parking charges $4 for up to 30 minutes, $10 for up to one hour, and $39 per day for the first three days, then drops to $24 per day.
Yes, Adelaide Airport Parking is generally safe and secure. The airport implements 24-hour surveillance and patrols, as well as secure fencing, lighting, and CCTV cameras to ensure the safety of parked vehicles and their occupants.
It's recommended to book Adelaide Airport Parking as soon as your travel dates are confirmed to guarantee availability and potentially lower costs. Booking early also allows you to choose from a wider variety of parking options.
Yes, you can park at Adelaide Airport overnight. The airport provides various parking options, including the Long-Term Car Park and Terminal Car Park, which both offer overnight parking.
Yes, there are shuttle bus services available to transport passengers from Adelaide Airport Parking to the terminals. The shuttle bus service is provided free of charge for Long-Term Car Park users, and it operates every 15 minutes between 4:00 AM and midnight. For Terminal Car Park and Express Parking users, a shuttle bus service is also available, and it operates between 6:00 AM and midnight, with a frequency of 20 minutes.
Yes, Adelaide Airport provides designated disabled parking spaces in all of its car parks. The disabled parking spaces are located in close proximity to the terminal building and are available for use by passengers with valid disability parking permits.
While it is possible to park at Adelaide Airport without a prior reservation, it's important to note that there may be a limited number of available parking spaces and higher rates may apply. To ensure availability and potentially save on costs, it's recommended to make a reservation in advance through Enjoy Travel.
Explore popular airports across Australia