Mackay Airport Parking
Find the best parking deals at Mackay Airport Parking
With a massive choice from the biggest brands, Enjoy the best way to find the best prices for car hire in Mackay Airport Parking.
Huge choice car parks to suit every budget
Save up to 70% compared to buying on the day
Working with the best partners in Airport Parking
Parking at Mackay Airport
Flying from Mackay Airport soon? Need a parking space that's bang on? Brilliant – you're in the right corner of the internet! Because we've trawled the web, asked colleagues and pestered neighbours – all to gather together the latest MKY airport info. And a bit more besides – we've also included some useful advice on amenities, facilities, food and drink at this quality Queensland air hub.
Mind you, if you're an out of towner, you might want to arrive early and soak up some of the magic of this stunning city on the Coral Sea coast. Some special things you can do here include splashing around the Bluewater Lagoon (a huge waterpark with three pools and a slide), tree bathing in the tropical surroundings of Mackay Botanic Gardens, and getting up close and personal to kangaroos, koalas and platypus in Eungella National Park (around 90km west of Mackay).
Meanwhile, Mackay Harbour Beach is a sublime strip of powder-soft white sand which is perfect for bathing or strolling along and Mackay Regional Museum showcases the city's history, including its mining and sugar industries. Speaking of which, another cool thing to do is hop on a sugar train ride and see super sugar cane field scenery, whole nature lovers might also like to take a whale watching tour off the coast. Culture vultures won't feel left out either. For instance, the Mackay Regional Art Gallery has an impressive collection of sculptures, paintings and other inspirational artworks from around the region, and a historical walking tour takes you round every nook and cranny of the city, learning fascinating facts along the way.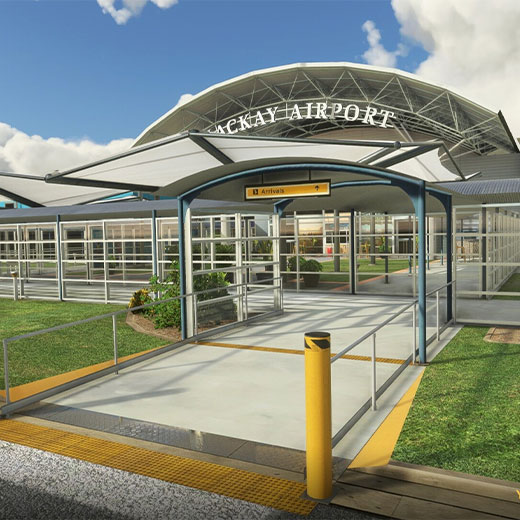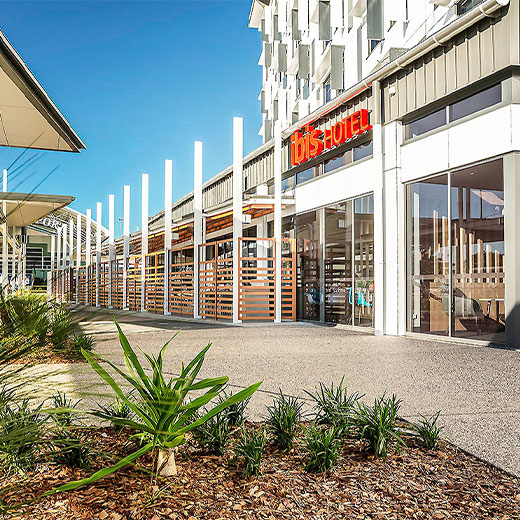 Find the best parking deals at Mackay Airport
If you haven't looked for airport parking at Mackay for a while, the sheer choice can be a little bamboozling. So we've thrown together a few pro tips to help.
First off, if you can book in advance with the parking provider, you've usually got a better chance of grabbing a great deal. Secondly, if price is your main metric, pay close attention to the way rates work for daily and weekly parking in different facilities – this can make a big difference to your overall cost.
Keep an eye out for seasonal or bulk discounts – some parking providers might offer off-season deals or money off when you book a minimum amount of days. And if you're willing (and able) to venture a little further out, park-and-ride type parking is usually cheaper and simply means you hop on a shuttle bus to reach the terminal.
Compare parking at Mackay Airport
MKY has 840 parking spaces, 100 of which are covered, 740 of which are uncovered, and 30 of which are accessible. All car parks are close to the terminal, and you can pay by cash, credit cards and online booking.
This busy airport has a history that stretched back to 1927, when the dashing Captain Ron Adair plonked his Avro biplane on the town common and boldly declared that this would be the site for Mackay's aerodrome. Commercial flights started in 1930 and then Mayor Ian Wood officially cut the tape on the airport in 1931.
Used as a training base during World War II, the Federal Government took control of the airport from 1940, although an unpopular move to place it under the umbrella of the Federal Airports Corporation in 1988 was resisted by the Mackay Airport Group and control was transferred to MPA. MKY has flourished in the years since and it's now a bustling travel hub connecting the area to all major cities in Australia as well as many great destinations in New Zealand and Asia.
And to think, it's all down to Captain Ron – wherever you are, we salute you sir!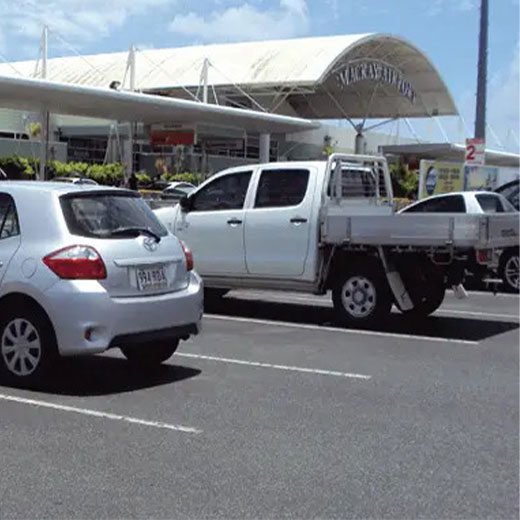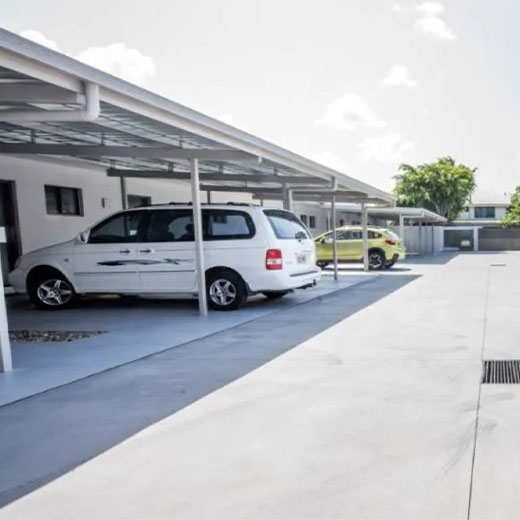 What parking is there at Mackay Airport?
Here's another insider tip when you're bargain hunting for Mackay Airport parking: take a look around a few comparison sites. For instance, Looking4Parking often has great deals on parking at Aussie airports (from various trusted onsite and offsite providers) and this longstanding firm offers regular discounts.
For the moment though, let's crack on with your official Mackay Airport parking options:
Short-term parking at Mackay Airport is located right opposite the Ibis Mackay First hotel and offers 15 minutes free parking if you're just dropping off. Apart from that, it's a good choice if you're a way for a long weekend or short break. However, it's not the most economical choice for a longer-term holiday/business trip.
The premium covered car park is just as fancy as it sounds. Just 1-3 minutes' walk from the terminal, its bays have 20% more space than those in the other car parks, so no worrying about scraping other vehicles while you get out your kids, prams and luggage. If it's convenience you're after, premium covered has your name on it. Oh, nearly forgot – obviously it's covered too, so no need to worry about your car getting lashed by sudden rainfall or any other inclement weather.
The long-term car park at Mackay Airport is a little further out from the terminal but offers fabulously low rates. So if you're a thrifty traveller (as most of us are these days) then definitely check this option out.
Accessible parking at Mackay is provided in both the short-term and long-term car park (for vehicles displaying valid permits).
Please note that all car parks at Mackay are open 24/7, clearly signposted and easy to navigate.
Directions to Mackay Airport
For GPS, the address is Mackay Airport, Boundary Road, South Mackay, Queensland, Australia 4741.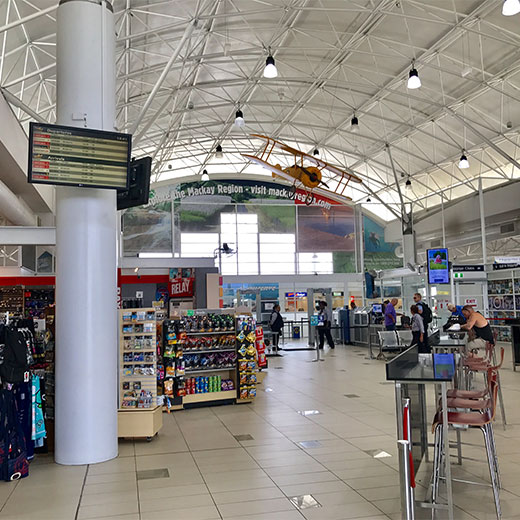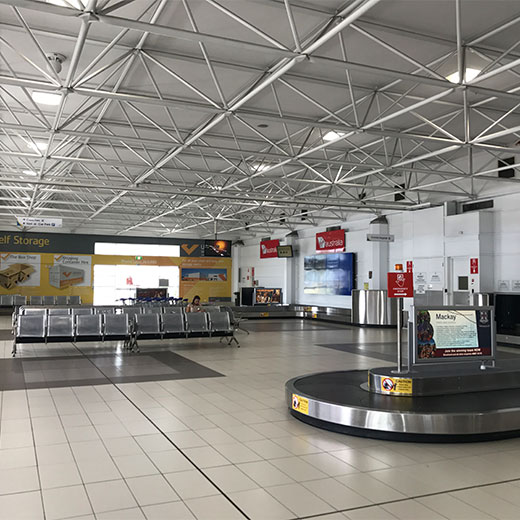 Facilities at Mackay Airport
>
So what's there to do at Mackay Airport if you're waiting for a few hours or (urgh) stranded for a bit longer? For a reasonably small airport, a fair bit as it happens.
As well as a host of cafes, restaurants and shops (which we'll get to soon), there are plush, comfy lounges for Virgin Australia and Qantas passengers, toilet located throughout the terminal and plenty of ATMs when you need to withdraw cash.
As you'd expect, Mackay Airport is switched on when it comes to accessibility. The terminal is wheelchair accessible throughout, including straight through to check-in, security and the baggage carousel. There are ample accessible male and female toilets, accessible lifts and escalators are dotted throughout the terminal and there's also plenty of accessible signage for navigation.
If you've any questions about accessibility at MKY or need some extra support, please call 0434 607 658 to talk to the airport's customer service team – they're always happy to help.
If you're stressed about your phone (or teenager's tablet) running out of juice, don't worry – there are several recharging booths located around the terminal. Meanwhile, plane spotters can watch all the comings and goings from the observation area on the terminal upper level and there's a handy shuttle service that scoots back and forth between the city and the airport.
The terminal is open from 5am to 11pm and there are lots of sumptuous food and drinks options available. For artisan coffee and tasty pastries, try The Botanist Café Kitchen & Bar, Carlyle & River Coffee and Boost Juice. And if you need your fast food fix, don't miss iconic options like Burger King, McDonald's and Red Rooster. If you like a medicinal beer, wine or cocktail before flying, there are several bars dotted around the vicinity and for super-fast food, snack bars and vending machines serve snacks and drinks to take away.
Want to flex that credit card? The duty free shop at Mackay serves high-end liquor, fragrances and fancy goods at decent prices, while Relay is the place to pick up newspapers, bestsellers, snacks and drinks. If you need a new pair of headphones or anything else electronic, try Tech2Go, and Crown Currency is a great place to buy and sell your currency.
So there you have it – everything you always wanted to know about Mackay Airport parking. The best tip is to carefully consider the parking needs of you and your group and then match the car parks we've outlined to your budget. All car parks here are secure, so you can always park and fly with confidence.
The airport has lots of great facilities to keep you cosy, fed and watered pre-flight and staff are warm and welcoming – wherever you're flying from, have a great time and remember to send us a postcard!
Got a Question? Chat with our support team
Our online chat is available 8:30am to 5:00pm weekdays. Email: [email protected]
FAQs about car hire at Mackay Airport
Most frequently asked questions about hiring a car at Mackay Airport
At Mackay Airport, the parking options available include short-term parking, long-term parking, premium parking, disabled parking, and a cell phone waiting area.
For a guaranteed parking spot and potential discounts on rates, it is recommended to pre-book your parking at Mackay Airport. Reservations can be made in advance through the official airport website or via third-party platforms like Enjoy Travel.
If you need to modify or cancel your parking reservation at Mackay Airport, it is important to do so online at least 24 hours prior to your scheduled entry time. It is essential to note that cancellation policies may vary depending on the parking option chosen. It is advised to thoroughly read and understand the terms and conditions before making any reservations.
Generally, short-term parking rates may range from around $4 to $6 per hour. For long-term parking, daily rates can range from approximately $10 to $20, depending on the duration of stay. Premium parking, which offers added conveniences, may have higher rates, typically starting at around $25 per day.
Mackay Airport prioritizes the safety and security of its parking facilities. They employ various measures to ensure the safety of vehicles parked on-site. This includes surveillance systems, regular patrols by security personnel, and well-lit parking areas.
To ensure a confirmed parking space and potentially avail discounts on rates, it is recommended to make a prior reservation for parking at Mackay Airport. By booking in advance, you can access a broader range of parking options to suit your preferences and needs.
Yes, you can park at Mackay Airport overnight. The airport offers long-term parking options for travelers who need to leave their vehicles for an extended period.
Yes, Mackay Airport typically provides shuttle bus services to transport passengers between the parking areas and the terminals. This allows for convenient and easy access to the airport terminals from the parking lots.
Yes, Mackay Airport provides designated parking spaces for individuals with disabilities. These parking spaces are specifically reserved for vehicles displaying valid disability parking permits or stickers.
To mitigate the potential issues of limited availability and elevated fees, it is recommended to pre-book your parking at Mackay Airport. While it is still possible to find parking without a reservation, making a reservation through platforms such as Enjoy Travel can provide the benefit of guaranteed availability and the potential for cost savings.
Explore popular airports across Australia
Get the latest travel news and offers