Brisbane Airport Parking
Find the best parking deals at Brisbane Airport Parking
With a massive choice from the biggest brands, Enjoy the best way to find the best prices for car hire in Brisbane Airport Parking.
Huge choice car parks to suit every budget
Save up to 70% compared to buying on the day
Working with the best partners in Airport Parking
Parking at Brisbane Airport
You're flying from Brisbane Airport (BNE) soon. You might be meeting mates in Sydney. Off to see your auntie in Adelaide. Or attending a class reunion in Canberra. No matter your plans, driving to BNE is a good move and we've got all the info you need to find the best parking for your needs. Whether you're flying for business or pleasure, and driving a coupe or kombi, there's a space at BNE to suit.
And a well-appointed airport is probably what you'd expect in such a brilliant city as Brisbane. The capital of Queensland, this cool city has a bit of everything – from beautiful beaches and shady vineyards to tasty restaurants and bustling bars. And the surrounding area is stunning too. In the Darling Downs you'll encounter the history and culture of the Jarowair and Giabal people, as well as trendy cafes and independent boutiques in hotspots like Toowoomba.
If you're driving in from out of town, there's lots to see and do if you can spare some time to see a bit of Australia's third-largest city. For starters, you can browse one of the local farmers markets and pick up all manner of fresh fruit, including oven-fresh pastries and farm-fresh fruit – West End Market and Global Food Markets in nearby Woodridge are two of the best. Meanwhile, South Bank Parklands has a lovely palm-fringed swimming lagoon and beautiful blue waters. Other highlights include the magnificent Morans Falls in Lamington National Park, stunning Curtis Falls in Tambourine Mountain National Park and Lake Samsonvale in the Moreton Bay Region.
Back in the city proper, you can take a free clock tower tour up Brisbane City Hall, visit boutique breweries like Newstead Brewing and Ballistic Beer Co, and immerse yourself in live music at The Triffid and The Tivoli.
se to Giant Pandas, kangaroos and wallabies at Adelaide Zoo. If you fancy a spending spree meanwhile, Adelaide is a bit of a shopper's paradise. Rundle Mall has 700 shops and boutiques on one handy strip, Adelaide Central Market has fresh local produce, and Better World Arts showcases unique cross-cultural creative work from local and international artists.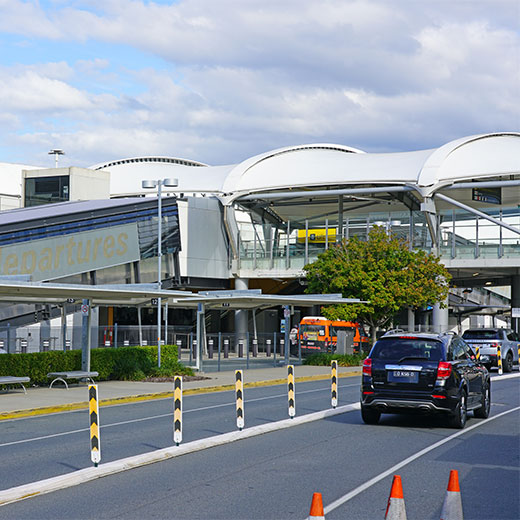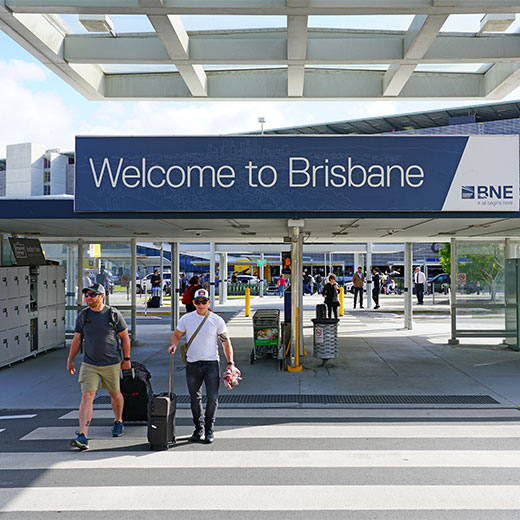 Find the best deals at Brisbane Airport
Driving to Brisbane Airport is all well and good. But when you start to look for the best BNE parking deals, you might regret your choice at first – because the sheer choice of parking is a little overwhelming.
And even once you can rank what the cheapest deals are, you won't know whether they're a good fit unless they match your requirements. For instance, if you're travelling with young kids, chances are you'll want another type of parking space than a solo business traveller who, in turn, might prefer a different type of parking than a group of mates off on a stag or hen weekend.
Compare parking at Brisbane Airport
The parking provision at BNE is great and there's something to suit every traveller.
And perfecting the pre-flight experience is something this airport has to take seriously, when you consider it processed 2.57 million international passengers in the last reporting year, with 398 average weekly aircraft movements. And on top of that, BNE served 14.6 million domestic travellers, with 2,591 average weekly domestic movements.
The history of air travel in Brisbane stretches back to 1925, when the city's first airport was built at Eagle Farm, an agricultural area 6km outside the city. Legendary aviator Charles Kingsford Smith landed here in 1928 after completing the first trans-Pacific flight and during WWII, Allied Forces top brass Commander Douglas MacArthur was based here.
From the 1960s onwards, authorities realised Eagle Farm could no longer cope with demand which would only increase as Brisbane itself expanded. Construction of a new airport started in 1980 and the doors opened in 1988.
Expansion continued apace in subsequent years – most recently in the completion of a new runway in 2020.
What parking is there at Brisbane Airport?
There are lots of great official parking options at BNE but it can be worthwhile checking out what's available on comparison sites too.
For instance, Looking4Parking offers deals at Portside/Airport Valet – Parking – Outdoor – Brisbane, Andrews Airport Parking – Park & Ride – Undercover – Brisbane, and more.
If that doesn't tempt you, take a look at the official Brisbane Airport parking options.
ParkShort
Ideal when you're picking up or dropping off people, ParkShort parking is located behind the Terminals, open 24/7 and provides entry for up to four hours. It's only a 5 minute walk to the terminals and available for Domestic and International.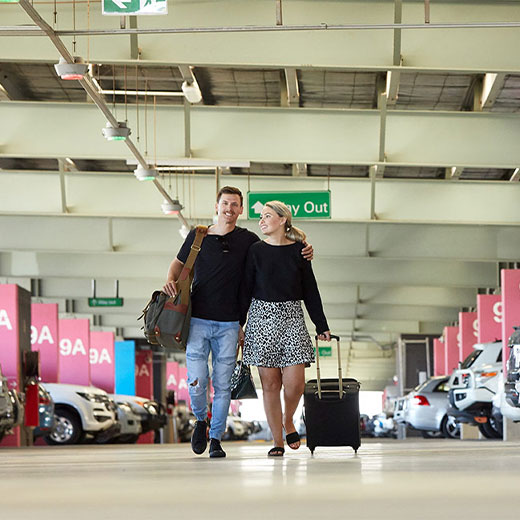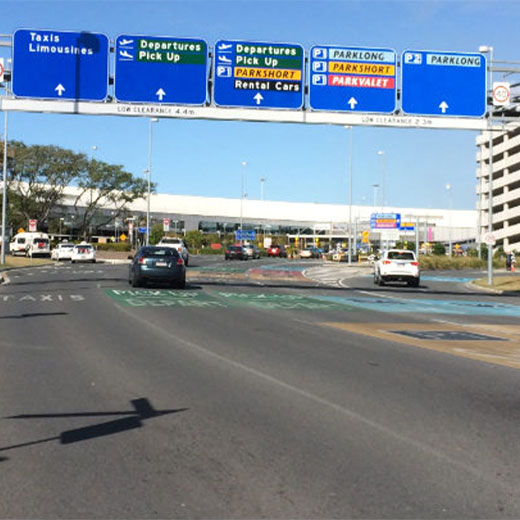 ParkLong
The closest long-term parking to the Terminals, you'll find ParkLong on Levels 2-4 and the outdoor area of the International terminal, levels 1-6 of P2 at the domestic terminal and levels 5-9 of the domestic terminal. With over-height options available, it's very secure and covered by CCTV 24/7.
GuaranteedSpace
An online-only service, GuaranteedSpace lets you save a space on Level 4 of P2 and Level 2 of P1 in the Domestic Terminal. All parking is secure and monitored by CCTV at all times.
ParkPremium
With swift access to the terminal via the Skywalk and convenient parking, ParkPremium is located on Level 3 of the Domestic Terminal. With express entry and exit, this is the closest premium self-parking to Domestic.
amp;Park&Fly
For convenience, Park&Fly is hard to beat. Just drop your car at the official area and trained staff will park it safely for you. A 2-5 minute walk from the terminal, this parking is available to book online and on a drive-up basis.
AIRPARK
Looking for economical parking and BNE? AIRPARK offers budget long-term parking and you hop on a shuttle bus to get to the terminal in just 10 minutes. Buses run from 3:30am to 12:30am and they're frequent – every 10 minutes.
ParkValet
The ultimate luxury, drop off your car right outside the Terminal doors at ParkValet and staff will stow it safely for you. Just a couple of minutes' walk from the Terminal, you can book online or just pay on the day.
Directions to Brisbane Airport
Brisbane Airport is a short drive from Brisbane CBD and about one hour and 40 minutes' drive from the Sunshine Coast. It's around one hour and 15 minutes' drive from the Gold Coast and also close to the likes of Morayfield, Deception Bay and Gatton.
If you're driving to BNE on Gateway Motorway from the Gold Coast/South or Sunshine Coast/North, take Gateway Motorway exit 108 and head along Moreton Drive, where you'll see signs for the airport parking.
To get to the International Terminal, come off at the Nancy Bird Exit at Moreton Drive and follow the signage.
For SatNav, the airport address is Brisbane Airport, 11 The Circuit, QLD 4008.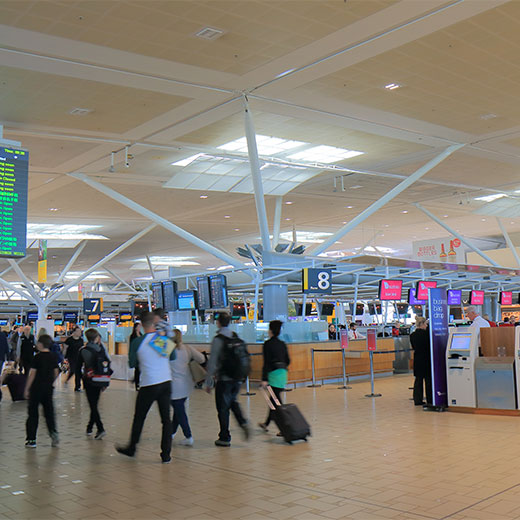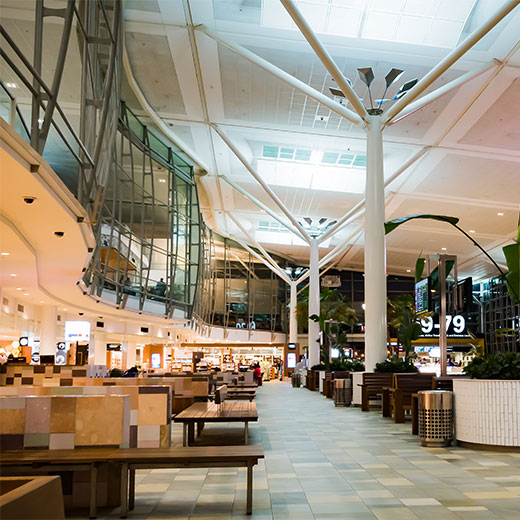 Facilities at Brisbane Airport
As you'd expect, Brisbane Airport is rather well set up.
If you need cash, there are ATMs throughout the Domestic and International Terminals – before security and airside.
There's no need to lug your luggage everywhere either – grab a trolley for free in the International Terminal and for a small (refundable) fee in the Domestic Terminal. If your mobile phone, tablet, laptop or any other essential electronic device is running into the red, recharge it at one of the BNE charging stations, by the Food Courts at the Domestic Terminal and at Arrivals and Departures in the International Terminal.
Need to change money? Travelex will sort you out, with 60 currencies available (we didn't even know there were so many).
When you want a pre-flight environment that's a little more luxurious than the concourse, chill out in the Plaza Premium Lounge and My Lounge – both in the International Terminal and available on a pay-per-use basis.
There are also parenting rooms located throughout the airport. Busy mums and dads can use baby change facilities, feeding chairs and microwaves to heat little ones' snacks.
Need some quiet space to pray or just meditate about life? There's a prayer room at level 4 of the International Terminal and level 2 of the Domestic Terminal. And when you want to freshen up, jump in the shower at the central terminal level 2 and the central terminal satellite, near Gate 26. Remember to take your clothes off before you hop in though!
And how about if you're hungry or your credit card's burning a hole in your pocket? Grab some healthy fare like avocado on toast at the Aviation Pier Café & Bar, top up your antioxidants at Boost Juice, or treat yourself to a juicy burger at Carl's Jr.
Finally, at the well-stocked Duty Free, grab high-end gifts for great prices – it's the perfect place to pick up a last-minute anniversary gift for your better half, for example. Don't worry – we won't tell them you forgot.
Got a Question? Chat with our support team
Our online chat is available 8:30am to 5:00pm weekdays. Email: [email protected]
FAQs about car hire at Brisbane Airport
Most frequently asked questions about hiring a car at Brisbane Airport
Brisbane Airport offers several parking options for travelers, including on-site parking in multi-level car parks, valet parking, and off-site parking options with shuttle transfers to the airport. There are also express pick-up and drop-off zones for those who only need to quickly drop off or pick up passengers.
Reserving a parking spot at Brisbane Airport can be done via the airport's official website or by using other third-party websites. It is advisable to make an advance booking through Enjoy Travel to guarantee a space and potentially obtain a discounted price.
It is possible to cancel or make changes to your Brisbane Airport Parking reservation through online means, as long as it is done at least 24 hours prior to the scheduled entry time. However, please be aware that certain parking options may have distinct policies regarding cancellations, hence it is advisable to verify the details at the time of booking.
Generally, the price range for on-site parking options starts from around AUD $10 per hour for short-term parking and AUD $5 per hour for long-term parking, up to AUD $50-60 per day for premium options such as valet parking.
Yes, Brisbane Airport Parking is generally considered safe and secure for travelers. The airport offers various parking options, including multi-level car parks, valet parking, and off-site parking with shuttle transfers, all of which have 24-hour security patrols, CCTV surveillance, and well-lit areas.
To ensure availability and possibly reduce costs, it is advisable to reserve Brisbane Airport Parking as early as possible once travel dates have been confirmed. Early booking also provides the opportunity to select from a wider range of parking options.
Yes, it is possible to park at Brisbane Airport overnight. The airport offers several parking options, including short-term and long-term parking, which allow customers to park their vehicles for extended periods, including overnight stays.
Yes, Brisbane Airport provides a complimentary shuttle bus service to transport passengers from the designated parking areas to the terminals and back. The shuttle service operates 24 hours a day and runs frequently between the car parks and the terminals, ensuring convenient and efficient transport for passengers and their luggage.
Yes, Brisbane Airport has designated disabled parking spaces available for passengers with disabilities. These parking spaces are located in all on-site car parks, including the multi-level car park, the open-air car park, and the ParkLong car park.
It is possible to park at Brisbane Airport without a prior reservation, however, there may be a limited number of available parking spaces and higher rates may apply. It is advisable to make a reservation beforehand through Enjoy Travel to ensure availability and possibly even enjoy some cost savings.
Explore popular airports across Australia