Cairns Airport Parking
Find the best parking deals at Cairns Airport Parking
With a massive choice from the biggest brands, Enjoy the best way to find the best prices for car hire in Cairns Airport Parking.
Huge choice car parks to suit every budget
Save up to 70% compared to buying on the day
Working with the best partners in Airport Parking
Parking at Cairns Airport
So a trip from Cairns Airport's on your travel horizons and you want to organize airport parking.
You've landed right where you're meant to be. Grab a coffee and stick with this guide for a couple of minutes – you'll get all the insider knowledge you need on CNS parking as well as some handy info on airport amenities.
So whether you're off to Adelaide, Auckland, Brisbane or Bali, we've got you covered.
CNS is a nice airport, but then Cairns is a great city too. The top hub for Far North Queensland travellers and anyone who wants to explore the Great Barrier Reef, this tourist town is teeming with luxury hotels and bolstered by a bustling cruise-ship port. The ancient homeland of the Yidinji people, the Cairns region is blessed by unusual natural beauty and a strategically important position.
A few bucket-list brilliant things to do in Cairns include taking a helicopter tour over the Great Barrier Reef and landmarks like Barron Falls or (if you don't mind getting wet), snorkelling in the Coral Sea and witnessing its unique ecosystem first-hand. Alternatively, take a trip up to Kuranda in the mountains and immerse yourself in the lush rainforest scenery, or hop in a hot air balloon and soar over the Atherton Tablelands. You can also swim in the paradisiacal Crystal Cascades waterfall and pool or zipline through a wildlife park packed with snakes cockatoos and koalas at Cairns ZOOM and Wildlife Zone.
There's also a decent nightlife here, with a range of eclectic restaurants, pubs and clubs. The Reef Casino is a one-stop-shop for entertainment, with its gaming rooms, eateries and live entertainment spaces. And (provided you're parking your car up) you can enjoy bar hopping and live music at the likes of Tropos, The Reef Hotel Casino, Cairns Rock n Roll Dance Club, Fox and Firkin Bar and Playpen International Night Club.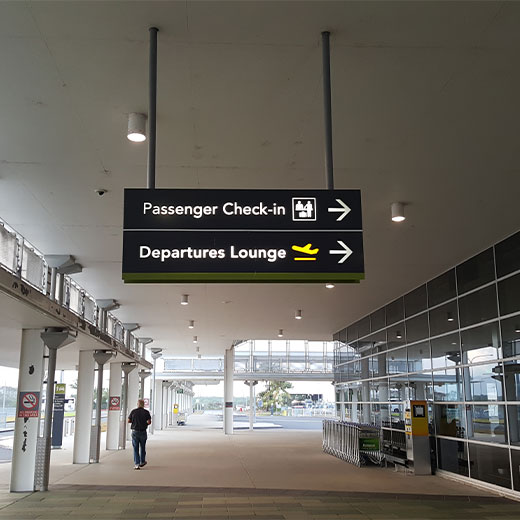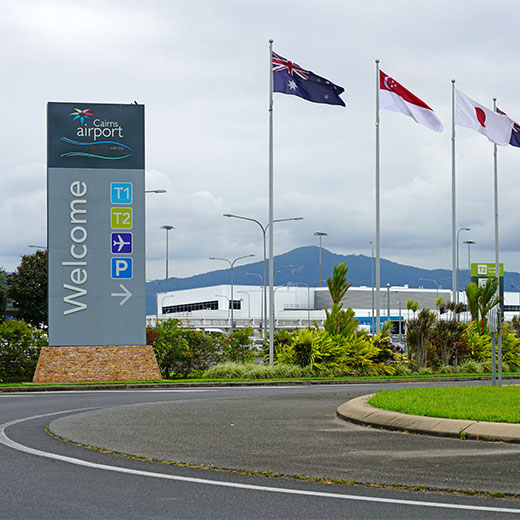 Find the best deals at Cairns Airport
You've got your passport packed. Paperwork ready. Provisions prepared. Now all that's left to do is pre-book your parking.
However, when you start looking for the best parking deals at CNS, you'll probably face a problem – the sheer proliferation of Cairns Airport providers. And unless you book frequently or have inside knowledge, understanding the various components of a particular parking deal can be tricky.
Don't worry though – because we've got the pro knowledge you need to sweep every corner of the web, gather together the most promising CNS airport parking info, sift out anything substandard and make a choice that matches your need and budget.
Compare parking at Cairns Airport
You won't struggle to find parking at Cairns Airport – especially not after reading this comprehensive guide – and the great parking provision is par for the course at this on-point airport.
Processing around 3 million passengers (and rising) annually, the history of Cairns Airport stretches back to 1934, when the local citizenry began clubbing together to build an airport where planed could land any time – recognising this was particularly important in times of emergency. Two years later, the city council bought a parcel of land and constructed three rough runways made of earth, rock and sand. CNS was commandeered by the Royal Australian Airforce during WWII, then the runway was lengthened considerably in the late 40s and further improvements made in the 60s and 70s to bring the infrastructure in line with the demands of the jet era. Further improvements followed in the subsequent decades and now Cairns Airport proudly serves several international and Australian destinations, via multiple carriers.
What parking is there at Cairns Airport?
The parking choice at Cairns Airport is great and you can book online via the official site or through a comparison site. And the latter is often worth considering – for instance, Looking4Parking offers good deals on CNS parking like TI International Value Car Park – Onsite – Uncovered, T2 Domestic Parking – Onsite – Uncovered – Cairns Airport, and Premium Parking – Covered – Onsite – All terminals.
Let's take a look at Cairns Airport official parking now – there's lots to choose from.
T1 Budget
When you want cost-effective parking close to the terminal, it doesn't get much better than T1 Budget. You can park free for 10 minutes if you're using the car park for 10 minutes to drop off rellies for their flight and if you're flying yourself, it's just 1-3 minutes to Terminal 1 and 5-10 minutes to Terminal 2 across a walkway where you're covered from the elements.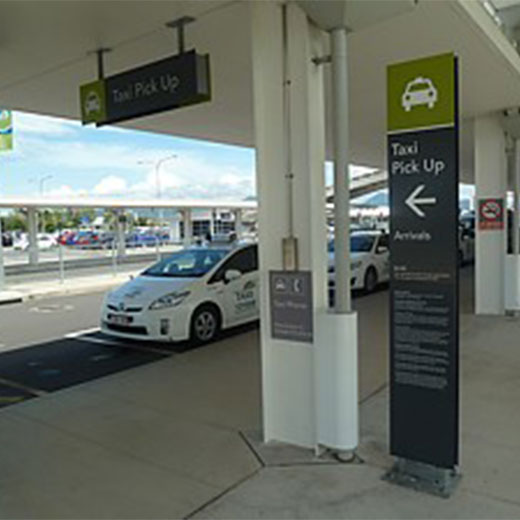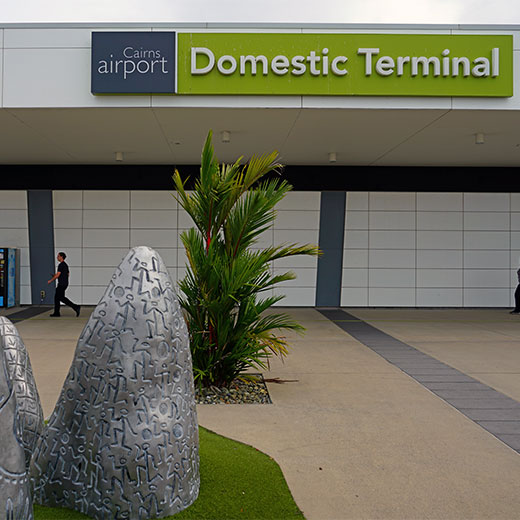 T2 Covered
If you want peace of mind while you're on your travels, T2 Covered is the discerning choice. At just 1-2 minutes from Terminal 2 arrivals, the T2 Covered shelter is cyclone rated to protect you from the elements and has premium covered bays with 20% more space than normal.
T2 Uncovered
A great value parking option that's still reasonably close to Terminal 2, T2 Uncovered is directly outside the Terminal 2 departures entrance and a superb option if you're flying off for a brief break or even taking a longer holiday.
Getting to Cairns Airport
Cairns Airport is just 10 minutes from Cairns, via National Route 1 and Airport Avenue. If you're driving down from Port Douglas, CNS is just over one hour's drive via Captain Cook Highway and State Route 44.
For GPS, the address is: Airport Avenue, Cairns City QLD 4870, Australia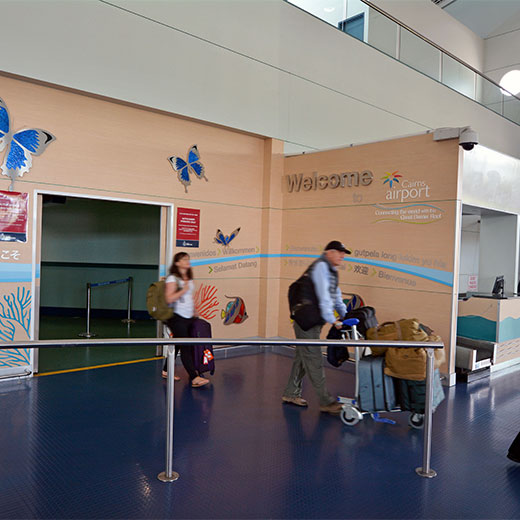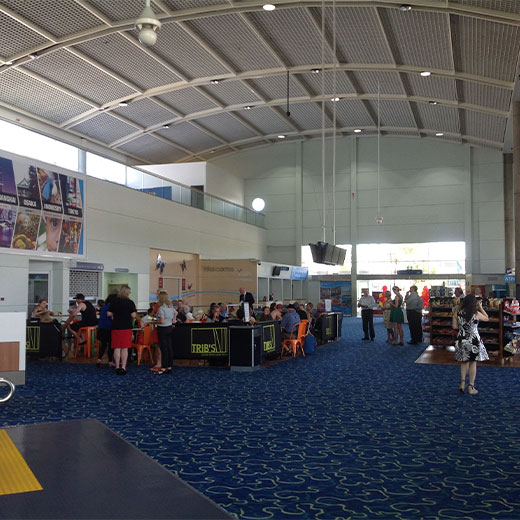 Facilities at Cairns Airport
If you're ever stuck in Cairns Airport, we can't promise you Las Vegas levels of entertainment, but you can expect a pleasant pre-flight experience all the same.
You'll enjoy free Wi-Fi throughout the Airport, lots of ATMs if you need to draw cash and lots of baby care rooms so you can change nappies 'til your heart's content. There are also meeting rooms and conference facilities available in Terminal 2, while other services include public phones, disabled access, toilets, showers and a fascinating aviation pioneers display.
If you enjoy the airport lounge experience, there are several to choose from here. The Reef Lounge in Terminal 1 serves alcoholic drinks, snacks, newspapers and magazines and you can enjoy internet terminals, photocopiers, printers and showers. It's open 7am to 1pm.
In Terminal 2, Virgin Australia Lounge is open 1 hour before the first flight until the last departure. Again, expect plush seating, premium eats, snazzy showers and lots of flight monitors – just in case you get so comfy you forget why you're at the airport.
And don't forget The Qantas Club. This lounge opens its doors at 430am and shuts at last departure. And my, what magic happens in between – with alcohol, snacks, magazines and showers, although not all at once we hope!
If you're arriving in Cairns a little early, why not book into a nice hotel near the airport and start your trip the relaxed way you want it to continue? Great hotels in close proximity include Cairns Queenslander Hotel & Apartments, Holiday Inn Cairns Harbourside, Cairns Sheridan Hotel, Tropical Queenslander and Crystalbrook Riley.
Now let's get down to the shopping and dining. What delectable treats can you fill your belly with at CNS and where can you flex that credit card?
At Aelia Duty Free you'll find fab deals on high-end cosmetics, fragrances and liquor, Billabong has all your stylish Aussie surf fashions, Eye Love Cairns has stunning sunglasses from Fendi, Dior, Hugo Boss, Rayban, Nike and more. And Icons Cairns is the place to pick up local delicacies like wine, beer, spirits and gourmet food.
If you're hungry meanwhile, Bistrot Bakery is best for light snacks like sandwiches, Bittersweet wins first place for a sugar rush, and Captain's Sports Bar is a great place to knock back a few beers and fill your belly with pub grub. Caffeine freaks can get the hit they crave at Espresso Bar, Hungry Jacks serves succulent burgers quick smart, and Mangrove Jacks is a laid-back Aussie bistro the specialises in ice cold beer and piping hot stone-baked pizza.
Here's a pro tip for free – no matter how good you anticipate the airline food being, it's best to grab something you know you'll like before you board the plane. And if you're travelling with teenagers in tow, it's practically mandatory.
And there you have it – everything you always wanted to know about parking at Cairns Airport and a bucketload of brilliant content besides.
Wherever you're heading from Cairns, bon voyage and we'll catch you when you're back!
Got a Question? Chat with our support team
Our online chat is available 8:30am to 5:00pm weekdays. Email: [email protected]
FAQs about car hire at Cairns Airport
Most frequently asked questions about hiring a car at Cairns Airport
Cairns Airport offers a range of parking options for travelers, including short-term and long-term options.
To guarantee a parking spot at Cairns Airport and potentially receive a reduced rate, it is advised to reserve in advance using either the airport's official website or other third-party websites such as Enjoy Travel.
In case you need to alter or cancel your Cairns Airport Parking reservation, you can do it via the internet as long as you complete the process at least 24 hours before your scheduled entry time. Nevertheless, it's worth noting that each parking option may have different cancellation policies, so it's recommended to review the terms and conditions when making the reservation.
Cairns Airport offers three types of parking: covered, open-air, and express. The rates for covered parking are $4 for the first 30 minutes and $8 per hour up to a maximum of $45 per day. For open-air parking, the rates are $4 for the first 30 minutes and $7 per hour up to a maximum of $30 per day. Express parking rates start at $4 for the first 10 minutes and go up to $18 for up to 1 hour, with a maximum of $36 per day.
The airport employs security personnel and CCTV cameras to monitor the car parks 24/7, and the car parks are well-lit and fenced to deter unauthorized access.
To ensure that you have a parking spot available and potentially save money, it's advisable to reserve Cairns Airport Parking as soon as your travel dates are finalized. Early booking also enables you to select from a more extensive range of parking choices.
Yes, you can park at Cairns Airport overnight. The airport offers both short-term and long-term parking options, so you can choose the one that best suits your needs. However, it's worth noting that the rates for long-term parking may differ from those for short-term parking. Additionally, there may be restrictions on the maximum duration of parking in some areas, so it's recommended to check the specific terms and conditions for the parking option you select.
Yes, Cairns Airport provides a free shuttle bus service to transport passengers from the parking areas to the terminals and vice versa. The shuttle service runs regularly throughout the day, and the buses are wheelchair accessible. The shuttle stops are located near the parking areas and the terminals, so it's easy to find and use the service.
Yes, Cairns Airport has designated disabled parking spaces available for passengers with disabilities or limited mobility. These spaces are conveniently located near the terminal entrance, making it easier for passengers to access the airport facilities.
Although it is possible to park at Cairns Airport without booking in advance, it's worth noting that the parking spaces may be limited, and the rates may be higher. To guarantee availability and potentially lower costs, it's advisable to make a reservation in advance via Enjoy Travel.
Explore popular airports across Australia