Melbourne Airport Parking
Find the best parking deals at Melbourne Airport Parking
With a massive choice from the biggest brands, Enjoy the best way to find the best prices for car hire in Melbourne Airport Parking.
Huge choice car parks to suit every budget
Save up to 70% compared to buying on the day
Working with the best partners in Airport Parking
Parking at Melbourne Airport
So you're flying from Melbourne Airport (MEL) soon? And you've made the smart decision to drive to the airport so you can travel by your own timetable, in comfort, with any tunes you like on the stereo?
If you nodded your head twice, you've landed in exactly the right place, because we've locked ourselves away to collect the best Melbourne Airport parking deals, sifted those to find the best of the best, and got them ready for you to take a good look at.
On top of that, we'll also throw in some extra information on MEL facilities and amenities, so that by the time we're done, you'll have peace of mind about your parking and have a plan to keep everyone entertained before you board your flight.
If you're travelling in from outside the city (and you've got a little time to spare) then remember that Melbourne is a brilliant place to take a pre-holiday break. As well as being the home of legendary TV soap Neighbours, Melbourne is a sophisticated, cosmopolitan city with a rich cultural scene, first-class sports and lots of aesthetically pleasing architecture.
Excellent things to do here include relaxing amidst the exotic plants and zen lakes at Royal Botanic Gardens, shop for fresh vegetables, fruit and meat at the atmospheric open-air Queen Victoria Market, and taking a blissful four hour drive down Great Ocean Road.
There are also swish Parisian vibes in the arcades and laneways of Degraves Street, where you can treat yourself to a glass of fine wine before browsing elegant independent boutiques or alternatively, there are kangaroos, lions and elephants at Melbourne Zoo. And if you're interested in learning more about Melbourne's Aboriginal peoples and their fascinating culture, the Bunjilaka Aboriginal Cultural Centre is always worth a visit.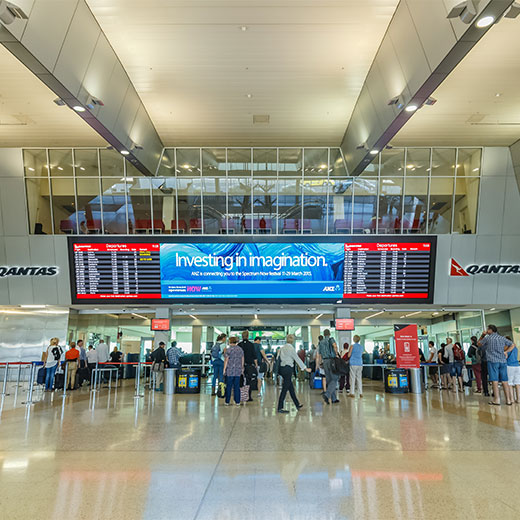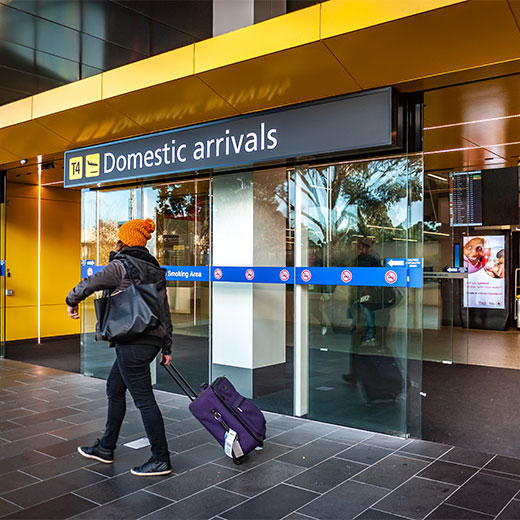 Find the best deals at Melbourne Airport
Most of us want to save a little cash on our airport parking. There's always something more exciting to spend it on, right?
But most likely there are other factors that'll influence what a good deal looks like for you. For starters, the type of parking has to be a good fit – if you're travelling with kids or elderly relatives in tow, for example, you probably don't want to park where there's a long walk or shuttle ride to the terminal.
And price might not be the main factor for you at all. If you're a busy businessperson taking off for a high-powered meeting, paying a little extra for premium parking that sets up swift security clearance might be the perfect plan.
Whatever the purpose of your trip, finding you the ideal parking spot is no worries – you'll have all the knowledge you need after a couple of minutes reading.
Compare parking at Melbourne Airport
There's ample parking at Melbourne Airport – the long-term car park has 12,500 spaces and the multi-storey facility has 3,700 spaces.
And it's an essential part of a mix in a busy modern airport where passenger numbers have already returned to 80% pre-pandemic levels, at 2.53 million in the most recent month, with 647,368 being international.
A replacement for Melbourne's original International airport, Essendon, Melbourne Airport was built at Tullamarine and opened by then Prime Minister John Gorton in 1970. A series of expansions and improvements followed throughout the 90s and by 2017, its international passenger movements exceeded 10 million annually.
What parking is there at Melbourne Airport?
Lots. But you need more detail than that, right?
At MEL, you'll find onsite and offsite parking, official and unofficial. And sometimes it's worth checking a comparison site to see if you can find a good deal. For instance, Looking4Parking offers competitive prices on Jetaway Airport Parking – Valet Park & Ride – Outdoor, Easy Airport Parking – Park and Ride – Outdoor, Pink Elephant – Valet Par and Ride – Outdoor, and more.
If that doesn't float your boat, check out your official MEL parking options:
Disabled parking
Accessible parking is available in all of the Melbourne Airport Terminal car parks.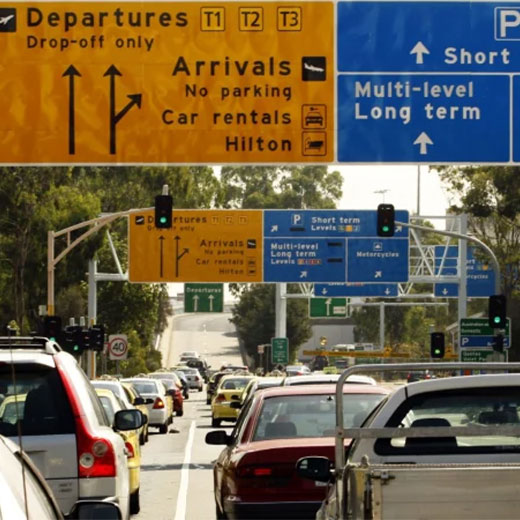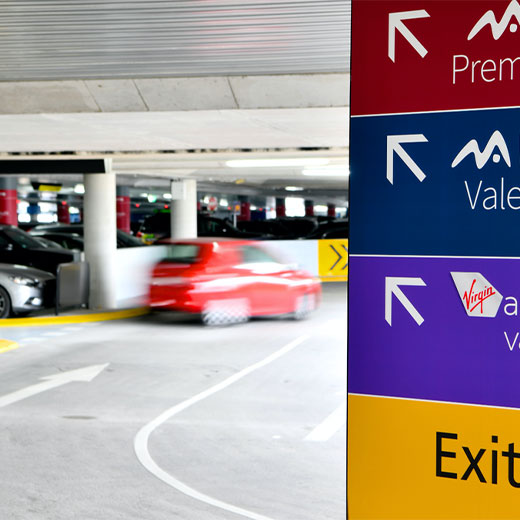 Terminal 1,2 & 3
There's a superb Terminal car park located 100m from Terminals 1, 2, and 3. It's the place to park if you're flying International, Virgin Australia or Qantas and there's also a handy Under 3 Hours area for pick up and drop off, located on level 1.
Terminal 4
Flying with AirNorth, Rex or Jetstar? Head to the Terminal 4 car park which (appropriately) is just 100m from the entrance to Terminal 4.
Business car park
Off to seal a big deal? Want a car park that means business? The Business Car Park is ideal for Qantas passengers who want a smooth pre-flight experience. Located only 50m from Terminal 1, it's a short stroll into the terminal, spaces are covered by shade cloths and it's self-park, so you get to keep your keys.
Premium car park
Premium parking bays are available in all the terminal car parks at MEL, in the areas closest to the terminal. They're self-park and offer tip-top convenience.
Valet car park
Fancy a little VIP treatment? Go on – you deserve it. Valet car parking at MEL is located on Level 2 of the Terminal car park at Terminals 1,2 &3. Open from 4am to 1am, it's easy to use – just drive up and hand your keys to their experienced staff, who will park it safe and secure for the duration.
Value car park
Looking for the lowest rates? Planning to be away for a longer trip? The Value car park option at Melbourne Airport is made for you. With a free 24/7 shuttle bus leaving every 15 minutes, it's convenient and fast. There are also accessible parking bays here and the shuttle buses are wheelchair-accessible.
So there you have it – a great range of parking. And remember – if you book early through the official website, you can bag some serious savings.
Getting to Melbourne Airport
Melbourne Airport if just 35 minutes from the city centre, via the M2.
If you're driving in from further afield, the address for your SatNav is: Gladstone Park, Victoria, 3043.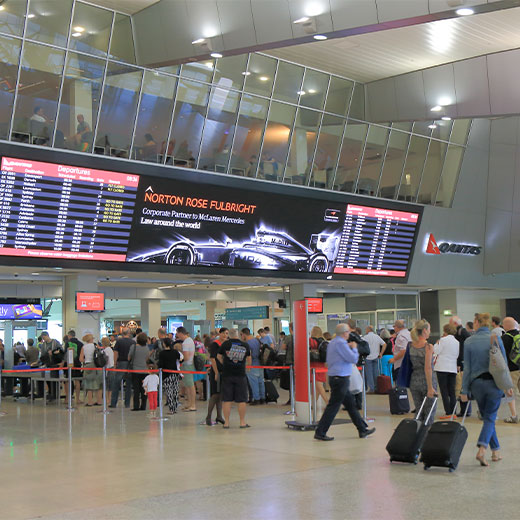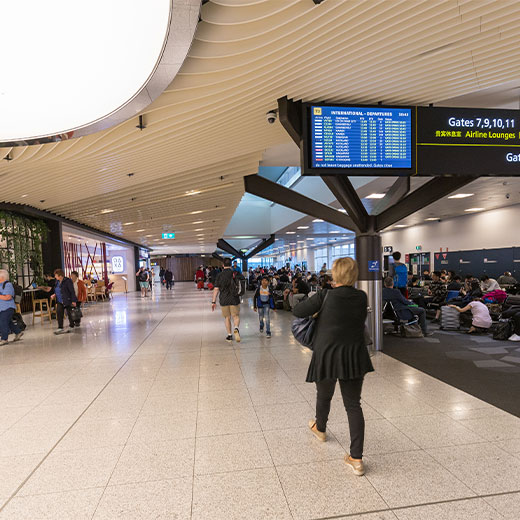 Facilities at Melbourne Airport
It's unlikely you'll be hanging around Melbourne Airport too long. But you'll be well looked-after anyway, because it's packed with tons of brilliant facilities, amenities and services.
There are adult change facilities (with ceiling hoist and change table) in the T4 food court next to McDonald's and in the T2 arrivals hall opposite the Border Force office.
And you'll find lounges aplenty too, including offerings from Virgin Australia, Qantas, REX, Singapore, Air New Zealand and Emirates – and pat-as-you-go lounges Marhaba Lunge, Plaza Premium and The House.
You'll find animal relief locations at T1 and T4, ATMs throughout the airport and baby change facilities in all terminals.
If you need a little spiritual guidance, MEL airport chaplains are available every day to support staff and passengers alike – whatever faith you follow (and if you follow none). The chaplaincy office is at Level 2, Terminal2, and there are also multi-faith prayer rooms in Terminal 2 (open 24/7).
Melbourne Airport Health is there for all your medical needs and it's located in Terminal 1 next to the pharmacy. There are also a few airport hotels to choose from, including Parkroyal Melbourne Airport, which is close to the terminals and has 276 plush rooms, Holiday Inn Melbourne Airport (with its Kids Stay & Eat Free offer), Ibis Budget (a 5-minute walk from the terminal) and Quest Melbourne Airport (great for business travellers as it's close to both the airport and the Tullamarine Business Precinct). Don't forget Hanrob Pet Hotel either – located close to MEL, it offers pet daycare, training and accommodation.
Want to freshen up? You'll find showers at T2 departures check-in (next to Muffin Break), T2 Domestic Departures (first floor, near Grill'd) and T2 International Departures (airside, near the Duty Free exit).
There's free Wi-Fi throughout the airport and you'll never struggle to find a toilet – they're everywhere.
Hungry? Take your pick from Hungry Jack's Pendulum, Krispy Crème and the Crown Lager Bar. There's also Macchinetta, Norina Sushi, Café Sol and Earl Canteen.
And if you're itching for a spending spree, shops include Aesop (skin, hair and body care), Australian Produce Store (Aussie souvenirs), and Australian Way (Aussie clothing).
And that's pretty much that. As you can see, the range of amenities, shops and eateries is excellent – just be careful that you don't miss your flight because you're busy inhaling a tasty pastry or picking a chic beach outfit!
Got a Question? Chat with our support team
Our online chat is available 8:30am to 5:00pm weekdays. Email: [email protected]
FAQs about car hire at Melbourne Airport
Most frequently asked questions about hiring a car at Melbourne Airport
Melbourne Airport offers a range of parking options, including Short Term, Long Term, Valet, and Express options. Each of these options has its own features and pricing.
You can book Melbourne Airport Parking online through the airport's website or through third-party websites. Booking in advance with Enjoy Travel is recommended to secure your spot and potentially save money.
Yes, you can cancel or modify your Melbourne Airport Parking booking online up to 24 hours before your scheduled entry time. Some parking options may have different cancellation policies, so it's best to check when booking.
The cost of Melbourne Airport Parking varies depending on the option you choose and the duration of your stay. Short Term parking starts at $8 for the first hour, while Long Term parking starts at $20 per day. Valet parking and Express parking are more expensive options.
Melbourne Airport Parking is generally considered safe, with security measures in place such as CCTV surveillance, regular patrols, and 24-hour monitoring. However, as with any public parking area, it's still important to take precautions and not leave valuables in your car.
It's recommended to book Melbourne Airport Parking as soon as you know your travel dates to secure your spot and potentially save money. Booking in advance also gives you more parking options to choose from.
Yes, you can park at Melbourne Airport overnight. Long Term parking is the best option for overnight parking, with rates starting at $20 per day.
Yes, Melbourne Airport offers a free shuttle bus service from Long Term and Valet parking to the terminals. The shuttle bus runs every 5-10 minutes and takes approximately 5-10 minutes to reach the terminals.
Yes, Melbourne Airport offers disabled parking in all of its parking options. These spaces are located close to the terminals and are available for use with a valid disabled parking permit.
Yes, you can park at Melbourne Airport without booking in advance, but availability may be limited and rates may be higher. It's recommended to book in advance with Enjoy Travel to secure your spot and potentially save money.
Explore popular airports across Australia