Cardiff Car Hire
Find the best deals in Cardiff
With a massive choice from the biggest brands, Enjoy the best way to find the best prices for car hire in Cardiff.
Huge choice of cars to suit every budget
Save up to 70% compared to buying on the day
10 years experience in car hire
Compare Cardiff car hire with a quick search
Cardiff Airport is in the village of Rhoose in the Vale of Glamorgan, 10 miles (16 km) west of Cardiff. Exit the M4 at junction 33 and follow the signs to Cardiff Airport along the A4232, A4050 and A4226.
Our car hire partners at the airport (Avis, Enterprise, Easirent, and Hertz) are long-established players in the market, so you can book with complete confidence.
Currently a Toyota Aygo (mini) costs just £84 for 4 days, the (slightly bigger) economy-size Vauxhall Corsa is only £86 for 4 days, and a large compact car such as the Ford Focus (suitable for 5 people) is just over £100 for 4 days. Rent a car with Enjoy Car Hire and you can explore the Welsh capital and the rest of this beautiful country ‐ here's a little more about Cardiff:
Cardiff is a city of 350,000 inhabitants.
It's the most popular tourist destination in Wales, with 21 million visitors in 2017.
Cardiff is the seat of the devolved Welsh Parliament (Senedd Cymru).
The city has been named European City of Sport twice ‐ in 2009 and 2014.
Cardiff Castle was built inside the old Roman Fort, and although it was substantially altered in Victorian times, parts of the Roman walls can still be seen.
Before the building of Cardiff's first dock, Cardiff was a very small town, with one population estimate in the 1801 census of just 1,870 inhabitants.
The Glamorgan coast is a 'ships' graveyard', with many vessels wrecked on the treacherous coast of cliffs and sandbanks.
Guide to Cardiff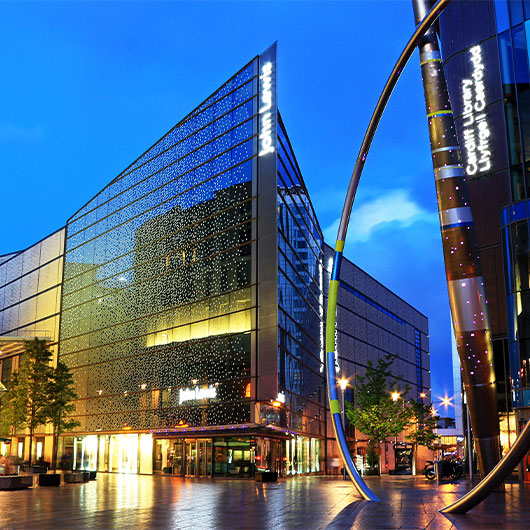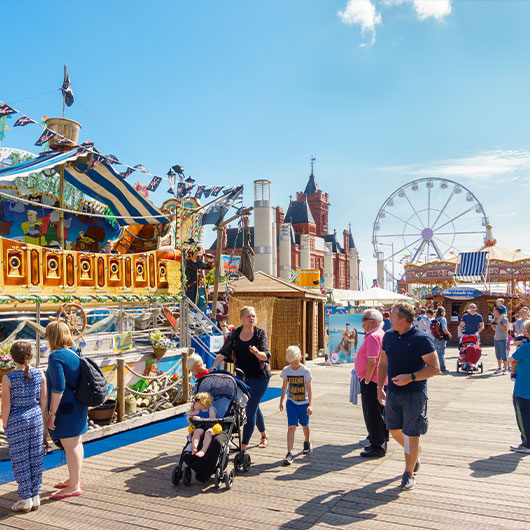 Cardiff city inner suburbs
'Inner Cardiff' consists of the following wards: Butetown, Grangetown, Riverside and Canton to the south and west, and Adamsdown, Roath, Plasnewydd, Gabalfa, Cathays, and Splott wards on the north and east of the city centre.
Cardiff is extremely ethnically diverse, thanks to its historical trading connections, post-war immigration, and large student population.
The Welsh language is still spoken in large parts of the country ̶‐ in 2018, 21.6% of Cardiff's dwellers could speak Welsh.
Cardiff has one of the earliest Muslim populations in the UK, started by Yemeni sailors settling during the 19th century.
Cardiff has four universities ̶‐ Cardiff University, Cardiff Metropolitan University, University of South Wales and The Royal Welsh College of Music & Drama.
Cardiff claims to have the largest concentration of castles in the world!
Popular festivals in the city include The Great British Cheese Festival, Cardiff Mardi Gras, Cardiff Winter Wonderland, Sparks in the Park, Cardiff Festival and Made in Roath.
The National Eisteddfod is a large festival of Welsh music and Poetry and claims to be the largest such festival in Europe.
Cardiff has produced many well-known music artists and groups. Some notable examples include Charlotte Church, Shirley Bassey, Iwan Rheon, We're No Heroes, Budgie and Shakin' Stevens. Also, performers such as the Automatic, Manic Street Preachers, Lostprophets, Super Furry Animals, and Catatonia all have links to the city.
Other famous sons and daughters of the city include Roald Dahl, Ivor Novello, Ken Follett and Ioan Griffud.
TV productions that are filmed in and/or set in Cardiff include Dr Who and
In Cardiff, as elsewhere in the UK, driving is on the left. While the main roads observe the national speed limit of 60 mph (96 km/h), it's vital to note that the speed limit on most roads in UK cities is now 20 mph (32 km/h). Otherwise, 30 mph (48 km/h) is standard in urban areas rising to 40 mph (64 km/h) on dual carriageways. The motorway speed limit is 70 mph (112 km/h).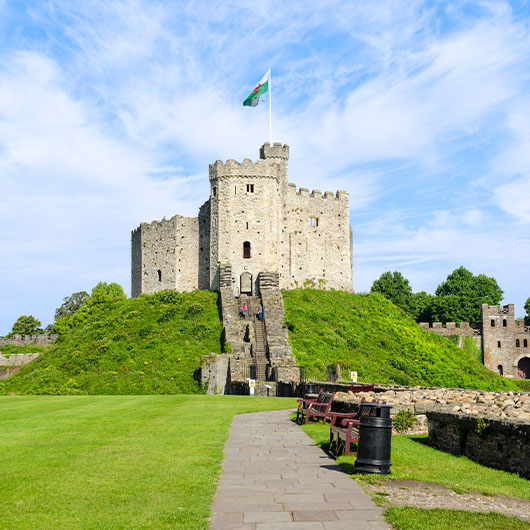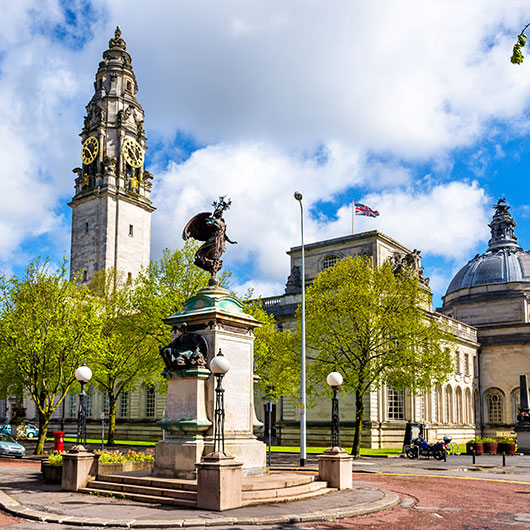 Things to do in Cardiff
Whether you're cycling the Taff Trail or relaxing in one of Cardiff's many parks, painting the town red around St. Mary Street or Cardiff Bay, or attending a rugby match, there are many stimulating activities for all the family.
You'll never run out of things to see and do ‐ take a look at some more Cardiff highlights:
Cardiff Castle is one of the city's most photographed historical sites, and for good reason. Originally built in wood on top of a 3rd Century Roman fort, stone building began in the 12th Today the castle is run as a tourist attraction, with the grounds housing a regimental museum and interpretation centre. The castle has also been an event venue, hosting musical performances and festivals.
The Pierhead Building dates from 1897 and is a Grade-I listed building in Cardiff Bay.
Fagan's National Museum of History (known locally as 'St. Fagan's') is an open-air museum which chronicles the culture, lifestyle, and architecture of the Welsh People.
The Centenary Walk is a 2.3 mile (3.7 km) walk that takes you through the city and its heritage landmarks.
Cardiff has held a photomarathon every year since 2004, in which photographers compete to take the top 12 pictures of 12 previously unknown topics in 12 hours. An exhibition of the winners and other entries is held in June/July each year.
Cardiff Arms Park is possibly the most famous venue associated with the beloved sport of Wales, rugby. Although it was replaced in 2007 by the 74,000-capacity Millennium Stadium, it remains the site of three Grand Slam wins for Wales in the 1970s, and where they triumphed with an amazing five Six Nations wins in six years!
Cardiff Bay is the area of water created by the Cardiff Barrage in south Cardiff. It's also the name commonly given to the surrounding areas of the city. The Bay was previously tidal but 24-hour access is now available through three locks. If you're near the water you may as well get on it – there's sailing, white water rafting, speedboats for hire, and a swimming pool in the Sports Village.
Situated just past Cardiff Castle, Bute Park and Arboretum is a 53-hectare area of mature parkland in Cardiff city centre. The tree collection is of national significance, and there are a number of marked trails, natural play features for kids, an education centre, and three cafes.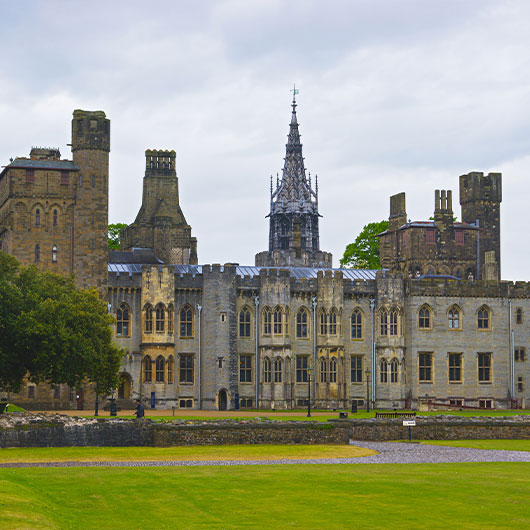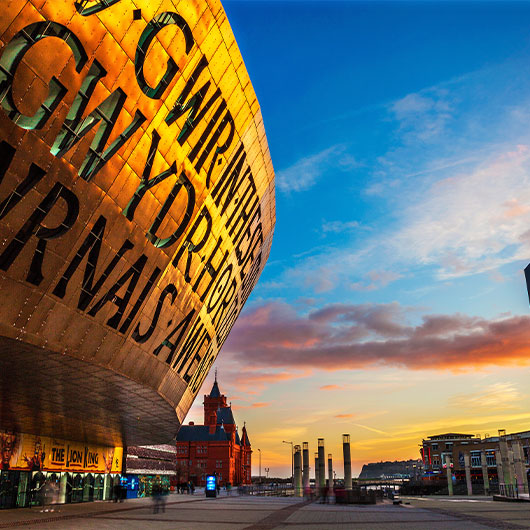 Eating out in Cardiff
Cardiff has many pubs (you're in the UK, after all), but these are certainly not your only drinking and dining options in the city.
There are chic modern cafes, wine bars, family Italian local favourites, trustworthy family chain restaurants, and delectable dining opportunities throughout the area. Let's tuck in to a few of Cardiff's choicest eateries below:
Car Hire in Cardiff
Cardiff city centre is just 10 miles (16 km) from Cardiff Airport (CWL). You'll find an expansive range of car hire options in Cardiff, and often the best deals are to be found at the airport. Enjoy Car Hire partners only with well-established, dependable car hire partners to bring you an affordable, hassle-free driving experience. With over 70 suppliers across 100 countries, you can relax knowing you're in safe hands (and rolling on reliable wheels!).
Enjoy Car Hire Trusted Partners include well-known brands such as Alamo, Avis, Enterprise, Europcar, Hertz, Keddy and Sixt, alongside newer competitors like Green Motion and Easirent, and any operator you choose has been carefully assessed for quality and customer service.
At Cardiff Airport the most convenient way to book a hire car is online via Enjoy Car Hire ‐ we can arrange your car rental in a few clicks.To get to Cardiff city centre from the airport, take the A4232. It takes just 27 minutes in normal traffic.
Got a Question? Chat with our UK support team
Online chat help is open 08:30am to 17:00 weekdays. Email: [email protected]
FAQs about car hire in Cardiff
Most frequently asked questions about hiring a car in Cardiff
If you're hiring a car at Cardiff Airport for example, a Toyota Aygo or similar size (mini) car will cost a very reasonable £84 for 3 nights/4 days, a (5-door) Vauxhall Corsa or similar (economy) is just £101 and this car can still accommodate five people at a great price (with immediate online booking, paying the balance on collection). Meanwhile, an intermediate-sized car such as the Skoda Octavia costs just over £179. A slightly larger (standard) car like the Vauxhall Insignia (worth it for the extra legroom) is £188 for the 3 nights/4 days. Meanwhile, a compact elite car such as a Mercedes A-Class can be rented for £260 (manual or auto transmission).
Economy car hire in Cardiff or at Cardiff airport typically costs about £72 for 4 days/3 nights, ranging to £97 for 4 days/3 nights for a 5-door car. If you're sharing car hire costs with others in your party, a larger car like a small SUV such as a Ford Kuga costs £132 for 4 days/3 nights at time of writing, which is very affordable for a party of 4, for example. You should shop around for the best deals of course, but car rental comparison websites like Enjoy Car Hire are reliable and efficient.
Economy car hire in Edinburgh usually costs from around £11-12 per day for compact cars.
Some car hire companies may apply additional charges for renting a car in Cardiff – for example, for drivers between the ages of 21 and 25, or for customers who require special arrangements to suit unique requirements. Furthermore, excess-free packages are available from most major car hire companies (the excess is the initial payment the driver would make if he/she were in an accident, after the customer/driver pays this excess, further costs of repair, towing, road-side call-outs etc. are paid by the insurance company acting for the car hire company). Furthermore, most packages have road-side assistance included, as well as theft protection and collision damage waiver. All of our car hire partners at Enjoy Car Hire are long-established, dependable operators, so they should carefully explain any additional charges. If no extra charges are mentioned but you're still unsure (and don't want to discover them later), take the reins and request a slow and clear explanation, and don't forget to make sure that you fully understand all fine print in the agreement prior to proceeding.
Yes – it's common to add extra drivers to a rental agreement, as long as their license is valid, and an additional daily fee is typically applied. Again, this may vary according to which company you choose, so please do confirm.
Choosing the best car to get around Cardiff depends on your party size and itinerary – if you're a solo traveller, a small car like a Toyota Aygo is perfect for city centre parking and nipping around town; but if you plan to take a larger group exploring the beautiful south Wales countryside, perhaps a seven-seater vehicle like a Seat Alhambra would be better (currently £221 for 4 days/3 nights).
You always drive on the left side of the road in Cardiff, as everywhere in the UK.
Parking in any city can be expensive, particularly at peak times. There are several car parks in the Cardiff area, but try to plan your outings to avoid morning/evening rush-hour traffic when possible and check local traffic online news for current conditions. There are a number of car parks in Cardiff. The cheapest at time of writing was just £4.60 for four hours or £20 for 24 hours, rising to £2 an hour or more for peak-time parking.
Driving in Cardiff is very easy and you should not encounter any issues. The roads are in good condition and people generally drive with respect in Cardiff.
They say the best way to see Wales is by car. Cardiff is not an exception so depending on your circumstances, renting a car in the city is highly recommended.
Economy car hire in Edinburgh usually costs from around £11-12 per day for compact cars.
This city is a pride for the Welsh; its rich history and extensive heritage made the number of visitors rise in recent years. You should start your Cardiff journey by visiting Cardiff Castle first.
The most favourable months to visit Cardiff are June, July, August and September. On average, the warmest months in Cardiff are June, July and August, and the coldest months are January and February.
The average price of a litre of fuel in Cardiff can vary between £1.09 and £1.02.
Explore more popular places in the UK