Sheffield Car Hire
Find the best deals in Sheffield
With a massive choice from the biggest brands, Enjoy the best way to find the best prices for car hire in Sheffield.
Huge choice of cars to suit every budget
Save up to 70% compared to buying on the day
10 years experience in car hire
Compare car hire in Sheffield
Sheffield is home to the world's oldest football club - and its second oldest! Sheffield FC was founded in 1857, and Sheffield Hallam FC just three years later.
The Sheffield theatre complex is the largest in the UK outside of London. The Sheffield Lyceum, Crucible Theatre and Studio Theatre are in Lyceum Square in the city centre and host a wide variety of plays and live performances.
People often think of Sheffield as an industrial city, but it is one of the greenest cities in the UK too. Sheffield has the highest ratio of trees to people in Europe - over two million across the city which is around four trees to every one person.
Around a third of the city is inside the Peak District National Park - no other city in the UK has part of a National Park inside its boundaries.
The world's longest lasting rainbow was only visible from Sheffield. The record-breaking rainbow was visible above the skies of the Steel City for six hours on March 14th, 1994.
The population of the City of Sheffield is 555,500 (2010 est.) and it is one of the eight largest regional English cities.
In the Nineteenth Century, Sheffield gained reputation for being premier producer of steel. It made key innovations in the development of stainless steel. This growth of the steel industry made Sheffield a key player in the industrial revolution.
The Sheffield Ski Village is Europe's largest outdoor artificial ski resort.
There are two main car rental agencies at Doncaster Sheffield airport with many more options in the city.
Guide to Sheffield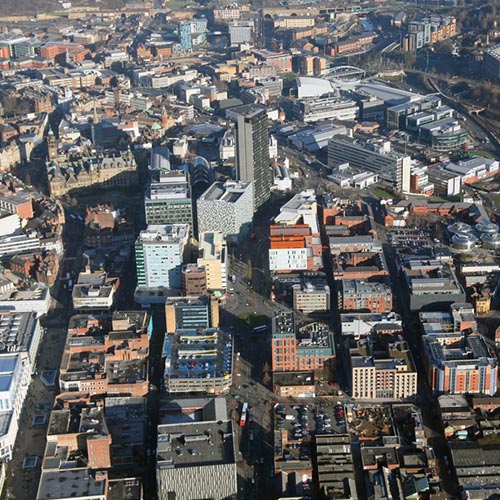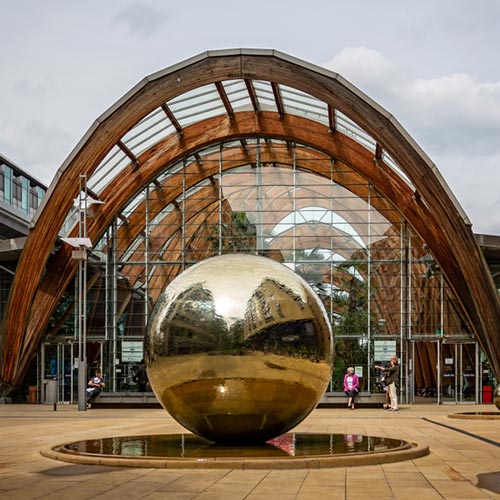 Now whilst it might be true that Sheffield is not necessarily the top of everyone's bucket list of places to travel, once you've been, you'll see what a gem of a city this is. Once famed for its booming steel industry after several years in decline this city is reinventing itself, and it means business. Sheffield is home to two Universities that have over 60k students between them. Both of world leaders in industry, engineering and the sciences. Its massive student population means that an incredible number of independent shops, cafés, bars and restaurants have opened up over the last few years. There's something to do every night of the week: comedy shows, art exhibitions, pop-up restaurants and street food markets are just a few of the choices on offer.
Getting to Sheffield
Sheffield is in South Yorkshire, in the north of England and approximately 170 miles from London by road. It has a population of over 500,000 making it the largest city in South Yorkshire, and the 2nd largest in Yorkshire after Leeds. The nearest motorway is the M1 running to the east of the city and connected London to Leeds.
The closest airport is Doncaster Sheffield Airport (DCA) which is about half an hour away, closely followed by East Midlands (EMA) and Manchester airport (MAN) is the biggest major airport. All are within about 30 to 60 minutes drive.
The industrial north
Sheffield is one of the largest cities in England and if you love arts and culture or wide-open spaces, you'll feel right at home. The industrial history is still there, and it's fascinating to explore the older parts of town; but now, warehouses have turned into slick apartments, and industrial red-brick walls on every corner are covered with colourful street art. Whatever you are looking for Sheffield might surprise you and tick all the boxes.
Eating out in Sheffield
One of the many things that the buzzing student population brings to Sheffield is its insatiable appetite for diversity when it comes to its culinary tastes. With everything from fine dining to hip brunch spots and scandi-inspired eateries Sheffield has something for even the most discerning of palettes.
Jöro is not only one of the best restaurants you'll eat at in the North of England but one of the most unique. Set in a shipping container chef Luke French's Jöro is ultra-seasonal and hip. Its Nordic-Japanese menu make it Sheffield's most ambitious restaurant. Jöro holds a Bib Gourmand in the 2019 Michelin guide, 3 AA Rosettes and a score of 5 in the Good Food Guide. Famed for its small plates and tasting menus Jöro epitomises fine dining in Sheffield.
Marco at Milano's has been in business since 2000 which is quite the achievement in itself in the restaurant world these days. Their aim is to create an Italian restaurant that would stand out from the crowd and that's exactly what they have achieved. The restaurant is housed in a tastefully refurbished old police station in the quiet suburb of Millhouses, overlooking the park. With a focus on traditional and classical Italian cuisine set against a stylish contemporary backdrop is truly delightful. Delicacies such as the black squid ink pasta served with shellfish, or the roasted guinea fowl served on garlic spinach with a mixed herb and limoncello sauce make this the perfect restaurant for a special occasion. The restaurant is also known for its atmospheric al fresco dining on the main terrace, making it the perfect spot for an intimate summer evening dinner.
Kommune brings together some of the most exciting independent kitchens from across the UK all under one Grade II listed roof right in the centre of the city. Open early, till late, this social space is home to a diverse choice of great tasting food, an artisanal bakery and speciality coffee, independent retail and an iconic bar, serving everything from local brews to organic wines and an eclectic mix of cocktails. With something to keep the whole family happy this is a budget friendly way to appreciate some truly great food.
For a true taste of British dining there is no better meal to sum it up than a good old Sunday roast, and for the best in Sheffield look no further than The Milestone. Set in one of the oldest industrial sites in Sheffield they serve up dishes that will stir up memories and excite your taste buds. If you fancy trying something new during your time in Sheffield then they have a cookery school on site here where you can learn to roast a whole pig in a day.
Forge Bakehouse started off as a humble baker but soon expanded out with a café and now host regular supper clubs too. Whilst the star of the show will, of course, always be their delicious fresh baked bread their outstanding brunch menu draws in crowds from all over Sheffield. If you want to turn your hand to being a baker their bread classes will teach you how to bring the bakery into your kitchen, learning to bake different breads and pastries with the founder Martha.
Things to do in Sheffield
Sheffield City Centre
The Millennium Gallery is one of Sheffield's most prominent art galleries. Located in the city centre it's easy to find and free to enter. The gallery has a few permanent collections as well as spaces for temporary exhibits so there is always new culture to experience. The gallery features collections from John Ruskin that were originally curated to inspire the local workers. You can also find an extensive metalwork collection at the Millennium Gallery which provides an insight into how the steel industry aided locals in everyday life. Opened back in 2001 this gallery is the 15th most visited free tourist attraction in England.
One of England's oldest weather stations
Weston Park Museum and Gardens is another great day out in the city centre, parking here can be a little tricky so it's advisable to use the extensive public transport network to reach it. The museum is Sheffield's largest historic building, and a great place to stop off for some art and culture. The museum features exhibitions on Sheffield's history and art, geography, and the natural world. It's also home to one of England's oldest weather stations, built in 1882 and still operating today. The gardens on the other hand feature a huge variety of flower displays as well as late 19th century architecture. Equally beautiful in summer or winter its recent restoration make this an all year-round delight for the whole family. If you are planning on spending the day here there is a reasonably prices café on-site for you to enjoy
Endcliffe Park is one of many of the green spaces that Sheffield is famed for. The park was opened in 1887 to commemorate the Jubilee of Queen Victoria. When travelling West from the city centre it is the first in a series of parks known collectively as Porter Valley Parks, all of which lie along the course of the Porter Brook. The park is home to several monuments and memorial structures, as well as a playground for children, outdoor gym and parkour training area – all of which are free to access. Although best viewed on a sunny day it is open all year round to visitors and hosts several attractions throughout the year.
Other attractions in Sheffield
If the weather outside isn't to your liking but you'd still like to experience a little nature then the Winter Gardens should be your first stop. At over 70m long and 22m high this huge glass structures houses over 2000 plant species from around the world. Next to the Peace Gardens and the Millennium Galleries, the Winter Garden provides visitors with a unique experience in Sheffield city centre. The eco-friendly building is built out of materials that will change colour over time and is the largest urban glasshouse in Europe. There are also a number of unique retail outlets and cafes for you to while away the hours
If you are travelling with family they will be delighted with all the animals to see at the Tropical Butterfly House. Open all year round (although the butterflies are less active in the colder months) there is everything from cheeky meercats to the creepiest of crawlies to encounter. Located just outside the city centre there is plenty of parking if you have hired a car or the public transport links are good from the city centre.
No list of things to do in Sheffield would be complete without mentioning Meadowhall. With 280 shops Meadowhall is Yorkshire's largest shopping centre, with stores from Armani to House of Fraser and Primark there is something for all budgets. There are also several independent boutique stores in The Lanes as well as a large food court to help you recuperate after a day of shopping. This is a popular shopping area and you are sure to find whatever you need all under one roof.
Top Tips when hiring a car in Sheffield
Vauxhall Corsa (or similar) is the most popular overall Sheffield rental car.
Skoda Octavia is the most popular medium sized Sheffield car.
On average Sheffield car hire customers book their car 12 days in advance.
The most popular Sheffield suppliers are Keddy and Europcar.
The average price per day is £22.09 for a hire car in Sheffield.
The cheapest Sheffield car hire in the last month was £ 11.49 per day via Enjoy - Keddy and it was booked 6.5 days in advance.
Vauxhall Insignia, Ford Focus Wagon, Fiat 500 and Nissan Qashqai are also popular.
Got a Question? Chat with our UK support team
Online chat help is open 08:30am to 17:00 weekdays. Email: [email protected]
FAQs about car hire in Sheffield
Most frequently asked questions about hiring a car in Sheffield
Doncaster Sheffield Airport is around 20 miles from the city centre and will take about 30 minutes by car.
Car hire averages at about £15 a day for a compact car, deals are available if booking well in advance but expect prices to be higher in peak season.
Avis and Budget operate out of the airport although Enterprise can be found a short distance away.
You'll need a full driving license and your passport as an additional form of ID to hire a car in the UK. Some hire companies have restrictions on how many endorsement points you can have on your licence so it's best to double check with the individual company before placing your booking.
Sheffield has a number of NCP car parks through out the city centre that are chargeable per hour, there are restrictions on on-street parking through the day although there are special allowances in the evenings and on Sundays.
Sheffield has a good motorway network surrounding it. Large sections of the motorway are Smart Motorways that mean that speed limits vary according to traffic and weather conditions.
Horns should only be used when someone's driving behaviour is dangerous. The use of a car horn is not permitted in built-up areas between 11.30pm and 7 am.
Sheffield is between 30-50 minutes drive from Leeds, depending on the time of day and traffic. It's directly connected by the M1 motorway, and directly connected by train also which takes 40-45 minutes. From city centre to city centre (by M1) is 35 miles.
Sheffield is a city in the north of England, in South Yorkshire. Around 40 minutes south of Leeds, and 60 minutes north of Nottingham, or 3 hours drive north of London.
The closest airport to Sheffield is Doncaster Sheffield Robin Hood Airport, Sheffield itself does not have an airport. Leeds Bradford is also about an hour and 15 minutes, and East Midlands is about an hour away. Manchester airport is the biggest nearby airport, also about an hour and a half drive.
Explore popular places in Yorkshire