Swindon Car Hire
Find the best deals in Swindon
With a massive choice from the biggest brands, Enjoy the best way to find the best prices for car hire in Swindon.
Huge choice of cars to suit every budget
Save up to 70% compared to buying on the day
10 years experience in car hire


Compare car hire in Swindon
Swindon is a large town in Wiltshire, southwest England. It has a population of 200,000 and is some 35 miles (56 km) from Bristol and Reading to east and west, and 71 miles (114 km) from London. Known for its pivotal role in Britain's railways from the 1840s onwards, as the home of the National Trust, and its proximity to Stonehenge and Avebury World Heritage Site and Avebury Plain Stone Circles, it was mentioned in the Domesday Book of 1086 AD.
In Swindon, renting a Fiat 500 or similar mini-size car starts from £20 (€24) a day off season, while the compact Fiat Tipo (seats 5) is only £25 (€30) a day in the off-peak season. An economy model such as the Vauxhall Corsa is also just £22 (€27) a day. Hire a quality vehicle with Enjoy to explore Swindon and historic Wiltshire – but first, here's a bit more about Swindon.
About Swindon: Swindon was originally a small market town which gained global importance during the Industrial Revolution, particularly due to the newly perfected steam engine and subsequent Great Western Rail industrial complex designed by English architect Brunel in the 1840s. Full of Victorian-era parks and green spaces, today Swindon also houses the depository of the Bodlean Library, an award-winning Steam Museum, an art gallery, and much more besides.

The area has been inhabited since at least the Bronze Age, with Mesolithic, Iron Age, and Roman artefacts and ruins scattered throughout. Built around Swindon Hill, the name 'Swindon' probably comes from the Anglo-Saxons, who left many lasting impressions on the surrounding landscape including names for local places ̶ it's (probably) derived from the words 'swine for 'Pig' and 'down' for 'hill'.

Airports and Access: The nearest airport to Swindon is Bristol (BRS) Airport at 68 km away. Other nearby airports include London Heathrow (LHR) (92 km), Birmingham (BHX) (100 km), London Luton (LTN) (102 km) and London Gatwick (LGW) (110 km).
Famous Swindon: Swindon's notable daughters and sons include footballers, Olympic medal winners, TV personalities and musicians. Rick Davis (a founder of Supertramp), Diana Dors, Victorian author Richard Jeffries, Mark Lamarr and Billie Piper are some of moderns Swindon's famous progeny. However, the huge part that Swindon played in UK railway development, which then powered the Industrial Revolution, has forged the cultural and historical importance of Swindon more than anything (not forgetting Stonehenge!) Special mention should also go to Oasis Leisure Park, reputed name inspiration for the band Oasis, and to the 'Magic Roundabout', touted as the UK's most difficult junction to navigate in a car!
Guide to Swindon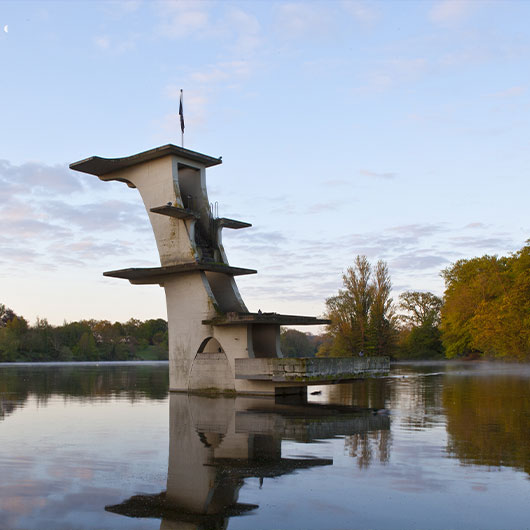 The first chapters of the human story unfolded in Kenya and today it's a vibrant tapestry of dramatically varied terrain, vivacious culture and wonderful wildlife.
Planes and trains
Swindon famously helped drive the Industrial Revolution by railway development, particularly the Great Western Railway works which opened in 1843 and was the principal maintenance centre for England's locomotives and rolling stock until its closure in 1986. The Great Western Main Line between London and Bristol in was commissioned in 1835. On a higher plane, the iconic Spitfire fighter plane was built here (South Marston) for a time, after the Southampton factory was bombed during WWII.
City and culture
Swindon is full of culture! The Wyvern Theatre has hosted top names in theatre, dance, drama and comedy in its 635-seat auditorium, while the Swindon Arts Centre is a hidden gem in the Old Town. The Steam Museum is for trainspotters and civilians alike, with a superb collection of the finest trains ever built. Swindon Museum and Art Gallery has exhibitions in archaeology, Egyptology, geology and local history, while the Museum of Computing was the first museum dedicated to computers in the UK.
Sports and pastimes
There are activities for all ages in Swindon, including sports. From angling to triathlon, boxing to water polo, there are clubs for all kinds of sports in Swindon. There are events held throughout the year, too ̶ everything from outdoor yoga to toddlers' cycling classes are available, so you'll never be bored.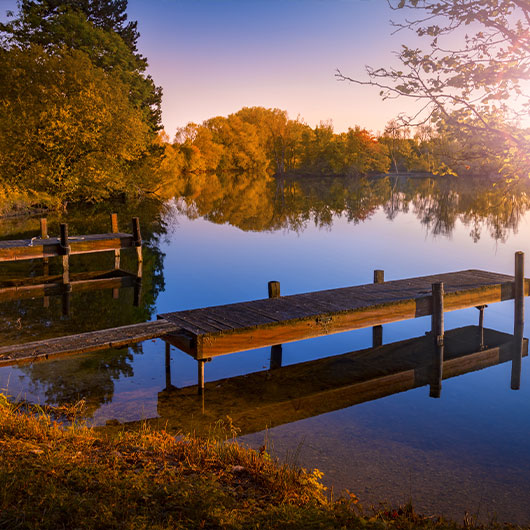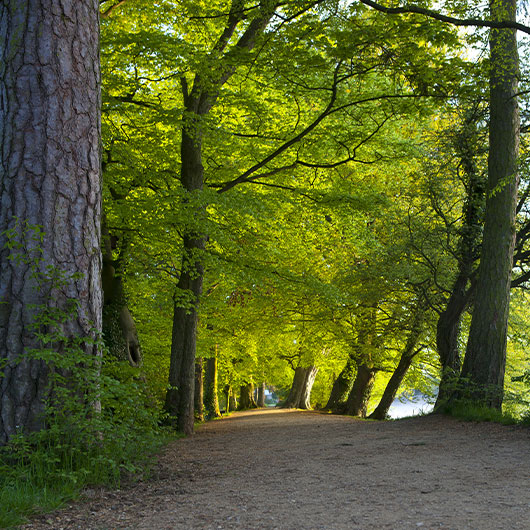 What to do in Swindon?
Swindon is in an area that has easy access to so many beauty spots, like Stonehenge, the chalk hills of the Wiltshire Downs, the North Wessex Downs Area of Outstanding Natural Beauty and numerous cities. There's plenty to do in Swindon itself though ‐ here are a few highlights.
Historical attractions
Swindon Museum and Art Gallery is where you can learn, discover and enjoy Swindon's collections in a listed building in the Old Town area. The Old Town is the original part of Swindon, extant before the coming of the railways created 'New Swindon' and eventually rose up the hill and connected the two. Exhibitions include archaeology, Egyptology, geology, modern art and local history, and there's even a gharial, a show-stealing member of the crocodile family! Stored collections are showcased by temporary exhibitions throughout the year. One of Swindon's best kept secrets is the beautiful Old Town Gardens. These Victorian gardens have a café, Aviary and Rose Garden, their own Grade II-listed bandstand, and an Art Deco Concert Bowl, which both host events in summer like brass bands, local art, festivals and live music. Swindon and Cricklade Railway is another well-preserved paean to Swindon's railways heritage. Also, the Steam Museum and Railway Village are must-see attractions.
Shopping
Although one doesn't immediately associate Swindon with shopping, nevertheless there's some excellent retail therapy available. In the town centre there's The Parade and The Brunel Centre, there are retail parks in Greenbridge, Mannington, Bridgemead, West Swindon Shopping Centre and Orbital Shopping park and, last but not least, there's the Swindon Designer Outlet next to the National Trust Headquarters building and the Steam Museum. Furthermore, you're in easy driving distance to shopping in Bath, Bristol, Reading, Cardiff, Oxford and even London.
Nightlife
Nightlife in Swindon comprises cocktail hotspots, gin bars, and dance floors ‐ whether you're going uphill to the lively and charming Old Town, or downhill to the bustling downtown nightlife, there's something to suit all types. Swindon has fine ales in buckets – try The Hop Inn or the Steam Railway Co., one of the town's most visited spots. For clubbing go to upmarket Tree or club playground Suju for top sounds and DJs.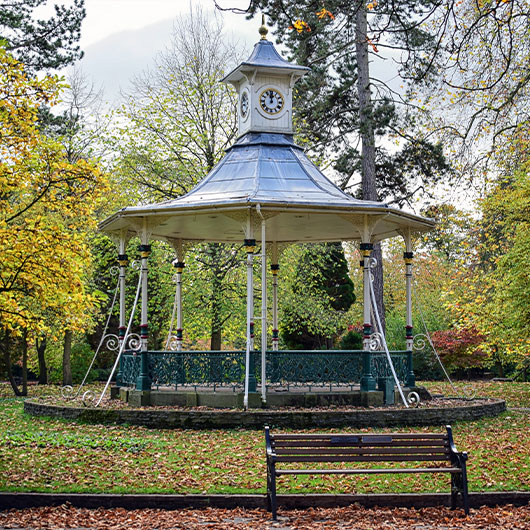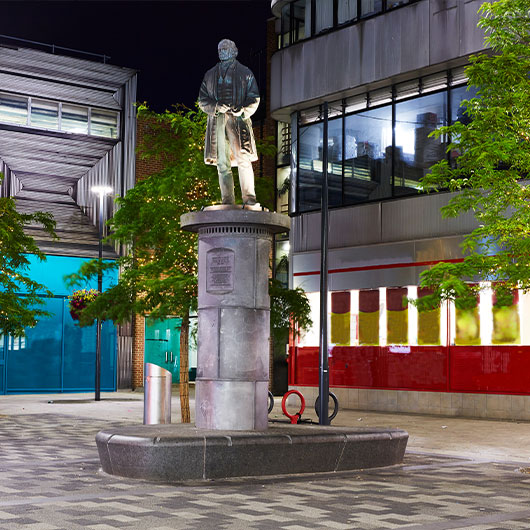 Eating out in Swindon
Swindon has a diverse and far-reaching variety of eating options ‐ from Nepalese, Spanish, Oriental, Indian and Brazilian to the more traditional British cuisine.
Ribs at The Ridge
The Ridge is a relatively new establishment at the Shaw Leisure Park, serving the finest American BBQ ‐ burgers, hot dogs, brisket, pulled pork, ribs, mac 'n' cheese and much more. They also have 2-for-1 cocktails and mocktails from 12-7 PM and from 10 PM until late. Reasonably priced and with huge portion sizes!
Kenzo 72 in the Old Town styles itself as an Oriental-Steak-Grill place. It's also a newcomer to the Swindon eating scene but fast becoming a consistent favourite. Try dishes like USA-grade steak, farmhouse ribs, chicken wings deep-fried in Coca-Cola (really) and halloumi from their extensive menu.
Spanish and Greek
Swindon is a multicultural town, which is reflected in the variety of eateries. The Greek Olive in the town centre is a friendly and comfortable place which is always busy. There are other Mediterranean dishes too, and it's always advisable to book if you can.
Meanwhile, Los Gatos in the Old Town is Swindon's only authentic tapas bar, established in 2006. One of the best places to eat in the Old Town, it's always busy so booking is advised ‐ except on the weekends when there's no booking (there's a nice bar area to wait).
Michelin-starred
There are a number of Michelin-starred fine dining establishments in Swindon and the surrounding villages, but we like The Bank Restaurant ‐ Swindon. Right in the town centre on Wood Street, here you can feast on absolutely delectable Italian cuisine like freshly baked pizzas, home-made pasta, sharing platters and divine desserts!
Transport in Swindon
Airports
The nearest airport to Swindon is Bristol (BRS) Airport at 68 km away. For the ultimate in independent flexibility that car travel provides, Enjoy partners with long-established car rental companies in Swindon such as Alamo, Budget, Dollar, Enterprise, Easirent, Europcar, Hertz, Keddy, and Sixt at BRS. Pre-book online and you can often grab further discounts of 5% ‐ 10%.
Buses and Trains
Swindon's historical association with the railways means it will always be a train town. At the junction of two Roman roads, the town has developed into a transport hub over the centuries. Swindon railway station opened in 1842 (as Swindon Junction), and until 1895 every train stopped for at least 10 minutes to change locomotives. As a result, the station hosted the first recorded railway tea rooms!
The town and wider area is served by local, regional and national bus carriers which are usually very reasonably priced. Furthermore, coach companies like Stagecoach, National Express and Megabus have routes to all UK cities.
Driving Around Swindon
There's a lot of nice driving around Swindon and the surrounding Wiltshire countryside, but here are a few choice trips:
Bulford Camp to Everleigh is a scenic drive on part of the route south from Swindon to Stonehenge. The M4 motorway serves this area but it is often jammed, so it's worth exploring the A‐ and B-roads ‐ in this case, the Old Marlborough Road/A342. One of the many roads that zig-zag across Salisbury Plain and the UK's largest military training area, this route is a lovely off-road jaunt that's just seven miles long and possibly the only place in Britain where you might have to give way to tanks!
If you're staying in Swindon, visiting nearby Stonehenge and Avebury World Heritage Site is a must. This 4,500-year-old site is globally renowned for its iconic circle of standing stones, whose original construction and function remains hotly debated. Although the standing stones need no introduction, it's actually a Neolithic monument complex of numerous sites ‐ pits, 8,000-year-old 'totem' posts, earthworks such as the Greater Cursus and Lesser Cursus, and Normanton Down Barrows. The A360 and A361 are the main routes, but consider the quieter A345/B4003 options to get there. There is parking on site, with a shuttle bus to the stones which takes about 10 minutes.
Often overshadowed by Stonehenge, the prehistoric monuments at Avebury are only ten miles south of Swindon and are no less spectacular. Here, you can actually walk among the stones and scramble up the circular earthworks. Avebury had immense spiritual significance some 4,500 years ago, and it is the largest stone circle in Britain, which once consisted of more than 500 standing stones (many of which remain) while others were broken up to build houses in the village. There's a central cove, inner circle, outer circle, henge (circular earthwork) and avenues, all built over 600 years. You could combine a visit to Avebury standing stones with a trip to Avebury Manor, a grand 16th Century house with furniture and utensils that you can pick up and hold.
On Swindon's western fringe is a Grade I-listed Palladian country house in 260 acres of parkland called Lydiard Park. The house is open for tours in summer, when you can appreciate the main hall, dining room, morning room, drawing room, guest bedroom and dressing room, decorated with ornate stuccowork, gilt wood furniture, marble fireplaces, silk wallpaper and family portraits. The grounds are open all year, and one of its highlights is the restored walled garden from the 1740s, planted with the same types of fruit trees and flowering plants as almost 300 years ago. The wider park is a patchwork of lakes, woodland, pasture, lawns, with interesting remnants from the Georgian-era estate such as an ice house and a forest cafe.
Westonbirt Arboretum is one of the most beautiful and important plant collections in the world. With 2,500 species of tree and 15,000 specimens from all over the planet, the arboretum plays a vital role in research and conservation, as well as being a serenely beautiful place to spend a peaceful day exploring rare and beautiful plants from the furthest corners of the world. There are activities for the kids too ̶ woodland adventure play areas, bike and scooter hire for those tired little legs, Gruffalo sculptures, birthday party hosting and many more. Additionally, the whole family will enjoy the Stihl Treetop Walkway which takes you 40 feet (13 m) up into the forest canopy. You can get to Westonbirt via the M4, but better to take the B4042 which is a more scenic drive.
Driving Tips
You drive on the left-hand side of the road in Swindon. The speed limits are: 70 mph (120 km/h) on motorways, 60 mph (100 km/h) on non-motorway main roads, and 30 mph (50 km/h) or 20 mph (40 km/h) if you're close to a school or in busy urban areas. Here are some other important notes:
Drivers must carry a valid driving licence, insurance documents, MOT certificate and road tax certificate (or car hire documents & driving licence).
Drink-driving is strictly prohibited: the limit is 80 milligrams of alcohol per 100 millilitres of blood in England.
You mustn't drive and use a phone (including texting) in the UK, except via your car's Bluetooth connection (i.e., truly hands-free).
If you're driving in rural areas, be aware of farm animals (especially sheep) wandering or being driven from field to field on small country roads, which sometimes have narrow height clearance under bridges, and blind summits and corners.
Got a Question? Chat with our UK support team
Online chat help is open 08:30am to 17:00 weekdays. Email: customersupport@enjoycarhire.com
COVID CLEAN & SAFE PLEDGE
FAQs about car hire in Swindon
Most frequently asked questions about hiring a car in Swindon
A Fiat 500 or similar mini-size car starts at £20 (€23) a day off season, and a compact car such as a Vauxhall Astra is just £25 (€30) per day.
You can presently hire a Fiat 500 or similar for only £20 (€23) a day.
The minimum age to hire a car in the UK is 21. Hiring larger/premium vehicles may be subject to stricter rules on age, so please check.
There shouldn't be  ̶  excess-free packages are standard with most reputable car hire companies, and packages should have road-side assistance included as well as theft protection and a collision damage waiver.
Sure – it's normal to add other drivers, as long as they hold a valid license and an additional daily fee is paid.
A compact car like a Vauxhall Astra is easy to manoeuvre and park in city streets but robust enough to cope with country road trips.
You should always confirm with your rental company what to do if you have an accident. In the unlikely event you have a serious accident in Swindon, call 999 immediately for emergency services.
Swindon is a small town in Southwestern England that is inexpensive to visit. You'll spend about £67 per day.
You don't need a car to explore Swindon but you'll walk to make excursions around its beautiful region and for that a car will be invaluable.
There are a lot of places to visit in Swindon such as the VAPOR Museum of the Great Western Railway, Lydiard Park, the Swindon Museum and Art Gallery, Stanton Park and more.
The hottest days in Swindon are in July and that is also the best time to visit.
The price of fuel in Swindon ranges between £1.19 and £1.02 for a litre.
Explore more popular places in the UK