Leicester Car Hire
Find the best deals in Leicester
With a massive choice from the biggest brands, Enjoy the best way to find the best prices for car hire in Leicester.
Huge choice of cars to suit every budget
Save up to 70% compared to buying on the day
10 years experience in car hire


Compare car hire in Leicester:
The city of Leicester in England's East Midlands is north-east of Birmingham and Coventry, to the west of Peterborough and north of Nottingham and its population of almost 350,000 makes it the 11th-largest urban area in England. Leicester has a long history and famous association with Richard III, last Plantagenet King of England and subject of Shakespeare's historical play of the same name. Its economy has traditionally been based on textiles and clothing manufacture, and for iconic brands like Walker's crisps. Leicester is also a buzzing cultural hub which has the largest Diwali celebrations outside of India, Leicester Comedy Festival, Leicester Pride and a lively and popular annual Caribbean carnival and parade.
Prices for hiring a car in Leicester start at just £14.88 (€16.37) per day for a mini car like a Peugeot if you book off-season, an economy car like a Volkswagen Polo costs £16.16 (€17.78) per day and a compact but comfy car like a Honda Civic ‐ nippy but spacious enough for family outings ‐ is only £17.22 (€18.94) per day. But remember, if you're travelling in a large group of family members or friends, hiring a large vehicle can also be economical by splitting the cost ‐ a roomy seven-seater Volkswagen Sharan costs £52.79 (€58.07) per day: great value for money given its capacity. Enjoy partners with reliable car hire providers like Green Motion and Europcar in Leicester, so you can hit the road and discover this magnificent multicultural city and the surrounding East Midlands with total peace of mind.
Guide to Leicester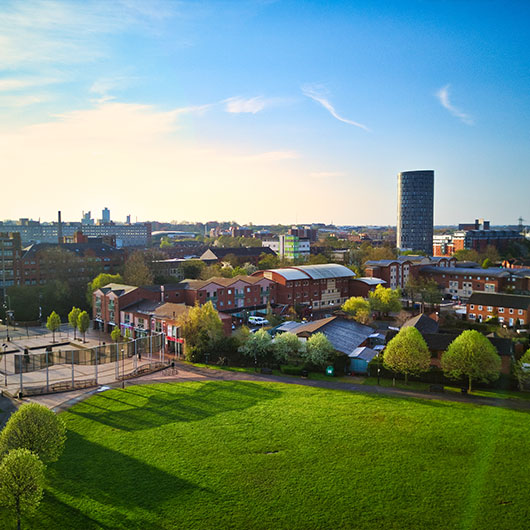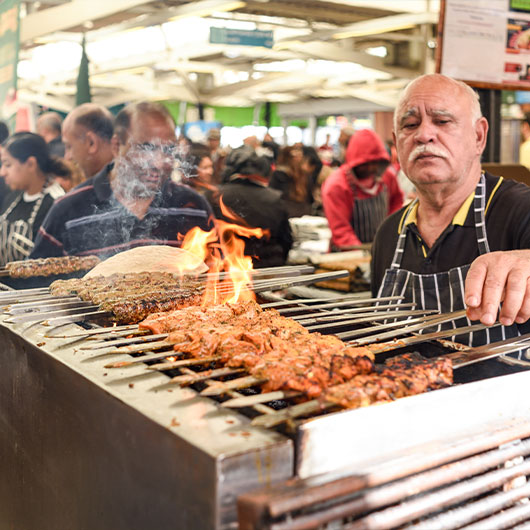 While not an obvious visitor choice among the UK's many options, Leicester nevertheless has plenty to offer ‐ from a number of excellent museums, arts venues and religious centres to fine dining and classic English pubs, this is a surprisingly large city which is making its mark nationwide ‐ especially since Leicester City F.C. won the English Premiership in 2016 against incredible odds. It's also within easy reach of some of England's most charming countryside, therefore it's an ideal launchpad for exciting road trips and there's never been a better time to visit!
Shakespeare's Leicester
The figure most associated with the city is probably Richard III, that fabled 15th Century king of the Wars of the Roses and the hunched haunting figure of Shakespeare's historical drama. However, Leicester is also one of the oldest cities in England whose historical record is expansive ‐ the St. Nicholas parish church has remaining sections from 880 AD, while the impressive Jewry Wall is an incredible, piece of 2nd Century Roman masonry on a grand scale. Over centuries it has been controlled and populated by Romans, Saxons, Angles, Vikings and Normans among others, and in 2012 Richard III's skeleton was found underneath a Tesco car park and subsequently reinterred in Leicester Cathedral.
Cultural Leicester
Naturally, a city with Leicester's history is filled to the brim with culture and art. Aside from the previously mentioned events there's also the Leicester International Short Film Festival, a 'Golden Mile' of jewellery shops, and a number of arts venues such as newcomer Curve, or De Montfort Hall with its superbly restored pipe organ. Leicester's museums are all listed buildings which span centuries ‐ the timber-framed Guildhall has sections from 1390 while Leicester is the only English city with a space centre, which includes the inspirational Sir Patrick Moore Planetarium and the mind-blowing Rocket Tower, which houses the awesome the Blue Streak and Thor Able rockets. There are also two universities in the city and a multicultural legacy keeps the city thriving and progressive despite its solid historical profile. And we couldn't describe Leicester's culture without a nod to Adrian Mole, the fictional angsty teenager (and Leicester local) of 80s young adult novels fame!
Sports and pastimes
Sports fans have plenty to get excited about while visiting Leicester. Home to the Leicester Tigers, England's most successful rugby union club, the city also produced shock Premier League winners Leicester City F.C. and also has a county cricket club, two basketball clubs, a speedway racing club and a history of greyhound dog racing. Leicester's most successful sporting year was 1996, when Leicester Tigers won the Pilkington Cup, Leicester City won the Coca-Cola Cup and Leicestershire won the County Cricket Championship ‐ an achievement forever cast in bronze in the Sporting Success Statue on Gallowtree Gate.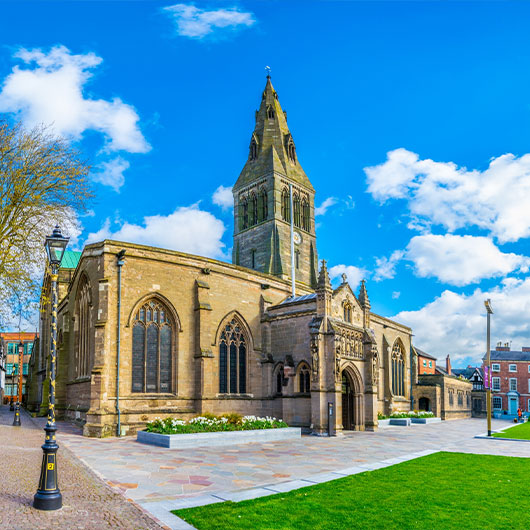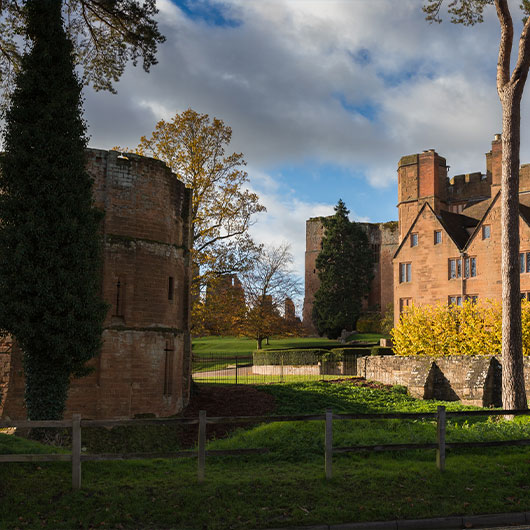 What to do in Leicester?
From serene canal walks and botanic gardens to a planetarium and a bar designed like a plane interior, you'll never run out of things to do in Leicester.
Golden Shopping
Leicester's legendary Golden Mile isn't just famous for the number of jewellery stores (hence the name) but also for umpteen Indian restaurants and shops selling spices, authentic Indian food, clothing and more, and in November the largest Diwali festival outside India literally lights up the whole area in a dazzling display. Also in the town centre is Leicester Market, which is Europe's largest covered outdoor market, with over 270 stalls selling anything you can imagine. The market has been here for 700 years and Saturday market shopping for everything from fruits and vegetables to sports socks and cut-price underwear is one of those low-key cultural activities which somehow feels quintessentially English.
Green Spaces
Leicester is home to plenty of green spaces in which to unwind. To the north of the city is Abbey Park which is great to unwind in summer and winter, when there are regular events like fireworks displays. Leicester Abbey and the River Soar go through the park, which also has a miniature railway, a boating lake and a café. The University of Leicester has a lovely botanic garden with acres of glasshouses, the Attenborough Arboretum and plenty of benches, sculptures and places to sit. The New Walk is a modern pedestrianized walkway running from the city centre to Victoria Park (known locally as 'Vicky') and it's packed with bars and restaurants. Last but not least is the Grand Union Canal ‐ created in 1790 it connects London to Birmingham and offers a serene walk not far from the city where you can while away an hour or so solo or in good company.
Family-friendly
When you're travelling with kids in tow you need to keep them entertained. Luckily there are plenty of family-oriented attractions in Leicester. Number 1 on the list has to be the aforementioned National Space Centre. It's not only a museum but an educational centre, a home to over 150 interactive exhibits, two gargantuan rockets and the UK's largest planetarium. Kids love to experience living in space and getting up close to genuine rockets! Alternatively, try your putting at Treetop Adventure Golf Leicester, dazzle the kids (and watch your step) at the Brickman Lego Exhibition, or tire the kids out at Boost Trampoline centre. Finally, the Swadlincote Snowsports Centre is around 45 minutes out of the city to the north west, but it's worth the drive to try thrilling skiing and toboggan rides at any time of year. Kids aged 4+ can participate, there are two ski slopes in this multi-activity centre and it contains Britain's only Cresta Run.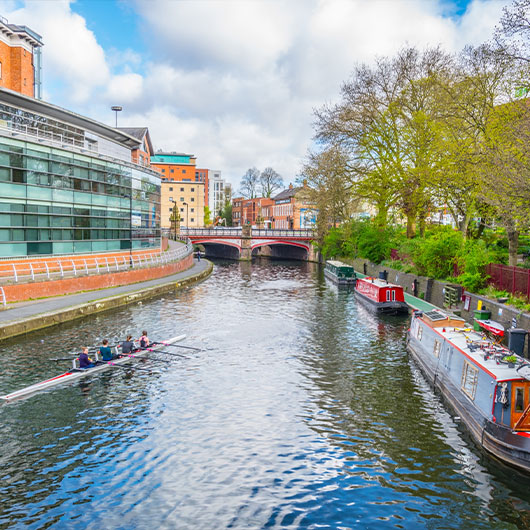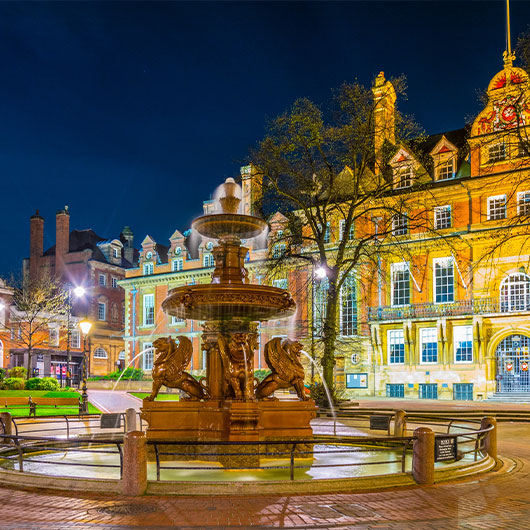 Eating out in Leicester
From traditional English pub grub to fine dining and Indian flavours galore, Leicester restaurants have something to tempt any palate. Here are a few gastronomical choices.
Michelin rosettes
The only Michelin-starred restaurant in Leicestershire, John's House, was recently awarded three rosettes by the AA ‐ a rare honour for eateries with outstanding dishes that deserve national and not just local or regional recognition. Lunch starters of marinated heritage tomatoes with almond gazpacho and mint, or mains like Stonehurst Tamworth pork with sweetcorn, hen of the woods and gremolata will awaken the taste buds, and for £30 the 3-course lunch menu represents outstanding value, accompanied by flawless service and sumptuous surroundings.
Roaring forties
Back in Time for Tea is a cute and quirky tea room in Lutterworth with a charming retro 1940s theme. It's easy to miss, as it's tucked away inside a huge military shop (which is also well worth a look around), but when you do find it, you're sure to be wowed. There's atmospheric wartime music playing and the surroundings are amazing ‐ from the parachute on the ceiling, the flags in the windows (which have been taped as they would have been during the war, to prevent flying glass during bomb blasts) and the photos of planes and soldiers on the walls, to the helmets and gas masks on display and even ration books and newspapers from the '40s. The menu reflects some of the food that would have been eaten during the war, although thankfully there are no rations in place nowadays, therefore there is a wide choice and you won't have to resort to bartering for your favourite treats! Try the Victory afternoon tea (£12.50 per person, half price for children) which comprises a tasty selection of sandwiches ‐ including old-school Spam ‐ as well as salad and crisps, a medley of homemade cakes/scones, and a bottomless pot of tea or coffee.
Indian authenticity
It's hard to recommend just one Indian restaurant in Leicester, but a real contender has got to be Herb on Granby Street. Think flavoursome and aromatic vegetarian food cooked by Kerala born and bred chefs that bring a taste of Southern India to Leicester and the food is only cooked in coconut oil which is good news if you're watching your waistline! Try the Business Lunch Thali, which is great value at only £5.95 and the servings are so unbelievably huge that you'll want to visit on an empty stomach rather than waste any or resort to asking for a doggy bag. For all the meat-eaters in your travel group, be sure to check out Herb's long-standing sister restaurant Kayal ‐ it's just a short stroll up the road, and offers the same quirky South Indian food including seafood, colourful curries and many other culinary delights of the subcontinent.
Transport in Leicester
Airport
The nearest airports to Leicester are East Midlands (EMA), Birmingham (BHX) and Manchester (MAN), which are 32 km, 70 km, and 146 km distant respectively. Enjoy partners with reliable car hire providers like Easirent, Keddy, Europcar, and Alamo at these airports, and car rental packages from such trustworthy operators usually include third party liability, 24-hour assistance, theft protection and collision damage waiver as standard in all hire packages. You can hire anything from a Ford Fiesta, which is ideal for nipping around Leicester city streets and easy to park in tight spaces, to a roomy Kia Optima, perfect for exploring the lush green East Midlands countryside in comfort. Whatever your preference, you'll get a great deal if you book ahead and finding a model that suits your needs and driving style is simple thanks to the wide range available.
Buses and Park & Ride
The major bus operators in Leicester are Arriva Fox County, Centrebus, First Leicester, Hinckley Bus (Part of Arriva Midlands), Kinchbus, Leicester Bus, and Stagecoach Midlands. The network across the city and into the county is extensive and usually efficient.
Alternatively, if you fancy shopping in Leicester but can't be bothered trying to find a parking space, Leicester has a handy Park & Ride service from Meynells Gorse (Leicester Forest East), Birstall, and Enderby, and all services run every 15 minutes.
Driving tips
You should always drive on the left-hand side of the road in Leicester, as is the case everywhere across the UK. Speed limits are 70 mph (120 km/h) for motorways, 60 mph (100 km/h) on non-motorway main roads and 30 mph (50 km/h) or 20 mph (40 km/h) if you're in busy city centre areas or close to buildings such as schools.
Seatbelts are mandatory for the driver and all passengers, drink driving is strictly illegal, and mobile phone use is prohibited (unless the system is truly hands-free and doesn't distract the driver).
There's some stunning countryside around Leicester and the East Midlands, and there are many terrific cities, towns and villages within convenient driving distance. Here are just a couple of selected road trips from Leicester:
Drive north north-east up the A46 to Newark-on-Trent. This lovely market town is not only a destination in itself but is surrounded by charming villages, hamlets, and farmland so iconic to the English countryside. Consider a detour to Melton Mowbray for a pie, but definitely visit the town of Southwell just to the west of Newark. Dominated by the 12th Century cathedral of Southwell Minster, it is an area full of history and enchanted countryside.
lternatively, Leicester is just a short drive from the Peak District National Park. Head in the direction of either Derby or Nottingham, then veer north-east to somewhere like Matlock (very hilly!) or Ashbourne, either of which can be used for a base to explore further and still be back in time for dinner in Leicester!
For an easy Sunday afternoon drive, head east along the A47 then up to Oakham (possibly via Tilton on the Hill) and the Rutland Water. This short drive takes you through some interestingly-named villages, including Launde (check out Launde Abbey) and the area around the Rutland Water is beautiful.
Got a Question? Chat with our UK support team
Online chat help is open 08:30am to 17:00 weekdays. Email: customersupport@enjoycarhire.com
COVID CLEAN & SAFE PLEDGE
FAQs about car hire in Leicester
Most frequently asked questions about hiring a car in Leicester
At present, an economy-sized car like a Volkswagen Polo costs €17.81 per day in Leicester, while a spacious Vauxhall/Opel Insignia costs €33.90 per day.
At the moment you can hire a Peugeot 108 in Leicester for just €16.41 per day.
The minimum age for hiring a car in the UK is 21.
Not typically. Excess-free packages are standard with most car hire companies, and rental deals include road-side assistance, theft protection and a collision damage waiver.
This is usually fine, provided they hold a valid license and an additional daily fee is paid.
This depends on your plans and the requirements of your party, but a medium-sized car like the Fiat Tipo is just €27.68 per day and is good for both navigating market towns/villages and for longer drives.
Tell your rental firm immediately if you have an accident. In the unlikely event you have a serious accident in Leicester, please call 999 immediately for emergency services.
Leicester is actually one of the less expensive cities in Britain. You'll find that it's more affordable than expected. You'll spend about £82 per day.
Leicester is a great city to explore via a car, and the surrounding region also offers good opportunities for excursions, which make renting a car a decent idea.
In Leicester you will find everything from Cathedrals, to Museums, to Castles. A great city with a history to discover and visiting these places is the best way to see the city.
The best time to visit Leicester is in April. The weather is quite mild there this month, but it is tolerable with warm clothing.
The most economical cars options start at £130 for a week, or £19 per day.
Rates for a car at Leicester for a month start at £613, or £20 per day.
The rates for fuel in Leicester range between £1.19 and £1.02 per litre.
Explore more popular places in the UK