Plymouth Car Hire
Find the best deals in Plymouth
With a massive choice from the biggest brands, Enjoy the best way to find the best prices for car hire in Plymouth.
Huge choice of cars to suit every budget
Save up to 70% compared to buying on the day
Compare car hire in over 100 countries
Things to know about Plymouth
A proud Royal Navy port, Plymouth sits on the stunning south coast of Devon, 310km west-southwest of London and 60km southwest of Exeter. With the scenic Plymouth Hoe headland, historical Barbican district and a wonderful waterfront regeneration project, this is a city enjoying a renaissance, so it's the perfect time to explore its delights in the comfort of a hire car from Enjoy Travel. Prices for hiring a car in Plymouth start at just £22.78 (€25.48) for a small car like a Fiat 500 if you book off-season, an economy car like a Vauxhall Corsa costs £23.65 (€26.46) per day and a compact Volkswagen Golf ̶ versatile enough for city streets and country road trips ̶ costs just £31.40 per day. However, if you're travelling with a large group of family members or friends, it's worth considering a large vehicle like a Citroen C4 Grand Picasso, which seats seven people comfortably and is ideal for exploring everything Plymouth and Cornwall have to offer in complete safety and comfort. Available for £52.13 (€58.32) if you book ahead of time this type of roomy vehicle can be very economical if you're sharing the cost as well as the driving duties. With wide open roads, dramatic coastlines, beautiful beaches and pretty towns and villages, this picturesque part of Britain is best seen by car and Enjoy enables you to find your ideal vehicle online in a couple of clicks ̶ read on for your guide to discovering the best of Plymouth.
Airports and access: the nearest airports to Plymouth are Newquay Cornwall Airport, Exeter International Airport, Land's End Airport and Cardiff International Airport, at 61.1km, 65.4km, 112.8km and 127.1km away respectively.
Driving in Plymouth: Plymouth is the perfect launchpad for taking to the road and discovering more of Devon, which is one of Britain's most beautiful counties. Here are just a couple of classic road trips we recommend:
Drive in a roughly westerly direction from Plymouth along the A38 and A30 and, traffic permitting, you'll reach sublime St Ives in Cornwall in under two hours. The unique quality of the light has attracted artists here for centuries, the serpentine streets and alleyways are packed with galleries and you can view globally significant visual art in the Tate St Ives Gallery which sits on the beach. Part of the domestic hippie trail in the 1960s, this quaint village has retained a boho charm ever since and strolling past the whitewashed fisherman's cottages that caress the harbour while you take in the salt air is simply divine.
If you don't fancy driving quite as far, follow the same A38 road for around an hour and you'll reach the amazing Eden Project, an attraction that's really unique. This otherworldly collection of huge biodomes set amidst lush, verdant countryside houses environments as varied as South American rainforests and Australian gardens and over the years it has also provided a unique backdrop for gigs by awesome music acts like Pulp, The Orb, Primal Scream, Oasis, Paolo Nutini, Bjork and Blondie. However, even if no concerts coincide with your visit, you can fly over the domes on one of the world's longest zip wires or whoosh over a cliff-face at 65ft high on a giant swing before recovering from all that adrenaline-fuelled excitement at one of the lip-smacking onsite cafes.
Famous Plymouth: prominent sons and daughters of Plymouth include explorer Robert Falcon Scott, model and actress Rosie Huntington-Whiteley, Olympic diver Tom Daley, and pioneering female MP and women's rights activist Nancy, Lady Astor.
Guide to Plymouth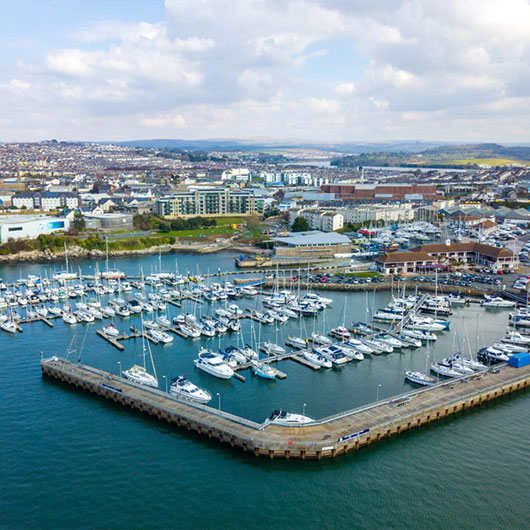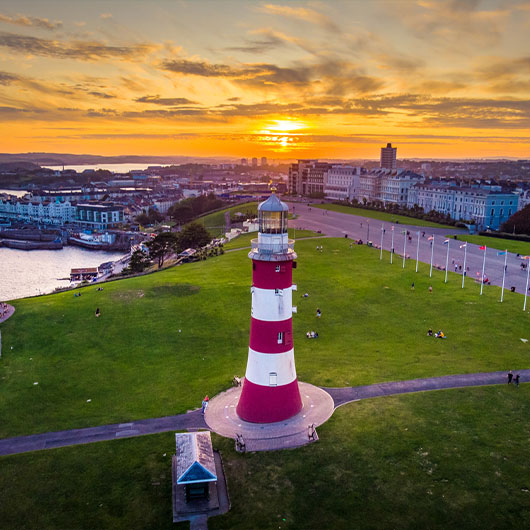 Plymouth has always been packed with maritime history but in previous years it suffered from a reputation for unattractive architecture and a perceived lack of attractions, some of which stemmed for incomplete or ill-advised reconstruction after its infrastructure suffered heavy bombing during World War II. However, if this city was previously a bit of an ugly duckling, it's now developing into a beautiful swan, attracting new residents and dynamic businesses to regeneration areas like the Millbay Coastal Quarter, entertaining visitors and locals alike with pubs, plays and clubland party nights and generally fulfilling the promise it's always had as a historical and cultural centre blessed by outstanding natural scenery. Grab a great hire car here from Enjoy and you can explore city centre attractions and then roll out into Devon's glorious countryside enjoying all the benefits of travelling under your own steam.
Some of Plymouth's architecture might be slightly cold and contemporary, but this belies the fact that the city is steeped in the stories if historical icons like Francis Drake, it was the last port of call for the Pilgrim Fathers before they left for the New World, and a crucial naval port during WWII. Appropriately nicknamed Britain's Ocean City, this is now a vibrant waterfront metropolis with entertainment, sightseeing and attractions for all.
Maritime history
At the Mayflower Museum in Plymouth's historical Barbican area there are three floors packed with fascinating exhibits and artefacts that bring the story of the Pilgrim Fathers and their Transatlantic journey aboard the Mayflower to life. However, if you like your maritime history a bit more recent, the Devonport Naval Heritage Centre is must for WWII history buffs who want to find out every detail about Plymouth's renowned naval dockyard and its pivotal role supporting the Royal Navy during the most dangerous episode of Britain's history.
Awesome arts
The arts centre of Devon and Cornwall, Plymouth has plenty to offer culture vultures. The cultural calendar is packed full of events at famous venues like The Arts Institute, The Gallery at Plymouth College of Art and Plymouth Arts Cinema, and innovative independent arts spaces like KARST, which is located in the up and coming Millbay area of the city and is a hotbed of alternative and ground-breaking projects. There's also an eclectic live music scene, supported by cool venues like The Underground and The Junction at Mutley Plain, and Blues Bar and Grill and The B-Bar in the Barbican area, so check out what's on when you're in town and you might just see the next big thing!
Sporting city
If you're a sports fan, you'll find plenty to keep you busy in Plymouth too ̶ you can wrap up warm and watch local footie favourites Plymouth Argyle take on their rivals during a live match (while learning some interesting football chants!), catch a thrilling Plymouth Albion Rugby fixture or even watch the Plymouth Raiders basketball team shoot a few hoops. Meanwhile, if you want to flex your own muscles and get your heart racing, you can carve up the slopes at Plymouth Ski and Snowboard Centre, try water sports at the Mount Batten Centre or charter a fishing boat and try your luck with rod and reel around the spectacular coastline.
What to do in Plymouth?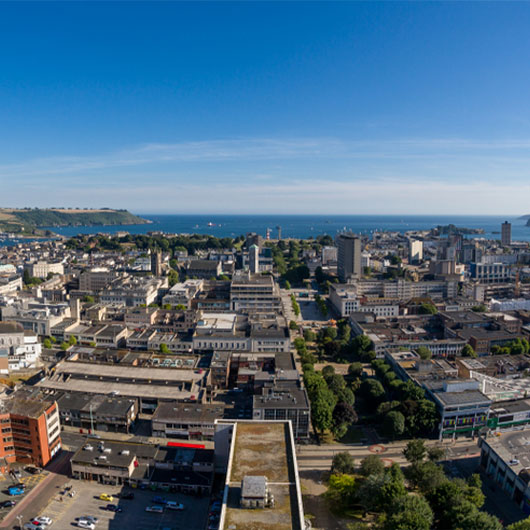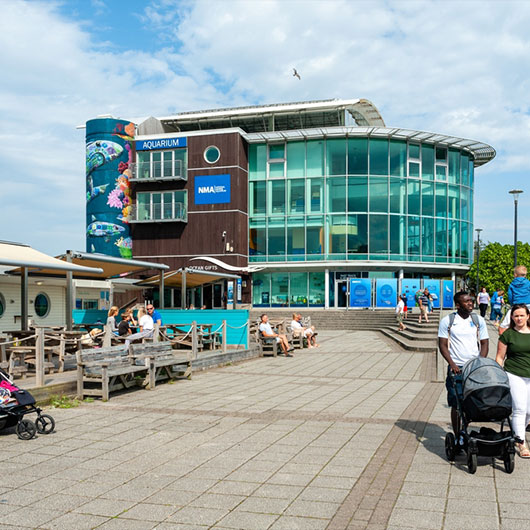 From family-friendly activities available all year round to stunning natural scenery and lively nightlife with something to satisfy visitors of every taste, Plymouth is the perfect place to spend a few days resting, relaxing or raving.
Eclectic events
The cultural calendar in Plymouth is packed with events that kids love, so you can either plan your visit around one of them or, failing that, there's every chance you'll discover a special celebration completely serendititously. For instance, the popular Pirates Weekend Plymouth is usually held annually in May and features tall ships and all sorts of swashbuckling characters and Armed Forces Day is always celebrated with gusto here each June with everything from parades to fly-pasts (as you'd expect from a city with such strong military ties).Finally, the British Fireworks Championships always goes off with a bang as the six best pyrotechnics companies in the UK battle it out with each other over two nights, lighting up Plymouth Sound in spectacular fashion.
Beautiful beaches
If you're a beach bum, hop in your car in Plymouth city centre and you can reach some stunning stretches of sand in just a quarter of an hour. For starters, wonderful Wembury is owned by the National Trust and there's ample sand for sunbathing, several rock pools to investigate, as well as crystal-clear waters which have won accolades from the Marine Conservation Society. Alternatively, stroll along the cliffs from Wembury and you'll reach Bovisands, an expansive stretch of superb yellow sands that's sheltered by cliffs on both sides and is the perfect natural arena for beach football or kite flying.
Lively nightlife
Plymouth practically buzzes after dark with everything from cool craft beer bars to traditional pubs and suave cocktail bars to bouncing clubs. For instance, PRYZM is a high-tech nightclub where the dancefloor and lighting rig resembles the interior of an alien spaceship and The Loft at the Barbican is a trendy venue with an intimate interior furnished in wood, stone and autumnal shades, where DJS spin superb tunes until the wee small hours.
Eating out in Plymouth
Gourmets are in for some gorgeous gastronomical treats in Plymouth because there's everything from sizzling steak specialists to sea-fresh fish and international fusion food ̶ let's tuck in!
Haute cuisine
If creative, high-end dishes crafted with the farm-fresh local ingredients float your boat, you should definitely take a gander at The Greedy Goose. The salubrious stone and wood interior in Prysten House, Plymouth's oldest building, sets the scene for seven or 11-course tasting menu or a la carte menu featuring divine dishes like tender lamb cannon served with melt in the mouth veggies. Main courses range from £26-£40.
Sublime seafood
Seafood simply doesn't get any fresher than the fare on offer at The Boathouse Café because most of it is caught on the restaurant's own boat, the Fiona May! The hot seafood platters are delicious, but for something simple yet stupendous, try the signature crab and mayo sandwich. Main courses are a reasonable £14-£18.
Terrific afternoon tea
For true Englishmen and Englishwomen, afternoon tea is a tradition observed with almost religious adherence, so where better to partake of a quality cuppa than the cosy cloistered garden at The Tudor Rose Tearooms? Teapots are decorated with kitsch woollen tea cosies and the multi-layered sandwich cake is the talk of the town. Meanwhile, if you'd like something more substantial, the chef cooks a mean Sunday roast and the hearty breakfast sets you up perfectly for a busy day's sightseeing. The Sunday roast here costs just £12 for two courses.
Transport in Plymouth
Airport
The closest international airport to Plymouth is Exeter (EXT), which is 65.4km away. Enjoy partners with trusted international car hire providers at EXT like Europcar, Keddy, Alamo and Enterprise. Car rental packages from these providers provide peace of mind with components like third party liability, 24-hour assistance, collision waiver, theft protection and fair fuel policy. You can hire anything from a compact Vauxhall Corsa to a luxury Mercedes E-Class, but whatever you choose you'll usually find a great deal if you book in advance.
Ferries, buses and bikes
Thanks to its unique topography, you'll find more public transport options in Plymouth than in most British cities, which adds another exciting dimension to getting around here. The Plymouth Waterlinks is a wonderful network of ferries and water taxis which enables you to view the city from the water as you shuttle between its various hotspots. The maritime route connects Barbican Wharves Hub with Mount Batten and the Royal William Yard but also reaches Cawsands and Mount Edgcumbe.
Alternatively, if you fancy spending a whole day in Plymouth city centre but want to avoid paying extortionate prices for parking, the city's Park & Ride service will be right up your street. Operated by bus giants Stagecoach, there are facilities at Coypool, George Junction and Milehouse, and services depart from stop A14 on Royal Parade. Simply park you car securely, hop on the bus into town and pick it back up again at the end of the day ̶ it couldn't be easier.
Meanwhile, the main bus service provider in Plymouth is Citybus and the network is extensive and fairly efficient, so you'll have no trouble navigating the city via this mode of transport on days you don't feel like driving or perhaps the morning after a particularly refreshing night before.
Finally, if you're feeling energetic, there are several bicycle hire companies in the city centre and cycling around Plymouth is always a breath of fresh air.
Driving tips
You always drive on the left of the road in Plymouth and across the UK. The speed limits are 70 mph (120 km/h) on motorways, 60 mph (100 km/h) on non-motorway main roads and 30 mph (50 km/h) or 20 mph (40 km/h) if you're in busy city centre areas or close to schools.
Seatbelts are mandatory, drink driving is not tolerated, and hand-held mobile phone use is against the law.
If you take the time, observe the speed limit and are courteous to other drivers, you'll find driving in Plymouth is perfectly manageable, but locals find the four-looped junction at Crowhill, Billacombe Road and the roads around Sherford particularly tricky. If your vehicle has a Satnav system, programming in your route in the morning can save hassle when you hit the road, or alternatively, tuning into Radio Plymouth 106.7FM keeps you up to date with the latest traffic news.
Top Tips when hiring a car in Plymouth
● Plymouth is a busy port city and tackling it will be best done with a car hire. By going with a Plymouth car hire you'll get the opportunity to explore this amazing coastal city overflowing with maritime history that runs back all the way to medieval times.
● Therefore there are plenty of sights to see but will require a car rental. It's recommended to begin with a trip to Plymouth Hoe and the Royal Citadel. They can both be visited on the same trip as they're on the same part of the coast.
● You have to try the local seafood which is known to be very delicious. Next you should head out to explore the rest of the coast and its scenic towns.
● As the closest Airport to Plymouth is Exeter Airport, that puts you 50 miles away from the city. However, there are many car hire companies in the Airport, so the right choice of vehicle can easily start off your trip on the right foot.
● It is recommended to book your Plymouth car hire in advance as it improves your chances of getting the desirable car hire model. The car hire agencies in the Airport can be easily found, once you leave baggage reclaim after arriving, head through the hall to the car hire area. There you can pick up your car hire or book one.
● Plymouth car hire companies found in the airport offer cheap car hire deals. On average they are cheaper than other car hire locations in the city proper.
● One fourth of our users booked rental cars in Plymouth for less than £35.
● Booking your rental car in Plymouth in advance by at least 1 day before you begin your trip will improve your chances of getting the best car hire deals and will ensure you get below average rates.
Got a Question? Chat with our UK support team
Online chat help is open 08:30am to 17:00 weekdays. Email: [email protected]
FAQs about car hire in Plymouth
Most frequently asked questions about hiring a car in Plymouth
At present, an economy-sized car like a Vauxhall Corsa costs £23.65 a day in Plymouth, while a roomy Vauxhall Insignia costs £34.82 a day.
At the moment you can hire a Fiat 500 in Plymouth for just £22.78 a day.
The minimum age for hiring a car in the UK is 21.
Not usually. Excess-free packages are standard with most car hire companies, and rental agreements include road-side assistance, theft protection and a collision damage waiver.
Yes, provided they hold a valid license and an additional daily fee is paid.
This depends on your requirements and itinerary, but a spacious Volkswagen Sharan seats seven comfortably, so it's ideal for getting around with a large group.
Always tell your rental firm immediately if you have an accident. In the unlikely event you have a serious accident in Nottingham, please call 999 immediately for emergency services.
For a big city, Plymouth is quite inexpensive. During a holiday there you'll spend about £81 per day.
The best and most economical way to easily move around Plymouth is without a doubt by car, so renting one is a good idea.
The best time to visit Plymouth and enjoy your trip is between September and October.
For the small cars you'll spend £152 for a week, or £22 per day.
The cost of fuel in Plymouth ranges between £1.19 and £1.02 per litre.
Explore more popular places in the UK