Funchal Car Hire
Find the best deals in Funchal
With a massive choice from the biggest brands, Enjoy the best way to find the best prices for car hire in Funchal.
Huge choice of cars to suit every budget
Save up to 70% compared to buying on the day
10 years experience in car hire


Compare car hire in Funchal
Several car hire companies operate in and around Funchal and rental can be found at very reasonable prices, especially with our local partners.
Rentals start from as little as £2.38 (€2.78) per day in winter, depending on the type of vehicle you are looking for and the time of year.
To really get the best out of Madeira, the right car is a must. Think carefully about what journeys you plan to make, and what activities you want to try. This will help make sure you get a good all-round vehicle for your needs.
If you need extras such as Sat-Nav or child and infant car seats, you can book these in advance when you make your booking with Enjoy Car Hire.
Madeira is a major tourist destination and local drivers are friendly and accommodating but it is important to obey laws and speed limits. Be sure to take notice of additional local restrictions on the island and always take notice of signage.
Guide to Funchal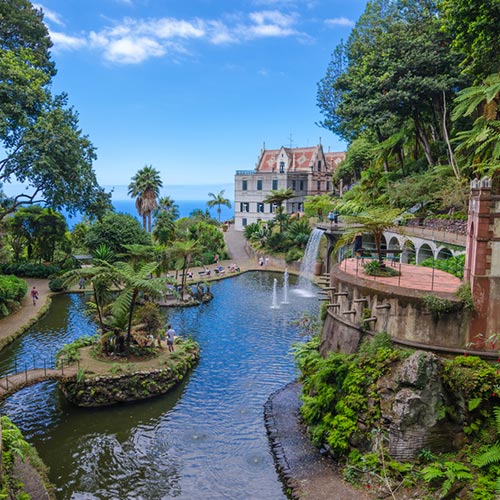 Although legend has it the Romans knew of the islands and the Vikings even landed there, the Madeira Islands were officially 'discovered' by the Portuguese in 1419. Quickly recognising the location as one of strategic importance they began colonising within five years. Under the Portuguese, sugar cane became the main crop on the islands and drove the economy until the seventeenth century when it was overtaken by wine as the main export. Today tourism is the main industry on the islands with over 1.4 million visitors each year.
Where do the Madeira islands get their name?
The Madeira Islands take their name from the largest and most populated island of the group, Madeira. The second largest, and the only other inhabited island in the region is Porto Santo. The remaining islands are important nature reserves.
Which is the capital city of Madeira?
The capital of Madeira is Funchal and with over one-hundred-thousand inhabitants, it is most populated city on Madeira and sixth largest in all of Portugal. It sits on the Atlantic Ocean and is a major calling point for cruise liners. While Funchal is steeped in over five-hundred-years of rich and varied history it is very much a clean, sophisticated and modern city, filled to the brim with fine bars and world class restaurants.
Funchal serves as a great base for those wishing to explore the rest of the island of Madeira by car. Whereas once the island's road network was challenging and dangerous, recent improvements have made an enormous difference to the ease of travelling by car here. Now with an exceptional motorway and tunnels through the mountains you would have once had to drive up, heading out to explore Madeira is safer and easier than ever before.
Things to do in and around Funchal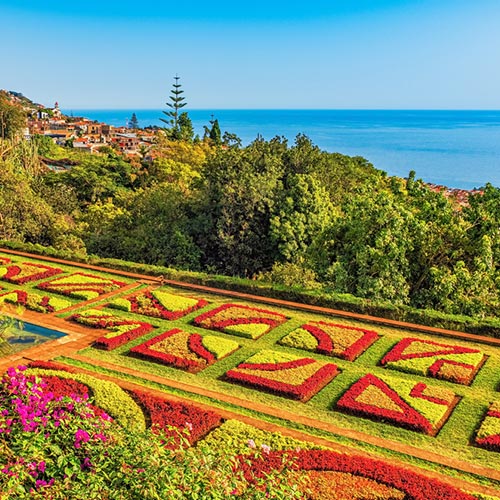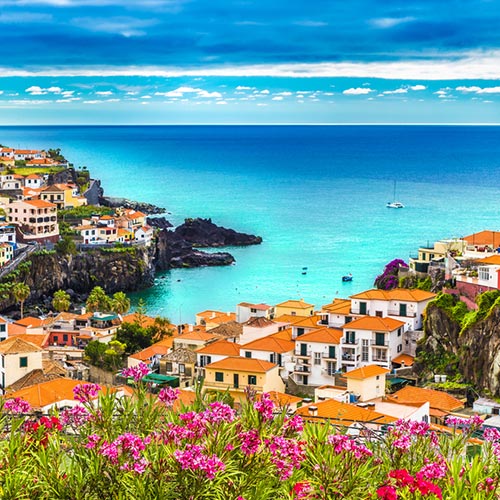 Dive into the remarkable history of the Madeira Islands by visiting the oldest museum on the archipelago. The Funchal Municipal Museum opened in 1933 and displays an array of natural history. If you're more interested in social history you should head over to The Story Centre, where you can discover the story of the people and culture of the region. For a totally different museum experience why not check out an exhibition dedicated to one of the most Funchal's most famous people, Cristiano Ronaldo. The CR7 museum celebrates the life and career of the greatest Portuguese footballer of all time.
A visit to Madeira would not be complete without time spent on one of the many beautiful beaches. Praia Formosa is an extremely popular beach with tourists and is just a ten-minute drive from Funchal city centre. The fun at Formosa doesn't stop at sundown, if you feel like dancing the night away, the area has a number of nightclubs and bars.
If you're looking for a more unique, less crowded coastal experience hiring a car through Enjoy Car Hire opens up the rest of Madeira to you. Head north-west and take a ride on the Achadas da Cruz cable car. Originally designed to help local farmers get their crops up and down the hills, the cable cars are now a favourite among the more exploratory tourists, offering breath-taking views of the countryside and ocean. Another wonderful option are the beautiful Porto Moniz Natural Pools, saltwater swimming pools with excellent child-friendly facilities, changing rooms and parking, also disabled access and only a one hour drive from Funchal.
Botanical gardens
You can not leave the island without seeing one of the botanical gardens. Just 5 minutes car ride from the center of Funchal, there is a Boa Vista Orchids. It is colorful, peaceful, known also for one of the last walled stairs terracings. High above Funchal is another, Jardim Botânico.
There are great views of the area along with the many exotic plants and trees collected in this wonderful garden. Easy to reach with a rental car. One of the best known is Ponta de Sao Lourenco. The scenery is fascinating and although often windy, it gives a sense of a brute force of a nature that has been shaping this coastal area for centuries. It is easily accessible by car.
How do I get to Pico do Arieiro from Funchal?
Another place to visit from Funchal is not down at the ocean but almost above the clouds. Pico do Arieiro (1818) is a fascinating place with fantastic views.
You can drive right up to the base of it. Follow any of the three roads leading from Funchal: ER107, ER103 and ER203 should take you a good 30 minutes, but there is a parking place just below the peak, and if you are in good shape and feel like walking, Pico do Arieiro is a good starting point to hike to Pico Ruivo, the highest of them all, or any other neighboring peak.
Eating out in Funchal
The Ritz Madeira. With six award winning chefs, seating in and outside you can watch the world go by in this historic café and restaurant, originally opened in 1905. Offering everything from sandwiches, light meals and wines. The Ritz is located in the centre of Funchal overlooking the Municipal Gardens. Address: Avenida Arriaga, 33 9000 - 060 Funchal Tel: +351 291 644 166
Casal da Penha. Sit in the old world Madeiran patio area and enjoy the reasonably priced, wide menu on offer here. With everything from freshly prepared omelettes to swordfish and steak, the culinary world really is your oyster. Address: Rua Penha de Franca Beco do Ataide – 1 9000-604 Funchal Tel: +351 291 227 674
Ill Gallo d'Oro. Is a fine restaurant attached to The Cliff Bay, five star hotel. With spectacular views and top-class food prepared by master chefs this is a place to treat yourself. Serving a range of local, Mediterranean and international cuisine, you're bound to find something mouth-watering to suit your tastes. Address: Estrada Monumental 147, 9004-532 Funchal Tel: +351 291 707 700
Dom Peixe Restaurante. When travelling north to visit Porto Moniz or Achadas da Cruz, why not try out this local fish restaurant. Serving a wide range of well-portioned seafood. Address: Rua Engenheiro America 20 Porto Moniz Tel: +351 291 854 247
Funchal Transport
Car hire in Cristiano Ronaldo/Funchal Airport
Airport Code: FNC
Formally known as Madeira or Funchal Airport the name was changed in 2016 to honour world-famous footballer Cristiano Ronaldo, Funchal's most successful twenty-first-century export. Supported by columns at the sea edge the award winning runway is an experience in itself, especially for excited children, though nervous flyers may wish to look away. The airport is located around 13km from the main city of Funchal.
Although it is possible to hire a car when you reach the airport, booking in advance with Enjoy Car Hire has a number of advantages; you will get the best price, avoid queues and have the ability to order all the extras you need before you arrive. Booking in advance also gives you access to a wider range of vehicle choices, meaning you can travel to Madeira knowing the car you want will be waiting for you.
A number of car hire companies operate in the Funchal area, it's vital you choose a reputable and reliable provider. When booking through Enjoy Car Hire you'll have the chance to see customer ratings for each of our partner companies. For your convenience we only partner with companies who operate a Fair Fuel policy, meaning you won't pay for fuel you don't use. With Enjoy Car Hire you can rest assured you will be hiring from one of our carefully selected partners, meaning your trip can run as smoothly and stress-free as possible. Our partners in Funchal include:
Europcar one of Europe's largest international rental companies
Centauro a well-established and trusted international brand. They specialise in holiday car hire throughout Portugal, Spain and Italy.
SurPrice is a very cheap and efficient car hire company close to the airport. They specialise in the low cost end of the market and you'll be sure to find a great deal.
Funchal Airport is also commonly known as Madeira Airport and is located 19 kilometres / 11.8 miles from the city centre and can be accessed by car, taxi and bus. It serves over 3 million passengers per year and the most popular airlines are Jet2, TUI, TAP, British Airways, easyJet and Condor.
Got a Question? Chat with our UK support team
Online chat help is open 08:30am to 17:00 weekdays. Email: customersupport@enjoycarhire.com
COVID CLEAN & SAFE PLEDGE
FAQs about car hire in Funchal
Most frequently asked questions about hiring a car in Funchal
In the winter season it can be as cheap as €2.79 (£2.38) per day for an economy car rental. This is not always available and subject to daily calculations by the rental companies.
The cheapest car hire with Enjoy is usually with SurPrice car rentals, but you'll find all the options on our website which are calculated daily.
The speed limit on the motorways is 120 KM/H (74 MPH), 80 KM/H on the main roads, 50 KM/H in built up areas and 25 KM/H on school roads.
The legal driving age in Funchal is the same as mainland Portugal which is 18, however the car hire companies have their own rules, and often add a surcharge for under 21s or under 25s.
You can hire a BMW 3 Series from € 22.19 per day in Funchal.
You can hire a Ford Transit van from €55.19 per day in Funchal.
You can rent a VW Polo or similar from around €5.20 per day.
You can hire a car in Funchal for a week with Enjoy from as little as €33.52.
You can find Europcar, Alamo, Enterprise, MasterKings, Avis, Budget, Centauro and Sixt.
Funchal Airport is 13 km from the town centre and you can drive it in roughly 20-30 minutes.
The population of Funchal is around 150,000 people.
Funchal is the capital city of Madeira.
We'd say Funchal is not expensive at all. You'll of course find expensive places such as restaurants but there are options for all budgets. You should expect to spend £68 per day including accommodation.
If you're staying in Funchal or in any of the nearby villages and would like to move around and see the other big cities then renting a car is essential.
The circulation in its streets is not too complicated nor the way to drive too abrupt. The only factor you have to take into account is the slopes of many of the roads.
The island's airport is located in the city of Funchal, which is the capital, so any traveller who wants to know Madeira will arrive at the same point on the island. Getting to know Madeira as an island of volcanic composition that makes most of the beaches made of stone is first in order.
The best time to travel to Funchal is from April to October. At this time, warm and mild temperatures await you. In summer, temperatures are between 21ºC - 26ºC. There is very little rain and you can expect an average of 10 hours of sunshine a day in the months of May to August.
The cheapest offers allow you to rent a car for a whole month for £210, or £7 per day. As mentioned earlier, this depends on the season you book and the car type.
The average price of a litre of fuel in Funchal can vary between EUR 1.45 and EUR 1.25.
Some popular places in Portugal