Australia Car Hire
Find the best deals in Australia
With a massive choice from the biggest brands, Enjoy the best way to find the best prices for car hire in Australia.
Huge choice of cars to suit every budget
Save up to 70% compared to buying on the day
10 years experience in car hire
Compare car hire in Australia
Australia is a dream destination and places high on many a bucket list. From sun-seekers and surfers to wine enthusiasts, poets and rugby fans, this country boasts wildly epic proportions and offers something for everyone.
British drivers are able to use their UK licence (excluding provisional) as long as they remain a temporary visitor, for up to three months, but must also carry their passport. Rules on other foreign licences vary, some may require an additional international permit, or a translation if the licence is not written in English.
Australian speed limits range from 5 ‐ 130km/h. Typically, within built up areas the limit is 50km/h and outside of these areas it increases to 100km/h.
Remember, like many Australia driving laws speed limits vary from state to state, for example there are roads in the northern territory with 130km/h speed limits, but these can significantly reduce in other regions. Take note of local signage and research the specific areas you plan to drive.
There are a number of toll roads in Australia, particularly between cities such as Melbourne and Sydney. Prices start from as little as $3 (approx. £ 1.68) but you must remember to pay, or you could be fined. Be sure to research the routes you plan to drive carefully.
Guide to Australia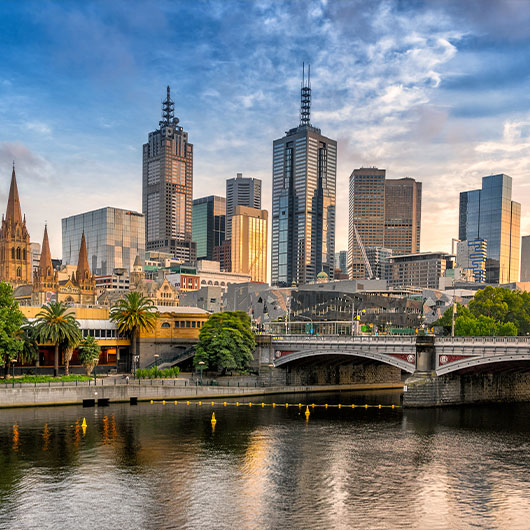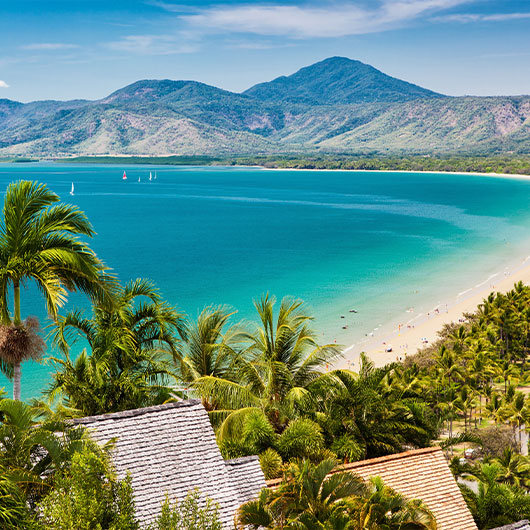 In terms of geographic area Australia is the sixth largest country in the world, covering some 7.7 million-square-km. It comprises of the Australian mainland and several islands. This vast country has an amazingly diverse landscape which includes desert, rainforest, mountains and stunning coastlines. Australia has a population of almost 25 million. Most of the population is located in the eastern states, in major cities such as Sydney and Melbourne.
A Brief History
An ancient rock-shelter, Madjedbebe, is the oldest evidence of human activity in Australia and potentially dates from around 50,000 years ago. The indigenous inhabitants of Australia included the Aboriginal and Torres Strait Islander peoples. These groups had, by the arrival of Europeans, established a significant oral tradition which honoured and respected the land. At this time, it is estimated there was an indigenous population of between 300,000 and 750,000.
In 1788 Europeans made their first permanent settlements in country and although some aboriginal communities continued as previously, Europeans controlled most of Australia in just over a hundred years. The Pintupi were the last people living a traditional hunter-gather lifestyle, in the Gibson desert until contact was made in 1984. As a British colony, Australia is well known as a place convicts were sent, in fact over 160,000 were sent to Australia from Britain between 1788 and 1868. Australia was united on January 1st, 1901 as The Commonwealth of Australia.
21st Century Australia
Today Australia is a modern country with a diverse and growing population. It is a vibrant, fun-loving nation and 65% of the population is of working age. Over 80% of the population live in cities, the largest being Sydney. Arts and culture is a significant part of the modern Australian economy with world-class venues such as the Sydney Opera House drawing in tourists from all over the world. Sport is also a massive part of the national identity with rugby, cricket and soccer having huge popularity, however the most popular sport in Australia is swimming, perhaps unsurprising for a country where 85% of people live within 50km of a beach.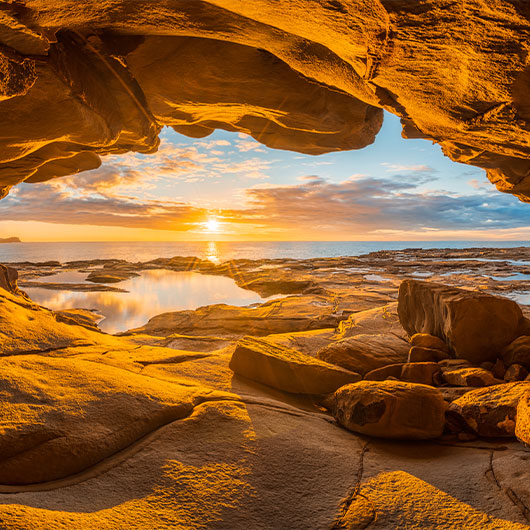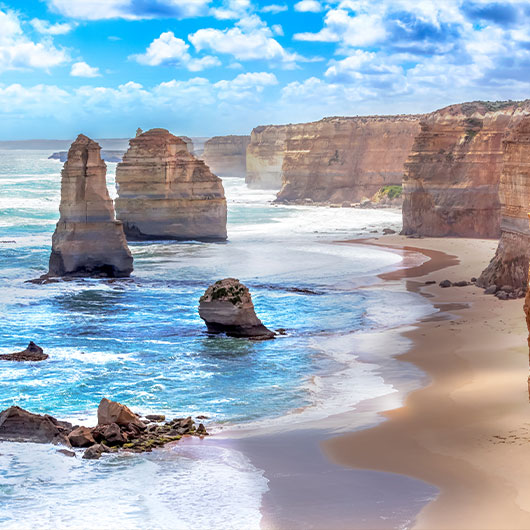 Places to visit in Australia
Things to see and do in Australia
Sydney Architecture and Opera House
Sydney is the oldest city in Australia and its architecture reflects this, with a wonderful melting pot of styles, periods and design. St Andrew's Anglican Cathedral is a fine example of the city's Gothic Revival architecture, whereas the iconic Sydney Harbour Bridge demonstrates the steel-arched modernity of the 1930s.
It is of course the Sydney Opera House which is the most famous building in Sydney. Opened in 1973 this attraction brings in over 10 million visitors every year. It became a UNESCO World Heritage Site in 2007. With around 40 shows every week, ranging from traditional dance to classical music there's something for everyone here.
Melbourne Botanical Gardens
Get back to nature with a visit to Melbourne's world class botanical garden. Though there are options to pay for guided tours, entry to the grounds is free. Make a whole day of memories wandering amongst rare plants, trees and wildlife. There are special children's gardens and plenty of amazing activities for all the family. Save money and bring along a picnic lunch to enjoy in the beautiful grounds, but no barbeques.
Telstra Tower, Canberra
Standing at 195 metres above Black Mountain, Telstra Telecommunication Tower offers unrivalled panoramic views of Australia's capital city and its surroundings. Access for adults costs $7.50 with children and seniors costing $3. Be sure to visit the café for coffee with one of Australia's most spectacular views.
Surfer's Paradise
Located in the Gold Coast region of Queensland, Surfer's Paradise is a hub of tourism, not only for surfers but for anyone wanting to enter into coastal vibe of surf culture. With an impressive skyline of high-rise buildings and some spectacular shopping opportunities, 'Surfers' is a fun-packed destination for everyone. Of course, while you're here you might want to ride a wave or two, and even if you're not an experienced surfer help is on hand. Go Ride A Wave is a popular surf school, offering instruction not only with surfing, but also kayak, stand-up-paddle-boarding. They even offer specialist instruction for kids.
Alice Springs Desert Park
Australia is the driest country on earth, so it's hardly surprising it has some wonderful desert to explore. Spend a few hours here and you will discover the desert is far from an empty barren place, instead you'll see what a richly diverse landscape it is, which is home to a wide range of plants and animals. The park is open daily (except 25th Dec) from 7.30am to 6pm. Entry is $37 for adults with children under 5 receiving free entry, there are a range of other concessions available on the official website.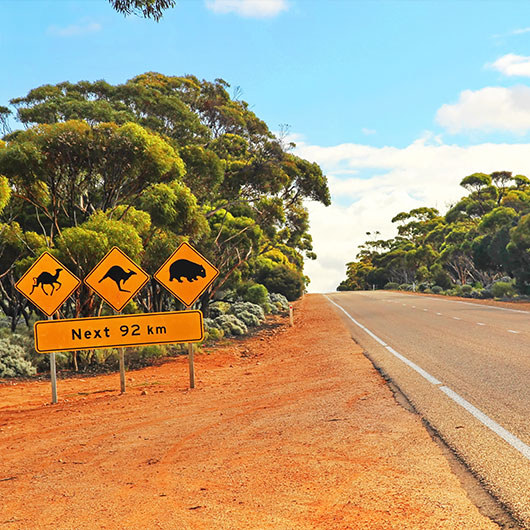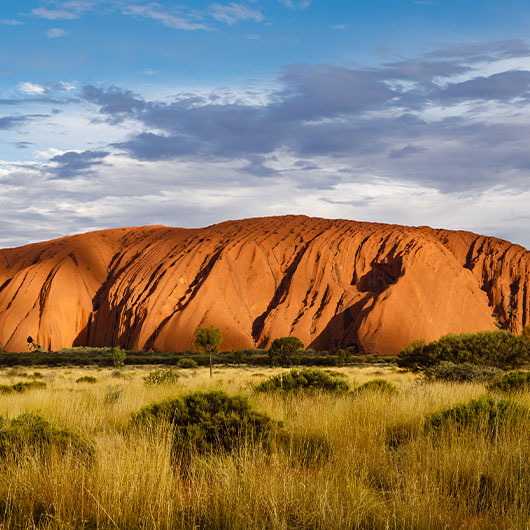 Getting to and from Australia
There is lots of choice when it comes to your flight options. The busiest airport in Australia is Sydney, followed by Melbourne and Brisbane. Most of the world's major airlines have routes to Australia, including British Airways, Virgin and Emirates.
Flights to Australia usually involve a layover and can take anywhere between 22 and 55 hours depending on how long it is between your flights. You could choose to take advantage of your layover in a city such as Hong Kong or Bangkok with a few days there, just be sure to check out Visa requirements. Recently Qantas has been testing direct non-stop flights from both the UK and USA to Australia and other airlines are likely to follow suit.
Enjoy is available to pre-book vehicles for collection through our partners at airports and cities throughout Australia. Be sure to book in advance to avoid any disappointment or inability to secure the size and type of car you need for your trip.
Car hire in Australia
Being the 6th largest country in the world, with a land mass of 2,969,121 square miles, Australia proudly displays its supremacy with over 300 cities. Led by Sydney, the cities spread across the six states. And they bear the true definition of the Australian culture.
Car hire is an excellent option for travellers who like the freedom to plan their own schedule and the ability to travel any distance in comfort. Enjoy works with a wide range of local partners across Australia to offer you the best deals. Booking in advance of your trip will save you time and money, it will also ensure you have the widest possible choice of vehicles, meaning you can have peace of mind, knowing your booking is secured.
Some rules of the Australian road
In Australia you should drive on the left
All passengers must wear seatbelts, in the front and rear of the vehicle.
Australia has a number of speed-reducing-initiatives, including cameras, so stay within the limits.
You must not use your phone while driving.
The blood alcohol limit in Australia is 50mg
Got a Question? Chat with our UK support team
Online chat help is open 08:30am to 17:00 weekdays. Email: [email protected]
FAQs about car hire in Australia
Most frequently asked questions about hiring a car in Australia
Yes. You can drive across Australia. One popular journey takes you from Melbourne to Perth. It is a long 36-hour journey, but you'll travel along much of Australia's southern coast, with plenty of opportunities to split the journey with stops at some stunning locations.
There are a lot of similarities. For example, Australians also drive on the left, however there are several differences which are important to research thoroughly before driving in Australia. The Australian authorities are extremely strict when it comes to speed and you should be observant of local signage at all times.
The most popular budget car is a Kia Rio, but overall the most popular is a Mitsubishi ASX which can be hired from as low as £9.68 per day but on average costs £21.22 per day.
Alice Springs is right in the middle of Australia, in the bottom of Northern Territories. It is 1400 miles from Melbourne, 1723 miles from Sydney by road.
The currency of Australia is the Australian Dollar. It has the exact same symbol as the US Dollar, $.
Yes, on most agreements is permitted an additional driver.
Hiring a car in Australia is easy, you can book online and will need to take your drivers licence, usually passport and credit card to collection.
It is 878 KM by road from Sydney to Melbourne and will take you a good 8 to 9 hours to drive.
You can pick up a medium sized car in Melbourne for around A$35 per day (approx. £ 19.65), Sydney a Toyota Corolla or similar for around A$31 (£ 17.41) per day and Cairns for about A$27 (about £15) per day.
Each state is different, but the majority of states including Victoria, NSW and Queensland it is 110 KM/H (68 MPH) on the motorways. New Territories is 130 KM/H (80 MPH) on the motorways.
Australia is a huge country and offers a wealth of opportunities to get out and about in its many National Parks. When booking your hire car through Enjoy be sure to think about what type of vehicle you'll need for travel to parks and forest, especially in terms of the size and storage options different vehicles have.
It depends on where and when you are going, Australia is a big place. In Melbourne you can pick up an economy car from around A$21 per day and Sydney starting at A$23 per day.
Australia is a relatively expensive country. Not as expensive as Switzerland or the Nordic countries but it can be more expensive than the United States, Spain, France or Italy.
With the longitude of Australia, it is hard to imagine exploring it without some sort of vehicle. If you're traveling with family it's even more so worth it renting a car in Australia.
Driving in Australia is not especially difficult. As you know, in the antipodes you drive on the left and the distances are enormous, but the roads are in good condition and the Australians drive quite well.
Syndey is a great point to begin your trip in Australia. From there you'll have unlimited options but we recommend driving through the country and taking in its raw beauty.
The best time to travel to Australia is the southern winter, that is, from March to November. Even so, this is only true in cities like Sydney, The Great Barrier Reef or Mount Uluru, with other times being more recommended for places like Melbourne or Tasmania.
For small cars the budget friendly options begin at £97 for a week, which means more or less £14 a day.
The cheapest offers allow you to rent a car for a whole month for £418, or £14 per day. As mentioned earlier, this depends on the season you book and the car type.
The average price of a litre of fuel in Australia can vary between AUD 2.00 and AUD 1.40. (79p to £1.12)
Explore popular places in Australia