Netherlands Car Hire
Find the best deals in the Netherlands
With a massive choice from the biggest brands, Enjoy the best way to find the best prices for car hire in the Netherlands.
Huge choice of cars to suit every budget
Save up to 70% compared to buying on the day
10 years experience in car hire


Compare Car Rental in the Netherlands
The Netherlands, more colloquially known as Holland, is a country in northwestern Europe that is best known for its scenic canals, tulip fields, windmills and cycling routes. However, there's a lot more to this picturesque country. From liberal Amsterdam to charming Volendam to retail paradisiacal Maastricht, The Netherlands wears a lot of different caps - or should we say clogs? - wherever you go. Most people visit The Netherlands just to see Amsterdam but we highly recommend spending at least a week to truly get to know its historic towns, quaint villages, adventure-fueled attractions, and unique culinary scene, as well as experience warm Dutch hospitality. Book your car hire in advance with Enjoy Travel for an unforgettable trip to The Netherlands.
Guide to the Netherlands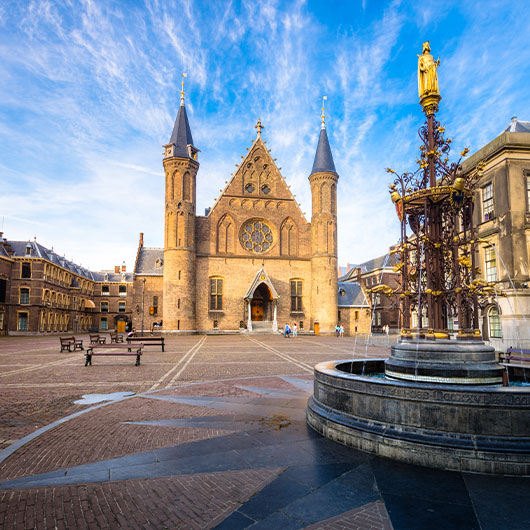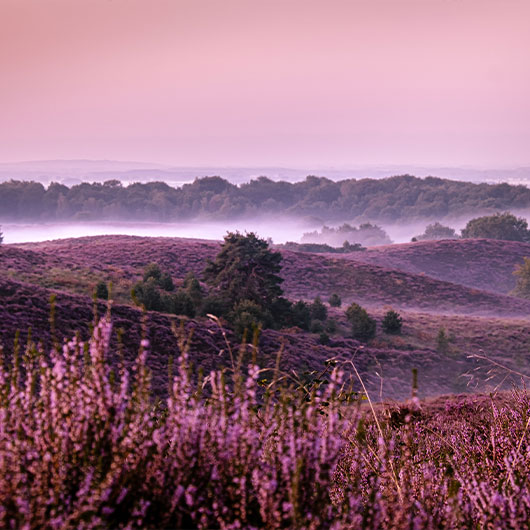 Geography
It is bounded by the North Sea to the north and west, Germany to the east, and Belgium to the south. Amsterdam is the capital and its most populous city, however, the seat of government is located at The Hague. Other important cities are Rotterdam, Utrecht and Groningen. The Netherlands also has territories in the Caribbean such as Bonaire, Saba, Sint Eustatius, and most famously, Aruba. These islands are also known as the Dutch Antilles.
Climate
The Netherlands has a maritime climate that is influenced by the North Sea. As the weather gets neither too hot nor too cold, it's an ideal tourist destination year-round, and there is no 'best time to visit' because each season has its own unique charms. That being said, Holland's resplendent tulip fields - one of the nation's prime attractions - can be found in full bloom between mid-April to mid-May. During the summertime (June-August), the average temperature hovers around 19°C, while in the winters, it can average around 2°C. Winters can also be quite rainy so pack an umbrella or a raincoat.
Culture in the Netherlands
The Netherlands is a trendsetter when it comes to socially and culturally progressive stances. It was among the earliest countries to allow women's suffrage (in 1919) and was the world's first country to legalise same-sex marriage (in 2001). The Netherlands also has a long tradition of social tolerance which is also reflected in its legalisation of abortion, prostitution and human euthanasia, as well as a liberal drug policy.
Amsterdam canals
One of the topmost tourist attractions in Amsterdam is its dynamic canal system. Consisting of around 165 canals, these UNESCO-protected waterways are best explored by taking a boat tour or riding in a water taxi. Floating along the idyllic canals, especially after sunset when the bridges are lit up by twinkling lights, is bound to be an unforgettable experience. Alternatively, if you are visiting in the winter, ice skating on the frozen canals is also an option. Some of the most popular canals in Amsterdam include Herengracht, Prinsengracht, Keizersgracht and Singel.
Museums
Rijksmuseum, located in Amsterdam, hosts a stunning collection of art and antiques dating back to the 18th century. Over 35,000 books and 5000 paintings are displayed across 250 rooms. These include some of the most impressive paintings of the 'Old Masters' like Vermeer, Rembrandt and Frans Hals. From historical Dutch handicrafts and medieval sculptures to exhibits of modern art, you will be able to witness a whole range of Holland's rich history and culture. Set aside an entire day to explore the entire museum.
Art lovers will be enthralled by the Vincent Van Gogh Museum in Amsterdam. An ode to one of the greatest artists of all times, this is regularly voted as one of the best art museums in the world. Approximately 1.5 million tourists flock here every year to learn more about the artist's life and his world-famous paintings. Set aside half a day to drink in his 200 paintings, 500 drawings and 700 letters, the largest collection of Van Gogh's personal possessions anywhere in the world. Do not miss the 'Meet Vincent Van Gogh Experience,' which offers a fascinating and interactive look into the artist's life and best-known works.
Day trips in the Netherlands
If you are only in The Netherlands for a day or two, consider visiting Madurodam, a unique miniature park located in Scheveningen, boasting 1: 25 scale replicas of famous monuments and attractions in Holland, including dainty windmills, quaint bridges and other historical sites. It even includes a harbor, a railway station and an airport. If you are short of time, plan a trip here and witness all of The Netherlands at once. The park is open throughout the year but the timings may vary from season to season.
Volendam is a charming fishing village that makes for another delightful day trip. It reflects traditional Dutch lifestyle things such as wooden houses and clogs (wooden shoes). This village is pretty as a postcard and has been depicted in many a painting by Picasso and Renoir, among others. There is also a lovely harbour surrounding by fishermen's houses where you can go for a quaint boat ride or enjoy a lovely picnic. Do not leave Volendam without sampling its local cuisine consisting of delicacies made with fish and cheese.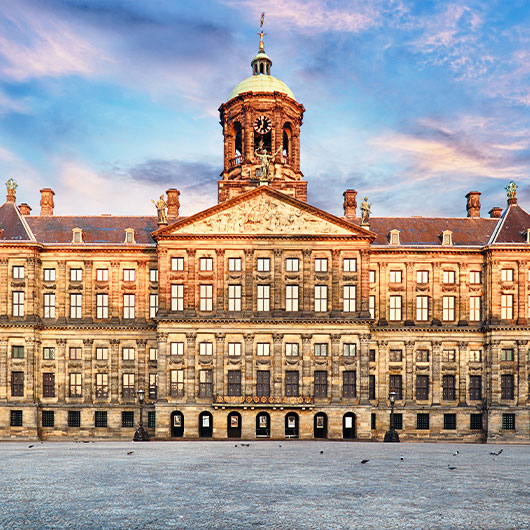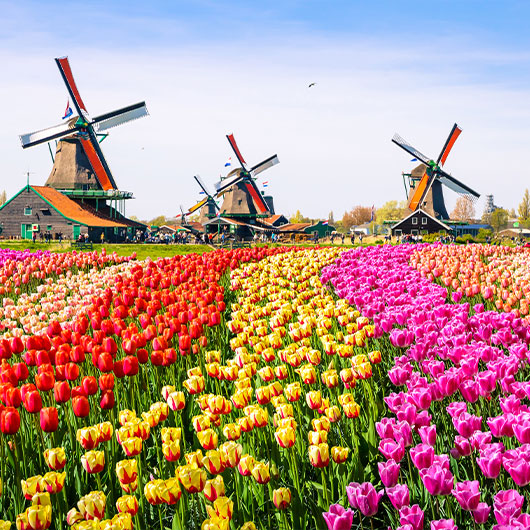 Things To Do in the Netherlands
Visit the Anne Frank House
While you're in Amsterdam, you cannot miss visiting The Anne Frank House on the Prinsengracht canal. Telling the story of Anne Frank and her family as they hid from the Nazis who were persecuting Jews during the Holocaust, this home preserves this moment in time as a grim reminder of the genocide that took place. Since WWII, it has been fully restored and the secret annexe where the family hid remains much the same till this day. Although Anne did not survive the war, her legacy lives on through her words and is a poignant reminder of the bravery of this remarkable young girl. Do remember to buy tickets to this museum in advance as they tend to sell out quickly.
Keukenhof, popularly known as the Garden of Europe, is a must-visit for tourists. Located just outside of Lisse, this 70-acre paradise is the largest public garden in the world and it boasts a riot of colours of every hue. You will be able to find gorgeous signature orange Dutch tulips, daffodils, hyacinths, crocuses, and more. Take a romantic stroll with your partner or click some splendid photos with stunningly vibrant flower display backdrops.
Go on an adventure to a theme park
Located at Kaatsheuvel, Efteling is one of the oldest theme parks in the world. It has been entertaining visitors since 1952 and is divided into different fantastical zones called realms. Each of these realms has a different local myth or legend as its theme and they each come with varying thrill levels. Adventure seekers can indulge in unique attractions like the Joris en de Draak (a wooden rollercoaster!), Spokslot (a haunted house), or venture into Fairytale Forest. We highly recommend entering the Raveleijn, a fantastical world about 5 siblings who use their combined wits to outsmart an evil monster.
See the windmills up close and personal
At the confluence of the Lek and Noord rivers lies the village of Kinderdijk, which rose to prominence for housing 19 majestic windmills that date from 1722-1761. It is the largest group of windmills in The Netherlands and a UNESCO World Heritage Site. See the glorious spin of the mills with their 92-foot sails at designated times throughout the year between April to October. Take a boat ride from nearby Leuvehaven or Rotterdam to this charming village.
Combine nature and art in one trip
The Netherlands has one of the world's most diverse national park programs, among which the largest and most famous is the Hoge Veluwe National Park. Wildlife enthusiasts will love this popular day trip destination as it sprawls over 13,800 acres and features dense woodlands that are home to red and rose deer. An engrossing outdoor sculpture park and 100-metre high moraines add to the beauty. The marvellous Kroller-Muller Museum is also located here, displaying little known paintings by artworld giants like Picasso, Monet, and Renoir. This unassuming museum located inside of a national park is also home to the second-largest collection of Van Gogh's works.
Go shopping in Maastricht
If you're looking to buy some wonderful souvenirs as a reminder of your trip to the Netherlands, head to Maastricht. Known as the Fashion City, Maastricht is heaven for shopaholics. From luxury boutiques to grand shopping malls, it has everything your heart could desire. Some of the best places to shop here include the Flea Market at Stationstraat, Entre Deux, Manufacta, and Mosae Forum. While you're in Maastricht, you may be intrigued by its medieval architecture juxtaposed with a modern atmosphere. Some of the top attractions in this town include the Bonnefanten Museum, Mount Saint Peter and the St. Pietersberg Caves, and the Natural History Museum.
Taste Edam cheese at the source
You may have tasted the world-famous Edam cheese, best recognised by its red hued rind and signature round shape. Did you know that it is actually named after the pretty town of Edam in The Netherlands, where it was first produced? The town dates back to the 12th century and has a plethora of cheese-related sites to enjoy including a large cheese market, 18th-century cheese warehouses, and a famous cheese-weighing hall. The best time to visit would be between the months of April to August as this is when the cheese markets come alive with exhibitions, performances, and more.
Visit a fairytale castle
Close to the old city of Utrecht sits Kasteel De Haar, a spectacular castle straight out of a fairytale. It sits in a 250-acre park and dates back to the 14th century. Constructed by famous Dutch architect PJH Cuypers, the castle required so much land that the entire village of Haarzuilens had to be relocated to accommodate it. The renovated version that now stands was built in 1892. When you visit, you will be rewarded with an impressive collection of antiques, furniture, paintings, and tapestries, as well as magnificent castle gardens.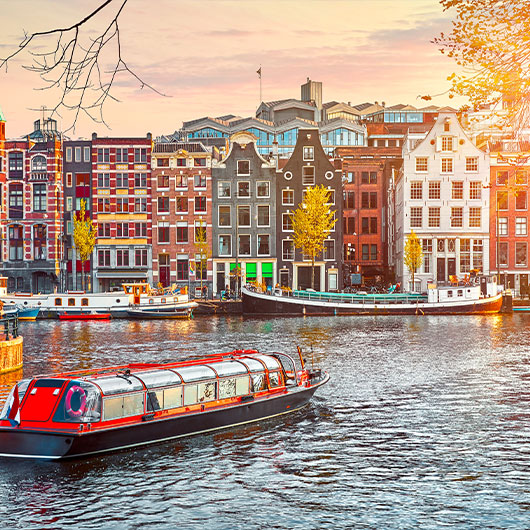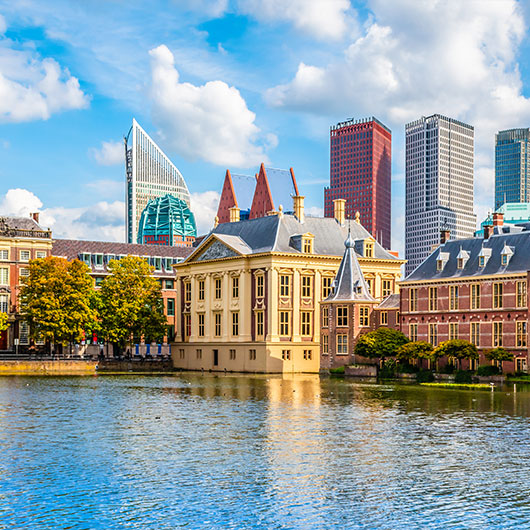 Eating Out in the Netherlands
Dutch cuisine is shaped by its location on the fertile North Sea river delta as well as farming and spice trading with its former colonies. Simplicity and straightforwardness have been the hallmark of Dutch cuisine for centuries. Breakfast and lunch typically consist of bread paired with different cheeses, while dinner is usually meat and potatoes with seasonal vegetables. However, during the 20th century, Dutch cuisine started incorporating the eating culture of its colonies leading it to become more cosmopolitan as a result.
Some of the popular dishes and food items that you cannot afford to miss during your Holland trip include the following. Stamppot, also known as Hutspot, is a traditional item made of mashed potatoes mixed with one or more vegetables like kale, carrots, endive, or sauerkraut. It is a comfort food eaten on cold winter nights and is generally served with smoked sausages called rookworst. It is the national dish of the Netherlands. Erwtensoep or snert is a very thick soup made of split peas, celery, leaks, carrots and pork. The Dutch believe that a good snert should be so thick that you can lay a spoon flat on the surface and it wouldn't sink. A popular and delicious Dutch snack item is Bitterballens, a savoury meat-based deep fried balls served with mustard. Lekkerbekje or Kibbeling is the Dutch variety of fish and chips. This battered and deep-fried seafood delicacy is served with mayonnaise or dipping sauces. Hollandse Nieuwe or soused herring is a nod to Holland's strong fishing past. In this dish, raw herring is pickled in a preserving liquid made of vinegar, spices, and cider, and served with onions as a snack.
Dutch sweets and desserts are a must-try during your visit and here are some of our best suggestions. Poffertjes are pancakes made with yeast and buckwheat flour and typically served with butter and powdered sugar. Oliebollens are deep-fried doughnuts, sprinkled with icing sugar, often found at street-side cafes. Stroopwafel is possibly the most famous pastry to come from the Netherlands and is a waffle filled with a sweet sticky syrup called stroop.
The Dutch love their cheese and are the second-largest cheese exporters in the world, after Germany. Cheese is had for breakfast, on sandwiches for lunch, or as a snack. It is cut as cubes and served with a glass of beer or wine. The most famous cheese markets in The Netherlands include Gouda, Edam and Alkmaar.
Some of the top-rated restaurants in the country are: De Librije in Zwolle, Fred and Restaurant Old Dutch in Rotterdam, and Café Restaurant Plantage in Amsterdam.
Netherlands Transport
Airport
There are five international airports in The Netherlands, of which the largest and most trafficked is Amsterdam Airport Schiphol (AMS). It is the third-busiest airport in Europe in terms of passengers and operates direct flights to 326 destinations across the globe. There are also other smaller airports in Eindhoven, Rotterdam, and The Hague.
Getting around
The Netherlands has 139,000 km of public roads that include 3,530 km of motorways and expressways. Cycling is one of the most popular modes of transport with 27% of all trips being by bicycle. 85% of people own at least one bicycle. There are dedicated cycling tracks which have clear signposts and traffic lights.
However, for distant travel, most people rely on the rail network. Public passenger rail transport is operated mainly by Nederlandse Spoorwegen (NS). Amsterdam and Rotterdam have extensive metro and tram systems as well.
Due to the large number of waterways, some ferries still operate in Rotterdam and Drecht towns.
Many visitors to Holland also opt to hire a car to give them maximum flexibility and comfort getting from place to place, especially if they don't want to rely on public transportation schedules and/or are travelling in a large group. Some of the most popular car hire agencies include Enterprise, Hertz, and Europcar. You also have the option of doing a one-way rental, which means that you can pick up your vehicle in one city and drop it off in another ‐ even in a neighbouring country if you want! ‐ which will save you the hassle of having to drive it back, especially if you have a flight leaving from your final destination.
Got a Question? Chat with our UK support team
Online chat help is open 08:30am to 17:00 weekdays. Email: customersupport@enjoycarhire.com
COVID CLEAN & SAFE PLEDGE
FAQs about car hire in the Netherlands
Most frequently asked questions about hiring a car in the Netherlands
When booking in advance with Enjoy Travel, the average cost of hiring a car in The Netherlands is just €27.
Car hire prices in The Netherlands can often be as low as €13 when booking online with Enjoy Travel.
The minimum age to hire a vehicle in The Netherlands is 18 years of age.
Yes, it is allowed to add additional drivers to your car hire agreement in The Netherlands.
The most popular car to hire in The Netherlands is a Ford Focus; its compact size makes it easy to navigate city streets.
Distance from Rotterdam to Amsterdam is 48 miles (78 km).
The Netherlands is quite expensive both to live in and visit, so in order to better prepare we'd like to give you an idea of how much you should expect to spend. Per day you'll need around €124.
The best way to see such a beautiful country is to visit its most important parts such as Amsterdam, Zaanse, Schans, Utrecht, Kinderdijk windmills and Rotterdam.
Holland is, in general, a quite cold country, so if you are looking for a trip in a sunny place with high temperatures, it is advisable to plan the trip for spring-summer, from May to September.
It's €213 for a week, or €30.50 per day.
It's €748 for a month, or €24 per day.
Price of fuel in the Netherlands is between €1.32 and €1.29 per litre.
Some popular places in the Netherlands