Zagreb Car Hire
Find the best deals in Zagreb
With a massive choice from the biggest brands, Enjoy the best way to find the best prices for car hire in Zagreb.
Huge choice of cars to suit every budget
Save up to 70% compared to buying on the day
10 years experience in car hire
Compare Car Hire in Zagreb
There are more than 20 car hire companies operating out of the airport with many of them having secondary sites in the city.
There is no difference in cost between hiring a care at the airport or hiring one in the city as long as you book in advance.
You'll need to be at least 21 to hire a car in Croatia so make sure that you have ID and keep it on you.
The speed limits in Croatia are different to the UK so make sure you know the type of road your driving on. In built up areas the limit is 31mph, outside built up areas its 56mph, on expressways its 68mph and freeways its 81mph.
The police may impose and collect fines on-the-spot. Whilst you don't have to pay immediately. Police will instead issue a ticket and the fine which has to be paid within eight days (in post offices or banks). As a precaution, the police can confiscate the passport of the driver until the fine is paid.
Children under 12 are not allowed to travel in the front seat, an exception to this rule is children under two who must be in an appropriate car seat. All children up to 12 years old must use suitable car seats or booster seats.
Croatia is a relatively small country and you can get from Zagreb to Split in around four hours.
There are 7 tolled motorways in Croatia, tolls can be paid in cash (foreign currencies are accepted) or via credit/debit card. Some other roads also have tolls so plan your route carefully if you want to avoid them
Whilst some of the smaller local companies may offer cheaper initial rental make sure you factor in all costs such as car seat and sat nav hire as this can bump up the cost quickly.
If you haven't pre-booked your car rental its best to hire with Enjoy Travel or directly at the airport as all the car hire companies are located together so it's easy to shop around for the best deal.
Guide to Zagreb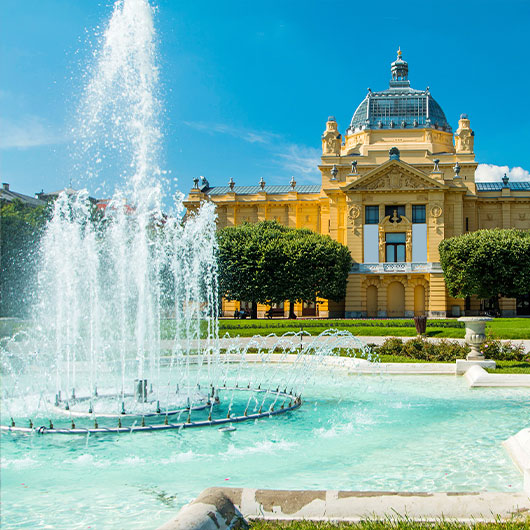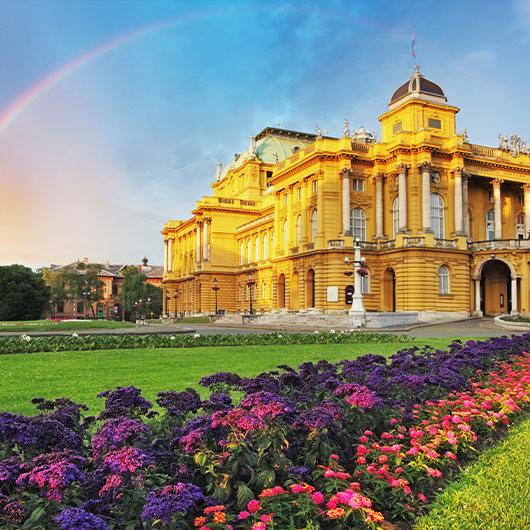 Croatia's ancient capital city is a bit of a hidden gem, it's always been the home to quirky fashion houses, alternative music and edgy bars but until recently Croatias coastal cities have always stolen the spotlight. The notable absence of the popular international franchises that can make one city blur into another and the abundance of small coffee houses serving up good strong coffee definitely add to the buzz of the city.
Since 2018 there's been a surge of great new restaurants and boutique hotels opening and it's no wonder, summer music festivals and one of the most popular Christmas markets in Europe mean that Zagreb is a year round destination. Zagreb also boasts more museums per capita than anywhere else in the world.
Although summers in Zagreb are warm with temperatures often reaching over 30°C its worth knowing that rain is never far away, Zagreb is the 9th wettest city in Europe so make sure you take a waterproof with you if you're planning on exploring all this city has to offer.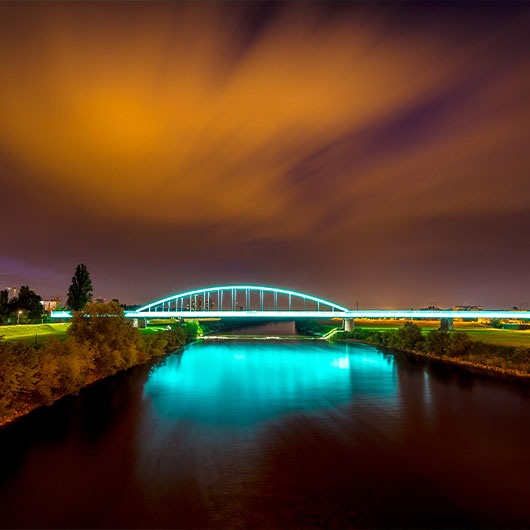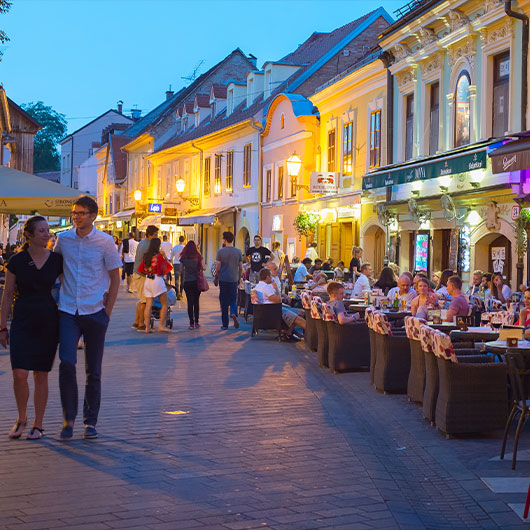 What to do in Zagreb?
Zagreb is fairly small so easily walkable with all the attractions centred in either the upper or lower towns. Whilst it might not have the square footage of some of the more well known city break destinations it's packed with things to do, August tends to be quieter in the city than you'd expect as all the locals head to the coast for a month long siesta in the sunshine.
The Gothic Zagreb Cathedral is a must see for anyone interested in historic architecture, this imposing building is the tallest building in the country and dominates Kapitol Square. The first Cathedral was damaged during a Tartar attack and a great fire in the 13th century it was then severely damaged in 1880 by and earthquake. It has been restored in the Neo-Gothic style by Hermann Bollé into the Cathedral that you see today and is home to one of the top ten organs in the world.
Maksimir Park is a nature lovers dream, if you fancy stepping outside of the buste of the city this little oasis of calm is only five minutes outside the city. Founded over 200 years ago this is the largest park in the city and is home to several man made lakes, an oak forest and over 100 species of birds. There are some beautiful running trails through the park so don't forget your trainers!
Located in the beautiful Kulmer Palace in the upper town the Museum of Broken Relationships might not seem like it should be top of your list of places to visit but it's quirky collection of mementos from heartbreaks around the world makes for a unique experience not to be missed. The cafe is the perfect place to collect your thoughts afterwards with its colourful summer terrace and irresistible pastries prepared by one of the leading pastry chefs in Croatia.
Zagreb 360 is the most visited tourist attraction in Zagreb, from the 16th floor you get incredible views of the city and on a clear day you can see as far as Slovenia. Open 365 days a year and with a cafe and bar you can choose to relax and take in the views with some board games or take some quick pictures and carry on exploring.
Zagreb seems to find a reason to celebrate everything and from folklore and puppetry to modern music there is a festival for it all. The last decade has seen a huge rise in the number of music festivals that Zagreb has on offer and the InMusic festival securing some of the best modern rock and indie bands, cult heroes and world musicians you definitely won't be disappointed. There's a great modern campsite open for eight days during the festival and there are plenty of afterparties and activities happening in and around the city.
Mirogoj Cemetery was designed by Herman Bolle the same architect that lead the renovation of the Cathedral is another beautiful green space within the city. With its landscaped paths, open air sculpture park and garden style cemetery it's easy to forget that this is a historic site dating back to 1879.
Free Spirit Walking Tours offer a two hour whistle-stop tour of the city. Led by an experienced guide these tours focus on not only the history and culture in Zagreb but also offer an insight into the best places to eat and drink. With tours leaving from the horseman statue at Ban Jelačić daily at 11am and 5pm in summer (11am only in winter) it's a great way to get a summary of the best ways to spend your days in Zagreb.
For something a little different
Head to the Museum of Illusions, with over 70 different exhibits to view its one of the largest installations of its type and definitely one that will get your mind working. Make sure you visit our playroom with intriguing and educational games and puzzles. These brain bashers are definitely great fun but tend to be frustrating as well. There's something for all ages here so it's a perfect museum for those of you visiting with families.
Zagreb as recently gained fame for its Christmas Market, having won the title of Best European Christmas market three years in a row it's easy to see why people flock here in December. It really is the perfect combination of traditional Christmas fun and partying.
Zagreb Nightlife
Nightlife in Zagreb is hard matched due to the huge range of bars and clubs on offer. With regular live music and music bars that transform into clubs as the night wears on no matter what you are looking for you're sure to find it here.
Aquarius is one of the few clubs that is open 12 months a year. It first opened its doors back in 1992 but is still way ahead of the game with what it offers. Set over two floors on the Jarun lakeside it offers regular sets by international DJ's.
Bunga Bunga is currently one of Zagrebs most fashionable nightlife hotspots. Serving up Croatian Dance-Pop, dancing girls and a smattering of celebrities this is an essential stop on the list if you want to experience modern day Croatia after dark.
For top cocktails let the mixologists at Aperitivo Bar make you the cocktail of your dreams. Popular with young professionals looking for something different to the usual beer and wine on offer its exotic vibe is a real delight.
With its Steampunk decor and spacious interior Mr Fogg is growing in popularity. Exposed brickwork, dials and gauges galore mean there's plenty to see here while you sample their wide range of spirits (some of which are unique to Mr Fogg). An extensive cocktail list is certain to have something to tickle even the most discerning of taste buds and if not the friendly bar staff are more than happy to help you concoct something specially for you.
The Diamond Palace Casino is the epitome of class and elegance. With a bar made of rare onyx and spectacular glass chandeliers it provides a somewhat surreal backdrop for your evening. The casino also hosts several international poker tournaments and themed parties where you can rub shoulders with celebrities and sports stars alike.
Jabuka is hailed as the last remaining bastion of true rock music in Zagreb, black leather clad dancer pack the bar on Friday and Saturday nights. Set in one of the nicer neighbourhoods in Zagreb it's about a twenty minute walk from the centre and with it's comfortable worn-in feel and rocking sounds of the 1980s it's sure to have everyone on their feet.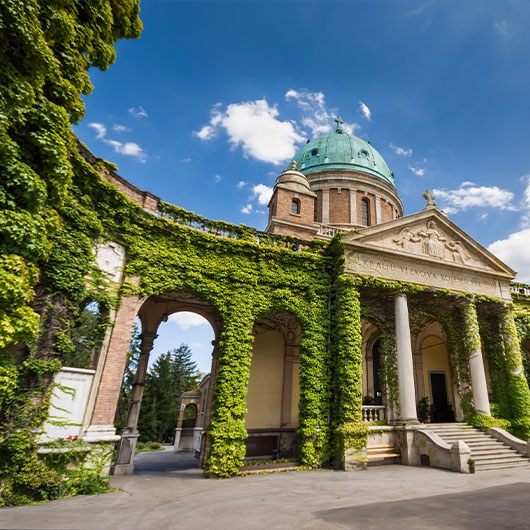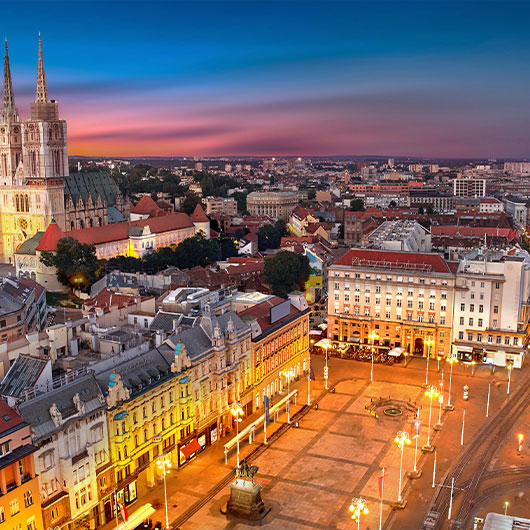 Where to eat in Zagreb?
Whilst you might not think of Zagreb as being an eating hotspot in Europe you'd be wrong. The flurry of restaurants that have opened over the last few years bring an excitement to the city and there's no signs of things easing off. Chefs and restaurateurs are experimental and love pushing boundaries of what's possible. From steakhouses to vegan eateries Zagreb has it all.
Fotić is known for its small but ever changing menu of traditional Crotian cuisine. Located right in the heart of the city this restaurant has gained acclaim for using only local ingredients to create delicious yet affordable meals.
If you are feeling like a treat and contemporary restaurants are your scene then look no further than Pod Zidom Bistro & Wine Bar. Head chef Jurica Jantolek takes traditional food such as ox-tail and black sausages but adds a unique creativity to the preparation of them. The best way to sample Pod Zidom's culinary approach is to opt for the three or four-course daily lunch menus which are seasonal and created around what was bought at the local farmers markets that morning.
Heritage - Croatian Food is a small cafe style eatery that's more of a food experience than just a restaurant. The staff provide expert knowledge on all of the food and wine giving you suggestions that are sure to delight.
Fidel Gastro is one of the newer restaurants in Zagreb and as the name might suggest it brings a more international vibe with it. Its meat-heavy latin inspired menus step away from the more traditional croation cuisine with the jazz and blues live music giving a warm luxurious feel to your dining experience here.
If sweet treats are your Achilles heel then look no further than Time Pastry Shop. Time combines the old-school Croatian love of pastries with a modern Parisian twist. The pastry lineup changes every couple of weeks and is seasonal so there's always something new to try no matter how many times you've been to Zagreb.
Top Tips when hiring a car in Zagreb
● When going for a Zagreb car hire, Zagreb Airport is one of the first car hire locations to consider.
● It's convenient to go for an Airport pickup your hire car from Zagreb Airport terminal as any car hire company you can imagine can be found there and they're easily accessible, plus you can begin exploring the city as soon as you land. The car office desks of the Airport agencies are located in the main hall and in the adjacent car parks.
● However, one of the main reason why should consider Zagreb Airport as your Zagreb car hire location of preference is because of the unbeatable car hire deals.
● The rental company prices in the city centre can be competitive but nowhere near as good as the Zagreb car rentals in the Airport.
● A great number of users encountered rental cars in Zagreb for less than £19 per day.
● Booking your rental car in Zagreb in advance even if it's by at least 1 day before your trip ensures you'll get cheap car hire prices.
● Mini car rentals in Zagreb are much cheaper and than other car types and also more popular.
● Within the city centre you can find free parking spaces but you should look them up in advance.
● When booking your car hire make sure to go over the rental contract carefully.
Got a Question? Chat with our UK support team
Online chat help is open 08:30am to 17:00 weekdays. Email: [email protected]
FAQs about car hire in Zagreb
Most frequently asked questions about hiring a car in Zagreb
Car hire prices average at about €10 a day. There are cheaper deals to be had through the winter months but you might find most agencies have a much smaller selection of cars to choose from.
You can choose from, Alamo, Enterprise, Right Cars, Car Wizz, Connitor and other smaller local agencies.
On the whole roads in Croatia are good however if you are planning on exploring some of the more rural areas roads can be quite narrow and winding so make sure you hire a car you are confident driving.
It's approximately a 15km or 30 minute drive, the Radnička cesta takes you directly from the airport to the city.
Carwiz generally offer the cheapest rate, and you can pick up a Skoda Octavia or similar for a price of around €10 per day, however prices can change depending on when you search and have how far in advance you book.
You can hire a luxury car such as a Jaguar XF for around €60 per day or an Audi A6 for a similar amount.
Maximum speed on the Express-way in Croatia is 110 KM/Hour, there are certain freeways where it is 130 KM/Hour, the built up areas are 50 KM/Hour (31 MPH) but other speed limits apply to main roads and trunk roads and always check the signs.
Zagreb is considered the 4th most expensive city in Eastern Europe. 1 litre of fuel costs around 10 Kuna (1.2 GBP)
Definitely. You can start your journey in Zagreb and drop off your car hire in Split or Dubrovnik (or vice versa).
Zagreb is considered a fairy easy city to navigate since there are some parking places in the city centre and the streets are wide to navigate.
Zagreb is a busy city and traffic sometimes can be overwhelming - the best month to drive is in August since the locals tend to leave the city.
The average car hire is around €10/day - prices can change depending on the season.
You can start with Ilica Street while visiting the King Tomislav Square and discovering the rich history of the city.
April to September are considered the best month to visit the city of Zagreb. During these months there will be less raifall with a warmer temperature.
Some popular places in the Croatia